Do you want to learn how to build a Facebook landing page?
You've likely heard about Facebook ads – an incredible way to get your website in front of new, warm leads without the cost of a traditional marketing campaign. But, creating a great ad without the right landing page can leave you with wasted clicks and low conversion rates, and a poor return on your ad spend.
In this article, we'll show you how to create a Facebook landing page in WordPress step-by-step, so you can increase your Facebook ad conversions and grow your business.
Before we start, what exactly is a Facebook landing page?
What Is a Facebook Landing Page?
A Facebook landing page is a standalone web page on your website that users visit after clicking a link in a Facebook post. They're designed to convert visitors from Facebook content into visitors, subscribers, and leads.
What Is a Facebook Ads Landing Page?
Facebook ads landing pages are pages on your site that people visit after clicking your pay-per-click (PPC) Facebook advertising campaign. These pages are different from other pages on your website because they complement your ads on Facebook.
Pages on your website typically provide information about your business. But a landing page made specifically for Facebook ads encourages Facebook users from specific demographics to sign up for or claim an offer designed just for them, like a free trial, lead magnet, or special offer.
Take this eCommerce landing page example from Craftsy. Their Facebook ad campaign has a clear call-to-action button (CTA button) inviting users to click and learn more on their product page.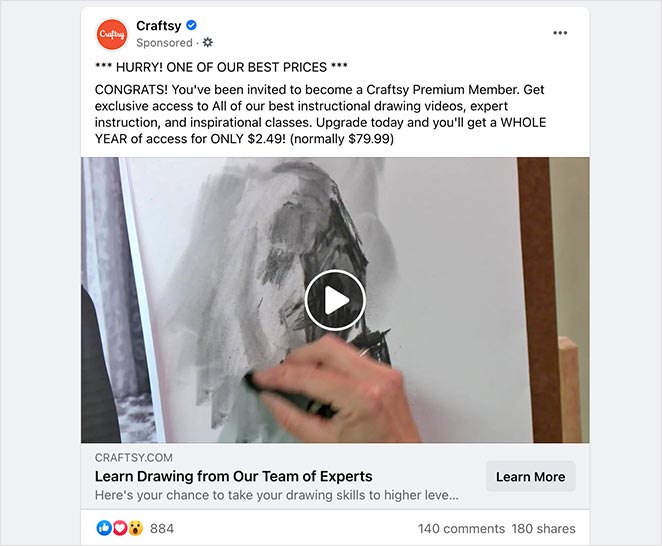 Clicking the button from your Facebook timeline takes users to a dedicated Facebook landing page where they can learn more about the product or service and even claim a coupon.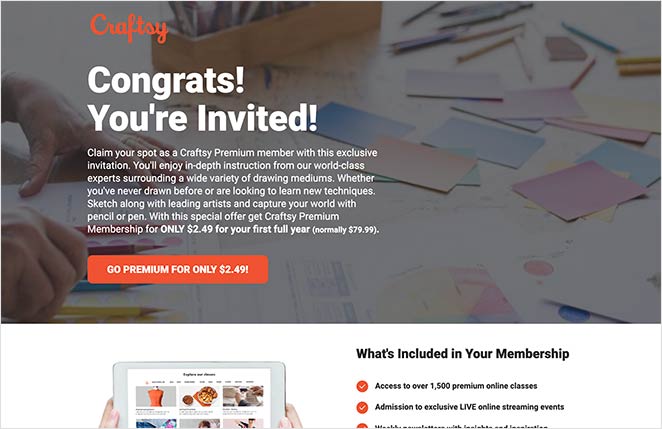 Why Should I Make a Facebook Landing Page?
There are several reasons why you should make a dedicated Facebook ad and landing page on your website instead of relying on your Facebook business page.
First, your target audience on Facebook needs more encouragement to go from an ad click to a purchase. These users are still discovering your business and need more information about the ad copy that got them to click on your ad.
Showing these users a landing page with focused information and consistent messaging is one of the best ways to kickstart lead generation and turn them into paying customers.
Here are a few other reasons why Facebook landing pages are the best choice:
They're less distracting than homepages which have lots of different information.
It's easier for mobile browsers to get the details they need.
They're highly focused, forcing people's attention on your offer.
It's easier to test your content marketing campaigns to see what does and doesn't work.
Besides making a landing page for Facebook ads, you could also create a Facebook group landing page to entice users to join your community or, quite simply, to encourage your website visitors to check out your Facebook page.
Bottom line: Creating a Facebook landing page is the easiest way to convert Facebook users into leads and customers.
Facebook Landing Page Examples
Before we dive into showing you how to make one, let's take a look at some Facebook landing pages examples. Each example is from genuine brands using a landing page to target Facebook audiences.
Sakuraco
First, here is the Facebook ad you'll see before visiting the Sakuraco Facebook landing page: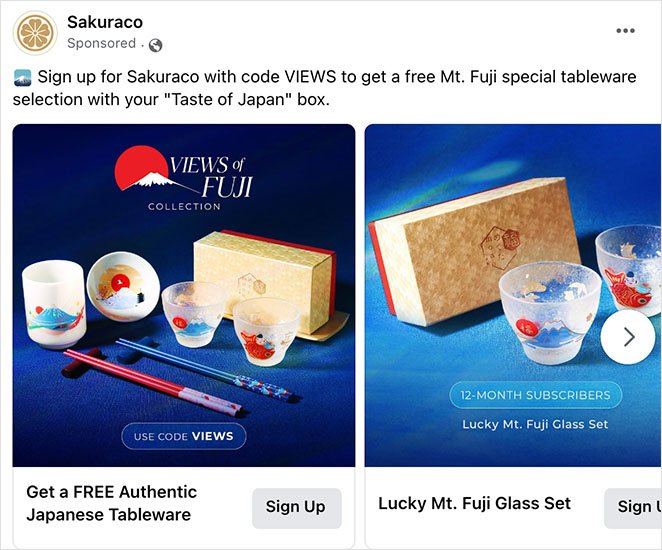 When you click the ad, you'll notice that the landing page is consistent with the ad design. This reassures visitors that they're in the right place.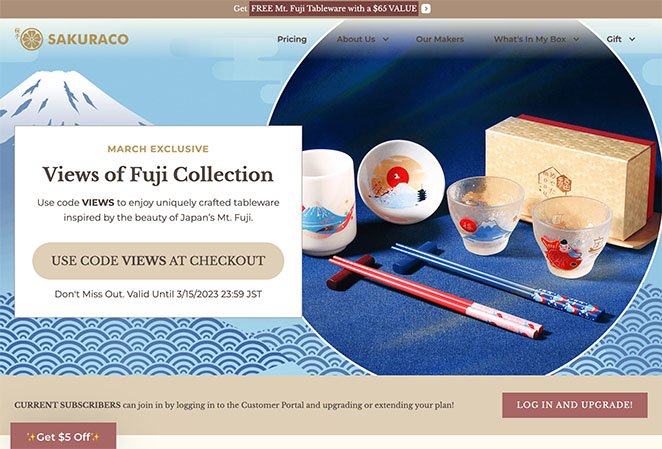 The page also entices visitors with an exclusive discount code for a free gift.
Craft Gin Club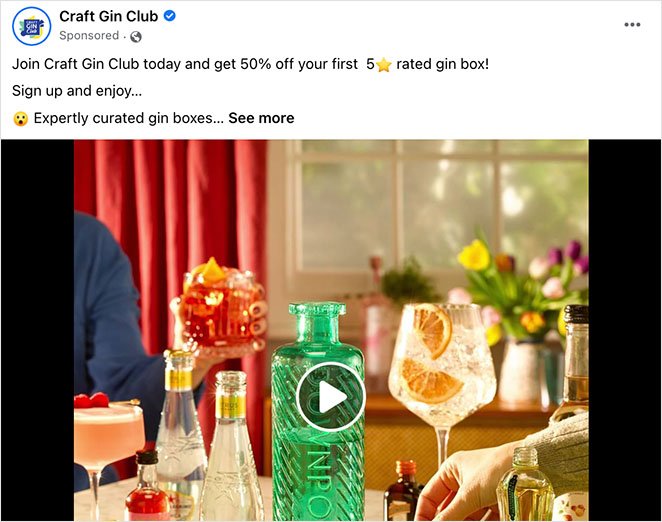 This ad from the Craft Gin Club uses a video to engage Facebook users. Coupled with the star rating, it makes for an excellent ad to stop gin lovers in their tracks and encourage them to click.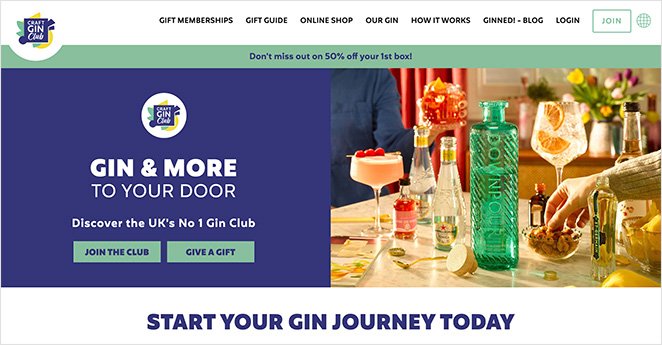 When users reach the Facebook ad landing page, they can claim 50% off their first box, which is an attractive offer. The page is also bold, easy to navigate, and includes easily clickable buttons.
Smol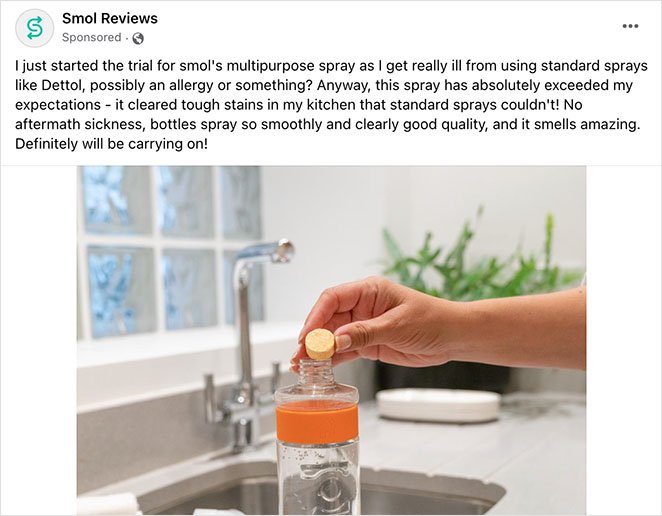 Smol uses user-generated content to attract attention to its Facebook ad. Since positive testimonials from other people have a greater impact on purchase decisions, it's an excellent tactic to drive more clicks.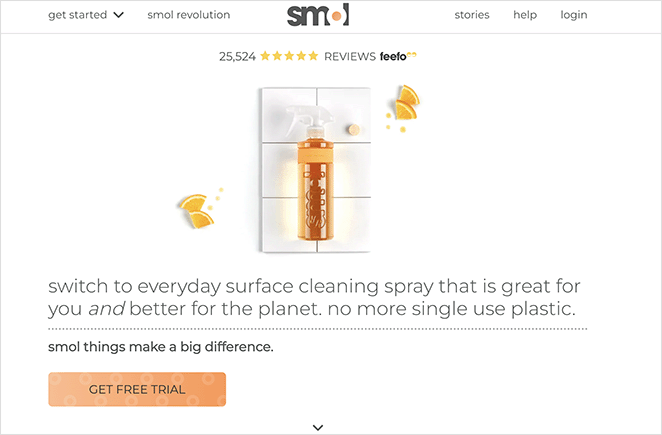 When users visit the Facebook ad landing page, they'll again see social proof in the form of star ratings. This, combined with the offer of a free trial, presents very little risk to potential customers, making the decision to try the product a no-brainer.
What Should I Include on My Facebook Landing Page?
A Facebook landing page is an excellent opportunity to make a great first impression on your visitors. Here are some things you should consider including on your Facebook landing page:
Strong and eye-catching images: Your images should be high-quality, visually appealing, and relevant to your brand or business.
A brief introduction: Write a short introduction to your brand or business. This should be concise and to the point, highlighting your unique selling points.
A call-to-action: Including a call-to-action on your landing page can help drive engagement and encourage visitors to take a specific action, such as signing up for your newsletter.
Links to your other social media profiles: If you have a presence on other social media platforms, consider including links to your profiles on those platforms on your landing page.
Information about your products or services: Use the space below your introduction to highlight your products or services and why they are valuable to your customers.
Contact information: Make it easy for visitors to get in touch with you by including your email address, phone number, or a link to your contact page.
Reviews and testimonials: If you have positive reviews or testimonials from customers, consider featuring them on your landing page to build trust and credibility with visitors.
How to Create a Facebook Landing Page in WordPress
You might think it's hard to create a Facebook landing page on your WordPress website. But with the right tools, it's actually relatively straightforward.
With a landing page builder like SeedProd, it's easy to make a Facebook landing page, link it to your ad campaign, and get it up and running in less than 30 minutes. But what is SeedProd?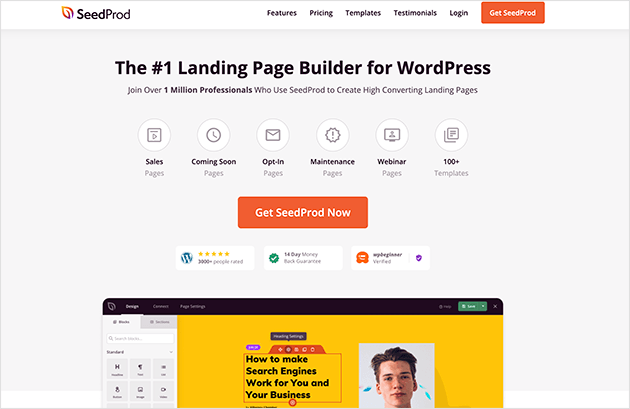 SeedProd is the best WordPress theme builder and WordPress landing page builder with drag-and-drop functionality. Creating any WordPress theme or high-converting landing pages in WordPress is super easy without hiring a developer.
Besides designing stunning themes and landing pages, it has built-in coming soon, maintenance mode, 404 pages, and login page modes.
This means you can instantly put up a user-friendly:
Maintenance mode screen
404 error message
And you can do it all without installing individual WordPress plugins for each page.
With 100+ customizable and multipurpose landing page templates and starter WordPress themes, designing any layout in WordPress is a breeze.
Did you know you can get an unlimited free trial of SeedProd? Click the link to find out how.
So if you want to create a successful Facebook landing page in WordPress, here's how to do it with SeedProd.
Video Tutorial
Step 1. Install and Activate SeedProd
First, head to the pricing page to get started with SeedProd and download the plugin to your computer. Once you've downloaded the plugin, you need to install and activate it on your WordPress website.
If you need help with this step, follow these instructions for installing a WordPress plugin.
After activating SeedProd, you'll see a welcome screen. You'll need to enter your SeedProd license key in the field provided. You can find your license key in the Downloads area of your SeedProd account.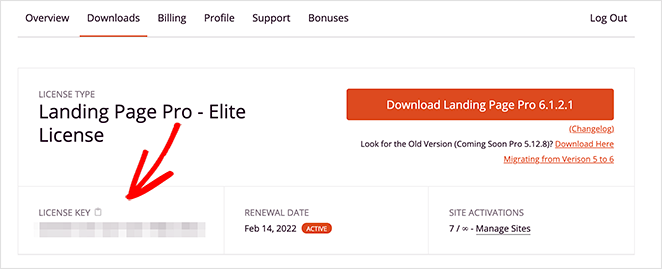 Copy your license key, paste it into the field and click the Verify Key button.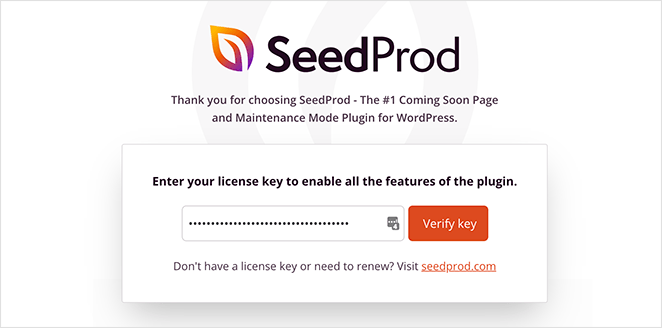 After verifying your SeedProd plugin, scroll down the page and click the Create Your First Page button.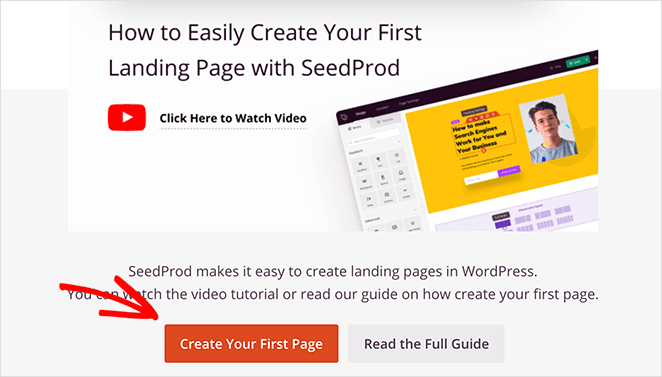 This will take you to SeedProd's landing page overview.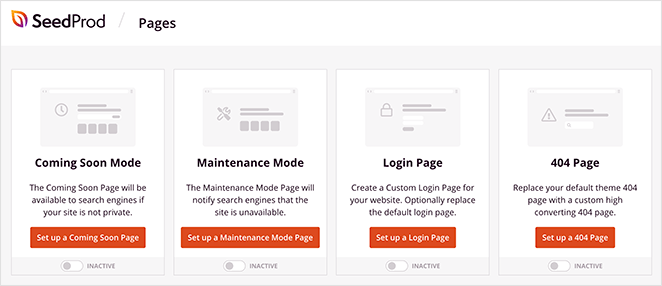 At the top of this page, you'll see the different page modes you can activate in SeedProd, which include:
Enabling any of these modes is as simple as clicking the toggle under each heading and turning it from Inactive to Active.
Under that section is where any other landing page you make with SeedProd is shown. This is the section we need for this tutorial.
Step 2. Create a New WordPress Landing Page
To start creating your Facebook landing page, click the Create New Landing Page button under the Landing Pages section.

Clicking that button takes you to SeedProd's library of multipurpose landing page templates.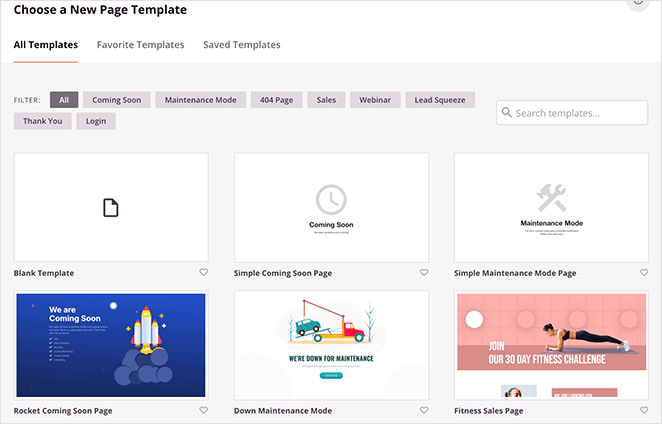 You can filter templates by clicking the tabs along the top of the screen, which include:
All
Coming Soon
Maintenance Mode
404 Page
Login
Since it's easy to customize any template in the visual editor, you can pick any template for your Facebook landing page. Just choose a design that matches the look you want to achieve.
For this guide, we'll use the Masterclass 2 Sales Page, which you can find under the Sales tab.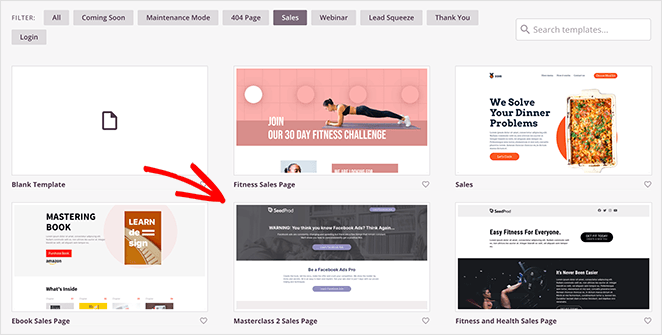 Hover your mouse over the template thumbnail and click the tick icon to choose a template.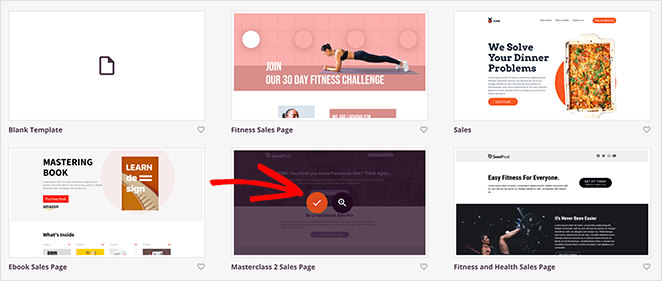 After, you'll see a popup asking you to enter your landing page name and URL. Once you enter this information, click the Save and Start Editing the Page button.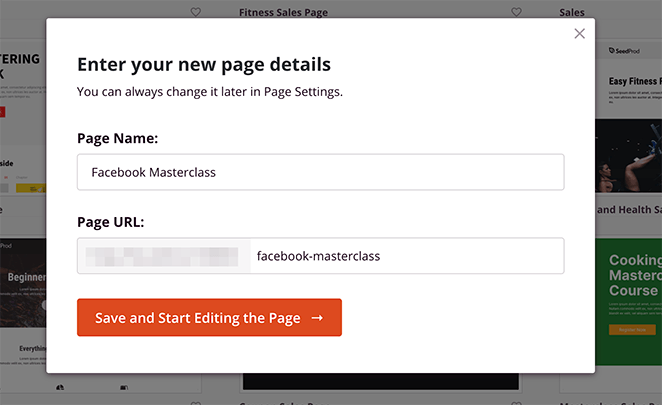 Step 3. Customize Your Facebook Landing Page
After launching your landing page template, it opens in SeedProd's drag-and-drop page builder, where you can customize and optimize your design.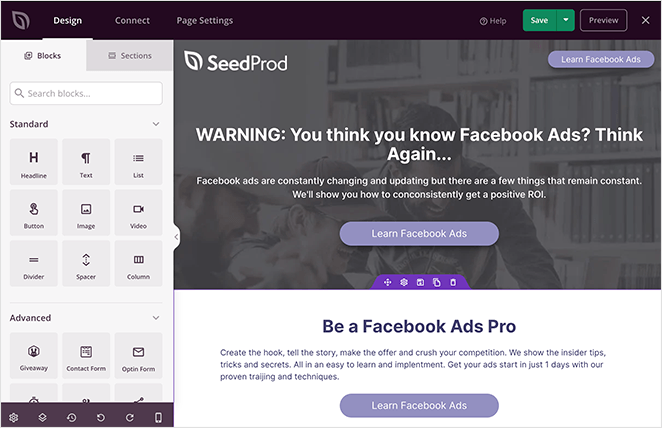 The blocks and sections you can drag and drop onto your page are in the left-hand panel. On the right is a preview of how your landing page looks.
Adding content to your page is as simple as dragging a block from the left panel and dropping it on your preview on the right. You can then click the block on your page to open its settings panel on the right and customize the content.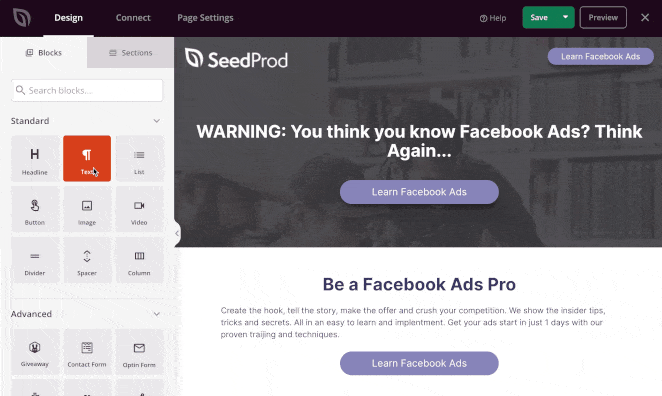 Many of SeedProd's content blocks also have ready-made block templates. This allows you to quickly change the look and feel of your content with just a few clicks.
For example, clicking a button block on your page preview shows the content settings on the left. You can then click the Templates tab to see several different button styles. Just click one to add that style to your landing page.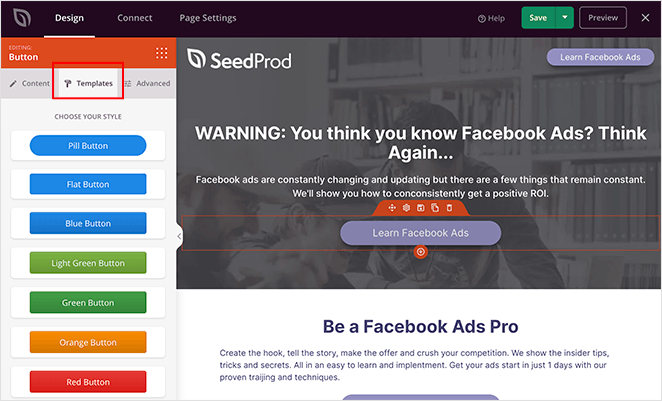 Besides page blocks, you can also add sections to your landing page. Sections are complete page areas like:
Headers
Footers
Hero
Call-to-Action
Features
They include all the information that area of your page would need, and you can add it to your page with 1 click. This saves you from having to build these areas block by block manually.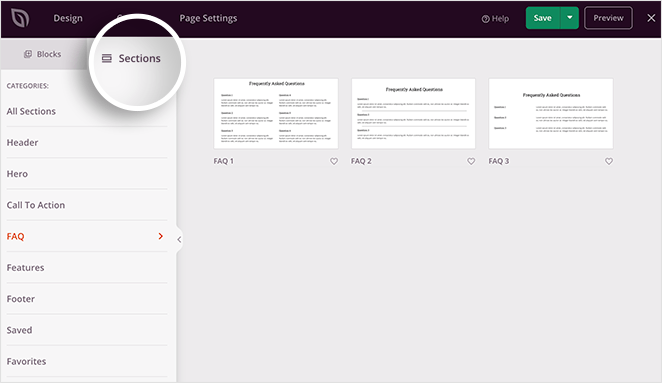 For example, clicking the Sections tab and selecting FAQ shows several FAQ sections you can add to your page.

You can then customize the section as you would with any other page block.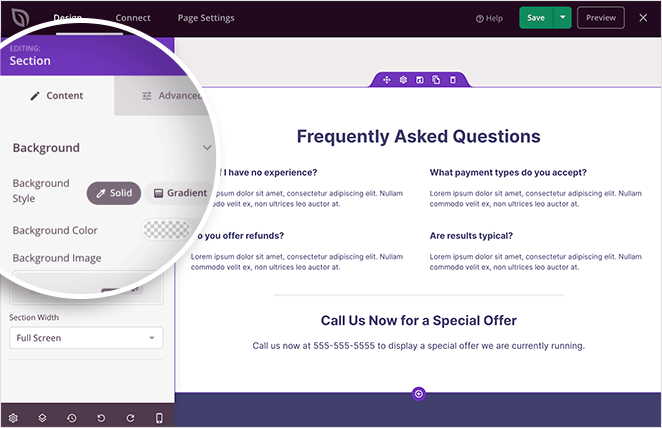 You've probably noticed that SeedProd doesn't just offer the standard building blocks for creating a successful landing page.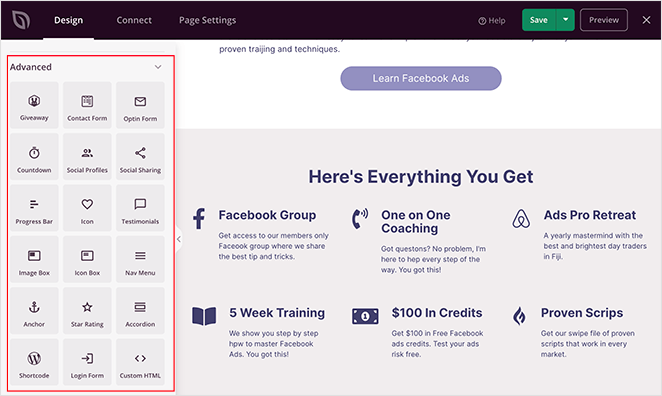 In the Advanced blocks section, you can choose from various page elements explicitly designed to generate leads for your business.
Advanced blocks include:
Optin forms
Login forms
Social sharing buttons
Testimonials
Start ratings
Countdown timers
Progress bars
And more
For instance, if you want your Facebook audience to sign up for a webinar, you can use the Optin Form block to collect webinar registrations.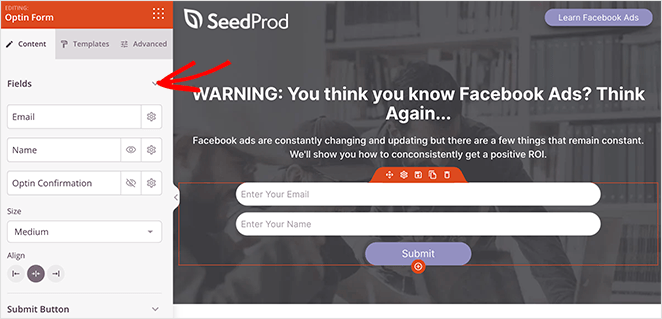 Or you can add testimonials from happy customers to use as social proof and reassure visitors of the value they'll get from signing up.
Related: How to Embed Facebook Events on WordPress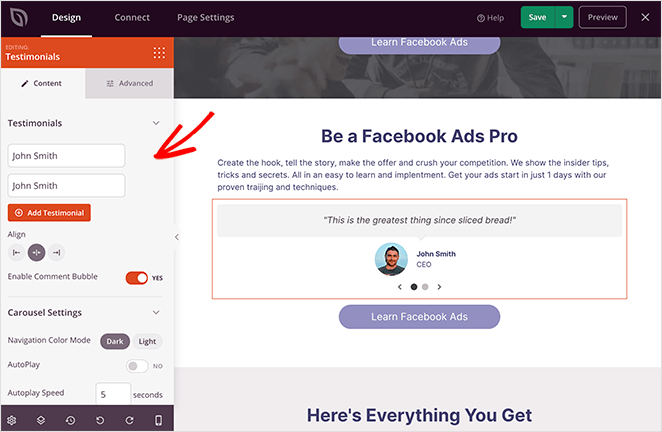 If you want even more control over your Facebook landing page's design, you can tweak your global colors, fonts, and background images in the Global Settings panel.
Just click the gear icon in the bottom-left corner of your screen.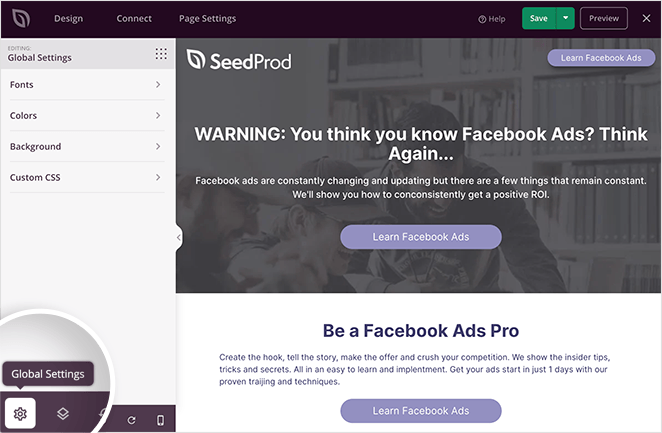 Clicking on the Fonts heading allows you to change your header and body fonts by choosing near-unlimited Google web fonts.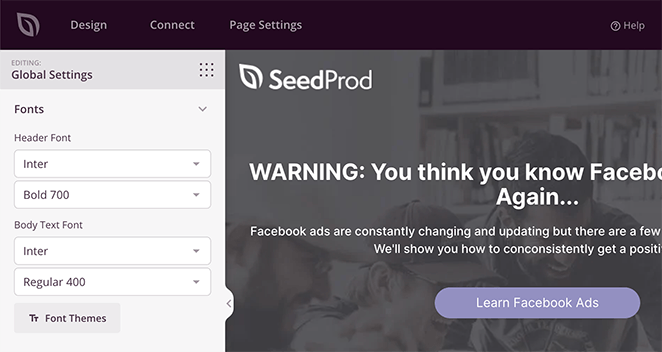 And if you're not sure which fonts look the best together, you can click the Font Themes button to preview and choose from a variety of pre-made font combinations.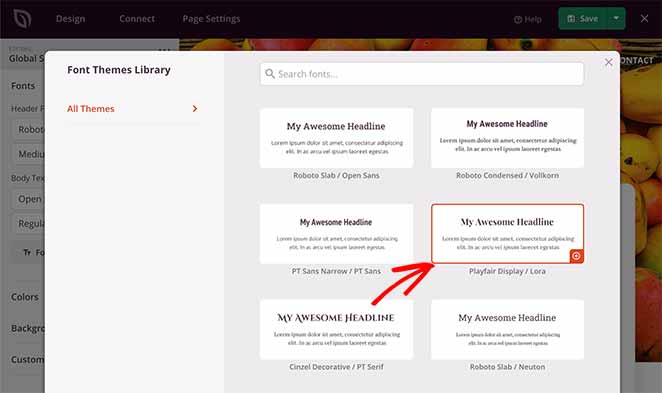 You can do the same by clicking the Colors heading. You can also select custom colors for headers, text, buttons, links, and backgrounds in this area.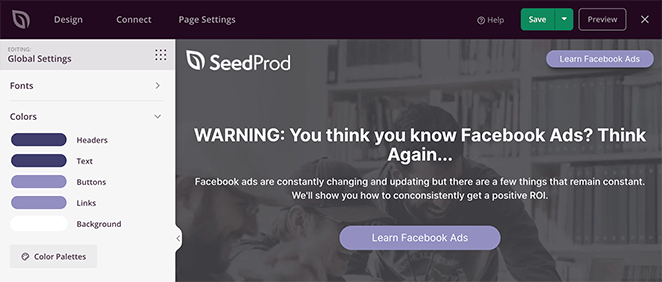 Or if you'd rather have a set of colors already made for you, click the Color Palettes button. This shows a variety of pre-made color schemes you can click and add to your page instantly.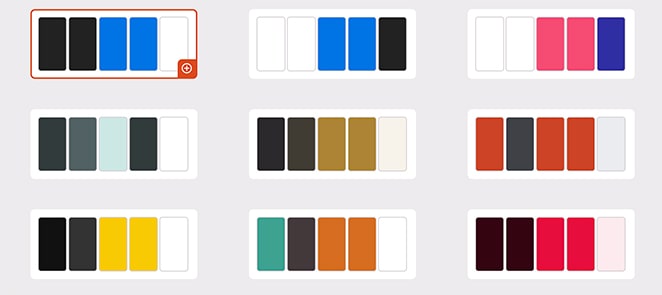 Clicking the Background heading shows all the different settings for customizing your landing page background.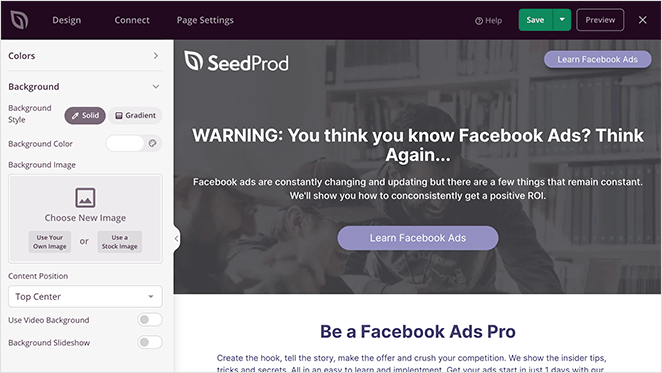 In this area, you can:
Choose a solid or gradient background color.
Upload a background image.
Change your background image's position.
Use a video background.
Enable a background slideshow.
And the great thing is, you won't need to write a single line of code to make your page look professional.
Just remember to save your changes periodically by clicking the green Save button in the top-right corner of your screen.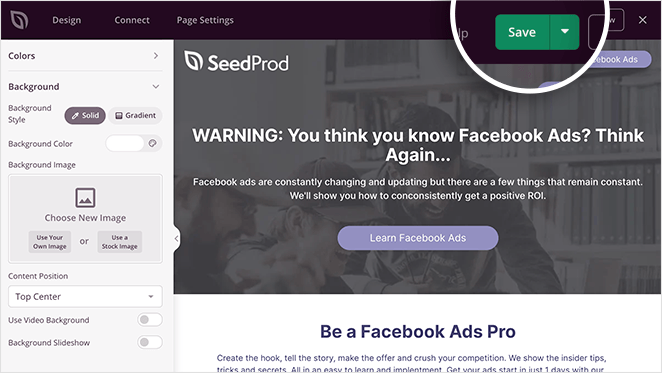 Step 4. Configure Your Landing Page Settings
If part of your marketing strategy is to collect email addresses, you'll need to link your landing page to your email marketing and automation service. This makes it easier to manage all the new leads joining your email list.
Luckily integrating your email marketing provider is super-easy in SeedProd. Just click the Connect tab at the top of your screen.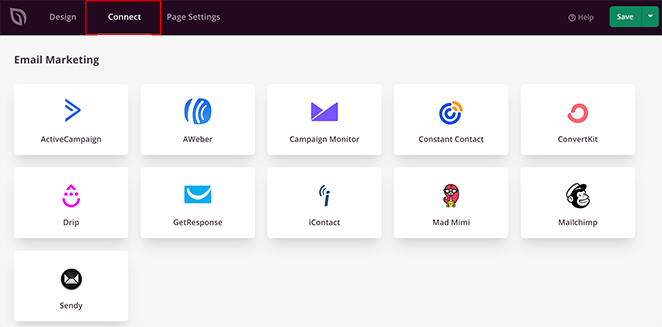 On this page, you'll see all the popular email marketing services that integrate with SeedProd. So go ahead and choose your preferred service, click Connect and follow the steps to authorize your account.

You can find instructions for each email marketing provider in SeedProd's email integration documentation.
Besides connecting your email provider, you can also collect emails right inside SeedProd. The details of anyone who signs up on your landing page are shown in SeedProd's subscriber overview.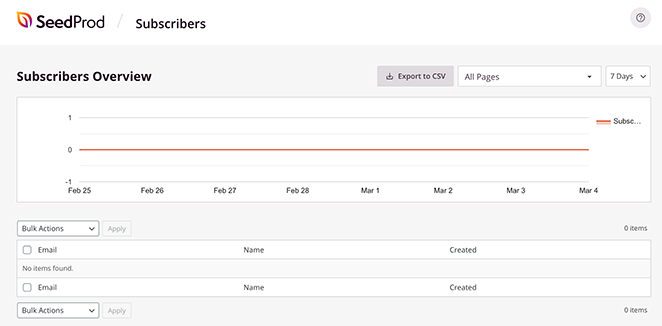 You can view this dashboard by navigating to SeedProd » Subscribers from your WordPress admin area.
After connecting your email service to SeedProd, there are a few more settings to configure before publishing your page. To find them, click the Page Settings tab along the top of your screen.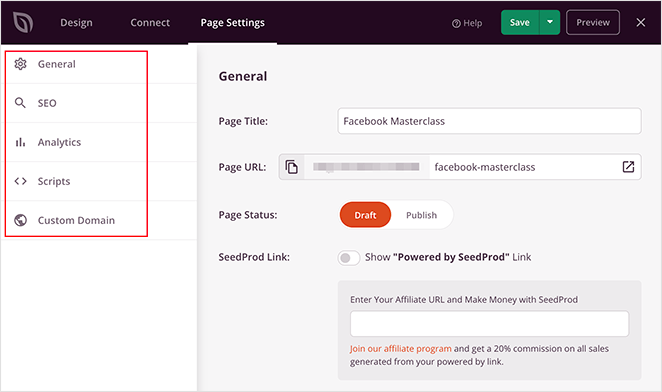 On this page, you can edit the following settings:
General – Change your page name and URL, publish or set your page to draft, and put your landing page in isolation mode.
SEO – Click to see the SEO settings of your landing page in a WordPress SEO plugin like All in One SEO.
Analytics – View the Google Analytics metrics of your landing page in an Analytics plugin like MonsterInsights.
Scripts – Enter crucial scripts to your landing pages, such as your Facebook tracking pixel and retargeting scripts.
Custom Domain – Give your Facebook landing page a different domain name from your existing website.
You can learn more about each of these in the Page Settings documentation.
Step 5. Publish Your Facebook Landing Page in WordPress
Before publishing your Facebook landing page, it's important to check if it looks good on mobile devices. If your landing page content doesn't show properly on mobile screens, you could lose potential leads.
The good news is, you can preview your Facebook landing page on mobile easily in SeedProd.
From the Design screen, click the mobile icon at the bottom of the page builder.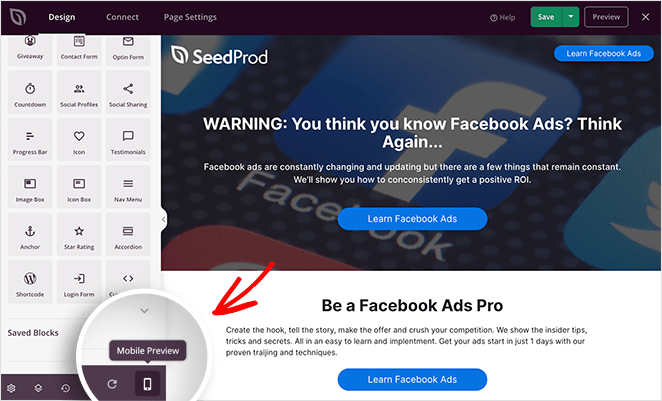 This opens your landing page in a mobile preview so you can check that every element displays correctly.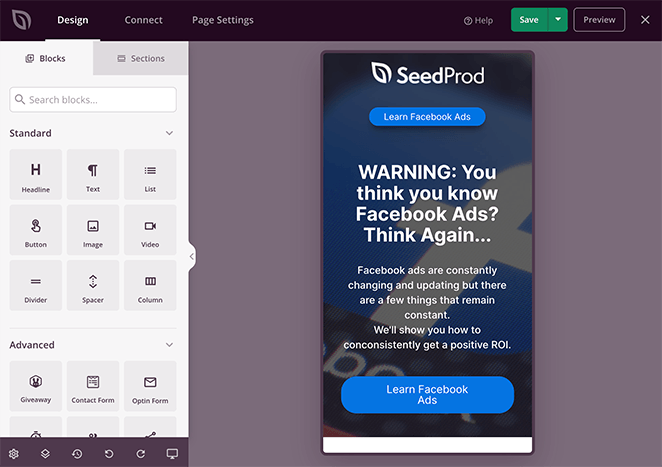 Scroll through your mobile preview and click to edit any page block that doesn't look right. When you're happy with how your page looks, you're ready to make it live.
To do that, click the down arrow next to the green Save button and click Publish.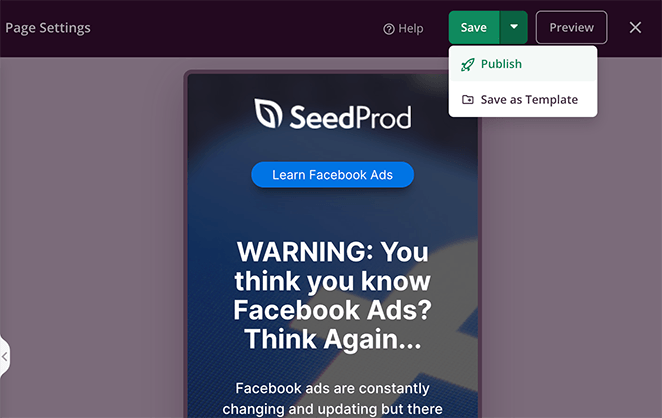 A popup then appears, telling you that your page has been published.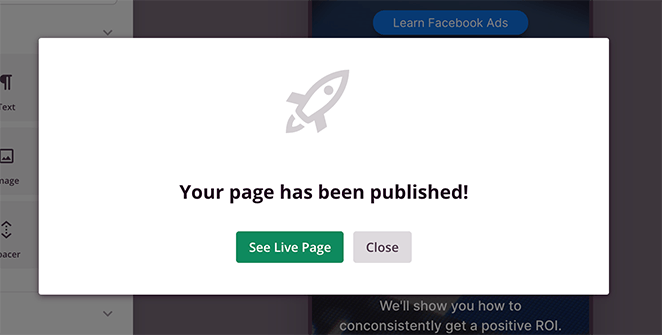 Click the See Live Page button to see a preview of how it looks.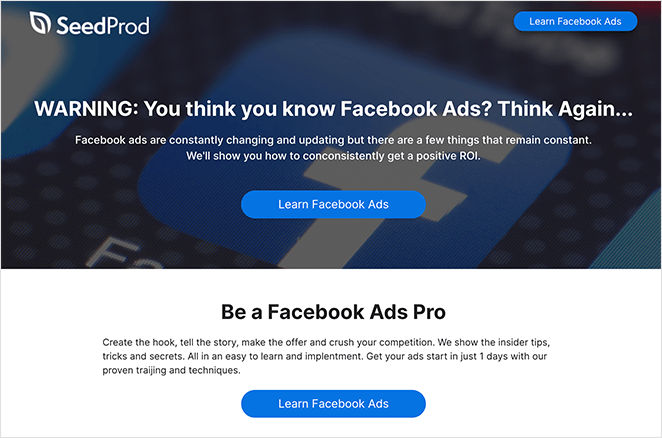 Facebook Landing Page FAQs
How do I create a Facebook landing page for free?
With the free version of SeedProd, you can create a simple Facebook landing page for free. It comes with all the basic building blocks to create your landing page design, allowing you to generate leads at no cost.
Do Facebook ads need a landing page?
You should always link your Facebook ad to a landing page to encourage clicks and conversions. At the same time, you need to optimize your landing page to keep users on your page long enough to convert.
How to link a landing page to Facebook?
You can link your landing page to Facebook by adding the URL to your profile. If you want to link your landing page to a Facebook Ad, add the landing page URL to the website link section in the Ad creative inside the Facebook ad manager.
How do I change my landing page on Facebook?
To change your landing page on Facebook, simply edit your profile and replace the existing URL with your new Facebook landing page URL.
What are the rules for Facebook landing pages?
You can read all of Facebook's landing page policies here. However, the basics include:
Align your landing page with your ad.
Comply with Facebook advertising policies.
Ensure your page works correctly.
It can't automatically redirect users to another site or automatically download something.
You can't have a mandatory ad blocking the page users are trying to get to.
How do I make my Facebook landing page more effective?
To make your Facebook landing page more effective, you can use A/B testing to compare different versions of your page and optimize its elements, such as the headline, image, and CTA button. You can also add Facebook Pixel to track user behavior and retarget visitors with ads on Facebook and other platforms.
Additionally, you can make your landing page mobile-friendly and ensure that it loads quickly.
How do I analyze the performance of my Facebook landing page?
To analyze the performance of your Facebook landing page, you can use Facebook Insights or third-party analytics tools, such as Google Analytics. These tools allow you to track metrics such as page views, bounce rate, time on page, and conversion rate.
You can also use heat maps and user recordings to see how visitors interact with your page and identify areas for improvement.
And that's it!
You now know how to create a Facebook landing page in WordPress. All that's left is to add your landing page link to your Facebook campaigns so users can see it in their news feeds. As a result, you can increase conversions, leads, and sales.
So what are you waiting for?
If this article helped, then please follow us on Twitter and Facebook for more useful content to help grow your business.