How to Create a Simple Landing Page in WordPress (+3 Examples)
Do you want to learn how to create a simple landing page in WordPress?
Landing pages are a great way to capture your website visitors' attention and turn them into leads and paying customers.
This article will explain what a landing page is, the essential elements every landing page needs, and how to create a simple landing page in WordPress.
First, what exactly is a landing page?
What Is a Landing Page?
A landing page is a special web page designed to promote and sell your products and services and increase conversions.
It's called a landing page because this is where visitors land first on your website. After browsing your page, they'll take action by signing up for your email list, buying a product from your online store, or getting in touch. When this happens, they turn into qualified leads or sales.
A landing page is different from a homepage because it's designed for a specific purpose.
Homepages are designed to provide lots of information so users can decide what to do on your site. In contrast, a landing page aims to inform users about something specific and persuade them to take action.
For instance, you might create a landing page linked to a social media campaign to persuade users to pre-order a new product. Alternatively, you could create a landing page to encourage users to register for your next webinar.
Bottom line: landing pages are powerful marketing assets created to accomplish your marketing goals by driving more leads and sales.
What Are the Essentials of a Landing Page?
Because your landing page is designed to convince and convert, there are some key elements every landing page should include to do the job well.
The 5 essentials of a great landing page are:
Attention-grabbing headlines – The best headlines instantly draw the reader in while clearly stating your offer and unique value proposition.
Eye-catching images – Use high-quality photos and hero images to illustrate your offer. Pictures of happy smiling faces can help people imagine themselves as customers.
Compelling copy – Ensure your copy is easy to read with a clear, legible font and write in a way that addresses your visitors' pain points.
Urgency – Including limited offers and countdown timers on your custom landing page creates a sense of urgency that compels visitors to take action for fear of missing out.
Calls-to-action (CTAs) – Always include a bold CTA button to encourage visitors to act on the information you've provided.
These are just the essentials of a landing page. Always keep in mind your target audience when putting your pages together and adjust the design and elements to suit both your desired goal and the audience's needs.
For example, you can create different types of landing pages for various products, services, and audiences such as:
Now that you know what a landing page is and how they work let's learn how to create a simple landing page in WordPress, with several examples.
1. Creating a Simple Landing Page with SeedProd
The easiest way to create a simple landing page in WordPress is with a WordPress plugin. The most user-friendly tool for the job is SeedProd, the best drag and drop landing page builder for WordPress.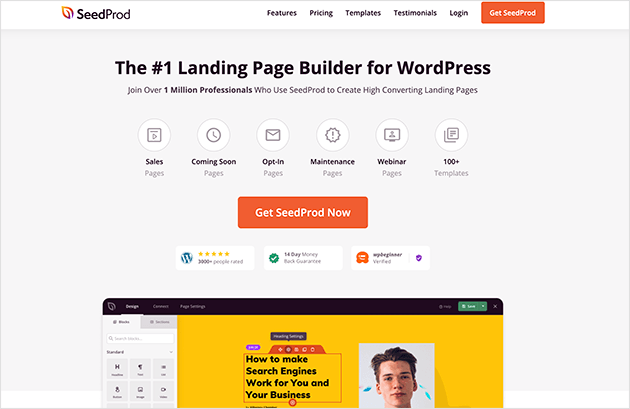 SeedProd makes it super-easy to create high-converting landing pages in WordPress. It has a fuss-free drag and drop page builder that offers a live preview of your page as you make changes.
You can add conversion-focused content with landing page specific blocks and customize that content with various block templates and design options. Even better, creating professional landing page designs is easy with the library of landing page templates.
You can also forget about pages that are slow to load and customize. The SeedProd page builder plugin is bloat-free with minimal code, so everything loads lightning-fast no matter how many elements you add to your page.
Best of all, you won't need any design knowledge to build stunning landing pages that get results.
So if you want to know how to create a simple landing page in WordPress, here's how it works with SeedProd.
Step 1: Create a New SeedProd Landing Page
First, click here to get started with SeedProd and download the plugin to your computer. Then upload and activate the plugin on your WordPress website. If you need help with this step, you can follow these instructions for installing a WordPress plugin.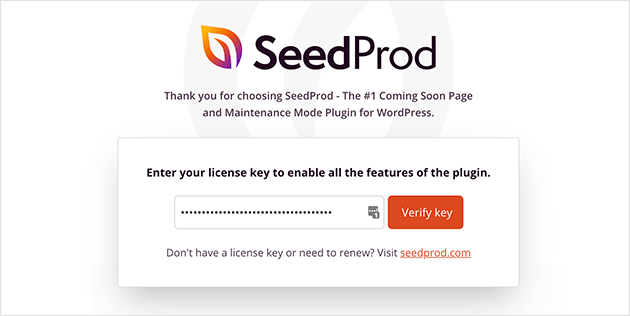 After activating the SeedProd plugin, you'll see a welcome screen. Enter your license key in the field provided and click the Verify Key button to verify the plugin.
Next, scroll further down the same screen and click the Create Your First Page button.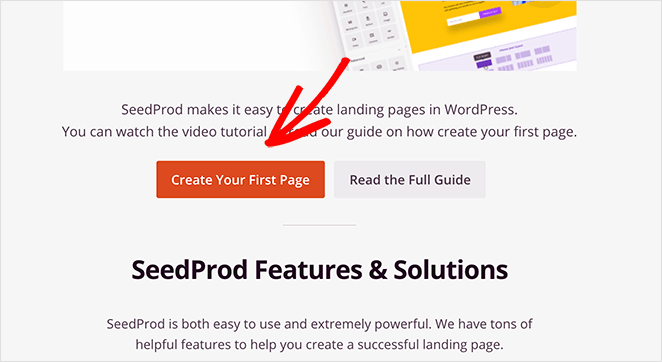 After clicking the button, you'll head to the landing page dashboard. On this page, you can edit and activate the built-in Coming Soon Mode, Maintenance Mode, and 404 Page. Underneath, you'll see a list of all the landing pages you've created with SeedProd.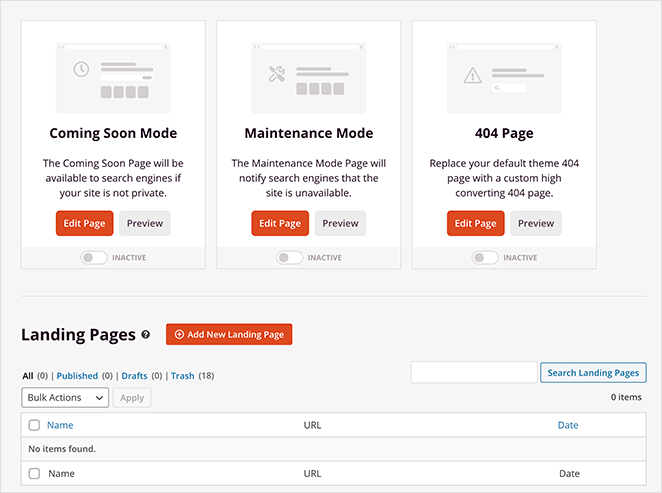 Since we don't have any pages yet, go ahead and click the + Add New Landing Page button to create a new page.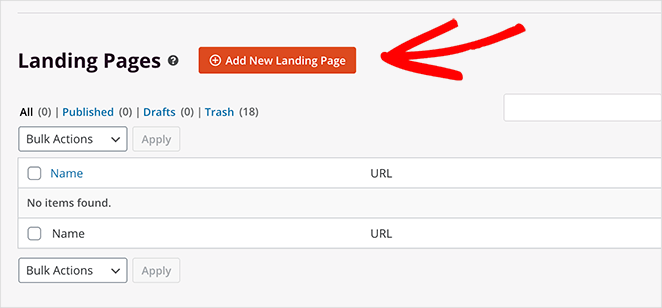 Step 2: Choose a Landing Page Template
The great thing about SeedProd is it comes with a wide variety of landing page templates to help you build stunning landing pages without any design or coding experience.
So after clicking the Add New Landing Page button, you'll see a page where you can choose a pre-designed page template.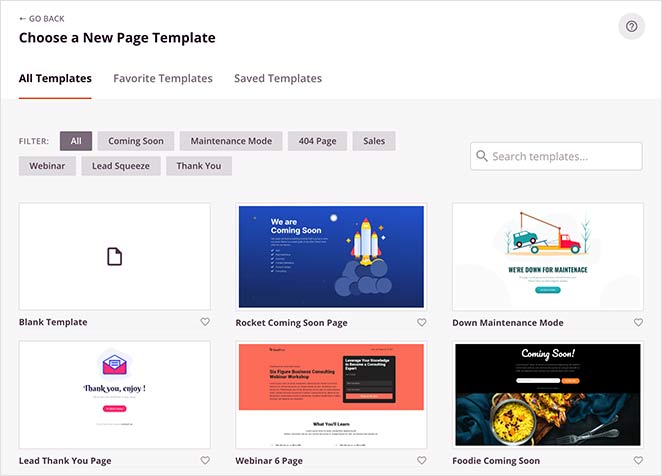 There are templates for:
Coming Soon
404
Sales
Webinar
Thank You
Lead Squeeze
Or you can select the Blank Template to build and design your own page.
For this tutorial, let's choose the Newsletter Squeeze Page Template. Just hover your mouse over the template and click the tick icon.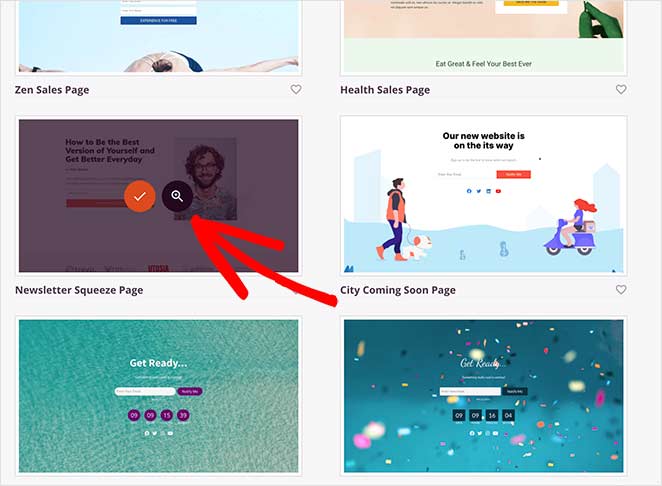 After that, a lightbox will appear where you can give your page a name and a custom URL. Then click the button labeled Save and Start Editing the Page.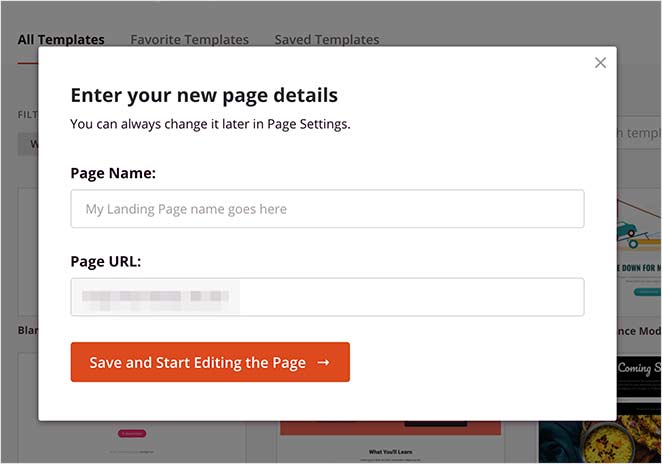 Step 3: Customize Your Simple Landing Page
After creating your new page, you'll see the visual drag and drop page builder. This is where you can choose the layout for your page and add your page content. These elements are divided between Blocks and Sections.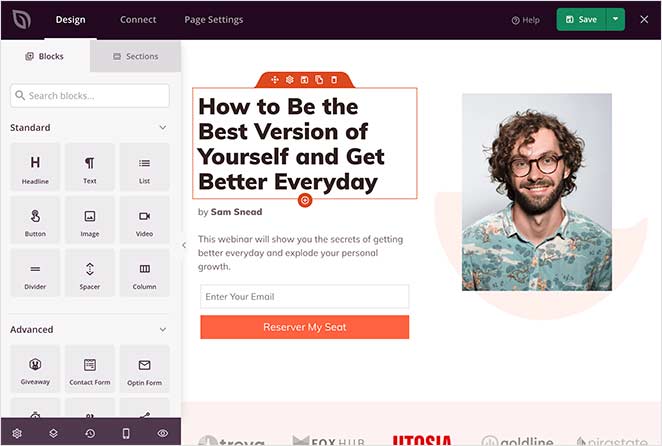 Landing Page Blocks
Blocks are elements that contain the content of your page, including:
Headlines
Text
Bullet Point Lists
Images
Buttons
Dividers
Videos
Spacers
Columns
Adding them to your page is as simple as dragging them from the left-hand panel onto the live page preview on the right. You can also click any element that you add to your page to see several customization options.
For instance, upon clicking the Button block, you can see it has several template styles with different colors, gradients, and outlines to choose from.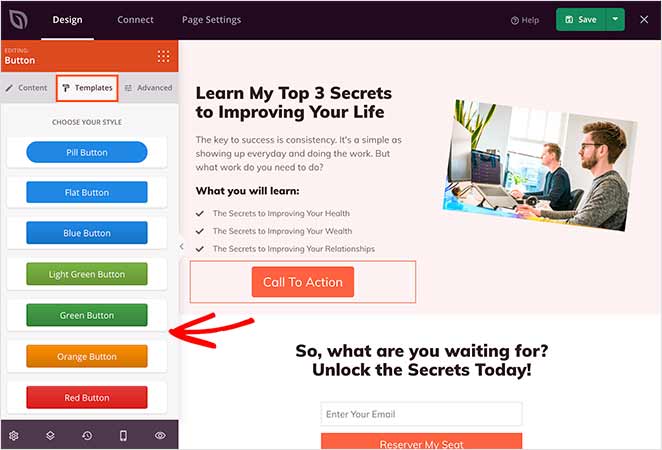 You can also change the content, size, and alignment of the block. You can customize the color, typography, button style, and more in the advanced block settings.
As well as standard content blocks, you can also take advantage of SeedProd's conversion-focused blocks in the Advanced section. These elements are optimized for lead generation and include blocks for signup forms, contact forms, and giveaways.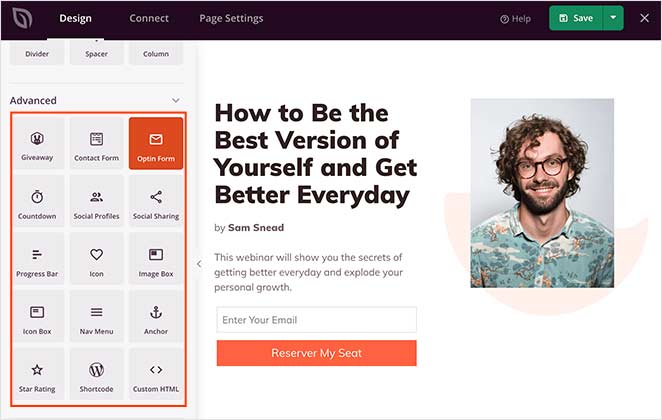 You can also leverage social proof and urgency marketing with countdown timers, star ratings, progress bars, social blocks, sharing buttons, and more.
As with the standard blocks, you customize each element of the advanced blocks. You can choose different templates for form fields, customize your countdown timer styling, and so on.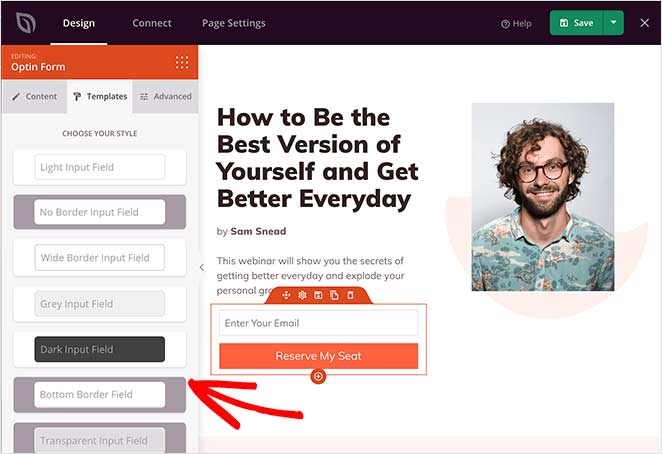 Landing Page Sections
The sections tab shows a selection of pre-made layouts you can click and add to your landing page.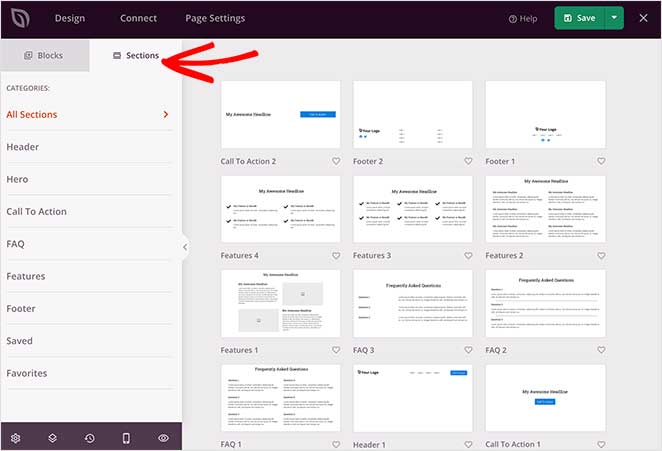 This includes sections for:
Headers
Hero Areas
Calls To Action
FAQ
Features
Footers
To add a section to your landing page, hover over an example with your mouse and click the plus + icon.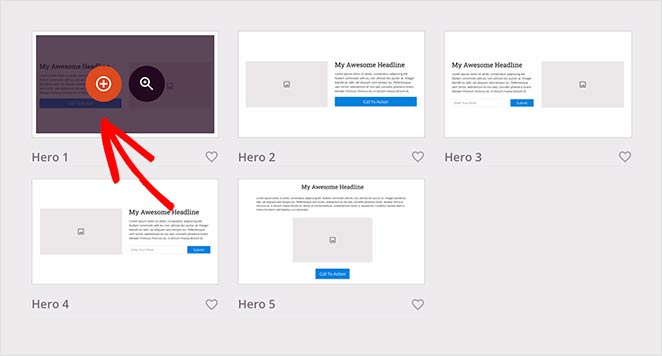 SeedProd will then instantly insert the section into your page where you can click and edit the elements as you would with the blocks.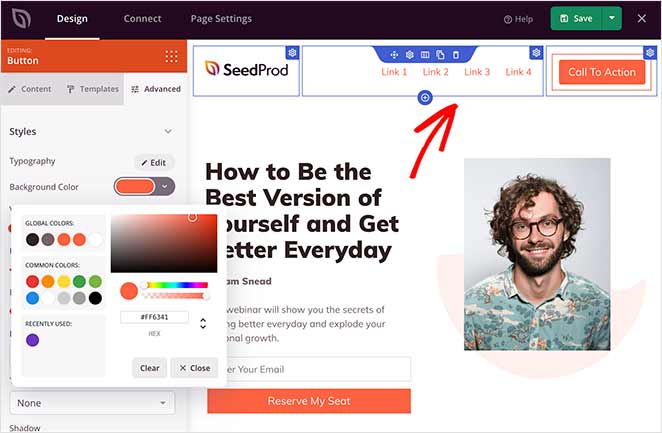 Global Settings
To keep your landing page branding similar to the rest of your website, you can edit your global landing page settings. Just click the gear icon in the builder's bottom-left corner to reveal global color, font, background image, and custom CSS settings.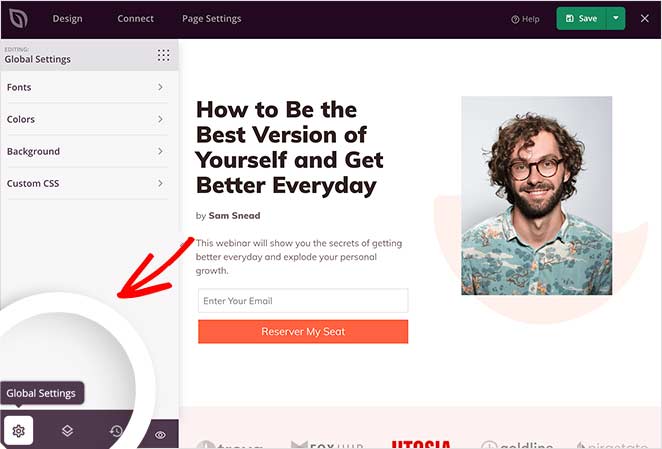 For example, you can add a video background or background slideshow to your page. Or you can give your landing page a consistent color palette.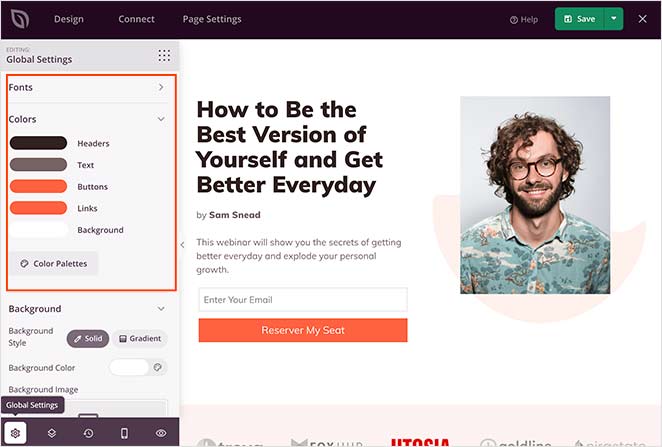 In fact, SeedProd comes with over 20 pre-made color palettes you can choose with a single click.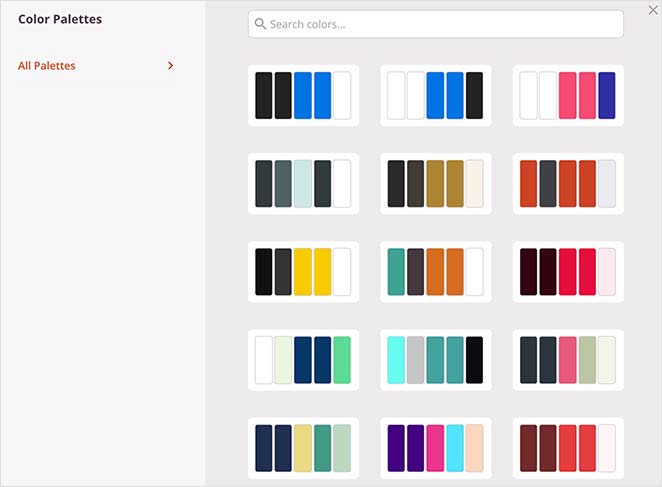 Don't forget to save your changes periodically during the design process by clicking the Save button in the top-right corner.
If, for whatever reason, you need to go back to a previous landing page version, just click the clock icon in the bottom left of your screen, view your revision history and switch to a different version.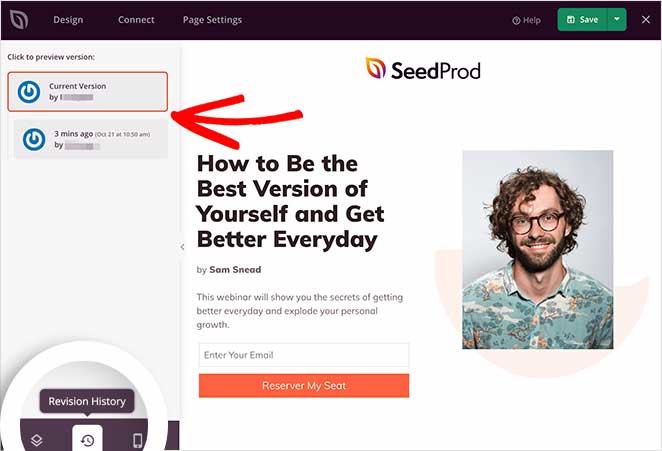 Step 3: Integrate Your Email Marketing Service
Connecting your email marketing service to your landing page will help you gather leads. SeedProd makes this easy by offering integration with popular email services like Constant Contact, GetResponse, ActiveCampaign, and more.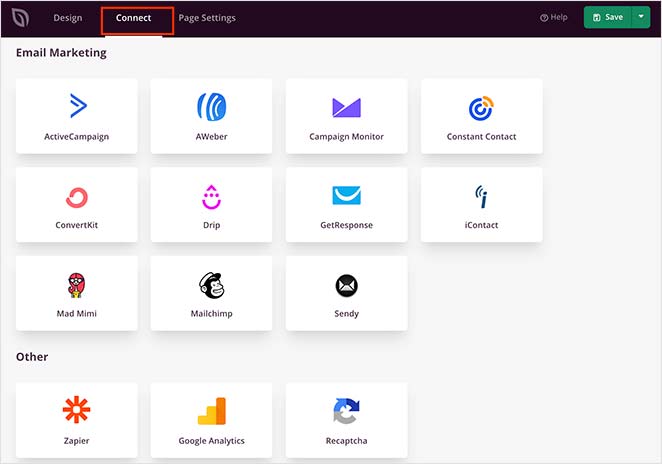 It's also possible to set up Google Analytics tracking, Recaptcha spam protection, and connect with hundreds of other apps with Zapier.
To connect to your email service, just find it in the integration list and click Connect.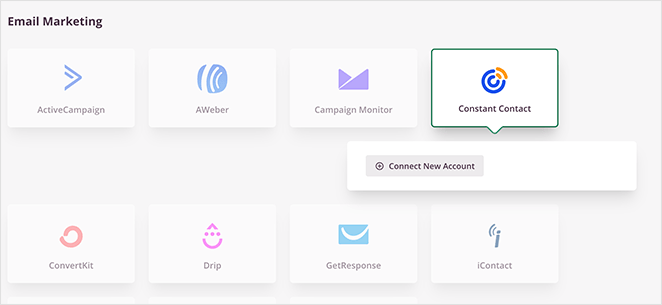 Then follow the instructions to connect and verify your account. After that, you can link all your optin-forms to your email list.
Step 4: Configure Your Landing Page Settings
For the next step, click the Page Settings tab at the top of your screen. Here you can configure your general page settings, edit your SEO and analytics settings, and enter custom header, body, and footer scripts.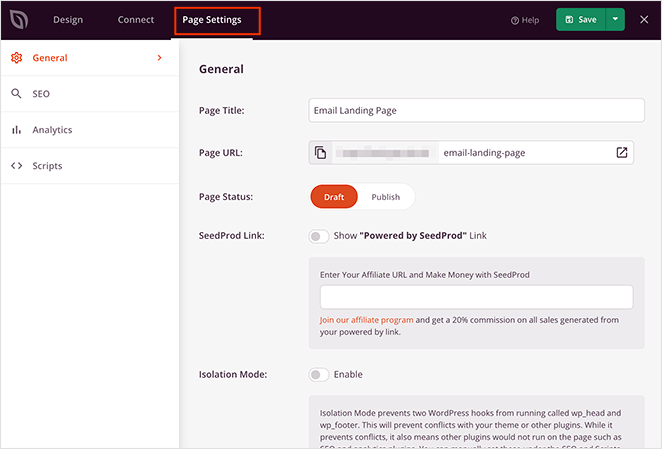 Remember to click Save to preserve your changes.
Step 5: Preview and Publish Your Simple Landing Page
Before publishing your landing page, you should preview it to see if it looks good on both desktop and mobile devices.
To preview your page, click the preview icon in the landing page builder. You'll see a mobile page preview instantly so you can scroll through and make any changes. Just click the icon again to switch back to the desktop preview.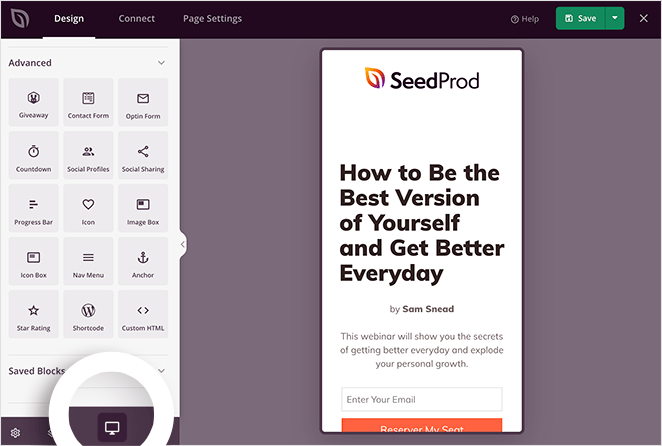 If you'd like to see a live preview of your page, click the eye icon to open your landing page in a new tab.
When you're happy with how everything looks, click the arrow under the Save button and click Publish.
SeedProd will show a success popup notifying you that your page is now live.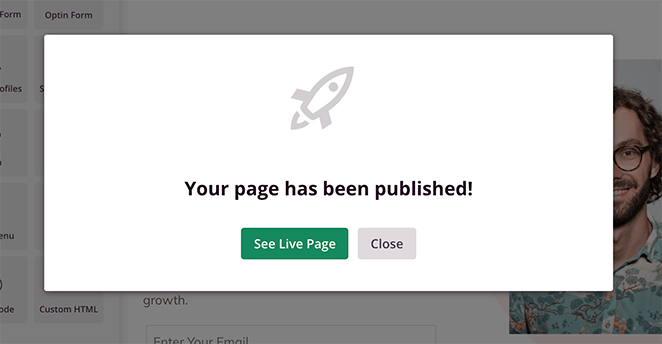 Then you can click the See Live Page button to see it.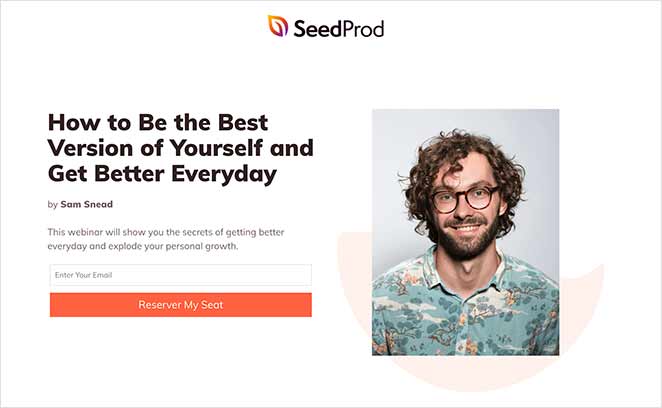 Great work! You've now created a simple landing page in WordPress.
2. Creating an Optin Landing Page with OptinMonster
As we mentioned earlier, a well-optimized landing page can convert the website traffic that lands on it into valuable leads for your business.
In this example of building a landing page, we'll show you how to create an optin landing page using OptinMonster, the most powerful lead generation software for marketers.
It might sound complicated, but we promise it's super easy, and you don't need any knowledge of coding!
To get started, you'll need to grab yourself a copy of OptinMonster and choose at least the Pro version to access the Fullscreen Overlay feature we'll be using in this guide.
Step 1: Create a New Campaign
When you've got your copy of OptinMonster, log in to your account and click the green Create Campaign button.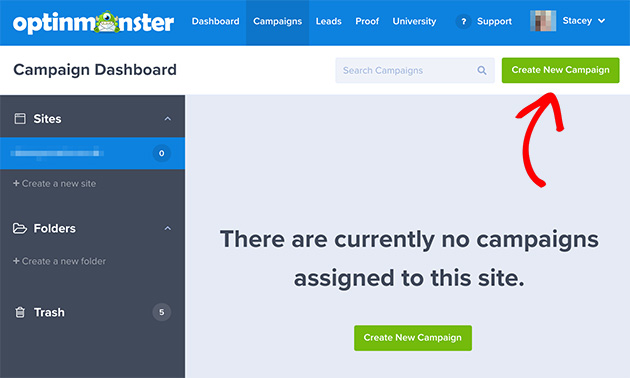 Then select the Fullscreen Campaign Type, which is what we'll be using to build our landing page.

Next, scroll down to choose a template for your campaign.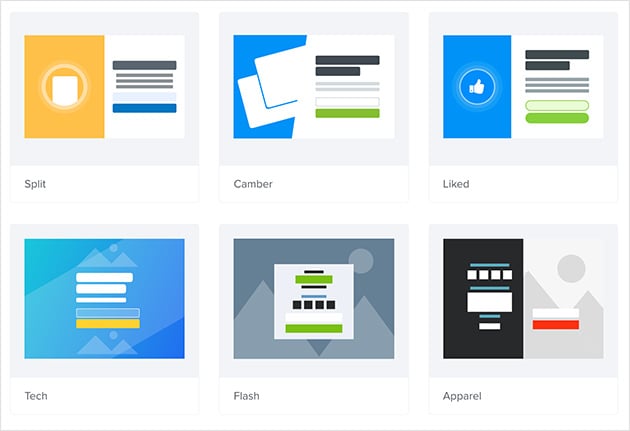 Now give your campaign a name and choose the website you'd like to display it on. Then click the Start Building button.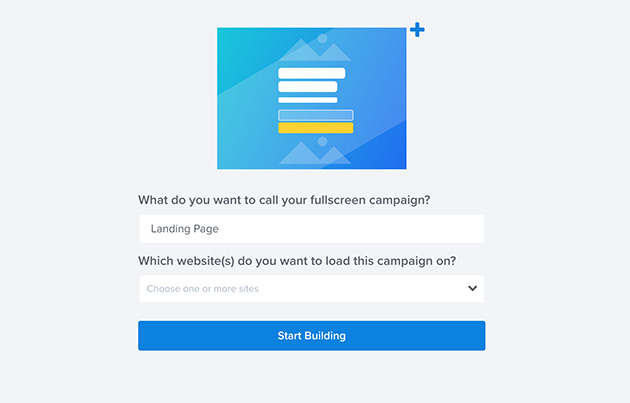 Step 2: Customize Your Campaign
The next page you'll see is where you can edit your landing page and customize it to suit your branding and campaign goals.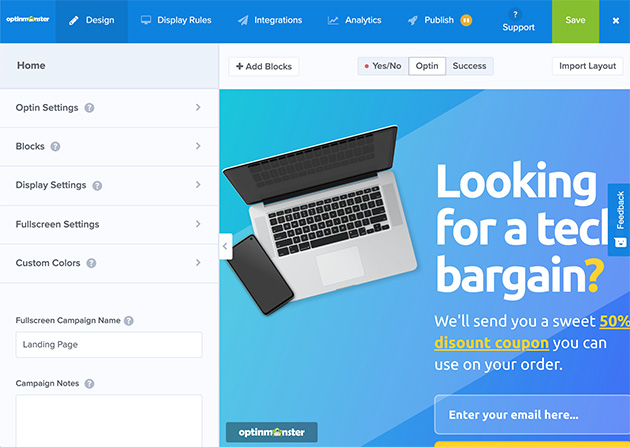 To make your changes click any element on your screen that you want to change, and an editor will appear on the left-hand side of the page.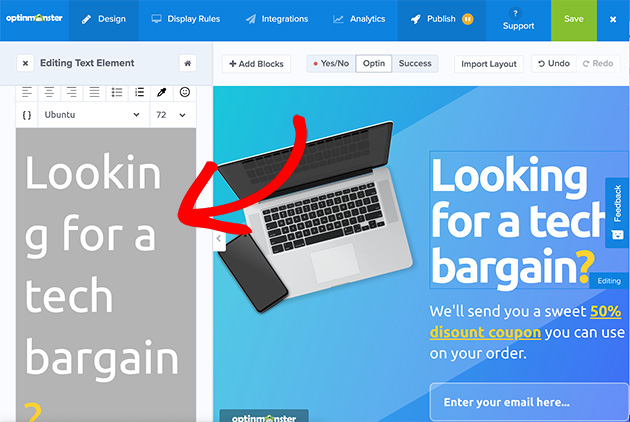 You can also add extra features to your page including:
Column Blocks
Images
Buttons
Chatbots
Coupon Wheels
Countdowns
Videos, and more
Step 3: Set Your Campaign Display Rules
When you're happy with your landing page's design, move on to the Display Rules tab, which you'll find at the top of the screen. This is where you'll set when your landing page shows up to visitors.
By default, the display rules are set to show the page after a visitor has been on your site for 5 seconds.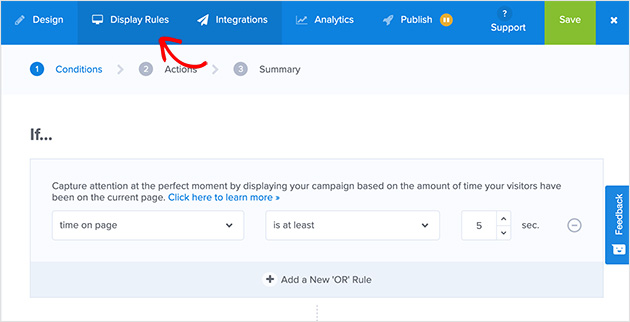 But for this example, we're going to change it show when a visitor is about to exit the site. Plus, if they haven't seen the page for a while.
To do this, we're going to condition the page to show when an exit is detected and if a visitor has not seen the campaign in the last 7 days.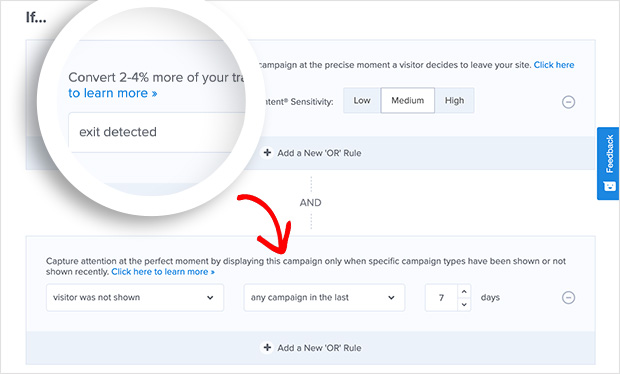 Step 4: Integrate Your Campaign
Next, it's time to add your email service provider so you can collect email addresses from your landing page. You can do this by first clicking Integrations at the top of the page then Add New Integration on the left-hand side panel.
OptinMonster works with all major email marketing services, so you're sure to find yours in the drop-down list. For instructions on integrating with your email service provider, see the documentation here.
Here's an example of how to set it up using MailChimp.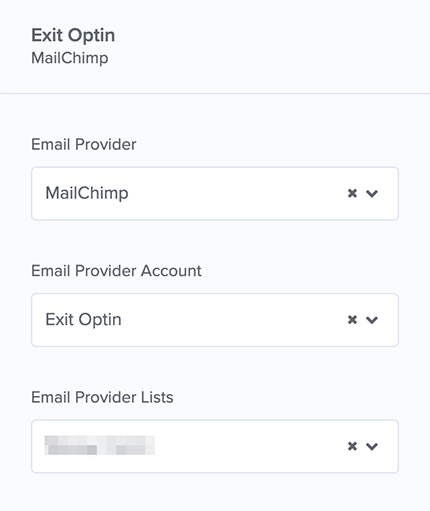 Step 5: Publish Your Campaign Landing Page
Now before we go ahead and publish the landing page, it's a good idea to set up analytics to track your results.
To do this, simply click the Analytics tab at the top of the screen and click the Connect button to connect to Google Analytics.

Now you're ready to publish your landing page!
Just head to the Publish tab and change the status of your campaign from Pending to Live.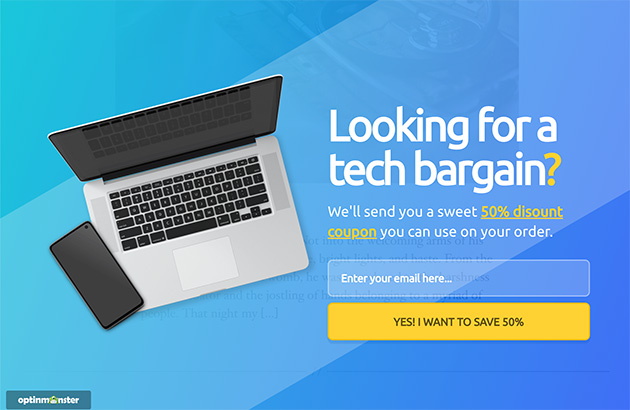 But we don't always need something as detailed as a marketing campaign if all you need is a landing page to display a simple WordPress form. That's why in the next example we'll show you how to create a landing page for your site forms.
3. Creating a Form Landing Page with WPForms
Creating a landing page for your WordPress forms is a smart idea if your normal forms aren't performing as well as you'd like.
Let's face it; there's a lot going on with your website. You've got content, offers, discounts, and so much more happening all at once. Those humble web forms can get overlooked pretty easily.
But with the Form Pages Addon from WPForms, you can transform your forms into beautiful distraction-free pages your visitors can't miss.
WPForms is the best drag and drop form builder for WordPress, and with over 3 million users, it's the fastest way to create stunning forms.
To get started with building your form's landing page, grab a copy of WPForms here.
For access to the Form Pages Addon, you'll need to get the Pro version at the very least. You can then download the WPForms plugin from within your WordPress dashboard area.
Once you've installed and activated the plugin, go to WPForms » Addons and scroll down until you find the Form Pages Addon.
Click Install Addon to install and activate it on your website.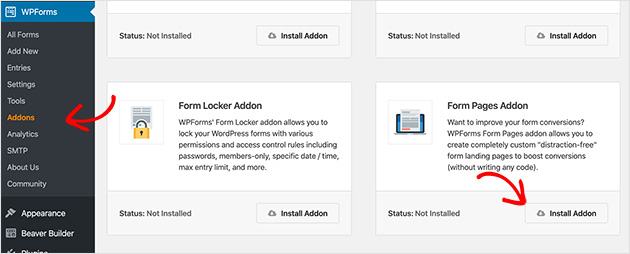 Then head to WPForms » Add New to begin creating your new form. You can learn all about creating a simple contact form in WordPress in this step-by-step guide.
To turn your form into a landing page, click the Settings tab within the form builder and select Form Pages.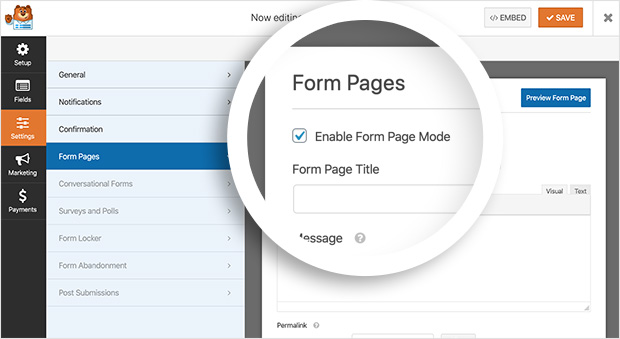 You'll need to click Enable Form Page Mode to start editing your landing page. Then you can edit all of the following elements:
Form Page Title – Change the page title to something more attention-grabbing and descriptive.
Message – Explain why you'd like your visitors to fill in your form.
Permalink – Choose the URL structure of your landing page.
Header Logo – Upload your own logo in the header of the page.
Footer Text – Add your own custom text in the footer.
Color Scheme – Select either a pre-set color scheme or choose your own.
Style – Choose either a Modern or Classic page style.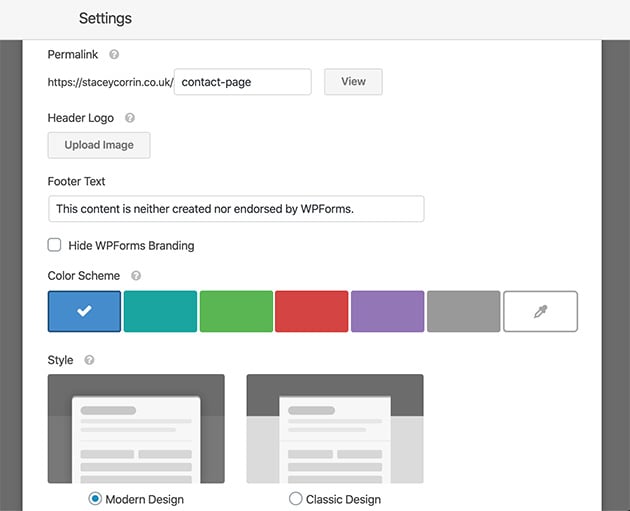 When you're happy with your settings, click Save. Whenever anyone visits the URL you chose in the setup stages; they'll see the form landing page.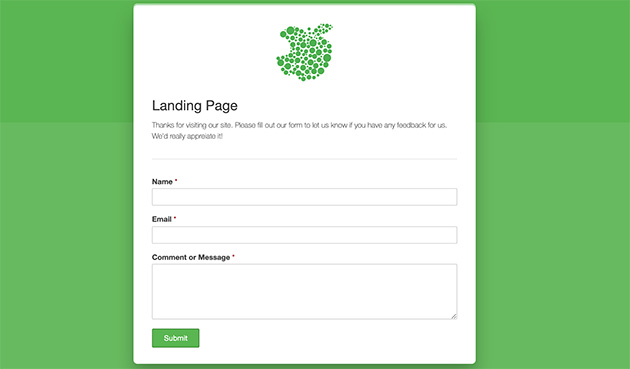 And there you have it!
You now know how to create a simple landing page in WordPress.
Creating a simple landing page is easy with any of the above examples. Even better all of the tools mentioned in this article work beautifully with SeedProd's landing page builder so you can build coversion-focused pages all in one powerful package.
Get started with SeedProd today.
And don't forget if you like this article then please follow us on Facebook and Twitter.