Are you looking for an easy way to customize your WordPress homepage?
WordPress usually shows your most recent blog posts on your homepage. But sometimes, you might want to display something different such as a page showcasing your products, services, and customer reviews.
This article will show you how to edit your WordPress homepage and customize it to suit your business needs.
Why Customize Your WordPress Homepage?
Your WordPress homepage is the front-page of your website and the first page users see when visiting your domain name.
If you create a blog, it makes sense to show only your most recent posts on your homepage. Yet, if you're using WordPress to build your business website or online store, you'll want to show something different on your homepage.
For example, an eCommerce website might want to display its latest products, industry trends, and special offers to encourage potential customers to buy. Small businesses might want to showcase their professional services, team members, and testimonials to help get more clients.
Many WordPress users struggle to edit their WordPress homepage and make it look like they want. If you have no design or coding experience, creating a professional-looking homepage that drives leads and sales can be challenging.
Luckily you're in the right place. We'll walk you through the process of how to edit your WordPress homepage and customize it to look the way you want, without hiring a developer.
Today we'll cover a few different methods you can use to create a custom homepage in WordPress.
1. Using SeedProd to Edit Your WordPress Homepage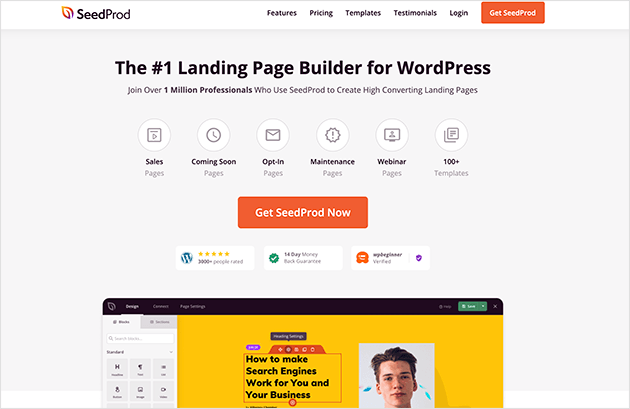 SeedProd is the best theme builder and landing page plugin for WordPress. Its' visual drag and drop builder makes it easy to build any type of website layout in real-time without hiring a developer.
Just choose from the wide variety of blocks and page elements to edit your homepage in any way you like.
With a library of stunning landing page templates, you can create professional-looking pages at the speed of thought.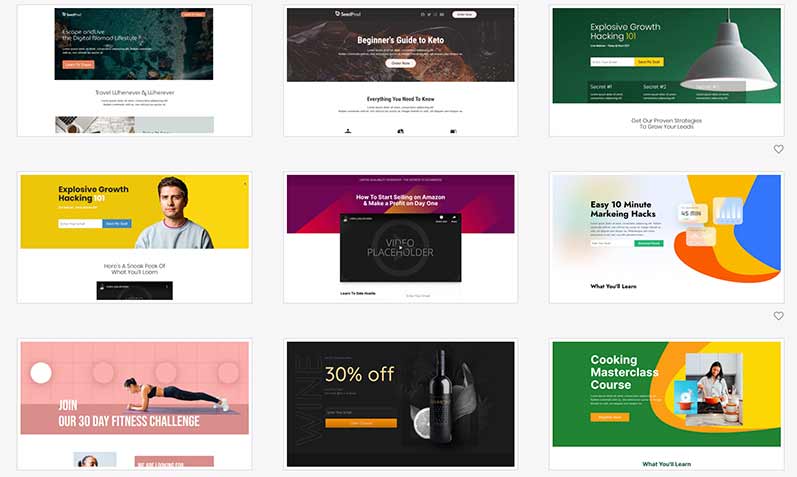 This includes landing pages such as:
Your main website homepage
Conversion-focused squeeze pages
Webinar registration pages
eCommerce sales landing pages
And more
SeedProd comes with pre-built coming soon, 404, and maintenance modes you can turn on with a single click.
Best of all, SeedProd won't slow down your website. The plugin is bloat-free and has minimal code to ensure your site loads lighting-fast.
There are 2 ways to create a custom WordPress homepage with SeedProd. You can customize a premade landing page template and use it with your existing WordPress theme, or you can replace your current theme and make a custom WordPress theme with the theme builder feature.
Customizing Your WordPress Homepage with the Landing Page Builder
Below, we'll show you how to do both, starting with the landing page builder.
Step 1: Install the SeedProd Plugin
You'll need to download the SeedProd plugin and install it on your WordPress website to get started. You can learn how to install a WordPress plugin in this step-by-step guide.
After installing the SeedProd WordPress plugin, click the SeedProd icon in your WordPress admin panel to see the SeedProd dashboard overview.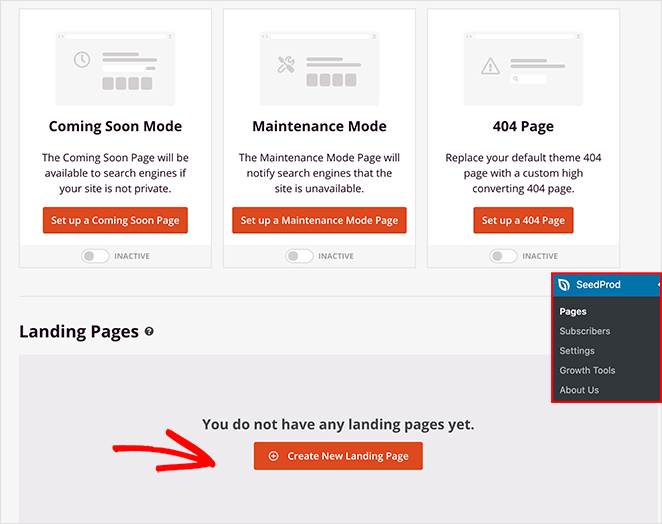 You can edit and enable your Coming Soon, 404, and Maintenance pages on this page, or you can create a new page with the drag and drop builder.
Go ahead and click the + Create New Landing Page button to create a new homepage layout.
Step 2: Choose a Homepage Template
You can choose from one of the many professionally designed landing page templates on the next screen.
This is an excellent way to get a good starting point for your homepage; you can then customize the layout and elements to suit your specific business needs.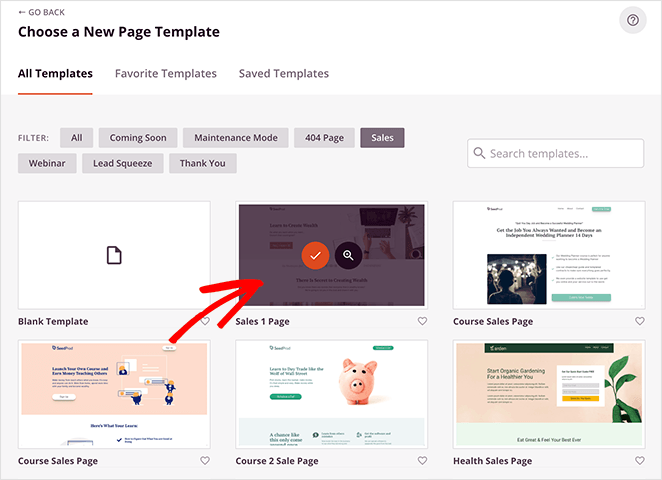 We'll choose the Sales Page 1 template for this tutorial, a modern and widely used layout. Just hover your mouse over the template and click the tick icon to launch it.
SeedProd will then ask you to give your page a name and a custom URL. Then click Save and Start Editing the Page to customize your homepage in the visual builder.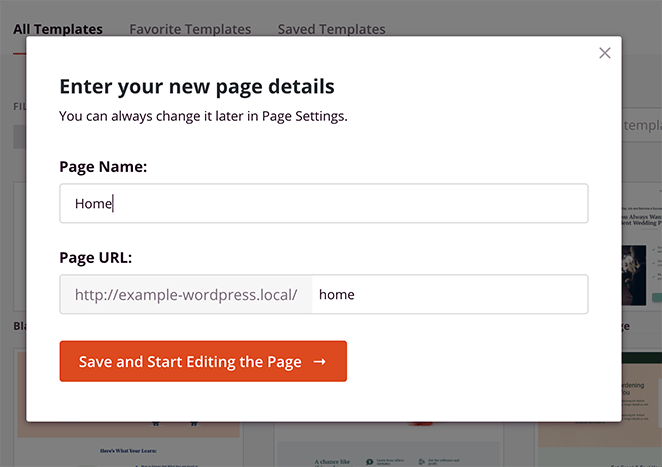 Step 3: Customize Your Homepage
Your selected template will open in the SeedProd drag and drop page builder.
Here you can easily click, drag, and drop any page element to customize how it looks. You can also drag any content block from the left-hand panel to the right panel to add extra page elements.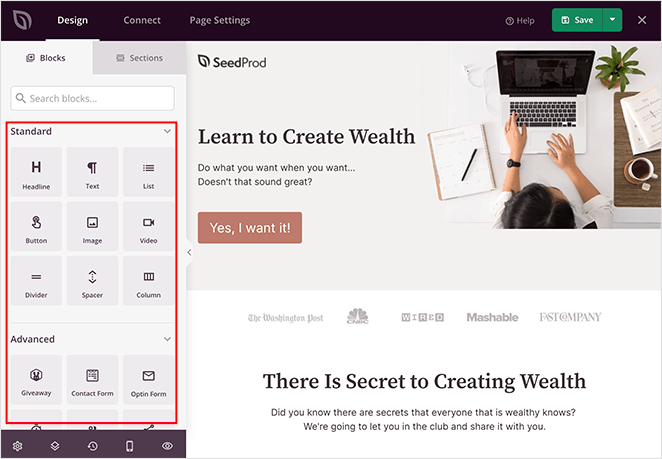 Let's start by editing the welcome area. Hover your mouse over the section until it has a colored outline, then click it to show the customization options in the left-hand panel.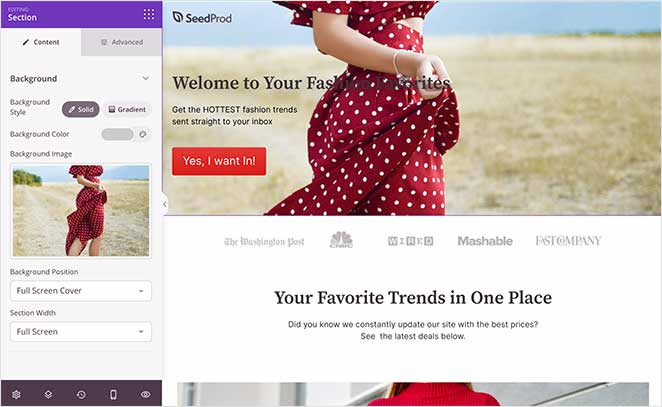 As you can see, we've replaced the default cover image, heading text, and call to action button.
Nearly all of SeedProd's content blocks come with pre-made templates. This makes it easy to choose a style that best suits your brand.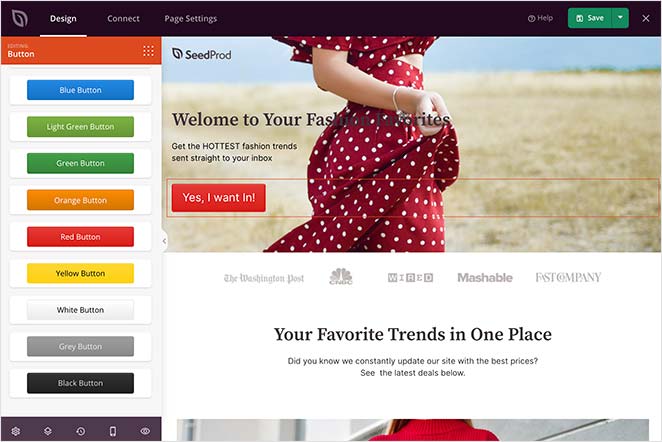 You can also use the Advanced blocks to add conversion-focused elements such as star ratings, optin-forms, and social buttons to increase your leads and sales.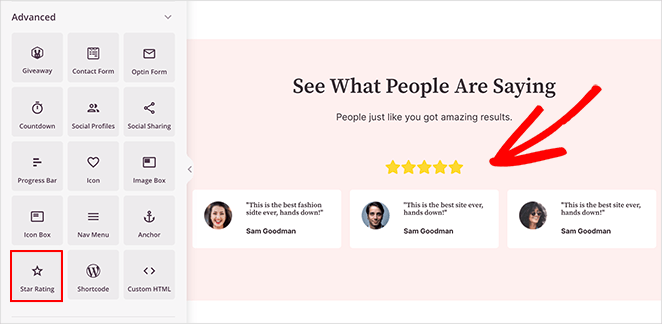 You can connect your homepage to your email marketing service for even better results.
To find out more about the SeedProd integrations, see the documentation here.
Continue customizing your page until you're happy with how everything looks. Then go ahead and click the arrow next to the Save button and click Publish to make the page live.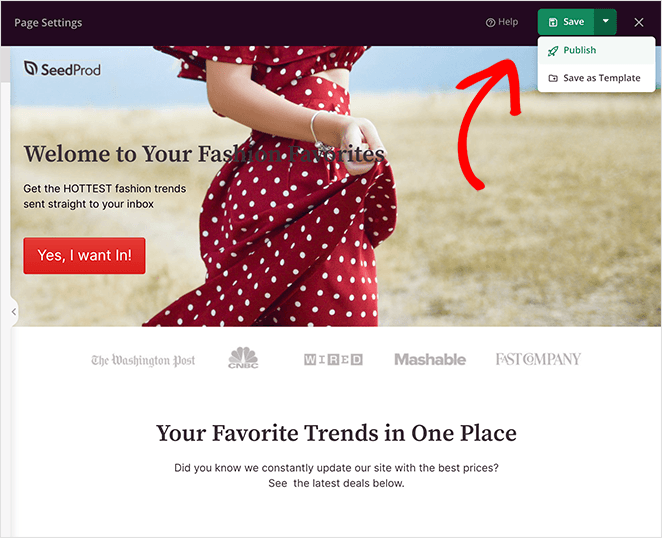 Step 4: Set Your New Landing Page as the Homepage
The last step is to tell WordPress that you'd like to use your new custom landing page as your homepage.
To do that, navigate to Settings » Reading, and in the Homepage drop-down menu, choose the landing page you just created.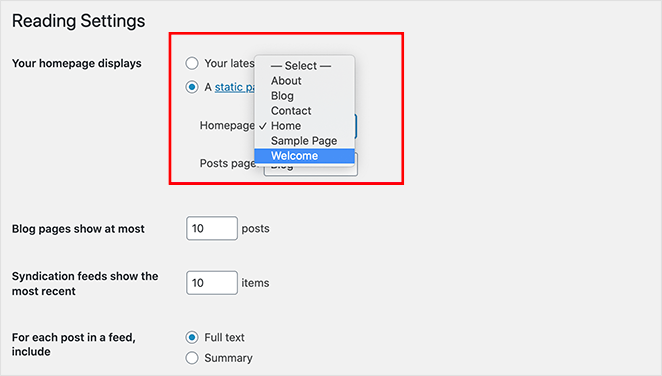 Remember to click Save Changes.
When you navigate to your main website, you'll see your newly created homepage.
Here's the template we started with: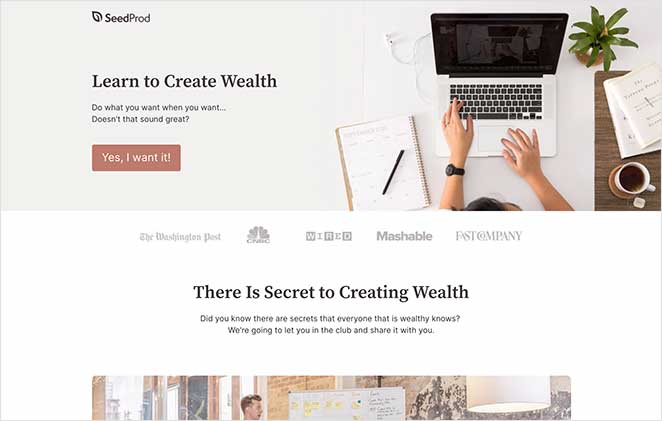 And here is the new customized version: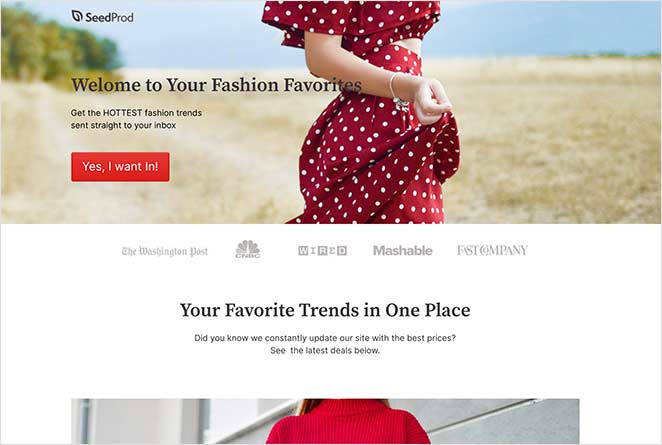 Congratulations! You now have a fully functional and professional homepage, and you didn't touch a single line of code!
Creating a Custom WordPress Homepage with SeedProd's Theme Builder
Now we'll look at how to create a custom homepage using SeedProd's WordPress theme builder.
Note: This method will replace your existing WordPress theme with a new, custom design. You'll need to create all the parts of your theme, including your blog page, homepage, header, footer, etc. Don't worry; it's super easy, and you won't need to touch a single theme file or line of code.
You can follow this step-by-step guide to create a custom WordPress theme with SeedProd. Or follow these instructions to customize your WordPress homepage.
First, go to SeedProd » Theme builder, and click the Themes button.

This opens a window where you can see several stater theme templates.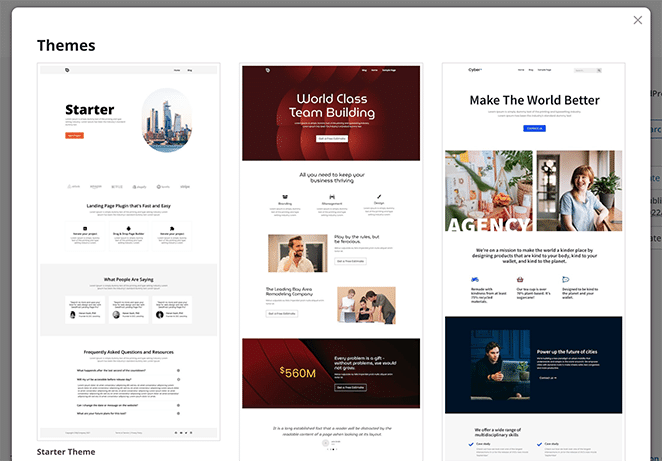 Hover your mouse over the template you like and click the checkmark icon. Doing this will create all the parts that make up your WordPress theme.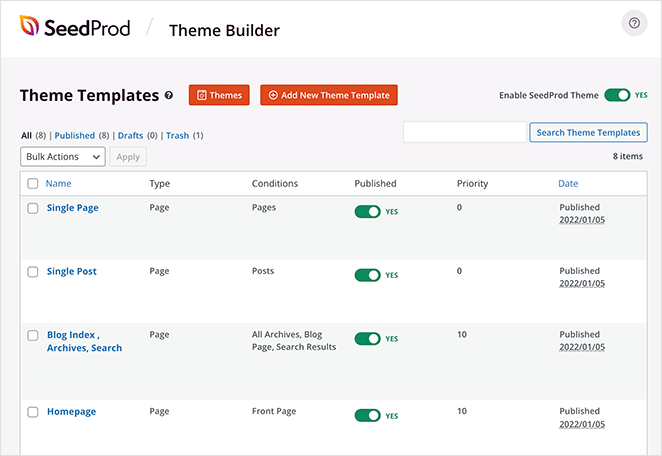 Next, hover your mouse over the "Homepage" section and click the Edit Design link.

Clicking that link will open your homepage in SeedProd's visual editor.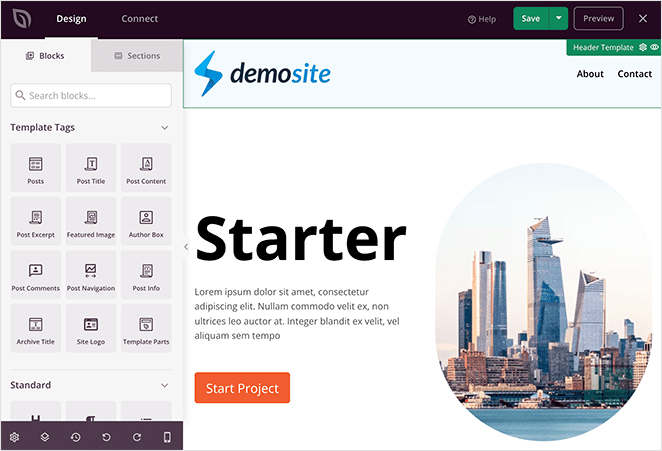 The editor for the theme builder is the same as the page builder. That means you can follow the same steps as you did earlier to customize your homepage.
The only difference is you'll need to repeat the customization step for every section of your WordPress theme to get it looking how you want. After that, all you need to do is click the Enable SeedProd Theme option to make the theme live on your website.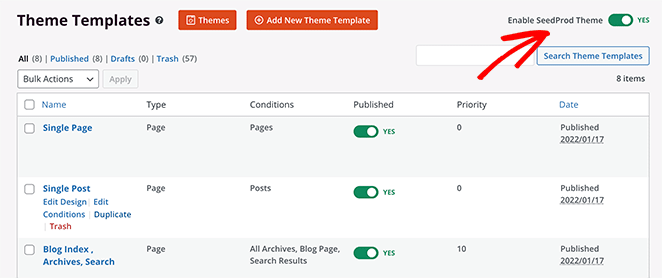 Now when you visit your website's homepage and every other page on your site, you'll see a fully custom design.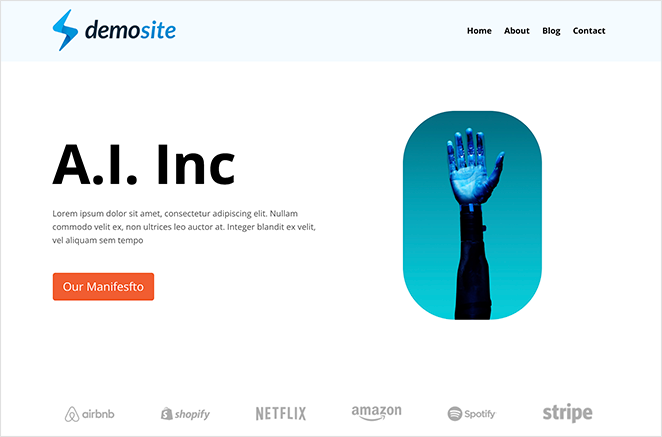 2. Setting Up Your Homepage in WordPress
As mentioned earlier, WordPress usually shows your latest blog posts on your homepage. That said, many businesses and blogs create a custom homepage with a separate blog page showing their blog posts.
So, how about we look at setting up a separate homepage and blog page in WordPress?
The first step is to set up a new homepage by navigating to Pages » Add New from your WordPress dashboard. Give the page a title like Home or Homepage, then click Publish to publish the page.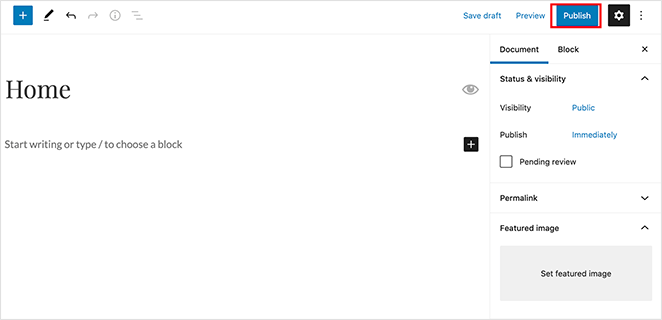 Next, repeat the process to create a new page to show your blog posts. Head to Pages » Add New and name the new page Blog. Then you can publish the new blank page.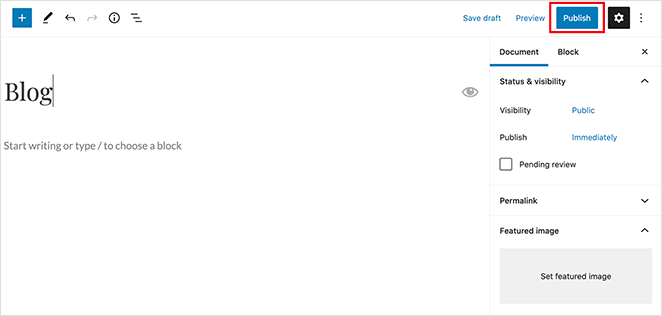 Once your pages are ready, it's time to tell WordPress to start using them.
To do that, navigate to Settings » Reading from your WordPress admin area. Then under the "Your homepage displays" heading, choose the static homepage option. This will let you select a specific page for your homepage and blog from the dropdown menus provided.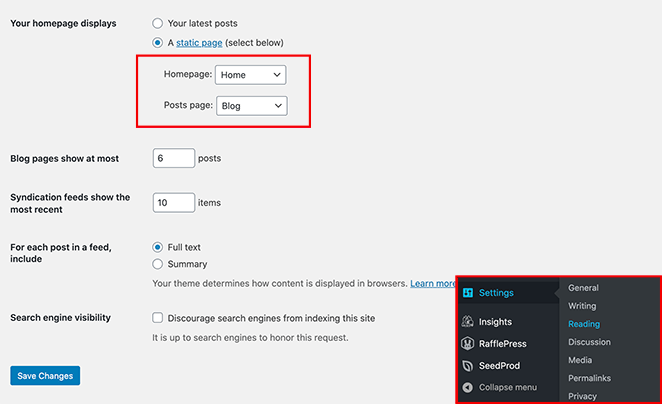 For the Homepage option, choose the page you just created. Then for the Posts page option, select the page you created for your blog posts.
After setting up your pages, click the Save Changes button to preserve your settings.
Despite creating these different pages, your homepage is still empty. So let's look at a few ways to edit your WordPress homepage easily.
3. Edit Your Homepage Using Your WordPress Theme
The great thing about WordPress is it comes with tons of customizable WordPress themes you can use to create a great-looking website. Even better, the best WordPress themes often come with a homepage design you can easily customize.
You can find your themes' options by navigating to Appearance » Customize from your WordPress dashboard. This launches the WordPress theme customizer and shows a live preview of your theme.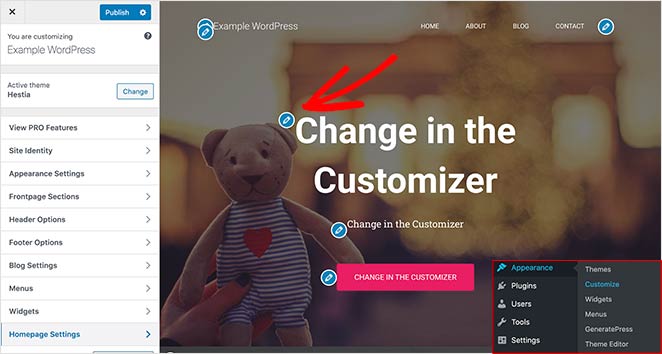 The WordPress theme customizer will show different options for different WordPress themes. The preview you see and the available options will look different from our example, depending on which theme you're using. You can also edit your menus, widget areas, and other page settings with the customizer.
To edit any area of your homepage, click the blue pencil icon next to each element. In this example, we're editing the image, text, and button at the top of the homepage.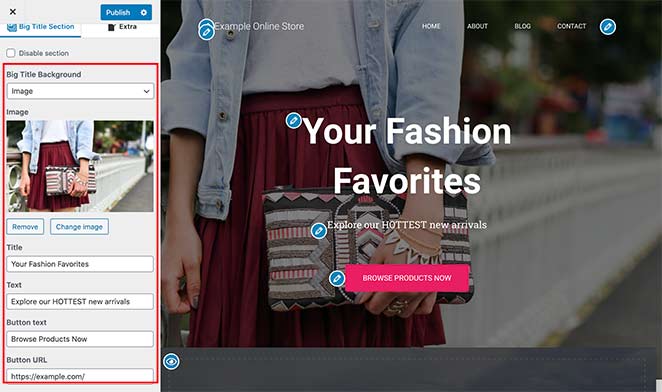 You can also remove sections of your homepage by clicking the blue eye icon. It's also possible to add sections back to your page by clicking the Frontpage Sections tab in the customizer and clicking the eye icon.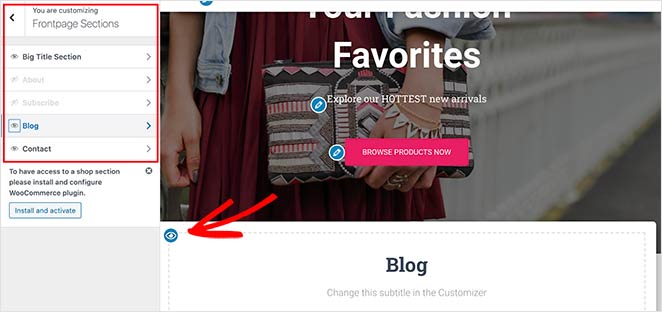 When you're happy with how your homepage looks, click the Publish button to make the page live for your audience.
Here's how our homepage looks now that we've finished editing it.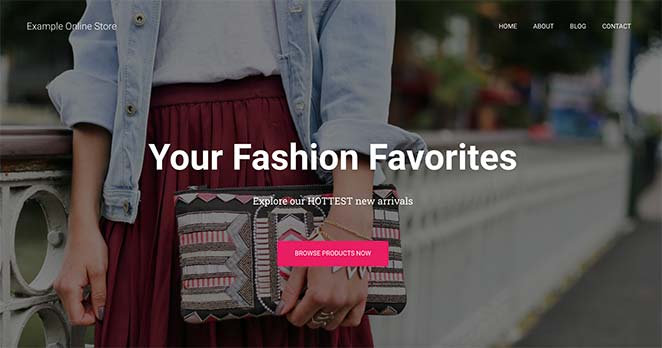 Using your theme's built-in customization settings to edit your WordPress home page is an excellent option if you need to make simple changes. Yet, it may not have all the options you need.
We'll look at some more customization options next.
4. Edit your Homepage With the WordPress Block Editor
If you prefer to create and edit your homepage from scratch and use your own layout, you can easily do this with the WordPress block editor.
To do this, navigate to the new "home" page you created earlier and click Edit. Then you can start creating content for the page.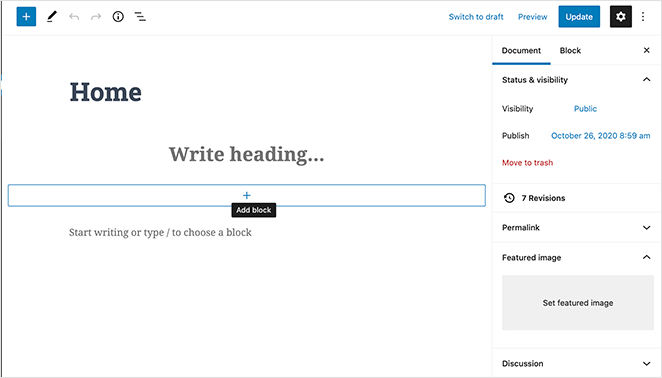 We'll use a few simple WordPress blocks to create a basic homepage layout.
First, let's add a welcome message to the page. To do this, click on the page and start typing your message. WordPress will create a paragraph block for you automatically.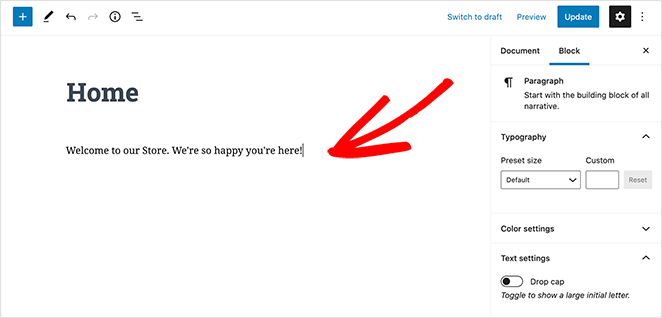 To make your message larger, navigate to the block settings on the right-hand side. Then under the Preset Size heading, you can select a text size from the dropdown menu.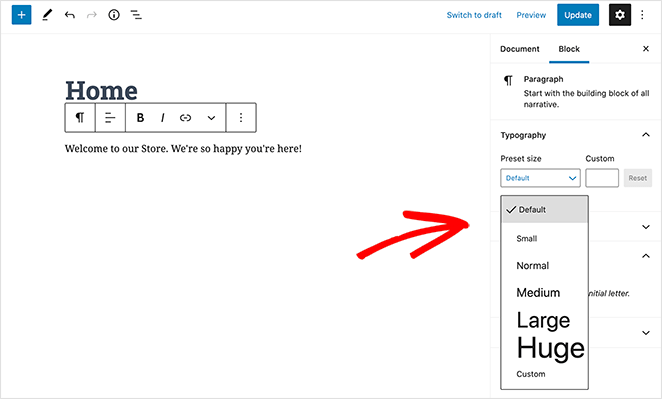 If you like, you can change the color of your text in the Color Settings section.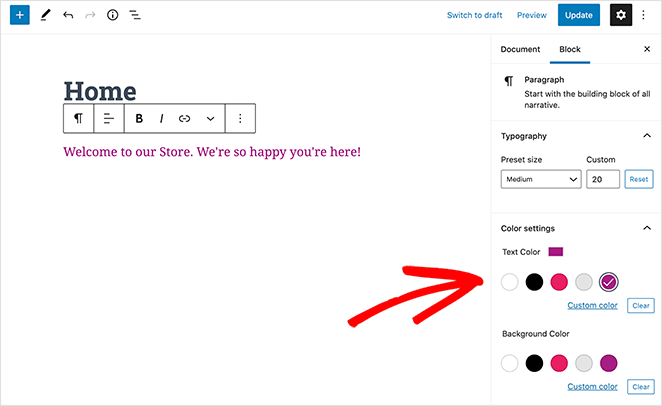 Next, let's add an image to the page.
To do that, click the Plus (+) icon in your editor toolbar and select the Image block. You can find the image block under the Media heading, or you can search for it in the search box.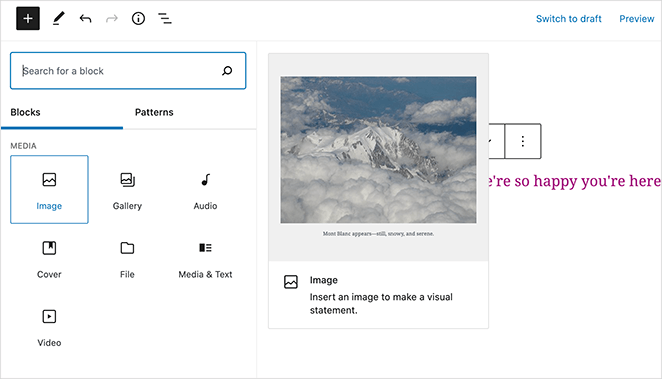 You can select an image from your media library or upload one from your computer.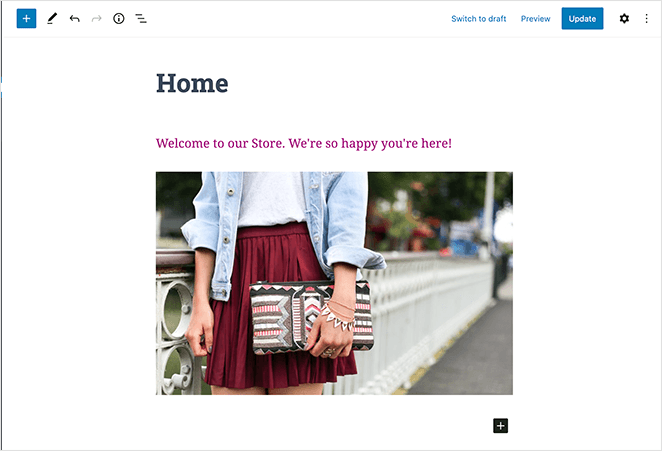 Next, add another paragraph block asking visitors to check out our latest blog posts.
After that, you can add a Latest Posts block to show your recent posts. You can edit the block settings on the right-hand side of the screen. We've set our block to show the featured image, post excerpt, and title.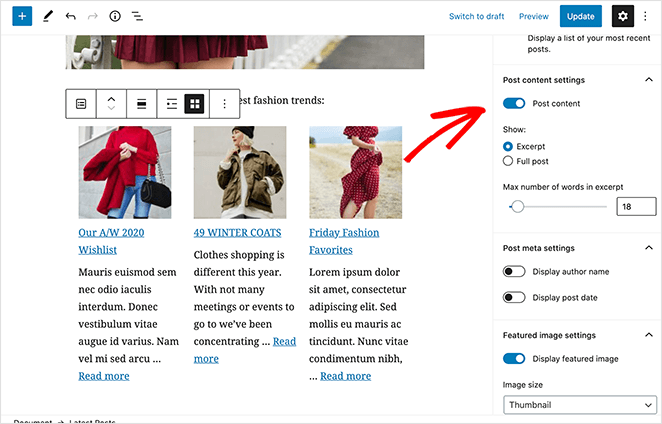 You can choose as many blocks as you like for your homepage. Changing the page template to use no sidebars or make it full-width is also possible. However, this depends on the WordPress theme you use.
In our example, we're using the Hestia WordPress theme.
When you're happy with your changes, click the Publish button at the top-right of your screen.
Then you can preview your finished homepage: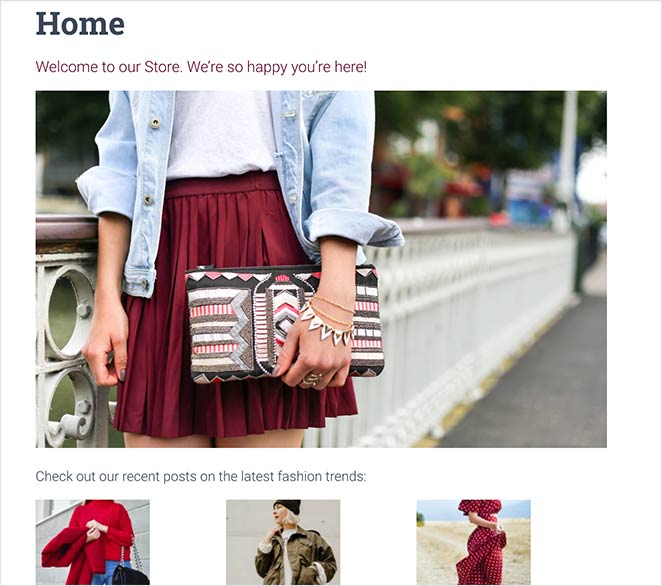 We hope this article helped you learn how to edit your WordPress homepage. With SeedProd's drag and drop theme and landing page builder, it's easy to make a custom homepage for your website that generates results.
And if you liked this article, please follow us on Twitter and Facebook.