Do you want to learn how to put WooCommerce in maintenance mode? Maintenance mode lets you tell users you're conducting website maintenance, so they don't see a broken website.
It also means you can hide your new WooCommerce store from visitors while safely performing any maintenance tasks.
This article will show you how to put WooCommerce in maintenance mode for beginners. That way, you can keep your WooCommerce shop page private while you're working on it behind the scenes.
What Is WooCommerce Maintenance Mode?
WooCommerce maintenance mode is a page on your WordPress website that shows notifications to visitors, telling them your WooCommerce shop is down for maintenance and will be back soon.
Enabling WooCommerce maintenance mode, also known as wp maintenance mode, returns a 503 header code that temporarily tells Google bots and other search engines your site is down. This ensures your online store's reputation and SEO aren't negatively affected during downtime.
Typically, a WooCommerce maintenance mode page includes a friendly message to let visitors know that your shop is temporarily unavailable. You can also include a countdown timer to let users know when your online store will be available again and include an email optin form so you can message shoppers directly when your shop is live.
When to Enable Maintenance Mode Page For WooCommerce?
On the other hand, if you're creating a brand new website, you can use WooCommerce coming soon mode so search engines can index it before it launches.
Here are some common scenarios that you would enable maintenance mode for:
Adding WooCommerce to Your Existing eCommerce Site
If you're adding a new online store section to your WordPress site, you'll want to test it before making it viewable to anyone else. Putting your WooCommerce shop pages in maintenance mode will enable you to do that.
Instead of seeing a site clearly under construction, users will see a friendly notice.
Fixing Online Store Errors
Something might have gone wrong with your store, so you need to quickly put WooCommerce in maintenance mode to give you time to fix the issues without getting any penalties from Google.
Check out this guide if you want to add Google Analytics to WordPress with a plugin or code snippet to track your site.
Changing WordPress Themes and Updating Plugins
If you want to change your WordPress theme without breaking your site, it's best to put your site into maintenance mode.
You should also put your website into temporary maintenance mode when you're updating WordPress plugins, just in case anything goes wrong and your site breaks.
Putting your WooCommerce store in maintenance mode improves the overall user experience of your site. Plus, it helps you avoid misplaced orders while you work on perfecting your website.
Let's now learn how to put WooCommerce in maintenance mode.
How to Put WooCommerce in Maintenance Mode
There are many wp maintenance mode plugins available, and some WordPress hosting providers off that functionality automatically. If your web hosting doesn't offer a maintenance mode template, you can use maintenance mode plugins, such as Elementor or the SeedProd plugin.
Follow the steps below to learn how to hide your WooCommerce shop page.
Video Tutorial
Step 1. Install SeedProd
The first step to putting WooCommerce in maintenance mode is to install a maintenance mode plugin.
SeedProd is the best WordPress drag-and-drop landing page builder with coming soon and maintenance modes functionality. This allows you to enable maintenance mode in WordPress without editing your functions.php file. SeedProd is also a fully functional WordPress theme builder, allowing you to create beautiful WordPress layouts without writing code.
Not only that, but with SeedProd, you can also enable a WooCommerce coming soon page and create high-converting landing pages for your site. So, you don't need multiple maintenance plugins; you can do all 3 tasks with SeedProd.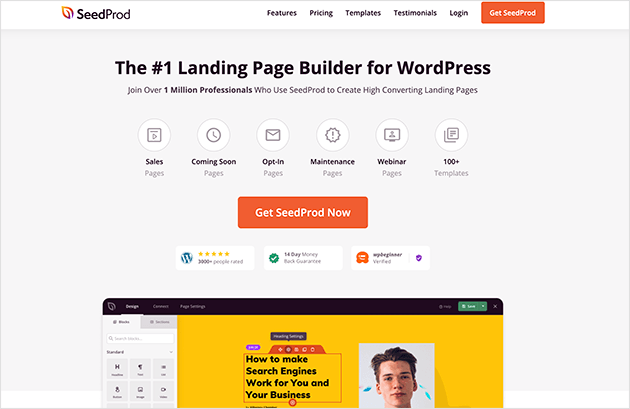 Check out these other excellent SeedProd features:
Pre-built templates for Maintenance Mode, WooCommerce Coming Soon, and a variety of landing pages
Password protect your site while under development
Drag and drop page builder with live preview (no HTML required)
Premium integrations with popular email marketing services
Add social media buttons, optin forms, and contact forms to grow your email subscribers.
WooCommerce integration with add-to-cart buttons, custom checkout, and shopping cart pages
Login page mode to customize your shop's login experience.
And much more
So, click here to get started with SeedProd and download the plugin.
Note: SeedProd offers a free version, but we'll use SeedProd Pro for the advanced modules and features.
Then, you can follow this step-by-step guide to install a WordPress plugin.
After installing and activating the plugin, click the SeedProd icon in your WordPress admin area. This will take you to the SeedProd landing page builder dashboard.
Click the Set up a Maintenance Mode Page button. This will allow you to add new maintenance mode pages and hide your WooCommerce shop page from the public.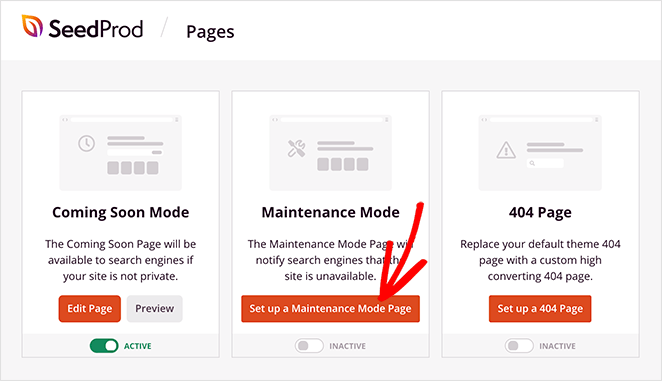 Step 2. Design Your Maintenance Mode Page
After clicking the Set up a Maintenance Mode Page button, you can choose one of SeedProd's many templates. This will help you design a beautiful WooCommerce maintenance mode page easily.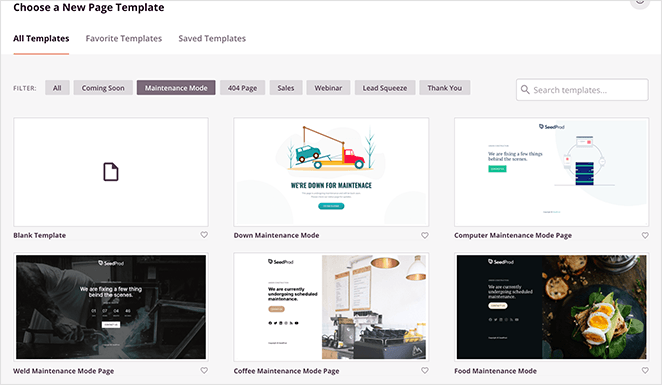 Alternatively, you can choose a blank template to start from scratch.
Hover over any maintenance template you like and click on the checkmark icon to use it.
Now you can design your WooCommerce maintenance mode page using SeedProd's visual drag-and-drop builder.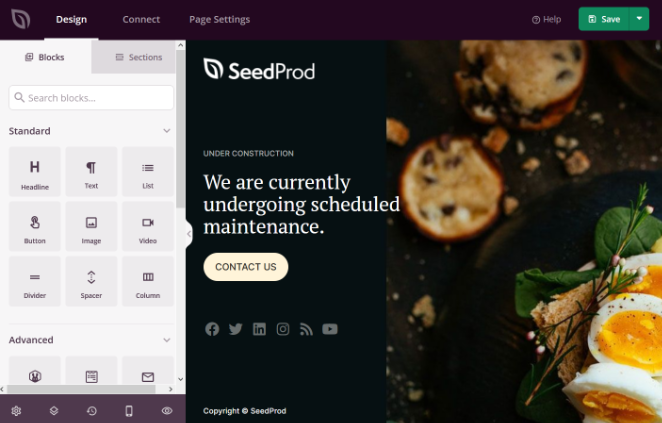 On the right side of the screen, you can see your template. And on the left side, you can see different content blocks and sections that you can add to your maintenance mode page.
Drag any blocks over to your template and drop them in place.
For example, we added a countdown timer to this maintenance mode page by dragging it over to the template. Then, click on the block to choose the style, set the date and time, and set other customization options.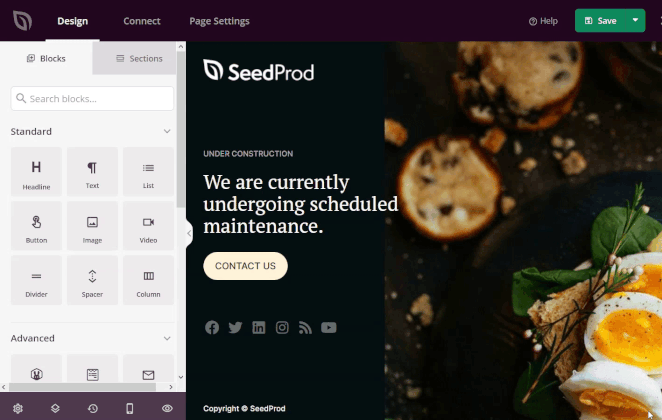 Other blocks you can add include:
Image
Video
Text
Button
Contact Form
Social Profiles
Popular Products
And Much More
You can also click any pre-made sections, like FAQ, Features, or Call to Action, to add them to your maintenance mode page. For instance, you can offer users a coupon to ensure they return when maintenance is over.
You can also change the template's background image, colors, fonts, custom CSS, and more by clicking the gear icon (Global Settings page) in the bottom left corner of the SeedProd builder.
Once you've added all of the elements you need to your maintenance mode page, and it's looking great, don't forget to hit the Save button in the top right corner.
Step 3. How to Enable Maintenance Mode Just for Your WooCommerce Store
Now click on the Page Settings tab at the top of the screen to configure your settings. Under Page Settings, click on Access Controls.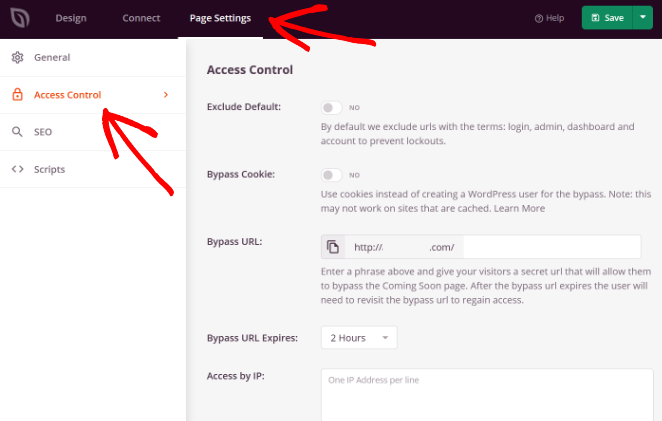 Scroll down the page to select the Include URLs option. After selecting Include URLs, you'll see a blank field below it.
Copy the URL of your published password-protected WooCommerce store and paste it into the given blank field.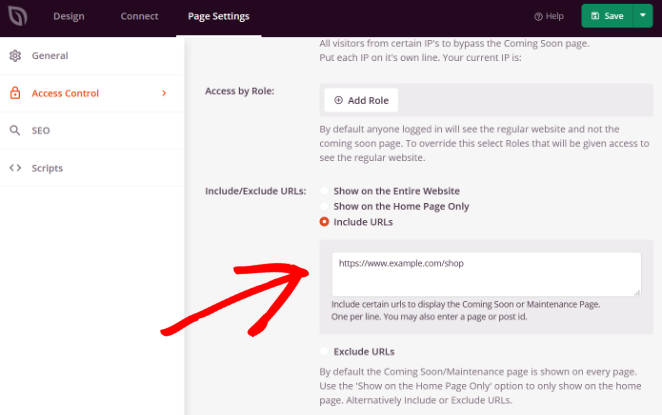 If this is a new WooCommerce installation, you'll want to include the following default pages. Just replace "example.com" with your domain:
https://example.com/shop
https://example.com/cart
https://example.com/checkout
https://example.com/my-account
If you've already added products to your store, you should add the following URLs as well:
https://example.com/product/*
https://example.com/product-category/*
https://example.com/product-tag/*
The asterisk on the end of the URL is a wildcard that will include any URL starting with that pattern.
SeedProd will hide the WooCommerce shop pages you added when you publish your maintenance page.
So, let's go ahead and publish your WooCommerce maintenance mode page.
Step 4. Publish Your WooCommerce Maintenance Mode Page
To make your WooCommerce maintenance mode page live, click on the dropdown arrow next to the Save button and click Publish.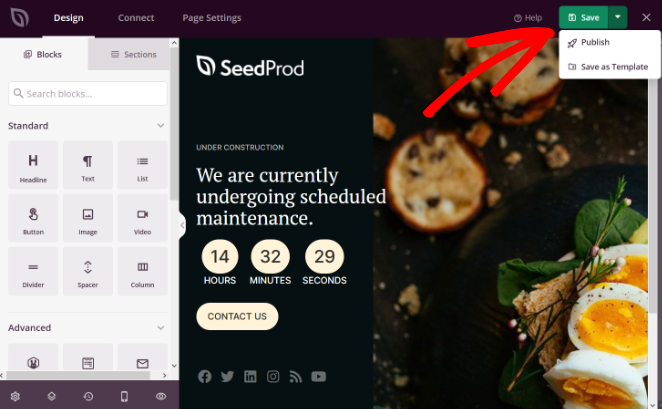 SeedProd will notify you that your maintenance page is live in a popup overlay. To see what it looks like, click the See Live Page button.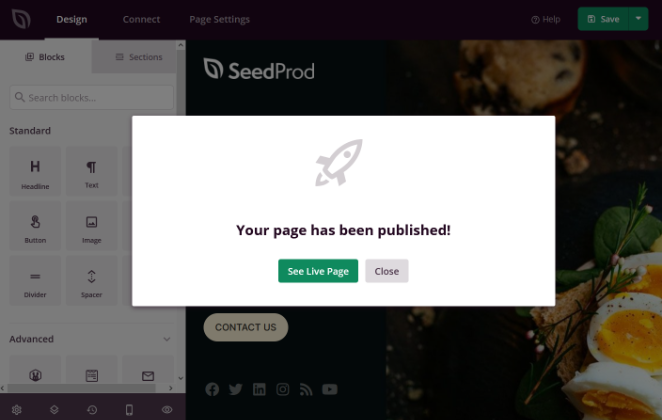 Here's an example of how our WooCommerce maintenance mode page looks live on the front end of our website: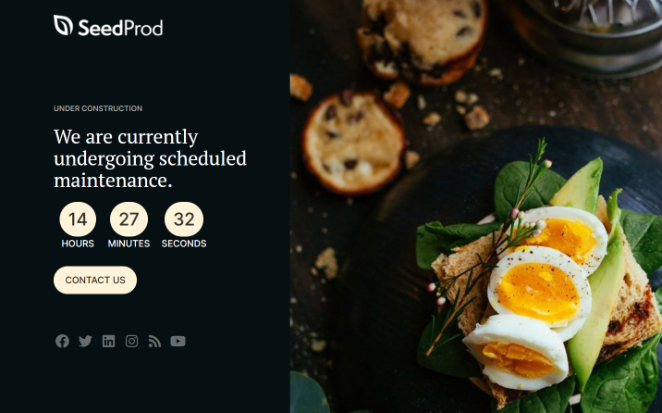 Of course, your maintenance mode page will likely look different than this, thanks to all of SeedProd's customization options. But this is what your visitors will see when they land on your WooCommerce shop page.
The final step is to activate the maintenance mode page. To do this, go to SeedProd » Pages from your WordPress admin area and find the maintenance mode section.
Then click the Inactive toggle to make it Active.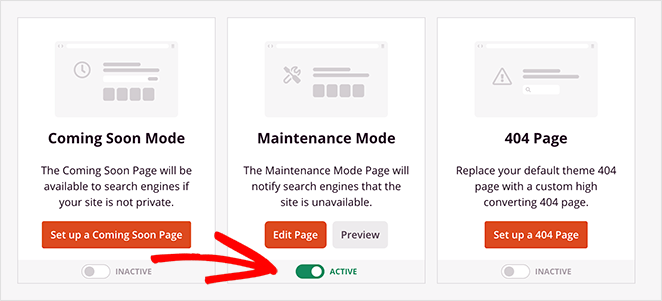 You've now put WooCommerce in maintenance mode and disabled your shop page.
Now you can log in to the backend and continue working on the store until it's ready to go live again. And you can do that while you hide your WooCommerce shop page from the public.
How Do I Turn Off WooCommerce Maintenance Mode?
When you're done with maintenance, you can turn off WordPress maintenance mode to let shoppers view your WooCommerce pages again.
Suppose you want to turn off maintenance mode for WooCommerce. In that case, go back to SeedProd » Pages from your WordPress dashboard. Under the Maintenance Mode option, click the toggle from Active to Inactive.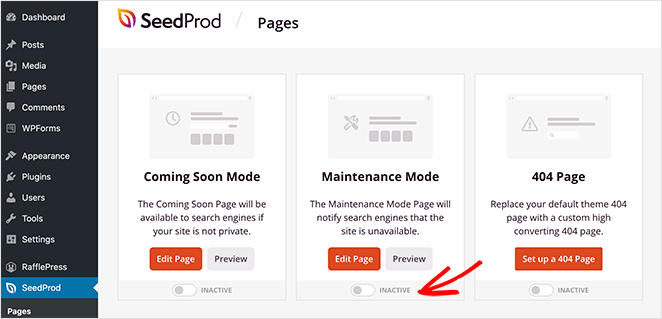 That's it! Now your visitors can view the live version of your WooCommerce store again.
WooCommerce Maintenance Mode FAQ
How do I password-protect WooCommerce?
Can I disable WooCommerce?
You can safely disable WooCommerce, or remove the pages from your shop menu. But if users can access the pages via the URL or Google Results, they can still purchase. You can avoid this by either disabling the WooCommerce plugin or adding a store notice that your shop isn't open and disabling all payment methods.
How do I disable the WooCommerce plugin?
Navigate to Plugins from your WordPress dashboard, where you'll find a list of installed plugins. Then find the plugin you want to disable and click Deactivate. Once you click Deactivate, WordPress will deactivate the plugin.
What happens if I deactivate WooCommerce?
If you deactivate WooCommerce and delete the plugin from WordPress, you will only remove the plugin and its files. Your WooCommerce settings, orders, products, pages, etc., will remain in your database.
You've now learned how to put WooCommerce in maintenance mode so you can work on your shop pages in private without disrupting your site visitors.
Get started with SeedProd today to create your very own maintenance mode page.
We hope this article was helpful to you! To grow your store, you should also check out our roundup of the best WooCommerce plugins.
If you want to read helpful content, do follow us on Facebook and Twitter for more WordPress tutorials.