Last updated on: September 18, 2020
Are you planning to launch a brand new WooCommerce store on your WordPress website? Or do you have an existing site you want to hide for a redesign or website maintenance?
Despite sounding tricky, hiding your new site from visitors is actually pretty easy. So in this article, we'll show you how to put WooCommerce in maintenance mode. That way you can keep your shop private, but can also start promoting it while you get it ready for launch day.
Here's a quick summary of how to put WooCommerce in maintenance mode to help you navigate:
What is Maintenance Mode?
Maintenance mode is a page you add to your website, that tells users your site is down for maintenance. Putting your site in this state returns a 503 header code that tells Google and other search engines your site is down. This ensures your site's reputation and SEO isn't negatively affected.
When to Enable Maintenance Mode For WooCommerce
There are several situations for when you might want to put WooCommerce in maintenance mode or coming soon mode including:
When your store is under construction and you haven't launched yet. At that time you can use a coming soon page to build excitement for your business while you work on your store behind the scenes.
Something might have gone wrong with your store, so you need to quickly put your store in maintenance mode to give you time to fix the issues without getting any penalties from Google. If you want to know how to add Google Analytics to WordPress to track your site, check out this guide.
When you're adding an online store section to your website, you'll want to test it properly before making it viewable to the public. In that instance, adding a coming soon or under construction page to your new WooCommerce store will keep it private.
Putting your WooCommerce store in maintenance mode improves the overall user experience of your site. Plus it helps you avoid misplaced orders while you work on perfecting your website.
Here are a few coming soon page examples for inspiration. Let's now learn how to put WooCommerce in maintenance mode in this step by step tutorial.
Step 1: Install SeedProd's Coming Soon Pro Plugin
The first step is to install SeedProd's Coming Soon Pro and maintenance mode plugin to put WordPress in maintenance mode. SeedProd is the best WordPress maintenance mode plugin on the market and lets you put any type of page in maintenance easily and create WooCommerce coming soon page.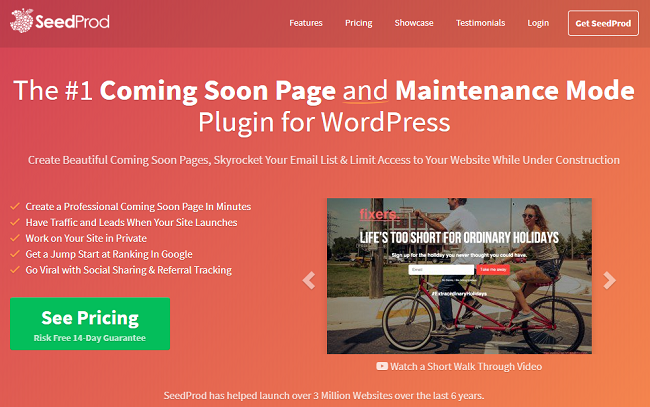 If you don't know how to install a plugin in WordPress, here's how you do it.
After you've successfully activated the coming soon plugin on your website, you can start creating your maintenance mode page for your WooCommerce shop under construction. Even better, SeedProd's maintenance plugin integrates perfectly with any WordPress theme.
Now on your WordPress dashboard, click on Settings » Coming Soon Pro.
This will take you to the SeedProd Coming Soon Pro plugin's dashboard, where you can configure and enable Woocommerce maintenance mode for your shop.
Step 2: Design Your Maintenance Mode Page
Now you can design your WooCommerce maintenance mode page by clicking on the Edit Coming Soon/Maintenance Page button as you can see in the screenshot below.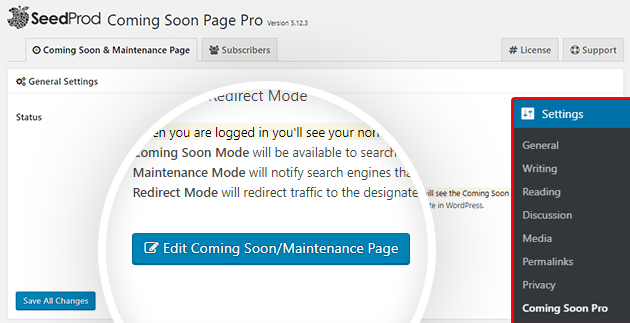 You can choose from dozens of themes to start with, and then customize your design from there using the visual editor and page builder.
The SeedProd maintenance mode plugin includes tons of customization options including:
Custom background images
Social media profile and sharing buttons
Integration with popular email marketing services
Contact form lightbox popups
Countdown timers
Progress bars
You can even add your own custom CSS and HTML if you like.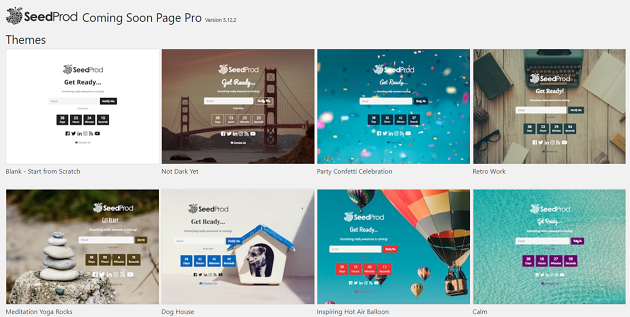 For more details on designing your WooCommerce maintenance page for while your eCommerce shop is under construction, check out this tutorial.
Don't forget to hit the Save all changes button when done.
Step 3: Enable Maintenance Mode Just for Your WooCommerce Store
Now back on the main SeedProd settings page, scroll down and you'll see the Advanced Settings option. Select the Include URLs option. You'll see a blank field right below it.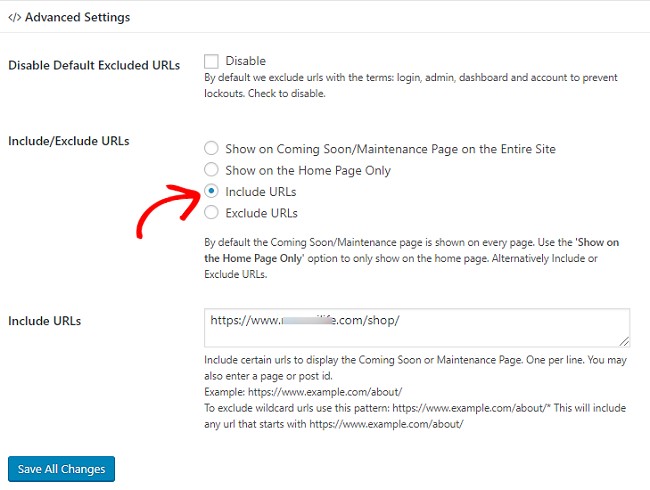 Copy the URL of your published password-protected WooCommerce store and paste it in the given blank field.
If this is a new WooCommerce installation, you'll want to include the following default pages. Just replace "example.com" with your own domain:
https://example.com/shop
https://example.com/cart
https://example.com/checkout
https://example.com/my-account
If you've already added products to your store, you should add the following URLs as well:
https://example.com/product/*
https://example.com/product-category/*
https://example.com/product-tag/*
The asterisk on the end of the URL is a wildcard that will include any URL starting with that pattern.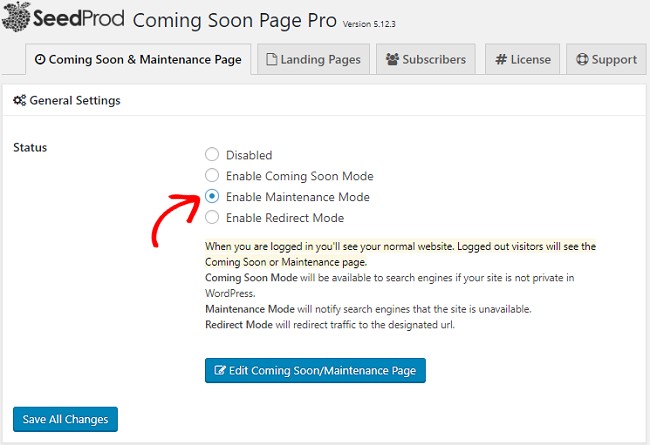 Once done, click on the Save All Changes button. That's it! Your WooCommerce store will now display the maintenance mode page to all its visitors.
Now you can log in to the backend and continue working on the store until its ready to go live again. And you can do that while you hide your WooCommerce shop page from the public.
Here's a preview of your landing page on the front end of your website. This is what your visitors will see when they land on to your WooCommerce shop page.
You can also learn how to hide your website until it's ready here.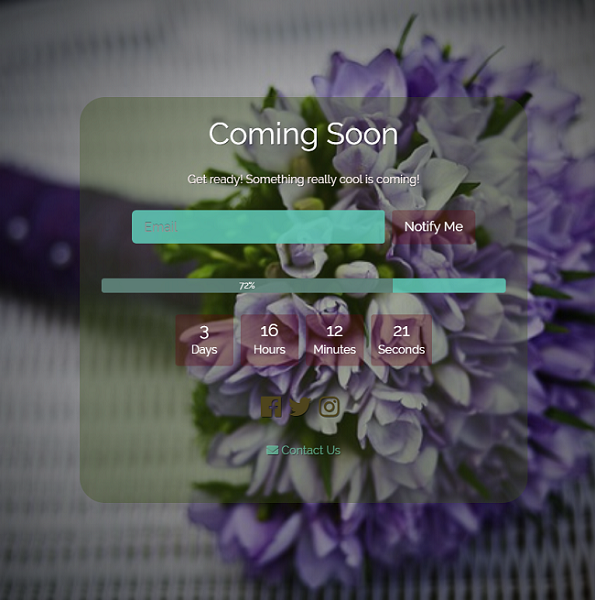 How Do I Turn Off WordPress Maintenance Mode?
To turn off WordPress maintenance mode for your WooCommerce shop using SeedProd, navigate to Settings » Coming Soon Pro and select the Disabled checkbox next to the Status heading.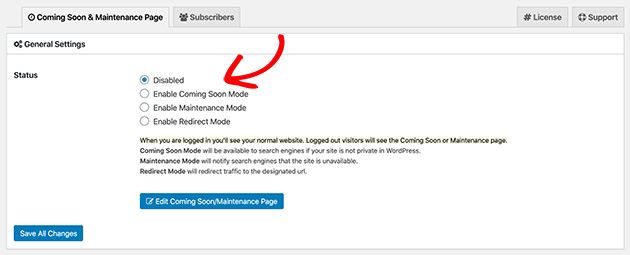 Then click Save Changes, and your visitors will be able to view your full live site again.
And that's it!
You've now learned how to put your WooCommerce shop in maintenance mode so you can work on your shop pages in private without disrupting your site visitors.
We hope this article was helpful to you! You should also check out our roundup of the best WooCommerce plugins to grow your store.
If you want to read helpful content, do follow us on Facebook and Twitter.