Last updated on: March 24, 2020
Planning to launch a brand new WooCommerce store on your already established website? Or maybe you have an existing site you want to temporarily hide for a redesign or other website maintenance?
You don't want your website visitors to land on your store before it's ready to go live. That can give an unprofessional impression and cause them to lose trust.
Don't worry! It's easy to hide your store from your visitors by enabling a maintenance mode page for just your WooCommerce shop, without blocking access to the rest of your website.
By doing that you not only keep your under-construction shop private but can also start promoting it while setting it up for your grand launch. And while doing so, none of the remaining sections of your website will be affected.
Here's a quick table of contents to help you navigate:
Benefits of Enabling Maintenance Mode to Your WooCommerce Store
Adding maintenance mode to your upcoming WooCommerce store can have a lot of benefits for your business.
With the right plugin, you can easily…
hide your work in progress
promote your store before its launch
increase your social media followers
expand your email list
notify people when the store goes live
Here are a few coming soon page examples that can inspire you. Let's now learn how to put WooCommerce in maintenance mode in this step by step tutorial.
Step 1: Install SeedProd's Coming Soon Pro Plugin
The first step is to install SeedProd's Coming Soon Pro plugin.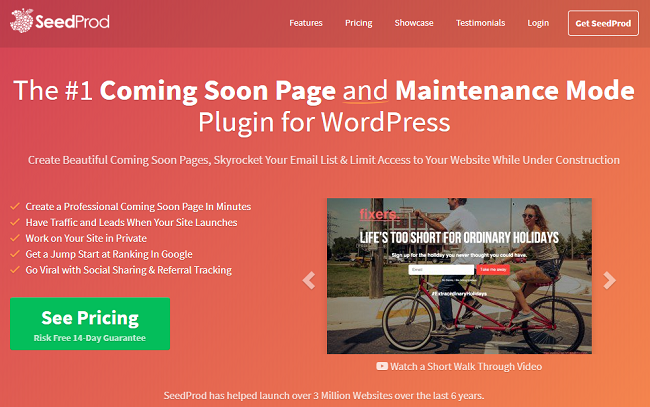 If you don't know how to install a plugin in WordPress, here's how you do it.
After you've successfully activated it on your website, you can start creating your maintenance mode page for your WooCommerce shop under construction.
Now on your WordPress dashboard, click on Settings » Coming Soon Pro.
This will take you to the SeedProd Coming Soon Pro plugin's dashboard, where you can configure and enable the maintenance mode for your shop.
Step 2: Design Your Maintenance Mode Page
Now you can design your WooCommerce maintenance mode page by clicking on the Edit Coming Soon/Maintenance Page button.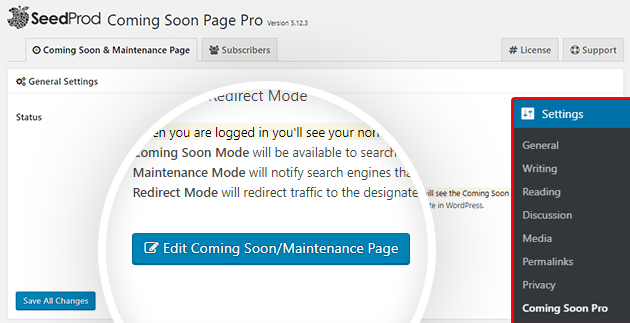 You can choose from dozens of themes to start with, and then customize your design from there.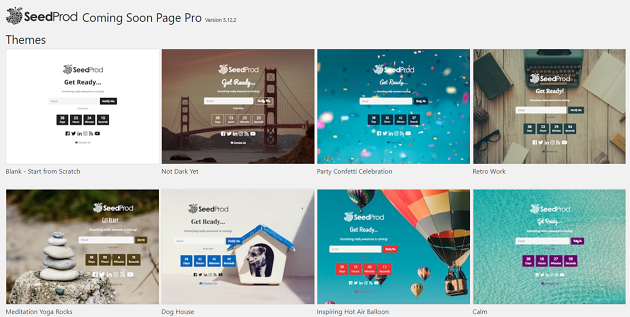 For more details on designing your maintenance page, check out this tutorial.
Don't forget to hit the Save all changes button when done.
Step 3: Enable Maintenance Mode Just for Your WooCommerce Store
Now back on the main SeedProd settings page, scroll down and you'll see the Advanced Settings option. Select the Include URLs option. You'll see a blank field right below it.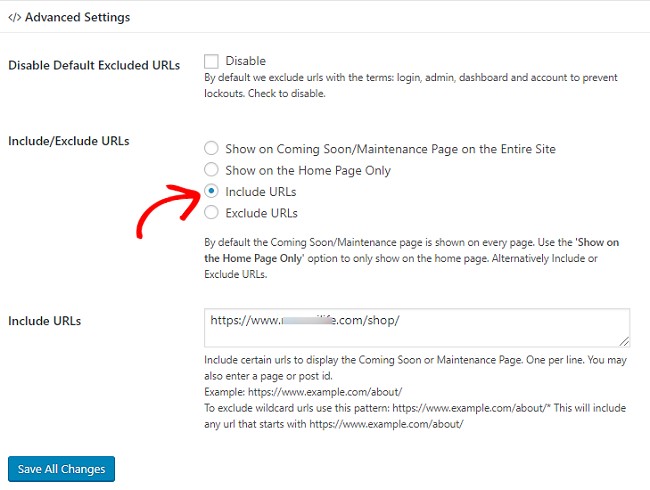 Copy the URL of your published password-protected WooCommerce store and paste it in the given blank field.
If this is a new WooCommerce installation, you'll want to include the following default pages. Just replace "example.com" with your own domain:
https://example.com/shop
https://example.com/cart
https://example.com/checkout
https://example.com/my-account
If you've already added products to your store, you should add the following URLs as well:
https://example.com/product/*
https://example.com/product-category/*
https://example.com/product-tag/*
The asterisk on the end of the URL is a wildcard that will include any URL starting with that pattern.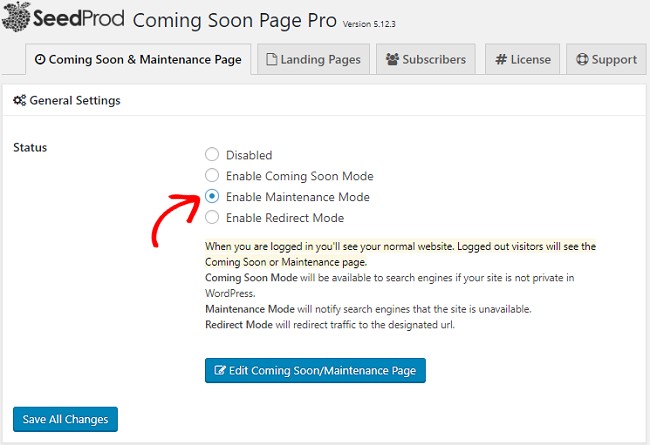 Once done, click on the Save All Changes button. That's it! Your WooCommerce store will now display the maintenance mode page to all its visitors.
You can log in normally in the backend and continue working on the store until its ready to go live again. Here's a preview of what your visitors will see when they land on to your WooCommerce store.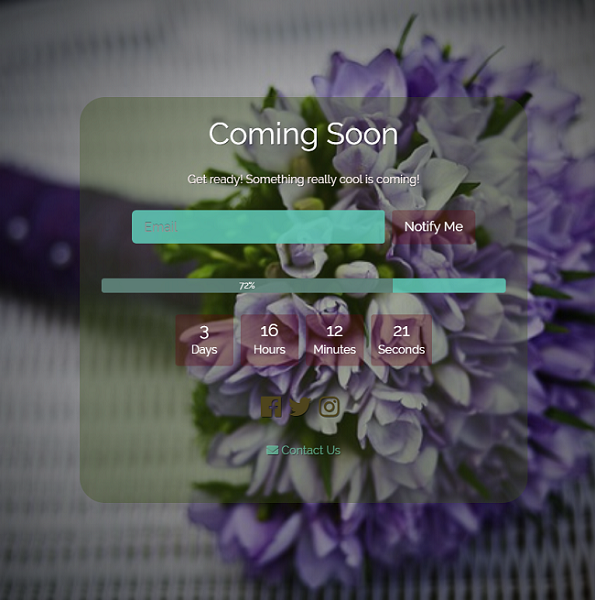 We hope this article was helpful to you! You should also check out our roundup of the best WooCommerce plugins to grow your store. If you want to read more of such articles, do follow us on Facebook and Twitter.