How to Speed Up Your WooCommerce Store (In 7 Easy Steps)
Want to speed up your WooCommerce store? You're in the right place.
These days, starting an online eCommerce store is quite simple – just purchase a domain, get a great hosting solution, install WooCommerce, install a theme, some good WordPress plugins, and that's it, your store is ready to go.
For any eCommerce store, page load speed is an essential factor that determines the success of your brand. According to WPBeginner, a 1-second delay in loading time can lead to 7% loss in conversions, 11% fewer page views, and 16% decrease in customer satisfaction.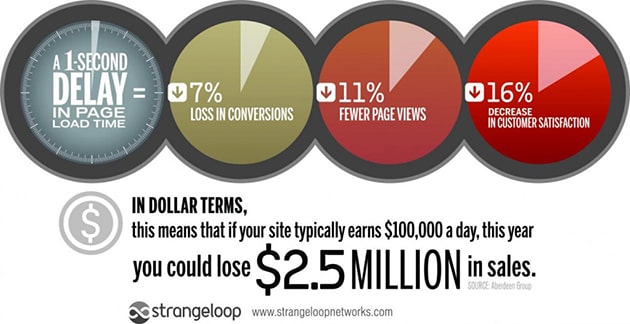 In this article, we'll describe how you can speed up your WooCommerce store by applying simple tips, so you can gain more customers and visitors.
Ready? Let's start at the top.
Step 1: Go for Reliable Hosting
You can buy a domain from any of the several reputed domain registrars without noticing any difference.
But more than the domain, it's the hosting that makes or breaks your WooCommerce store.
When starting out, many store owners opt for shared WordPress hosting because it is cheap. But over time, when the store grows and starts getting significantly higher traffic, the store owner should consider moving to a high-performing hosting solution that provides better server resources such as more disk space, memory, and bandwidth. A managed WordPress hosting provider is a great bet if you want to speed up WooCommerce!
Changing your hosting provider is not an easy task. The best way to avoid the hassle is to choose a reliable hosting provider on the first go.
There are various hosting options and your choice should align with your budget, size, and goals. If you are in the market for a managed, reliable and affordable solution, Cloudways is a power host for all ecommerce platforms.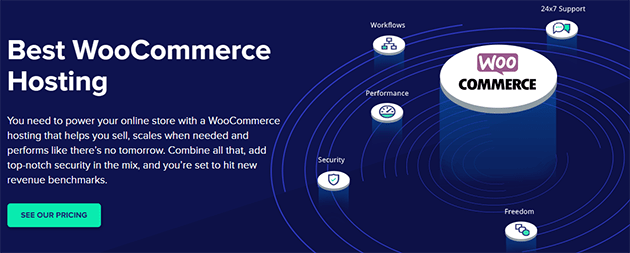 Cloudways is a reliable host for WooCommerce that offers features such as Free SSL Certificates, Automatic Backups, and Server Addons (Email, DNS settings).
Step 2: Choose a Lightweight Theme
Always choose a lightweight WordPress theme that is responsive, loads fast, and is optimized for SEO. Even better, the theme should have simple yet comprehensive customization options that allow you to tweak it to your liking.
But how do you find a theme that's lightweight and checks off all the above-mentioned points? Don't worry, we have found the list of the best WordPress themes which you can customize according to your requirements.
Step 3: Optimize Your Images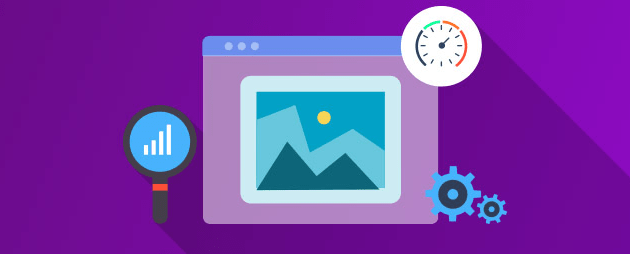 Images lie at the core of ecommerce marketing. Selling anything from your WooCommerce stores without an image is simply unheard of. However, what happens is this: store owners go overboard with store images and upload so many high-resolution images and videos that it slows down the store.
To speed up WooCommerce while still using great images, use an image optimization plugin which reduces the overall page download size and speeds up your WooCommerce store. Here's a step-by-step guide on how to optimize your images for WordPress, without sacrificing quality.
Step 4: Use a Quality Cache Plugin
Applying caching to your WordPress site offers a host of benefits including improved ranking in search results as Google prefers fast websites, faster loading web pages, enhanced user experience, better traffic handling, and better server resource management.
Although there are many plugins that can help you to speed up your WooCommerce store, here's a list of the best WordPress caching plugins you can check out.
Step 5: Clean Up Your Database
WooCommerce stores of all sizes need regular WordPress database cleanup to maintain store performance. This should become a regular store maintenance activity because overtime store database gets cluttered and thus query execution starts taking time.
Step 6: Use a WordPress CDN
CDN stands for Content Delivery Network. It is a system of globally distributed servers that deliver pages and web content to a user, rather than letting the original server take care of the requests. You can leverage a host of free and paid CDN providers to speed up the user experience on your store.
Here's a roundup of the best CDN services to speed up WooCommerce.
Step 7: Keep Your Plugins Updated
In the rush of sales, store owners often forget to update plugins. This can open up security loopholes that hackers can exploit to compromise your stores. Even when this does not happen, outdated plugins sometimes slow down your store.
To avoid this, make sure to update the plugins installed on your website to the latest version.
That's it!
In this article, we've covered the best tips to speed up WooCommerce so you can give your store the edge in the competition.
Planning some maintenance on your shop? Next, check out our article on how to enable WooCommerce maintenance mode just for your shop pages.
We hope you found this article helpful. If you did, do follow us on Twitter and Facebook for more content like this.