What is the Best Hosting Solution for WordPress?
Are you looking for the best WordPress hosting solution? There are several reliable hosting service providers to choose from. But finding one that suits your needs is a challenge.
In this article, we'll share the best WordPress hosting providers available for your site today.
First let's look at how to choose the best WordPress hosting for your website.
Choosing the Best WordPress Hosting
There are several factors to consider before opting for a web hosting company. These factors will vary based on your business model and requirements.
For instance, entry-level hosting generally costs less, but more advanced plans offer more comprehensive features.
But there are a few things you should never compromise on. For example, you should know if your hosting company:
Guarantees good uptime (anything below 99.9% is not acceptable)
Has hosting features like SSL, domain names, email addresses, etc.
Offers good bandwidth and disk space
Has the option to upgrade at a reasonable price
Is a good value for your money
Now based on those points, we've shortlisted the top 5 best WordPress hosting services to choose from.
Let's have a closer look at each of them.
Note: It's important to highlight that in this article, we're talking about self-hosted WordPress.org website hosting, not free WordPress hosting like those hosted on WordPress.com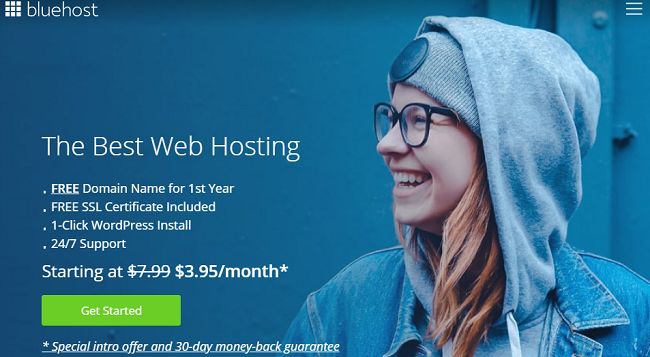 Bluehost is the best WordPress hosting platform and a great option for you to start with. Probably because they're an official WordPress.org hosting solution and the #1 choice for small businesses.
It comes with 3 different web hosting options including shared WordPress hosting, VPS hosting, and dedicated hosting services. If you're a beginner you can start with the shared hosting plan.
By opting for this plan you can share your server with several other websites. It's a good option if you're looking for something that's budget-friendly.
It also offers a dedicated plan for managed WordPress hosting. This plan is optimized for WordPress and is super secured in terms of protecting your site from any kind of threat.
Bluehost offers free domain names, SSL, 1-click WordPress install option, and round the clock support. Plus, you can access the Bluehost marketplace where you can find premium themes and WordPress plugins at exclusive prices.
As far as the uptime and bandwidth are concerned you don't have to worry about it. It offers 100% uptime, fast page loading speeds, and unlimited bandwidth and web space.
Bluehost also has 24/7 support including email, live chat, and phone support.
Price: $3.95/month and up.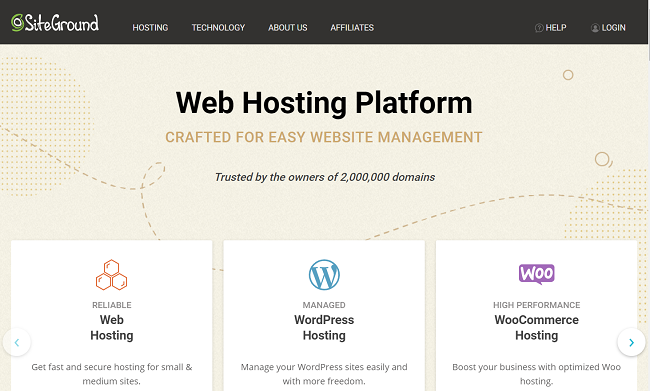 SiteGround is a brilliant hosting provider for WordPress sites, that has been known for its top-notch support from WordPress experts and fast, reliable, hassle-free hosting plans.
Like Bluehost, SiteGroud too offers dedicated hosting plans that are specifically optimized for WordPress. You can also opt for the one-click WordPress install option that helps you get started right away.
It also offers automatic updates, instant setup of Cloudflare's free CDN, and SSL certificate from Let's Encrypt. SiteGround also offers 1-click WordPress staging test site, the latest PHP versions, daily backups, built-in caching, 99.9% uptime, and has great response times and load times.
If you have an eCommerce business, SiteGround also offers a managed WooCommerce hosting solution.
SiteGround's customer support team is second to none and the team at WPBeginner tested the actual server response time of SiteGround in their hosting review. The results were amazing. The server responded in a fraction of a second in the US and in less than a second in all other locations.
Pricing: $3.95/month and up.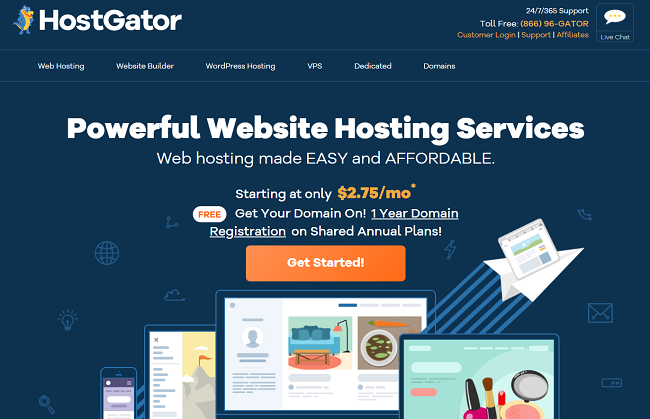 HostGator is another popular web host for all website owners. By signing up for the HostGator plan you can have a domain name for free for a period of 1 whole year.
It comes with 5 different hosting packages and you can opt for the one that fits your budget. Like the other hosting companies in this article, this one too offers dedicated hosting for WordPress users that also offers 1-click WordPress installation.
With HostGator, you can have all the tools you might ever need to build your website. And yes it offers 99.9% uptime too.
If you're a new HostGator account holder it will also offer you free site migration services. This means that if you have previously hosted your site with another hosting company, you can easily migrate it to HostGator at zero cost.
Price: $2.75/month and up.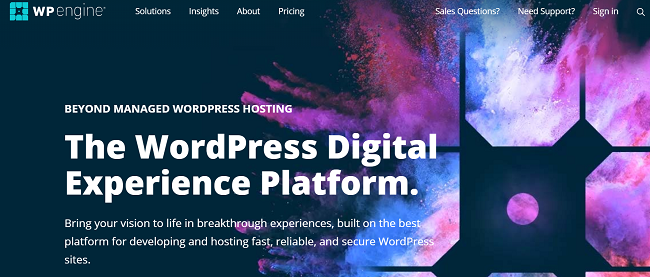 WP Engine is a VIP WordPress web hosting service provider. With this hosting option, you'll never have to look for any other option. It has everything for your WordPress site, whether you have a WordPress blog, small business, or eCommerce site.
It also offers robust security so you know your site is safe around the clock from malware. It lets you backup your site daily. Besides, in case of any loss of data, you can restore everything with just a click of your mouse.
It has 4 different hosting plans and you can opt for the one that best fits your needs. With each of these plans, you get 36+ premium StudioPress WordPress themes and the Genesis framework for free. You also get a free SSL certificate, WordPress updates, 99.9% uptime, great bandwidth, and data centers across the globe.
The best thing about them is their customer service. You can reach out to them whenever you need help. Although slightly expensive, WP Engine's managed hosting plans are amazing if you want professional help with managing your site.
Price: $29/month and up.

InMotion is another amazing WordPress host for your WordPress website. Like all other hosting services in this article, InMotion offers dedicated WordPress hosting services too.
Of course, it has other options as well like the VPS hosting, dedicated hosting, and the business hosting plan. Each of these plans comes with 99.99% uptime and tons of other features like cPanel site management and more.
The WordPress hosting also offers advanced security for your website, so you'll never feel vulnerable to security threats. If you're just starting out, you can opt for the WP-1000S plan. You can install 1 site in this plan and can also have a free domain name, unlimited email accounts, and an amazing staging environment.
This plan offers a 40 GB SSD memory slot which can support up to 20,000 monthly visitors. Once your site gains traction and has more traffic, you can easily upgrade to another plan.
Price: $6.99/month and up.
So these are some of the best WordPress hosting providers that you can opt for. All of them are equally good quality options that help you drive traffic to your website, boost page load speeds, improve your SEO, and grow your business.
Now it's up to you to decide which web hosting provider is the best option for you. If you'd like a handy checklist for launching WordPress, you'll love this guide.
We hope you found this article helpful. If you did, do follow us on Twitter and Facebook for more content like this.