7 Best WordPress Hosting Solutions Compared (2021 Edition)
Are you looking for the best WordPress hosting solution for your business website?
Your website's success, including your search engine rankings (SEO) and user experience, relies on which hosting provider you choose. While there are several reliable hosting service providers to choose from, finding one that suits your needs is a challenge.
In this article, we'll share the top WordPress hosting providers available for your site today.
Before we start, let's look at how to choose WordPress hosting for your website.
Choosing the Best WordPress Hosting Provider
There are several factors to consider before picking a web hosting company. These factors will vary based on your business needs and requirements.
For instance, entry-level hosting generally costs less, but more advanced plans offer more comprehensive features.
That said, there are a few things you should never compromise on. For example, you should know if your hosting company:
Guarantees good uptime (anything below 99.9% is not acceptable).
Has hosting features like SSL, domain names, email addresses, etc.
Offers good bandwidth and disk space.
Has the option to upgrade at a reasonable price.
Is good value for money.
It's also crucial that your hosting service offers top-notch customer support. You'll want to be able to contact an expert and have your issue solved promptly.
What Is The Best WordPress Hosting?
We've shortlisted the top WordPress hosting options available for your small business website based on the criteria above.
Note: It's important to highlight that in this article, we're talking about self-hosted WordPress.org website hosting, not free WordPress hosting like those hosted on WordPress.com.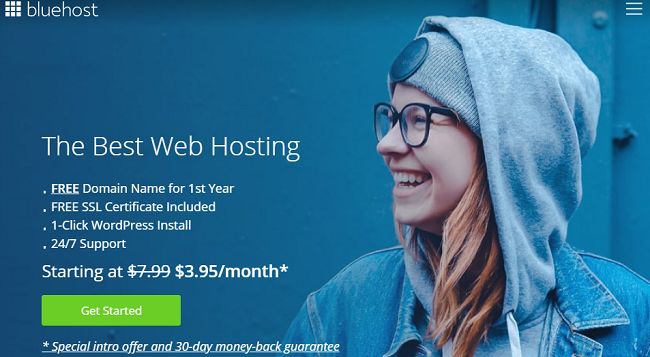 Bluehost is the best WordPress hosting platform and an excellent option for you to get started. They're an official WordPress.org hosting solution and the #1 choice for small businesses.
Bluehost comes with 3 different web hosting options, including shared WordPress hosting, VPS hosting, and dedicated hosting services. If you're a beginner, you can start with the shared hosting plan.
By opting for this WordPress hosting plan, you can share your server with several other websites. It's a good option if you're looking for something budget-friendly.
They also offer a dedicated plan for managed WordPress hosting. This plan is optimized for WordPress and is super secure in protecting your site from any threat.
Bluehost offers free domain names, SSL, 1 click install of WordPress, daily backups, and round-the-clock support. You can also access the Bluehost marketplace, where you can find premium WordPress themes and WordPress plugins at exclusive prices.
As far as the uptime and bandwidth are concerned, you don't have to worry. It offers 100% uptime, fast page loading speeds, and unlimited bandwidth and webspace.
Bluehost also has 24/7 support, including email, live chat, and phone support, so help is always available when you need it.
Pricing: BlueHost pricing starts from $3.95/month.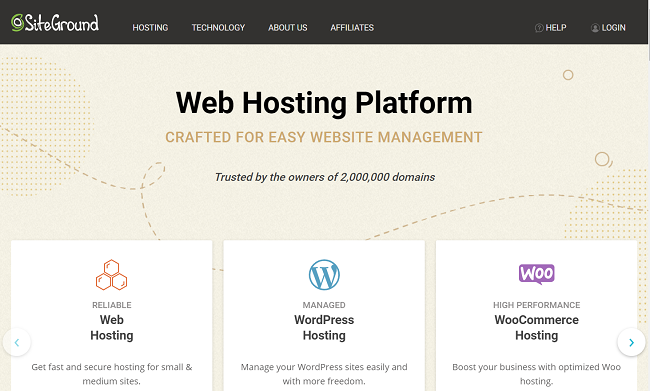 SiteGround is a brilliant hosting provider for WordPress sites. It's known for its top-notch support from WordPress experts and fast, reliable, hassle-free hosting plans.
Like Bluehost, SiteGroud offers dedicated hosting plans specifically optimized for WordPress. You can also opt for the one-click WordPress install option that helps you get started right away.
It also offers automatic updates, instant setup of Cloudflare's free CDN, and SSL certificates from Let's Encrypt. SiteGround also offers a 1-click WordPress staging test site, the latest PHP versions, daily WordPress backups, built-in caching, 99.9% uptime, and has excellent response times and load times.
If you have an eCommerce business, SiteGround also offers a managed WooCommerce hosting solution.
SiteGround's customer support team is second to none, and the team at WPBeginner tested the actual server response time of SiteGround in their hosting review and the results were terrific. The server responded in a fraction of a second in the US and less than a second in other locations.
Pricing: SiteGround pricing starts from $3.95/month.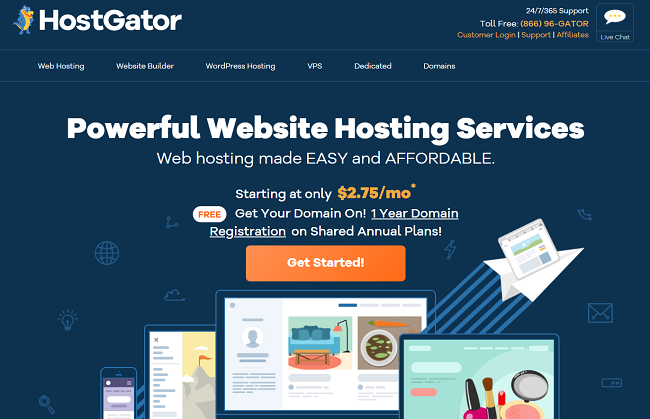 HostGator is another popular web host for many website owners. By signing up for the HostGator plan, you can have a domain name for free for a whole year.
It comes with 5 different hosting packages with prices that fit various budgets. Like the other hosting companies in this article, this one also offers dedicated hosting for WordPress users with 1-click WordPress installations.
HostGator has all the tools you need to build your website and offers 99.9% uptime too.
If you're a new HostGator account holder, you can use their free site migration services. This means that if you've previously hosted your site with another hosting company, you can easily migrate it to HostGator at zero cost.
Pricing: HostGator pricing starts from $2.75/month.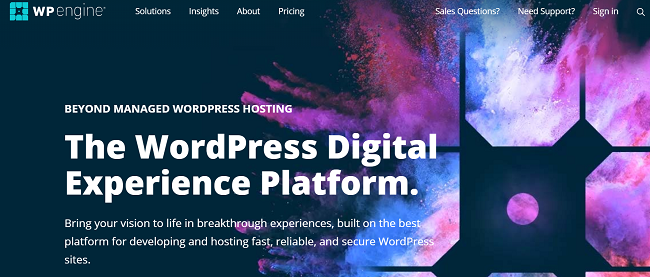 WP Engine is a VIP WordPress web hosting service provider. With this hosting option, you'll never have to look for any other option. It has everything for your WordPress site, whether you have a WordPress blog, small business, or eCommerce site.
In addition, it offers robust security, so you know your site is safe around the clock from malware. It lets you backup your site daily, and if you lose any data, you can restore everything with a single click.
WP Engine has 4 different hosting plans allowing you to pick one that best fits your needs. It also partners with Amazon Web Services and Google Cloud for the best page load speeds, optimization, and scalability.
With each plan, you get 36+ premium StudioPress WordPress themes and the Genesis framework for free.
You also get a free SSL certificate, WordPress updates, 99.9% uptime, ample bandwidth, and data centers worldwide. This makes it an excellent choice for high-traffic websites.
The best thing about this managed WordPress host is its customer service. You can reach out to them whenever you need help. Although slightly expensive, WP Engine's managed hosting plans are fantastic if you want professional help to manage your site.
Pricing: WP Engine pricing starts from $29/month.

InMotion is another of the best web hosting solutions for your WordPress website. Like all other hosting services in this article, InMotion offers dedicated WordPress hosting services.
It also offers other hosting options like VPS hosting, dedicated hosting, and business hosting plans. Each plan comes with 99.99% uptime and tons of other features like cPanel site management and more.
InMotion's WordPress hosting also offers advanced security for your website, so you'll never feel vulnerable to security threats.
If you're just starting, the WP-1000S plan is a good choice. With this plan, you can install 1 site and enjoy a free domain name, unlimited email accounts, and an amazing staging environment.
This plan offers a 40 GB SSD memory slot that can support up to 20,000 monthly visitors. Once your site gains traction and has more traffic, you can easily upgrade to another plan.
Pricing: InMotion hosting prices start from $6.99/month.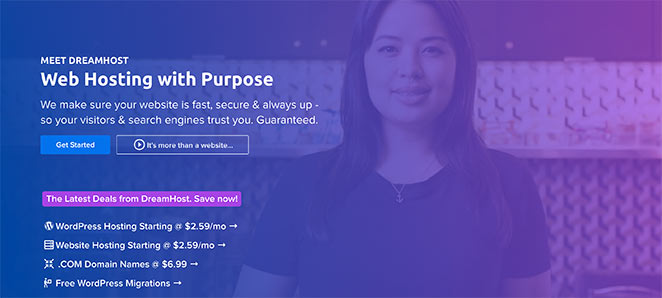 DreamHost is another popular web hosting provider, hosting millions of websites. It also has over 400,000 happy customers from over 100 different countries. Plus, it's an officially recognized WordPress.org hosting solution with PCI-compliant hosting.
DreamHost has all the features you need to start a WordPress site. Your account is pre-installed with WordPress to make getting started much easier. All plans also include a free domain name, free website firewall, and free SSL certificate.
DreamHost is an excellent choice if you need a WordPress host that offers easy website creation and high-speed SSD storage.
Pricing: DreamHost pricing starts from $2.59 per month.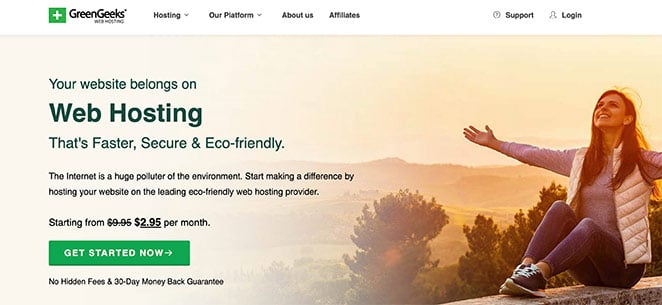 GreenGeeks is the #1 green energy web hosting provider. They offer excellent WordPress hosting that provides reliability, security, and performance while staying committed to preserving the environment.
Whatever your hosting needs, GreenGeeks' hosting platform has everything to meet your requirements.
They offer lightning-fast SSD-based hosting, WordPress and WooCommerce hosting, built-in scalability, and much more. Plus, they have a 99.9% uptime guarantee and customer support available 24/7/365. Additionally, you can take advantage of their 30-day money-back guarantee.
Best of all, GreenGeeks return 3 times more power than they consume into the grid as renewable energy.
Pricing: GreenGeeks' pricing starts at $3.49/month with the StartUp plan, which is perfect for blogging and smaller sites.
Which Is the Best Hosting for WordPress?
After comparing the top WordPress hosts, we've concluded that Bluehost is the best solution for hosting your WordPress website.
Bluehost has everything you need to create and launch a WordPress website with zero effort. They're officially recognized by WordPress.org, offer fantastic uptime, user-friendly features, and have first-class customer support.
WordPress Hosting FAQ
Is WordPress hosting free?
WordPress as a software is free to download and use. But to use WordPress on the internet, you'll need to pay for WordPress hosting.
How much is WordPress hosting per year?
Web hosting for WordPress typically costs around $60 per year, depending on your hosting provider.
Can I pay WordPress monthly?
Some hosting solutions allow you to pay monthly to host your website. Again, the price can vary from around $5 per month depending on the provider you choose.
What are the alternatives to WordPress?
If you need an alternative to host your WordPress website, take a look at these best website builders.
That's it!
We hope this article helped you find a WordPress hosting provider for your business website.
If you'd like a handy checklist for launching WordPress, you'll love this guide.
We hope you found this article helpful. If you did, do follow us on Twitter and Facebook for more content like this.