Are you looking for the best hosting for WordPress websites?
Web hosting is a crucial component of a successful business site. Not only is it your website's home online, but the best website hosting solutions can improve your SEO rankings and boost sales.
There are many types of WordPress hosting providers available, including free, shared, dedicated, VPS, and managed WordPress hosting. However, knowing which to choose is often challenging.
That's why in this article, we'll share only the best hosting for WordPress on the market.
What Are the Requirements for WordPress Hosting?
WordPress is a lightweight platform that works with all good web hosting providers. The only requirements that WordPress has for hosting are:
PHP version 7.4 or higher
MySQL version 5.7 or higher OR MariaDB version 10.3 or higher
HTTPS support (SSL)
Since WordPress is so popular, the best hosting companies offer easy 1-click WordPress installation. Moreover, every hosting option in this guide provides complete support for running a WordPress website.
How to Choose the Best Hosting for WordPress
You'll need to consider your business needs to choose the best website hosting for WordPress. Some web hosting companies may have features you won't use, so evaluating your needs before buying hosting can save you hundreds of dollars.
That said, here are some other critical hosting factors to consider:
Good uptime and minimal downtime (anything below 99.9% is not acceptable)
Hosting features like SSL, domain names, and email addresses
Good bandwidth and disk space
Has the option to upgrade when needed
Keeps your WordPress site secure
Good value for money
It's also crucial that your hosting service offers top-notch customer support. You'll want to be able to contact an expert and have your issue solved promptly, so live chat support is a must-have feature.
What Are the Different Types of WordPress Hosting?
As we mentioned earlier, there are several types of web hosting available, like free, shared, dedicated, VPS, and managed. Here's an overview of each option so you can decide which is best for you.
Free WordPress Hosting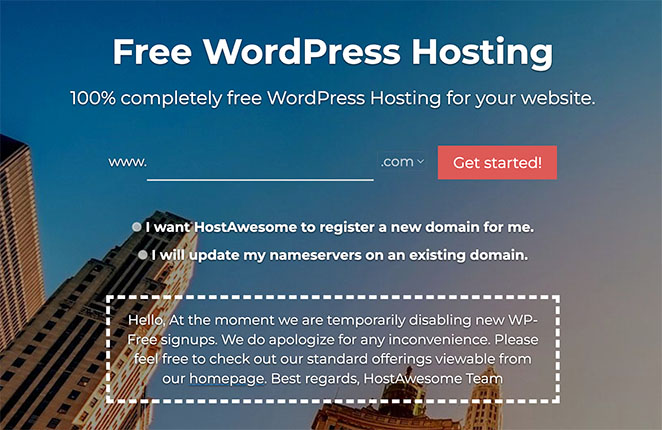 While several free WordPress hosting solutions are available, they often come with a catch.
You may find people offering free hosting in small groups and forums. In many cases, this hosting is managed by an individual reselling their server space to recoup costs.
The catch, in this case, is you'll have to add banner ads to your website or a link in your website's footer. The individual will sell that banner or link space to advertisers to cover the cost of your free hosting and will keep any profits.
One of the most significant downsides to free WordPress hosting is unreliability. The individual can stop offering to host your site whenever they want, which can leave you hanging.
We suggest avoiding free WordPress hosting if you want to run a serious business or website.
Shared WordPress Hosting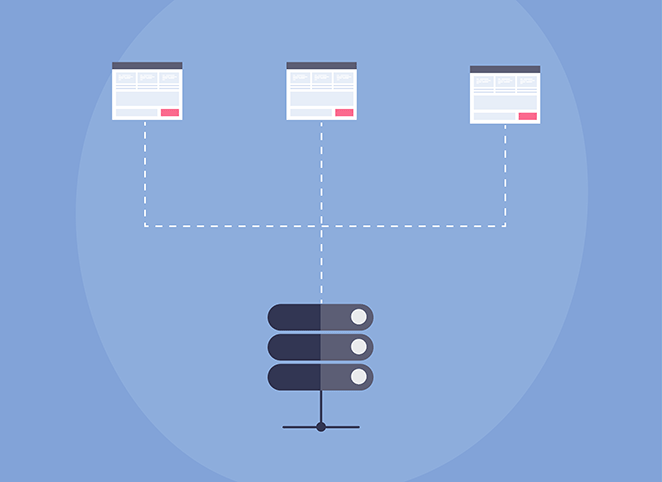 Shared hosting is the most popular WordPress hosting for beginners. It's a good starting point for new users and has affordable pricing.
Shared hosting is where multiple websites share the same server. This is a cost-effective way for hosting companies to offer the service at affordable prices.
However, the catch is when these companies say they offer unlimited resources because there is no such thing as unlimited. While it may say unlimited, there are still restrictions on your usage. For instance, if your site significantly increases the server load, shared hosting providers may ask you to upgrade; otherwise, it will have a negative impact on the other sites hosted on your server.
In essence, as your business grows, so too will your costs. That said, shared hosting is the best entry-level hosting solution for small businesses, startups, and bloggers.
WordPress VPS Hosting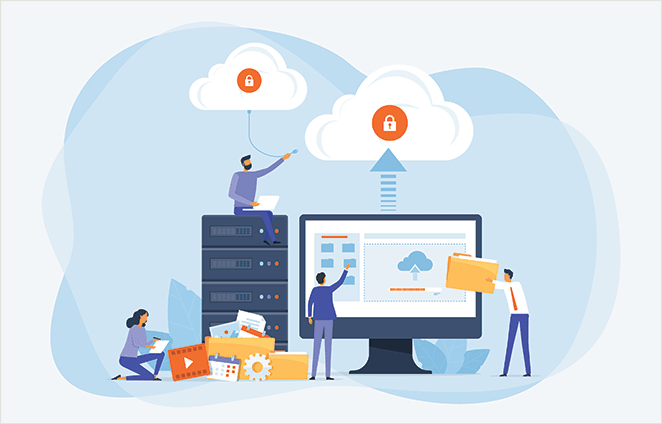 VPS stands for Virtual Private Server and refers to a virtual machine. It's a way to partition a physical server into multiple servers that meet individual customer needs.
Despite sharing your server with a handful of other websites, you'll have as much control as you would on a dedicated server. You'll also have the privacy of a separate physical computer that you can configure to run specific server software.
Developers and intermediate users often use VPS hosting, and some medium-sized bloggers will use it to scale their websites. If you have yet to gain any technical experience, you'll need to ensure you purchase a managed VPS. That means the hosting provider will manage system upgrades for you and can assist if you need help.
WordPress VPS hosting is best for designers or developers, medium-sized businesses, and high-traffic blogs.
WordPress Dedicated Hosting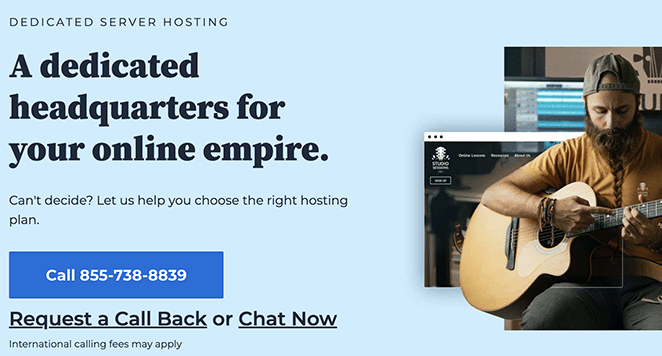 Dedicated hosting is a physical server you can lease from the hosting provider, allowing you complete control over the server without sharing it with other websites. You won't need dedicated hosting if you're just starting. But once your site receives significant traffic, it's worth considering this option.
If you don't employ a system administrator or have no experience with server management, we recommend getting a managed dedicated server. WordPress hosting providers that offer this service employ full-time system administrators to maintain your servers.
Besides carrying out software updates, they monitor your server, offer phone support, and more. Dedicated Server hosting is ultimately best for high-traffic websites.
Managed WordPress Hosting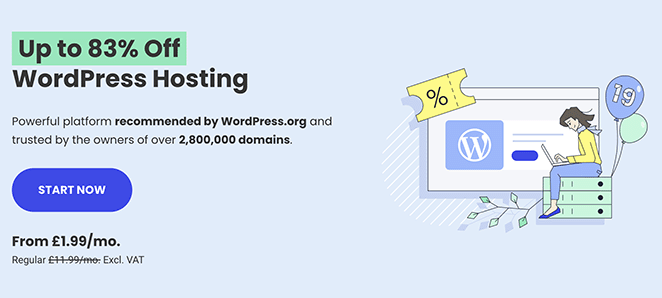 Since WordPress is so popular, many hosting providers now offer managed WordPress hosting. Creating a hosting account with one of these providers allows you only to host a WordPress-based site.
The clear benefit of managed WordPress hosting is you won't need to worry about anything. The host will optimize your website for performance, keep your site secure, make regular backups, and advise you if specific plugins have a negative impact.
Managed WordPress hosting is fast, hassle-free, and offers support from WordPress experts. That said, the pricing plans for managed WordPress hosting are generally pricier.
For example, a personal hosting account can cost up to $29 per month for only 1 website. The next level up, which offers hosting for multiple domains, is around $99 per month. A user that is just starting can't afford these prices.
Ultimately, Managed WordPress hosting is good for established websites that can justify the expenses. It's also for people who don't have the time or skills to deal with the technical side of hosting a WordPress website.
What Is The Best Hosting for WordPress?
Now that you know the types of WordPress hosting options available to you, it's time to decide on a solution. Below we've compared the very best web hosting providers for WordPress on the market.
Each company offers excellent customer service, and we've given each of them a perfect 5 out of 5-star rating. Check out our hand-picked list of the best WordPress hosting providers below.
Best Hosting for WordPress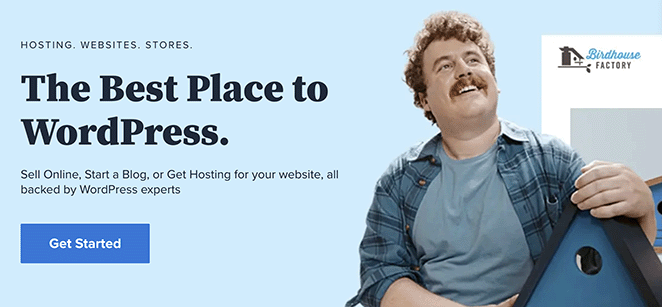 Bluehost is the best WordPress hosting provider and an excellent option for getting started. They're an official WordPress-recommended hosting provider and the #1 choice for small businesses.
Bluehost has 3 different web hosting options and managed WordPress plans, including shared WordPress hosting, VPS hosting, and dedicated hosting services. You can start with the shared hosting plan if you're a beginner.
By opting for this WordPress hosting plan, you share your server with several other websites. Plus, it's a good option if you're looking for something budget-friendly.
They also offer a dedicated plan for managed WordPress hosting. This plan is optimized for WordPress and is super secure in protecting your site from any threat.
Bluehost offers free domain names for the first year, SSL functionality, automatic WordPress installation, daily backups, and round-the-clock support. You can also access the Bluehost marketplace for premium WordPress themes and plugins at exclusive prices.
Additionally, you won't have to worry about uptime and bandwidth because Bluehost offers 100% uptime, fast page loading speeds, and unmetered, unlimited bandwidth and web space. Moreover, this solution provides 24/7 support, including email, live chat, and phone support, so help is always available when you need it.
Bluehost Performance
Here are the results of our performance test of Bluehost:

Our test website loaded in under two seconds, faster than 85% of all tested sites. Considering our sample website wasn't using any caching plugins or speed optimization, it's an excellent result.
After, we ran a Load Impact test on Bluehost servers. We built up to 100 unique visitors at once to see how our site would handle more requests from multiple connections simultaneously.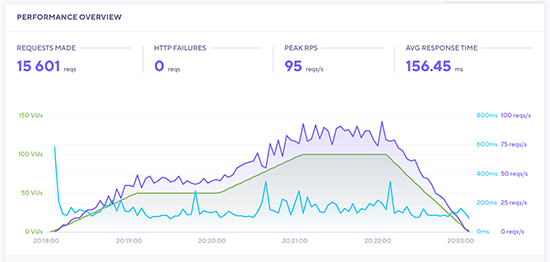 The green line represents the active virtual users, and the blue line represents the server load time. As you can see from the results, the server load was stable during the test.
Next, we used Bitcatcha to test more accurate server response times from different geographical locations.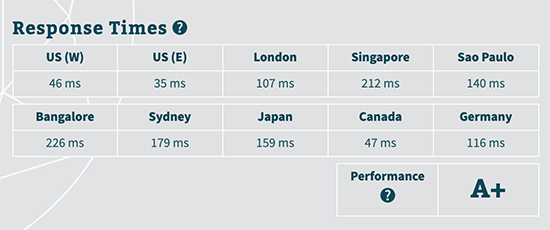 The Bluehost server performed excellently in the U.S., loading in under a fraction of a second. In other locations, the response was higher but still under a second.
Bluehost Pros and Cons
Now let's look at the pros and cons of Bluehost:
Pros: Officially recommended by WordPress.
Pros: Free website staging.
Pros: Free CDN with unlimited storage and unmetered bandwidth.
Pros: Free WordPress themes and plugins included, like WPForms and OptinMonster.
Cons: Support can be slow at times.
Cons: It does not automatically come with All in One SEO installed.
Bluehost Customer Reviews
Most Bluehost users praise this web hosting provider for its ease of use and excellent customer support. Here's a sample of what some Bluehost users have to say:
"I have been using Bluehost for more than two years to host our own organization's domain. I found it super fast, reliable, and cost-effective. Also, it is easy to use, even for beginners. More importantly, the support is fast and competent." – Shiva Mohammadi-Jam
"We run multiple sites and use a competitor for one of the sites where we have no option (decision made by the board of directors) so I can confidently say that Bluehost far supersedes its competitors and provides a better value for web hosting and associated services" – Valerie Pitaluga
"Bluehost support, whether via chat or call, is really great, supportive, and timely. However, sometimes the cPanel has glitches when setting up hosting, but it's very rare. Usually, I use Shared Hosting, but I recently bought VPS and am eager to see how the site performs. So far, so good! Overall, Bluehost is dependable, seeing as it hosts 90% of my sites." – Nicholas Githinji
Get started with Bluehost today.
For more details, you can check out this Bluehost hosting review.
Best Hosting for WooCommerce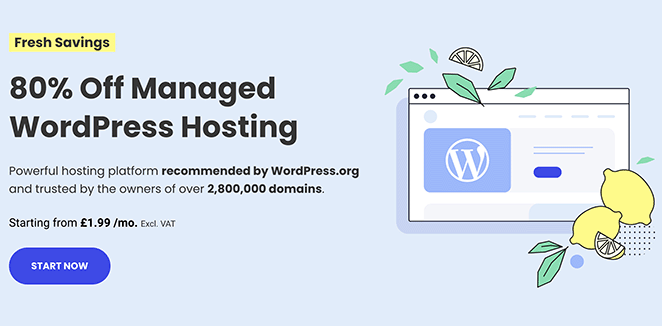 SiteGround is a brilliant hosting provider for WordPress sites. It's known for its excellent support and fast, reliable, hassle-free hosting plans.
Like Bluehost, SiteGround offers dedicated WordPress-optimized hosting plans. You can also opt for the one-click WordPress install option that helps you get started right away.
Some of the services include automatic updates, instant setup of Cloudflare's free CDN, and SSL certificates from Let's Encrypt. It also offers a 1-click WordPress staging test site, the latest PHP versions, daily WordPress backups, built-in caching, 99.9% uptime, and excellent response and load times.
SiteGround has a managed WooCommerce hosting solution if you have an eCommerce business, and their customer support team is second to none.
Their server infrastructure is powered by Google Cloud with built-in high-performance features like Ultrafast PHP, SG Optimizer, and more to give even an entry-level website a cloud hosting experience.
SiteGround Performance
Here are the results of our performance test of SiteGround:

As you can see above, our test site loaded in under a second (491 ms), making it faster than 95% of tested websites.
After this test, we used Load Impact to see how the servers would perform as we built up to 100 unique visitors.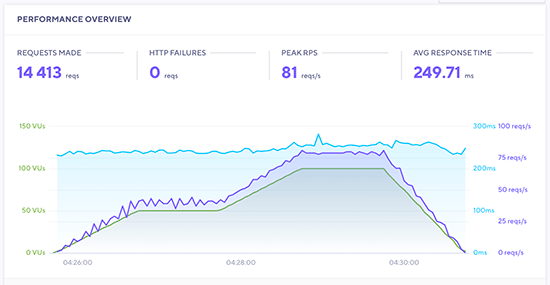 The green line represents the site's active users, and the blue line represents the server response time. SiteGround had consistent performance throughout.
Finally, we used Bitcatcha to analyze accurate server response times from locations worldwide.

The test site's server performed well in the United States and took less than a second to respond in all other locations.
SiteGround Pros and Cons
Now let's look at the pros and cons of SiteGround:
Pros: Excellent WordPress support, with fast speed and free SSL.
Pros: Advanced security features running on the Google Cloud platform.
Pros: Several data centers running across the world.
Pros: Free website migration.
Pros: Includes powerful tools and plugins like AIOSEO, OptinMonster, WPForms, and more.
Cons: No free domain and higher pricing for premium hosting.
For the best performance, we suggest the GrowBig or GoGeek plans which come with Ultrafast PHP and good scalable options.
SiteGround Customer Reviews
Many SiteGround users have positive comments about its fast customer support and expertise. Here's a sample of SiteGround customer reviews we think you'll find helpful:
"The support staff are very professional and are able to diagnose, fix and explain what the problems are to persons who are not highly technical." – Michael Hargreaves
"Out of the 100's of vendors I've worked with in the past, Siteground support is the best vendor support I've ever worked with. They make customer success their mission and are willing to do what's needed to make it happen." – Austin R
"I can't say enough about how amazing it has been to work with SiteGround. The team is knowledgeable, professional, and friendly. Not only do you get what you pay for, but so much more." – Waqas
Get started with SiteGround today.
Fast Hosting for WordPress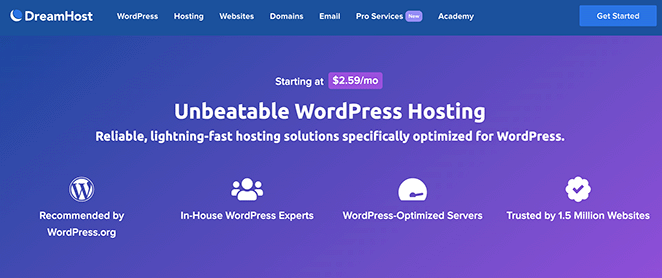 DreamHost is another popular WordPress web hosting provider, hosting millions of websites. It also has over 400,000 happy customers from over 100 different countries. Plus, it's an officially recognized WordPress.org hosting platform with PCI-compliant hosting.
DreamHost has all the features you need to start a WordPress site and includes 1-click WordPress installation to make getting started much easier.
All plans include a free domain name with free domain privacy, a free website firewall, and a free SSL certificate. It's an excellent choice if you need a WordPress host that offers easy website creation and high-speed SSD storage.
DreamHost Performance
Here are the results of our performance test of DreamHost:

The screenshot above shows that our test site loaded in under a second, faster than 93% of all tested websites.
However, this test site doesn't have any traffic, so we ran a Load Impact test to see how the servers would stand up against peak traffic times.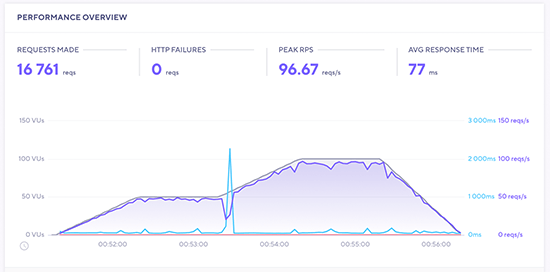 As you can see, the server was stable during the whole test.
Afterward, we used Bitcatcha to test more accurate server response times from worldwide locations.

The DreamHost server had excellent performance in the U.S., loading under a fraction of a second, and the response times were also good worldwide.
DreamHost Pros and Cons
Now let's look at the pros and cons of DreamHost:
Pros: Great speed, free SSL and domain with privacy protections, and 1-click WordPress installation.
Pros: Officially recommended by WordPress.
Pros: Free web application firewall.
Pros: Free automated WordPress migration.
Pros: Access powerful WordPress plugins and tools, including AIOSEO, WPForms, and more.
Pros: Shared unlimited plan includes unlimited emails.
Cons: The hosting control panel (Cpanel) is somewhat outdated.
DreamHost Customer Reviews
Most DreamHost users have positive comments about their prompt live chat system and ease of use for non-technical site owners. Here is a sample of DreamHost reviews we've found from existing customers:
"Their livechat system is 24/7 now. Rarely does it go offline, but they tell you on their status page in advance." – Peter N
"This is a great company. I've been using them for 9 years for a number of small web sites. They have been fantastic for someone who isn't super web savvy. Plus, you only pay an annual fee for as many sites as you want (I'm sure you wouldn't use this feature if your site got 50,000 hits a day)." – Ed Lehmann
"I absolutely love this service! I am a novice at setting up and updating websites, but DreamHost makes it easy. If you have a question about anything, you get a response with the answer within 24 hours." – Eunice
Get started with DreamHost today.
All-in-One Hosting for WordPress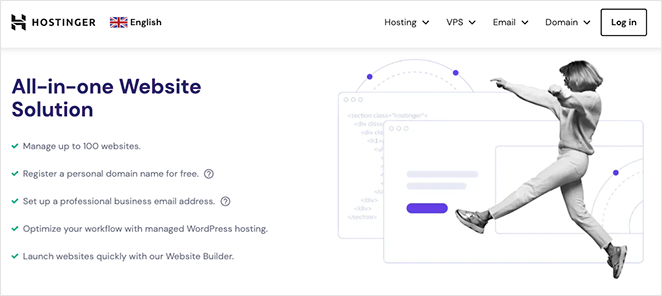 Hostinger is a well-known web hosting service and a popular solution in the WordPress community because it offers the cheapest WordPress hosting. The platform is robust and reliable, and they offer 24/7 support through live chat.
Hostinger Performance
According to web hosting statistics, over 1.3% of all websites use Hostinger. So let's take a look at the results from our performance test of Hostinger:

The test site loaded in less than a second, which is excellent news. However, our test site doesn't have any traffic, so we did a load impact test next to see how Hostinger would perform at peak traffic hours.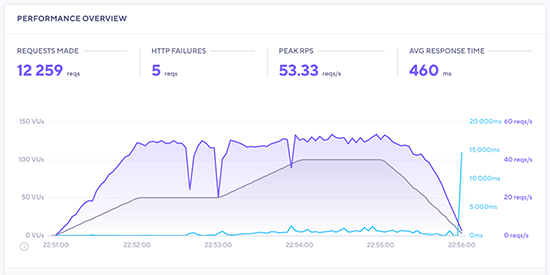 Hostinger performed well on this test. As virtual users increased, the response time remained steady.
So if you have a small business website, an online store, or a growing WordPress blog, your website can easily handle sudden traffic spikes with this web host.
After the load impact test, we used Bitcatcha to test more accurate server response times from various locations.

For each location, Hostinger responded in under a second. The response time was excellent across the board, particularly in North America and Europe.
After analyzing Hostinger, we find it an excellent option for small businesses that value fast and cheap WordPress hosting. The plans grow as your business grows, but they make it affordable to get started with the basic plan.
Hostinger Pros and Cons
Now let's look at the pros and cons of Hostinger:
Pros: Great speed, free SSL, domain, and email accounts.
Pros: Cheapest plan starts from $1.99 per month with 30GB of disk space.
Pros: 30-day money-back guarantee.
Pros: Managed auto updates and WordPress acceleration built-in.
Pros: Choose from multiple data centers.
Pros: Includes powerful WordPress plugins and tools like MonsterInsights, WPForms, AIOSEO, and OptinMonster.
Cons: High renewal fees.
Hostinger Customer Reviews
Most Hostinger customers praise the web hosting services' affordability and quick customer service. Here's a sample of customer reviews from Hostinger to help make your decision easier:
"Hostinger hosting is best, cheap, and their custom support is on another PRO level. I recently hosted my site on it, and it is performing very well." – Samran
"Amazing service. Did help with my issues. You saved my hours of work from getting ruined." – Roshan Vishwas
"After I moved my hosting to Hostinger, my life has really become so easier. Their customer service is top notch, and they take care of your website and everything like it's their own. I'm really impressed by the professionalism and patience that their team presents. Kudos and keep up the good work." – Shantanu Singh
Get started with Hostinger today.
Scalable Hosting for WordPress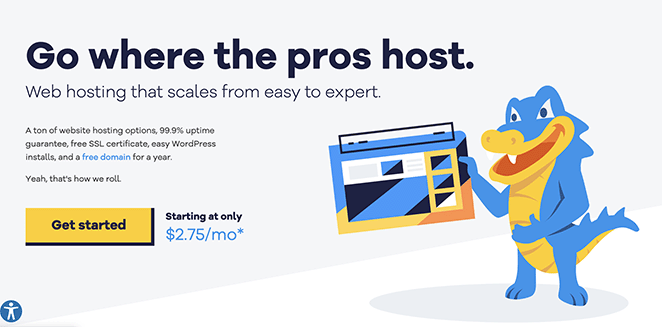 HostGator is another popular web host for many website owners. By signing up for the HostGator plan, you can have a domain name for free for a whole year.
It comes with 5 different hosting packages with prices that fit various budgets. Like the other hosting companies in this article, this one also offers dedicated hosting for WordPress users with 1-click WordPress installations.
HostGator has several add-on tools to build your website and offers 99.9% uptime.
You can use their free site migration services if you're a new HostGator account holder. If you've previously hosted your site with another hosting company, you can easily migrate it to HostGator at zero cost.
HostGator Performance
Here are the results from our performance tests of HostGator:

Our test site loaded in 1.03 seconds, faster than 94% of all tested websites. But since this is a new website with no traffic, we wanted to see how it would perform under peak traffic times.
With that in mind, we used Load Impact to gradually build up to 100 unique visitors to see how HostGator servers would handle the load.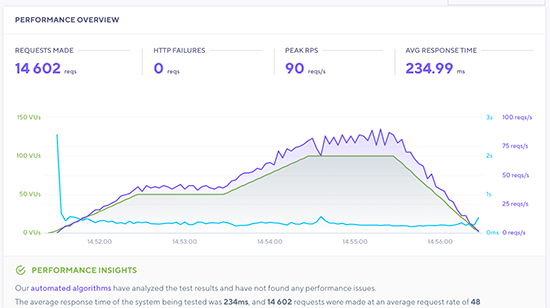 The test site performed well throughout the test, with an average response time of 203 milliseconds.
After this test, we used Bitcatcha to test more accurate server response times from various locations worldwide.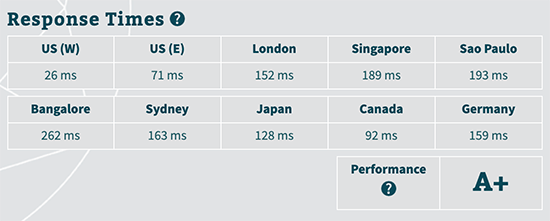 The server response time was still less than a second, and in the United States, it was only 26 ms.
HostGator Pros and Cons
Now let's look at the pros and cons of HostGator:
Pros: Fast with 24/7 support
Pros: Cheap prices for the first year and free migration
Pros: Free domain and free SSL
Cons: Renewal fees are high
HostGator Customer Reviews
Like the other hosting providers in this guide, HostGator is known for it's great customer service, ease of use, and affordable pricing. Here are some HostGator customer reviews to help you decide:
"Host Gator is amazing!! Their support is 6 stars in my opinion. Every time I've had an issue and called the support team has always gone out of their way to help. I am very happy with their service. Just upgraded to VPS, and my website is now lightning fast." – Alex Rivera
"The site is up and running. We are very pleased with HostGator's technical support representatives which helped make the launch seamless." – Daniel Cuoco
"Been with HostGator since I started my business in 2010. Thanks for always being there and keeping up with the changing times." – Brooke Zeigler
Get started with HostGator today.
Which Is the Best Hosting for WordPress?
After looking at the performance and feature comparison of the top WordPress hosting companies, it's time to decide on the best solution for your business.
Here is a table with a side-by-side feature list to quickly compare the best WordPress hosting companies.
In our opinion, Bluehost is the best solution for hosting your WordPress website. It has everything you need to create and launch a WordPress website with zero effort. They're officially recognized by WordPress.org, offer fantastic uptime and user-friendly features, and have first-class customer support.
That said, all of the top WordPress hosting companies mentioned above offer excellent uptime, fast servers, quality support, and incredibly low prices, so you can't go wrong.
WordPress Hosting FAQ
Are there any free WordPress hosting providers?
There are several free WordPress hosting providers; however, we suggest you stay away from them. In many cases, free hosting providers put ads on your website and may even send malware to your users. In the worst case, they could shut down your site anytime without notification.
Can I pay for WordPress hosting monthly?
Some hosting solutions allow you to pay monthly to host your website. Again, the price can vary from around $1.99 per month, depending on your chosen provider.
Can I switch my WordPress hosting provider later?
Yes, you can switch your provider if you're unhappy with your current hosting. Most hosting companies offer free migration services, which make moving to a new host easy.
Are there other WordPress hosting providers, not on this list?
There are many other WordPress hosting companies. Some providers not on this list include GoDaddy, which offers unlimited storage, A2 hosting with its extensive knowledge base, WP Engine, Kinsta, Liquid Web, Flywheel, GoGeek, InMotion Hosting, and more.
What are the alternatives to WordPress?
If you need an alternative to the WordPress content management system, take a look at these best website builders. Some of the solutions include Wix, Squarespace, etc.
My WordPress hosting offers WP-cli; what is it?
WP-cli is a WordPress command-line interface to update plugins, set up multisite installations, and more without a web browser. Most beginners don't need this developer tool, yet it's useful if you hire developers because it improves their workflow.
Most WordPress hosts offer wp-cli with SSH access, staging, and Git tools to make website development faster.
Do WordPress hosting companies offer a professional email address?
Yes, most WordPress hosting companies will let you create a free business email address. Yet, we suggest using Google Apps (also known as GSuite) because it's more reliable.
That's it!
We hope this article helped you find the best WordPress hosting provider for your business website.
If you'd like a handy checklist for launching WordPress, you'll love this tutorial.
Thanks for reading. Please follow us on YouTube, Twitter, and Facebook for more helpful content to grow your business.