Are you looking for the best WordPress migration plugins? Migration plugins make it easier to move your existing website to a new hosting company.
Moving a WordPress website involves steps many website owners may find confusing or challenging. A migration plugin helps to manage the transfer and ensure each step goes smoothly.
In this article, we'll review the best WordPress migration plugins to help migrate WordPress sites with minimal fuss.
What Is the Easiest Way to Migrate a WordPress Site?
The easiest solution for migrating WordPress sites is to use a WordPress migration plugin. This is because it simplifies moving a website from one place to another.
You can use one to move a website from one web host to another, from a local development site to a live server, or even from a sub-domain to a top-level domain.
Migration plugins allow you to move your site's database, plugins, WordPress themes, and files with minimal downtime. They also include features to help maintain your search engine rankings and SEO.
Best WordPress Migration Plugins
Below you'll find the best WordPress migration plugins to move your site quickly and painlessly.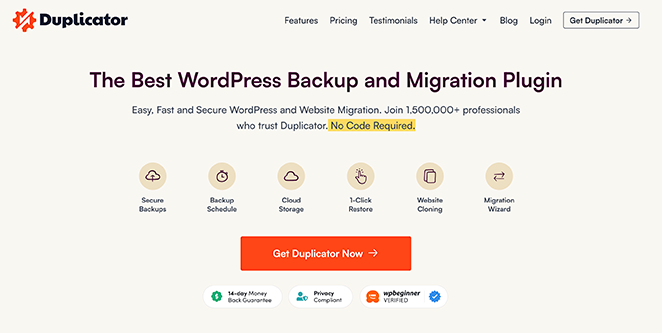 Duplicator is the best WordPress migration and backup plugin around. It requires zero technical knowledge and is a breeze to use in many different migration scenarios.
The plugin comes with a step-by-step migration wizard that walks you through each step of the migration process.
It starts with creating a migration package and downloading it to your computer with an installer script. You can then upload those files to your new server or web host and run the migration wizard.
The Duplicator plugin will unpack and install the package contents. From there, it will also help you update your URLs to ensure there are no broken links that could affect your search engine rankings.
Pros:
Migrate a WordPress site to a new web host, domain, local server, or live server.
Move your site using a step-by-step migration wizard.
Schedule website backups to save remotely in Google Drive and other cloud storage solutions.
Connect to your hosting dashboard to automatically create databases.
Support for WordPress multisite migrations
Cons:
You may need help connecting to FTP if you're a beginner (support is more than happy to help).
The package upload process may take time if your internet connection is unreliable or your site is particularly large.
Pricing: Duplicator's paid plans start from $49.50 per year. It includes using the plugin on 2 websites and unlimited backups and migrations. The other premium plans include additional features such as multisite migrations, hourly scheduling, and more.
The free version of Duplicator is ideal for smaller websites with fewer needs.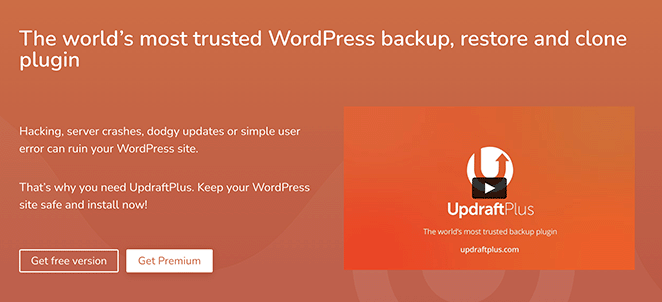 UpdraftPlus is one of the top WordPress backup plugins on the market. The premium version of this plugin also has a migration tool that allows you to clone or migrate your website quickly and easily.
You can install UpdraftMigrator on unlimited websites and clone your website to a different URL, all from its dashboard. The addon will automatically cleanse mentions of your old website from your database that won't work on your new server.
Pros:
You can clone your site in minutes if you already use it as your backup plugin.
Schedule and store your backups remotely.
Supports WordPress multisite networks.
Save server resources with incremental backups.
Cons:
You need to install WordPress on the destination server to run the migration.
No free version of the migrator.
Pricing: UpdraftMigrator is available as a $30 addon for the free version of UpdraftPlus. Alternatively, you can get UpdraftPlus premium for $70.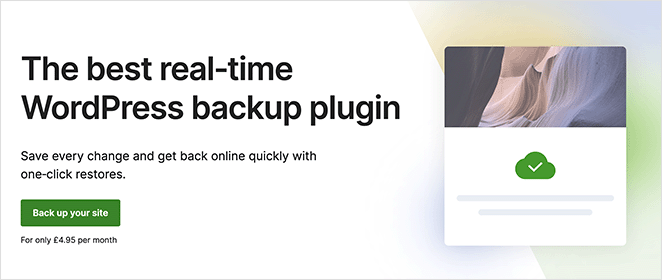 Jetpack is a popular WordPress plugin covering many different website needs. One of those features is Jetpack Backups, formerly VaultPress.
With Jetpack Backups, you can easily save and restore backups of your WordPress site and then migrate it to new servers. You can save backups in the cloud, restore your site with 1-click, and even see a complete list of changes made to your website.
Pros:
Easily backup and restore your site to a new location.
Offers incremental backups to reduce server resource demand.
1-click site restoration for faster migrations.
Your data is stored in the cloud, so you won't need to re-upload backups during migrations.
Includes security features for more secure backups.
Cons:
Requires a Jetpack subscription which includes features you may not need.
The setup process can be complex. It involves creating a WordPress.com account, getting a Jetpack subscription, and installing 2 plugins.
No built-in wizard to migrate sites.
Pricing: A Jetpack subscription can cost from $10 per month, billed annually.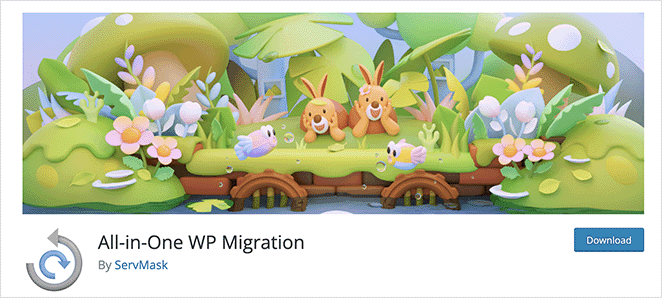 All-in-One WordPress Migration is a free WordPress migration plugin with extensive features. Unlike some of the other plugins on this list, all-in-one wp migration specializes in migrations first rather than backups.
In 3 simple steps, you can install the plugin, export your files, and install them at the new location. All-in-one WP migration also supports custom uploads, mobile devices, and popular WordPress hosting providers.
Pros:
Supports a long list of hosting services.
Works with older versions of WordPress and PHP.
Syncs seamlessly with cloud storage services.
Cons:
Import sizes are limited to 512 MB on the free version.
Requires manually installing WordPress on the new location.
You'll need a separate paid extension for multisite exports.
Pricing: The base plan of All-in-One WP Migration is free. You'll need the Unlimited extension to remove import size restrictions which costs $69.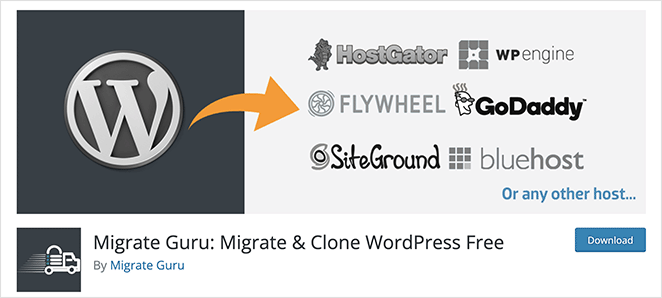 Migrate Guru is a WordPress migration plugin from the team behind BlogVault, the popular backup solution for WordPress. It offers a robust and easy way to migrate websites to a new host or server.
The transfer process works on Migrate Guru's servers, which helps avoid performance issues on your own website. It also erases the copy of your site when migration is complete so that it won't use too much storage space.
Pros:
Effortless migration wizard with easy steps.
Supports popular hosting companies.
Migrates updated URLs and easily handles serialized data.
Ideal for larger websites to mitigate server performance issues.
Cons:
Doesn't support live to localhost or localhost to live website transfers.
No support for full multisite migrations.
Pricing: Migrate Guru is a free migration solution.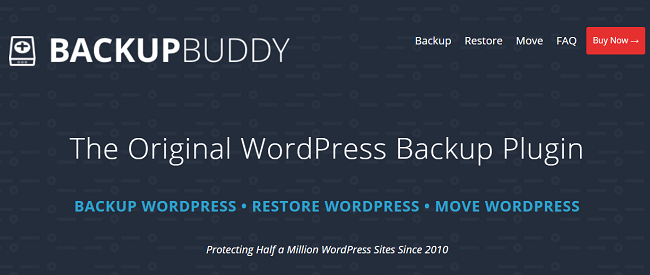 BackupBuddy is a popular WordPress migration and backup solution with a loyal customer base. It's been around since 2010, offering complete backups for WordPress, including the WordPress database, files, and more.
You can set up backup schedules to run automatically and store them safely off-site. Migrating your website is just as easy, allowing you to move your site to a new host or domain in a flash.
Pros:
Schedule backups, restore, and migrate your WordPress website all in one.
Store backups in a remote location safely.
Transfer your site with a complete WordPress backup.
Deploy your wp staging site to a live server with a single click.
Cons:
No support for multisite networks.
The migration and restore features are more complicated than other plugins on this list.
Pricing: Starts from $99 per year.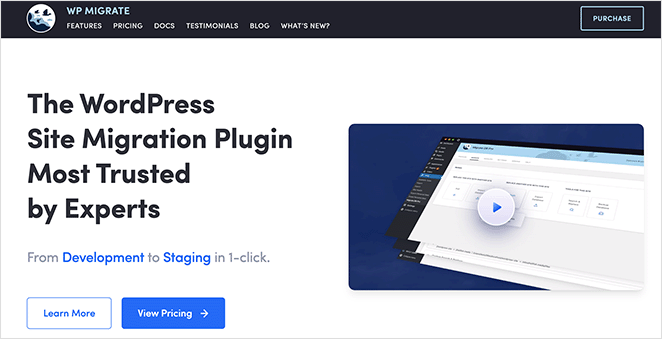 WP Migrate DB is a robust migration plugin for WordPress that specializes in moving WordPress databases between installations. While its primary focus is on databases, it can also move files, media, plugins, and themes through addons.
With this plugin, you can download your production site to a local install, push a staging site to production, or push your local site to a staging server. The process is fast and only takes a few clicks.
Pros:
Quickly copy a WordPress database from one site to another.
Powerful features for developers.
Find and replace text on your database.
Works easily with large websites and complex server environments.
Cons:
Requires additional addons for complete migrations.
May not be as easy to use for beginners.
No free version.
Pricing: WP Migrate DB starts from $49. A developer license is required for the media and file migration addon, which costs $189.
What Is the Best WordPress Migration Plugin?
In our personal experience, Duplicator is the best WordPress migration plugin. It has everything you need to back up and migrate your website with ease. The free version even works seamlessly for smaller WordPress websites and blogs.
Migration Plugin FAQs
Which plugins can be used to migrate a full website from one server to another?
You can use Duplicator to migrate a full website from one server to another quickly and easily.
Can I copy plugins from one WordPress to another?
You can copy WordPress plugins between sites using many of the plugins in this list, such as Duplicator.
Does WordPress offer free migration?
WordPress doesn't offer free migration by default. However, Bluehost, a popular hosting provider, offers free migration for WordPress users interested in migrating to Bluehost.
What other migration plugins are available?
Some other website migration solutions include Backup Migration, Backup Guard, Super Backup, and more.
We hope you found this guide helpful in finding the top solution for migrating your business website. You might also like the following WordPress tips and guides:
Thanks for reading. Please follow us on YouTube, Twitter, and Facebook for more helpful content to grow your business.