Are you looking for the best WordPress blog plugins?
Plugins provide an easy way to add new features and functionality to your WordPress website without writing code. However, with so many choices, deciding which are the best WordPress plugins for your blog can be tricky.
In this guide, we'll share some of the very best WordPress blog plugins to level up your WordPress site.
What Are WordPress Plugins for Blogs?
WordPress plugins are software that add optional features to your WordPress site. They let you customize your site to meet your blogging needs without hiring a developer.
For blogging, these plugins range from SEO optimization tools to spam comment filters, offering varied features that streamline the blogging process.
Previously, you'd need to program those features yourself, which was costly and time-consuming. Now, all it takes is installing a plugin, configuring a few easy settings, and your features will be ready.
What Are the Best WordPress Blog Plugins?
The best WordPress blog plugins help you do more with less effort, so you can focus more on the tasks that grow your website. Below are some of our favorite and best WordPress blog plugins essential to accomplishing your small business goals.
Best WordPress Blog Plugin for Custom WordPress Themes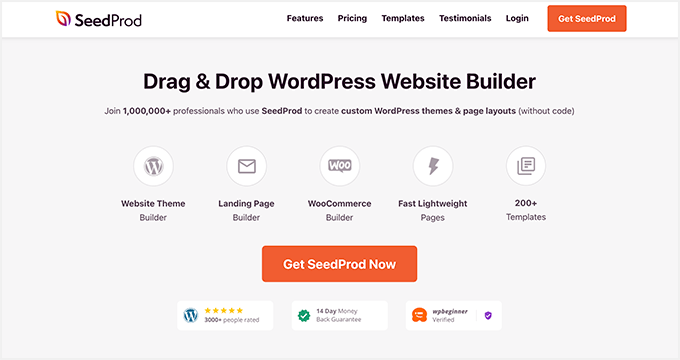 SeedProd is the best drag-and-drop WordPress website builder and landing page builder, with over 1 million users. You can use it to create a custom WordPress blog theme without needing help from a developer.
With its pre-made templates and block-based interface, you can build any website or blog by pointing and clicking. Instead of settling for cookie-cutter WordPress themes, you can customize every part of your blog design to be unique.
From customizable blog pages and sidebars to headers, footers, and landing pages, the only limits are your imagination. Simply drag new features onto your preview and customize their fonts, colors, spacing, and more with a few clicks.
SeedProd is also lightweight and bloat-free, ensuring the best loading times for your WordPress website.
Features:
Drag and drop page builder and theme builder with live preview
Pre-designed landing page templates and website kits
Built-in coming soon, and maintenance modes
Pre-made WordPress blocks like countdown timers, social sharing buttons, and more
Built-in email management dashboard
Search engine optimized and mobile-friendly
And more
Pricing: SeedProd has a free version: SeedProd Lite. With this, you can build simple landing pages for free. For advanced features, including the theme builder, WooCommerce, and Easy Digital Downloads blocks, pricing starts from $39.50 per year.
Best WordPress Blog Plugin for Viral Giveaways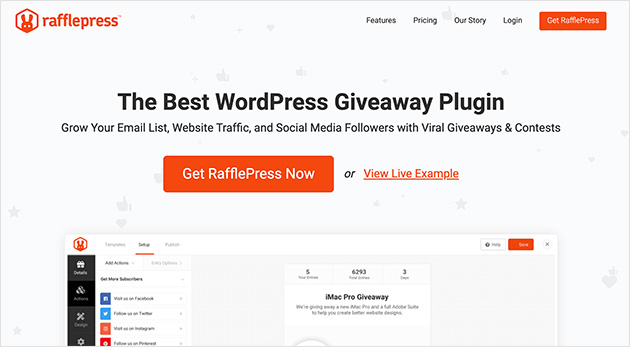 RafflePress is one of the best WordPress giveaway plugins for bloggers. It lets you run viral giveaways on your WordPress blog to drive traffic, grow your email list, and get more social media followers.
Managing a giveaway on your own is often challenging, but with RafflePress, it's a breeze. You can set up a giveaway in minutes, ask visitors to enter with 1-click actions, and see all entries in your WordPress dashboard.
Plus, the built-in random winner picker automatically lets you choose a lucky winner when your giveaway ends.
Features:
Drag and drop giveaway builder (no coed)
Pre-made giveaway templates
Powerful social media integrations
Distraction-free giveaway landing pages
Email marketing provider integrations
Tracking, retargeting, and spam protection
And more
Pricing: RafflePress has a free WordPress plugin you can use. The premium WordPress plugin pricing starts from $39.50 per year.
Best WordPress Blog Plugin for Analytics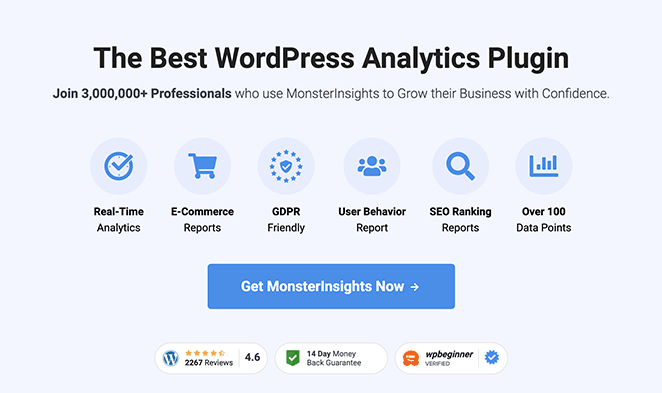 MonsterInsights is the best WordPress Google Analytics plugin. Bloggers can use this plugin to add Google Analytics to WordPress with just a few clicks. From there, you can track and analyze important metrics inside your WordPress dashboard.
Some of the metrics you can track include your blog traffic, referrals, eCommerce sales, user demographic, and more. With this data, you can understand more about your audience and generate ideas that can improve your blog's user experience, lead generation, and monetization.
Features:
Easy installation wizard
Real-time blog stats
WordPress dashboard reports
Audience demographics data
SEO headline analyzer
File download tracking
And more
Pricing: MonsterInsights has a free version available. The Pro version has more robust features starting at $99.50 per year.
See our MonsterInsights review for more details.
Best WordPress Blog Plugin for SEO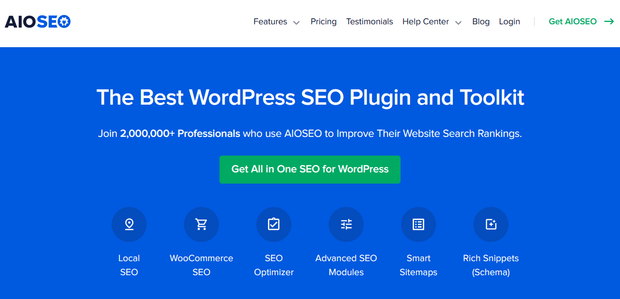 AIOSEO is one of the best WordPress SEO plugins and one we recommend over Yoast SEO. It helps optimize your WordPress site so you can improve your search engine rankings and drive more organic traffic.
With AIOSEO, you can add keywords to the best places in your content for it to rank in search engines. The TruSEO On-Page Analysis also offers a checklist for easy post, page, and image optimization.
You can even use this plugin to add smart schema markup for rich snippets in search results.
Features:
SEO audit checklist
Create smart XML sitemaps
Rich snippets schema support
Local SEO tools
Social media integration
Custom user roles
Pricing: AIOSEO has a free version available. Premium versions start from $49.60 per year.
See our AIOSEO review for more details.
Best WordPress Blog Plugin for Building Forms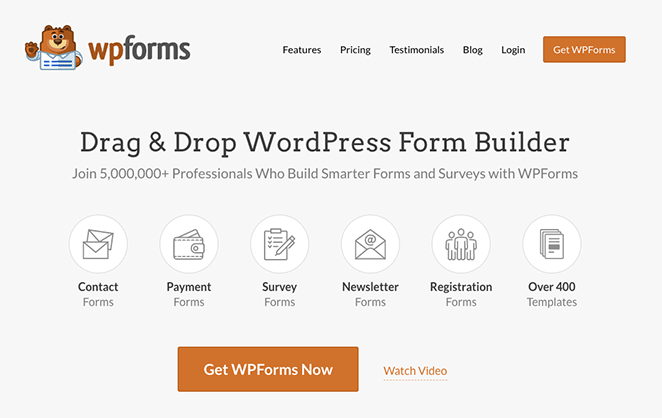 WPForms is the best WordPress form builder for beginners. With its drag-and-drop interface, you can create user-friendly forms for your blog, including contact forms, survey forms, payment forms, and more.
This form plugin has hundreds of pre-built templates to make getting started effortless. It also offers add-ons for payments, file uploads, coupons, and form abandonment, to name a few.
You can add your forms anywhere with the WPForms widget, shortcode, and WordPress block (Gutenberg).
Features:
Easy drag-and-drop form builder
Customizable form fields
Integrates with popular email marketing services
Anti-spam feature
Live frontend form preview
Form submission notifications
Pricing: You can get started with WPForms Lite for free. The premium version starts from $49.50 per year.
See our WPForms review for more details.
Best WordPress Blog Plugin for Email Subscribers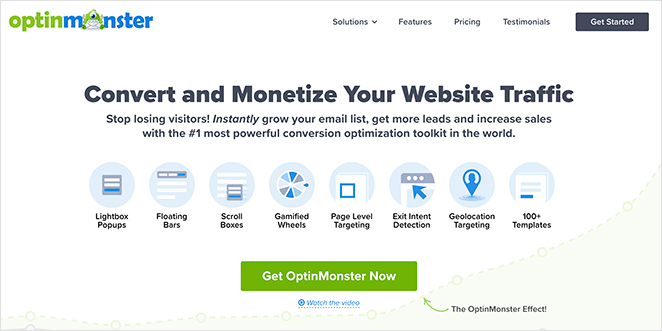 OptinMonster is one of the best lead-generation tools on the market. It's perfect for bloggers, business websites, and anyone who wants to grow their email list.
Its user-friendly interface allows you to create attractive opt-in forms that convert visitors into subscribers and customers.
OptinMonster offers various form types, including lightbox popups, floating bars, slide-ins, and more. It also provides advanced targeting features like page-level targeting, geo-location targeting, and device-based targeting to show the right popups to the right people at the right time.
Features:
Drag-and-drop opt-in form builder
Pre-built templates and campaigns
Powerful Exit-Intent® technology
Seamless integrations with popular services
A/B split testing for campaign optimization
Detailed insights and analytics to improve your campaigns
Pricing: OptinMonster pricing starts from $9 per month.
See our OptinMonster review for more details.
Best WordPress Blog Plugin to Reduce Churn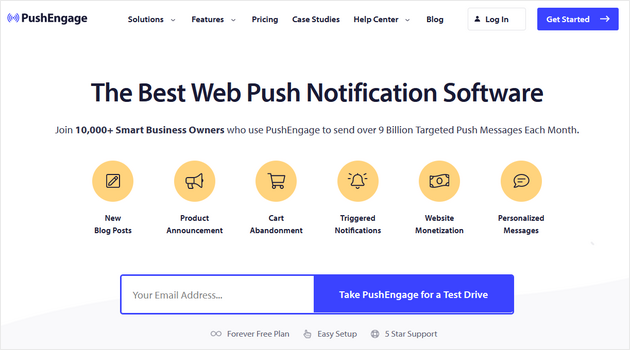 PushEngage is the best push notification software and WordPress plugin. It lets you send web push notifications to your subscribers, encouraging them to return to your website. This can re-engage visitors and boost your blog traffic.
Even if your subscribers aren't on your website, PushEngage notifies them of content they might otherwise miss.
You can configure PushEngage to segment your audience based on their interests and behavior and personalize notifications to increase click-throughs. It also supports automatic notifications for new blog posts.
Features:
Create drip campaigns for a notification series
Send notifications based on visitors' action
Track performance with Analytics
Smart opt-in reminders
Notification templates
Pricing: PushEngage has a free version you can get started with. Paid plans start at $9 per month.
Best WordPress Blog Plugin to Sell Digital Products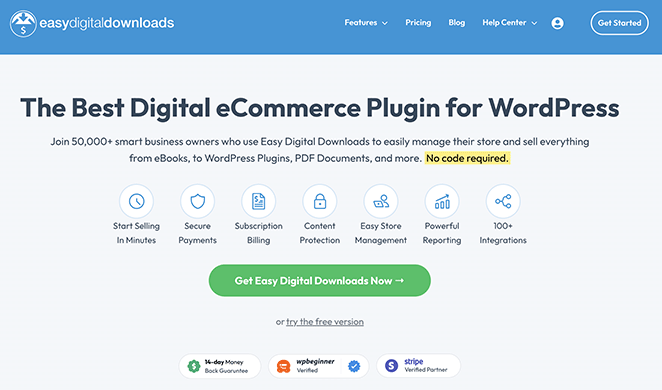 Easy Digital Downloads (EDD) is the best WordPress plugin for digital downloads. It lets you sell digital products on your WordPress blog or website to help monetize your site.
Whether you're selling ebooks, software, graphics, or any other digital goods, EDD makes it easy. It's a complete system for effortlessly managing your digital products or services.
Beyond selling digital goods, EDD lets you create discount codes, control access to files, track download activity, and more. It even works seamlessly with SeedProd for code-free digital eCommerce stores.
Features:
Pricing: There is a free version of Easy Digital Downloads on WordPress.org. The paid plans start from $99.50 per year.
Best WordPress Blog Plugin to Embed Social Content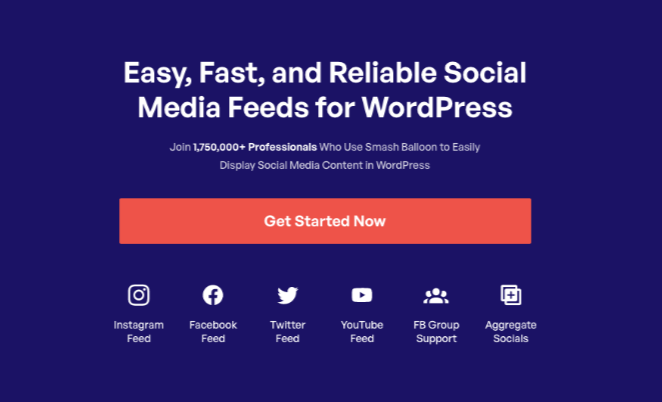 Smash Balloon is the best WordPress social media feed plugin. It offers a suite of plugins that allow you to embed social media feeds on your WordPress site.
Smash Balloon supports Facebook, Instagram, Twitter, and YouTube, as well as a social wall plugin that combines all 4 social platforms into an engaging wall of social media content. It also has a Reviews feed plugin that displays testimonials from Google, Yelp, Trustpilot, WordPress.org, TripAdvisor, and Facebook.
With Smash Balloon, you can customize your feed appearance, maintain a responsive design, and ensure the feeds update automatically without code.
Features:
Integrate social feeds into your website
Customize the feeds any way you want
Filter content manually or automatically
Seamlessly blend social posts with your site content
Pricing: Individual Smash Balloon plugins start at $49 per year. The All Access Bundle comes with all plugins for $299 per year. You can also try the free version of Smash Balloon.
Best WordPress Blog Plugin to Process Payments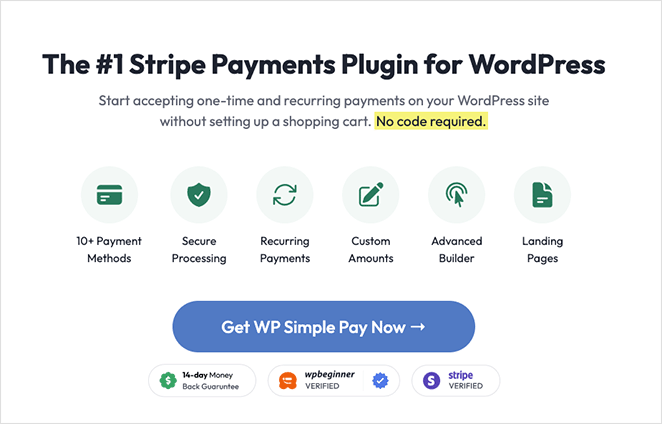 WP Simple Pay is the best WordPress Stripe payment plugin. It lets you accept Stripe payments on your site without setting up a shopping cart or full eCommerce store, which is excellent for bloggers selling just a few products.
With WP Simple Pay, you can create unlimited payment forms, set up subscription payments, and even accept Apple Pay and Google Pay. It's an excellent solution for bloggers, small businesses, and nonprofits.
Features:
Stripe integration
Subscription payments
Automatic billing
Customizable payment forms
Apple Pay and Google Pay support
Pricing: WP Simple Pay has a free version. Premium plans start from $49.50 per year.
Best WordPress Blog Plugin for Membership Sites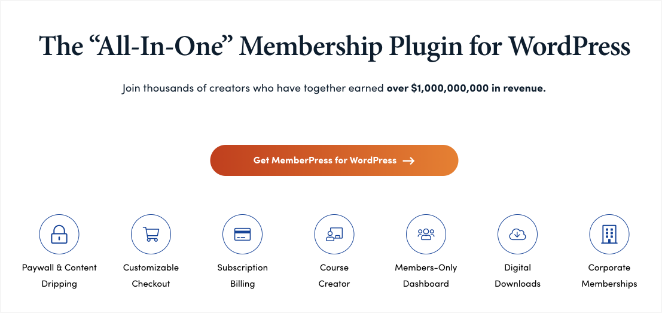 MemberPress is one of the best WordPress membership plugins. It lets you restrict access to content on your blog, including posts, pages, and custom post types, to members only. It's an excellent tool for selling online courses and premium content and restricting access for guest blog authors.
With MemberPress, you can create an unlimited number of memberships and customize their pricing, who can join, or how long a membership lasts. It also integrates with popular email marketing services, making it the easiest way to turn your blog into a membership site.
Features:
User access rules
Advanced reporting
Online course builder
Integrates with various payment gateways
Works seamlessly with popular WordPress plugins
Integrates with email marketing service providers
Pricing: MemberPress pricing starts from $179.50 per year.
Best WordPress Blog Plugin to Send Emails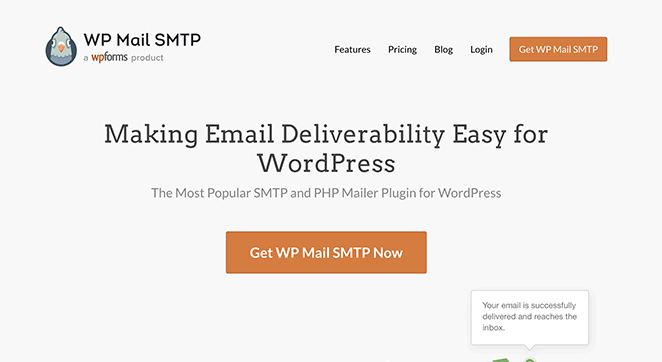 WP Mail SMTP is the best WordPress email deliverability plugin. It's a free WordPress blog plugin that reconfigures the wp_mail() PHP function to use proper SMTP host credentials. It basically ensures your emails get to the intended recipient correctly.
The plugin supports various SMTP services, including Mailgun, SendGrid, Gmail (G Suite), and others. It also provides a log of your website's emails for easy tracking.
Features:
Fixes WordPress not sending email issues
Send bulk emails
Send transactional emails
Ensure email delivery
Integrates with popular SMTP services
Pricing: WP Mail SMTP is a free WordPress SMTP plugin. Premium plans start from $49 per year.
Best WordPress Blog Plugin for Backups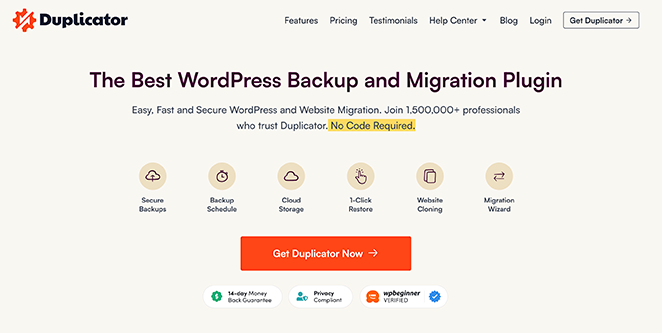 Duplicator is one of the best WordPress backup and migration plugins. It lets WordPress users back up their website data and restore it to avoid data loss.
You can also migrate, copy, move, or clone a WordPress site from one location to another, which is ideal if you're moving your blog to a new hosting provider.
Besides being an excellent way to back up your blog, it's a great tool for developers who regularly create sites in a local environment and then push them to a live server.
Features:
Schedule backups automatically
Cloud storage backup support
Multisite support
Set recovery points
Drag-and-drop import
1-click site restore
Pricing: Duplicator is a premium plugin with plans starting at $49.50 per year.
Alternative: UpdraftPlus
Best WordPress Blog Plugin for Custom Code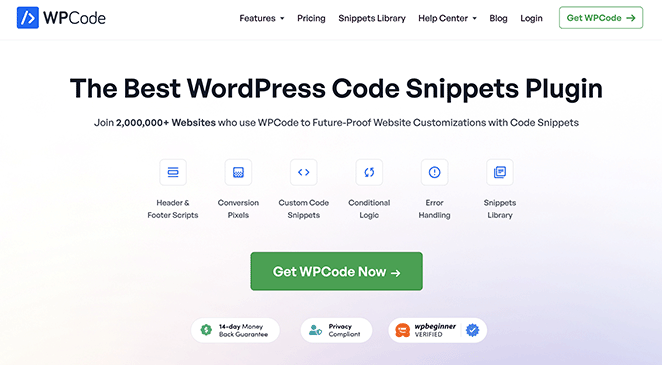 WPCode is the best WordPress code snippets plugin. It's a simple and lightweight WordPress plugin that lets you add custom code snippets to your WordPress site without editing your theme files.
The plugin supports HTML, CSS, JavaScript, and PHP code, allowing you to customize your site without risking the integrity of your WordPress theme.
With WPCode, you can easily manage and organize your code snippets in one place. It also lets you turn specific code snippets on or off as needed.
Features:
Supports multiple coding languages
Code snippet management
Enable/disable code snippets
No need to edit theme files
Pricing: WPCode is a free plugin. The paid version costs $49 per year and includes a snippet library, so you won't need to write code from scratch.
Best WordPress Blog Tool for Keyword Research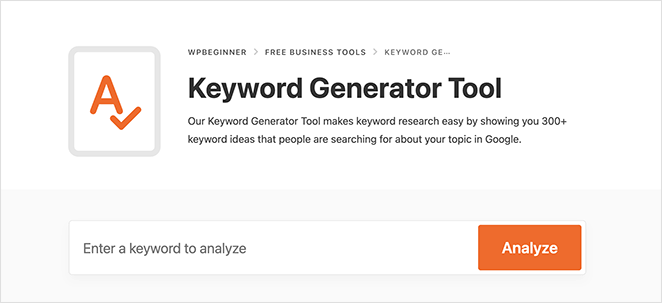 The WPBeginner Keyword Generator is a free keyword research tool that helps you find the best keywords for your website content. It's an excellent tool for improving search engine optimization (SEO) and driving more traffic to your site via organic search results.
WPBeginner's Keyword Generator makes keyword research free and easy by showing you 300+ keyword ideas that people are searching for about your topic in Google.
Features:
Keyword suggestions
Real-time keyword generation
SEO optimization
Easy to use
Pricing: Typically, keyword research tools have a heavy price tag. WPBeginner offers this tool for free, with no strings attached.
Best WordPress Blog Plugin to Improve Comments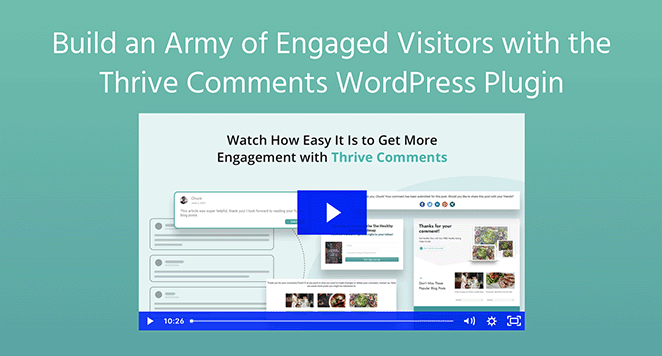 Thrive Comments is one of the best WordPress comment management plugins on the market. It turns your blog's comment section into a community, boosting user engagement.
Thrive Comments allows users to upvote and downvote comments, share comments on social media, and more. You can also award badges to your most engaged commenters and redirect first-time commenters to a special page, enhancing user interaction.
Features:
Comment upvotes and downvotes
Social media sharing
Award badges
Display featured comments
Subscribe to a post's comments
Audience Insights
Pricing: Thrive Comments pricing starts from $49 per year. You can also get Thrive Suite, with its full library of WordPress plugins, for $299 per year.
Best WordPress Blog Tool to Automate Tasks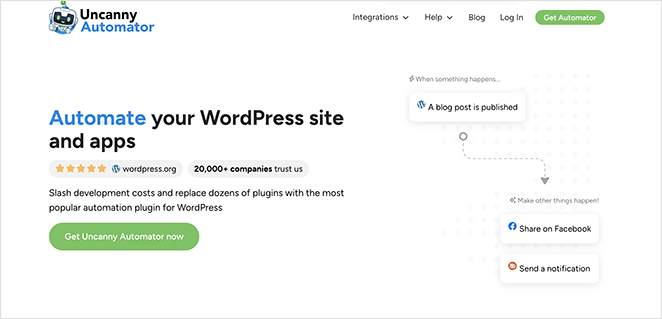 Uncanny Automator is a powerful WordPress automation plugin. It lets you automate various tasks on your WordPress website, helping you boost productivity.
It works a lot like IFTTT (If This Then That), but for WordPress plugins, connecting your existing plugins together to create powerful workflows.
With Uncanny Automator, you can create "recipes" that perform tasks based on specific triggers. For instance, when connecting it to RafflePress, you can automatically send a tweet when someone enters your giveaway, saving time and effort doing it manually.
Features:
Integrates with 50+ popular WordPress plugins
Connect to thousands of apps and tools
Create recipes in a few clicks
Set up buttons to trigger any recipe on click
Pricing: Uncanny Automator has a free version with several integrations. For more integrations, the pricing starts at $149 per year.
Best WordPress Blog Plugin to Fix Broken Links

Broken Link Checker is a powerful WordPress plugin from the team behind AIOSEO. It monitors and tests all internal and external links on your site, looking for broken links.
AIOSEO's Broken Link Checker is offered as a SaaS. This means it's hosted on the AIOSEO servers rather than your website's server, which prevents your server IP from being blocked and hosting providers from forcing you to upgrade due to resource usage.
With Broken Link Checker, you can get notifications via the dashboard or email. It also prevents search engines from following broken links.
Features:
Monitors internal and external links
Detects valid and broken links and redirects
Control which post types and statuses to monitor
Exclude specific URLs from being checked
Schedule checks to run automatically regularly
Pricing: Broken Link Checker is a free WordPress blog plugin. You'll need an AIOSEO account to use it.
Best WordPress Blog Plugin for Security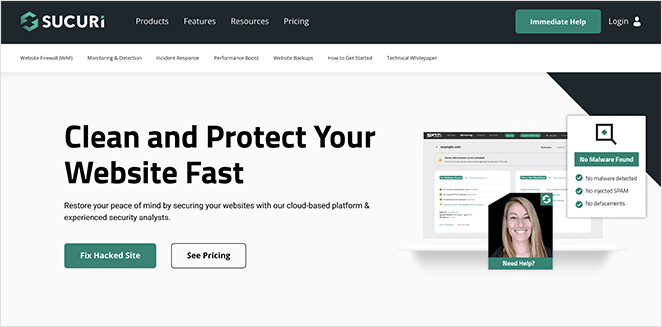 Sucuri is among the best WordPress security plugins. It helps protect your blog from DDoS attacks, malware threats, and attempts by hackers to infiltrate your site.
Even new WordPress blogs will need security protection, and Sucuri provides that with its web application firewall, malware detection and removal, and advanced security features. Ultimately, it's a comprehensive solution for securing your WordPress site from hackers.
Features:
Firewall protection
Security hardening
Removes malware automatically
Security add-ons
Prevents brute force, DDoS, and XSS attacks
Pricing: Sucuri has a free version you can use. Premium pricing starts from $199.99 per year.
Best WordPress Blog Plugin for Speed Optimization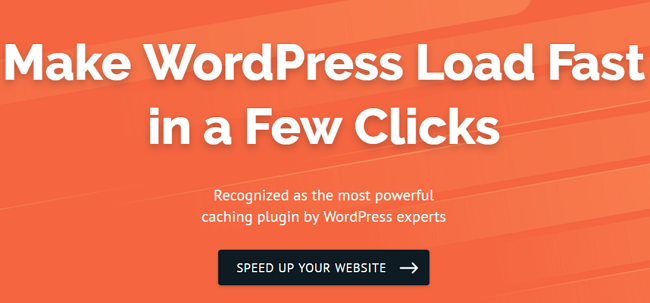 WP Rocket is a must-have WordPress caching plugin that helps improve your blog's speed. It's a user-friendly plugin, making it a great choice for beginners and professionals alike.
WP Rocket provides a range of features to improve your site's performance, including page caching, cache preloading, and images on request. It also offers advanced features like LazyLoad, CDN support, and DNS prefetching.
Features:
Page caching
Cache preloading
Images on request (LazyLoad)
Advanced rules for file optimization
Imagify image optimization service
Pricing: WP Rocket starts from $44.25 for a single site license.
Best WordPress Blog Plugin for Spam Comments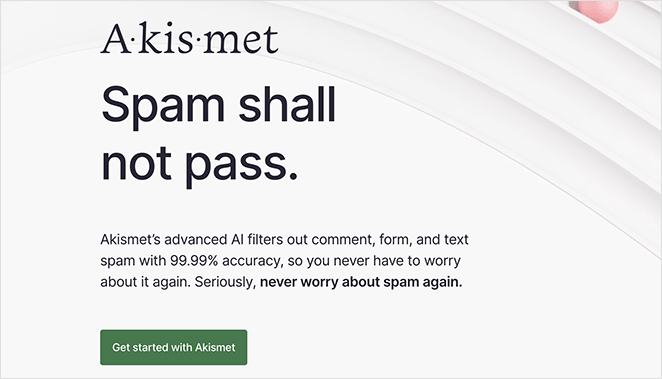 Akismet is a popular spam protection plugin for WordPress blogs. It checks your comments and contact form submissions against a global spam database to prevent your site from publishing malicious content.
Akismet comes from the team behind WordPress.com, making it highly reliable and efficient. It lets you easily manage and review comment spam on your blog's "Comments" admin screen.
Features:
Automatic spam detection
Discard feature
Status history
URL show/hide feature
Pricing: Akismet offers a free plan. Premium plans start from $8.33 per month.
Best WordPress Blog Plugin for Affiliate Links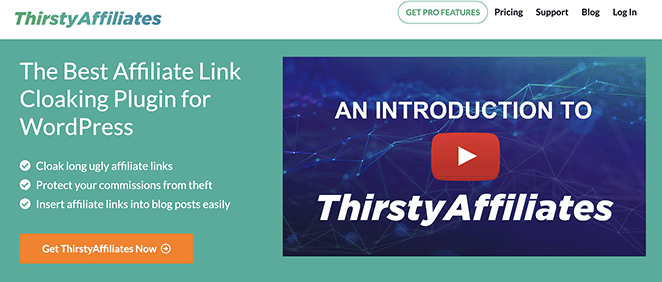 ThirstyAffiliates is one of the best WordPress affiliate plugins. It helps bloggers and affiliate marketers manage, organize, and cloak affiliate links to make them look more professional.
Thirsty Affiliates provides a simple interface for adding, managing, and inserting affiliate links into your post and pages. It's essentially a powerful tool designed to help you make more money from your WordPress website.
Features:
Link cloaking
Link categorization
Insertion of affiliate links
Google Analytics events
Automatic 404 checker
Pricing: Thirsty Affiliates has a free version. The pro version starts from $79.50 per year.
Alternative: PrettyLinks.
Best WordPress Blog Plugin for Social Media Buttons

Shared Counts is a popular WordPress social media plugin that allows you to add social share buttons to your blog or website. It's a lightweight plugin designed to handle large amounts of traffic without slowing down your site.
With Shared Counts, you can display share counts for various social media platforms and provide multiple button styles to match your website's design.
Features:
Share count total for each platform
Twitter Tweet button using a third-party app
Email sharing with reCAPTCHA support
Print button
Multiple button styles
Track the engagement on social networks
Pricing: Shared Counts is a free WordPress plugin.
Alternative: Jetpack also offers social share buttons; however, it has many additional features you may not need or use.
Try the Best WordPress Blog Plugins Today
We hope this guide has helped you find the best WordPress plugins for your blog. With these powerful tools, you can improve your WordPress blog design, grow your blog traffic, keep your blog secure, and boost leads and conversions.
Even better, many of these plugins are free, so if you're on a budget, you can improve your blog without spending a fortune.
Before you leave, you might enjoy the following tips and tutorials:
Thanks for reading. Please follow us on YouTube, Twitter, and Facebook for more helpful content to grow your business.