Are you looking for the best SMTP plugin for your WordPress website?
An SMTP service helps you ensure the emails you send from WordPress are delivered reliably to your users. They're also configured to make sure your emails reach people's inboxes rather than their spam or junk mail folders.
In this article, we'll share the best SMTP plugins and services to improve the deliverability of emails sent from your WordPress website.
First, let's explore the reasons why you need an SMTP plugin for your business.
Why You Need an SMTP Plugin for Your Business
Almost all WordPress websites use email for a variety of tasks such as:
However, many users find that WordPress doesn't send their emails properly. This is usually because WordPress is configured to use the PHP mail() function to send emails.
There are several problems with the default PHP mail() configuration and why it doesn't work well.
For instance, the majority of hosting providers don't have the function configured correctly. Some might even turn it off to protect their servers from abuse. Since the function doesn't require authentication, it's easy to abuse to send spam emails.
Even if the PHP mail() function is working in your hosting provider, your WordPress emails could still end up in spam folders. This is because most spam filters verify emails by the sender's email address, location, domain name, and could flag your website's email as spam or suspicious.
The only way you can solve this problem is to use an SMTP server to send your WordPress emails.
But what is SMTP?
SMTP is short for Simple Mail Transfer Protocol. It uses the correct authentication to send emails on the internet. It's this authentication that makes it more likely your emails will arrive in a user's inbox rather than their spam folder.
While there are several free and paid SMTP service providers on the market, many have a limit on how many emails you can send. Furthermore, free email providers such as Outlook and Gmail prefer that you don't use their SMTP servers for automatic emails like those sent from WordPress websites.
Instead, you should use a well-known SMTP plugin or service to make sure your emails are delivered correctly.
If you're worried about the price of these services, there's no need. Many offer generous free SMTP plans for businesses on a budget with the same high-quality service.
Let's explore the best SMTP plugins and services for your WordPress website.
Best SMTP Plugins and Services
There are a variety of SMTP plugins and SMTP services available for WordPress website owners. They all have different features, price points, and limits on how many emails you can send on their free plans. Their deliverability records also vary.
Below are the best SMTP plugins and service providers with the highest deliverability and the best feature set.

WP Mail SMTP is the best SMTP plugin for WordPress websites. It gives you the ability to send emails from WordPress using any SMTP email service provider with just a few clicks.
The plugin is super-easy to set up and includes a free version with all the basic features you need to improve your email deliverability. Or, you can upgrade to the pro version for access to a broader range of advanced features.
The free version of WP Mail SMTP is easy to set up for mail clients like Mailgun, Gmail, and SendGrid. The pro version of the plugin lets you connect to services such as Amazon SES and Microsoft SMTP.
If you're unsure where to start with SMTP, the Elite plan offers White Glove Setup, so an expert from the team can configure everything for you correctly.
WP Mail SMTP Pricing
WP Mail SMTP pricing starts at $49 per year, with a free plugin to try before buying.
2. Sendinblue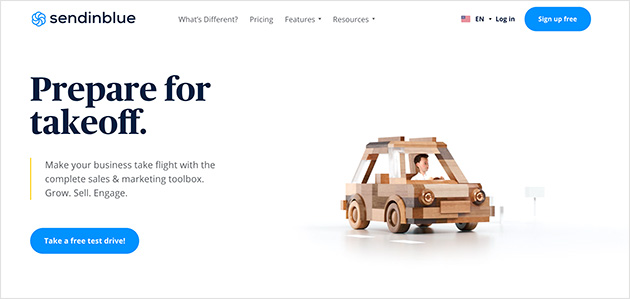 Sendinblue is one of the best SMTP service providers available. It's also a popular email marketing service with a powerful marketing platform that offers transactional emails, live chat, and SMS marketing.
This email provider works seamlessly with WordPress and third-party plugins and tools such as OptinMonster, Google Analytics, Salesforce, and more. It also includes a range of personalization and marketing automation features to help your marketing campaigns succeed.
Sendinblue has an expansive API with an SMTP relay service to improve your email deliverability for transactional email notifications.
Sendinblue Pricing
The pricing for Sendinblue is based on the number of emails you send. It starts at $25 per month for 40,000 monthly emails, without any daily sending limits. They also offer a forever free plan that allows you to send up to 300 emails per day.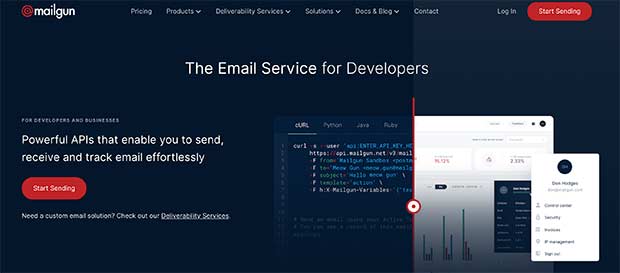 Mailgun is another popular SMTP service provider for businesses and developers. Its powerful API makes it easy to send, track, and receive transactional emails for your website.
Whether you have an eCommerce store, membership website, or small business, Mailgun is easy to integrate with WordPress. Plus, it has a scalable SMTP service to send your marketing and transactional emails.
Since Mailgun is mostly designed for developers, it's missing some of the more beginner-friendly features included in the other best SMTP plugins on this list. 
Mailgun Pricing
Mailgun has a pay-as-you-go pricing plan with the first 10,000 emails free. This will be more than enough for small websites that are just starting to grow their email lists.
The paid plans are also pretty competitive. If you're looking for a dedicated IP and better email deliverability, advanced plans start at $79 per month with 1 dedicated IP address.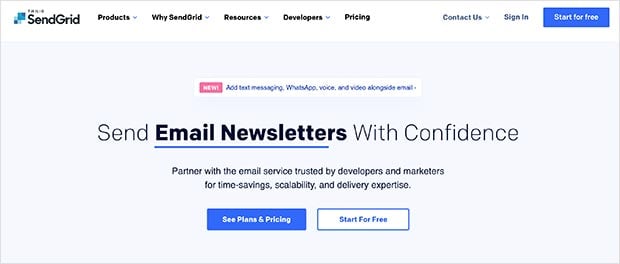 SendGrid is a cloud-based SMTP email service provider that gives you the ability to send a large volume of emails without managing an SMTP server yourself. It also provides high scalability and lets you create email marketing campaigns with a robust set of features.
The SMTP relay works with any WordPress website and is super-easy to set up. It also includes a variety of tools such as:
Delivery optimization tools
Email analytics
Templates for emails
Email editor
Plus, you can integrate with a variety of third-party apps and services.
In terms of email deliverability, SendGrid offers some excellent tools including, domain name authentication tools and dedicated IP addresses.
SendGrid Pricing
SendGrid offers the first 40,000 emails for free, with 100 emails per day afterward. The paid plans start at $14.95 per month.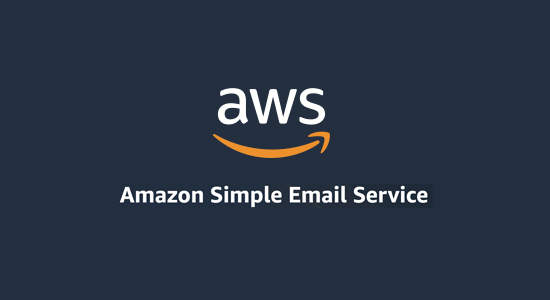 Amazon Web Services (AWS) is one of the market leaders in cloud computing and infrastructure. Alongside that, they offer Amazon Simple Email Service (Amazon SES) as an add-on.
Amazon SES is a robust cloud-based SMTP for developers and marketers wanting to improve their email deliverability. While it includes tons of excellent features, the majority are aimed at advanced users and developers.
That said, you can integrate Amazon SES with WordPress easily by using WP Mail SMTP, the best SMTP plugin for WordPress. Plus, depending on your usage, Amazon SES could be the cheapest SMTP solution.
Amazon SES Pricing
If your website is hosted with AWS, you can take advantage of their free tier to send 62,000 emails per month. For other websites, the pricing for Amazon SES starts at $0.10 per 1,000 emails sent.
6. G Suite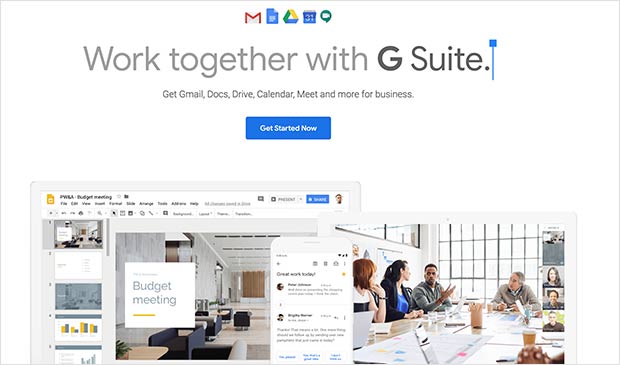 G Suite is a popular productivity suite for small businesses from Google. It offers the use of Google Drive, Photos, Docs, and Gmail with a domain name that you own. This gives you the ability to create a professional business email address alongside using the familiar Google interface.
With G Suite, you can use the Google SMTP servers to send email messages. That means you can create an email account for your WordPress website and use it to send WordPress emails.
That said, you can only send 2,000 messages a day, making it best suited for blogs and smaller business websites.
G Suite Pricing
The pricing for G Suite starts at $6 per user each month.

Postmark is another useful SMTP service for websites and businesses. It offers fast email delivery with simple pricing and easy setup.
Postmark excels in sending transactional emails, meaning that their service is focused on speed and deliverability. Their service includes:
Email analytics
Account security
Responsive email templates
Messages triggered by webhooks
Postmark also supports TLS to secure the data sent between your application and their servers.
Postmark Pricing
The pricing for Postmark starts at $10 per month for 10,000 emails. After that, it costs $1.25 per 1,000 emails.
8. Office 365

Once known as Outlook, Office 365 is a popular email service and productivity suite from Microsoft.
Just like G Suite, Office 365 gives you the ability to create a professional business email address. It's also possible to use Microsoft's SMTP servers to send emails from your business website, providing you're a small business.
It's easy to connect Office 365 with your WordPress website using WP Mail SMTP, the best SMTP plugin. 
Office 365 business users are limited to sending up to only 10,000 emails per day. That number is combined with your regular email sends. This is something we only suggest using if you want reliable emails for your small business website.
If your website is larger, for instance, an eCommerce website or Membership site, you'll want to choose another SMTP provider from this list.
Office 365 Pricing
The pricing for Office 365 business plans start at $5 per user, per month.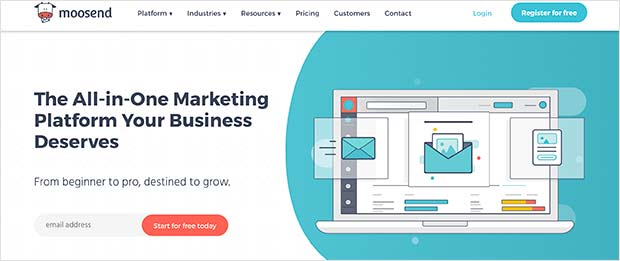 Moosend is a cost-effective SMTP email service with an excellent 98% email deliverability rate.
It includes an SMTP transactional email service with a drag and drop email builder that makes it easy to design emails for your business website. It can also send email blasts and track them in real-time with email analytics.
With advanced list segmentation, pre-built workflow templates, and A/B split testing features, it's a well-rounded service that meets many businesses' needs.
Moosend Pricing
Moosend has a free plan for up to 1,000 subscribers. The paid plans start at $10 per month, or you can pay-as-you-go starting at $3 for up to 1,000 credits.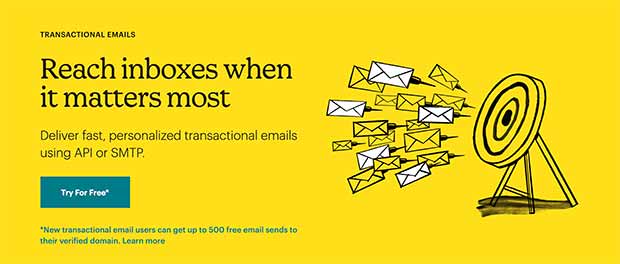 Mandrill is a popular SMTP service from the Mailchimp email marketing platform. If you're a Mailchimp user, it offers a secure and quick way to deliver transactional emails using API or SMTP.
If you have an eCommerce business, you can use Mandrill to send your email marketing and eCommerce emails. It also includes advanced tracking to monitor open rates, click rates, and bounce rates for your Mailchimp emails.
Mandrill Pricing
Mandrill only works with Mailchimp. The pricing for Mandrill is based on blocks of 25,000 emails. For one block of 25,000 emails, it costs $20.
Related: How to Create a Mailchimp Landing Page in WordPress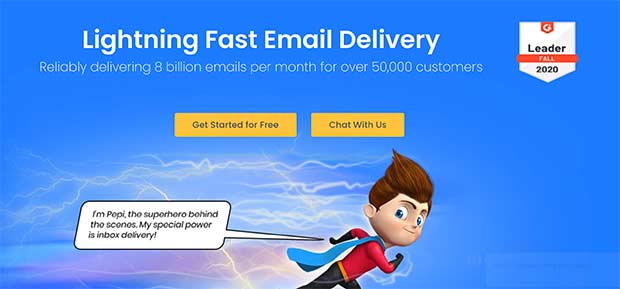 Pepipost is another API and SMTP service that offers a fast and secure platform to send your business website emails.
You can use its simple and easy settings to send mass emails and webhooks to get the information you need when you need it.
It uses artificial intelligence to improve email deliverability, and you can keep track of open rates, bounce rates, and receive notifications when users unsubscribe or take action. 
Pepipost Pricing
Pepipost offers a free plan for up to 30,000 emails for the first 30 days. After, you can send up to 100 emails per day. Paid plans start at $17.50 per month, billed annually.
Choosing the Best SMTP Plugin or Service
Apart from the top SMTP plugins and services included on this list, there are plenty of other options available like MailGet, SocketLabs, Elastic Email, and many more.
The wide variety of options makes it harder for users to find the best SMTP plugin, service, or platform for their needs.
When choosing an SMTP plugin for your business, you should consider the following 3 things:
Email deliverability
Scalability
Pricing options
All of the SMTP services on this list offer high email deliverability. And except for G Suite and Office 365, they can scale to send millions of emails daily. So to make our decision, we'll focus on pricing and overall ease of use.
The best SMTP plugins for small to midsize websites and businesses are WP Mail SMTP and Sendinblue.
The top SMTP services for larger websites are WP Mail SMTP and Amazon SES.
There you have it!
We hope this article helped you discover the best SMTP plugins for your WordPress website.
You may also want to see our showcase of the best WordPress plugins to enhance your business website. Or these email unsubscribe page examples to keep your list active.
And don't forget to follow us on YouTube, Twitter, and Facebook for more great tips to grow your business.