Are you looking for the best live chat plugins for your WordPress website? With live chat support, you can instantly answer website visitors' questions and convert them into leads and paying customers.
In this article, we'll share the best live chat plugins for your small business, all of which work seamlessly with WordPress websites.
Why Add Live Chat Apps to Your Website?
Live chat has fast become the top digital contact method for online shoppers, with 46% of customers preferring live chat than 29% for email, and 16% for social media.
This leaves little doubt that live chat has a massive impact on online sales. Customers can get the answers they need instantly without leaving your website. Plus, a good live chat experience can persuade users to follow through with their purchase.
Adding live chat support software to your WordPress site can help to:
Boost your conversion rates
Increase online sales
Build better customer relationships
Yet, this largely depends on the live chat solutions you use.
Choosing live chat software that doesn't work as intended can create a poor chat experience. For instance, it could be too difficult to set up or have limited features that cost too much.
As a result, you could end up with a poorly implemented chat service, lose sales, and leave users with a poor impression of your business.
When looking for a live chat plugin, you'll want an affordable service that is easy to use, works with WordPress websites, and comes with all the features you need.
Best Live Chat Plugins for WordPress Websites
Now that you know why live chat support is a smart idea, let's look at the best live chat plugins you can use to grow your business.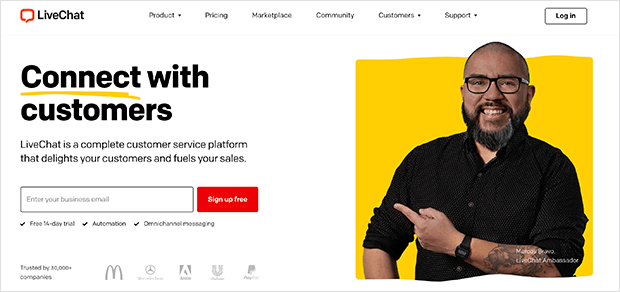 LiveChat is the leading live chat software on the market. It comes with a free LiveChat plugin for WordPress, making it super-easy to install and set up on your WordPress site.
It comes with well-designed live chat apps you can use on any device, such as desktops, laptops, mobile phones, and tablets. With this functionality, you can chat with customers without logging in to your WordPress dashboard.
To see how your chat teams are doing, you can easily add chat forms before and after chat sessions. Plus, when your support team is offline, users can send support requests from within the chat window.
The chat windows themselves load lightning-fast and works on all devices. This creates a better user experience for potential customers.
LiveChat is easy to integrate with various online services like Zendesk chat, Google Analytics, the top email marketing providers, etc. These integrations mean you won't need to manually enter user details into your other systems, saving tons of time.
Pricing: The pricing for LiveChat starts at $20 per month, billed annually. There is also a 14-day free trial for each plan.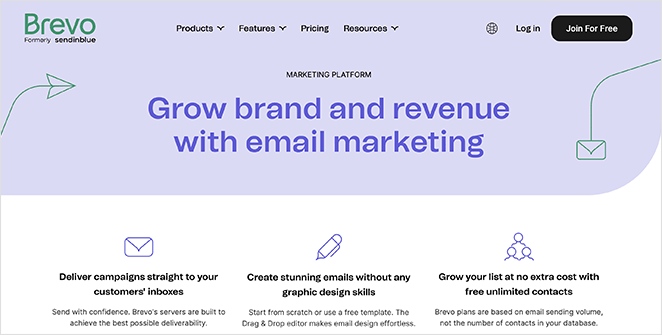 Brevo, formerly known as Sendinblue, comes with powerful and user-friendly live chat software you can add to your website with the WordPress live chat plugin.
With this service, you can answer users' last-minute questions through live chat and convert them from visitors into customers. Plus, the chat software integrates with Brevo's marketing automation system, allowing you to collect more leads.
Brevo has:
It also provides a whole marketing package with customer relationship management (CRM), email and SMS marketing, landing pages, and much more. This allows you to convert more visitors into customers efficiently.
Pricing: To access Brevo's live chat feature, you'll need to start with the Premium plan. The pricing for the premium plan begins at $40 per month.

HubSpot, famously known for its CRM (customer relationship management) software, offers a free WordPress plugin that you can use to add live chat to your website.
The live chat builder is easy to use, no need to touch a line of code. The chat widget is also customizable so you can design it to match your brand. In addition, you can easily build chatbots to answer customer questions when you're not available.
HubSpot's live chat software seamlessly integrates with the built-in CRM. All live chat conversations are automatically stored on the contact's timeline and you can pull contact information from the database to personalize conversations.
Aside from the live chat and CRM, the HubSpot plugin comes with:
Forms and popups
Email marketing
Analytics
With one plugin, you can capture, organize, and engage your website visitors.
Pricing: The HubSpot plugin is free, which includes live chat, CRM, email marketing, and more. Paid plans for individuals and small businesses start at $17 per month.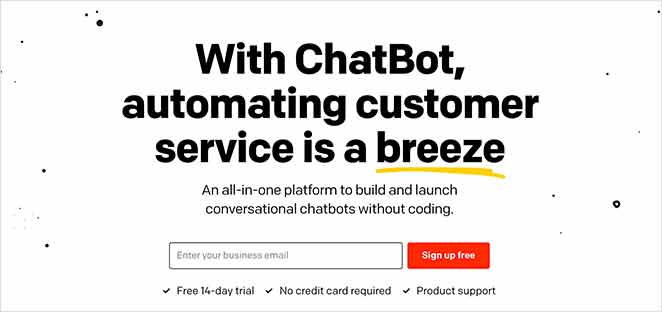 ChatBot is an easy-to-use live chat system for small businesses. It uses artificial intelligence (AI) chatbots to engage with your customers 24/7.
The platform comes with an easy drag and drop builder you can use to create your own chatbot. Plus, it includes various templates geared toward different industries, making it easier to build scenarios that fit your business.
For instance, the eCommerce bot template can help guide customers through your buying process. Alternatively, the sales bot template lets you sell products right from inside the chat window.
Other chatbot templates include:
Customer service
Package tracking
Coffee shop
Recruitment
And more
Where once it was hard for small businesses to make chatbots, this platform levels the playing field. The templates are easy to use, allowing you to have a virtual assistant on your website, social media pages, messaging apps, and more.
ChatBot integrates seamlessly with WordPress and WooCommerce. Plus, should users wish to speak to a real person, it's easy to forward them to customer support, Facebook Messenger, phone support, and other integrations.
Pricing: The pricing for ChatBot starts at $52 per month, providing access to 1,000 chats per month.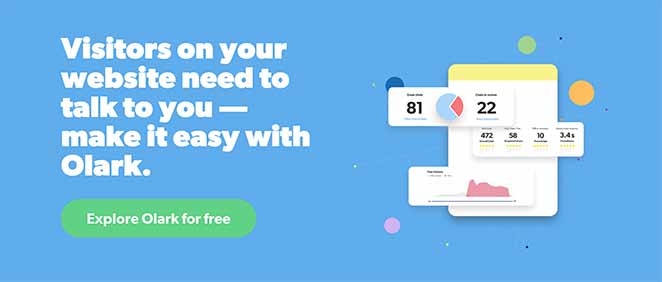 Olark is another popular live chat service for online businesses. You can add Olark to WordPress with a simple code snippet, or if you prefer an easier method, you can use the free Olark live chat plugin.
It's easy to integrate Olark with other online services like Zendesk, Highrise, and Salesforce. Several third-party mobile applications allow you to use Olark chat from Android and iOS devices. This makes it easier to communicate with customers when you're away from your desk.
Pricing: The pricing for Olark starts at $29 per agent per month.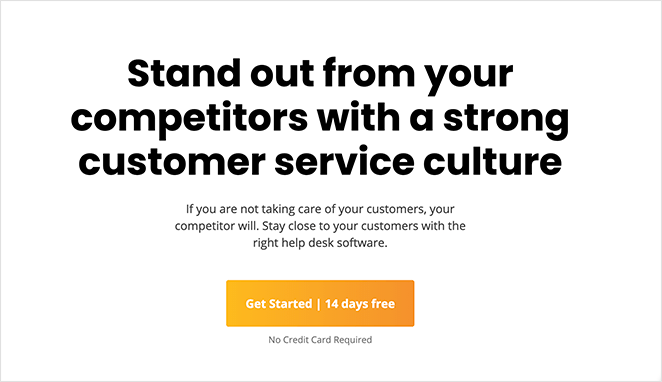 LiveAgent is a leading multichannel live chat software with help desk functionality. The entire software suite includes live chat, email ticketing, time tracking, call center, and much more.
For small businesses that don't already have a support desk system in place, then LiveAgent is an excellent all-in-one solution.
LiveAgent also works seamlessly with WordPress, website builders, and other marketing platforms. This makes it easy to share customer details with your other tools and services.
Pricing: LiveAgent offers a free version with limited functionality. Paid plans start from $15 per month per agent.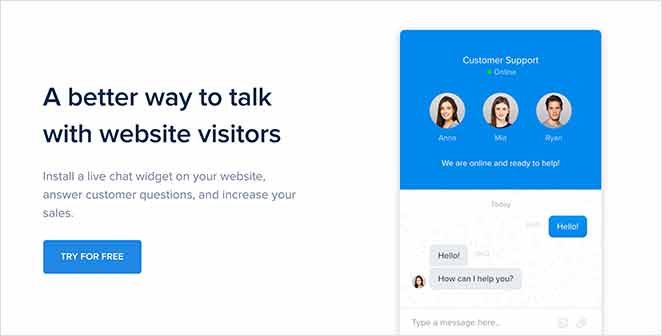 If you prefer a free live chat support solution for WordPress, then Chaport is an excellent alternative. They have a free forever plan that comes with:
Unlimited chats
Unlimited notifications
Unlimited history
Unlimited registered operators
And you can have up to 5 operators online all at the same time.
Chaport has everything you need in a free live chat support software. It includes mobile apps for chat support, chat widgets with multilingual functionality, and analytics and reporting. You can also integrate with various third-party tools through Zapier.
Upgrading to paid plans offers more advanced features. For instance, you can access typing insights, file sending, visitor notes, auto-invitations, and more.
Pricing: Chaport has free and paid plans. The pricing for paid plans starts at $19 per 4 agents per month.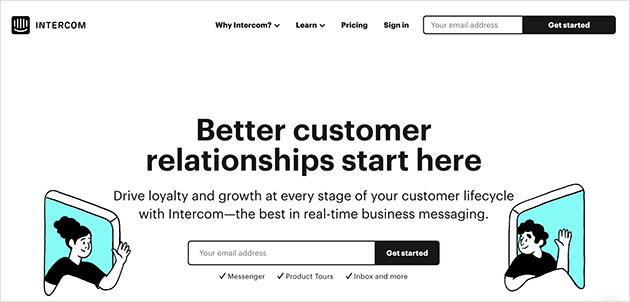 Intercom is a flexible platform that allows you to capture leads, engage website visitors, and boost your small business conversions. It also includes a messaging service with live chat and chatbots you can automate with your own workflows.
You can use Intercom for several other purposes like automating your marketing efforts, onboarding new customers, and using it as a lead generation tool.
If all you need is live chat functionality, this solution may have too many features that you'll never use. Yet, if you'd like your live chat system to handle all of these tasks on a single platform, you'll love Intercom.
The service integrates with CRM software, Google Analytics, email marketing providers, Slack, and many more.
Pricing: The pricing for Intercom starts at $74 per month.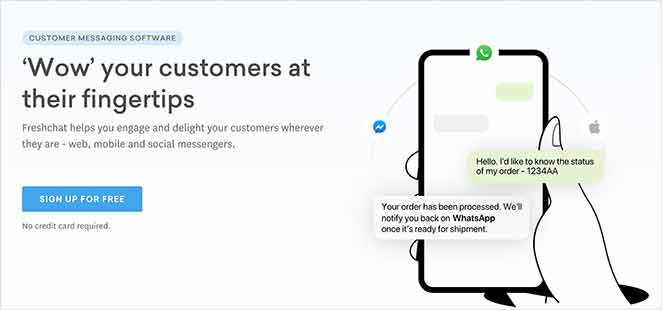 Freshchat is another top live chat software with features that can rival the more popular solutions in this article.
It's a messenger and conversation app that lets you have real-time chats with visitors using real chat agents or bots powered by AI.
With Freshchat, you can access:
Customer timeline views
In-app campaigns
Live profiles
Customizable bots
And more
You can link your chats to support tickets in Zendesk or Slack channels. Plus, to improve your productivity, you can use smart responses, private notes, and desktop notifications.
Pricing: Freshchat has a free service for teams of up to 10 people. Paid plans start from $15 per month, billed annually.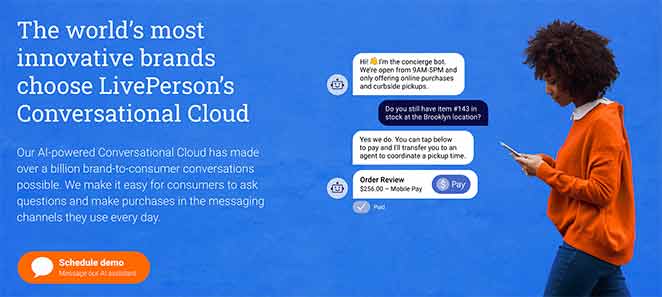 LivePerson is a live chat support software that helps you engage with your site visitors and customers and increase your online sales.
With this service, you can chat with users through:
Live chat
SMS
Facebook Messenger
WhatsApp
And more
You can use LivePerson's chatbots to build automated conversation flows with its point-and-click interface. You can also engage with users and manage conversations via desktop and mobile workspaces.
LivePerson is an excellent solution for medium, large, and enterprise-level businesses.
Pricing: To learn about LivePerson's pricing, you'll need to request a demo.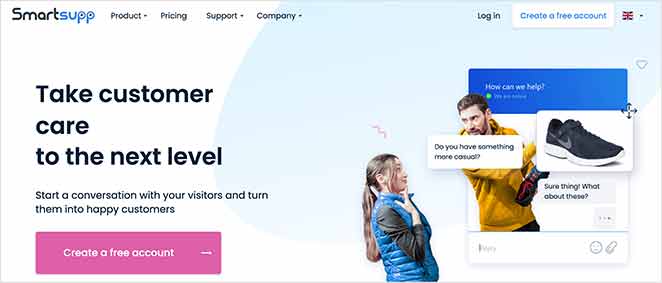 If you need a low-cost live chat solution, Smartsupp could be the ideal service. Smartsupp lets you track and record user sessions right on your website, helping you see how your website's being used and what's preventing people from buying.
You can also use Smartsupp to track conversations in Google Analytics, providing a good overview of your performance. Plus, it works well with WordPress, Shopify, Magento, and other top eCommerce platforms.
Pricing: Smartsupp offers a simple free plan with paid plans starting at $19 per month per 3 agents.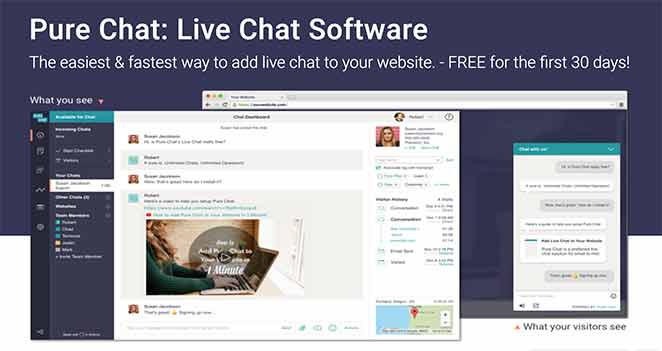 Pure Chat is another free live chat software alternative. This inexpensive service lets you add live chat widgets to your website easily. Plus, with the free plan, you can have 3 different chat members with unlimited live chat history.
Pure Chat includes mobile applications to keep your team and customers connected wherever they are on mobile devices. You can even allow customers to send email messages when you're offline.
It also has pre-chat forms that allow you to gather visitor information, like their email address, for reaching out later on.
Pricing: Pure Chat offers a free plan with pricing for the paid plans starting at $49 per month, billed annually.
Which Is the Best Live Chat Plugin for WordPress?
After comparing all the different live chat software in this article, we've concluded that LiveChat is the best live chat plugin for WordPress.
LiveChat is the best-rated live chat service in the industry, with all the necessary features to engage your visitors and transform them into paying customers.
It integrates with popular CRM and email marketing providers and has a WordPress plugin to make getting started super-easy.
There you have it!
We hope this article helped you discover the best live chat plugins for WordPress. You might also want to see our article on the best business phone systems.
If you found this article useful, follow us on Facebook and Twitter for more helpful tips and tutorials.