Thinking about making a request a demo landing page?
Demo landing pages are an excellent way to reach your target audience with a free demo of your product or services. That way, potential customers can learn more and try before they buy.
In this article, we'll share the top live demo page design examples to help you boost conversion rates.
What Is a Request a Demo Landing Page?
A demo landing page is a standalone web page that lets potential customers request a product demo. Many SaaS (software as a service) businesses use this type of landing page to streamline their sales process and generate new leads.
Demo pages often include the following landing page elements:
Social proof like reviews, customer testimonials, and case studies
Videos introducing the service
Screenshots and graphics illustrating specific features
Bullet points addressing user pain points
Call-to-action button (CTA button) to request a demo, or
A sign-up form to enter a phone number for a follow-up from your sales team
Why Is a Request a Demo Page Important for SaaS?
Demo pages are important for SaaS companies because they help you build an email list of qualified leads who show interest in your product.
Ideally, you would record an interactive product demo, then embed it on your website. That way, website visitors can learn more about your product, understand how it works, and decide if they're interested.
You may be tempted to add your product demo to your homepage, but doing so may not generate the best results. Homepages are too general, with too many ways visitors can leave without converting.
For example, someone visiting your homepage may watch your demo, then click through to a blog post, leave and never return.
A more effective solution is to make a 'request a demo' landing page where users enter their email addresses to view the demo. That way, you can keep in touch with potential customers and grow your relationship with email marketing messages.
Here are some more benefits of a request a demo landing page:
With a webinar, you can give users a sneak peek into how they'll benefit from your SaaS product.
Demo pages encourage prospects to move forward with the decision-making process.
You can use demo pages in content marketing as a lead magnet to boost lead generation.
Landing pages are ideal for social media ad campaigns to raise brand awareness.
You can optimize your demo page for search engines (SEO) to generate organic traffic.
In the end, a good request a demo landing page is a compelling and essential element of your lead-generation toolkit.
Creative Request a Demo Landing Page Examples
Below you'll find some of our favorite request a demo landing page examples from real companies on the web. We'll explain which landing page elements they use and why they work so well.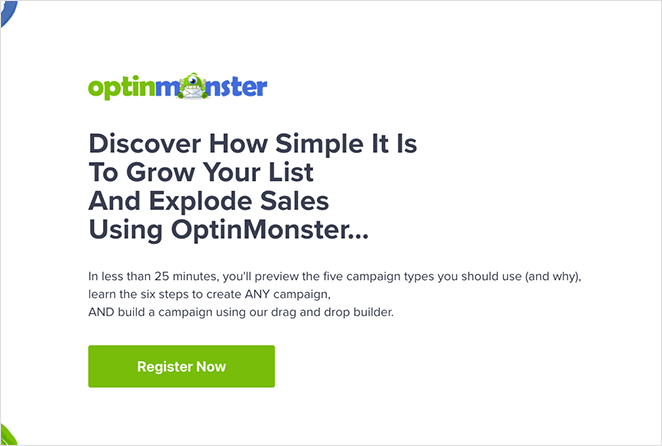 First up is a stunning demo landing page example from OptinMonster, the best conversion optimization SaaS toolkit on the market. It has a clean design, plenty of white space, and only the essential page elements needed to convince users to register.
The page header offers the familiar OptinMonster color scheme and logo, which helps users recognize the brand. It then leads with a compelling headline telling visitors exactly what they'll learn.
We love how OptinMonster gives visitors a timeframe of fewer than 25 minutes. Moreover, the promise of what they'll learn reassures prospects they won't waste their time, convincing them to click the big green CTA button.
Further down the page, OptinMonster shows social proof for people who are still hesitant. Reading testimonials from people who have already watched the demo can improve trust, again showing visitors their time is valued.

The page ends with even more reassurance.
Each statement addresses users' pain points by promising to teach users how to overcome their problems. Additionally, OptinMonster mentions awards and accolades to further increase trust before the final CTA button.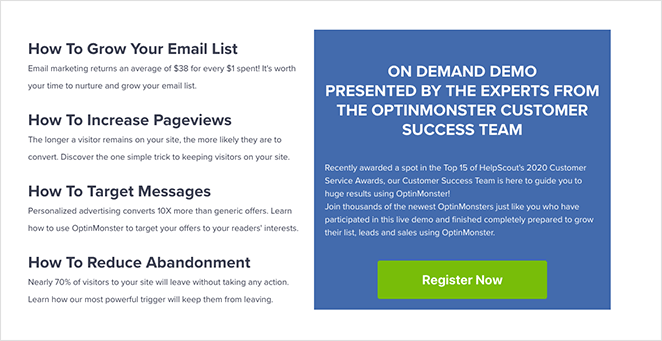 Finally, users who indicate they will exit the page will see an exit-intent popup with a discount to save on the full OptinMonster price.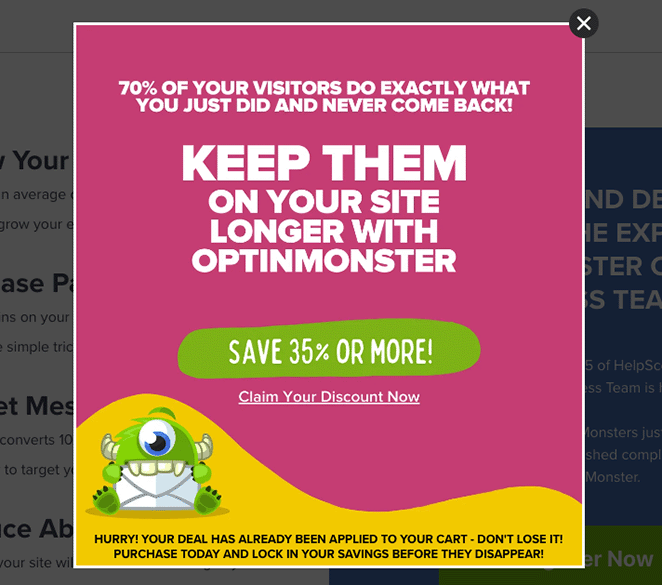 Overall, this request a demo landing page is an ideal example of how to generate leads for your SaaS business.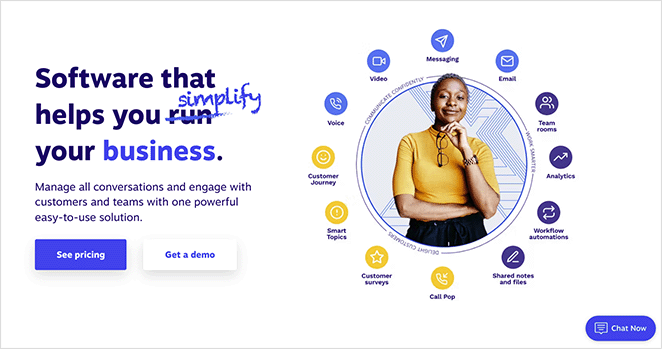 Nextiva is a business communication software that offers productivity tools for small businesses. Immediately after landing on their homepage, you're faced with the option to see the pricing page or schedule a demo.
Upon clicking the Get a Demo button, you'll see a full-screen popup landing page where you can enter your contact information for the demo.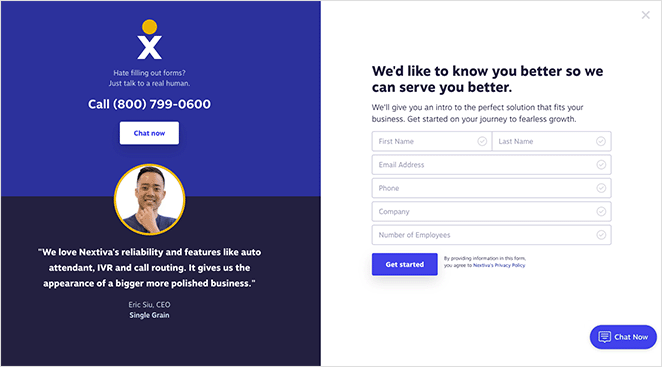 The contact form is straightforward and only asks for essential information, including:
First and last name
Email address
Phone number
Company name
Number of employees
In truth, we'd remove a few fields to make the form even simpler. Limiting the number of form fields to 3 can reduce form abandonment. However, this depends on the information your business needs to collect right away.
The left side of the page is an excellent example of catering to different users. If you don't like filling in forms, you can click the phone number to speak to a Nextiva sales team member.
Alternatively, you can click the Chat Now button to open the live chat window, which is one of Nextiva's CRM features.
Nextiva also uses the following convincing elements on its landing page:
Customer testimonial with a friendly headshot
Simple, branded color scheme
Clean, minimal design
Clear CTA buttons
Try this landing page template from SeedProd to create a similar design for your business.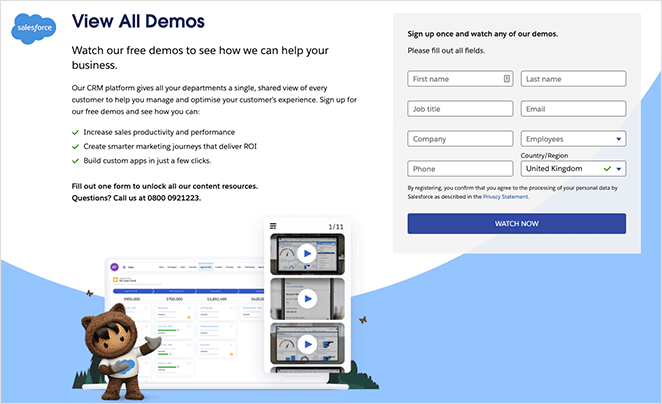 Salesforce is another CRM and automation solution that uses demo pages to generate leads. Like the previous example, it offers a simple sign-up form where users can register for access to the product demo.
Instead of offering a single product demo, Salesforce lets visitors unlock all of their content resources by filling in a single form. It's a great way to demonstrate the value users will get while easing fears about handing over their contact details.
Accompanying the form is compelling copy telling visitors what they'll get. And similar to Nextiva, there's also a phone number for users unwilling to fill in the form.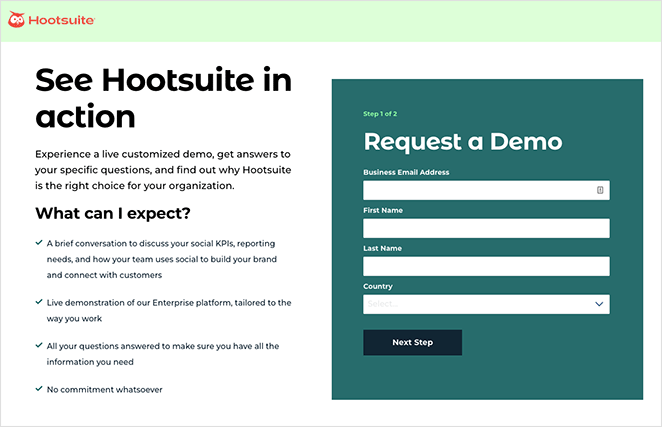 Hootsuite has a similar request a demo landing page design. The most notable feature is the bold headline inviting you to see Hootsuite in action. The copywriting that follows is actionable, backing up the promise with bullet points on what you can expect to learn.
Hootsuite's sign-up form has fewer form fields than the previous examples, making it easier to complete. Moreover, it features a contrasting background color focusing attention on the form.
Hootsuite also uses the following convincing elements on its landing page:
Multi-step form to indicate how long it will take to complete
Minimal design to reduce distractions
Award badges to increase trust and authority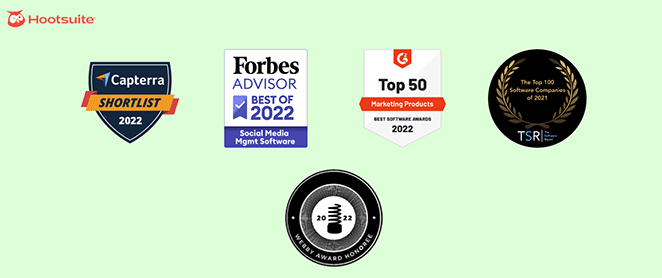 Try this template for a similar demo landing page design.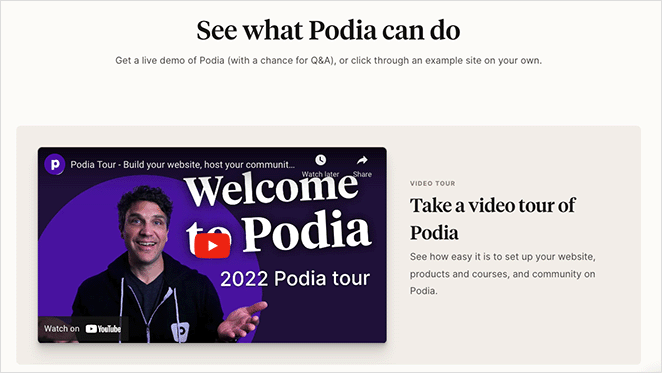 This live demo page from Podia has a different design than the other examples on this list.
While it leads with a bold, compelling headline, it follows with a video taking users on a tour of its platform. You can instantly get an impression of how Podia works before committing to the platform, which is a brilliant way to offer value to potential customers.
Further down the page is another way for you to test drive the platform. You can click through to a live demo site and see the type of course or product page you can make.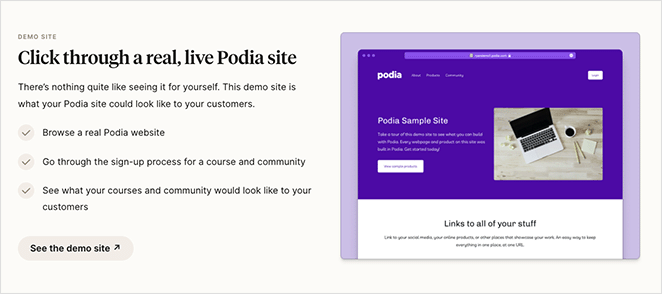 Lastly, at the bottom of the page, you can sign up for a weekly live webinar demo and get your questions answered in real-time by the company's experts. Since the registration form only has 3 form fields, it offers a quick and easy way to convert visitors.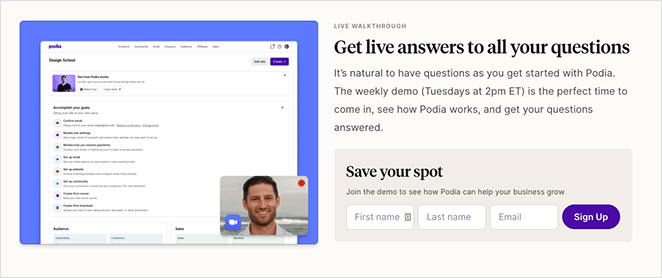 There are a few things we'd change on this landing page to make it even more compelling:
Remove the navigation menu to reduce page bounce rates
Remove the footer menu links to keep users on the page and boost conversions
Add testimonials and trust badges to increase trust
Use a countdown timer for registrations to evoke a sense of urgency
Here's a similar landing page design you can use to create a demo landing page.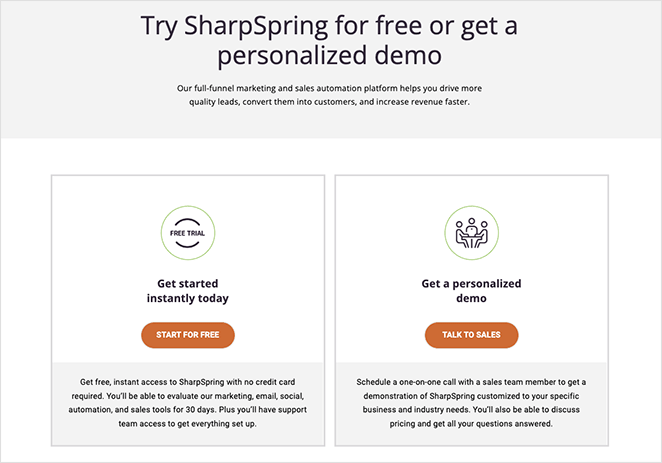 SharpSpring is a marketing and automation platform from Constant Contact that helps generate leads and convert them into customers. Its 'getting started' landing page gives you 2 solutions depending on where you are in the decision-making process:
Start with a free trial
Talk to sales for a personalized demo
If you're still undecided, you can scroll down to see customer testimonials, award badges, and information on what you'll get with the platform.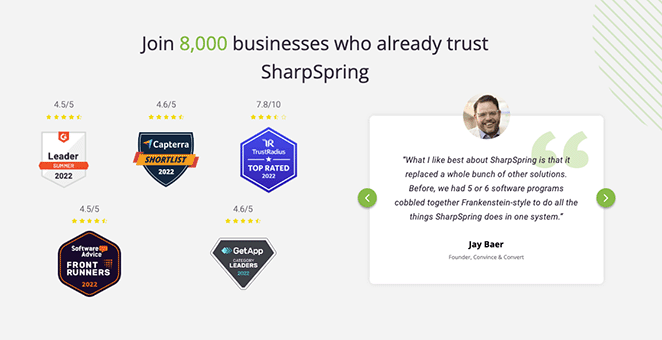 After clicking the Talk to Sales button, you'll see a multi-step form asking for your personal information.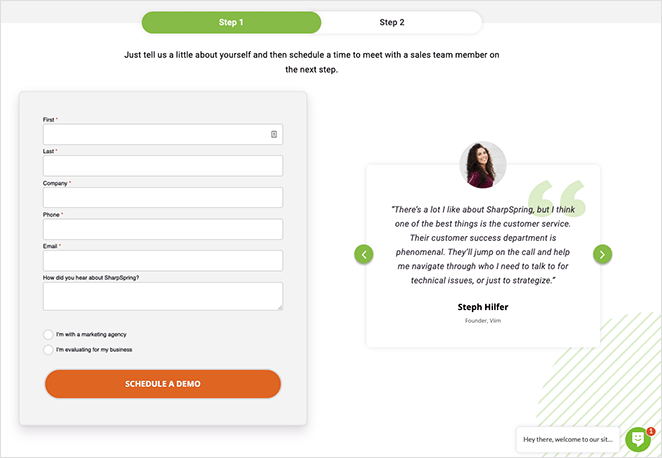 You'll then head to a calendar where you can schedule a time and day for your 30-minute chat and demo.
We love the different options this landing page has. It provides a more personalized experience for users with many ways to arrive at a solution that fits their needs.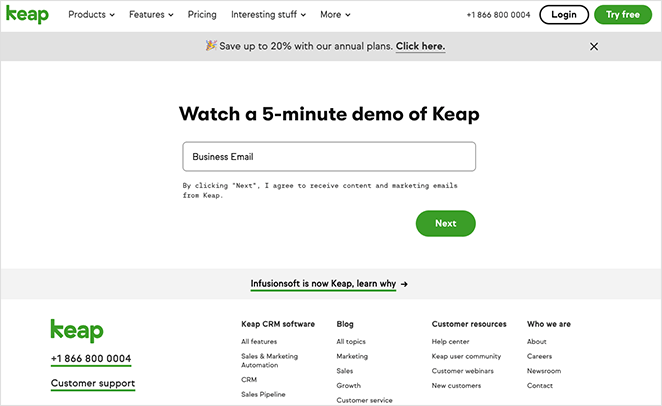 We'll close this showcase with a simple request a demo landing page example from Keap. You might think this page is too simple to convert, but it has 3 key elements that are proven to generate results:
That said, we'd improve this landing page design to make it more effective by adding:
A small graphic, gif, or video before the form to engage visitors
A sliding carousel of testimonials to boost trust
A disclaimer after the form promising never to send spam
We'd also remove many of the menu links to prevent users from exiting the page before converting.
How to Create a Request a Demo Page in WordPress
So far, you've seen some fantastic request a demo landing page examples. The question remains, how do you create one for your WordPress website?
The best way to create a landing page is with a landing page builder, and SeedProd is the top solution for the job.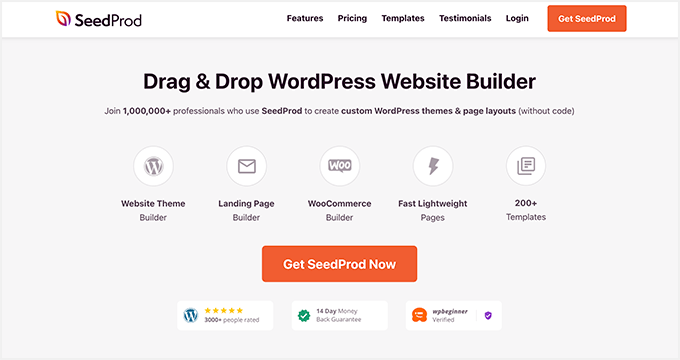 SeedProd is the best website builder plugin with drag-and-drop functionality. You can use it to create high-converting landing pages, WordPress themes, and flexible website layouts without writing code.
The landing page builder offers 180+ responsive landing page templates to start with. From there, you can customize your page with essential elements, including:
Optin, contact, and login forms
Lead-generating giveaways
Countdown timers and progress bars for urgency
Testimonials and star ratings
Social profile buttons for LinkedIn, Facebook, Twitter, and more
Tabs and accordions to save landing page space
Advanced galleries and image carousels
Business hours and Google Maps
You can see a complete list of SeedProd's WordPress blocks here.
Beyond its user-friendly functionality, SeedProd integrates seamlessly with popular email marketing tools, WordPress plugins, and themes. It's also lightweight and made with the best coding practices to keep your website fast, SEO-friendly, and secure.
Follow this step-by-step guide to create a landing page with SeedProd.
Or, if you're ready to jump right in, click the button below.
We hope this article has helped you find the best request a demo landing page examples to use. You might also like the following examples posts for even more inspiration:
You can also follow this guide on a/b testing with Google Optimize to increase landing page conversions.
Thanks for reading. Please follow us on YouTube, Twitter, and Facebook for more helpful content to grow your business.