Do you want to create a SaaS landing page for your website?
A SaaS landing page is a great way for SaaS companies to generate leads and improve conversion rates. But finding a design that works for your business is a process of trial and error.
To help you decide which approach to take, we'll share some of the best SaaS landing page examples on the web.
10 Best SaaS Landing Page Examples
The following examples offer an excellent overview of effective landing page designs. We'll look at each design, explore the different elements they use, and explain why they work.
That way, you can use similar tactics for your SaaS page design.
Video Guide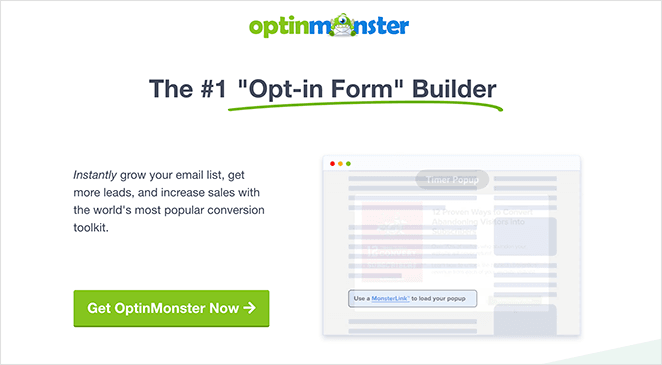 The OptinMonster team made this page to target users looking for an optin form builder via their PPC advertising campaigns. What makes this an excellent example to start with is the simplicity of the design.
Users can see all the information they need above the page fold, including:
Compelling headline
Promising description
Animated GIF
As a result, potential customers can make a decision quickly without scrolling down the page.
But, if users can't quite make a decision yet, scrolling down reveals even more information to persuade them to take action.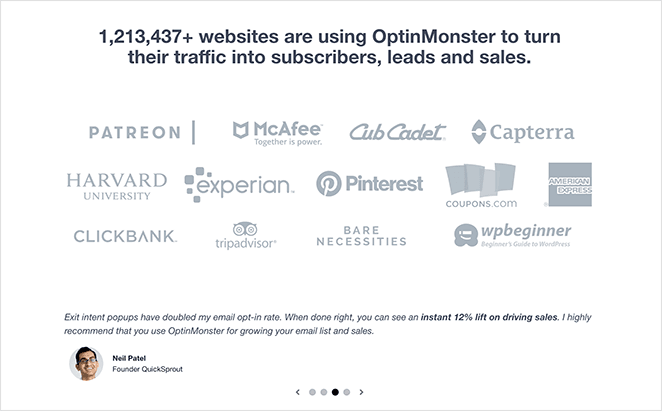 For example, they have a social proof section with:
Testimonials from prominent customers
Logos from well-known brands
The total number of OptinMonster users
And if you scroll even further, they include a 3-step visual guide on how their software works. That way, visitors know exactly what they'll get when signing up.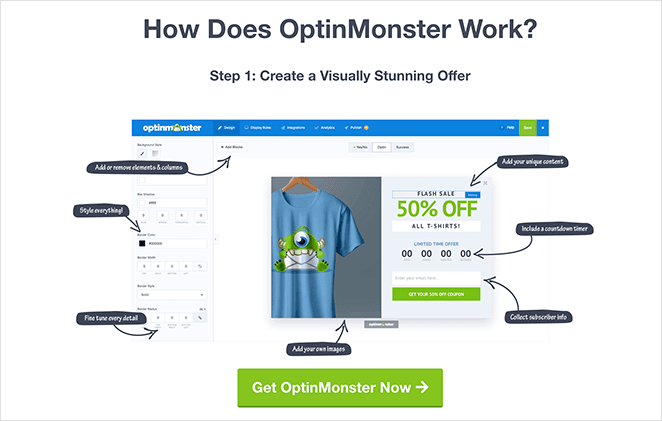 More importantly, in every section of the page, OptinMonster includes a clear call to action, targeting users at different points in their journey.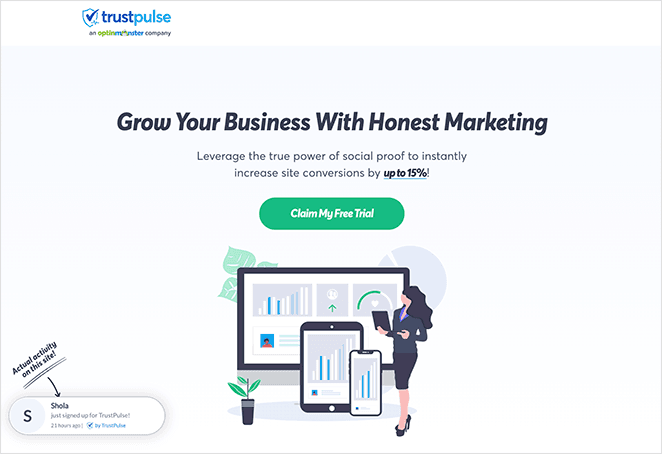 This SaaS page example from TrustPulse does a great job of keeping things simple and minimal.
The top of the page includes all the hallmarks of an effective design, including:
Value-driven headline
Description with social proof
Call to action button
Live view of their software in action
As you scroll down the page, TrustPulse's features are clear with descriptions that address users' pain points. Their imagery ties in with the brand's overall aesthetic, and success stories placed strategically throughout the page support their software's claims.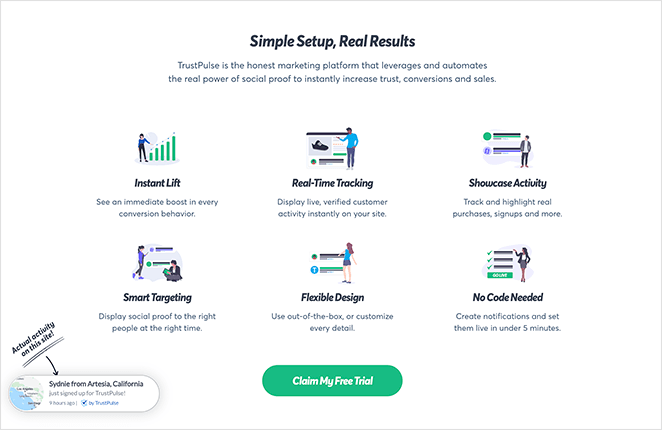 One feature we particularly like is the FAQ section at the bottom of the page. They use a simple accordion to show and hide answers to their audience's most common questions, helping them make an informed decision.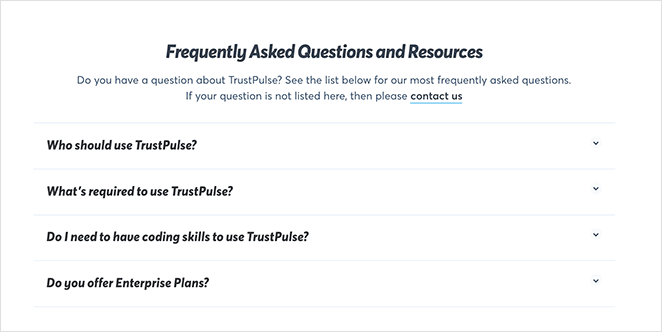 And like OptinMonster, TrustPulse includes call-to-action buttons at almost every part of the page to maximize leads for their free trial.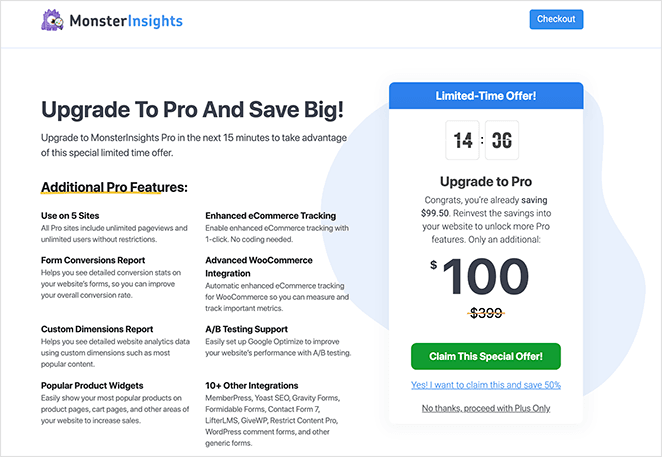 MonsterInsights SaaS page example targets users of their plus software version. Unlike the other examples on this list, the page is short, with only a few distinct sections.
The only elements this page includes are:
Headline describing the page's intent
A description explaining what users should do
Benefit-oriented reasons for why users should upgrade
Countdown timer to create urgency
Discount showing the large price reduction
A bold call to action button
All of these features, when combined, create a compelling argument that persuades customers to upgrade.
Additionally, the only navigation link to exit the page is the checkout button. By removing other navigation elements, you can keep users on the page for longer and leave them with only 2 decisions: to close the window or upgrade.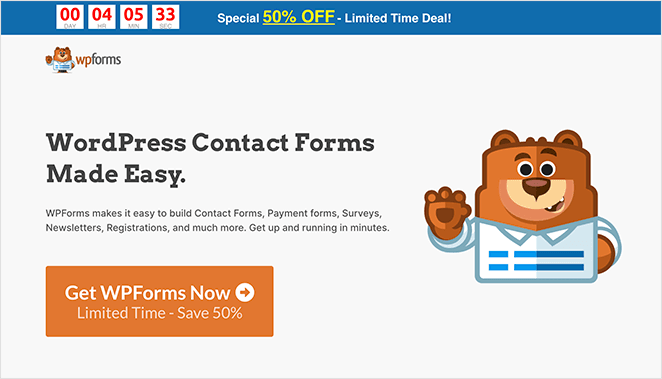 WPForms is another SaaS website using countdown timers to create urgency on its PPC landing page. Unlike MonsterInsights, their countdown clock is at the top of the page, making it the first thing potential customers see.
As you move down the page, you can see all the indicators of an excellent landing page design, such as:
Benefit driven headline
Description with a clear value proposition
Recognizable branding
Bullet point features and benefits
No navigation menu
Multiple calls to action buttons
In the end, it makes for a highly actionable landing page that users clicking through from search engines will find hard to resist.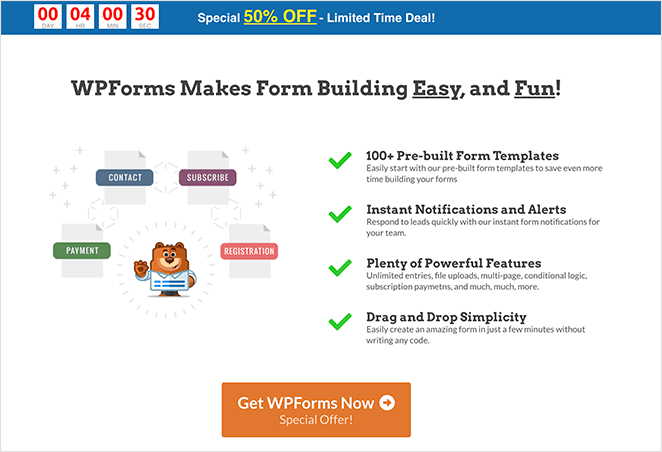 Before we move on to the following example, there's one more thing the above 4 examples all share in common: they are all made using SeedProd without writing a single line of code. We'll show you how you can make code-free SaaS landing pages later.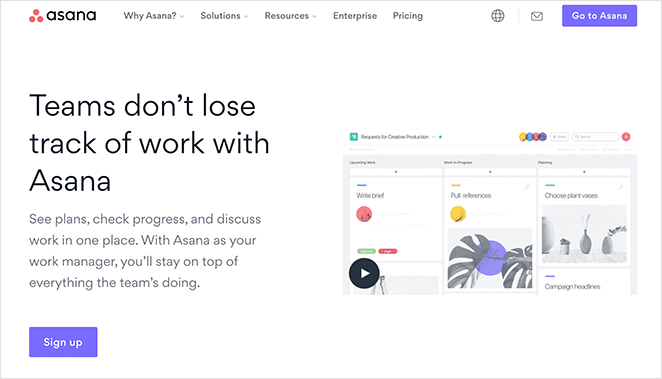 Next is a powerful SaaS page from Asana, the popular project management software.
Their landing page starts with a super compelling headline and a video that opens as a lightbox popup. When combined, these 2 elements create a convincing explanation of how their software works and how it can help their target audience.
Continuing down the page, you'll see:
Animated GIFs
Features and benefits
Calls to action
One thing that stands out the most is their scrolling case studies panel. By using this interactive slider, users can read exciting success stories from existing Asana customers.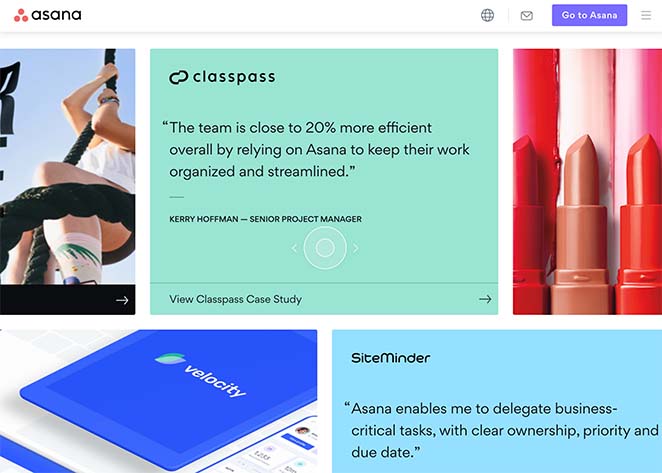 Even better, this panel is beneficial for people browsing on mobile, as they can quickly swipe through the case studies.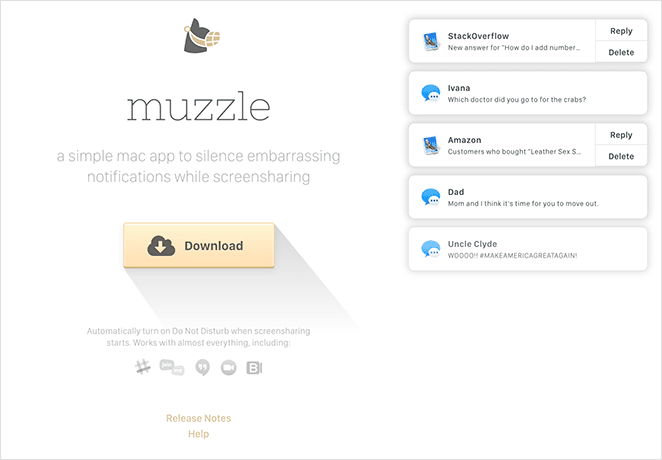 Muzzle is a SaaS company that offers a simple Mac app to silence notifications when sharing your screen. And they show you exactly what the app does in real-time right on the page.
This show-and-tell approach is highly effective in demonstrating their product. In fact, it's so effective it requires hardly any text to illustrate the point.
In the end, they have a landing page design that instantly relates to their audience's pain points. How can you resist clicking?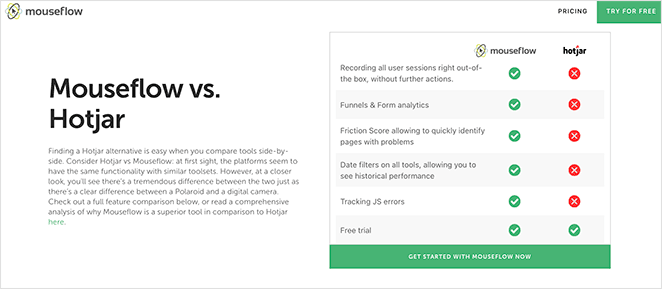 Type the term "Hotjar" into Google, and chances are you'll come across a link to this page from Mouseflow. This page aims to compare Mouseflow's SaaS software to Hotjar, one of its main competitors, resulting in users choosing Mouseflow.
The key elements on this page include:
Direct comparison headline
Detailed software description
Quick comparison table
Expanded comparison table
Call to action buttons
As you can see, the page directly targets users looking for a reliable Hotjar alternative. And Mouseflow delivers with a side-by-side visual comparison, showing what it does that Hotjar doesn't.
If that isn't enough to convince users, it shows more proof further down the page with a detailed comparison table. That way, users can compare every feature before making their decision.
We think this is a great way to give people an excellent comparison of your product vs. your competitor.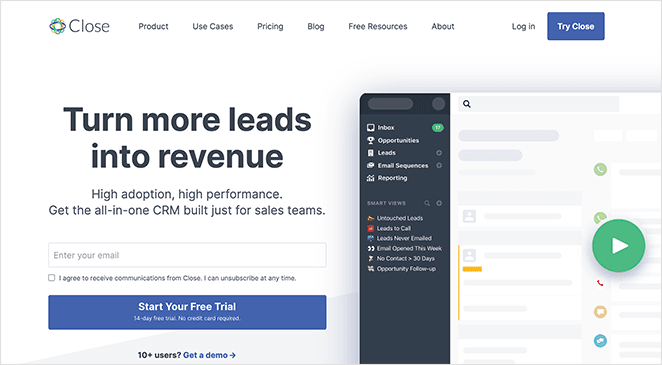 Close CRM gives brands a complete picture of customer relationships at a glance. So it's no surprise their landing page uses clever animations and imagery to show prospective customers what the software does.
Above the page, fold are crucial landing page elements such as:
Actionable headline
Clear description
Call to action button
Explainer video
That information is supported further down the page with animations, testimonials, and social proof.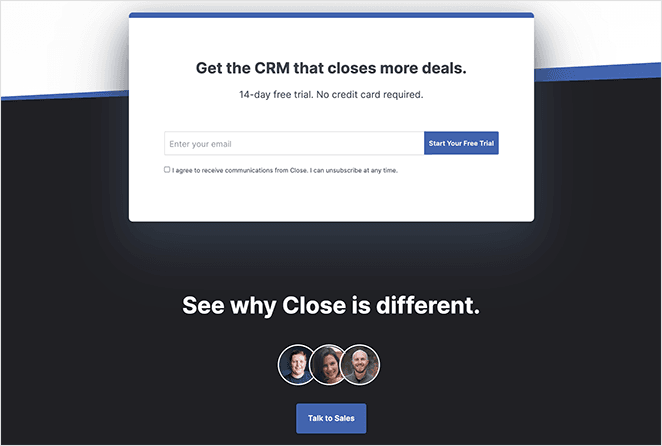 While you should ideally have one type of call to action on your landing page, we like how Close invites users to either start a free trial or talk to their sales team. The reason for that is either of those actions will result in a lead for their business.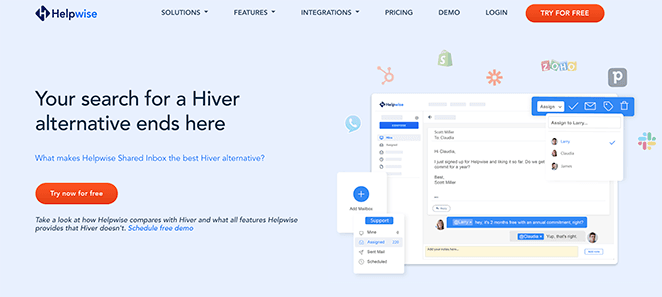 Helpwise is another SaaS company that uses the comparison model on its PPC landing page. They do this by targeting users searching for their competitor, "Hiver." As a result, clicking their link in search results shows this Hiver alternative landing page.
Users are drawn in with an attractive headline addressing their intent. The page then shows users how Helpwise's software is the best choice, with a clear comparison table of the primary features.
Moreover, at the bottom of the table, users can see how much money they'd save by switching to Helpwise.
Scrolling down the page reveals even more great landing page elements, including:
Illustrations
Feature explanations
Easy to digest bullet points
Customer testimonials and star ratings
Multiple CTA buttons
And like TrustPulse, this page includes a helpful FAQ accordion section users can expand to find answers to their questions.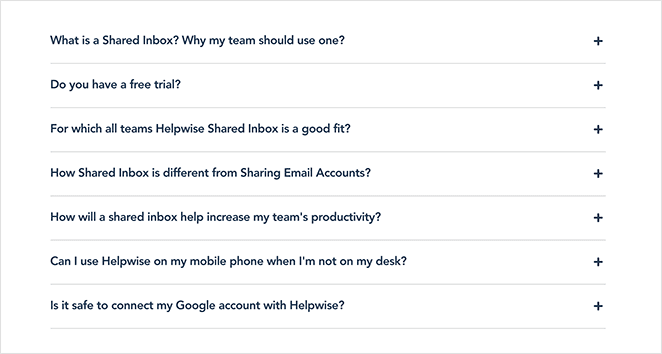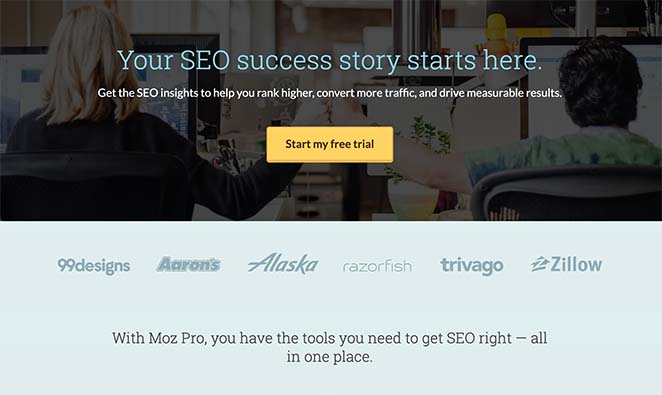 This SaaS page example from MOZ encourages users to sign up for a free trial of their SEO tools. Like many examples on this list, the landing page design is straightforward and only includes the information that users need to make an informed decision.
Many of those page elements include:
Benefit driven headline
Descriptive subheading
Bold CTA button
Features and benefits section
Client logos
But where this landing page excels is with the explainer video. The video sits right above the last call-to-action button, putting it in the ideal place to try and convince users one last time.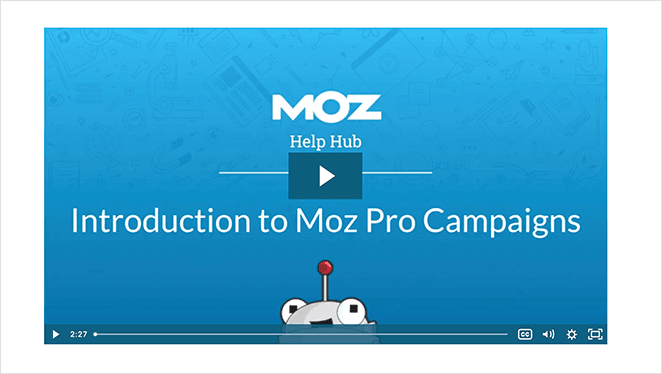 So if you're ready to get started, follow this step-by-step guide to create a landing page with SeedProd.
And there you have it!
We hope this article helped you find the best SaaS landing page examples you can use to inspire your next design. You might also like these complimentary WordPress login page plugins.
Thanks for reading. Please follow us on YouTube, Twitter, and Facebook for more helpful content to grow your business if you liked this article.