Are you looking for the best WordPress login plugins for your website?
Since your WordPress login page is the door to your website's admin area, you need to make it secure. But at the same time, you need to let WordPress users log in with minimal friction.
In this article, we'll share the best WordPress login plugins you can use to allow users to log in easily. We'll also share some of the best complementary plugins for WordPress to enhance the user registration process and customize your WordPress login page.
Why Do You Need A WordPress Login Plugin?
By default, the regular WordPress login page looks like this: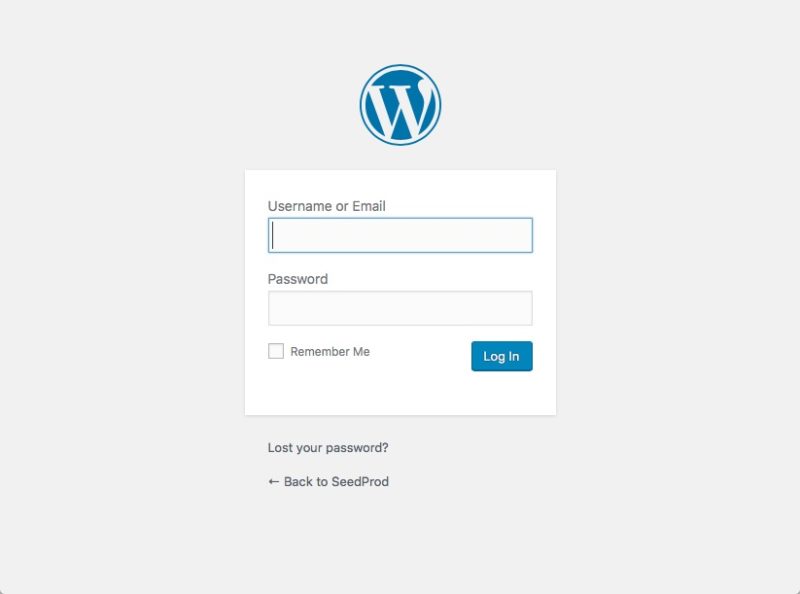 As you can see, it's plain, includes a simple login form and registration form, and offers minimal information. What's more, this page looks the same across all WordPress sites and lacks your website's styling and branding.
The problem with this is it doesn't help your business website stand out.
WordPress login plugins can be useful for several reasons:
Improved security: WordPress login plugins can help improve the security of your website by adding an extra layer of protection to your login page. Many login plugins include extra functionality such as two-factor authentication, login limiting, and IP blocking to help prevent unauthorized access to your website and fake user registrations.
Customization: A WordPress login plugin can allow you to customize the login page of your website on the front end, making it look more professional and branded. You can customize the logo, background, and colors to match your website's branding and design.
User experience: WordPress login plugins can help improve the user experience for your visitors and customers. Some plugins allow you to create custom login forms, which can make it easier for users to log in to your website or membership site. Additionally, some login plugins allow users to log in using their social media accounts, which can streamline the login process.
User management: Some WordPress login plugins include user management features that can help you manage your website's users more effectively. You can view and manage user roles, edit user profiles, and control user permissions from within the plugin.
Analytics: Some login plugins include analytics features that can help you track user activity on your website. You can view login history, monitor failed login attempts, and track user behavior to help identify potential security issues.
Overall, WordPress login plugins can help improve the security, customization, user experience, user management, and analytics of your website's login page. And that's where a complimentary login page plugin comes in.
How to Choose the Right WordPress Login Plugin
Choosing the right WordPress login plugin is a crucial decision that can impact your site's user experience, security, and overall functionality. Here are some factors to consider when making your choice:
Identify Your Needs: Decide what features you need from a login plugin, such as enhanced security, customization options, or social media login capabilities.
Review Plugin Features: Look for plugins that offer the features you need and consider any additional beneficial features they might offer.
Assess Plugin Reputation: Check the number of active installations, user ratings, and reviews in the WordPress plugin repository to gauge the plugin's reliability and performance.
Check Compatibility: Ensure the plugin is compatible with your version of WordPress and other plugins you're using to avoid functionality issues.
Examine Support and Updates: Look at when the plugin was last updated and whether it offers support. Regular updates and good support are indicators of a well-maintained plugin.
Evaluate Performance Impact: Find reviews or tests that indicate the plugin's impact on site speed, as some plugins can slow down your website.
Consider Cost: Balance your budget against the benefits of premium plugins, which often offer more advanced features and dedicated support.
What Are the Best WordPress Login Plugins?
Below, you'll find several of the best WordPress login plugins to improve your website's login experience, security, and engagement.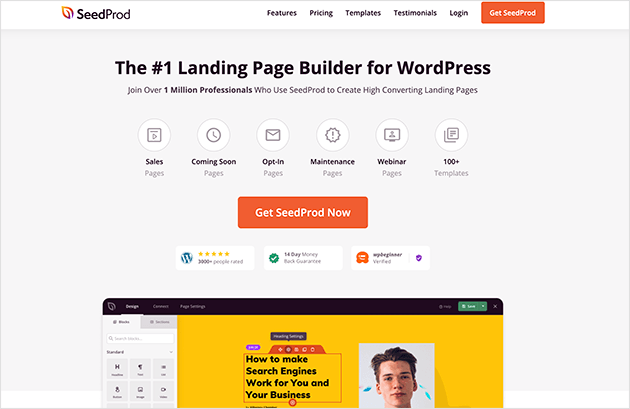 SeedProd is the best drag-and-drop WordPress page builder and theme builder on the market. It allows you to create any type of page layout or WordPress theme without writing any code.
It also includes a built-in login page mode that allows beginners to change your default login screen into a custom page that boosts engagement and conversions. Coupled with hundreds of responsive login page templates, SeedProd offers the easiest way to get your login screen looking exactly how you want.
For example, you can use SeedProd's visual editor and WooCommerce blocks to cross-promote your other products or services. Or you can use the built-in social media embeds to showcase your latest Twitter or Facebook content and keep users updated with the latest news.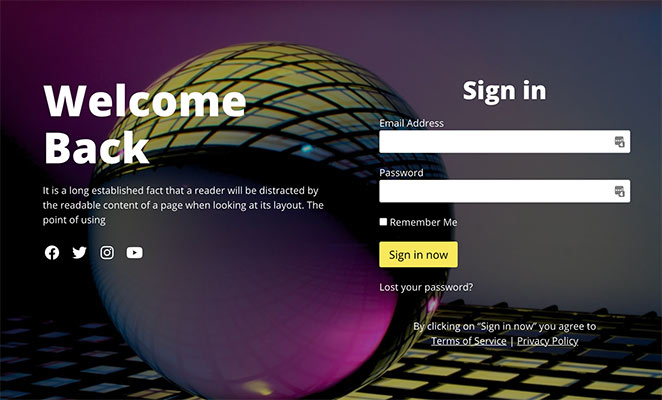 Not to mention, there are various other excellent ways to generate leads and engagement with SeedProd, including:
RafflePress giveaway blocks
Countdown timers
Progress bars
Optin forms
Contact forms
Testimonials
Accordions
Dynamic text
And more
In addition to these features, SeedProd also includes built-in Coming Soon Page and Maintenance Page modes, so you can easily hide your WordPress site while under development. And with the option to keep your website password protected on the settings page, it's the best way to secure your site from prying eyes. That way, you can prevent fake user registrations in WordPress.
SeedProd integrates seamlessly with popular 3rd party email providers and has compatibility with many of the best WordPress plugins.
Follow this step-by-step guide to create a WordPress login page with SeedProd. Or, if you want to dive right in, click the button below.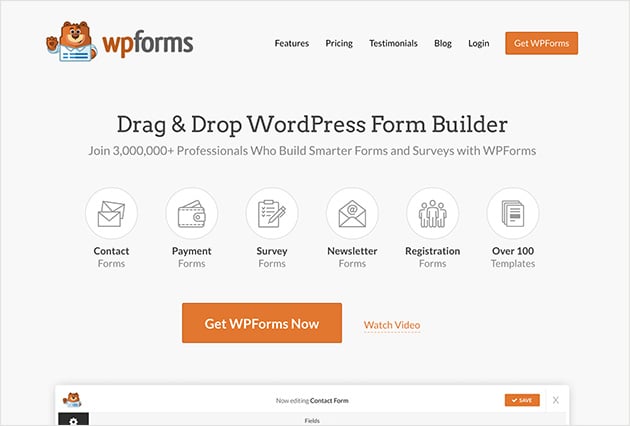 WPForms is the best WordPress form builder plugin, with over 4 million professionals using it to build smarter forms and surveys. In addition to building user-friendly contact forms, you can use WPForms' user registration and login add ons to create powerful registration forms and login forms.
It's easy to add those forms to your WordPress website with the drag-and-drop form builder. Plus, you can customize your login form to include as many custom form fields as your website needs.
For example, you can include payment options with WPForms payment gateway integration, so users need to pay to register.
Some of WPForms' other excellent features include:
Conditional logic for high performance.
Instant form completion notifications.
Post submission, file upload, and conversational form addons.
PayPal, Stripe, and Authorize.net support for online stores.
Popular email marketing service integrations.
Spam protection with Google Recaptcha.
And more.
Note: WPForms offers a free version, so you can try it out. However, we recommend the pro version for the best features.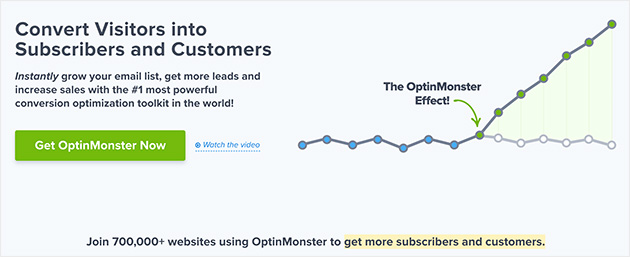 OptinMonster is the most powerful customer acquisition tool around. It makes it easy to add user-friendly campaigns to your website that boost conversions and generate more leads and sales.
Some of its campaign types include exit-intent popups, floating bars, scroll boxes, gamified wheels, and more. And you can customize each campaign with the drag-and-drop builder easily.
You can use OptinMonster to show specific content to users after they've logged into your site. That's because its smart targeting rules allow you to choose when and where it displays your offer.
For example, you can:
Show free shipping coupons to users that successfully log in to your site.
Create follow-up offers after users visit a specific page.
Trigger exit popups with incentives when users try to leave your page without logging in.
Show targeted offers to users coming from specific websites like Facebook, Instagram, etc.
OptinMonster is more than just an easy way to show popups on your website. It's an excellent tool to serve your users better and encourage them to come back to your site often.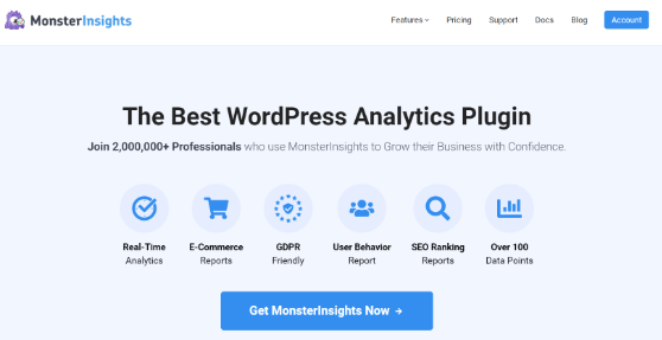 MonsterInsights is the best Google Analytics plugin for WordPress. Over 3 million people use this plugin to gather actionable data and insights about their website visitors.
Not only does it allow you to add Google Analytics to WordPress with just a few clicks, but it also shows user-friendly analytics reports right inside your WordPress dashboard. That way, you can see the information you need about your audience at a glance without leaving your website.
One thing that makes MonsterInsights an excellent complimentary WordPress login plugin is the option to track logged-in users. That way, you can see which pages registered users visit on your site and how they interact with it.
Some other practical details you can track include:
eCommerce tracking for WooCommerce, Easy Digital Downloads, LifterLMS, and MemberPress.
Affiliate link tracking for bloggers and affiliate marketers to accurately track their affiliate links with Google Analytics.
File download tracking lets you see which files are getting the most downloads, from which pages, countries, etc.
Scroll tracking to see where users lose interest, so you can optimize content for maximum engagement,
Forms tracking for WordPress lead forms, contact forms, and registration forms to show you important conversion data.
And more
For more information, see our handy guide on how to track logged-in user activity in WordPress.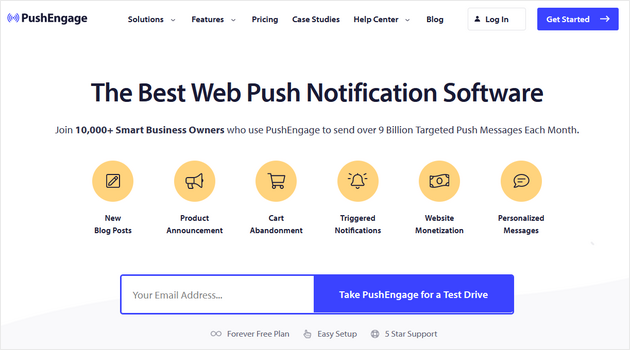 PushEngage is the best web push notification software on the market. You can use it to send compelling in-browser notifications to users even after they leave your website.
This is an excellent way to complement your existing WordPress login plugins, as it encourages users to come back to your site from wherever they are online. And even if they close their browser window, you can set notifications to show until your audience sees them or dismiss them.
For instance, you can send notifications for:
Special offers and discounts
Product news and releases
Your latest blog posts
Abandoned cart reminders
Flash sales
And more
In addition, you can show your push notification subscription option when users click a button, like a Login button on your login page. That way, you can prompt users to subscribe for notifications while they're already engaged on your site.
Check out this tutorial for more help on how to add push notifications to your WordPress site.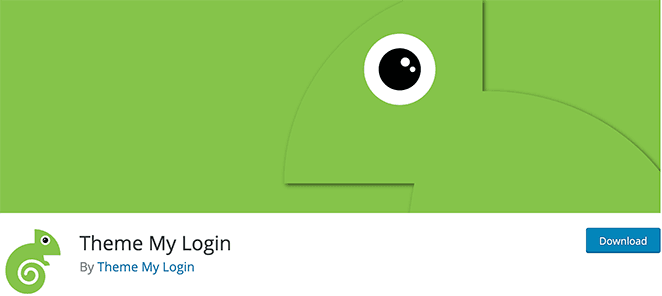 Theme My Login is a popular free plugin for creating custom login pages. It lets you bypass the default WordPress login screen and allow users to log in and register without accessing your WordPress admin area.
This top WordPress login page plugin includes a user registration form and password recovery pages right within your theme. As a result, you can create a wp admin white label login experience for users straight out of the box.
The only downside to Theme My Login is it lacks the advanced customization features that you get with solutions like SeedProd. But if you need a simple and easy way to remove WordPress's branding from your login screen, it's an excellent choice.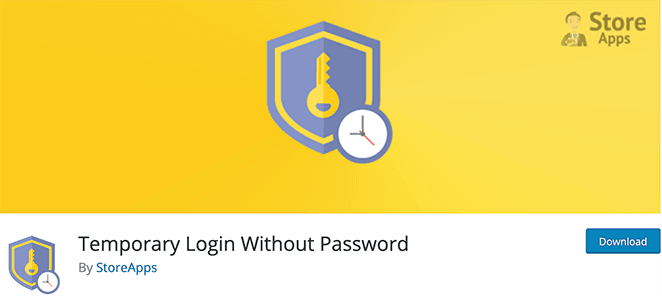 Temporary Login Without Password is another free WordPress login plugin. It lets specific users access your website without creating a user account for them.
Moreover, you can delete the temporary login any time you like or set it to expire on a certain date or time.
For example, you can use this solution to give temporary access to a WordPress developer without creating an account. From there, they can carry out their work, and you can delete the account as soon as the work is done.
The good news is this plugin works by creating a simple link users can click for access and requires no password. In the end, it saves both time and the hassle of creating multiple accounts you'd need to delete anyway.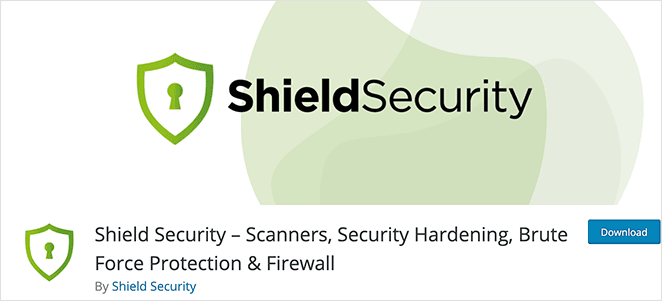 Shield Security is a free multipurpose WordPress plugin with a variety of security features. It offers a no-nonsense approach to WordPress security that helps protect your site from hackers, spam, and malicious bots of all types.
One of the most relevant features for your login page is the ability to limit login attempts and block brute force attacks as they happen automatically. It does this by analyzing different security bot signals and combining them to identify a visitor as malicious.
For example, some of those security signals include:

Site probes that generate 404 errors
Failed logins
Logins with invalid usernames
XML-RPC access
Fake search engine web crawlers
Invalid user agents
Excessive website requests and resource abuse
Additionally, it helps to stop comment spam, control automated WordPress updates, and more. As a result, this plugin can reduce your WordPress website's vulnerability to any sort of attack.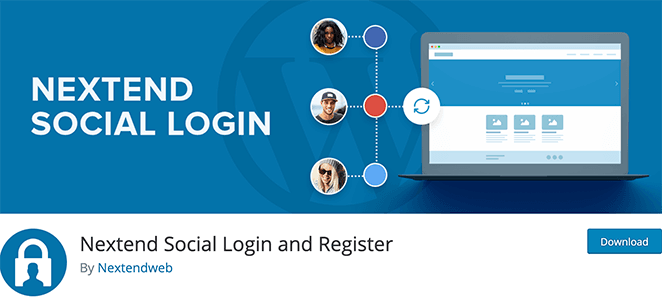 Nextend Social Login is a free and easy-to-use WordPress login plugin that allows users to log in and log out of your site using their Facebook, Google, or Twitter credentials. This approach to your login page saves time filling out the default registration form and avoids the hassle of creating yet another password to remember.
This plugin is easy to set up on your WordPress site and integrates with your existing login and registration form. From there, users can add or remove social accounts on their WordPress profile page and connect as many social profiles as they like.
Plus, you can send users to a specific page, such as a custom WordPress thank you page, after registering with a redirection URL. And you can also use their Facebook, Google, or Twitter profile picture as their user avatar on your site.
This plugin includes a login widget and shortcodes for easy customization.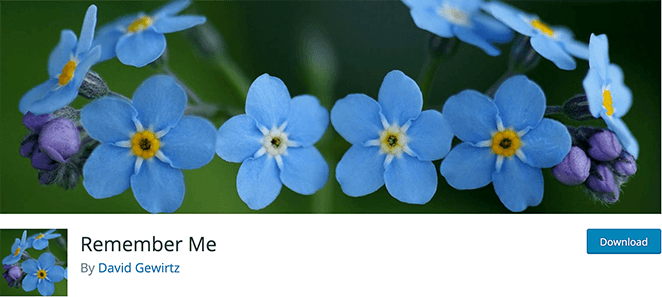 Remember Me is a handy WordPress login plugin that prevents you from forgetting your login details. That's because it checks the 'Remember Me' checkbox on your login page by default.
Typically if you don't select that option, WordPress forgets your login credentials when you close the browser window. But with the box checked automatically, you'll stay logged in by default, making it easier to access your site.
While this is a super-helpful plugin, we don't recommend using it if multiple users access your WordPress admin area. And if you log in to your site from shared computers frequently, you should also avoid using this tool.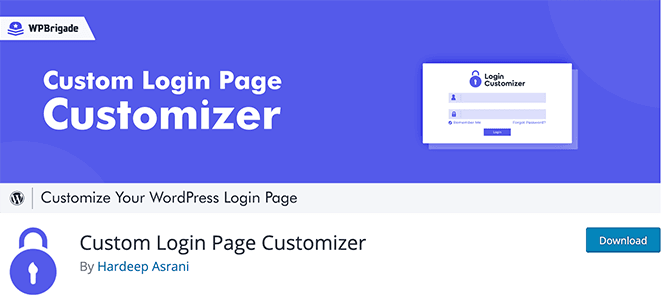 Custom Login Page Customizer is another free WordPress login plugin you can use to customize the default WordPress login page. Plus, it allows you to use the built-in WordPress customizer to build your page in real-time with the live preview feature.
You can customize virtually anything on your login page, including the:
Background image and color
Logo image, URL, and size settings
Form background color and position
Form field colors and sizing
Button color, size, and fonts
In addition, you can enable and disable the lost password, back to site, and privacy policy links. And with a section for custom CSS and JavaScript, you add your own tailored customizations.
However, if you need more advanced customization options for your login page, it's best to use a more comprehensive tool like SeedProd.
Frequently Asked Questions
Can I use more than one login plugin on my WordPress site?
Technically, you can use multiple login plugins, but it's not generally recommended. Using more than one may cause conflicts, leading to unexpected behavior on your site. It's better to choose the plugin that best fits your needs and use just that one to avoid any issues.
How do I install and activate a WordPress login plugin?
Installing and activating a login plugin is pretty straightforward. Just follow these steps:
Go to your WordPress dashboard.
Navigate to 'Plugins' > 'Add New.'
Search for the plugin you want to install.
Click 'Install Now' and wait for the installation to finish.
Click 'Activate' to enable the plugin on your site.
Will a WordPress login plugin slow down my website?
Generally, well-coded and optimized plugins should not significantly impact your website's performance. However, it's essential to keep your plugins updated and avoid using too many plugins, as this can lead to performance issues.
Always check plugin reviews and ratings to ensure you're choosing a reliable and efficient option.
What Is The Best WordPress Login Plugin?
After comparing the tools on this list, in our opinion, SeedProd is the best WordPress login plugin.
You can create a completely custom login page from scratch or choose from hundreds of premade designs right out of the box. What's more, it offers various features that can generate tons of leads and sales for your business.
So what are you waiting for?
We hope this article helped you find the best WordPress login plugins for your website. You might also like to see our list of the best WordPress search plugins for better site search.
Thanks for reading. Please follow us on YouTube, Twitter, and Facebook for more helpful content to grow your business if you liked this article.