Are you looking for a responsive login page template for your WordPress site?
Creating an attractive login page is one of the best ways to build trust in your brand and improve the user experience of your website. But creating a login page in WordPress isn't easy without help from a web development agency.
That's why in this article, we'll share some stunning login page templates you can use in WordPress for any web page, eCommerce website, or signup page.
What Is a Login Page Template?
A login page template is a pre-made website template you can use on your website instantly, without writing HTML, CSS, or PHP code. It will include a responsive login form design and a registration form that allows users to register and log into your website on the front end.
Building a login page from the ground up typically involves using coding languages like HTML5 and CSS3. So if you lack coding experience, you'll need a web designer to create the design and a developer to make your design work.
Yet if you use a login page template, the design and development come ready-made. And that means all you need to do is click a few buttons to publish it on your WordPress site.
For example, you can get templates that let you make a Modal login popup with a login form overlay on your homepage. Or you can find HTML templates, bootstrap login forms, or Javascript and jquery animated login forms with autocomplete.
How Do I Create a Login Screen?
Creating a login page without messing around with code is super easy with a WordPress plugin like SeedProd.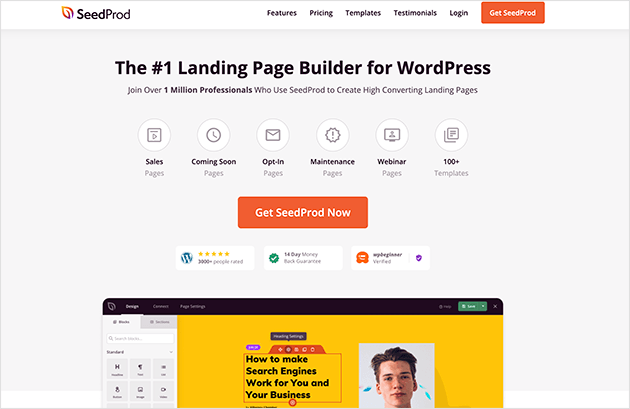 SeedProd is the best WordPress page builder with drag-and-drop functionality. That means you can design, build, and publish any page visually and see the changes in real time.
Even better, SeedProd comes with 150+ responsive landing page templates, so you'll never have to start from scratch. Instead, you can pick any template and customize it in SeedProd's visual editor to suit your business needs.
Yes, there are even a variety of login templates with sign-in forms, register forms, and login buttons.
And to help you customize your login page, SeedProd also includes tons of powerful blocks and sections like:
Login, sign up, and contact forms
Social media profile and share buttons
Countdown timer and progress bars
WooCommerce shopping carts, checkouts, and product grids
Google Maps and pricing tables
Accordions and search boxes
Navigation menus and image carousels
Star ratings and testimonials
And so much more
That means you can create a WordPress login page that not only lets people log in but can also upsell your other products and services and grow your social media presence.
Check out our guide to learn how to create a login page in WordPress with SeedProd.
Note: To use SeedProd's Login Page mode and Login Form block, you'll need a SeedProd Pro plan. SeedProd doesn't currently offer a free login form.
9 Responsive WordPress Login Page Templates
At this point, you now know what a login page template is and how to create a login page in WordPress. So all that's left is to find the perfect login template to use on your website.
Below you'll find 9 of the best responsive login page templates available with SeedProd.
1. SeedProd Blank Free Login Page Template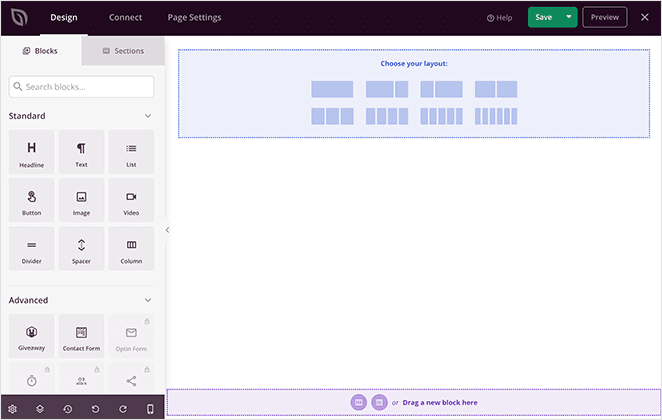 First is a blank template you can use with SeedProd's drag-and-drop visual editor. This free template is a clean slate with no design elements, and you can use it to build a completely custom design visually, in real-time without HTML CSS and other coding languages.
The visual editor has a split-screen with a preview on the right and blocks and sections on the left. From there, you can build your login page block by block specific to your business needs.
Here's a super quick mockup we made in less than 5 minutes:

The elements on this page include:
Header section
Login Form block with input fields, remember me checkbox form validation and forgot password link
Column block
Image Carousel
You could also include a signup form designed to encourage more users to register for an account on your website. To do that, all you need is the sign-up form block and to connect to one of SeedProd's many supported email marketing services.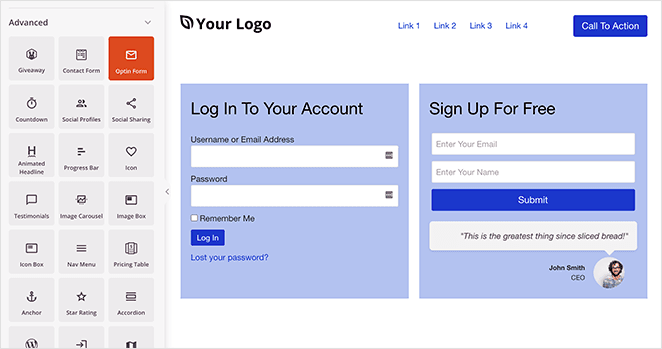 As you can see, the customization options are near unlimited, with custom fonts, colors, placeholders, and more. This allows you to create the perfect login design perfectly tailored to your audience.
2. Cyber Login Page Design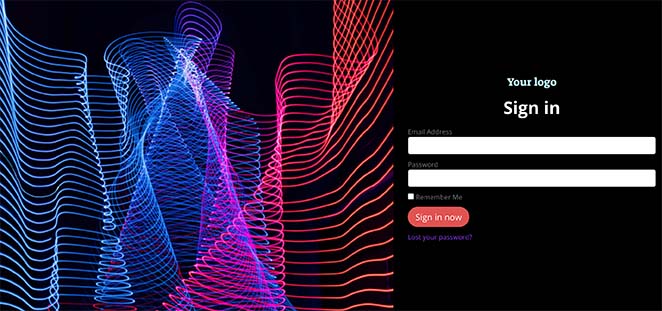 Next is a design suited to a variety of business needs. It features a 2 column split-screen and a dark eye-catching color scheme that's easy on the eye.
We love the futuristic image background with its gradient of neon blue and pink waves. Plus, the simple login form, responsive design, and simple form background complete the look with style.
You can spruce up this design more by adding:
Social media icons promoting your social profiles
A feed of recent news from your Facebook page
Links to popular pages on your site
3. Minimal Login Page Template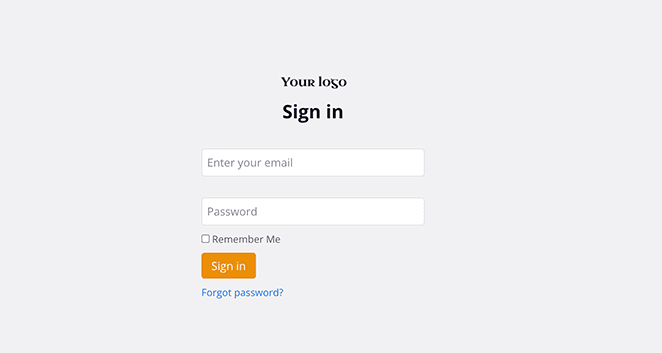 If your website design is simpler with a clean, modern design, this minimal login template is an excellent choice.
The only elements featured on this page are:
Image block for your logo
WordPress login form
Solid background color
From there, all you need to do is replace the default image with your logo, configure your login form settings and make the page live. Even better, it should take only a few minutes to get your page up and running.
4. Greenery Login Page Example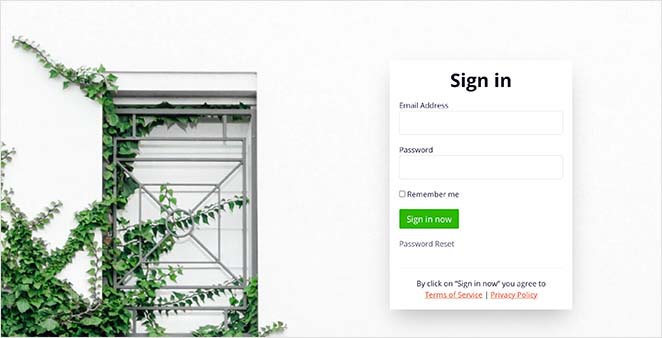 Greenery is a stunning login screen template with a fresh, clean design. The modern aesthetic makes it a great choice for lifestyle brands, health websites, interior brands, and online stores.
Again, this template offers a split screen with a simple login form and background image. Yet, we suggest adding more to this design to improve your website conversions.
For example, you can:
Offer a discount for returning customers
Encourage users to claim the discount with a countdown timer
Use add-to-cart buttons to buy the discounted product instantly
5. Geo Sign-in Page Template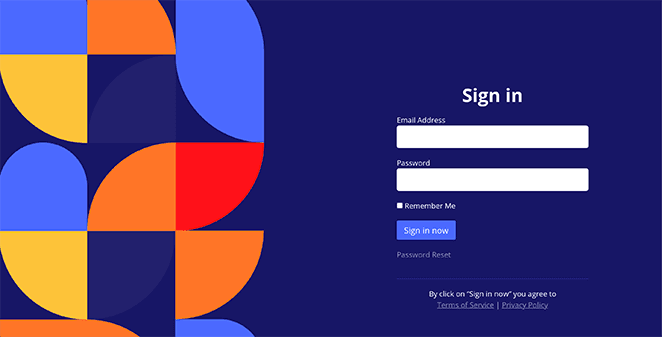 Our next login screen design features a bold, geometric background image guaranteed to catch attention. And on the right-hand side of the page is a login form where users can sign in to their accounts quickly.
This template is excellent for agencies, small business websites, and even art galleries and museums.
For example, you can easily add Google Maps to your login page to remind users of your physical location. Alternatively, you could embed your latest Facebook events to promote upcoming conferences, meetups, or open days.
If you love this design but want a more compact layout, the Geo template offers a simpler boxed version: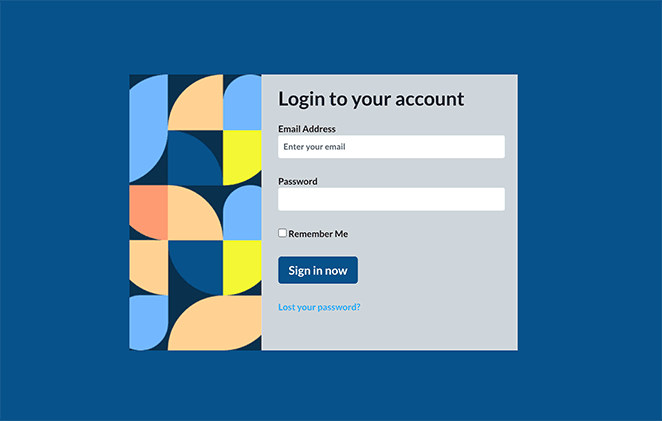 6. Peekaboo Login Page Form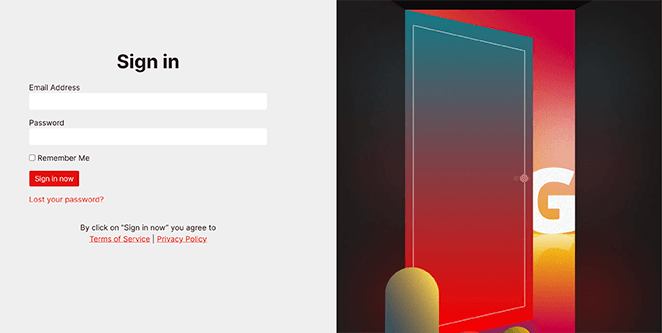 Since your login screen is the door to your website, it's crucial that you make users feel welcome. And the Peekaboo login template is the ideal design for the job.
This 2 column design features the login form on the left-hand side, while on the right is a warm, welcoming background image inviting users in.
You can use this space to give people a sneak peek at exclusive, user-only content. And to encourage people to sign up for access, you can add a call-to-action inviting people to create an account.
7. Flight Login Form Template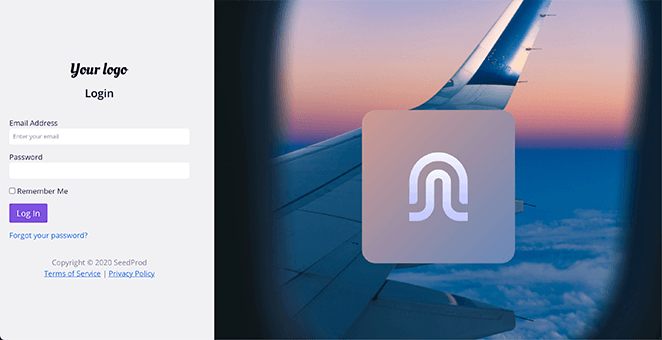 Next on our list is Flight, a beautiful login screen design with a background image made to inspire. This template is an excellent choice for websites in the travel industry, like booking sites, hotels, and accommodation businesses.
You can use the extra space on this design to showcase your newest destinations. Just drag the image carousel block onto the page and upload your latest photos.
And if you have a specific promotion running, you can include a call-to-action button for returning customers to check it out.
For more inspiration, check out these login page examples.
8. Simple Login Page Template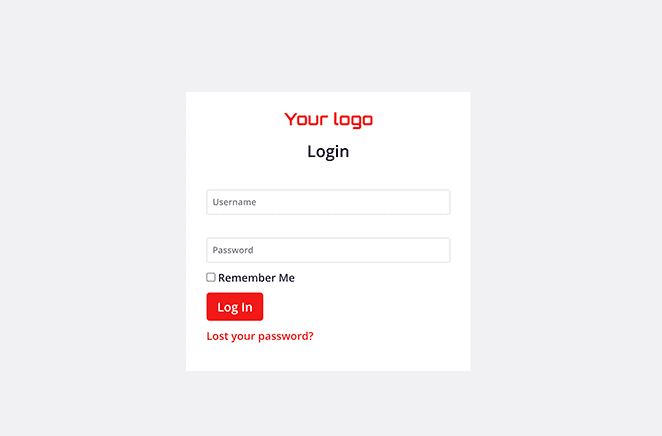 Like the minimal login screen, the Simple login template only has the essential elements needed to create a successful login page. The design offers a simple red and white color scheme with a single-column layout.
And the only elements on the page are:
Headline
Logo
Login form
Grey background
If a simple design is all you need, this template is an excellent choice. Yet, if you need to add extra elements, like a navigation menu or footer links, you can do so easily with SeedProd's ready-made blocks and sections.
9. Welcome Social Login Page Template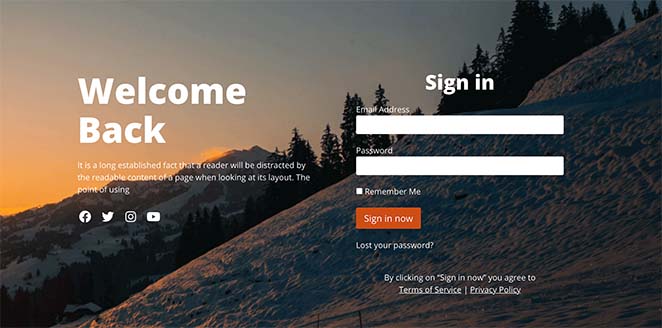 Next is our favorite login template on this list. Welcome is a visually stunning login screen with eye-catching features perfect for rolling out the red carpet.
For instance, the full-screen background photo sets the scene for what users can expect from your website. And the split-screen layout offers plenty of room to draw people in and keep them around.
The login form is straightforward, with a contrasting CTA button. And on the left-hand side of the screen is a welcoming headline, a short description, and social media profile icons.
You can make this page even more welcoming by including a giveaway on your welcome screen. With SeedProd's RafflePress giveaway block, you can embed any giveaway instantly and reward users for coming back to your website.
And there you have it!
We hope this showcase helped you find the best login page template for your WordPress website. Why not bookmark this post and check back soon for more newly released SeedProd login page templates?
If you want to improve the performance of any landing page, check out this guide on how to run Google Optimize A/B testing.
Thanks for reading. Please follow us on Twitter, Facebook, and YouTube for more helpful content to grow your business.