Are you looking for responsive landing page templates for your WordPress website?
With a pre-made landing page design, creating a high-converting web page for your digital marketing campaigns is much easier. Plus, many templates are highly customizable, allowing you to optimize your page to improve lead generation and increase conversions.
In this article, we'll share some of the best responsive landing page templates for WordPress to help you grow your business.
What Are Responsive Landing Pages?
Responsive landing pages are standalone pages that have a mobile responsive design. That means the page will adapt seamlessly to fit mobile devices like tablets and smartphones like the example below: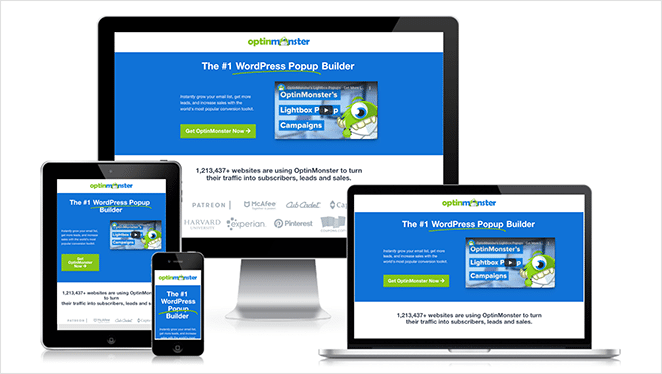 They'll also look pixel-perfect on desktop and laptop screens, offering visitors the best user experience.
Mobile-friendly landing pages also include the essential elements you need to convert website visitors into leads and paying customers, including the following:
However, you'll find that responsive templates will have settings to optimize each element for different screen sizes, unlike typical website templates. Not only does that help with lead gen, but it can also improve your search engine optimization (SEO) efforts.
Mobile-friendliness is a ranking signal in Google's algorithm when it detects users searching on a mobile device. As a result, a web design or landing page that is mobile-friendly will likely outrank those that aren't in mobile search results.
Where Can I Get a Responsive Landing Page Template?
You can get responsive page templates from WordPress page builder plugins, online marketplaces, or email marketing services with landing page functionality.
Here is a quick look at the types of templates you can get from those sources:
Page Builder Plugins – High-converting landing page templates for WordPress that are multipurpose and easy to customize with a drag-and-drop page builder.
Online Marketplaces – Various designs for multiple platforms, including WordPress, Bootstrap templates, landing page HTML templates, CMS, eCommerce, CSS3, and even UI templates for Figma or PhotoShop.
Email Marketing Providers – Templates made specifically for that email platform's software. For example, Mailchimp and GetResponse both have free landing page builders with premade templates.
If you're looking for landing page website templates for WordPress, we recommend using a WordPress page builder like SeedProd.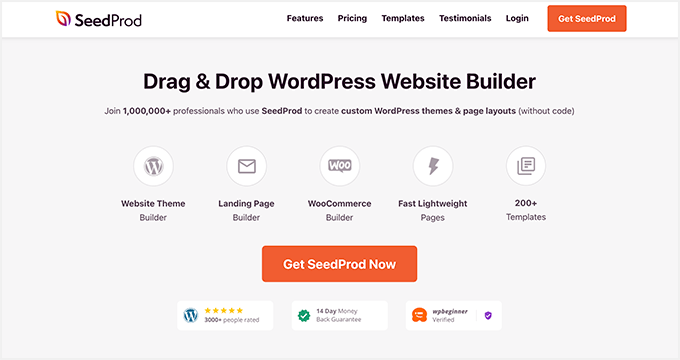 SeedProd is the best WordPress page builder that lets you create any part of your website design visually without writing code. Its intuitive drag-and-drop interface is easy to use, even if you're a complete beginner, yet it has all the features you need to create landing pages with impressive conversion rates.
Plus, SeedProd has hundreds of templates for pretty much any purpose, including webinars, creative agencies, digital products, startups, coming soon, SaaS, social media, and more. They're also 100% mobile-friendly and look fantastic on any device.
With that in mind, let's dive in and look at some of the best responsive landing page templates SeedProd offers.
Best Responsive Landing Page Templates for WordPress
SeedProd has over 183+ landing page templates and more than 57+ pre-made website kits to choose from. Below we've hand-picked some of our favorite designs that you can customize to fit your business needs perfectly.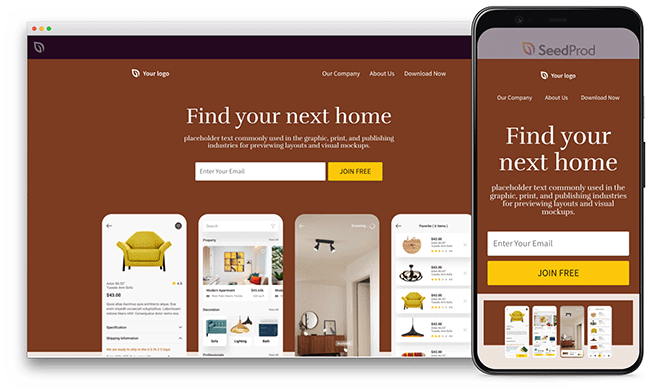 Habitat is a beautiful responsive sales page template designed for app landing pages. It features an interior design theme, but you can easily customize it to suit the needs of your digital product or physical goods.
The header includes space for your business logo and custom menu links to learn about your company. After, it captures attention with an opt-in form designed to grow your email list.
With a subtle color scheme, visitors' eyes are instantly drawn to the high-quality images, and the fonts are easy to read without squinting at the screen.
The key elements of this template are as follows:
Nav Menu
Image block
Headline
Optin Form
Button
List
Testimonials
Social Profiles
If you'd like to make a page like this, follow this guide on how to create a sales page in WordPress.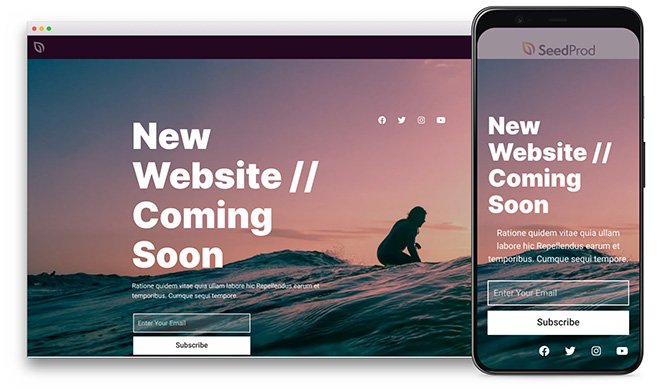 Surf is a responsive coming soon page template with a distraction-free design that aims to help you generate leads in the run-up to launching a new website.
When used with SeedProd's built-in Coming Soon Mode, this landing page will replace your homepage so you can work on your site design behind the scenes without visitors seeing the development process.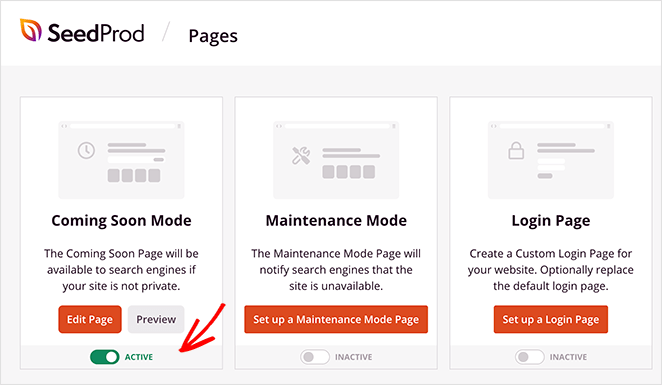 Then, when you're ready to launch your website, you can disable the coming soon mode with a single click.
This template features bold typography to instantly grab attention, a custom full-screen background image, social media profile icons, and an optin form to collect email addresses. It's the perfect way to protect your website while it's under development.
Here's a step-by-step guide on how to create a coming soon page in WordPress with SeedProd.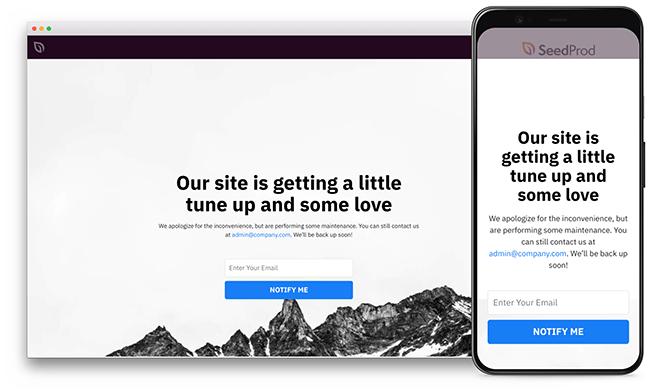 Mountain is a responsive landing page template with a minimalist design that works beautifully for maintenance pages. Like the previous design, it works seamlessly with SeedProd's Maintenance Mode to hide your website behind a maintenance screen during updates and quick design changes.
The template has a monochrome design with a bright pop of color to draw attention to the opt-in form. That way, visitors can sign up for an email notifying them when your website maintenance is over.
You can customize every inch of this template, including the button colors, background image, CSS, and maintenance message. Check out this guide on putting WordPress in maintenance mode to learn how.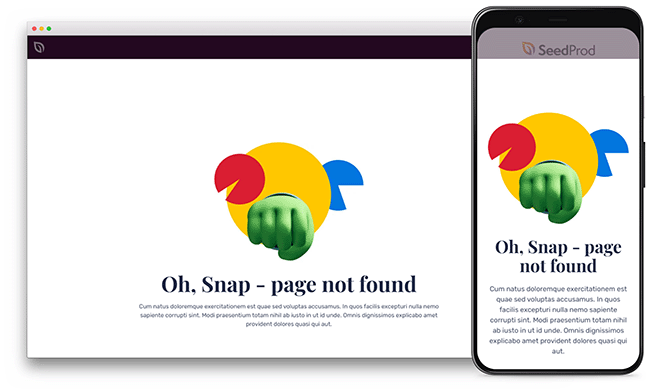 Next is an eye-catching 404 page template you can customize to keep visitors on your website.
404 pages remove the confusion of not landing on the page visitors expect by letting them know there's an error with their request. A good 404 page design will recognize the mistake and guide users back to relevant pages on your site.
This gives you a chance to show valuable content, like links to your homepage, FAQs, relevant products, or any other content that will keep users around when they could have otherwise left.
The responsive Fist Bump template has plenty of room to display relevant content on your 404 page. Beneath the attention-grabbing image and headline, you can add links, recommended products, CTA buttons, and even videos to engage your target audience.
If you need more inspiration, here are some excellent 404 page examples that may help.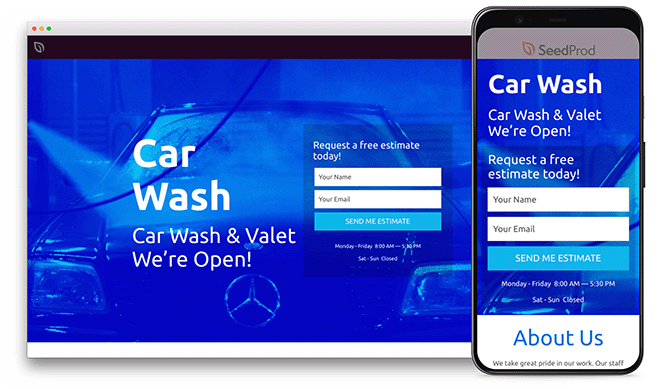 Valet is a template you can use to promote professional services. The default design is aimed at a car wash and valet service, but you can customize it to fit any industry, from freelance writing to personal shopping.
This template has a distraction-free design with sections to tell visitors about your company, showcase your services, and display customer testimonials. It also features a contact form, allowing users to get in touch and request an estimate.
The key elements of this template include the following WordPress blocks:
Full-width section background photo
Headline
Image
Testimonials
Optin Form
Social Profiles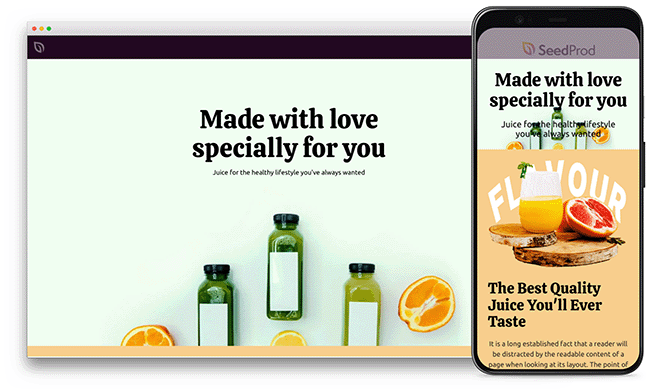 Juicy is a mobile-friendly landing page template that works perfectly for eCommerce websites and online stores. Its bright color scheme is attention-grabbing but leaves enough space to feature your products and services.
One of the stand-out features of this template is how the background image scrolls with the page. This creates an exciting parallax effect, and all it takes to enable it is a few clicks with no custom CSS or HTML required.
This sales page template also makes good use of SeedProd's columns to display crucial information to potential customers. Instead of using a solid color, you can customize the column backgrounds with a gradient or custom image.
You can even use SeedProd's Add-to-Cart button instead of the Button block to encourage users to buy your WooCommerce products.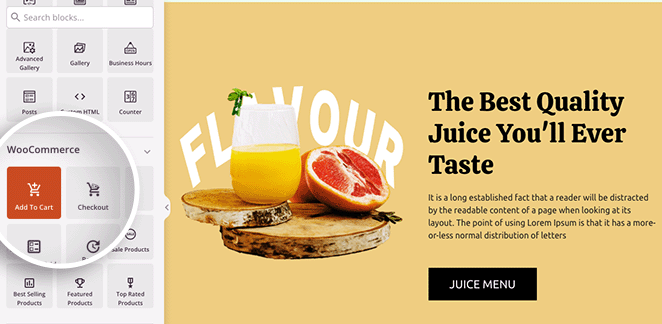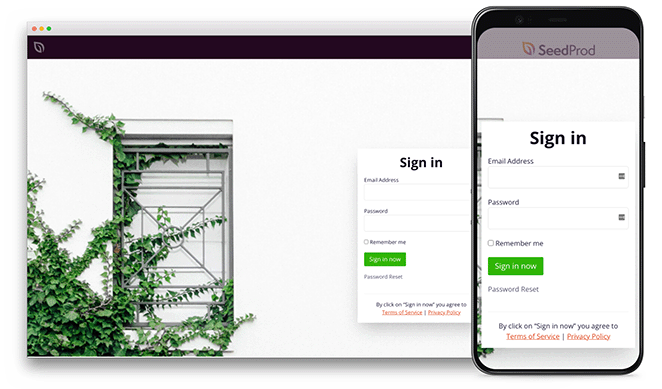 Next is a clean and responsive login page template for WordPress. It works with SeedProd's login page mode, allowing you to create login screens perfectly tailored to your company's branding.
A properly branded login page makes your business look more professional and can help improve trust in your company with its familiar design. Moreover, this can ease potential customers' fears about registering on your website.
With this template, you can put users' minds at rest by adding your business logo, familiar imagery, and a customizable login form. We've also written this step-by-step guide on creating a custom login page in WordPress.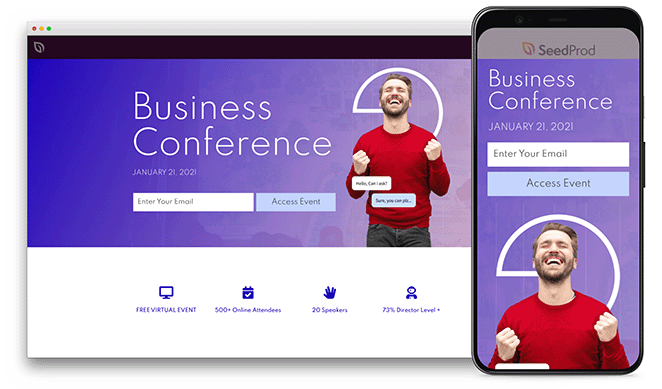 Conference is a landing page template that's perfect for your next webinar, virtual event, or in-person conference. It features an eye-catching header area with a clear call to action, encouraging users to register for your event.
There are sections for displaying event details like the location, date, agenda, and price. You can also feature your event speakers in an attractive grid to increase your webinar credibility.
If you want to host a webinar to grow your email list, SeedProd is an excellent choice. In its integration dashboard, you can connect any optin form to popular email marketing services quickly and easily.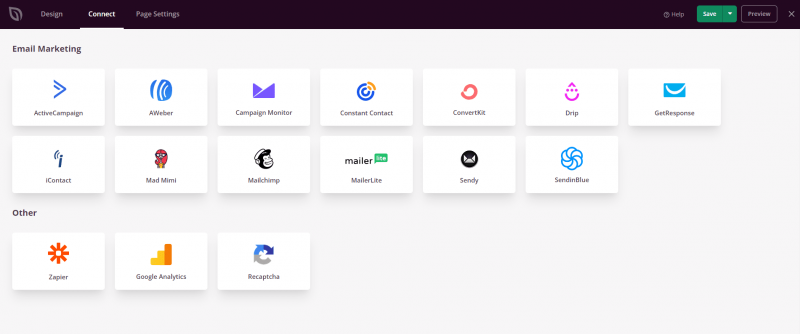 To help you get started, here's a guide on creating a webinar registration page in WordPress.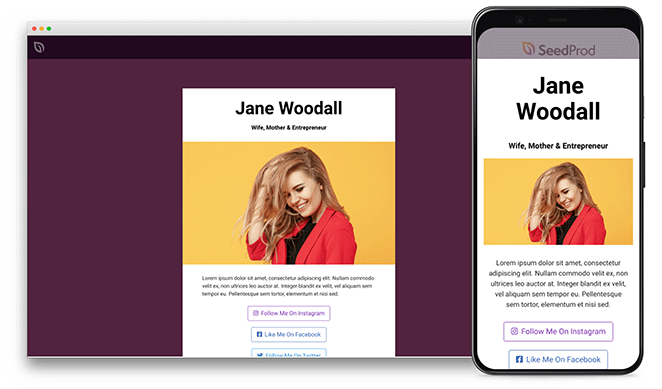 The Personal Links template is ideal if you've ever wanted to make a link-in-bio landing page for your social media profiles. This responsive landing page template lets you display links to your top social media profiles to help grow your followers and social media presence.
You can also add custom links to important blog posts, specific products, affiliate partners, and any other page you want visitors to visit. After creating your page, you can add the link to your bio on Instagram, TikTok, and other social channels to increase brand awareness.
The great thing about creating a link-in-bio landing page on WordPress is it sends valuable traffic to your website instead of a third-party bio link platform. Not to mention, it also only takes a few minutes to create.
Did you know that thank you pages have massive untapped potential for your business? Far from simply thanking website visitors, you can use them to generate more leads, increase product awareness, and even boost your revenue.
Take this responsive eCommerce landing page template. It starts off by thanking visitors, then offers a 50% discount, and uses urgency to spur users to redeem it.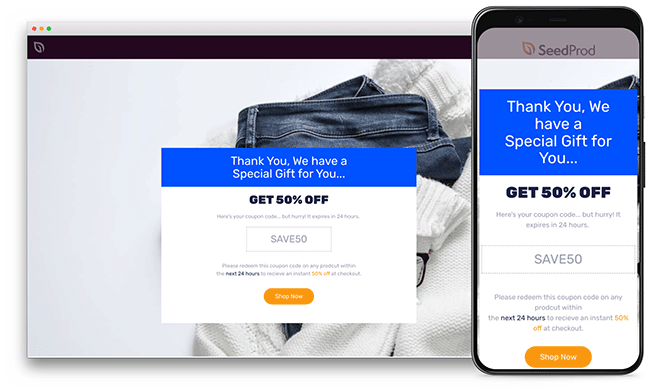 If you use this tactic on your thank you page design, you can turn fresh leads into paying customers in minutes, all from some strategic landing page elements.
Want to make something similar? Follow this guide to learn how to create a thank you page in WordPress.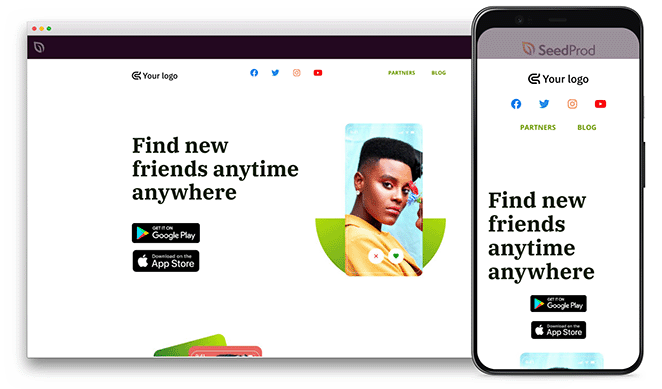 Last but not least is a responsive template that's well-suited to promoting mobile apps. Its clean, minimalist design has everything you need to encourage flocks of mobile users to download your application.
You can upload icons for the Android and Apple app stores, link them to your download page, and showcase why users should choose your app over your competitors.
Want even more mobile control? With SeedProd, you can control mobile and desktop elements individually, so you can serve 2 completely different versions of your landing page depending on whether visitors browse on a computer or mobile device.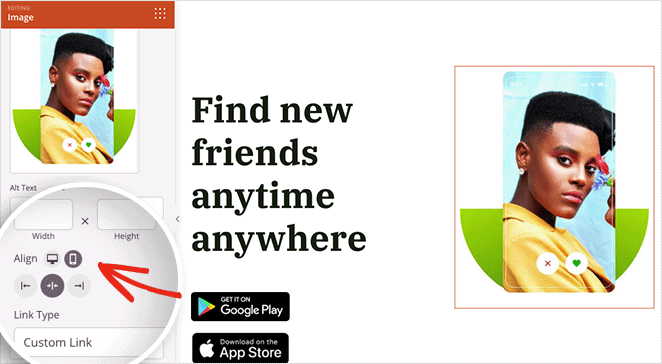 Next, Create a Mobile Responsive Landing Page
Now that you have some stunning designs to inspire your creativity, the next step is to start building your own responsive landing page.
Creating any page with SeedProd's responsive landing page templates and visual editor is a breeze. You can customize every element in real-time and generate leads for your business in less than 30 minutes. Plus, the latest version of SeedProd lets you add eye-catching animations without code.
Ready to try it yourself?
Thanks for reading. Please follow us on YouTube, Twitter, and Facebook for more helpful content to grow your business.