Have you ever wondered what the difference is between WordPress Coming Soon vs Maintenance Mode and when you should use them?
A coming soon page tells people your website is launching soon while hiding the development behind a landing page. Maintenance mode is similar, but you should only use it when making minor updates to your site.
This article explains the difference between coming soon and maintenance mode so you can use the right plugin and mode at the right time to protect your site's SEO.
Let's kick things off by learning about WordPress coming soon mode.
What Is a Coming Soon Page vs Maintenance Mode?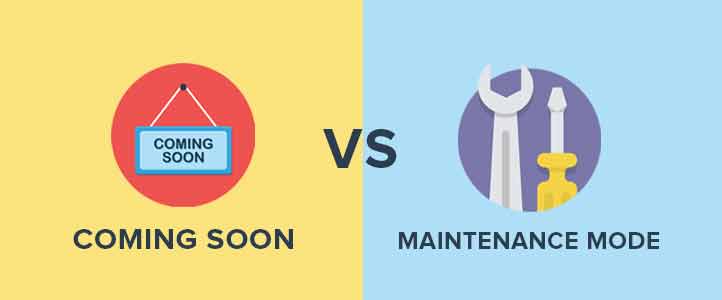 A coming soon page or construction page is a webpage that gives visitors a preview of what's coming soon while you work on your WordPress site behind the scenes. The majority of WordPress coming soon pages also include several features to help you market your website before launch.
When Should I Use a Coming Soon Page?
The best time to use a coming soon plugin is when you're building a new website. When you put your coming soon notice up, you can hide your site until it's ready.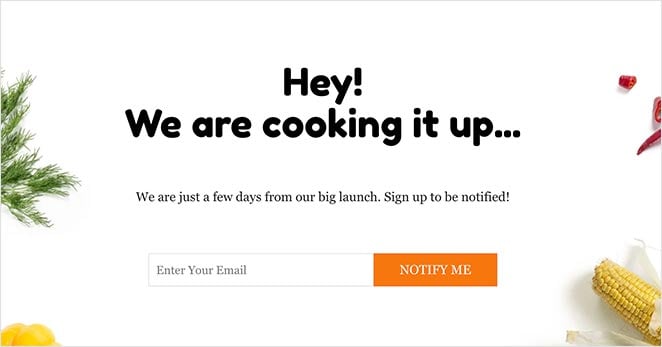 Building a coming soon page also gives you a head start in getting your site ranked by Google and other search engines, making it easier for potential customers to find your business from day 1.
This ultimate SEO guide can teach you more about using search engines to increase your traffic.
How Do I Create a Coming Soon Page?
One of the best ways to create a coming soon page is to use a website builder that includes coming soon functionality like SeedProd. You can add a stunning coming soon webpage to your site without knowing how to code.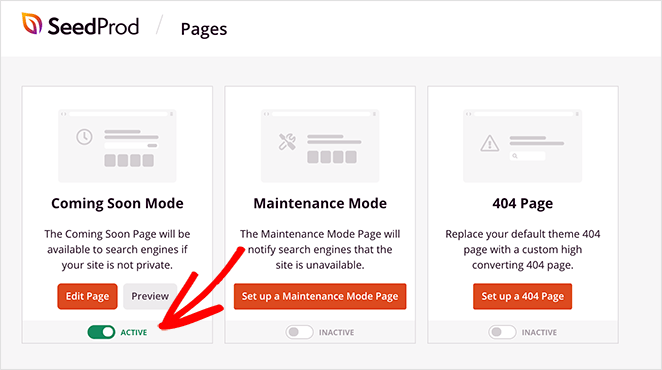 With a coming soon page plugin, you make use of the following features:
Design elements: Prelaunch pages hide the messy construction side of your website, which would otherwise put visitors off. Instead, you can display an aesthetically pleasing page to visitors with stunning background images, custom fonts, and more.
Lead generation: The SeedProd landing page and coming soon page plugin include the ability to display subscription forms you can use to collect email addresses and grow your email list.
Social media: The best coming soon pages can display social follow and social media sharing buttons to help you grow your audience before launch.
Launch countdown: Countdown timers also feature in coming soon page plugins to notify visitors when your site goes live. This creates urgency and inspires anticipation.
Contact forms: Most pre-launch plugins include contact forms so users can get in touch and ask questions.
Take a look at this step-by-step guide to create a coming soon page with SeedProd:
First, download a copy of SeedProd to your computer.
Next, install and activate the plugin on your WordPress website. You can follow this guide on installing a WordPress plugin if you need help.
After installing and activating SeedProd, go to SeedProd » Settings and enter your plugin license key.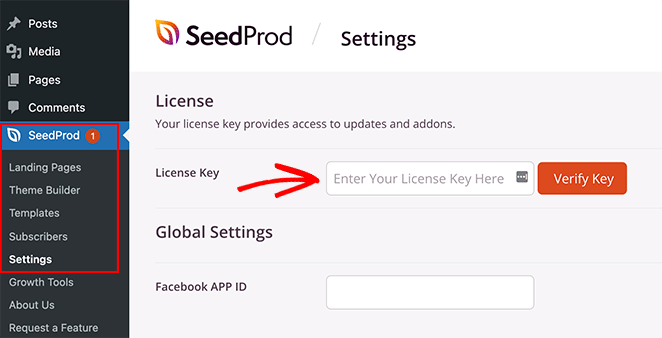 You can find your license key by logging into the SeedProd website and clicking the Downloads tab.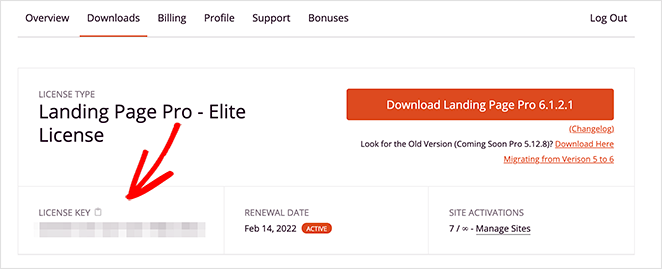 Paste your license key in the text field and click Verify Key to unlock your Pro plugin features.
Next, go to SeedProd » Landing Pages from your WordPress dashboard and click the Set up a Coming Soon Page button.

You can then choose a coming soon page template from the landing page templates library. Find a template you like, hover over the thumbnail, and click the checkmark icon to open it in the drag-and-drop builder.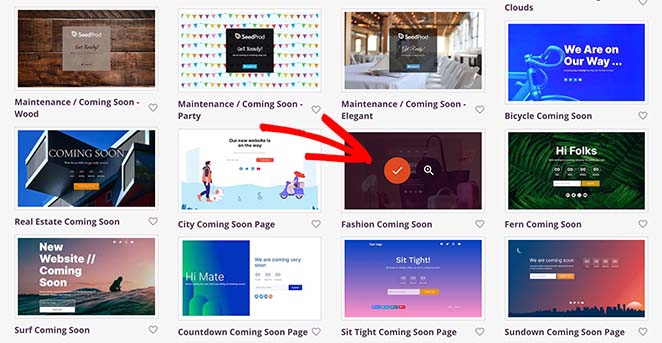 You'll see blocks and sections on the left of your screen. Then on the right is a preview of how your page will look.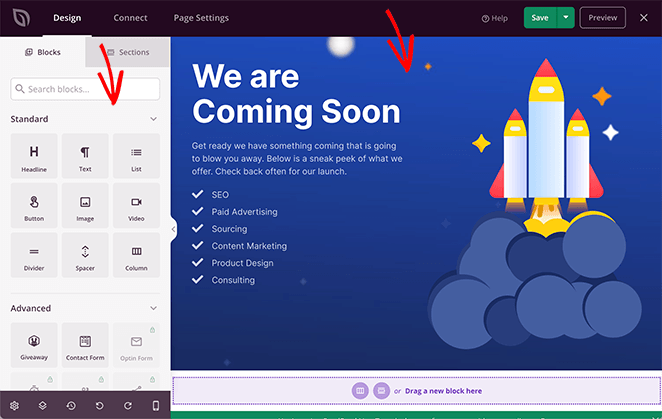 To customize your page, drag a block from the left and paste it onto your design. For example, you can add a contact form to collect user feedback with the Contact Form block.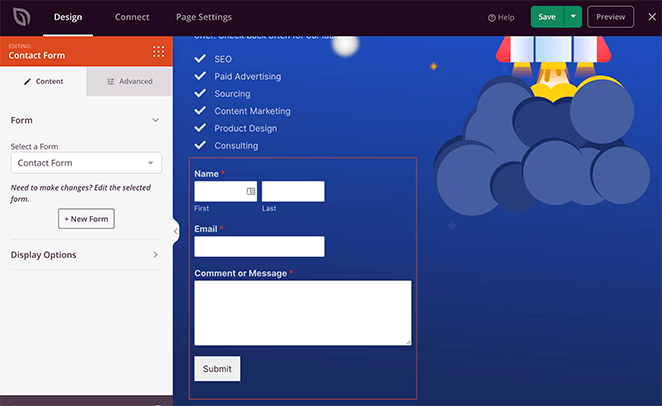 There are also options to change the font, background image, text and color of the button, etc.
To integrate your coming soon page with an email marketing service, click the Connect tab. From there, follow the instructions to connect to your chosen email provider.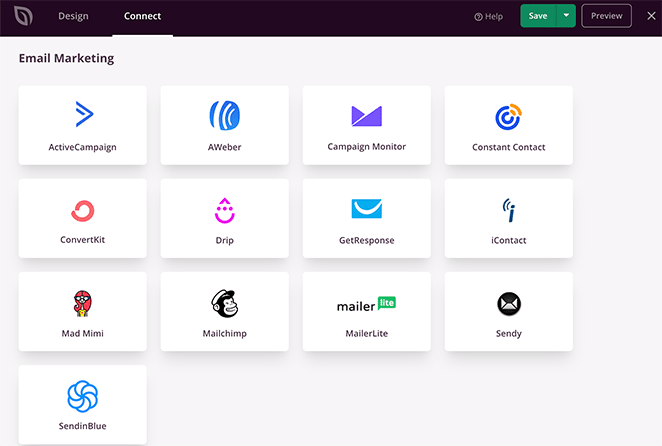 When you're happy with your coming soon page design, click the Save button in the top-right corner of the page builder and select Publish. You can then exit the builder and head back to the SeedProd dashboard.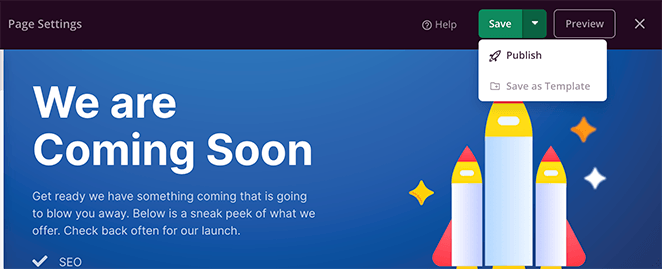 When you're back on the landing page dashboard, find the toggle under the Coming Soon Mode Section. You'll need to turn the toggle to the Active position.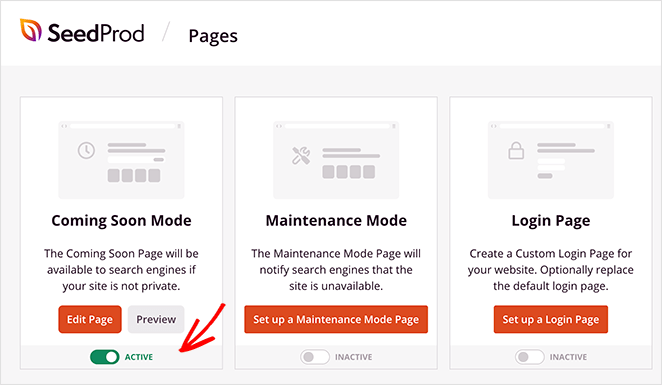 You can now preview your website and see the coming soon page in action.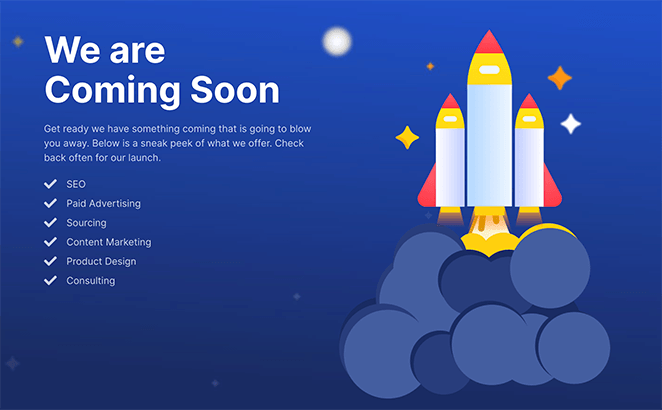 What Does Maintenance Mean?
A maintenance mode page is a notice shown to visitors when making minor changes to your website. Website maintenance mode, often referred to as wp maintenance mode, returns a header code (503) to notify search engines that your website is under maintenance so it doesn't negatively affect your site's reputation.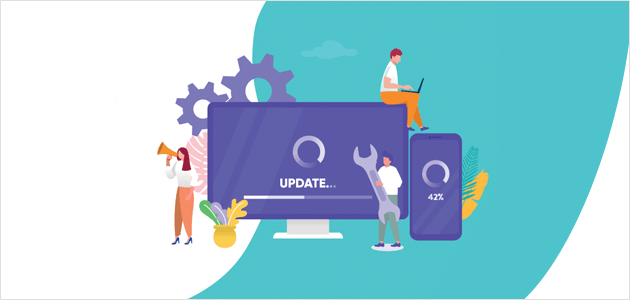 Most website owners set a time for planned website maintenance. The Google bot, which crawls your site for updates, knows when to return to your site and continue crawling.
It's also good practice to add a message to your website maintenance page, telling visitors that your site is temporarily unavailable and under maintenance. You can combine your message with an opt-in form to email visitors when your site is accessible again.
When Should You Enable Maintenance Mode?
The best time to enable wp maintenance mode on your website is to make minor changes or updates to your site. Then only logged-in users can see those changes. Other visitors will then see an under-maintenance page.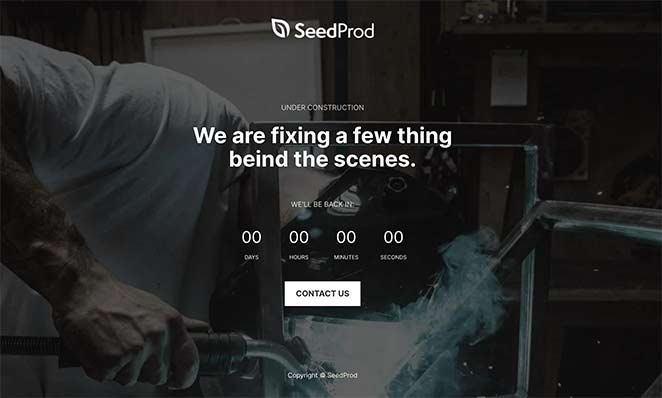 You can also use a WordPress maintenance mode plugin in the following scenarios:
As you can see, a maintenance page is best used in temporary situations for a day or 2 at most.
How Do I Put My Website In Maintenance Mode?
You can use a website maintenance mode plugin to put your site into maintenance mode.
SeedProd is the best WordPress plugin for enabling both maintenance mode and a coming soon page separately in WordPress. That means you won't need to add 2 different plugins to your site and activate either mode as and when you need to.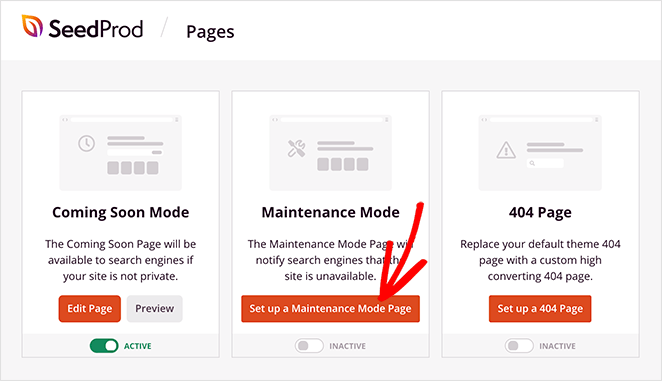 You can also use it to password protect your site while under development, so you can show your clients the landing pages you're working on without displaying them to the public.
Not to mention, SeedProd is a powerful landing page builder that lets you create any type of landing page in its visual drag-and-drop builder.
It also includes a dedicated WordPress theme builder, allowing you to create a custom WordPress theme without hiring a developer.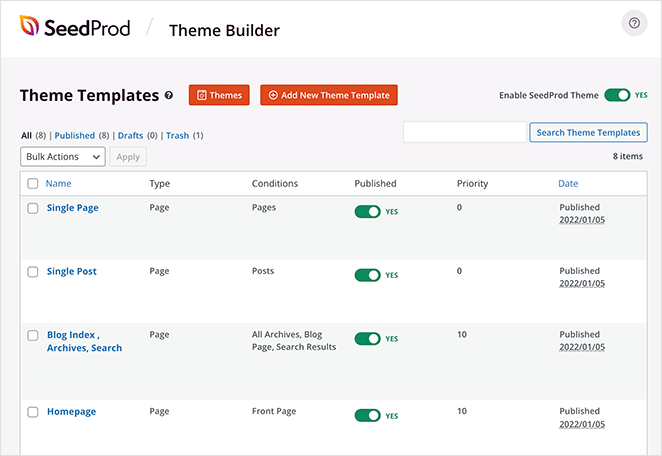 Moreover, it integrates with various third-party plugins and tools such as Google Analytics, Zapier, and popular email marketing services.
You can get the free version of SeedProd from the WordPress plugin directory, whereas to take advantage of all the best features, it's worth upgrading to the pro version.
Check out this guide to learn how to put your WordPress site in maintenance mode:
First, follow the steps above to install and activate the SeedProd plugin. Then go to SeedProd » Landing Pages and click the Set up a Maintenance Mode Page button.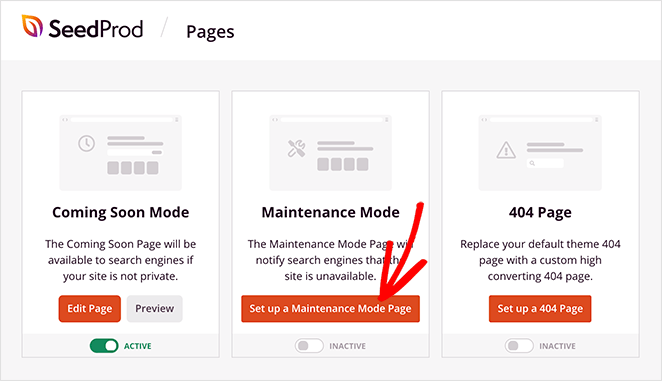 You can choose a maintenance mode template from SeedProd's template library. Hover over a thumbnail and click the checkmark icon to open a template in SeedProd's page builder.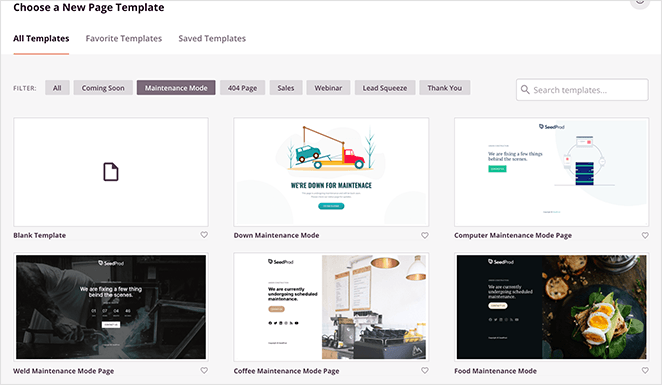 Now you can customize your maintenance page with SeedProd's blocks and sections. For example, you can use the option form block to collect email addresses when your website is temporarily unavailable.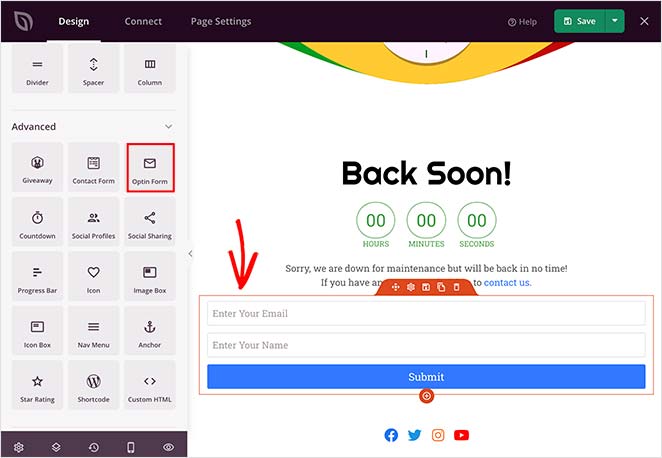 When you're happy with how your maintenance page looks, click the Save button and select Publish.
Now exit to the SeedProd dashboard and find the toggle under the Maintenance Mode section. You'll need to change it from the Inactive to Active position to enable maintenance mode.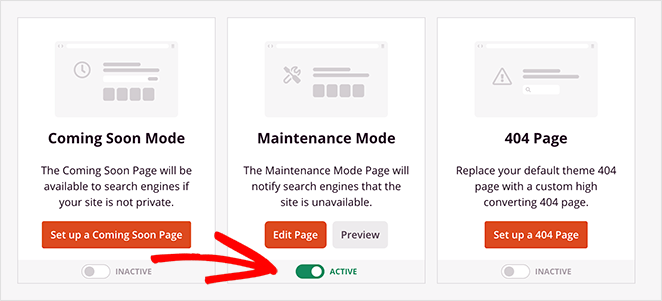 When you preview your website, you'll see your maintenance page in action.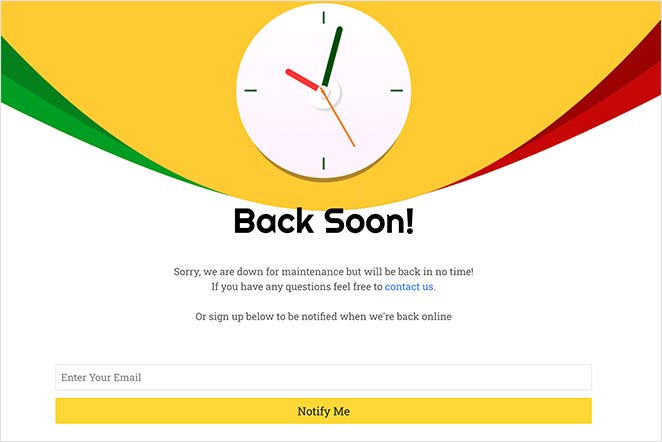 Coming Soon vs Maintenance Mode: What's The Difference?
When it comes down to it, here are the critical differences between coming soon and maintenance mode:
Coming soon mode is for hiding a site while it's under construction, so search engines can index the page before you launch.
Maintenance mode is for small updates and changes to your site and tells visitors your website is under maintenance and will be back soon. It also sends a 503 notification to search engines, telling them the downtime is temporary.
If you were to use a Coming Soon page when your site is down for website maintenance, Google could index that page as your site, negatively affecting your SEO.
On the other hand, if you use Maintenance Mode when your site is launching, Google will not index your site.
Frequently Asked Questions (FAQs)
How does enabling Coming Soon or Maintenance Mode impact my site's search engine visibility?
When you enable Coming Soon mode, your website can still be indexed by search engines, which is great if your site's new and you want to build an online presence. On the other hand, Maintenance Mode sends a status code to search engines, indicating the site is temporarily unavailable. This prevents search engines from indexing your under-maintenance content and potentially impacting your SEO negatively.
Can I customize the look and feel of my Coming Soon or Maintenance Mode page?
Yes, most plugins, including SeedProd, allow you to customize these pages. You can change the background images, fonts, and layout to match your brand. Some plugins also offer features like countdown timers, contact forms, and social media buttons to enhance your page.
What happens to my website's traffic when I enable Coming Soon or Maintenance Mode?
Visitors to your site will see the respective page coming soon or maintenance page instead of your regular content. This means that while your site is under construction or maintenance, you can still engage with your audience, collect email addresses, and build anticipation for your launch or return.
Final Thoughts
When launching a website or going down for maintenance, make sure you use a plugin like SeedProd, which includes both options.
Using the wrong mode could significantly impact your SEO efforts and cause headaches for you and your clients.
And don't forget to follow us on Facebook and Twitter for more helpful tips and tutorials.