Are you looking for the best contact form plugin for WordPress? A contact form is one of the most crucial elements for your WordPress site. With an excellent free form builder, you can gather essential customer feedback and spearhead your business growth.
In this article, we'll help you discover the best contact form plugin for WordPress to perfect form building on your website.
What Are the Best Contact Form Plugins for WordPress?
Finding the best contact form plugin for WordPress mostly depends on why you need it.
You can look into free WordPress form plugins if you need a basic contact form. If you're after something more detailed, a premium contact form plugin may have the advanced features you need.
Below you'll find the best contact form plugins to help you grow your business:
Best Contact Form Plugin for WordPress
WPForms is the best contact form plugin for WordPress and the most user-friendly form builder on the market. Over 5 million websites use its powerful features, and the simple drag-and-drop form builder makes building forms effortless for beginners.
The WPForms contact form plugin is ideal for building simple contact forms without knowing any code. The design process is fluid and intuitive; click, drag, and drop to create any form you like. Its range of pre-built form templates will have you up and running in minutes.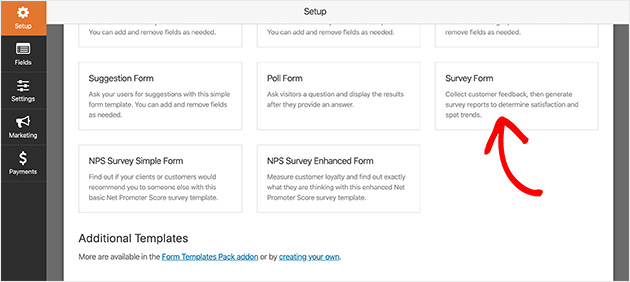 WPForms Lite vs Pro
WPForms has 2 versions available, WPForms Lite and WPForms Pro.
The Lite version is available for free from the WordPress plugin directory, so you can download, install, and activate it on as many sites as you like.
In the free version are all the essential tools you need to build a simple contact form, such as the following features:
Basic form fields to build your form.
Email notifications are sent to your email address for form submissions.
Captcha for spam protection.
A thank you page for form confirmation messages.
Moreover, the premium version of WPForms lets you build any type of form you'd like with the help of the pre-built form templates such as:
Email subscription forms
Payment forms
With WPForms Pro, you can also access more sophisticated form features, including file uploads, form abandonment, user-submitted content, geo-location, signatures, and user registration.
For example you can see all your form submissions within your WordPress dashboard, so you won't need to flick between browser windows to check your messages. Because WPForms integrates with popular email marketing services, you can keep your email address list up-to-date.
The Surveys & Polls addon for WPForms is easily the best survey plugin for WordPress.
You access real-time polls and survey reports alongside advanced survey fields such as Likert scales, star ratings, and Net Promoter Score (NPS) surveys. You won't need to pay for a third-party survey subscription.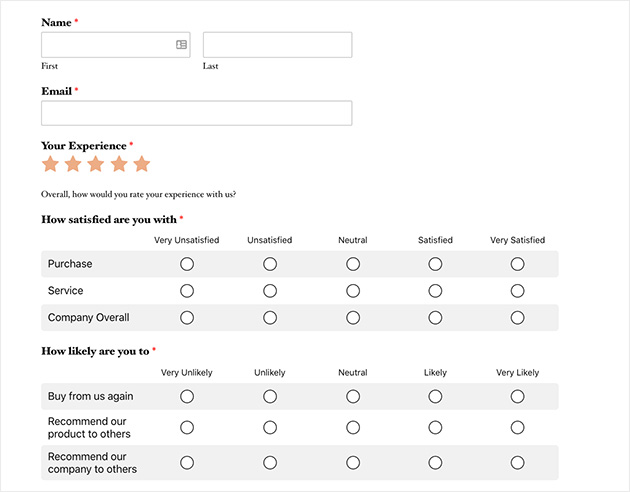 What's more, the main aim of WPForms is to be the most user-friendly form plugin around. So, this is why it doesn't have the more intricate features other form plugins have.
WPForms Performance
We tested the WPForms Lite plugin for its impact on site speed and performance. Here are the key findings:
Google Page Speed Insights: The plugin had nearly no negative impact on the Google Page Speed Insights Scores for both desktop and mobile.
GTmetrix: The plugin did not significantly affect the GTmetrix web speed test results, indicating it is lightweight and well-coded.
Pingdom: Similar to GTmetrix, the Pingdom web speed test showed virtually no measurable negative impacts caused by installing and activating WPForms Lite.
Overall: The plugin is rated as "SAFE," meaning it causes no negative site speed impacts. While it doesn't speed up your site, it also doesn't slow it down.
WPForms is our favorite solution and one of the best form plugins.
WPForms Pricing
Since WPForms Pro starts at $39.50 per year, it's an inexpensive opportunity to consolidate the powerful features you need into a single WordPress plugin. You can always use the free WPForm Lite plugin to try it before upgrading to the more feature-rich version.
Why not check out this in-depth WPForms review for the full details?
Advanced WordPress Form Plugin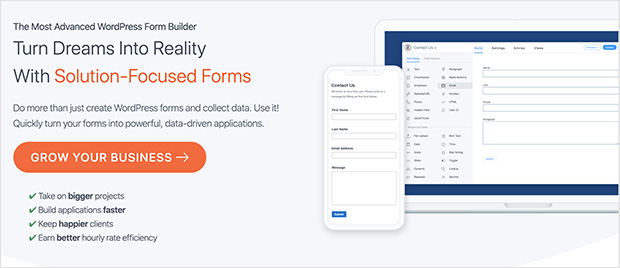 Formidable Forms is another top WordPress contact form plugin with advanced features. This solution aims to help you build more complicated forms to suit a wide range of more complex and specific needs.
Formidable Forms is the best all-in-one WordPress form builder for the job if you want to go beyond the simple WordPress contact form.
Its powerful add-ons and drag-and-drop builder help you to create advanced forms such as:
Payment forms
Profile forms
Complex survey forms
Quizzes
The Formidable Views feature lets you format, filter, and show data submitted by users on the front end of your site. This makes it ideal for building job-board listings, rating systems, calendars, etc.
Using the advanced calculations fields, you can also build sophisticated order forms, mortgage calculators, and quote calculators.
Everything also integrates with popular email marketing services and payment systems. Plus, for WooCommerce users, there's WooCommerce integration too.
Because Formidable Forms lets you create more complex and detailed forms, it's not as user-friendly as WPForms.
However, developers or agencies looking for a data-driven solution with advanced features will find that Formidable Forms will more than meet their needs.
Formidable Forms Pricing
Formidable Forms starts at $49 per year with a 14-day money-back guarantee.
WordPress Form Plugin & CRM

The HubSpot WordPress plugin gives you access to all of HubSpot's powerful marketing and sales tools, including a contact form builder, right from your WordPress dashboard.
With zero code required, you can get started with a pre-built contact form template and customize everything using the drag-and-drop builder.
Aside from contact forms, with HubSpot, you can create:
Registration forms
Newsletter signup forms
Event registration forms
And more
No matter what type of form you make, HubSpot will automatically save all submissions and contact details to the free HubSpot customer relationship manager (CRM) so that you can easily keep track of everything.
After submitting the form, you can also show a thank you message or redirect people to a different page. Beyond that, you can also send customizable email notifications or even launch a sequence of multiple emails when someone submits a form.
HubSpot even offers live chat and chatbot features, which lets you create more conversational contact methods.
HubSpot WordPress Plugin Pricing
The HubSpot contact form builder, WordPress plugin, and CRM are all free.
Popular WordPress Form Plugin

Ninja Forms is a popular WordPress contact form plugin allowing you to create interactive forms with minimal effort. It works on a premium model, which means it has basic features for free and has a paid version for more advanced needs.
Because the basic version of Ninja Forms is free, you can download it and activate the plugin on as many WordPress sites as you'd like. This makes it easy to build a simple contact form, for instance.
The range of premium add-ons helps you to extend the functionality of your forms, such as:
Build dynamic forms with conditional logic
Build forms with a drag-and-drop interface
Allow users to upload files
Integrate with Zapier
Add payment options
There's also plenty of documentation to help you set your forms up.
While the base Ninja Forms plugin is free, the add-ons are not. You'll have to upgrade to the pro version to do more than create a basic form.
Ninja Forms Pricing
Ninja Forms is a free contact form plugin; however, you'll need the premium version to get the best use, starting at $99 per year.
Advanced WordPress Form Plugin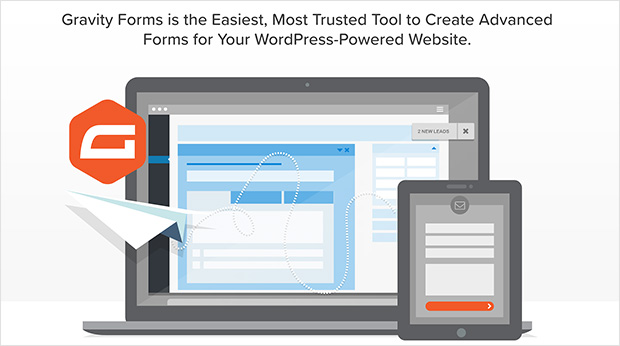 Gravity Forms is a WordPress form builder plugin packed full of advanced features. And like Formidable Forms, they're geared towards helping developers build forms that need more sophisticated options.
Gravity Forms is a powerful drag-and-drop form builder for WordPress that you'll need to pay for.
Purchasing a license gives you access to add-ons that can help you build the following type of forms:
Quizzes
Web directories
User-submitted content
Customer order forms
Subscription form
Survey forms
Help is always readily available in support forums, FAQs, email, support, and their knowledge base.
There is no free version of Gravity Forms, so choosing this WordPress contact form plugin can be expensive compared to other plugins. But if you'll be using it for several different websites, the benefits should soon outweigh the cost.
Gravity Forms Pricing
Gravity Forms pricing starts at $59 per year for a single website.
Simple Best Contact Form Plugin for WordPress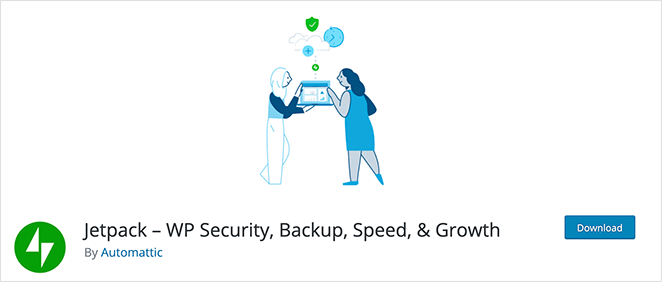 Jetpack forms are part of the free Jetpack plugin for WordPress, which offers a variety of tools for enhancing your site. It allows you to create several types of contact forms, including:
Feedback forms
Newsletter sign-up forms
Appointment forms
Registration forms
This plugin works well with the WordPress block editor, making it easy to build customized forms with blocks visually. In addition, you can edit your form settings right inside the WordPress editor and integrate with Akismet for spam protection.
Jetpack forms are ideal if you already use the Jetpack plugin.
However, one downside to this plugin is the extra features that come bundled with it. While you can turn them off, they still add bloat to your website that may impact your page speed.
Jetpack Forms Pricing
The contact form feature of Jetpack is part of the plugin's free version.
Free WordPress Form Plugin

Contact Form 7 is the oldest contact form for WordPress around. It's also one of the most downloaded WordPress plugins in the official WordPress directory.
Contact form 7 lets you build multiple contact forms for your site. And it's a free form plugin that allows you to upload it to as many sites as you'd like.
You can extend its functionality by installing third-party plugins that act as add-ons, many of which are also free to use. Contact Form 7 includes spam filtering with Akismet and Captcha, simple markup, and Ajax-powered submitting.
Contact Form 7 isn't a very user-friendly option as it's difficult for beginners to set up due to the lack of an intuitive user interface.
While several add-on plugins add more functionality to your forms, finding them is challenging as there's no directory to search through.
Contact Form 7 Pricing
Contact Form 7 is a free WordPress form plugin.
Freemium WordPress Form Plugin

Everest Forms is another powerful contact form builder for WordPress. Its form-making interface is easy-to-use, allowing beginners to more advanced users to create contact forms quickly.
This plugin also includes a drag-and-drop form builder with a live preview. For instance, you can drag and drop fields to create any form without restrictions.
Additionally, this form plugin has several templates you can use. And with real-time notifications, you'll always know when someone fills in your form.
Everest Forms Pricing
This plugin is free to use. However, for advanced features, you can upgrade to the premium version.
What Is the Best Contact Form Plugin for WordPress?
When looking at the contenders for the best form plugins, we have two solid suggestions to cover everything you could need.
Best WordPress form plugin for beginners – WPForms is hands down the best solution for beginners wanting to know how to create a contact form in WordPress. It's easy to use, packed full of advanced features, can prevent spam submissions, and has a free and low-cost premium version.
Best WordPress form plugin for advanced users – Formidable Forms is our expert pick for building complex forms that agencies and developers can use for data-driven and form-focused solutions.
Best Contact Form Plugin for WordPress FAQs
What is the best free contact form plugin for WordPress?
WPForms Lite is the best free contact form plugin for WordPress. The free version of WPForms has everything you need to build effective forms easily without touching a single line of code.
Which is better, Contact Form 7 or WPForms?
While Contact Form 7 is a great form builder plugin, WPForms is a much better solution. It is incredibly beginner-friendly, but it's also regularly updated with new and improved features and has a top-notch support team.
How do I create a beautiful contact form for WordPress?
So there you have it.
You now know our expert suggestions for the best contact form plugin for WordPress. All that's left is for you to choose your favorite and build your forms.
And if you want to enhance your site further, our top suggestions for the best WordPress plugins will help you do just that. Please go check it out!
If you liked this article, join us on Facebook and Twitter for even more guides like this.