Are you looking for the best WordPress search plugin for your website?
The default WordPress search feature isn't always the best, with limited search functionality. But the good news is there are several WordPress plugins that can significantly improve site search for your WordPress site.
In this article, we share the best WordPress search plugins for better site search and improved user experience.
Before we dive in, why should you use a WordPress search plugin for your site?
Why Should You Use A WordPress Search Plugin?
As mentioned above, the built-in WordPress search feature is limited and doesn't always work as intended, making it hard for users to find relevant content.
You may not need a search feature right away when launching a new website or blog. But as your site grows, you'll want to make it as easy as possible for website visitors to find the posts or products they want.
Typically, many website owners rely on search engine optimization to help users find relevant content. Yet, adding something as simple as a search bar helps users who are already on your website.
For example, those users may need to find a particular product or blog post they forgot to bookmark, which isn't easy to find through search engines alone.
In the end, site search encourages people to stay on your website with a user-friendly search function. And this results in increased user engagement and higher conversion rates.
Luckily, many WordPress search plugins help you add a search box or search widget to your website. You'll find that some are specific to improving product search on your WooCommerce store, while others can boost the search experience across your entire site.
Best WordPress Search Plugins: Top Picks
If you're looking for the top WordPress search plugins, here are our favorite solutions. This list includes premium and free WordPress search plugins suited to a broad range of WordPress sites.
Video Guide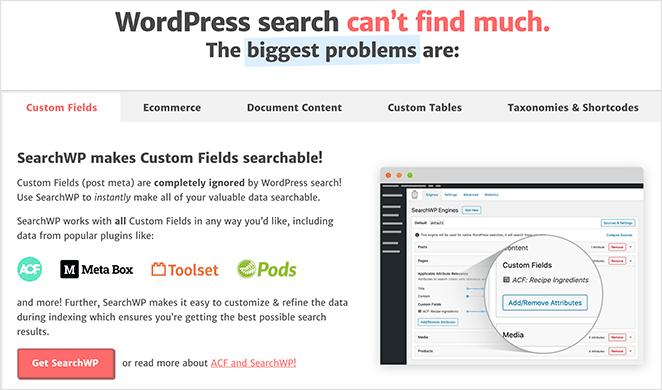 SearchWP is the best WordPress search plugin on the market. It's super easy to use and delivers accurate search results fast.
You can easily search for search terms in post or page titles, content, slugs, categories, tags, taxonomies, post excerpts, and even comments. In addition, you can control the search algorithm by giving different content types a weight from 1 (lowest) to 10 (highest).
As soon as you activate the plugin, it indexes your content automatically and replaces WordPress's default search feature. Plus, it works seamlessly with popular WordPress themes, custom themes, and WordPress page builders – no coding needed.
Features:
Search everything, including product details, advanced custom fields, shortcodes, custom post types, and more.
WooCommerce integration for better product detail search.
Easily exclude content from search results or attribute findings to more relevant results.
Log searches to learn what visitors search for.
Index the content of PDF, Office, and text documents in your WordPress media library.
Easy integration with bbPress and Easy Digital Downloads.
Pricing:
The pricing for Search WP starts from $99 per year.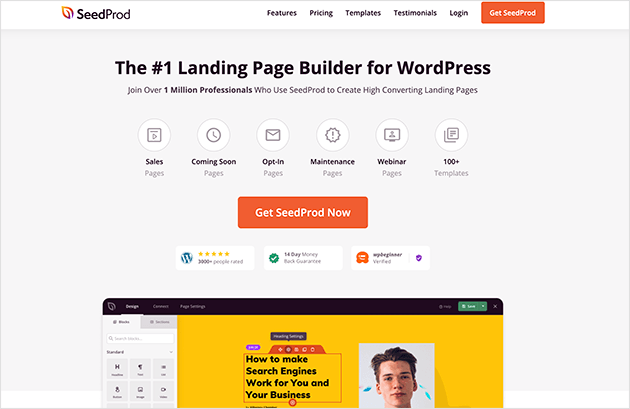 SeedProd is the best drag-and-drop page builder for WordPress. It lets you create any type of landing page without writing a single line of code.
You can choose from hundreds of responsive landing page templates as your starting point, then completely customize the design in SeedProd's visual page editor.
Another excellent SeedProd feature is the many content blocks you can use. These blocks add extra functionality to your page without the hassle of installing multiple WordPress plugins.
For example, you can instantly add a search box with the Search Form block. As a result, anyone that lands on that page can instantly search for what they're looking for.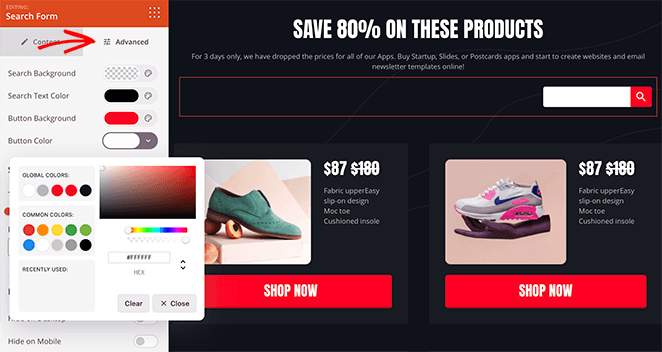 Moreover, SeedProd is also a full WordPress theme builder, so you can create custom WordPress themes without writing code or paying for a developer. From its powerful theme builder dashboard, you can make all the individual parts that make up a WordPress theme.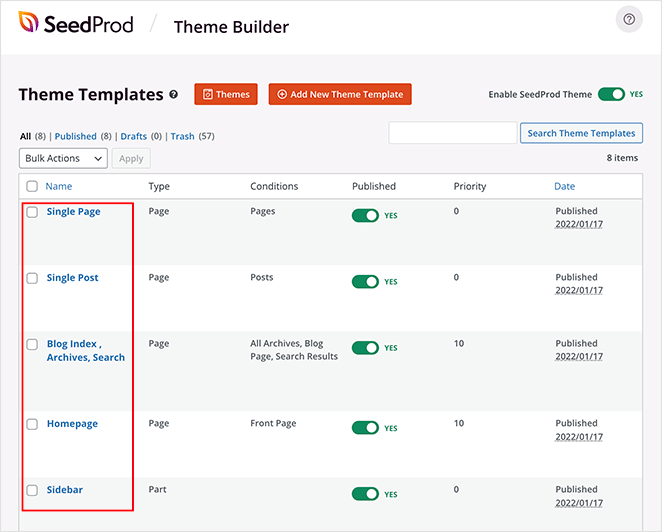 As you can see, that includes a page you can customize to show search results for your website. That way, you site's search page is custom-made to match your brand.
Features:
100% visual WordPress editor.
Easy WooCommerce Integration with custom shopping carts, checkout pages, and add-to-cart buttons.
Built-in coming soon, maintenance, 404, and login page modes.
Lead-generation blocks, including optin form, contact form, CTA buttons, and login forms.
Increase urgency with countdown timers and progress bars.
Add social proof with Facebook and Twitter embeds, social media buttons, and social sharing buttons.
Restrict who can see your website under construction with access controls.
Personalize your landing pages with dynamic content.
Point any landing page to a custom domain with domain mapping.
Pricing:
SeedProd's pricing starts from $39.50 per year.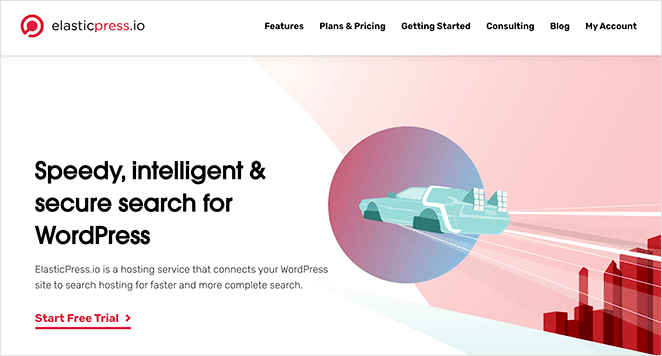 Built on ElasticSearch, ElasticPress is a hosted WordPress search service. That means it doesn't run searches on your website but instead does so in the cloud, resulting in super-fast search results.
This WordPress search platform is both easy to navigate and use. It integrates with any type of WordPress website and works with the top WordPress hosting providers.
In addition, ElasticPress uses live Ajax search to show results instantly as users are typing. What's more, it works seamlessly with WooCommerce products so users can see the products they're looking for quickly.
Features:
Autosuggest results that appear as users are typing.
Customize top search terms to return popular content or products with the Custom Results editor.
The Facets feature allows users to narrow down search results.
Related posts module to show relevant content to keep users interested.
Use the open-source WordPress plugin to connect your site to ElasticPress without code.
Pricing:
The pricing for ElasticPress starts from $79 per month for their lowest pricing tier.

Ivory Search is a free WordPress search plugin that lets you replace the default WordPress search function.
This plugin can create multiple search forms and set each form with custom search settings. This means you can add dynamic search boxes to different areas of your website with more tailored results.
For instance, you can show forms in your header, footer, sidebar, navigation, menu, widget areas, and more. How your search form looks largely depends on your current WordPress theme.
That said, the Ivory Search support team is happy to style it for you if you reach out.
Features:
Search content, images, files, attachments, and products.
Integrates with popular WordPress plugins like WooCommerce and bbPress.
Supports multilingual site search with Weglot, Polylang, and WPFML.
You can track searches using Google Analytics.
Customize your search form with the live WordPress customizer.
Search using Ajax search.
Pricing:
Ivory Search is a free WordPress custom search plugin. You can also upgrade to Ivory Search Pro for $19.99 per year.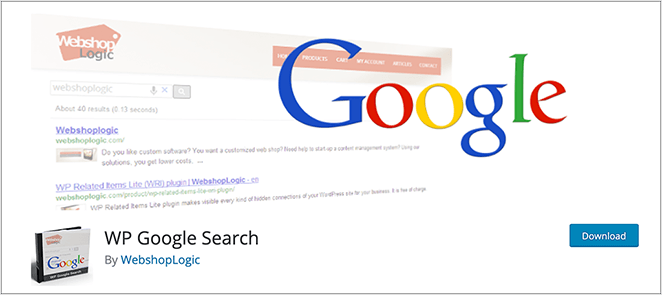 WP Google Search is another free WordPress search plugin. It allows you to replace the default WordPress search function with Google Custom Search.
This is an easy plugin to use, requiring no technical know-how to set it up. First, you'll need to create a Google Custom Search for your website. Afterward, you only need to copy the search engine ID and paste it into the plugin settings.
In addition, WP Google Search includes a WordPress search widget to show your Google Custom Search box in your sidebar or widget-ready area. There's also the option to embed the search form with a shortcode.
Features:
Easily add multiple Google Custom Search forms to your website or a collection of sites.
Define whether users search only your site or the entire web.
Customize the look and feel of your search form on the Google Custom Search Engine admin site.
Optionally show search results in a lightbox popup overlay.
Pricing:
WP Google Search is a free plugin that you can find in the WordPress plugin repository.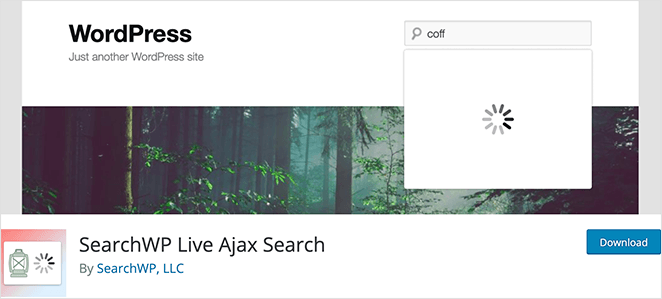 SearchWP Ajax Live is a free WordPress add-on plugin for SearchWP. Yet, it works with any search form that uses WordPress's built-in template tags to display search forms.
This plugin lets you enhance your existing WordPress search feature with live Ajax search. As a result, users will see search results as soon as they start typing.
Additionally, advanced users can access flexible customization options. In the end, this plugin helps you offer a better user experience without requiring your web page to reload and to add Ajax functionality into any search form.
Features:
Enable Ajax-powered live search on any search form.
SearchWP Live Ajax Search is best used with SearchWP, but it is not required.
Easy to use right out of the box.
Includes a WordPress widget to show search forms in sidebars.
Pricing:
SearchWP Ajax Live is a free WordPress plugin.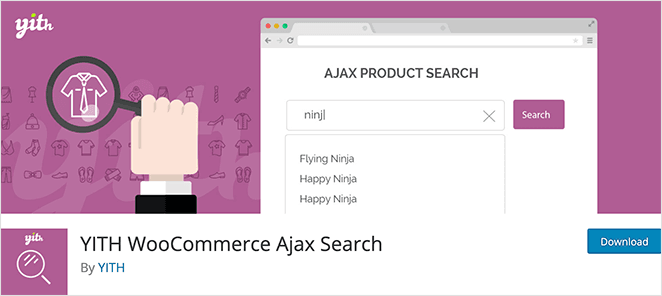 YITH WooCommerce Ajax Search is a popular WooCommerce product search plugin that allows users to search for and find products on your eCommerce website quickly. Users can search product SKUs within different product categories and even filter their results without leaving the page.
What's more, this plugin is highly customizable. For instance, you can display badges, thumbnails, promotions, and prices within the search results. Additionally, it's easy to add search bars to different shop pages and product categories.
Features:
Advanced search for product categories, tags, excerpts, variable products, and more.
Show thumbnails, badges, pricing, and more in search results.
Adjust your search form width to the entire width of your page.
Works with popular WordPress and WooCommerce plugins.
Pricing:
The pricing for YITH WooCommerce Ajax Search starts at $69.99 per year.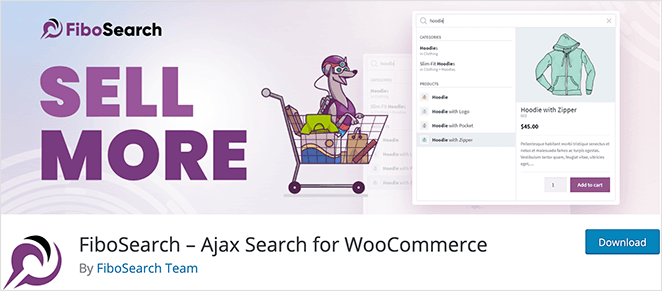 FiboSearch is another excellent free WooCommerce search plugin. It lets users perform searches on your WooCommerce site and see the results instantly with Ajax without reloading the page.
This WordPress search plugin offers a powerful product SKU search with category and tag filtering. You can also add your search form to any product page or product category.
Features:
Search by SKU, product title, and long and short description.
Show images, pricing, and more in search results.
Mobile-first search mode for better user experience.
Embed search forms with a shortcode, menu item, or WordPress widget.
Support for WooCommerce search results page and Google Analytics.
Multilingual support, including WPML, Polylang, and qTranslate-XT.
Pricing:
FiboSearch is free to use on your WooCommerce website. You can also upgrade to the premium version starting from $49 per year.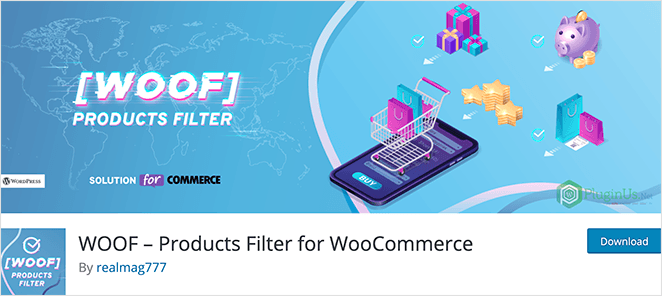 WOOF Products Filter for WooCommerce is an excellent companion for any WooCommerce store. This search tool allows users to filter products using many options, including product color, size, category, and more.
In addition, you can use a shortcode to display the filter in a sidebar widget and include an Ajax filtering option for product sorting without leaving the page.
Features:
Show product attributes in the search form as checkbox, drop-down, multi-drop-down, and radio buttons.
Display product counts in search results.
Filter WooCommerce products by metadata.
Includes infinite scrolling for increased user experience.
Pricing:
This plugin is free to download from the WordPress plugin repository.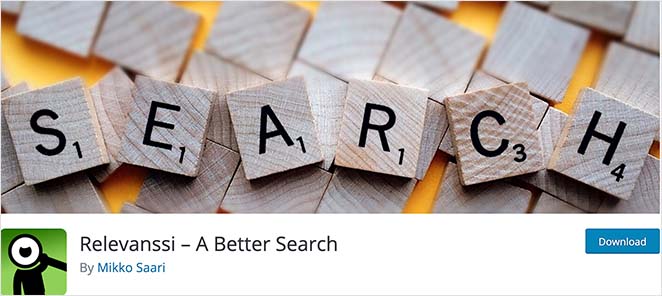 Relevanssi is a popular search plugin for WordPress. It helps you to improve your website's search functionality by delivering highly relevant search results.
Users can use this plugin's search form to search for PDF content, custom fields, user profiles, products, and much more. It's also easy to use with minimal setup options.
Features:

Search results are sorted in the order of relevance, not by date.
Match partial words in a search if complete words don't match.
Adjust the weighting for titles, tags, and comments.
Log queries and show the most popular queries and recent queries with no hits.
Google-style "Did you mean?" suggestions based on successful user searches.
Pricing:
The base version of Relevanssi is free. Yet, you can upgrade to the pro version for $99 per year.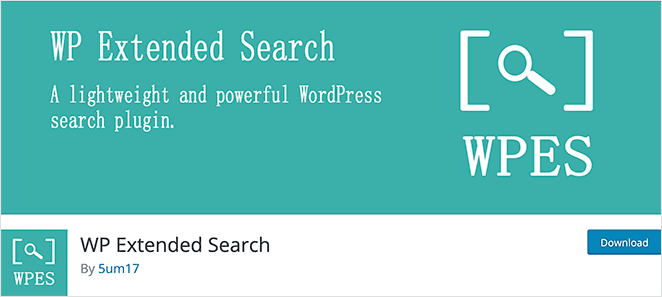 WP Extended Search is a lightweight and minimal WordPress search plugin. As such, you can easily enhance your existing search form's functionality.
Getting started is as simple as choosing which options you want to include in the search form. For example, you can include the author name, post types, taxonomies, metadata, and more.
Even better, you won't need a shortcode or WordPress widget with this plugin. It simply extends the default WordPress search option, so you're good to go right away.
Features:
Search almost anything, including tags, categories, authors, taxonomies, and more.
Control whether to search the title, content, excerpt or all.
Works with WooCommerce product SKU, Attributes, and custom fields search.
Create unlimited search settings with custom search forms.
Easily exclude old content from search results.
Translation ready and compatible with WPML.
Pricing:
WP Extended Search is a free WordPress search plugin.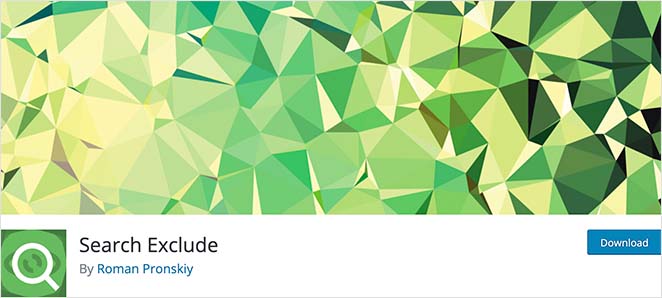 The final plugin in this list is Search Exclude, a simple, lightweight search plugin for WordPress. As the name suggests, Search Exclude allows you to exclude specific items you don't wish to display in search results.
Features:
In practice, it adds a checkbox to the WordPress editor for posts, pages, and products. You can then check the box to exclude that content from showing in your search form results.
Furthermore, you can visit the plugin's settings page and see all the items on your exclusion list. That way, you can quickly evaluate them at a glance.
Price:
Like many of the simpler plugins in this post, Search Exclude is free to download and use on your WordPress site.
Which WordPress Search Plugin Is The Best?
After comparing the plugins above, it's easy to see that there's a clear winner. In our opinion, SearchWP is the best WordPress search plugin for every type of website.
This comprehensive search plugin offers a wide range of features, and the quality of search results is both excellent and affordable for most small businesses. Plus, SearchWP has a WooCommerce addon and a free live search add-on, allowing you to offer powerful product searches on your website.
That's it!
We hope this article helped you find the best WordPress search plugin for your website. You might also like to see this list of the best WooCommerce product grid plugins to boost your revenue.
Thanks for reading. Please follow us on YouTube, Twitter, and Facebook for more helpful content to grow your business if you liked this article.