Are you looking for the best tabs plugin for your WordPress website? Adding customized tabs to your website is an excellent way to show multiple content topics on a single page without complicating your site's user experience.
In this article, we'll share the best WordPress tabs plugins to add both horizontal and vertical tabbed content to your website.
What Is a WordPress Tabs Plugin?
A WordPress tabs plugin is a tool that lets you add tabs to your website to show different content on a single web page. Visitors can click on a tab to see the content inside instead of visiting another page on your site.
Because tabs display content on the same page, they're a great way to increase user engagement, keeping visitors on your site for longer. Tabs can help visitors find the information they need more quickly, helping you boost user satisfaction and improve the browsing experience.
Here is an example of how WordPress.org uses tabs on its plugin page: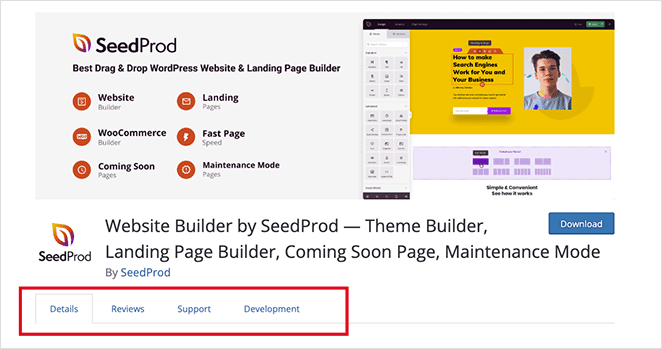 Given the sheer number of WordPress plugins available, how do you choose a tabs plugin that fits your needs? Let's find out.
Best Tabs Plugin for WordPress
When looking for a quality tabs plugin, it's best to search for the following characteristics:
An easy user interface with a quick learning curve
Visual editing and customization options
Compatibility with popular WordPress themes and plugins
Lightweight and bloat-free features to keep your website fast
With that being said, here are our top picks for the best WordPress tab plugins.
Best for creating tabs without code.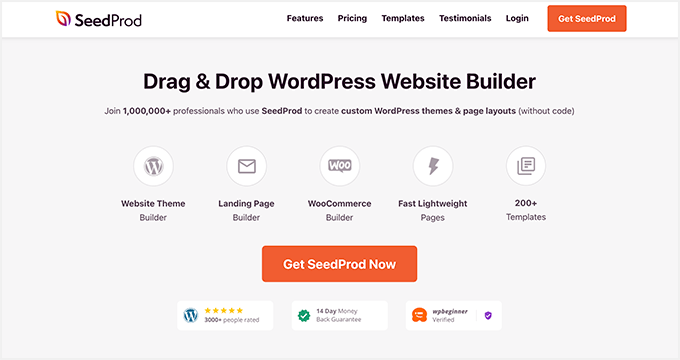 SeedProd is the best website builder with drag-and-drop functionality. It offers countless blocks and visual elements, including horizontal and vertical tabs for showing different content easily, without code.
The tabs block includes a visual text editor, tab icons, and the ability to customize colors, fonts, backgrounds, spacing, and more. Plus, you can turn horizontal tabs into simple side tabs right inside the visual page builder with a few clicks.
SeedProd can also help you:
Are you worried about page speed? SeedProd uses the best coding practices to keep the plugin bloat-free and lightning-fast. You can build at the speed of thought with the assurance that your site will load quickly.
It also doesn't need technical knowledge, so you can jump in and create a responsive set of tabs in a few minutes. Follow this tutorial to create tabs in WordPress with SeedProd.
Tabs Example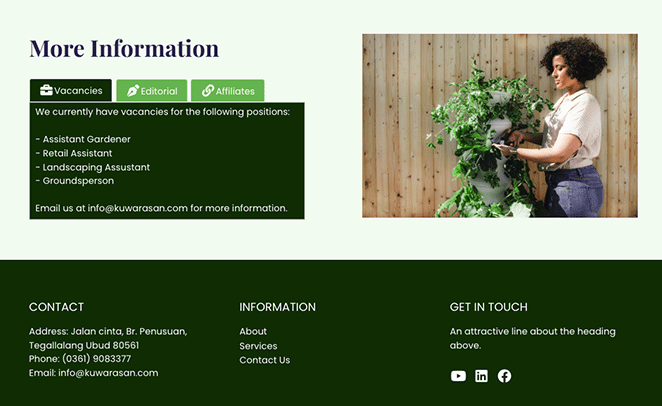 Pricing: Want to try SeedProd before committing? Get an unlimited free trial of SeedProd here. Paid plans start from $39.50 per year.
Best for multilingual tabs.

WP Tabs is the best free tabs plugin if all you need is to add custom tabs to WordPress. Using the easy admin panel, you can create a fully responsive set of tabs, customize how they look, and organize them with drag-and-drop sorting.
Each tab set has its own customization options, including colors, fonts, and styling with point-and-click functionality. The plugin also has RTL compatibility, allowing you to display beautiful tabs for audiences in different languages.
You can add tabs to WordPress posts, pages, and widget areas using the visual block editor, or if you use the classic editor, you can use the WP Tabs shortcode.
Tabs Example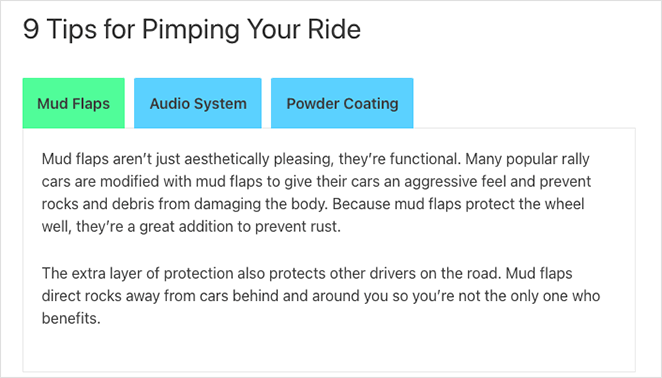 Pricing: Free. Premium plans start from $29 per year.
Best for simple sidebar tabs.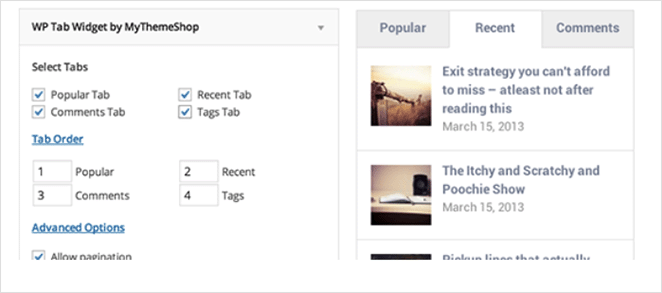 WP Tab Widget is another free solution for website owners needing an easy way to add tabs to their WordPress sidebar. This solution offers AJAX lazy loading, which only loads content when visitors view it, keeping your site fast across all devices.
The tabs you create are mobile responsive, allowing you to show popular and recent posts, comments, and tags in any widget area. You can also set the post date, excerpt, the number of comments, and tabs with advanced controls for the widget title length, thumbnails, and excerpts.
While you can't use this plugin for adding tabs to posts and pages, it's an easy way to add tabbed content to your widget areas.
Tabs Example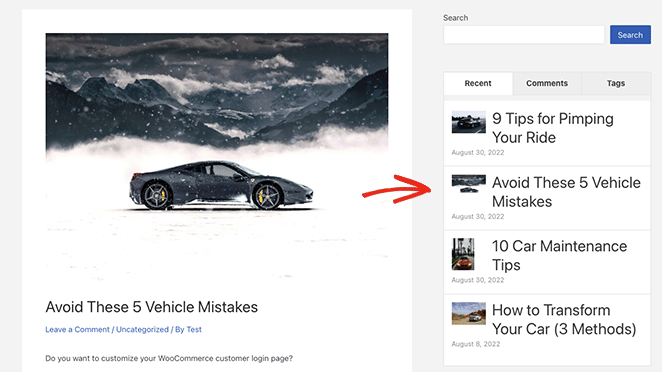 Pricing: Free
Best for responsive WordPress tabs.

Tabby Responsive Tabs is another simple tabs solution for WordPress. It lets you add tabs to posts, pages, and widget areas by copying and pasting a shortcode.
If you're using the WordPress block editor, you can use the shortcode block to show as many tabs as you like and customize the tab descriptions and content. Alternatively, classic editor users can paste the shortcode directly into a post or page.
The free version of Tabby doesn't include an admin panel, so the settings are minimal. That said, the tabs are clean and attractive and automatically convert to a vertical accordion layout on mobile screens.
Tabs Example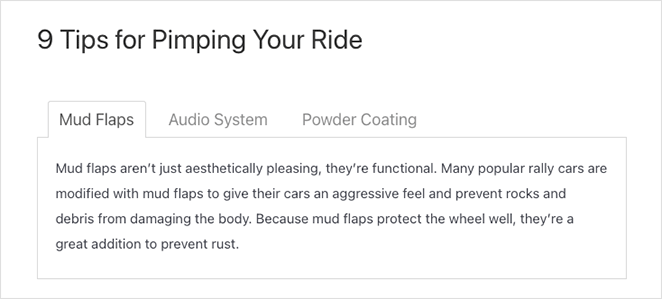 Price: Free. You can get an optional Tabby Tabs Customizer plugin for a single payment of £24.
Best for eCommerce websites using WooCommerce.

Custom Product Tabs for WooCommerce is an excellent solution for adding more product information to your online store. The tabs work on a per-product basis, allowing you to create custom tabs for details like product specifications, reviews, shipping options, and anything else that convinces people to buy your products or services.
You can create a preset of saved tabs and add them with a few clicks or build new tabs inside the product editor. The tab area also uses the standard text editor so that you can add images, links, shortcodes, and HTML.
Even though the customization options are limited, this plugin does exactly what you need to boost sales on your WooCommerce site.
Tabs Example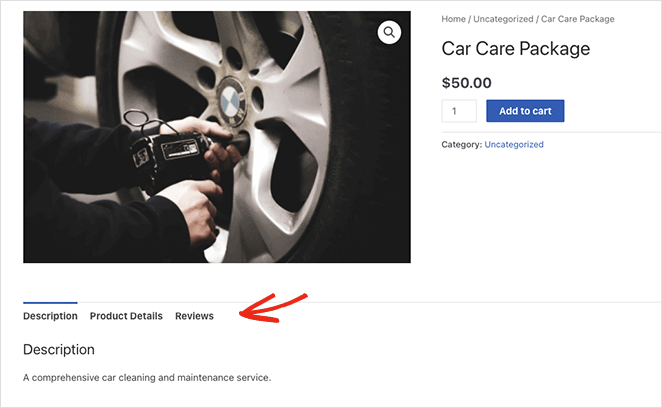 Price: Free. The premium version starts from $29.99.
Best for the WordPress block editor.

Ultimate Blocks is an excellent all-rounder plugin that makes creating engaging content in the WordPress block editor easier. It offers many ways to enhance your site, including using its tabs block for tabbed content, which has 3 tab styles to choose from:
You can add multiple tabs and customize them easily inside the block editor panel. For example, you can add custom colors, rearrange tabs with drag-and-drop, edit the alignment, anchor, and more.
With 19 other blocks, including testimonials, table of contents, and social shares, it's a handy tool for quick and easy WordPress customization.
Tabs Example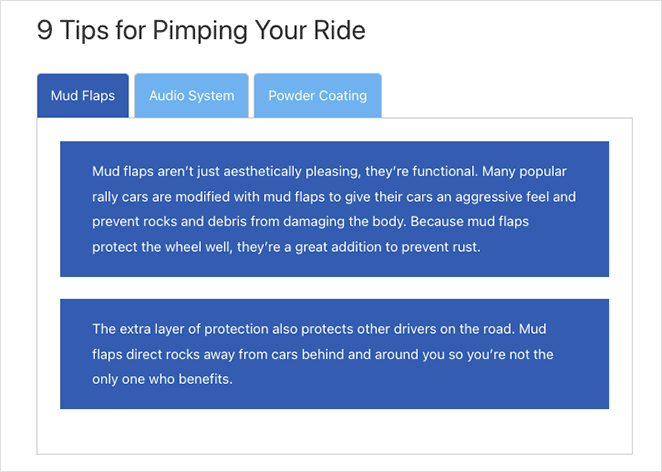 Price: Free. Ultimate Blocks is entirely free for both private and commercial use.
Which Tabs Plugin Is Best for WordPress?
Our favorite tab plugin for WordPress is SeedProd's website builder.
It's beginner friendly, requires zero coding, and you don't need design experience to create responsive tabs for your website. Moreover, it's fast and bloat-free, ensuring you won't need to worry about page load times.
We hope this comparison helped you find the best tabs plugins for WordPress. Here are some other comparisons you may find helpful:
Thanks for reading. Please follow us on YouTube, Twitter, and Facebook for more helpful content to grow your business.