Are you looking for the best photo gallery WordPress plugins for your website?
Gallery plugins help you to display photos and images on your WordPress website in user-friendly layouts, making them easy for visitors to view. However, many photo gallery plugins are either difficult to use or can slow down your WordPress site.
In this article, we'll share the fastest, easiest, and most flexible gallery plugins for WordPress.
Why Do You Need a WordPress Photo Gallery Plugin?
The WordPress block editor includes a gallery block by default. However, it has limited features, allowing you to only create a gallery with simple settings.
If you need more features, such as lightbox popups, custom grids, gallery navigation, and hover effects, you'll need a WordPress photo gallery plugin. Moreover, with a bloat-free gallery plugin, you can ensure your images load fast without impacting your website's page speed.
Best Gallery Plugins for WordPress
Since you're looking for the best solution, we've picked the most highly rated photo gallery WordPress plugins. The following image gallery plugins are recommended by experts and are the most widely used solutions.
Video Guide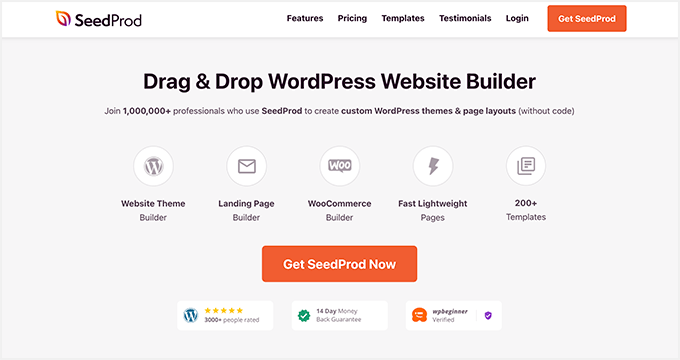 First is a solution that's much more than a simple gallery plugin for WordPress.
SeedProd is the best WordPress website builder with drag-and-drop functionality. You can use it to create custom WordPress themes, WooCommerce sites, and landing pages without code.
With hundreds of website kits and landing page templates, you can create flexible layouts for your WordPress site quickly and easily. You can also use customizable blocks and sections to add new features to your site without installing extra WordPress plugins, such as:
For example, SeedProd's Gallery and Advanced Gallery blocks let you create flexible gallery layouts with a few clicks.
You can add multiple galleries in a custom grid and include smart filtering to organize photo albums by category or section. From there, you can point and click to adjust columns, spacing, fonts, colors, and more.
By enabling the background overlay, you can add colored filters to thumbnails and display the image title, caption, or description on hover.
SeedProd Gallery Example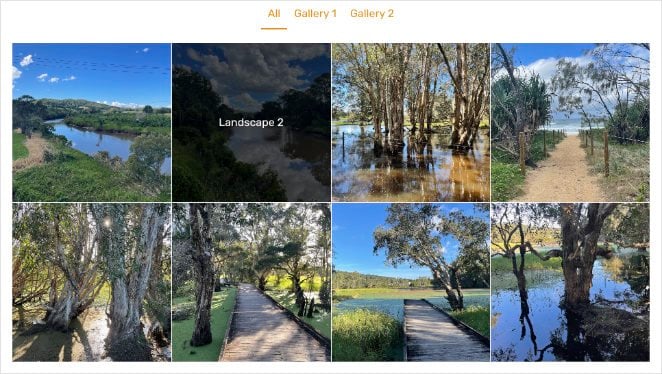 SeedProd's other features include:
Pricing: You can try the free version of SeedProd to get a feel for how it works. However, we suggest upgrading to the premium version for the advanced features, starting at $39.50 per year.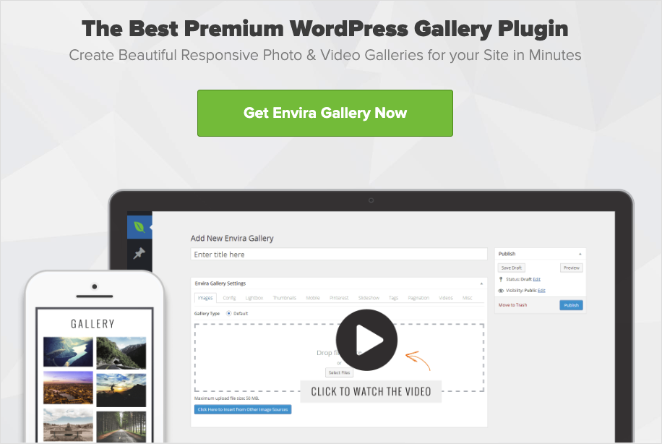 Envira Gallery is a beginner-friendly photo gallery plugin. It makes it super easy to create image and video galleries from your WordPress dashboard.
The interface has drag-and-drop functionality, allowing you to add images and adjust photo sizes without code. You can also choose from several gallery templates to customize the appearance of your galleries and organize them into albums with tags, cover photos, and more.
Because Envira Gallery is mobile responsive, your photo galleries will display beautifully on mobile, tablet, and desktop devices. Plus, with image proofing, and WooCommerce integration, you'll have everything you need to display stunning galleries on your online store.
Envira Gallery Example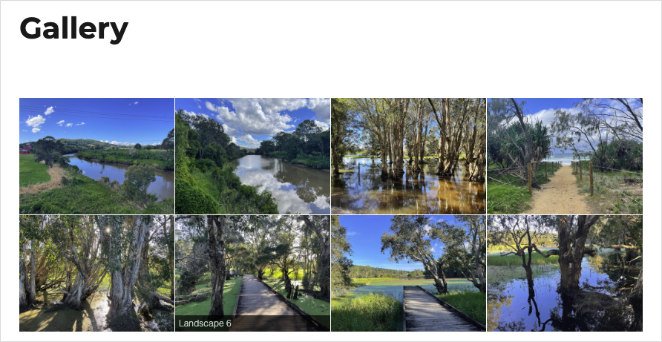 Other Envira Gallery features include:
Pricing: You can get started with the Envira WordPress photo gallery plugin for free. Pricing for the Pro version starts from $26 per year.
Get Started with Envira Gallery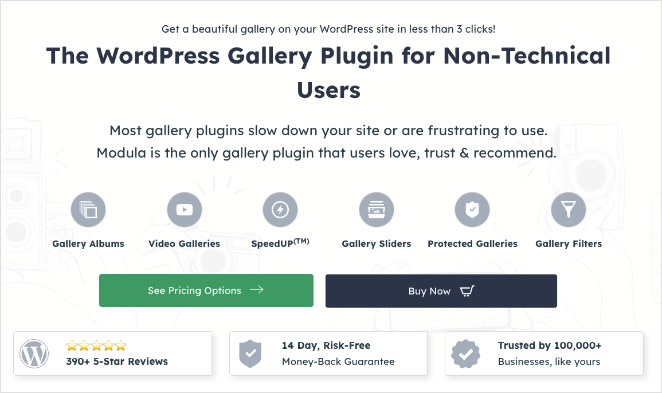 Modula is another user-friendly photo gallery plugin with similar features to Envira Gallery. It specializes in responsive grid-based galleries with Grid, Masonry, or Automatic layouts to keep things simple.
After choosing your grid options, you can use the plugins' drag-and-drop builder to arrange images and style your gallery with custom CSS. For example, you can easily add photos to albums, add gallery filters, and create gallery sliders.
Modular also uses its proprietary SpeedUP™ system to optimize images without slowing down your website.
Modula Gallery Example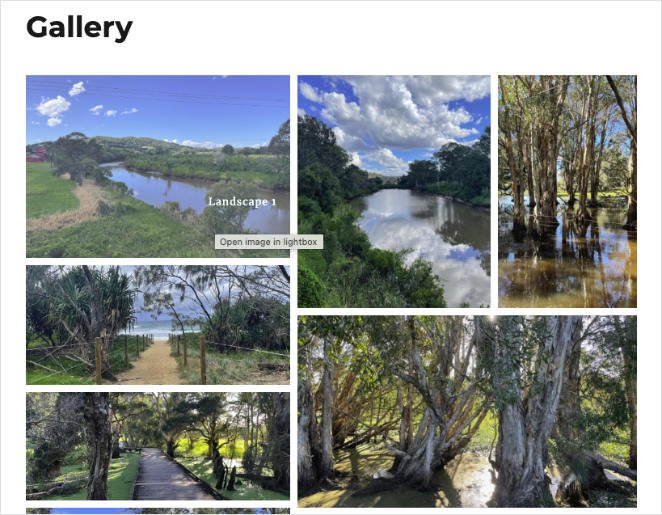 Other Modula features include:
Pricing: Like the other plugins on this list, you can get started with Modula for free. Premium plans start from $39 per year.
Get Started with Modula Gallery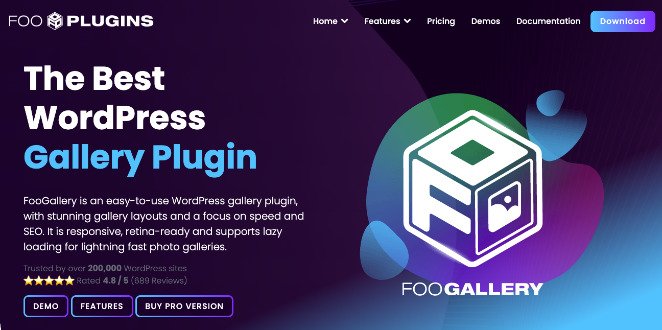 FooGallery is similarly easy-to-use and has a simple gallery set-up process. You can start by choosing from several responsive image gallery templates, including masonry, thumbnail, carousel, and more.
Galleries are easy to customize with point-and-click settings. You can adjust image borders, add hover effects, and sort galleries into albums.
FooGallery also lets you rearrange images using its drag-and-drop interface. You can place pictures with a shortcode or with the WordPress block editor on any post or page, providing greater flexibility.
FooGallery Example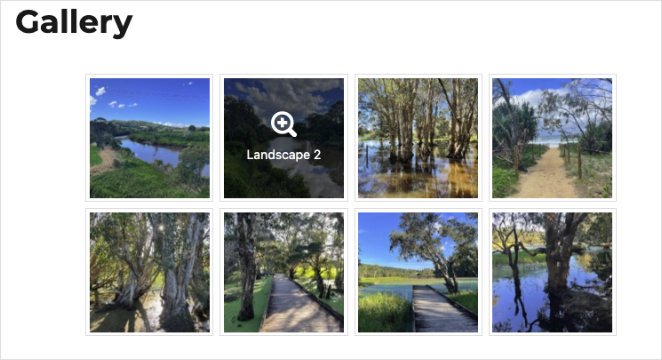 Other FooGallery features include:
Pricing: You can download FooGallery for free from the WordPress plugin repository. Premium plans start from $29.99 per year.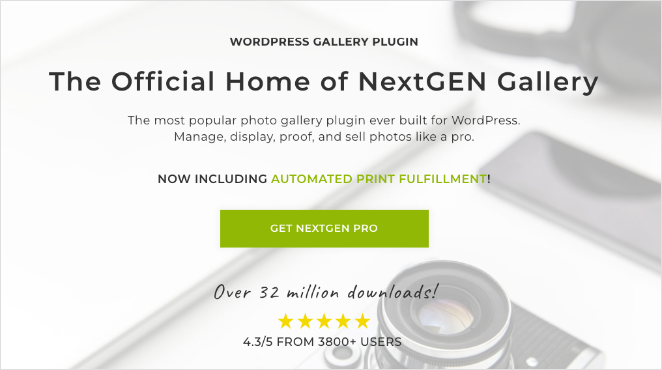 NextGEN Gallery is a feature-heavy WordPress image gallery plugin. Even though its interface is slightly different from the other solutions in this post, it's still easy for beginners.
You can choose from multiple photo gallery options, including slideshows, mosaics, tiles, and masonry grids. The plugin also lets you adjust settings such as image sizes, animations, and more.
If you're using image galleries for an online business, you can add pagination and deep linking for SEO, include digital downloads, and even add coupons for eCommerce sites.
NextGEN Gallery Example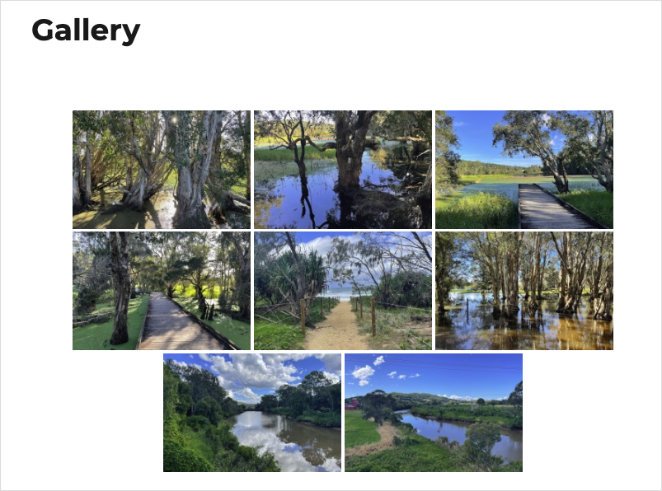 Other NextGEN Gallery features include:
Pricing: NextGEN Gallery has a free version you can download. Pro plans start from $49 per year.
Get Started with NextGEN Gallery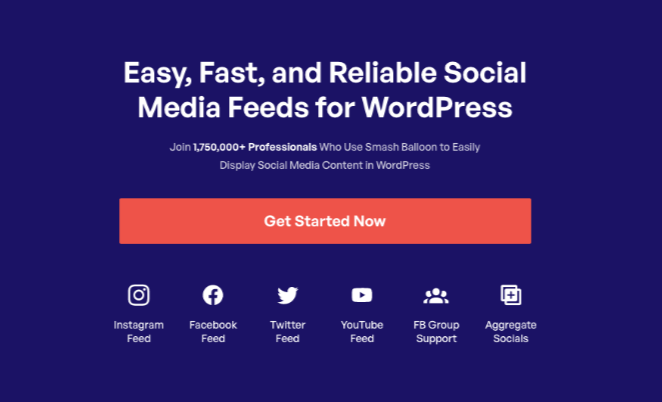 If you want to create beautiful image galleries of social media content, Smash Balloon's suite of social feed plugins is ideal. With its live visual editor, you can build responsive galleries of user-generated content (UGC) and display them on your WordPress site.
Smash Balloon offers social media feed plugins for:
Every Smash Balloon feed plugin is mobile-responsive, search engine friendly, and works seamlessly with popular WordPress plugins and themes.
Smash Balloon Gallery Example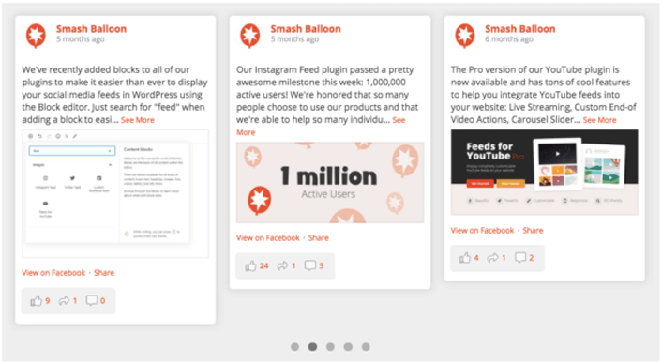 Pricing: Many of Smash Balloon's feed plugins have free versions you can try. The pricing for individual pro plugins starts from $49 per year. You can also get the All Access bundle for $299 per year.
Get Started with Smash Balloon
Or for more details, see our Smash Balloon review.
What Is the Best Photo Gallery Plugin for WordPress?
After diving into the features of each plugin, we can confidently say that SeedProd is the best photo gallery WordPress plugin. It's fast, easy to use, and includes many of the top features you need for a professional WordPress site without installing multiple plugins.
If you only want a gallery plugin without page builder features, Envira Gallery is the best choice. It's beginner-friendly, completely customizable, and includes an extensive extension library with almost any feature you need.
We hope this post helped you find the best photo gallery plugin for WordPress. You may also want to see our guides on:
Thanks for reading. Please follow us on YouTube, Twitter, and Facebook for more helpful content to grow your business.