Are you looking for a Smash Balloon review to see if it's the best fit for your WordPress website?
With Smash Balloon, you can display interactive social media feeds on your site to engage visitors and promote your social media posts. But is it really the best social media feed plugin for your WordPress site?
In this Smash Balloon review, we'll take a deep dive into its features and benefits to learn if it's right for your small business.
What Is Smash Balloon?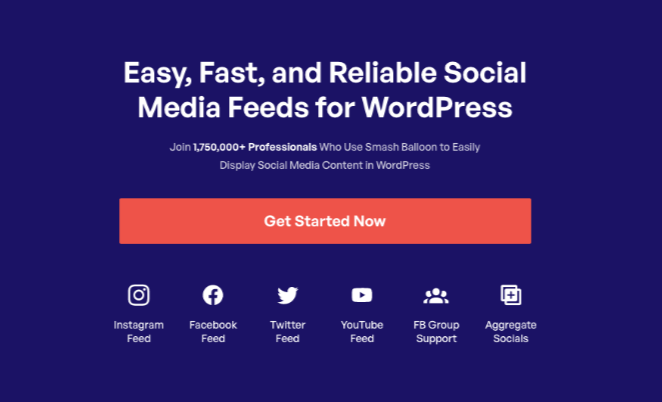 Smash Balloon is a collection of social media feed plugins that let you display social media content on your WordPress site. It has over 1.75 million users and an average 4.8-star rating on WordPress.org, making it one of the best social media plugins for WordPress.
In total, there are 6 Smash Balloon plugins available for different social media platforms. Below is a brief overview of each plugin and its key features.
Facebook Feed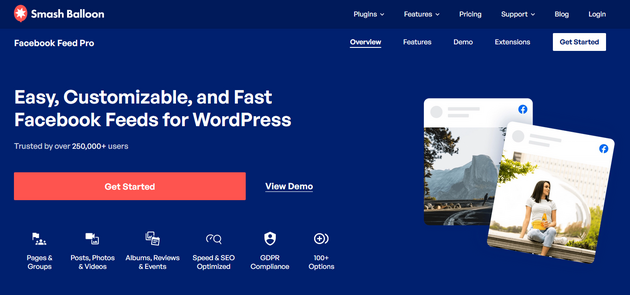 The custom Facebook Feed Pro plugin lets you show your Facebook page, post, and Facebook Group content on your website. You can customize the layout and design of your feed to match your WordPress theme and display various content types, including:
User profiles
Facebook photos
Testimonials
HD, 360, and live video
Instagram Feed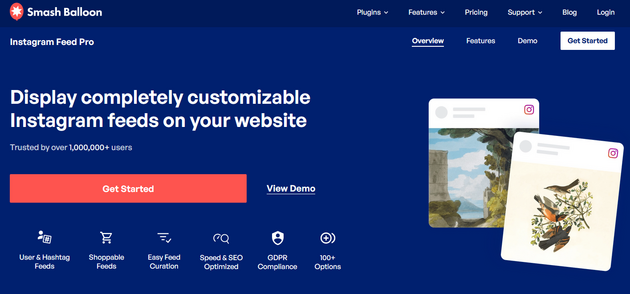 The Instagram Feed Pro plugin lets you display your Instagram posts and stories in beautiful feeds on your WordPress site. As a result, you can keep your site looking fresh with regular Instagram content, including:
Shoppable feeds
Hashtag feeds
Tagged feeds
Instagram reels
Tagged photo feeds
Twitter Feed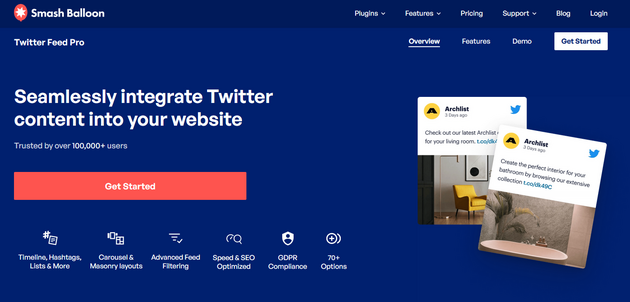 With the custom Twitter Feeds plugin, you can embed different Twitter feed layouts on your website, whether it's your personal timeline or posts from popular Twitter accounts. You can display a range of feed types, including:
Twitter cards
Mentions
Search terms
Social proof
Hashtags
YouTube Feed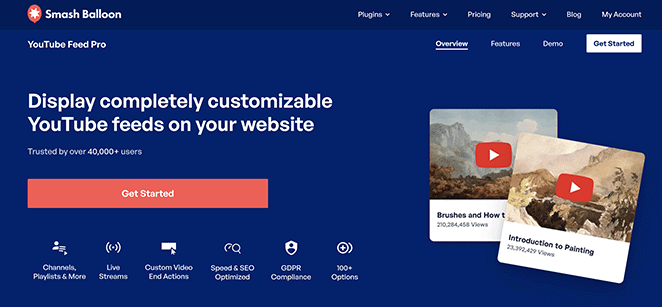 The YouTube Pro feed plugin is an easy way to feed YouTube channel content automatically to your website. This saves you from having to update your WordPress site with YouTube videos manually.
Like the other social media feed plugins, you can display various YouTube feeds, including:
Live streaming feeds
Favorited videos
Video playlists
Video search results
Specific YouTube channels
Social Wall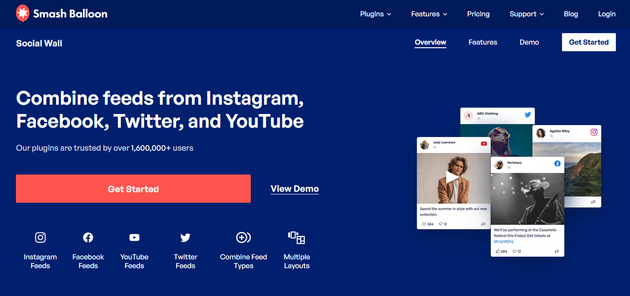 One of Smash Balloon's standout plugins is Social Wall Pro. With this handy tool, you can combine multiple social media feeds into one, creating an engaging social wall on your website. This is a great way to showcase all of your social media activity in one place without the hassle of hiring a developer.
Reviews Feed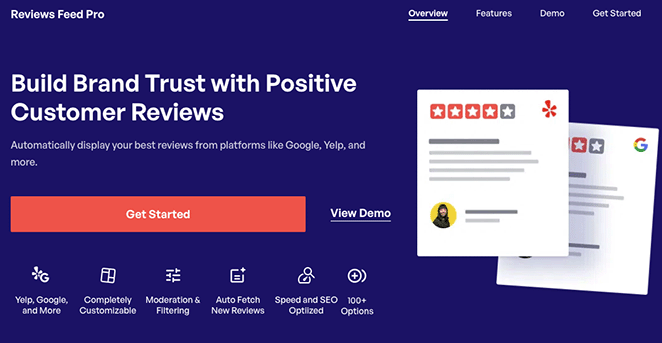 Finally, with Smash Balloon's new Reviews Feed, you can show reviews and testimonials from sites like Google, Yelp, TripAdvisor, and Facebook on your WordPress site. Like its other plugins, you can customize your feed to match your site's design. You can also filter reviews by specific keywords and platforms.
Smash Balloon Feature Review
You might be thinking, what makes Smash Balloon products the best social media marketing plugins for WordPress? While each of its WordPress plugins is slightly different, they share many similar features.
With this in mind, we'll explore 5 features you'll find in each plugin below.
Easy to Use
Smash Balloon's plugins are designed to be user-friendly, even if you're unfamiliar with WordPress plugins. The installation process is straightforward, and each plugin's interface is easy to navigate.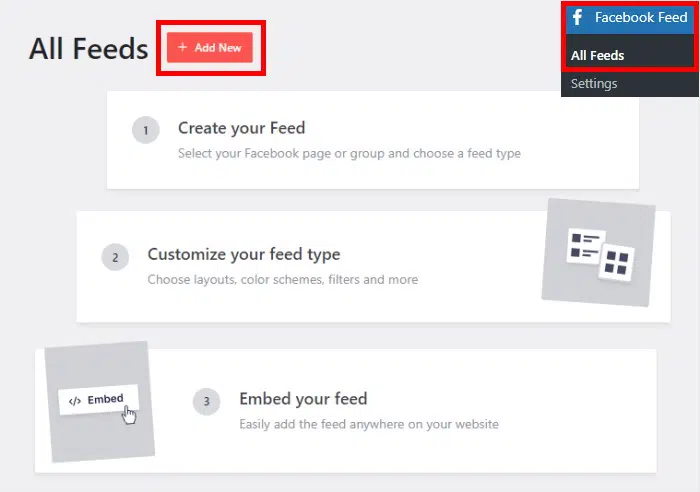 Creating and customizing your social media feeds is also a breeze with the plugin's drag-and-drop builder. It allows you to quickly and easily adjust your feeds' layout, design, and content without touching a single line of code.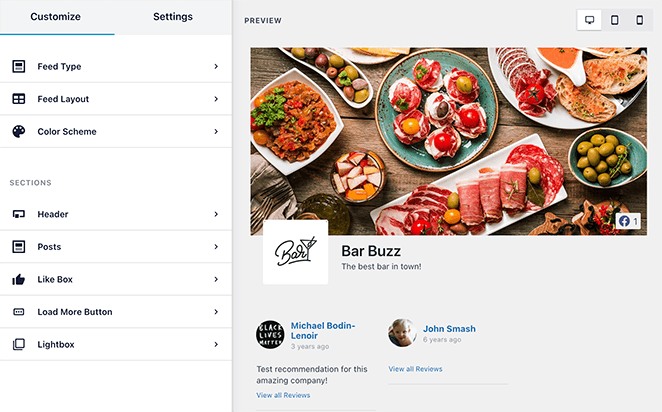 Embedding feeds on your WordPress site is also super straightforward. You can either use the built-in WordPress blocks or shortcodes to display social media content on posts, pages, sidebars, or widget-ready areas of your theme.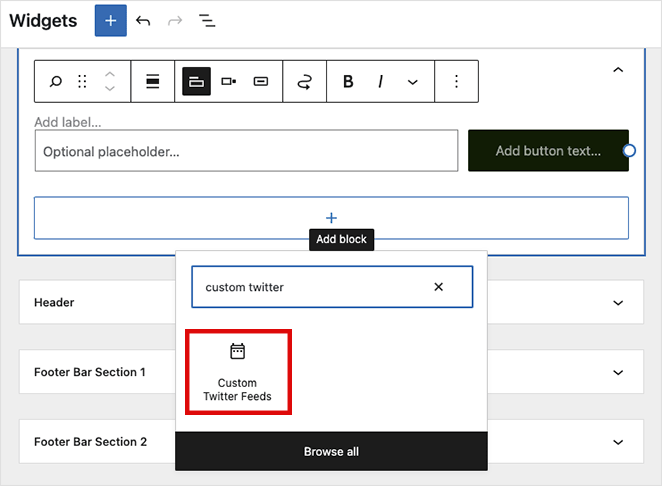 Fully Customizable
Besides being easy to use, and automatically matching your WordPress site, every Smash Balloon plugin also has user-friendly customization options. This means you can tailor different parts of your feeds to stand out more, match your brand colors, or even look totally different from your site.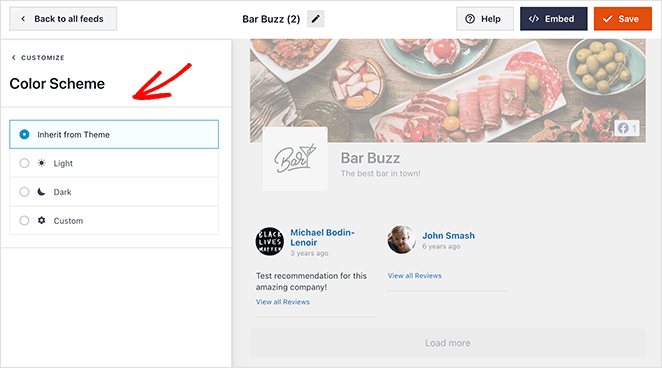 For example, you can change background colors, 'load more' buttons, headers, follow buttons, and more. There are also several templates available to create specific feed layouts, including:
Sliding Carousel
Thumbnail List
Masonry Grid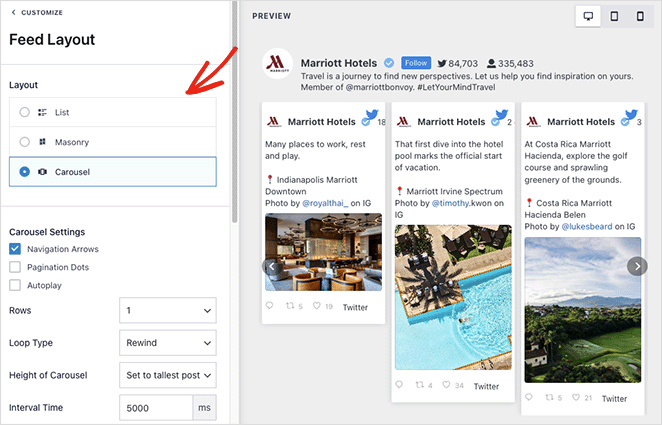 In many cases, you can customize how individual posts look when users open them in a lightbox popup for a closer look.
Mobile Responsive
Another key feature of Smash Balloon is its mobile responsiveness. The plugin ensures your feeds are optimized for viewing on mobile devices with different screen sizes.
Given the growing number of users visiting websites from smartphones and tablets, it's a must-have feature for any WordPress site.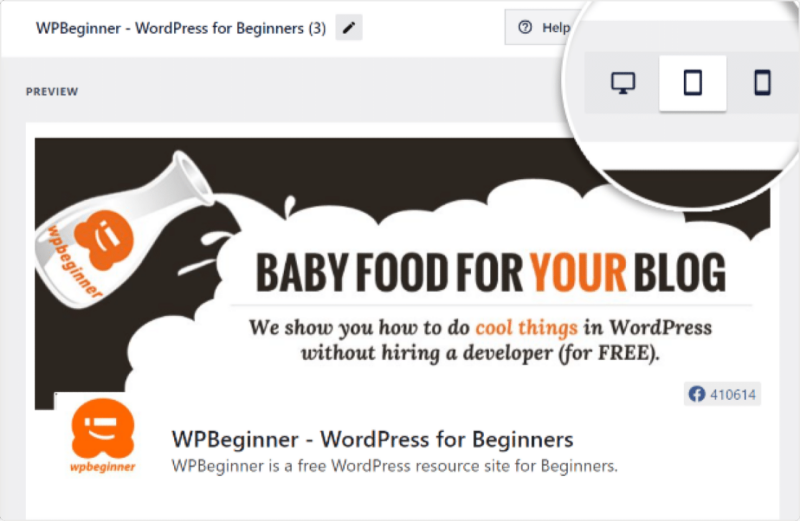 With Smash Balloon, your social media feeds will always look beautiful on any device, helping to improve user engagement, satisfaction, and, ultimately, conversions.
SEO Friendly
When it comes to search engine optimization (SEO), Smash Balloon has you covered. It uses search engine-friendly coding practices to ensure search engines like Google and Bing easily index your feeds.
Unlike other WordPress plugins, Smash Balloon's feeds don't use iframes which prevents search engines from crawling the content. Instead, it embeds content directly on your web page, which can help improve your SEO rankings.

But that's not all. Smash Balloon plugins also use its Speed Optimizer feature with:
Smart caching
Minimal 3rd party API requests
Image optimization
This means your feeds load lightning fast, helping your Google Page Speed score and search rankings.
Network-Specific Options
One thing that sets Smash Balloon apart from other social media feed plugins is its network-specific options. The plugin allows you to customize your feeds based on specific social media networks ensuring they look and function the way you want.
For example, with the Instagram plugin, you can make shoppable feeds by adding the product page link in the post captions.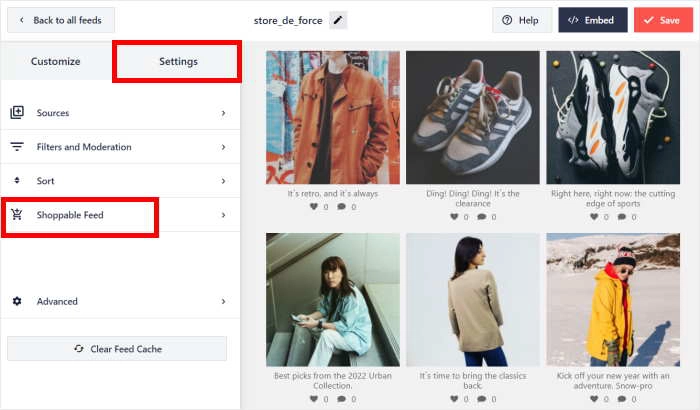 Alternatively, with the YouTube plugin, you can create feeds from a specific YouTube playlist or get actions when a video completes, such as asking viewers to subscribe.
Smash Balloon Support Review
In addition to its features, another important aspect of any plugin is its support. With Smash Balloon, you can rest assured that you'll receive top-notch support from the plugin's team.
It offers various support options, including a comprehensive knowledge base with in-depth tutorials, email support, and even premium support for those using its paid plans.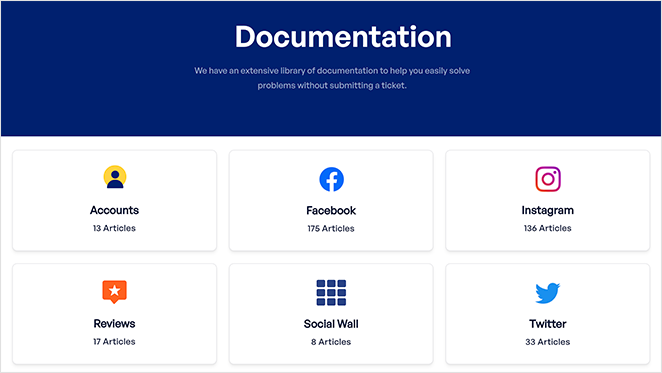 Smash Ballon's team is knowledgeable and responsive, ensuring that any issues you face are quickly and effectively resolved.
Smash Balloon Pricing Review
When it comes to pricing, Smash Balloon offers several options to fit any budget. The plugin provides both premium and free versions, with the premium version offering additional features and customization options.
The premium version of each plugin is available in four tiers: Personal, Business, Smash, and All Access, with prices ranging from $49 to $299 per year.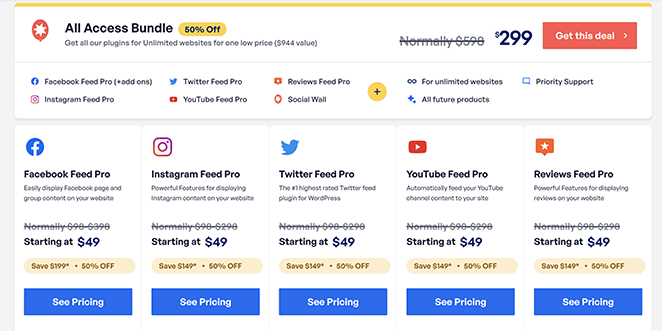 However, the best deal is the All Access Bundle, which includes all plugins and future updates for $299 per year, which is super competitive pricing for one of the best WordPress social media plugins.
Smash Balloon User Reviews
To better understand how Smash Balloon performs in the real world, we scoured the web for user reviews. Overall, Smash Balloon reviews are overwhelmingly positive, with users praising its ease of use, customization options, and customer support.
Here are just a few of the Smash Balloon reviews we found particularly helpful:
"The plugin works exactly how it should, and when it doesn't work, the support is great even with those who are using the free version!" – minichiara via WordPress.org.
"I love the fact that traffic to this page counts in my pageviews and that they are on-site rather than going to a third party. They are also able to be seen and tracked in google analytics." – Kylie A via G2.
"Quite incredible guys from Smash Balloon. I couldn't make a plugin work due to my own fault (Ad Blocker I forgot I had, I know, lame reason), and they jumped in, checked my website, and suggested it might be some blocker (and it was). Really, really nice of them.
Plugin is awesome, easy to use, you can really adjust it any way you like (even choose which posts to hide or show), grids, everything is working fast and beautifully. Thank you!" – anazy via WordPress.org.
"For owners and users that don't know a single thing about programming and coding, then this is for you. Choose your social media feeds and get to work simply via WordPress, and that's it, so simple." – User in financial services via G2.
Verdict: SeedProd Recommends Smash Balloon
After evaluating its features and benefits, we can confidently recommend Smash Balloon to anyone looking for a social media feed plugin for WordPress. Compared to other social feed plugins, Smash Balloon has more features and customization options. It's also much faster, with virtually unmatched filtering options.
So, at SeedProd, we definitely recommend Smash Balloon as the best social media feed plugin for WordPress.
Ready to grow your social media following and engage website visitors with quality social content? Then get started with Smash Balloon today!
If you found our Smash Balloon review helpful, you might also like to check out our WPForms review to see if it's the best contact form builder for WordPress.
Thanks for reading. Please follow us on YouTube, Twitter, and Facebook for more helpful content to grow your business.