Are you looking for the best WordPress review plugins for your WordPress website?
Using WordPress review plugins can boost your website's credibility, build trust with your audience, and increase your visibility on search engines. Whether you run an online store, restaurant, or local business, displaying customer reviews on your WordPress site can help you stand out from competitors and attract more customers.
In this article, we'll explore the best WordPress review plugins to help collect and showcase reviews from popular sites like Google and Yelp.
Benefits of Using WordPress Review Plugins
A WordPress review plugin helps website owners collect, manage, and display customer reviews on their WordPress website. Typically, these plugins offer various features and functionality, such as customizable review forms, moderation tools, and integration with popular review sites like Google, Yelp, and Facebook.
Using a WordPress review plugin has several benefits, including:
Boosting credibility: Reputable customer reviews can increase the trustworthiness and credibility of your website.
Improving search engine visibility: Displaying customer reviews on your website can improve your search engine optimization (SEO) by increasing user-generated content (UGC) on your site.
Enhancing customer engagement: Encouraging customers to leave product reviews and testimonials can increase engagement and interaction with your brand.
Providing valuable insights: Reading customer reviews can provide valuable insights into what they like and dislike about your product or service, helping you make improvements.
Standing out from competitors: Displaying positive customer reviews on your website can help you differentiate from competitors and attract new customers and conversions.
Overall, a WordPress review plugin allows you to build trust with your audience, increase your search engine visibility, and drive more sales to your business.
Best WordPress Review Plugins Compared
Choosing the best business reviews plugin is often overwhelming for website owners. While there are various plugins on the market, they may not all have the features you need.
For example, do you need a plugin that works seamlessly with your WordPress theme? Or do you want to allow users to leave reviews on your WooCommerce products?
Whatever your needs, you'll find a solution in our comparison of the best WordPress review plugins below.
Let's dive in!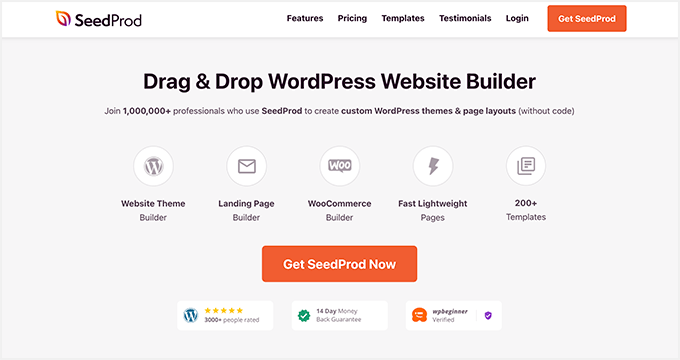 SeedProd is primarily a WordPress page builder plugin. With its drag-and-drop interface, you can build stunning layouts on your WordPress site without writing code, including landing pages, WordPress themes, eCommerce pages, headers, sidebars, footers, and more.
However, where it excels is with its block-based design system. By dragging and dropping these blocks onto your live page preview, you can place advanced features on any part of your site quickly and easily.
For example, SeedProd's Business Reviews block lets you display reviews from Google Places (Google Reviews) and Yelp on any part of your WordPress site. From there, you can customize the reviews widget to suit your site's look and feel, including unlimited colors, reviewer information, review box layout, carousel sliders, fonts, number of reviews, and much more.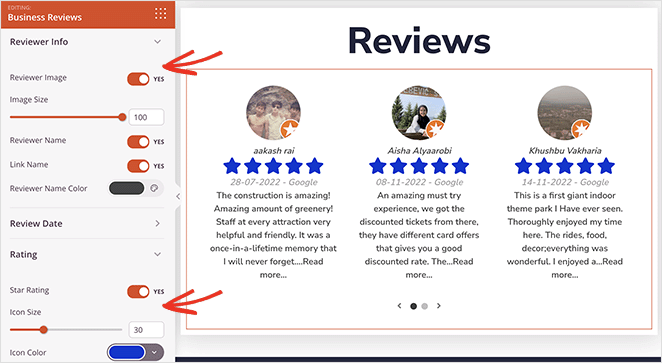 Additionally, you can use the Star Rating and Testimonials blocks to display user reviews individually and see the changes in real time.
Since SeedProd also offers WooCommerce support, you can customize how WooCommerce reviews look on your product pages. That way, you can show social proof that compels shoppers to buy your goods and services.
This powerful WordPress plugin also includes the following additional features:
Even better, SeedProd uses the best WordPress practices to ensure the plugin is lightweight and optimized for speed. With minimal code, it won't impact your site's load speed.
Price: SeedProd has a free version that lets you create a simple landing page with its visual page builder. Premium plans start from $39.50 per year.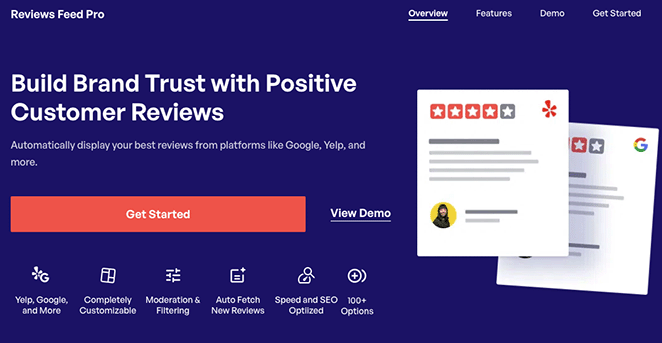 Smash Balloon's Reviews Feed plugin lets you display customer reviews from popular review platforms, including Google, Facebook, Yelp, and TripAdvisor, on your website. With this plugin, you can easily collect and display customer reviews in a highly customizable feed layout.
The Reviews Feed plugin offers several layout options, such as lists, carousel, and masonry. Its code-free customization settings also let you tailor your feeds to match your site's branding and design.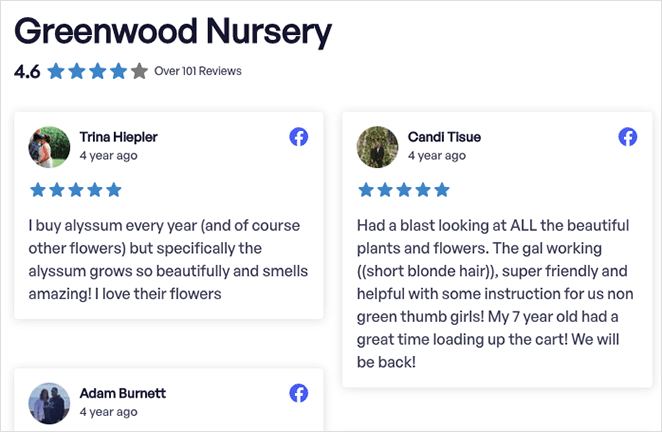 With advanced filtering options, you can show only the most relevant and positive reviews while filtering out negative reviews. In addition, the plugin is fully responsive, meaning it can adapt to different screen sizes and devices.
Overall, Smash Balloon's Reviews Feed plugin is a user-friendly and effective solution to display customer reviews from multiple platforms on your WordPress site and boost your credibility with social proof.
Price: The pricing for the Reviews Feed plugin starts from $49 per year.
For more details, see our Smash Balloon review.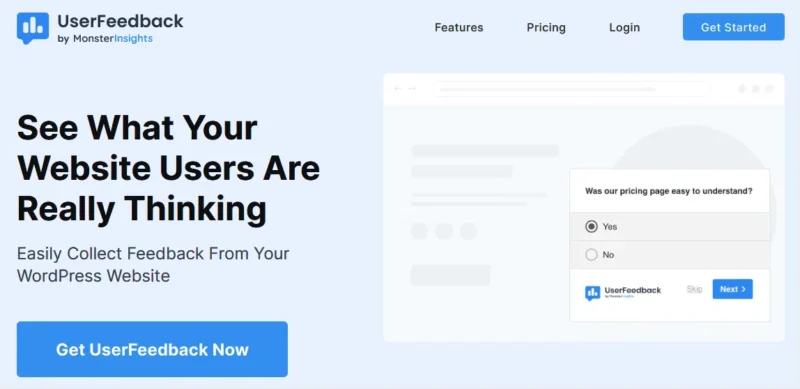 UserFeedback is another excellent WordPress reviews plugin. It lets you add popup surveys to your website so you can learn exactly what your visitors think and make informed improvements to your business.
Its setup wizard is perfect for getting started in just a few minutes. Plus, it offers several pre-made templates for collecting different feedback types, including:
B2B satisfaction survey
NPS survey
Content engagement
eCommerce store experience
And much more.
This means you can ask unlimited questions to get genuine reviews from your audience and understand exactly why your users rate your company a certain way.
Even better, you won't need to mess with custom configurations. You can embed the UserFeedback form with a shortcode or use easy targeting rules to customize when and where your survey appears.
Price: Starts from $49.50 per year.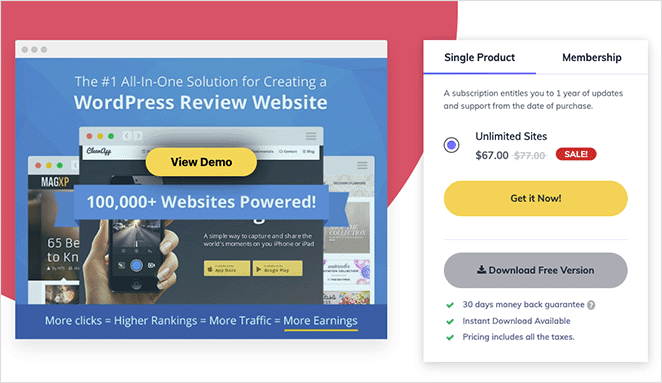 WP Review Pro is an online reviews plugin that lets you add and manage reviews and ratings on your WordPress website. It has an easy interface that lets you create professional and customizable reviews for your products, services, and other types of content.
With its Google rich snippets support, you can improve your site's SEO by showing review info in search engine results pages (SERPs). This can lead to more clicks, higher click-through rates (CTRs), and better search engine rankings.
The plugin also has various customization options, including:
Rating systems
Different review styles and templates
Options to add affiliate links to the reviews.
You can choose from various rating types, including star, percentage, or point rating systems, and you can customize the review box and rating criteria to match your specific needs.
WP Review Pro also includes advanced features such as adding custom review fields, multiple review templates, and integration with popular review platforms like Yelp and Google Places. The plugin also offers built-in translation support, allowing users to translate reviews into different languages.
Another essential feature of WP Review Pro is its responsive design, which ensures your reviews look great on all devices, including desktops, tablets, and smartphones. Moreover, the plugin is lightweight and optimized for fast loading times, ensuring it doesn't impact your site's performance.
Price: Starts from $67 per year.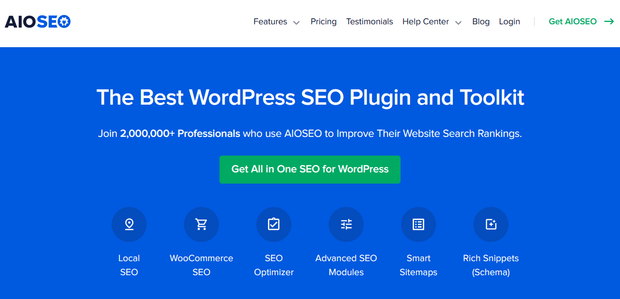 All in One SEO is the best WordPress SEO plugin. It helps you optimize your site's search engine visibility, so it can rank higher in SERPs.
This powerful plugin provides several SEO tools and features to help improve your website's on-page SEO, such as optimizing page titles and meta descriptions, generating sitemaps, and controlling your site's appearance in search results.
Additionally, it lets you add product review schema to review posts from your WordPress dashboard. This type of markup doesn't appear on your site's front end for visitors to see but helps search engines understand your content better and display your product reviews correctly.
Rich snippets will catch potential visitors' attention and are likelier to get clicks from the search results.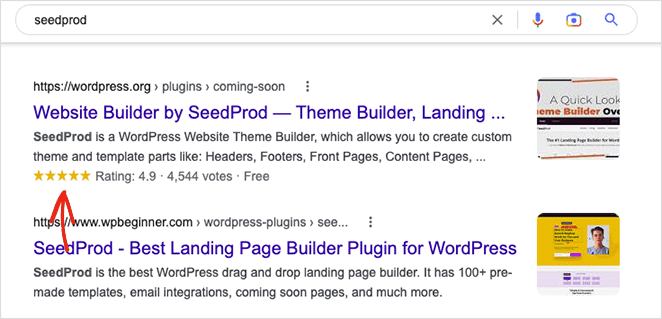 All in One SEO will automatically configure the correct schema type based on the content you're writing. You also have complete control over the product review schema and can enter the proper product information for search engine bots to read.
Here are some other key features of All in One SEO:
Automatically generate XML sitemaps for your website, making it easier for search engines to crawl and index your pages.
Easily customize page titles and meta descriptions for each page or post on your website.
Add social media meta tags to your website, making it easier for visitors to share your content on social media platforms.
Integrate with Google Analytics to track your website's traffic and performance.
Includes features specifically designed for eCommerce websites, such as product schema markup and support for WooCommerce.
Price: You can get started with All in One SEO with the free version. However, you'll need the premium version for schema markup, which starts from $49.60 per year.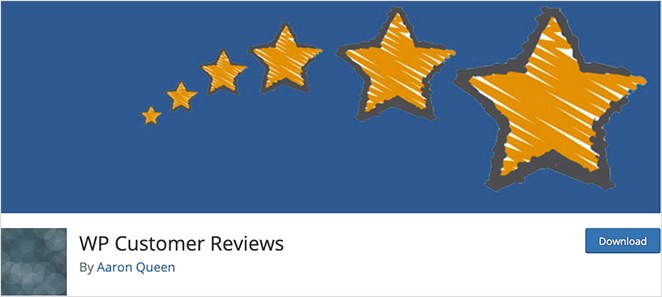 WP Customer Reviews is a WordPress review plugin that lets you display new reviews easily on your website. It's a simple way to build credibility, enhance customer engagement, and improve your site's search engine results with UGC.
The plugin lets you create custom review submission forms and show them on any WordPress page or post with a shortcode. The forms can include custom fields and rating scales, and you can style them to match your site's branding.
There are many ways to display reviews on your site, including a simple list view, grid view, or slideshow. Plus, you can improve the visibility of review content in search engines with review schema markup.
Moreover, the plugin works with custom themes and several popular caching plugins to ensure a seamless user experience.
With its moderation system, you can approve or reject reviews before they go live on your website. It also integrates with Google reCAPTCHA to prevent spam submissions.
Price: WP Customer Reviews is a free WordPress review plugin.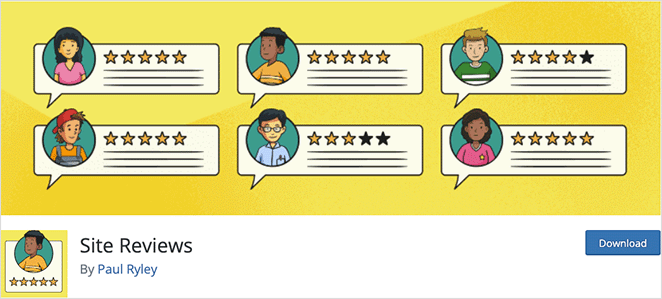 Site Reviews is a free WordPress review plugin that lets you collect customer reviews and display them in a review section on your website, similar to Amazon, Yelp, and TripAdvisor. It even lets users review different parts of your site, such as products, pages, posts, and more.
The interface is easy to navigate and has straightforward settings pages where you can set the review criteria and how you'd like to display them on your review website.
Additionally, the review form is customizable, allowing you to add it anywhere on your site with the built-in WordPress block (Gutenberg) and shortcode. It even works with popular page builders like Elementor and the WooCommerce plugin to add review features to your product pages.
Price: Site Reviews is a free plugin with optional premium features that start from €89.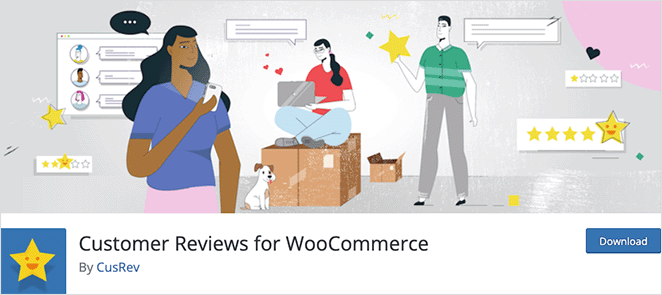 Customer Reviews for WooCommerce is a WordPress reviews plugin for online stores using WooCommerce. It lets you show customer reviews on product pages, helping you build trust with potential customers and increase sales.
You can create custom review forms with several fields and rating scales and add them to product pages to boost social proof. Customers can also attach pictures, helping you collect UGC, and vote on reviews to show their feedback.
With its question and answers feature, you can create a review section similar to Amazon. There's also the ability to email coupons to users and send automatic emails after users purchase to encourage more reviews.
Price: Customer Reviews for WooCommerce is a free reviews plugin for online stores. The Pro version includes advanced features with pricing starting from $49.99 per year.
Which WordPress Review Plugin is Best?
The best WordPress review plugin depends on your specific business needs. However, our favorite solutions are a combination of SeedProd for its drag-and-drop builder, Smash Balloon for multiple review feeds, and All in One SEO for its product schema markup.
We hope you've enjoyed this article and it helped you find the best WordPress review plugin for your website. You might also like the following WordPress tutorials to help grow your business:
Thanks for reading. Please follow us on YouTube, Twitter, and Facebook for more helpful content to grow your business.