Need a form builder for your website and looking for a WPForms review?
Picking a beginner-friendly form builder that meets your needs is super important.
So this WPForms review will walk you through some of the best features of the WordPress form maker plugin and how it could positively impact your small business website.
WPForms Review: Why Is It So Popular?
The WPForms plugin is a powerful WordPress form builder used by over 4,000,000 websites. Compared to other form-building tools, WPForms is built to be beginner-friendly, no matter which features you're trying to use.
Obviously, there are tons of happy customers already using WPForms. So let's jump into this detailed WPForms review so you can take a close-up look at everything the forms plugin does.
First, let's look at how easy it is to make a simple contact form.
How to Use WPForms
Using WPForms is insanely easy. It's a WordPress plugin, so all you need to do is install it and then activate it on your site. After that, you can access the features from right inside your WordPress dashboard and start building all kinds of forms right away.
The WPForms plugin guides you through everything you need to know to get up and running.
First, let's go ahead and get the plugin installed. Then we'll show you what you can do with it.
How Do I Install WPForms?
You can install the free version of the WPForms plugin from your WordPress dashboard.
Go to Plugins » Add New and search for WPForms. Then click Install.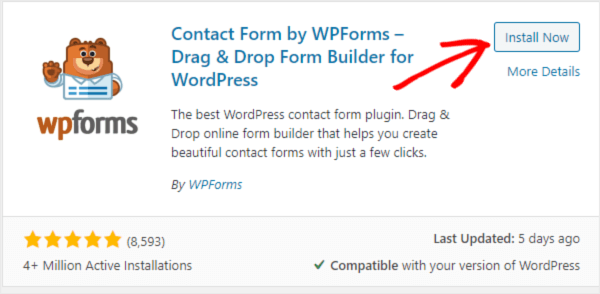 Next, go ahead and click Activate.
That's it!
If you're using a paid version of WPForms (we highly recommend the Pro level so you'll be able to access our favorite features), you can download the plugin from the Downloads tab in your WPForms account.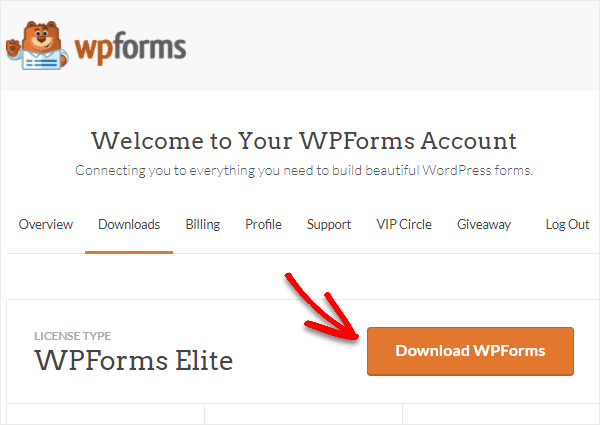 From there, upload the plugin zip file in WordPress and activate it. If you need to, check out this post on how to install a WordPress plugin.
Once the Pro version is installed, you'll have access to all the features we'll cover in today's review (and more).
How Do I Make a Form in WPForms?
When you first install WPForms, you can take the WPForms Challenge. This is a fun and really fast way to learn the basics of how the form builder works.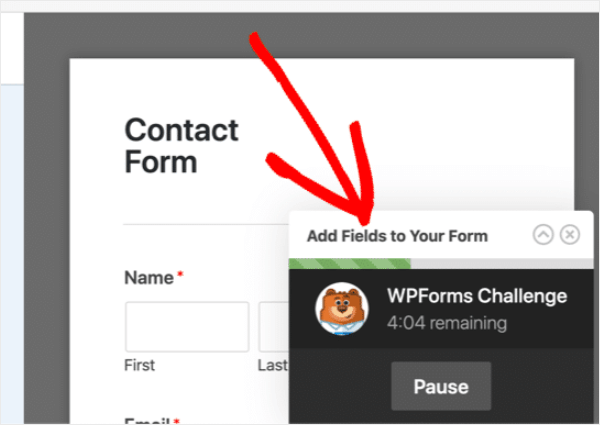 You'll be walked through how to:
Drag and drop fields onto forms
Customize your notification emails
Embed your form onto a page
It's pretty impressive how this form builder lets you make a simple contact form in less than 5 minutes. And this is definitely one of the reasons WPForms is so well-loved.
Can I Get WPForms for Free?
Yes, you can get WPForms for free.
There is a free version of the plugin called WPForms Lite. It offers some basic features like to ability to:
Make unlimited forms
Get as many responses as you need
Receive instant email notifications
Be GDPR-ready
Import and export forms
Access basic form templates
Use hCaptcha plus Google reCAPTCHA v2 and v3 for spam protection
Integrate with Constant Contact for email marketing
If you just need to make basic forms and get the responses by email (no entry storage), WPForms Lite is great for that. For advanced functionality, you'll want to upgrade to WPForms Pro.
Do I Need WPForms Pro?
Whether you use the free version of the plugin or WPForms Pro is totally up to you and based on the specific needs of your website.
However, you'll want to buy WPForms Pro to unlock all the coolest and most effective features of the plugin. It can help you make more money from your website and save a ton of time.
Upgrading from Lite to Pro? If you're already using WPForms Lite, all of your forms will easily transfer over to WPForms Pro.
There are tons of features that make WPForms Pro worth it. We'll review our favorites next.
WPForms Review: Features Overview
We couldn't include all of the awesome features in just one WPForms review. So let's take an even closer look at just some of our favorite WPForms features that make the plugin so great.
1. Surveys and Polls

One of the most powerful features of WPForms is the Survey and Polls addon. It lets you quickly conduct surveys or polls on your website to gather valuable data. It's displayed right on your WordPress dashboard in beautiful and easy-to-read reports.
You can access survey form templates like NPS surveys, Likert scales, Star Ratings, and more. Or, build your own. If you're using SurveyMonkey instead of WPForms, you can drop it and save yourself tons of money since WPForms is a great SurveyMonkey alternative.
2. Multi-step Forms
With WPForms, it's super easy to create a multi-step form in WordPress. Use breadcrumbs to break up your longer forms into smaller steps.
3. Email Marketing Integrations
WPForms Pro includes integrations with tons of the most popular email marketing tools, including:
Campaign Monitor
Sendinblue
Mailchimp
Zapier
And more
You can really up your email automation game when you connect your forms to your email marketing service, and WPForms makes it easy.
4. Conditional Logic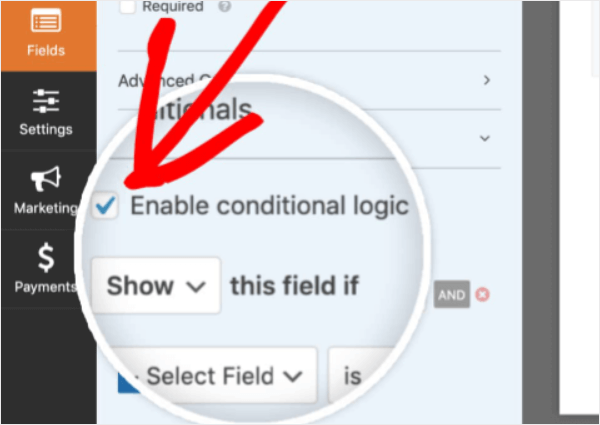 You can easily show and hide fields as the user moves through the form. This helps keep your forms organized and concise.
5. Form Abandonment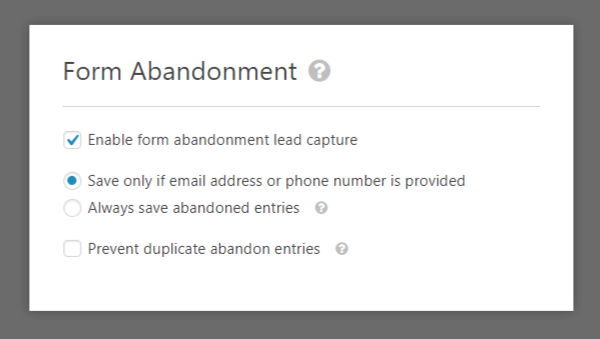 Often, people get distracted and never finish filling out a form.
But with the Form Abandonment addon, WPForms automatically stores details in your forms before they've even been submitted. That way, you can follow up with people and make sure that you aren't losing leads on your website.
6. Form Landing Pages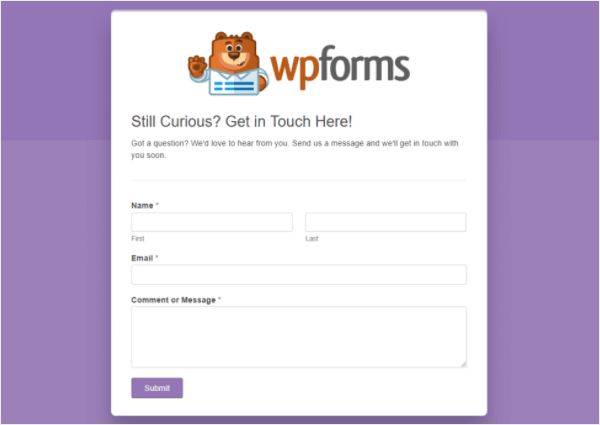 SeedProd makes it so easy to create landing pages in WordPress.
And with WPForms, you can build basic landing pages on WordPress using just your forms. This is a great way to up your conversion rate since your form will live on a distraction-free page with no sidebars or menus.
7. Form Templates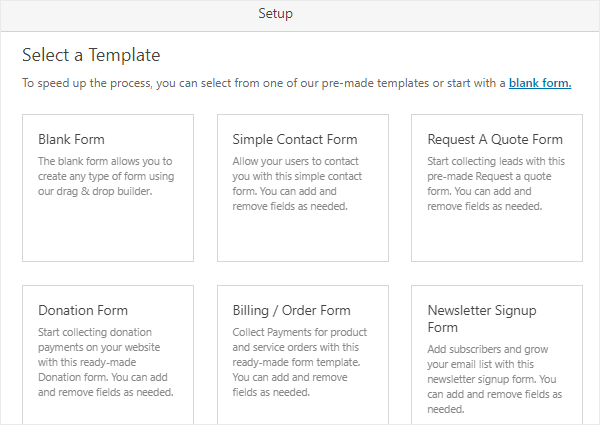 WPForms Lite comes with some basic form templates to get started.
In the same way that SeedProd offers great templates for your coming soon pages, the WPForms Pro plugin comes with 100+ additional bonus form templates that you can use with just a click of a button to make all sorts of things like:
Frontend guest post submission forms
Custom login forms
Custom WordPress account registration forms
And so much more
Then, you can add or remove fields to make each form exactly what you need. You can even make your own custom templates.
8. Offline Forms
This saves forms data in a browser while offline and submits the data when the internet is restored. Great, in case your lead has a shaky internet connection. You won't have to worry about losing them forever!
9. Conversational Forms
Want to get in on the conventional marketing explosion without spending an arm and a leg?
Conversational Forms are interactive forms that act like a face-to-face conversation and have really great conversion rates. People just love filling them out.
This takes a 1 question at a time approach, and WPForms makes it easy to convert any form into a Conversational form.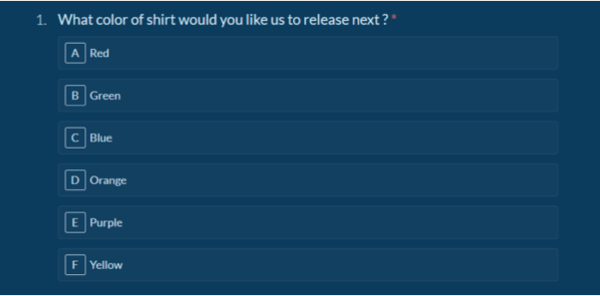 10. User Journey Tracking
WPForms has a fantastic User Journey feature that lets you track where your users are coming from before they fill out a form.
You can see what each visitor did up to the point they hit submit on your form. And when you view their entry in the User Journey addon, you'll see every page they visited and get valuable insights into the habits of your customers, leads, and visitors.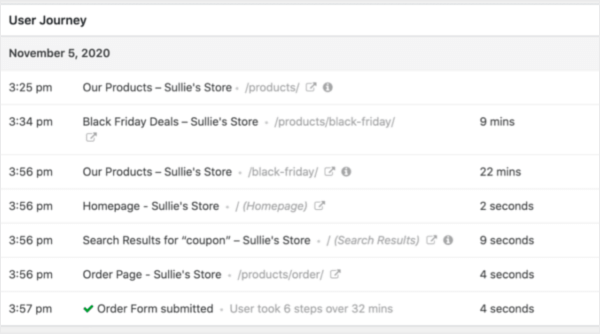 So there are just some of the big features we think make WPForms worth it. So if you want to use these tools, getting WPForms Pro makes total sense.
How Much Does WPForms Cost?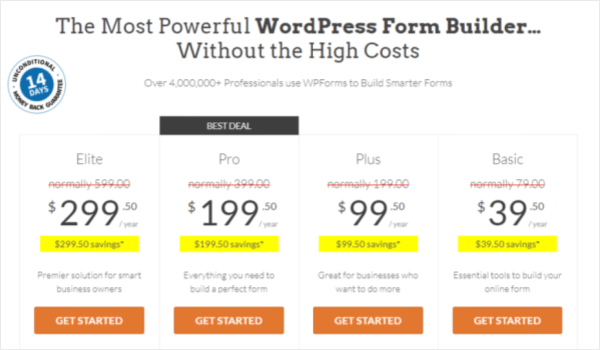 WPForms is surprisingly affordable for a plugin that offers so much. The team wants to make sure all business sizes and budgets have access to easily build contact forms on their WordPress site.
Here's a breakdown of the WPForms plans and their cost.
| Plan | Sites | Integrations & Addons | Price/ yr |
| --- | --- | --- | --- |
| Basic | 1 | Advanced Fields, Form Entry Storage, Multi-step Forms, File Upload Fields, Constant Contact, Conditional Logic, Basic Templates, +More | $79 |
| Plus | 3 | Mailchimp, AWeber, GetResponse, Campaign Monitor, Sendinblue, Drip, +More | $99 |
| Pro | 5 | PayPal/Stripe, Form Landing Pages, Conversational Forms, Surveys and Polls, User Journey, Form Abandonment, Geolocation, Zapier, Frontend Posts, Bonus Templates, +More | $399 |
| Elite | Unlimited | ActiveCampaign, Salesforce, Authorize.net, Webhooks, and Client Management. | $599 |
Run a charity? Nonprofits can also get a great discount on WPForms. Check out WPForms nonprofit pricing.
And no WPForms review would be complete without bringing up the amazing 14-day money-back guarantee. You can get your money back (no questions asked) if you don't love the plugin. Simply reach out to support.
WPForms Review Wrap-Up
After breaking down and reviewing all of these features, it's clear to see why WPForms is the best WordPress form-building plugin.
We believe that the WPForms Pro plan is worth every penny since it's full of useful features and is so easy to use. Combined with SeedProd, your website is going to be unstoppable.
So get started using WPForms Pro today and watch your form conversion rates explode.
So there you have it. We hope this WPForms review helped you decide if it's the right choice for you. We hope you enjoyed this article. If you did, you might also want to check out the following resources:
And if you liked this article, then please follow us on Twitter and Facebook for more useful content to help grow your business.