Looking for the best WordPress file upload plugins for your website? 
File upload plugins allow users to submit files to your WordPress website. However, finding the right fit for your business can be challenging.
Luckily, we've done the heavy lifting for you.
We've tested and compiled the best plugins that allow users to easily upload files and seamlessly integrate with your WordPress site. 
How Can I Accept Files in WordPress?
To accept files in WordPress, you can use a WordPress file upload plugin. These plugins let your visitors upload files directly to your site.
This is particularly useful if you're running a business website, a community forum, or any platform that requires file submissions. 
Why Use File Upload Plugins in WordPress?
Allowing users to upload files to your WordPress site is an excellent way to enhance user experience. Users can easily upload documents, images, or other files, which increases interaction and keeps them engaged with your site.
Here are a few more reasons why file upload plugins are essential for any WordPress website:
Easier Content Management: Managing user-uploaded content is often a headache, but it's a breeze with a file upload plugin. You can organize, filter, and manage files without any hassle.
Improved Functionality: A good file upload plugin can enhance your website's functionality. It can enable multiple file uploads, larger file sizes, different file types, and secure file storage to improve your site's overall usability.
Increased Security: File upload plugins can also offer better security. They can protect your site from malicious files and keep your user's data safe, making them a must-have for any WordPress website owner.
Best WordPress File Upload Plugins to Try
Having a functional, user-friendly file upload plugin can streamline your workflow, making tasks like content creation, site management, and user interaction more manageable. Below, we've curated a list of the best WordPress file upload plugins to consider.
So, without further ado, let's dive into the details!
Best WordPress File Upload Plugin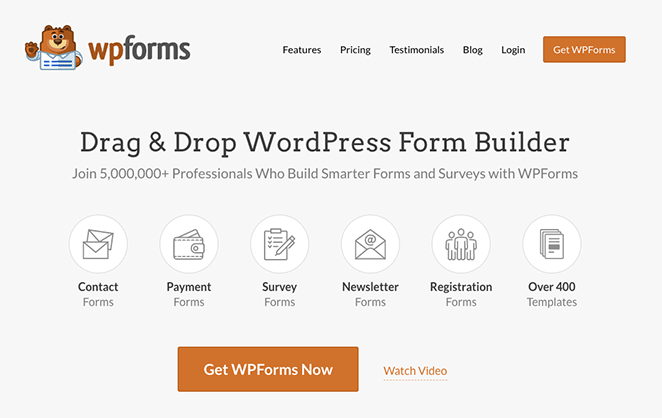 WPForms is the best WordPress file upload plugin, with a 4.9 out of 5-star rating on WordPress.org and over 6+ million users. It helps both beginners and experienced users build file upload forms, contact forms, and many other form types with its drag-and-drop form builder.
Our Review
We found it incredibly easy to create a file upload form with WPForms. The form builder is fast, easy to navigate, and has various customization options for the file upload field.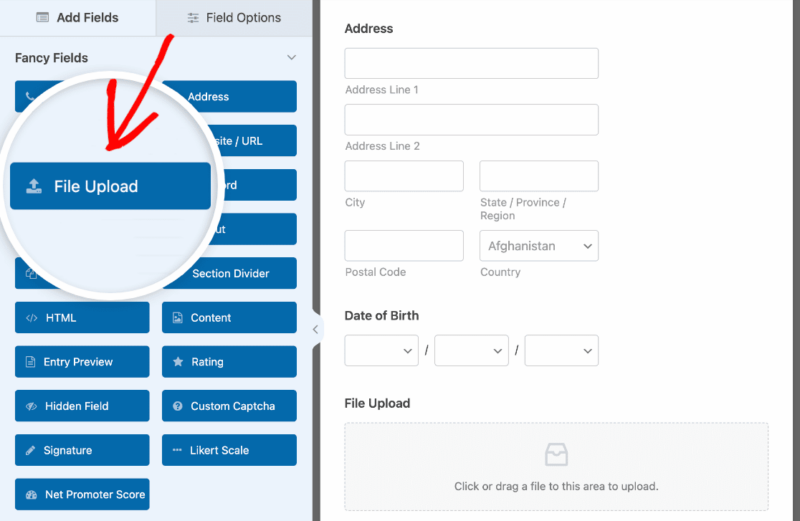 The field supports the most popular file types, and you can edit any placeholder text to be more user-friendly. You can even display your file upload form anywhere on your site, including posts, pages, and sidebar widgets with a WordPress block or shortcode.
We love that you can accept multiple file formats with this plugin. This means you can accept image submissions, videos, documents, and any other file your business requires.
You can also accept multiple files at once. For example, users can upload a resume and cover letter at the same time.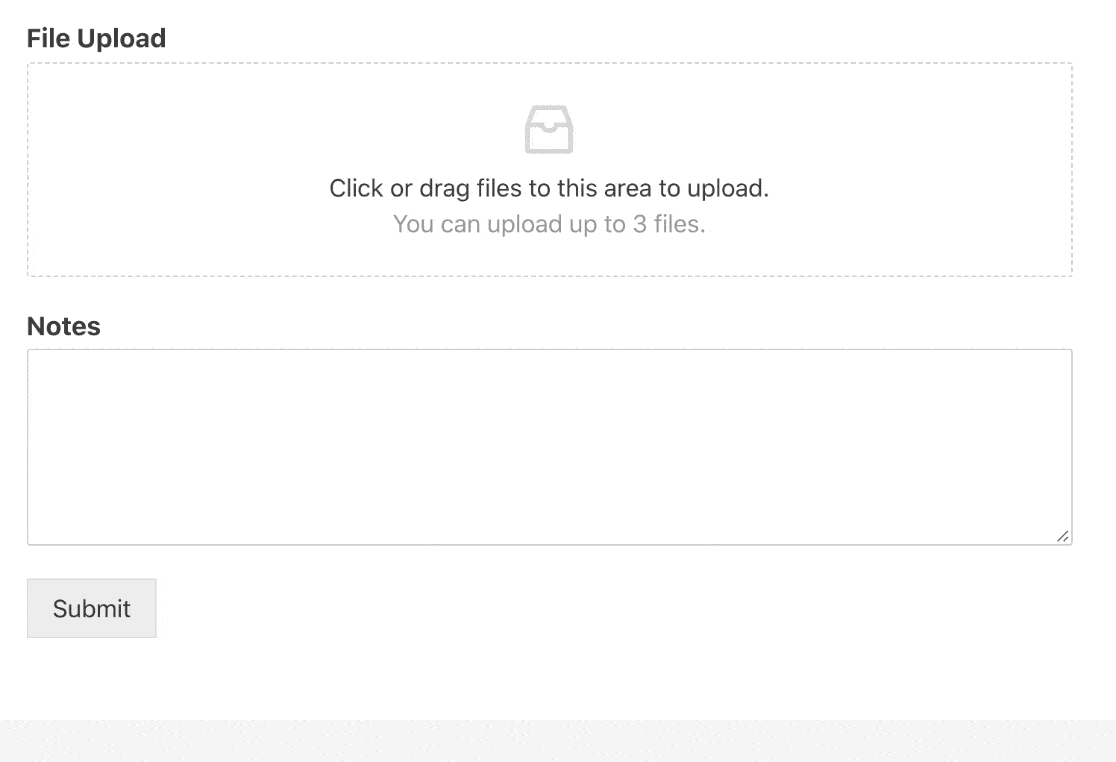 Similarly, WPForms allows you to set file size limits for uploads, which we found extremely useful. With this setting, you can reduce how much server space each file uses.
Any data accepted through your WordPress form is super easy to manage. You can export files to Google Sheets and Google Drive or receive file uploads as email attachments to your business email address.
Other impressive features we like include:
Form templates
Email notifications
Spam protection
Accept file upload with Ajax
Conditional logic
Custom fields
Email marketing provider integrations
Save and Resume add-on
Pricing and Plans
WPForms offers several different pricing options, starting from $49.50 per year for a single site. There's also a free version of WPForms that doesn't include the file upload feature.
Overall, WPForms is an excellent choice for site owners needing an all-in-one file upload solution. This form plugin is beginner-friendly, easy to use, works with any WordPress theme, and includes all the features you'll likely need.
Best WordPress File Upload Plugin for File Types
File Upload Types is another excellent plugin from the WPForms team. It offers a frictionless way to accept different types of files in WordPress.
The plugin makes the process of uploading different file types on the front end of your site effortless. Its interface is user-friendly and removes the guesswork for end users.
Our Review
This plugin works beautifully with other forms created with WPForms. As a result, you can include file uploads in different form types, such as giveaway entries, job applications, and more.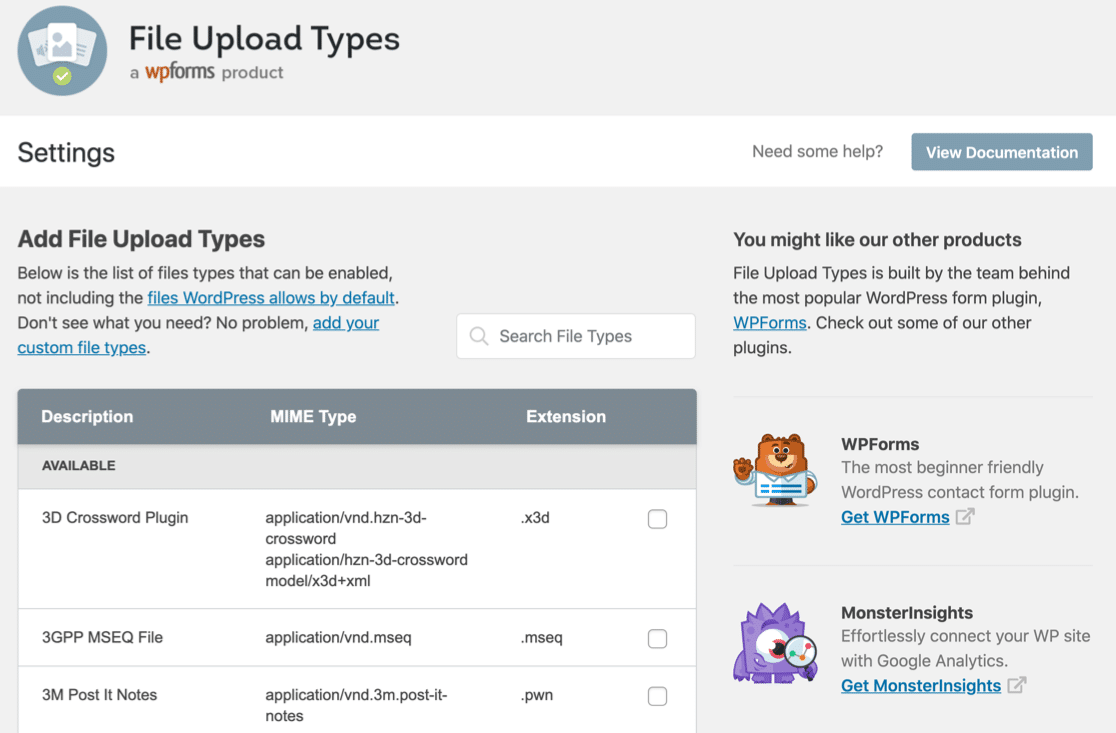 Additionally, we found the plugin easy to set up. We could set different file types for users to upload in minutes, and it required zero coding knowledge.
What we appreciated about this plugin is its support for a wide variety of file types and file extensions. This means you can upload and manage almost any file type without any hassle.
For instance, you can add the following file types that WordPress doesn't natively support:
.ai
.zip
.xml
.svg
.csv
.mobi
.cad
.dwg
.dxf
Another feature that caught our attention is the ability to add custom file types. So, if your website demands a less common file type, this plugin covers you.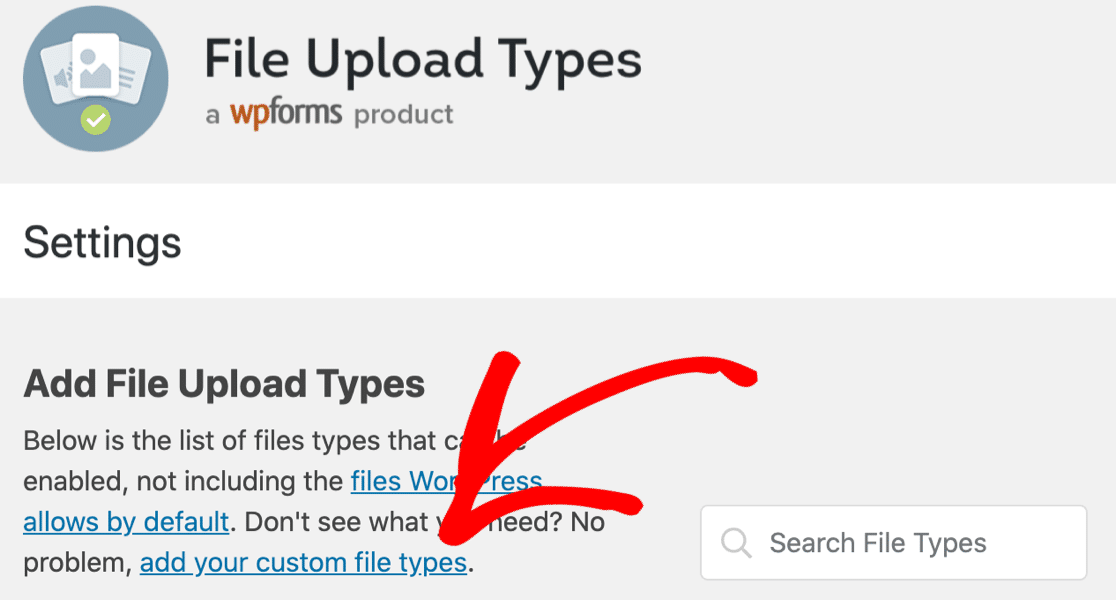 Plans and Pricing
File Upload Types is a free WordPress file upload plugin. If you're on a tight budget, you can use this plugin at no cost and still enjoy the flexibility of accepting front-end file submissions of various types.
In a nutshell, the File Upload Types plugin is easy to use and offers vast file support and customizability. This makes it an excellent choice for site owners with more advanced file upload needs.
Advanced WordPress File Upload Form Plugin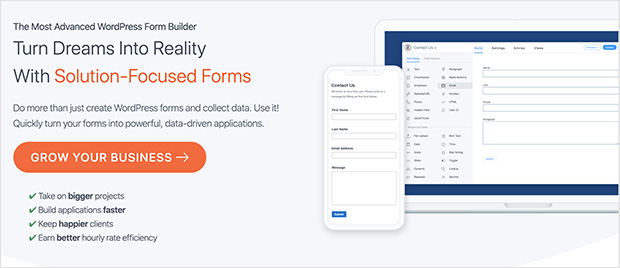 Formidable Forms is one of the most advanced form builder plugins that goes beyond simple file uploading. This WordPress plugin lets you create custom forms, surveys, quizzes, and more while offering a powerful file upload feature.
Our Review
During our testing, we found that Formidable Forms lives up to its name. It provides a reliable platform for managing various form-related tasks, including file uploads.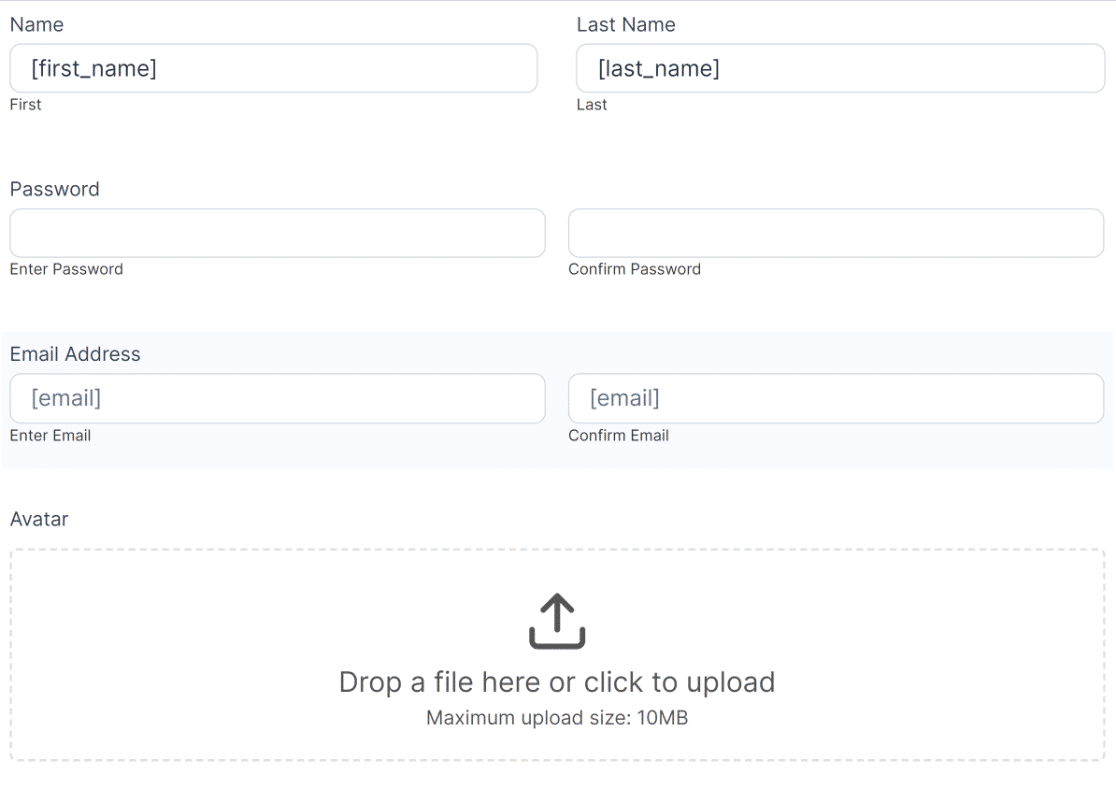 Creating a file upload form was easy, and the plugin handled large file sizes with zero hassle.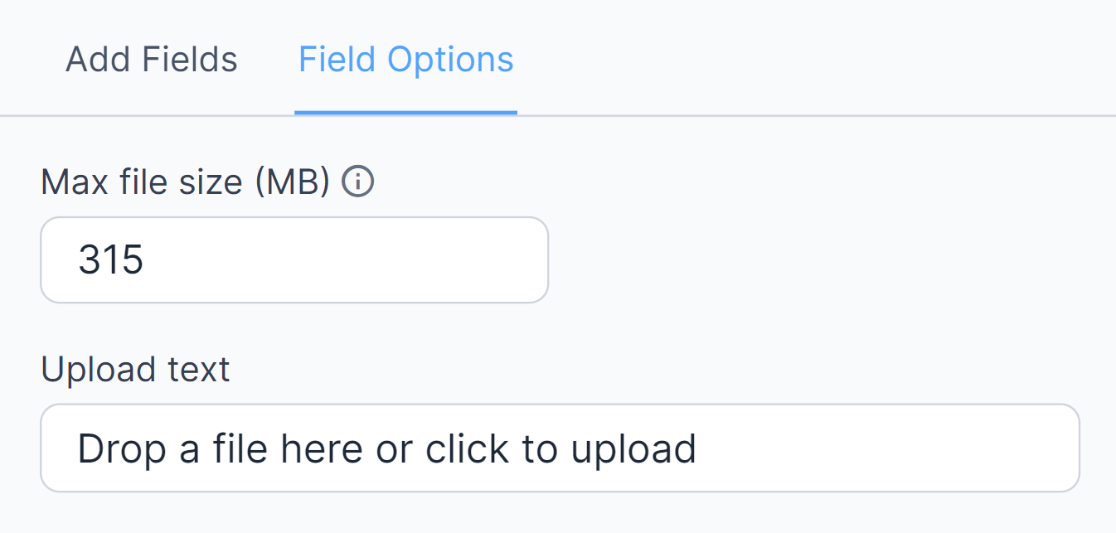 We found Formidable Forms flexibility highly impressive. Users can upload any number of files in various file types. For example, users can upload images and screenshots, PDFs, spreadsheets, guest posts, and more.
The plugin's security options were another feature we appreciated. You can restrict file types and sizes and delete old files when they're replaced in the back end of your site.
Plans and Pricing
You can get started with the limited free version of Formidable Forms. However, to access the file upload feature, you'll need a premium plan starting at $39.50 per year.
Formidable Forms is a powerful tool that does much more than file uploads. Its advanced form-building features, ease of use, and multi-file upload option make it a top-notch solution for WordPress site owners.
Best File Upload Plugin for Digital Downloads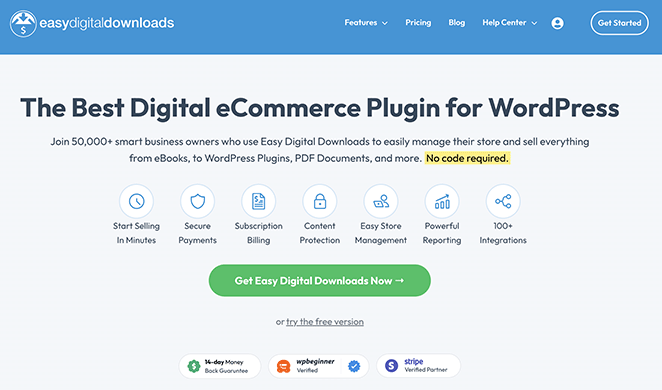 Easy Digital Downloads is one of the best WordPress eCommerce plugins for digital downloads. It helps you manage and sell digital products from your WordPress site, including PDF files, music, software, books, and more.
This plugin is highly customizable, offering various options for handling file uploads and downloads with minimal hassle.
Our Review
Easy Digital Downloads has an easy system for handling digital downloads. The plugin integrates seamlessly with WordPress, providing a clean and intuitive interface.
Adding files to your products is straightforward, with the option to assign multiple files per product. You can even upload files to cloud platforms like AWS, Dropbox, and others.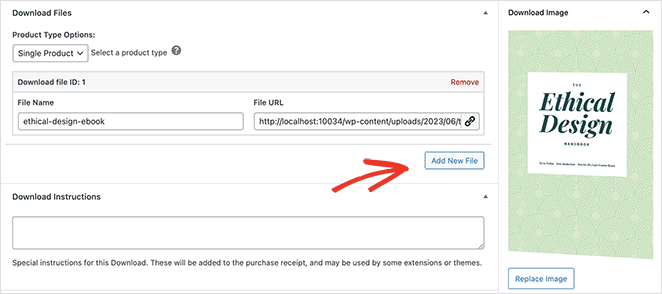 After uploading your files, you can password-protect them and allow download access to those with an active license.
One feature we particularly loved when testing Easy Digital Downloads is its multi-vendor marketplace. With this enabled, users can upload and sell files through your website, which lets you create an online marketplace like CreativeMarket.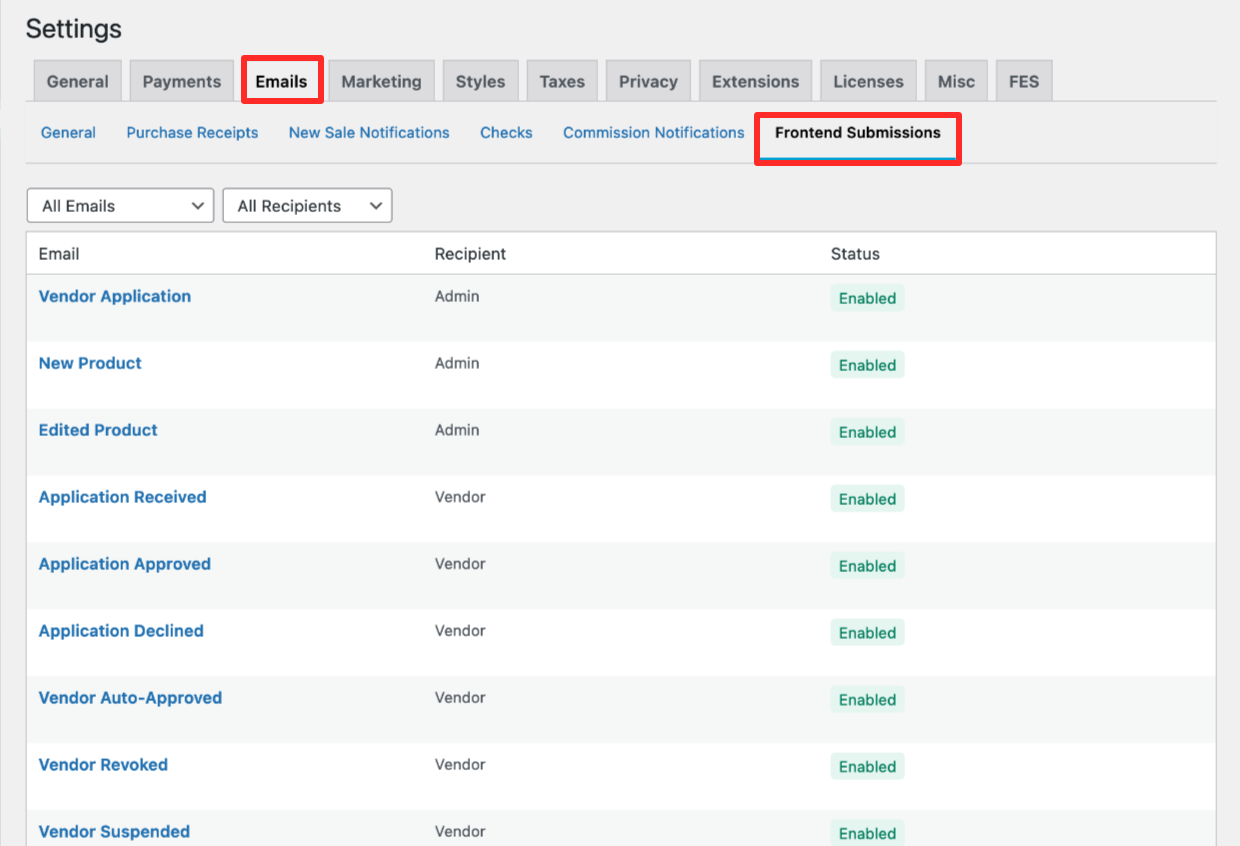 Additionally, we love that Easy Digital Downloads integrates seamlessly with SeedProd. As a result, you can customize your online store's appearance without hiring a developer.
Plans and Pricing
The pricing for Easy Digital Downloads starts from $199 per year. However, you'll need a Professional license starting from $599 to allow users to upload their own files.
Easy Digital Downloads is a powerful solution for site owners who need an easy way to sell digital files or turn their site into an online marketplace that accepts file uploads.
Simple WordPress File Upload Plugin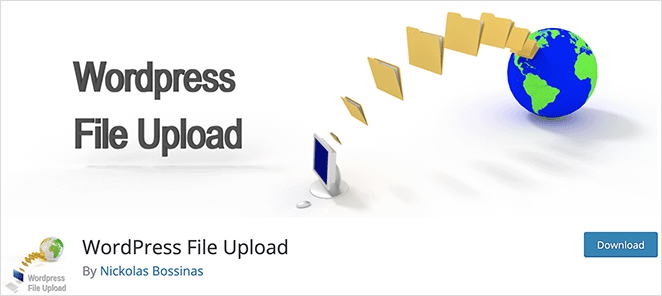 WordPress File Upload is a freemium plugin dedicated to helping users add file upload functionality to their website. It has an average 4.4-star rating on WordPress.org and over 20,000 downloads.
The plugin is simple, with a user-friendly menu where you can upload a file to any WordPress page.
Our Review
WordPress File Upload offers a lot of control over how you use it. You can customize the form appearance and even redirect users after uploading a form.
The file upload process is fast and responsive. During our test, we also didn't experience any problems with uploading large files.

One feature we enjoyed was the ability to customize the form. In the plugin settings, you can enter specific file extensions, add a GDPR consent checkbox, enable email notifications, a single-click upload button, and set form colors. You can also create custom form fields for additional data.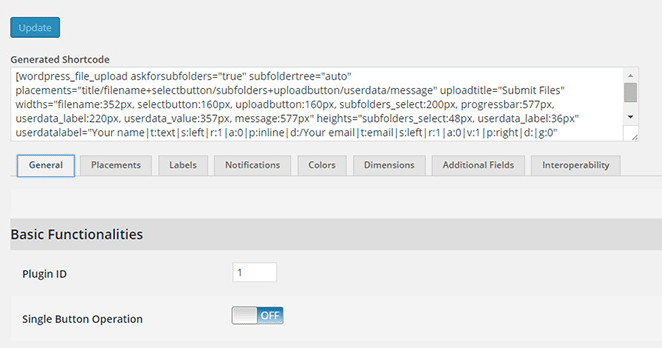 We also loved that you can automatically add uploaded files to your WordPress media library or attach them to that page or post. You can even access uploads via FTP if that's an option your site needs.
Plans and Pricing
WordPress File Upload is a free plugin. However, you can upgrade to the Pro version for €20.
WordPress File Upload is a great solution for website owners who need a simple, hassle-free file upload solution with plenty of customization options and a low price tag.
Best File Upload Plugin for Large Files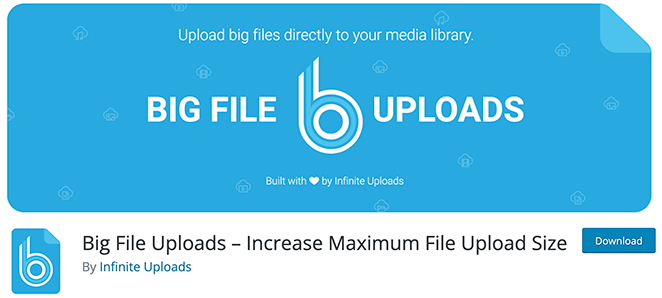 Big File Uploads is a popular WordPress plugin that helps you handle large file uploads. With this plugin, you can overcome one of the most common WordPress issues: the default file size users can upload.
Our Review
With Big File Uploads, you can increase the size limit of files users can upload to your website to hundreds of GBs. All it takes is a few clicks.
While the plugin doesn't include file upload functionality, you can easily add the feature with the Infinite Uploads plugin.
After installing and activating the plugin, you can customize your file upload sizes by user role, such as administrator, editor, or author.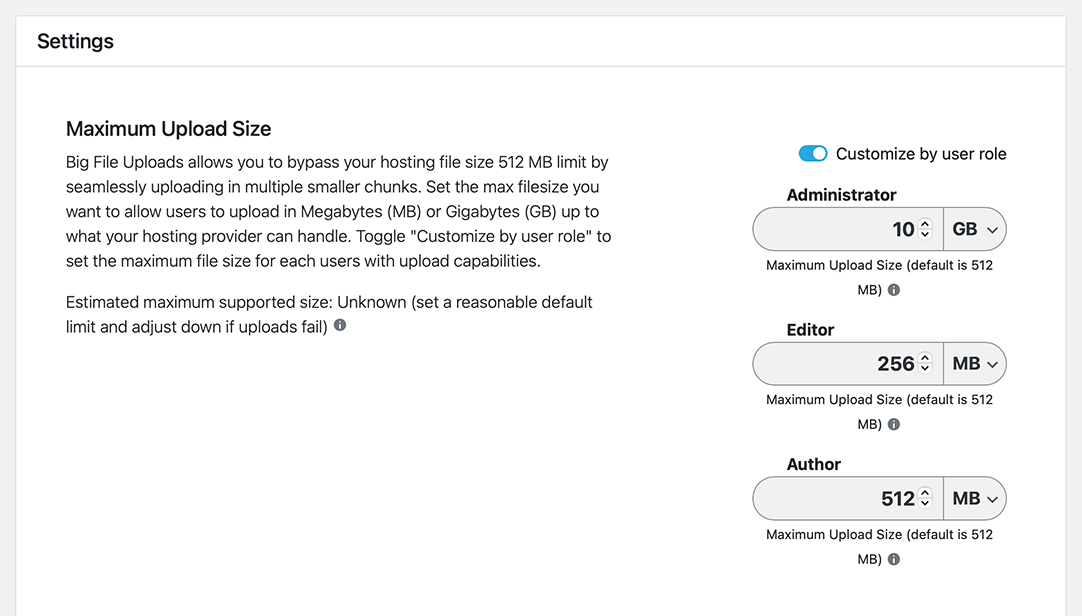 What we liked most about this plugin is that it makes extending file sizes easy. There isn't any extra complexity, and the settings are point-and-click.
Moreover, the plugin works well with additional file upload plugins. We didn't experience any compatibility issues during our test.
Pricing and Plans
Big File Uploads is completely free to use. No matter your budget, you can use it to increase file size limits on any WordPress site.
WordPress File Management Plugin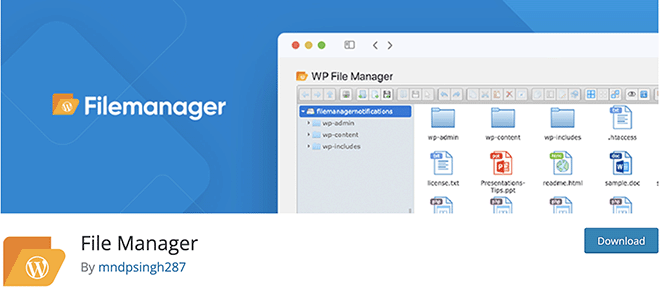 File Manager is a popular file management plugin that allows you to extend the default functionality of your WordPress Media Library. It also makes for an excellent file upload plugin because it provides back-end and front-end file uploads.
Our Review
The plugin integrated seamlessly with our WordPress dashboard, allowing us to manage files from the back end of our site. Similarly, the front-end file upload option simplifies submissions, improving the user experience.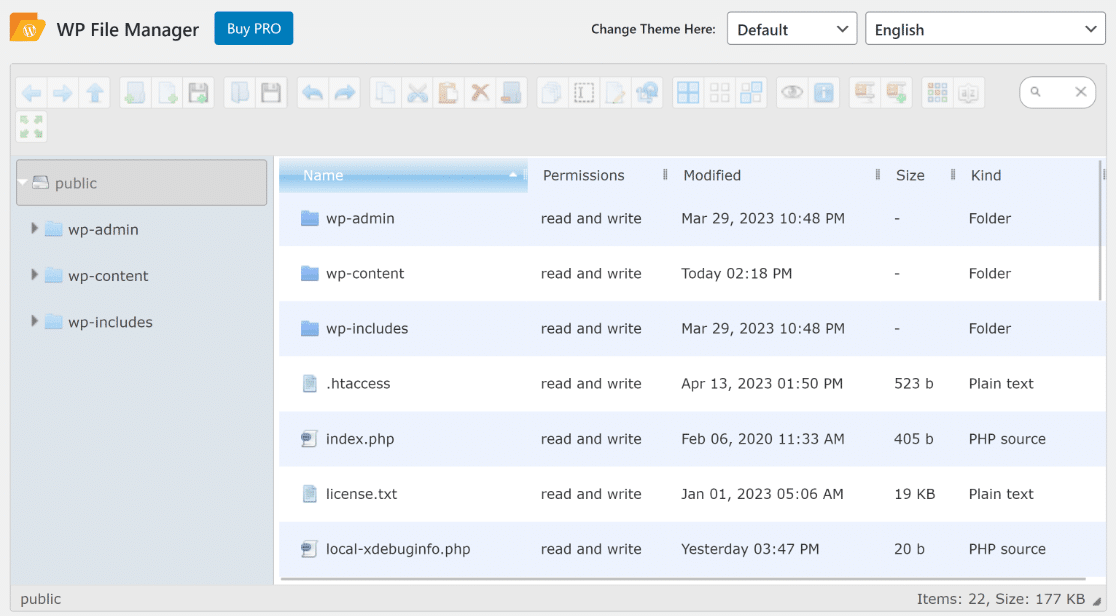 Adding the file upload field to any page is as simple as copying and pasting a shortcode, which is great news for site owners who don't need extra bells and whistles.
An impressive feature we particularly liked was the ability to set permissions for who can manage files. You can also hide files and features by user role, something you may wish to do for security reasons.
Pricing and Plans
File Manager offers a free version that you can use right away. There's also the option to get the premium version from $25.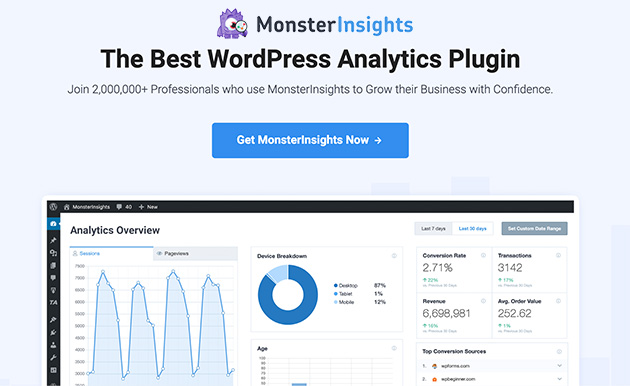 If you're looking for a tool to support your WordPress file uploads, MonsterInsights is a must-have. It's the best WordPress Google Analytics plugin, and it includes a handy feature that allows you to track form submissions and downloads on your website.
With MonsterInsights data, you can learn why users abandon your forms and optimize them to improve leads and conversions. The plugin lets you track file downloads in Google Analytics and any file extensions without code. 
Plus, the analytics reports are visible inside your WordPress dashboard, meaning you won't need to leave your site to view them.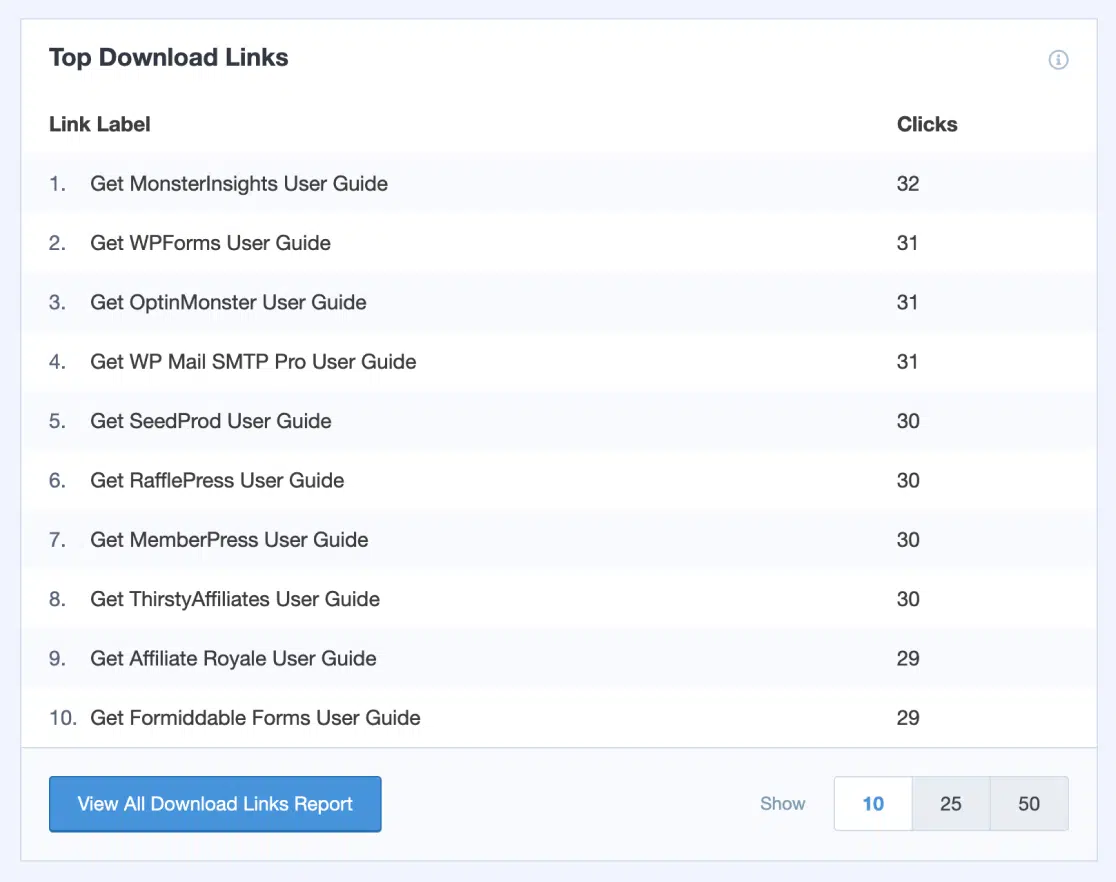 Even better, MonsterInsights has a free version to get started quickly. Premium plans with additional features start from $99.50 per year.
What Is the Best WordPress File Upload Plugin?
After testing and reviewing the plugins in this guide, it's clear that the best WordPress file upload plugin is WPForms. Its beginner-friendly user interface and extensive customization options set it apart.
You can attach the file-upload field to any form, and administrators can view uploads directly inside the WordPress dashboard. Additionally, the plugin is lightning-fast and offers top-notch customer support to help you at every step of the form-building process.
Next: Discover More Best WordPress Plugins
We hope this guide has helped you find the best WordPress file upload plugins for your website. Before you leave, you may also find the following top WordPress plugin suggestions helpful.
Thanks for reading. Please follow us on YouTube, Twitter, and Facebook for more helpful content to grow your business.