Are you looking for the best WordPress survey plugin for your site? Surveys are an effective way of gathering feedback from your customers so you can use them to improve your business. But with so many great plugins to choose from, it's hard to know where to start.
In this article, we'll compare the top WordPress survey plugins for your business website.
Here's a quick summary of our findings if you're in a hurry. Click any heading to jump to the plugin details:
Why Use a WordPress Survey Plugin?
Using a WordPress survey plugin is a great way for your business to listen to what your audience has to say. Your audience will have lots of helpful information and suggestions to improve your brand if you ask.
For instance, you might discover some obstacles in your buying process that cause people to abandon their carts. After learning this, you can focus your efforts on solving that problem to boost customer satisfaction and revenue.
What to Look for in a WordPress Survey Plugin
There are plenty of ways to gather information on your website. You could add a contact form to WordPress, create polls, or even ask for feedback in the comments.
But adding a survey to your WordPress site is a little more involved. It needs to be fun, engaging, and easy to get respondents to give you their opinions.
When choosing a WordPress survey plugin, look for the following key features:
The ability to create different types of forms.
Options to customize your WordPress survey form easily.
Reporting features to keep things organized.
Multiple ways to store and export information.
Different methods to share your survey results.
Ways to embed results on your website.
With that said, let's look at some of the most popular WordPress survey plugins available today.
Best WordPress Survey Plugins
We've searched the web for the best WordPress plugins with survey features and compared them below. Even better, there are both free and paid survey solutions, so you can pick what suits your budget best. Shall we jump in?
1. WPForms: Best Survey Plugin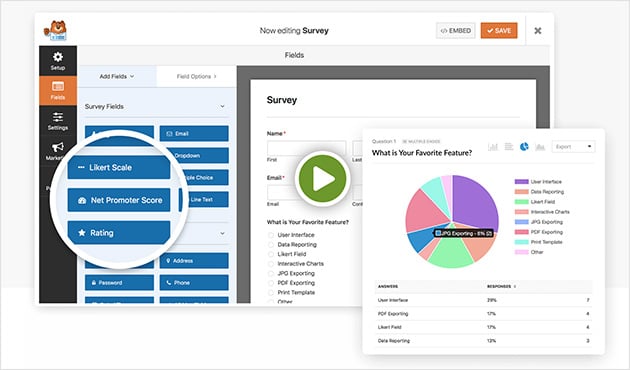 WPForms is one of the best contact form plugins for WordPress. With its powerful surveys and polls add-on, you can easily create engaging WordPress surveys with a few clicks. You can also use the surveys and polls add-on with other features in WPForms, including conditional logic, multi-page forms, and more.
Features
Beginner-friendly for the best user experience.
Quickly convert any form into a WordPress survey with a few clicks.
Drag and drop front-end builder to create customizable online surveys in WordPress in minutes.
Pre-built survey form templates for quick and easy market research.
Easily create a free poll and display real-time results on your website.
Smart survey fields include Likert scales, star ratings, dropdown, multiple-choice, and NPS.
Split forms into steps to avoid scrolling.
Add forms anywhere on your site, including your sidebar, posts, pages, and footers.
Interactive survey reports for real-time insights within your WordPress dashboard with stunning pie charts, graphs, bar charts, and more.
Integrations with email marketing providers like Mailchimp and Constant Contact.
Works with popular page builders like SeedProd and Elementor.
Offers payment gateway add-ons for Stripe, Square, PayPal, and more.
Price: WPForms Pro starts at $199.50/year.
Why not check out this in-depth WPForms review for the full details?
2. RafflePress: WordPress Social Polling Plugin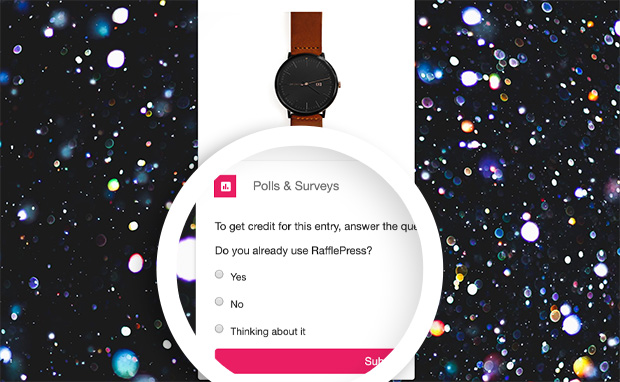 RafflePress isn't just the best giveaway plugin for WordPress. It's also a great way to create online surveys in WordPress that grow your audience while running an online contest. The super-easy polls and surveys feature lets you ask entrants questions which gives you instant insights for growing your business.
Best of all, you can do it all without leaving your WordPress website.
Features
User-friendly social media sharing actions make answering WordPress surveys effortless.
Powerful contest templates paired with surveys increase engagement by unlocking more entries when surveys are completed.
Add scripts for Google Analytics to track your performance.
Integrates with popular email marketing services to grow your email list.
Adding surveys to giveaways is so easy, that even beginners can do it without knowing any code.
Built-in giveaway landing page to encourage more submissions.
Price: RafflePress has a free version. But for the polls and surveys feature, the premium version starts at $99.50 a year.
3. Formidable Forms: WordPress Data Collection Plugin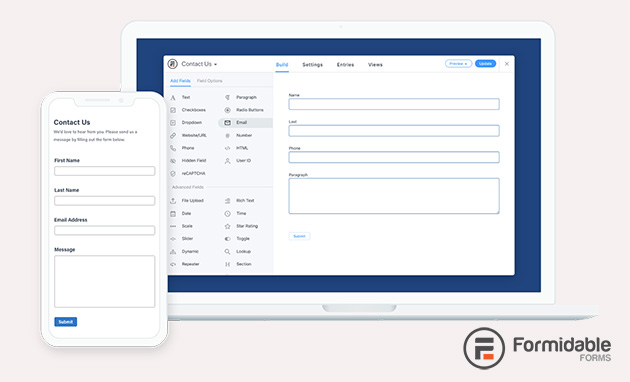 Formidable Forms is another must-have WordPress survey plugin where you can easily create both simple and complex forms. This plugin offers ready-to-use form fields, including Likert scales, radio buttons, and checkbox fields, allowing you to build even the most complex survey forms for your WordPress site.
Features
The drag-and-drop form builder helps you make complicated survey forms easily.
Split complex WordPress survey forms into multi-page forms that save automatically.
Allow visitors to upload multiple files to your survey.
Show survey questions with conditional logic and send notifications.
Display the results from form data in custom views without any PHP right inside WordPress.
Price: The free version of Formidable Forms gives you a solid overview of what you can achieve. But for advanced forms, surveys, and the best results, the paid version starts at $199.50 a year.
4. HubSpot: Free Survey Form Plugin

The HubSpot WordPress plugin gives you access to a powerful drag-and-drop form builder that you can use to create all types of surveys. When someone submits a survey, you can save their results to the integrated HubSpot CRM for safekeeping. You'll also be able to filter and organize your users based on how they answered the survey.
Features
Drag and drop form builder with support for custom fields to collect any information.
Automatically save survey responses and participant contact information to the HubSpot CRM.
Filter participants by how they answered the survey.
Send custom email notifications to survey participants, including automatic sequences of multiple emails.
Embed forms anywhere on your WordPress site or display them in popups.
Create more than just surveys, with support for any type of WordPress form.
Price: The HubSpot WordPress plugin, survey builder, and CRM are all free.
5. Ninja Forms: WordPress Simple Survey Plugin

Ninja Forms is another contact form plugin with WordPress survey building features. Via extensions, you can build any WordPress form and a solid survey form. But it's worth noting you'll need to buy one of the extensions to achieve this.
Features
The conditional logic extension lets you build dynamic forms that adapt as they're filled in.
Using the multi-part forms addon your form and surveys can be split across multiple pages.
Build forms by dragging and dropping fields.
Create forms easily without any coding skills.
Price: The base version of Ninja forms is Free. The optional add-ons needed to build a WordPress survey form start at $99 for a single site.
6. Gravity Forms: WordPress Questionnaire Plugin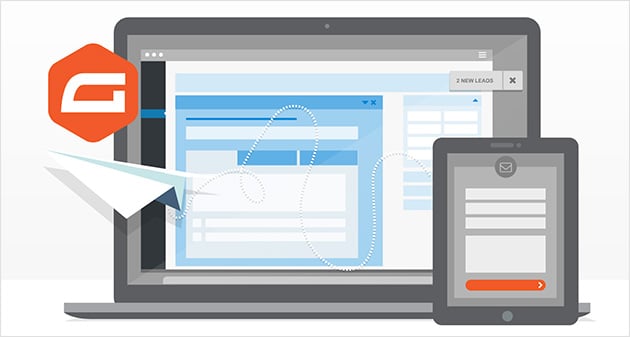 Gravity Forms is an old and trusted WordPress form plugin with add-ons to help you create online surveys. It's pretty easy to use, and you can build any survey form with the helpful form builder.
Features
Quickly build and design WordPress surveys with the visual editor.
Over 30 ready-to-use form fields.
Conditional logic to help you show or hide survey form fields based on the input.
The survey add-on lets you create survey forms to collect and analyze data.
Price: Gravity forms don't have a free version. And to use the survey features, you'll need the elite plan, which costs $259.

Quiz and Survey Master is one of the most effective WordPress survey plugins and free questionnaire makers. While the user interface isn't the best for beginners, there are many valuable features if you're interested in learning with this free survey maker.
Features
Create engaging WordPress quizzes with interactive answers, leaderboards, and more.
Build multi-step survey forms to keep users engaged in answering your survey.
Use email notifications to thank users for completing your survey or send them to another page like a thank you page.
Access survey reports with the paid version of the plugin.
Price: There is a free version available for this survey plugin. But for unlimited survey responses and reporting, you'll need the paid version, which starts at $99 a year.
8. WP-Polls: Free WordPress Poll Plugin

WP-Polls is a robust survey plugin that lets you add polls to your WordPress website. Even better, it's a free and simple solution for creating polls for your users. While it lacks a survey form option, it's still good for gathering user feedback.
Features
Despite the limited functionality, it's simple and easy to use without unnecessary features.
Easily add polls to your site with a widget or shortcode.
Lets you add user-friendly radio buttons to polls.
Visitors see poll results right after they add their answers.
Price: WP-Polls is a free plugin to use on WordPress.

Form Maker by 10Web is yet another form builder plugin for WordPress you can use for building WordPress surveys. It comes with a range of fields to make your surveys more engaging. And with its free survey maker tool, you can create multi-page forms with conditional logic.
Features
Drag and drop interface for easy form creation.
Custom CSS options let you customize the styling for your forms.
Multiple pre-built forms templates to help your design needs.
Includes star ratings, multiple-choice, and grades for surveys.
Price: This is a free survey maker plugin. But for additional features, you can upgrade to the paid version, which starts at $30 for 6 months of updates and support on 1 domain.
10. Social Polls: Social Polling Plugin

Social Polls is another WordPress simple survey plugin and free survey maker you can use to gather feedback from site visitors. This WordPress poll plugin lets you easily create a WordPress poll, surveys, and even buzz-feed-style quizzes for your website. Plus, it also works as a simple contact form too.
Features
Create surveys and polls from scratch or use a pre-built template.
Add images, videos, and other visual content to your surveys.
Useful analytics dashboard for viewing results and performance tables.
Embed in posts, pages, or other widget-ready areas on your site.
Add an exit popup for when users enter or exit the page.
Price: Social Polls is a free plugin. But to gather leads, you'll need to upgrade to the paid version, which starts at $19 a year for up to 10k views a month.
11. YOP Poll: Free WordPress Poll Plugin

YOP Poll is a free WordPress poll plugin and a simple way to add surveys and create a free poll on your WordPress site. It's easy to use and a great way to gather user feedback on any site. The poll scheduling option lets you build polls for scheduling in advance.
Features
Run more than one poll at a time on your site with the multiple polls feature.
Automatic scheduling allows you to build, set, and forget polls way ahead of time.
Polls can be edited easily, alongside the ability to clone polls for future use.
Add polls to WordPress with either shortcodes or widgets.
Customization options make it easy to get your poll looking great.
Price: YOP Poll is a free, open-source WordPress poll plugin anyone can use.
Which Is the Best WordPress Survey Plugin?
Here is a summary of the top survey plugins for WordPress.
But which survey plugin is the best?
After carefully comparing the WordPress plugins in this article, we've concluded that the best survey plugin for WordPress is WPForms.
It's the most beginner-friendly form builder, has a full range of survey building features, and includes stunning reports to make sense of your data.
FAQs
Does WordPress have a survey tool?
WordPress does not have a built-in survey tool. To create an online survey in WordPress, you'll need to use one of the survey plugins included in this comparison.
How do I create an online survey on WordPress?
How can I create a free survey?
You can use one of the free WordPress survey plugins above to create a free survey for your website. You can also create a free survey using Google Forms, although it has fewer advanced features.
What other survey tools are there?
Some other popular survey tools include SurveyMonkey, Opinion Stage, Crowdsignal, Modal Survey, and more.
And there you have it.
In this article, we've compared the best WordPress survey plugins for your website. And because many options have free and paid versions, you can pick one that best suits your budget.
Want users to be able to upload files to their forms? Then take a look at our tutorial for how to create a WordPress form with file upload here.
And don't forget to follow us on Twitter and Facebook for more plugin showcases like this.