Do you want to know how to start a podcast? And do you want to learn the best process for starting your own podcast? It's scary starting up your very first podcast. There's so much to learn and understand. But don't worry.
In this article, we'll walk you through every aspect of how to start a podcast with WordPress, with tips on choosing the best podcast equipment to secure new listeners.
Let's get started.
What Is a Podcast?
A podcast is a series of episodic audio files people can download and listen to. So it's pretty much like a talk show, but users can listen to podcast recordings on demand. 
Many people start successful podcasts for the following reasons:
As a way to share in-depth knowledge on a particular subject, such as entrepreneurs.
To use it as an inbound marketing channel for their business.
As a way to build their personal brand to potential listeners.
For website monetization and to improve SEO.
Or to simply entertain people.
How do podcasts work?
For podcasts to work, you need a high-quality audio file and feed users can subscribe to. This helps them stay updated with the latest episode releases, so they can download them when they're published.
Many beginner podcasters use WordPress as their chosen website platform. Mostly because it has a built-in RSS feed system for blog posts.
But you can also connect your podcast to listening apps like iTunes, Apple Podcasts, Amazon Music, Stitcher, and Spotify to make it easier for millions of people to subscribe (more on that later).
Now you know what a podcast is and how they work in the wild, let's move on to figuring out how to find the perfect topic for yours.
Defining a Niche for Your Podcast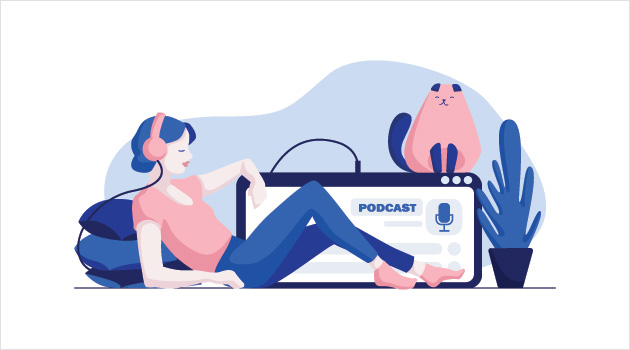 Podcasts are super-popular, and there's a ton out there on a wide range of topics. That's why when starting your podcast, you need to define your niche to help you stand out from the crowd and compete for listeners.
To find the perfect niche and topic for your podcast, ask yourself the following questions:
What is your podcast name?
Who are your podcast listeners?
What topics will you discuss?
How is your podcast different?
What is your podcast format?
Will you interview any guests?
Will you have a co-host or an extra podcasting host?
With the answers to these questions, start brainstorming your topic ideas and narrow them down to more specific areas.
For example, if your podcast is about personal development, you can narrow it down to topics like productivity, leadership, or motivation. Doing this exercise will help you plan new episodes later to maintain your focus.
But you might be thinking you can't compete with podcasts on a similar topic. Don't worry. It might sound cliche, but just be you.
If this is a subject you have plenty of knowledge of, you can use your unique insights, voice, and perspective to stand out. After all, being authentic to yourself helps people relate to you better.
Once you know what you'll talk about in your episodes, it's time to start getting set up.
Key Steps on How to Start a Podcast
To start a professional podcast, you'll need a few things to make the process as smooth as possible.
Here are the key essentials to get started:
Website – For people to learn more about you and your podcast.
Recording Equipment – To record your podcast episodes and perform podcast editing.
Podcast Hosting and Publishing tools – So you can publish your podcast online and promote it to grow your subscribers.
How about we walk through the entire process from start to finish so you know exactly what to do at each step?
Step 1: Create a Podcast Website
The first step is the most important one. And that's choosing a website host and creating your podcast website.
As we mentioned earlier, WordPress is a popular choice because of the RSS feed features. But it also gives you complete control over your site through the use of WordPress plugins to extend its functionality and WordPress themes to easily design your site.
Even better, WordPress.org (the self-hosted version) lets you build a podcast website for free and without any restrictions. This means you can make money from your podcasts, accept sponsorships, and use affiliate links, something you're not able to do with WordPress.com (the hosted version).
And if you're curious, you can learn about the difference between WordPress.org vs WordPress.com here.
Essentially WordPress is free for everyone to use. All you need to pay for is a domain name and website hosting.
A domain name is your website's online address. And this is where people can visit you by typing it into their address bar. For example, our domain name is seedprod.com.
On the other hand, hosting is more like an online house for your website. And it's where all your files, images, and databases are stored.
The cost of hosting can vary, but the typical price is around $7.99 per month. While for your domain name, it can cost as little as $14.99 per year.
Now we understand this might be a lot to take in all at once. That's why we suggest using Bluehost to host your website.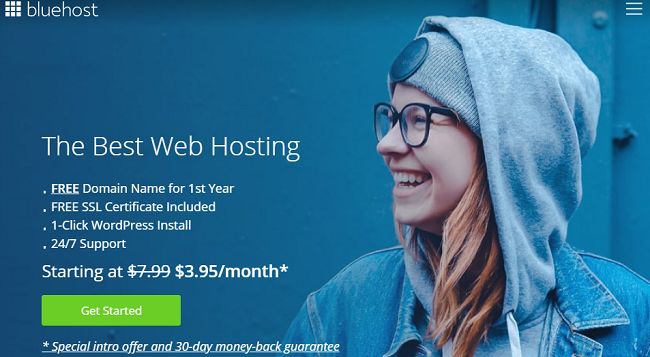 Bluehost is an official WordPress-recommended hosting provider and one of the biggest ones in the world. They also offer domain name registration, so you can get your domain, hosting, and WordPress website set up all in one place.
Once you've signed up for Bluehost, follow these step-by-step instructions for how to start a WordPress blog.
But if you'd rather use a different host, you can check out these other suggestions for the best hosting solutions for WordPress alongside this guide for installing WordPress.
Step 2: Set Up Your Podcast Media Hosting Service
For the next step, you need to find a good media hosting service. This is because podcast audio recordings and audio files are pretty big and use a lot of server resources, making your site slower.
To prevent this, you can use a media hosting platform for podcasts, such as Blubrry or Anchor.fm.
For this guide, we'll be using Blurbrry for the following reasons:
It's optimized for WordPress podcasting by using a plugin to easily manage podcasts right from your WordPress site.
There's a huge WordPress podcasting community behind it, with a forum for you to learn and ask questions.
It comes with a suite of powerful tools like iTunes optimization, media artwork management, and search engine optimization SEO tools.
The podcast hosting service content delivery network helps you serve podcasts faster and more reliably.
The podcast directory helps you spread the word.
Then when you've secured your media hosting platform, it's time to talk about the type of equipment you need.
Step 3: Choose Your Podcasting Equipment
So what equipment do you need to start a podcast? It's an important question, and you'll get a ton of different answers based on who you ask.
That's why we recommend starting with a good podcast microphone. If you use your computer's built-in microphone the audio quality will sound terrible. And this can even deter users from listening to future episodes.
Instead, choose a microphone that offers good sound quality and easy setup. One of the most popular podcasting microphone brands is Audio-Technica. Here are a few other popular choices:
| | | | | |
| --- | --- | --- | --- | --- |
| Microphone | Rating | Pros | Cons | Current Price |
| Samson Go | Best bang for your buck | – Portable- Simple construction | – Can accidentally switch recording modes | $39 |
| Blu Yeti | Most versatile | – 4 recording patterns- Good quality build- XLR interface | – Cumbersome | $118 |
| HyperX QuadCast | Best USB microphones | – Easy to operate- Muting notification- Good build quality | – Boosts sibilants | $134 |
| Blue Ember | Best studio mic | – Off-axis rejection- Portable for XLR- Versatile | – Requires 48V phantom power- Needs a pop filter | $99 |
To go alongside your microphone, you'll probably need a microphone arm, shock mount, pop filter, and headphones to make your setup more efficient.
Once you've gathered all your podcasting equipment, you can move on to the next step, which is planning out your podcast episodes.
Step 4: Plan Your First Episodes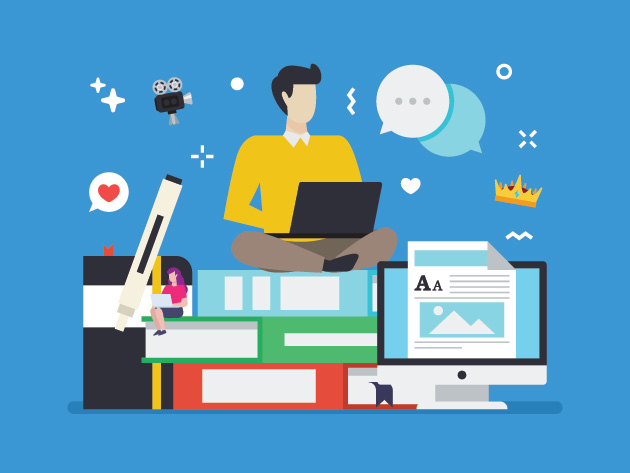 Before you start recording your podcast, you need to carefully plan out each episode. This is so you know exactly what you'll talk about, how long they'll be, and what else you need to include.
There are a few important things you'll need to consider, such as:
1. Your Episode Content
What will your first couple of episodes be about? On a fresh piece of paper or a new document, outline the key talking points.
Then flesh each point out in more detail. This will help you write your script, which we'll discuss a little later.
2. How Long will Each Episode Be?
Podcast lengths can vary from short 20-minute episodes to full hour-long sessions. How long yours is, depends on the content you include and the audience you're targeting.
There aren't any hard or strict rules for how long your episodes should run. But a good rule of thumb is don't cut quality content down to fit a certain length. And don't drag out an episode to make it longer.
3. What Other Media You'll Include
The best podcasts include audio for the intros and outros, playing softly in the background and adding dramatic effects to points you make. Audio also adds interest and depth to a podcast that might otherwise feel a little too bland.
There's a wealth of license-free music available online you can use. Just make sure you review all the license details before using them in your podcasts.
Here are a few places you can download free audio tracks:
4. Your Script and Storyboard
We mentioned before why it's important to create a detailed outline template for your podcast topic. But without a script or storyboard, you won't know how that information will flow together.
Putting together a podcast script keeps your episodes focused. Plus, it'll help you sound more professional with each talking point, flowing seamlessly into the next.
Now you can, of course, go off-script at times. You're only human, and personal touches like that make you easier to relate to. But having a script will ultimately result in better quality content.
After all that planning, you're ready to start recording your first episode. Let's find out how.
Step 5: Record Your First Podcast Episode
To record your first podcast episode, you'll need some podcast recording software to record and edit audio files. You could use Skype or Zoom, but the audio quality isn't the best.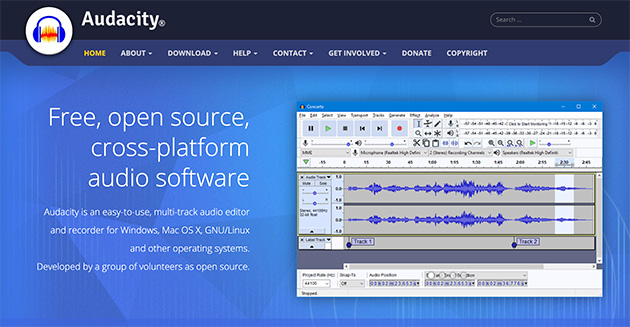 Some people use Garageband or Adobe Audition, but the best and most popular podcasting recording and audio editing software is Audacity. It's free, open-source, and cross-platform, meaning you can get professional-sounding recordings. It also works on Windows, Mac, and iOS.
Go ahead and install Audacity on your computer. Then open it and create a new project by choosing File » New from the menu bar.
When using Audacity, you can also import music to play in the background while you record. To do this, click File » Import.
Then to start recording your voice, click the red record button. Now you can start recording your podcast.
We've also put together a quick video for how to record with Audacity below.
When the podcast is recorded, you'll then need to export it. Exporting it in an MP3 format is the popular choice due to its small file size and superior quality.
And because most podcasts are run in a series, you should be smart about how you name the files too. A good way to do this is to use the episode number in your file name.
If we were to start a podcast in WordPress, we'd likely name our files like this:
SP001.mp3
SP002.mp3
SP003.mp3
Then you can save all your files in a new folder on your computer dedicated to your podcast episode recordings.
Step 6: Publish Your Podcast with WordPress
Once you've recorded a few episodes, you're ready to learn how to publish a podcast with WordPress. So go ahead and log into the admin area of your WordPress website.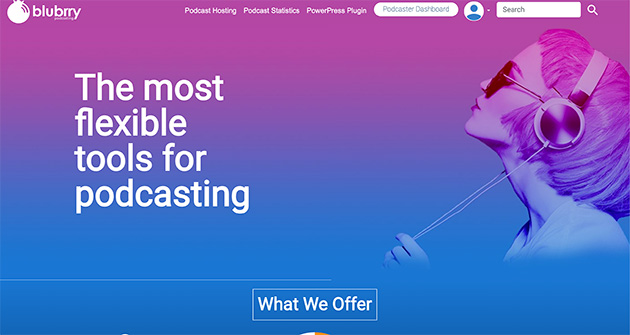 Then download and install the Blubrry PowerPress Podcasting plugin, which is free to download from the WordPress repository. For help learning how to install a WordPress plugin, check out this tutorial.
Once you've installed the plugin, there'll be a PowerPress icon in your WordPress admin menu. And if you're using Blubrry to host your podcasting files, you'll need to configure it to link your account and WordPress site.
So click PowerPress » Settings to view the settings screen and click the blue button to link your account.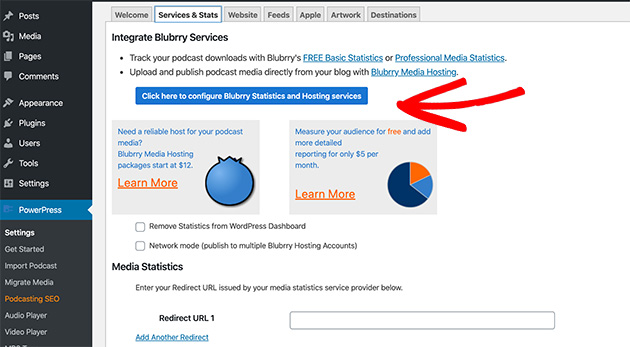 This will bring up a popup for you to enter your username and password to access your Blubrry statistics and hosting services.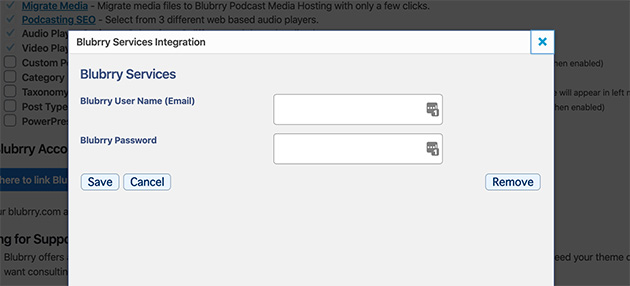 Then go ahead and fill in the rest of the information on the settings page. This includes your feed information, show details, and iTunes details which you can access in the Apple tab (we'll discuss this later).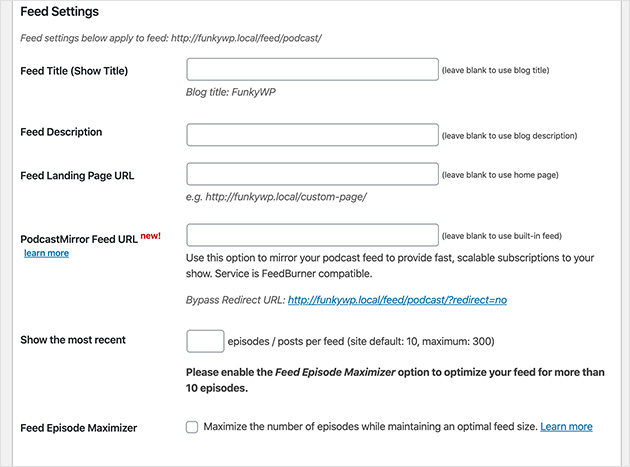 And when you're happy, click Save Changes. Your site is now ready to publish podcasts.
Step 7: Upload Media Files to Your Hosting Service
Now before you jump ahead and publish your podcast, you should upload the audio file to your media-hosting podcast platform. In this case, that's Blubrry.
So log in to your Blubrry dashboard and click Upload New Media Files.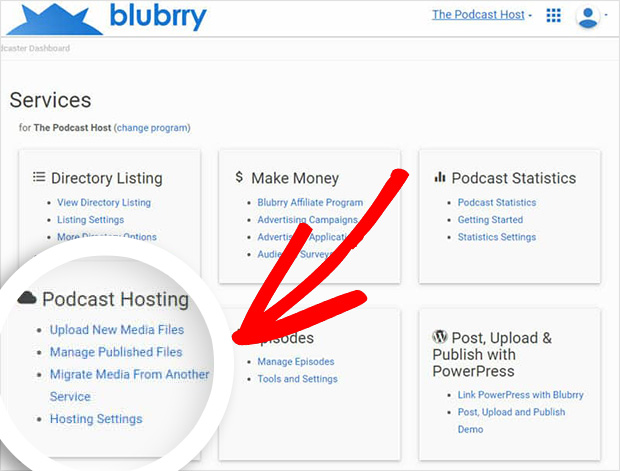 Then you'll be sent to another page where you should click the Upload New Media button to upload your podcast files.
Once you've completed this step, you can move on to using them on your WordPress site.
Step 8: Add Your First Podcast to WordPress
To add your first podcast to WordPress, first sign up for a Fusebox account. This lets you download and install their smart podcast player plugin and display your podcasts beautifully in WordPress.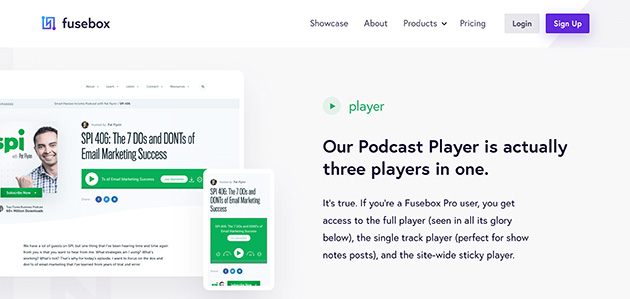 The free version of Fusebox provides you with the following benefits:
Sitewide sticky podcast player
Mobile-friendly design
Light and dark theme
Smart show notes tool
Whereas if you upgrade to the pro version, you can access email capture support, customization features, social media sharing, downloadable MP3s, podcast artwork links, podcast cover links, and more. Even better, it only costs $8 per month, billed annually.
Note: You can create custom artwork for free with a site like Canva, or you can commission a piece from places like Fiverr. Ideally, your artwork should be 1400 x 1400 pixels and in a JPG format.
Once you've installed and activated the plugin, head to Settings » Fusebox Player.
And if you have the paid version, go ahead and enter your license key.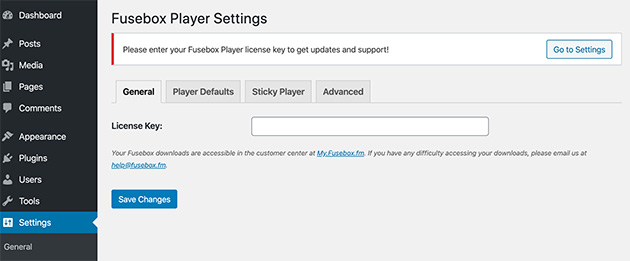 Then click on the Player Defaults tab to configure the podcast settings.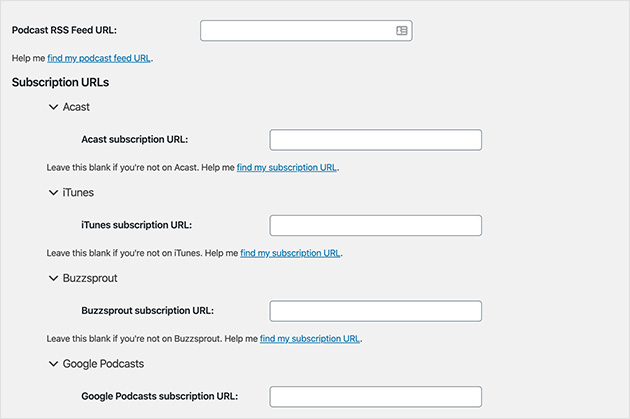 Here you'll need to enter your podcast feed, iTunes subscription link, and the show's name and artist. Don't worry if you haven't submitted your podcast to iTunes yet. You can always come back to this step later.
There's also a range of design customization settings in Fusebox. Here you can change the highlight color, backgrounds, and button styles.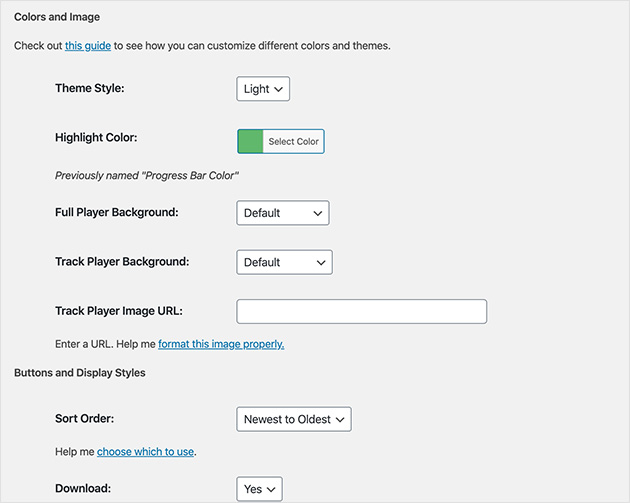 Once you're happy with those settings, click Save Changes.
Disable the PowerPress Podcast Player
Because you're using the superior Fusebox player for displaying your podcasts, you're not going to need the built-in PowerPress player.
You can deactivate this player by heading to PowerPress » Settings and clicking the Website tab.
Here you'll need to click the Disable PowerPress Media Player option.

Then click Save Changes.
Adding Your Podcast to a WordPress Post
Now that's in order, you can publish your podcast in a new WordPress post. To do this, go to Posts » Add New.
Then under the Category heading on the right-hand side, give your podcast a category. It's worth doing this to keep your podcast episodes separate from the rest of your site content.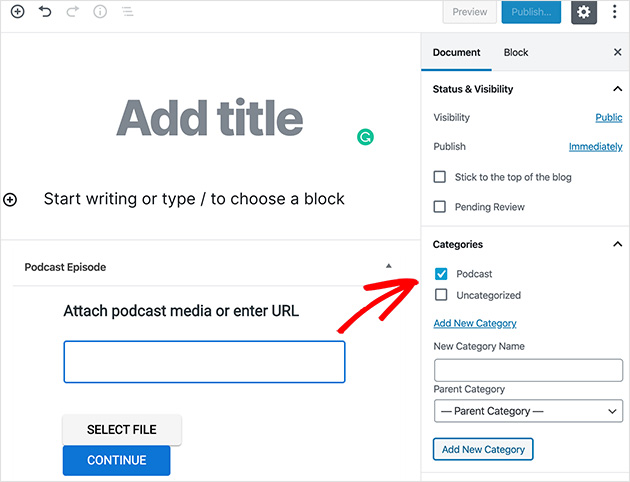 Then scroll to the bottom of the WordPress editor where it says Podcast Episode. From here, you can paste the URL of your podcast (for non-Blubrry users) or select a file from your Blubrry account.

Once you've done that, click the plus icon to add a new content block to your post.
If you search for "Fusebox" in the search box, you'll see the option to add the Fusebox Track player. Click this to insert it into your post.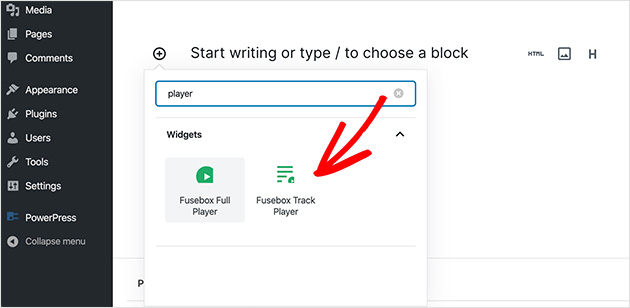 This adds Fusebox as a shortcode so you can display individual podcast episodes. You can configure the shortcode by clicking Edit Shortcode under the Shortcode Builder heading on the right-hand side.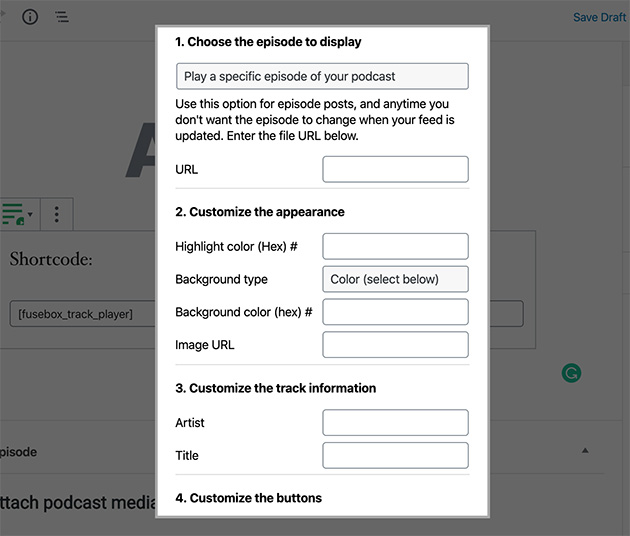 Then enter the URL for your podcast episode. You can use the media file URL supplied by Blubrry earlier for this. When you've done that, click Build Shortcode and the shortcode will appear in the editor.
Now all you have to do is hit Publish. And when you view the live post, you'll see your podcast displayed beautifully on your site.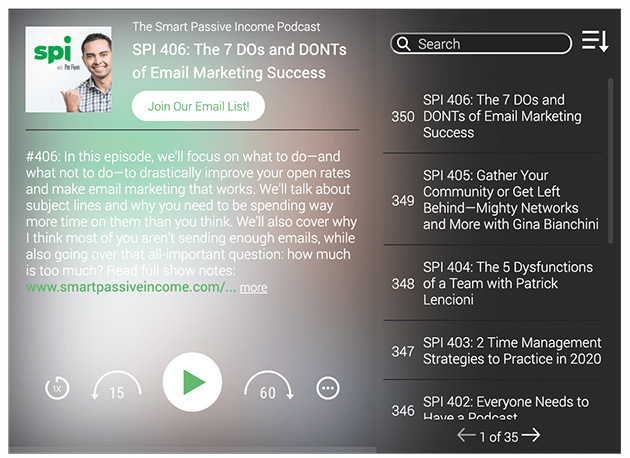 Great work!
Step 9: Distribute Your Podcast on iTunes
Now your podcast is set up on WordPress, you're going to want to distribute it on social listening apps like iTunes and Google Podcasts. This will help you get more subscribers and increase your listeners.

To submit your podcast, head to iTunes Connect. Then enter the URL of your podcast feed into the URL feed box and click Validate.
Apple with then provide a preview of your podcast information, including a view of the cover art you submitted, your podcast description, and more. If it all looks okay, click Submit.
You might need to wait a while until Apple sends a confirmation email. But once you have that, you're all set to start distributing and promoting your podcast.
One way to promote your podcast is to follow this guide on creating a podcast landing page.
And that's it!
You now know how to start a popular podcast with WordPress, and you have all the steps here for you to look back over and refresh your memory.
And if you'd like to turn your website into a members-only site with exclusive podcast episodes, check out our showcase of the best WordPress membership plugins.
Don't forget to check us out on Twitter and Facebook for even more great content.