Are you looking for the best giveaway plugins for your WordPress website? With online giveaways and contests, you can raise brand awareness on social media, grow your email list, and drive traffic to your small business website.
In this guide, we'll share the best giveaway plugins to run viral sweepstakes, contests, and giveaways easily on your WordPress site.
Are Giveaway Plugins Worth It?
As a digital marketer, you might wonder if giveaway plugins are worth the investment. The answer is a resounding yes!
Giveaway plugins play a vital role in creating and managing effective giveaway campaigns. Why? Because they help you maintain ownership and control over your campaign. Instead of relying on third-party platforms where you have less control, you can keep all activities within your own site.
The magic of these plugins is that they not only make creating viral giveaways a breeze but also help increase website traffic, improve engagement, and boost your brand awareness. Essentially, they're your key to unlocking potential growth avenues for your brand.
Best WordPress Giveaway Plugins
Below you'll find the best and most powerful giveaway plugins for your WordPress website. We'll look at their core functionality and pricing to help you find the best giveaway solution for your business.
Let's get to it!
First on our list is RafflePress, the best WordPress contest plugin.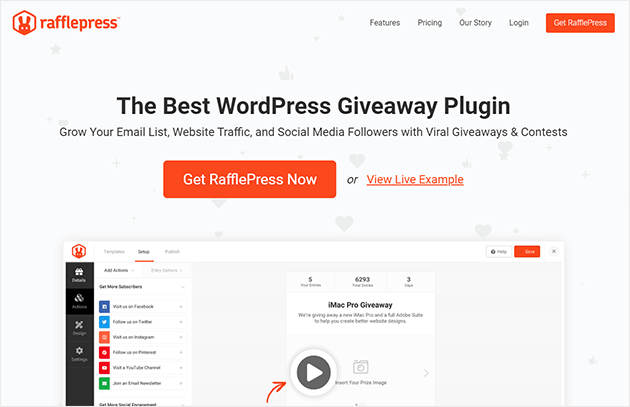 At the heart of RafflePress is its commitment to simplicity and efficiency, which is immediately noticeable with its drag-and-drop builder. Simply choose a giveaway template, then build and customize your giveaway campaign visually, without code.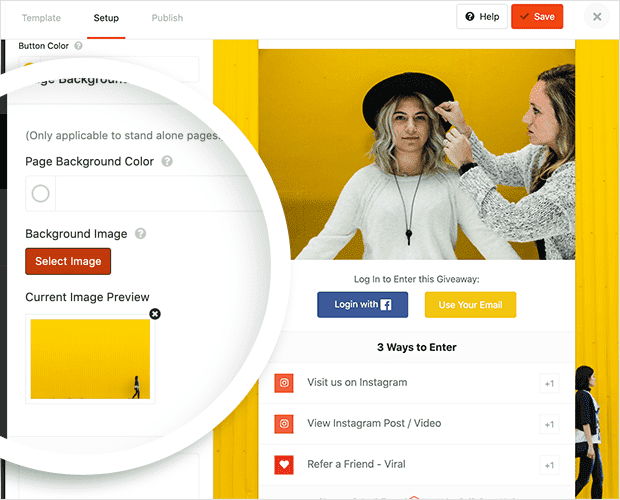 You can select, reposition, and customize elements to match your brand's aesthetics. This streamlines the process, saving time and effort and making the tool accessible for beginners and experts.
Another helpful feature is RafflePress's "Refer-a-Friend" option, a viral loop mechanism designed to capitalize on the power of word-of-mouth marketing. Participants can easily share the giveaway on social media, via email, and other platforms, increasing your brand's visibility and growth potential with referrals.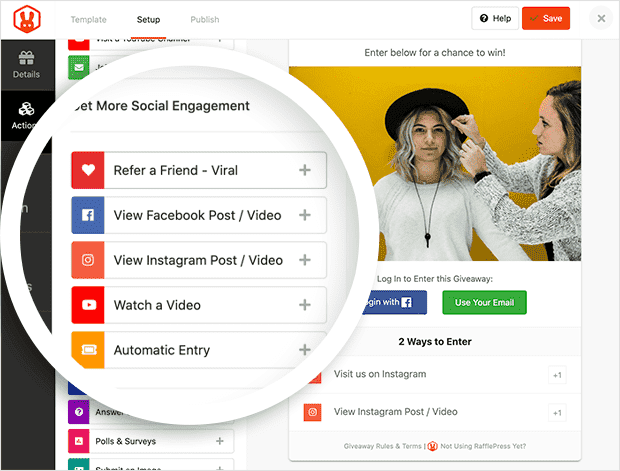 RafflePress also prioritizes user engagement, offering a variety of 1-click bonus entry methods, including tasks like visiting a Facebook page, following a Twitter account, subscribing to a newsletter, and more. This ensures participants engage with your brand, not just the giveaway, fostering lasting connections.
If there are particular actions you want to encourage (like submitting an image for photo contests), you can assign different weights to different actions. As such, you can prioritize and incentivize the most valuable actions for your business.
With the easy WordPress block or shortcode, you can publish your giveaway widget on any WordPress post, page, or widget area. Or, if you prefer a beautiful page free from distractions, you can use the built-in giveaway landing pages.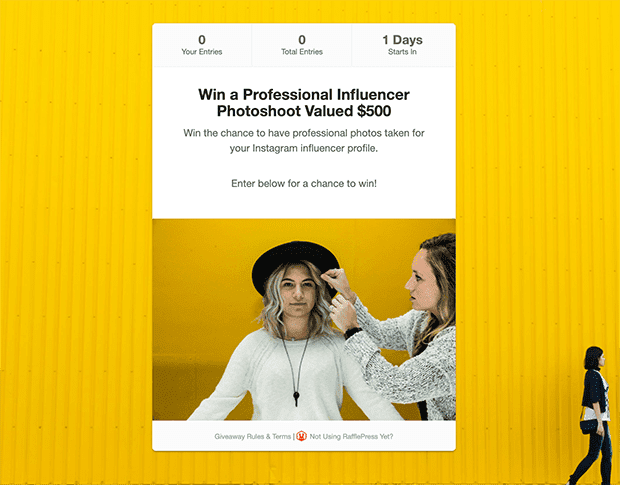 But that's not all. RafflePress also offers the following excellent features:
Giveaway rules template and generator
Random winner picker
Contest start and end dates
Retargeting options
Verified actions
Email marketing services integrations
GDPR Compliance
Spam protection
CSV file export
Free WordPress giveaway plugin available
Price: The premium version of RafflePress starts from $39.50 per year.
Get started with RafflePress today.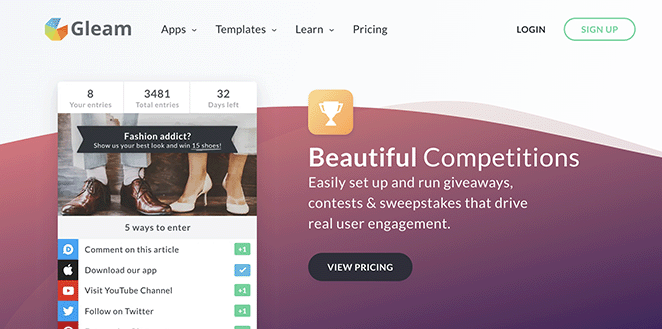 Gleam is another popular WordPress giveaway plugin that makes running giveaways in WordPress a breeze. With an array of features like automated entry validation and powerful social media integrations, Gleam makes creating and managing online contests easy.
The platform supports multiple contest entry methods, including social media actions like Facebook likes, Twitter follows, and Instagram comments. You can even set up custom entry options like RafflePress, such as visiting a specific URL, completing a survey, or answering a question.
Additional Gleam features include:
Verified entry actions
Google Analytics integration
Fraud protection
Display winners
Email notifications
Price: The full bundle of Gleam apps starts from $97 per month. Alternatively, the individual Competitions app starts from $10 per month.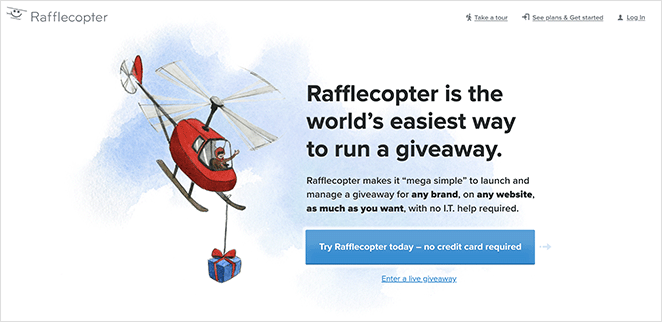 Rafflecopter is a simple giveaway tool with a user-friendly interface. While it doesn't have a drag-and-drop builder, it has enough customization options to suit most users.
Like the other tools on this list, Rafflecopter offers various entry methods, including social sharing and referring a friend. However, as with many of its other advanced features, these actions are only available on premium plans.
Further Rafflecopter features include:
Powerful entry methods for various social networks
Customizable giveaway widget
Uses code snippets to embed giveaways on your site
Integrates with several email marketing platforms
Offers a limited free plan
Price: Starts from $13 per month.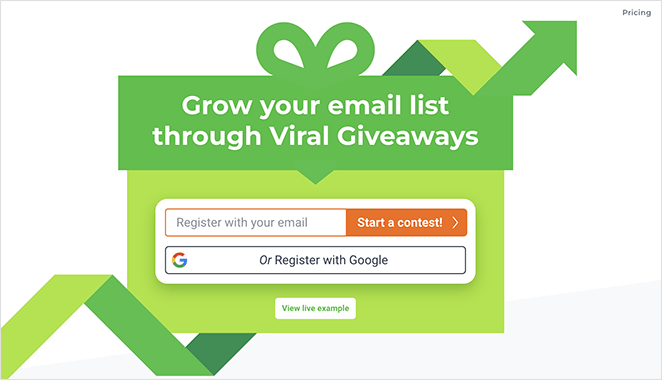 KingSumo is a premium giveaway plugin that focuses on helping you grow your email list. Its claim to fame is its viral sharing options, which reward users with extra entries for every person they refer, creating a viral loop of shares just like RafflePress.
This giveaway marketing tool is easy to use, user-friendly, and offers basic customization options. However, it's primarily a web app, meaning you'll need to copy and paste the embed code to add it to your WordPress site.
Some of KingSumo's key features include:
Compatible with multiple social media platforms
Facebook pixel tracking
Email integrations
Multiple prize winners
Upload your own logo
Limited lite version
Price: KingSumo costs a one-time payment of $49.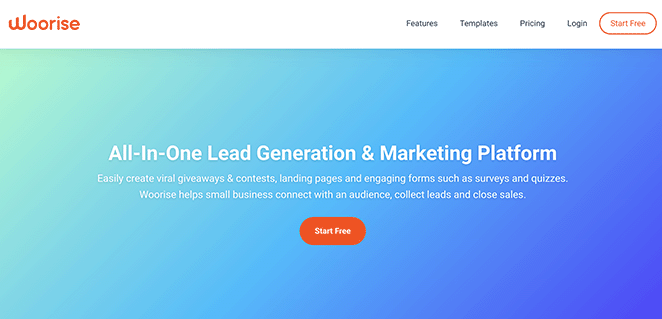 Woorise combines the best of giveaways, contests, and surveys into one top WordPress plugin. It allows for easy social media integrations, which helps extend your campaign reach and boost website visitors.
The plugin comes with various pre-made templates, a drag-and-drop builder, and tons of campaign types to grow your social media followers, email subscribers, and more.
Here are some of Woorise's best giveaway features:
Create forms, quizzes, and surveys
Campaign analytics tracking
Landing page builder
Privacy and GDPR tools
Multilingual support
Limited free version
Price: The price of Woorise starts from $23 per month. The Pro version, with all features, is from $79 per month.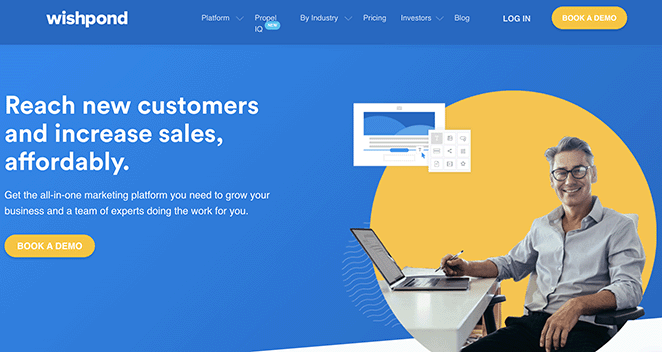 Wishpond is more than just a WordPress giveaway plugin – it's a full suite of marketing tools. From social promotions to landing pages and popups, Wishpond has everything you need to run a successful giveaway.
With its social promotion feature, you can run any type of contest, from coupon raffles to leaderboard contests. Plus, with marketing automation, you can manage new leads with your favorite CRM.
More Wishpond features include:
10+ giveaway types
Email integrations (Mailchimp, Constant Contact, and more)
eCommerce and Stripe payments support
Wishpond API access
Price: Wishpond pricing starts from $49 per month, billed annually.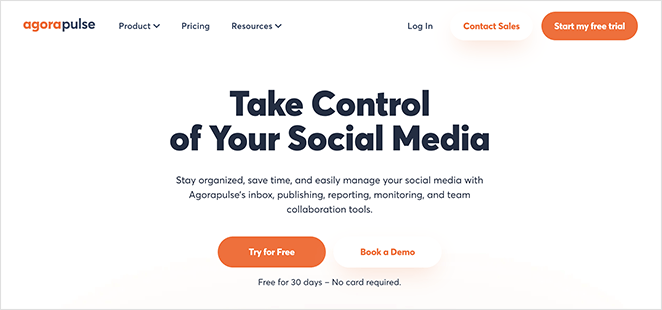 Agorapulse is a social media management tool that also has robust giveaway features. It helps manage all your social media contests and promotions in one place.
The real-time reporting helps track your campaigns' success, and the user-friendly interface makes setting up social media giveaways a walk in the park.
Additional Agorapulse features include:
Random winner selection
Photo contest feature
Generate online quizzes
Social media scheduling
Detailed analytics
Google Chrome extension
Price: Paid plans start from $49 per month.
Complimentary WordPress Giveaway Plugins
Now, while those were the best WordPress giveaway plugins, there are several other plugins that can take your giveaway campaigns to a whole new level.
Let's check them out:
Which WordPress Giveaway Plugin Is Best?
If you're looking for the best giveaway plugin for WordPress, RafflePress is our top choice. It's super easy for beginners to use and has enough features to rival even the most expensive giveaway solutions.
What's more, RafflePress is built with WordPress users in mind. Everything from choosing a template to picking a winner is optimized for WordPress, ensuring the best experience and results.
Ready to dive in with the best WordPress giveaway plugin?
Best Giveaway Plugins: Frequently Asked Questions (FAQs)
What is a WordPress giveaway plugin?
A WordPress giveaway plugin is a tool that helps you create, manage, and monitor giveaway contests on your WordPress site. These plugins make the process easier and more efficient, often providing features like social sharing, email integration, and real-time analytics.
Can I use more than one giveaway plugin at a time?
Technically, you can install multiple giveaway plugins on your WordPress site. However, choosing one plugin that fits all your needs is generally more efficient, as this simplifies management and ensures a consistent user experience.
Do giveaway plugins work on mobile devices?
Yes, all of the giveaway plugins in this guide are designed to be responsive and mobile-friendly. This means they'll work well and look great on any device, including smartphones and tablets.
Do I need any technical skills to use a giveaway plugin?
Not at all! The giveaway plugins in this guide are designed to be user-friendly, featuring drag-and-drop builders and intuitive interfaces. While some plugins offer advanced features that tech-savvy users may appreciate, no coding or technical skills are typically required to create and manage a successful giveaway campaign.
What other giveaway tools are available?
Some other giveaway tools you may like include ShortStack, Contests by Rewards Fuel, Easypromos, and SweepWidget.
We hope this guide helped you find the best giveaway plugins for your WordPress site. You might also find the following guides and tutorials helpful:
Thanks for reading. Please follow us on YouTube, Twitter, and Facebook for more helpful content to grow your business.