Are you looking for the best animation plugins for WordPress?
Adding animations to your WordPress website can make it more engaging and memorable for your visitors. However, creating animations from scratch can be time-consuming and expensive.
That's where animation plugins can help, but with so many options available, it can be tough to know which are worth your time and money. This is why we've rounded up the best WordPress animation plugins, so you can easily find the perfect one for your needs.
Whether you want to add subtle image hover effects or scroll animations, these plugins will take your site to the next level.
Let's dive in!
Why Add Animations to Your WordPress Website?
Adding cool animations to your WordPress site is a fantastic way to make your web pages more interesting. Here are a few other benefits of adding animations to WordPress:
Catch visitors' attention: Adding animations to your site can help grab visitors' attention and make your content stand out. You can use different animations to draw attention to specific parts of your site, highlight key information, or simply make your site more visually appealing.
Increase engagement: Animations can also help increase engagement on your website. When used effectively, they can make your content more interactive and encourage visitors to explore more of your site. This can ultimately lead to longer visit durations and more conversions.
Improve search engine optimization (SEO): By using animations to engage your audience for longer, you can decrease your bounce rate and increase your page views. These are important factors for improving your site's SEO.
Boost user experience: Animations are excellent for improving user experience on your site. For example, a loading animation can make the wait time seem shorter and less frustrating. Alternatively, a hover effect can show visitors they're interacting with clickable content, making your site feel more professional.
Convey emotion and brand personality: You can also use animations to convey emotion and brand personality. For example, a playful animation might be appropriate for a children's website, while a more sophisticated animation might be better for a financial services site.
Ultimately, adding animations to your WordPress site can make your site more engaging, memorable, and user-friendly, leading to better user experience, SEO, and conversion rates.
With that said, let's look at the best animation plugins for WordPress that you can use to create beautiful animation and transition effects easily.
1. SeedProd – Best Animation Plugin for WordPress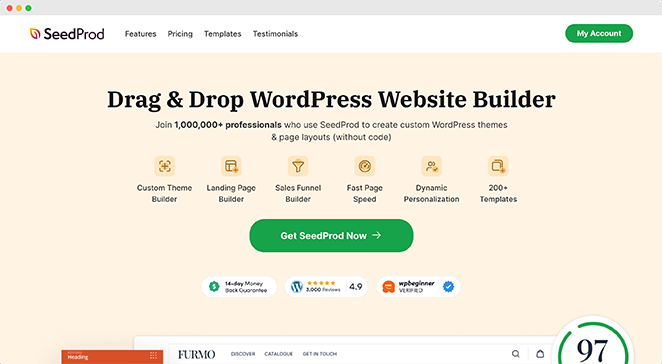 First is SeedProd, the best website and landing page builder for WordPress, with over 1 million users. With this powerful WordPress plugin, you can create a custom WordPress theme, build high-converting landing pages, and make entire WordPress websites without writing code.
SeedProd's drag-and-drop builder and premade WordPress blocks make adding animations to your web design easy. You can choose from blocks like animated headlines, text animations, responsive menus, image carousels, scrolling number counters, shortcodes, and videos, then drag and drop them anywhere on your page.
Plus, in the advanced settings of any block, you can choose from 18+ animation effects, including:
Bounce
Flash
Pulse
Rubber Band
Shake
Swing
And more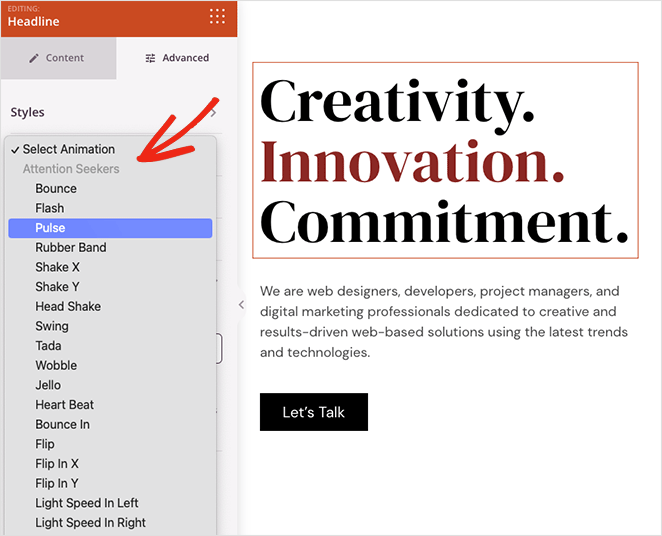 You can even transform any page section's background with SeedProd's Particle Background feature. This allows you to add interactive particle.js functionality with effects like floating snowflakes, images, shapes, and more.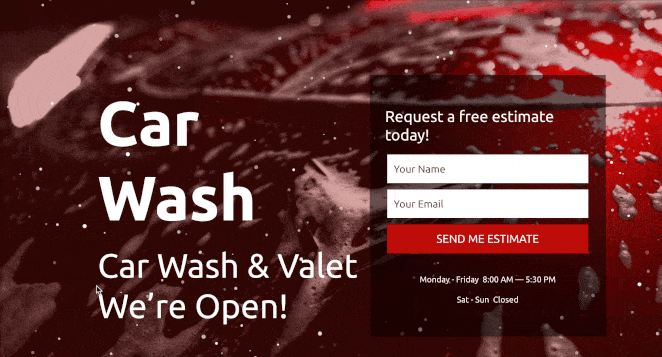 SeedProd also works seamlessly with WooCommerce, allowing you to animate different parts of your online store. For example, with its Product Gallery feature, you can create eye-catching galleries with zoom and lightbox effects to help shoppers see more product details.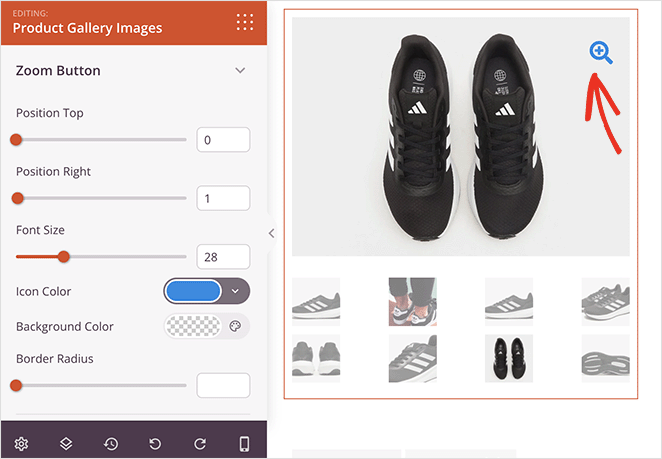 If parallax backgrounds are more your style, the SeedProd team has put together this handy video tutorial on how to add parallax effects to WordPress:
On top of this, SeedProd comes with hundreds of premade templates and is optimized for speed to ensure your animations load lightning-fast.
So what are you waiting for?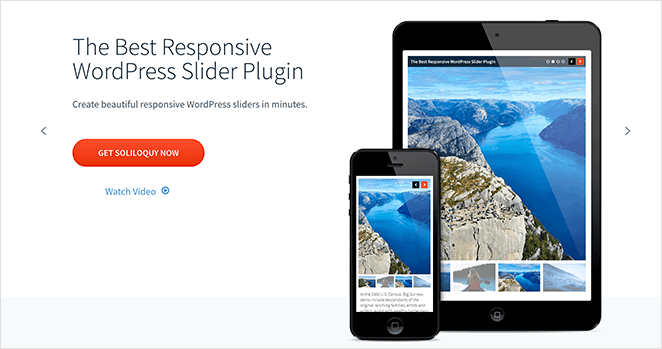 Soliloquy is a powerful and user-friendly WordPress slider plugin that helps you add stunning images and video sliders to your website. It comes with a drag-and-drop interface making it easy to create and customize your sliders without code.
With its easy-to-use features, you can create advanced sliders, such as testimonial sliders, featured header content sliders, and PDF sliders. It even lets you make dynamic sliders, which allow you to display custom content based on user behavior or other criteria.
Soliloquy is also designed to be lightweight and fast, so your sliders will load quickly and won't slow down your site. And its responsive design will look great on any device, from desktops to mobile phones.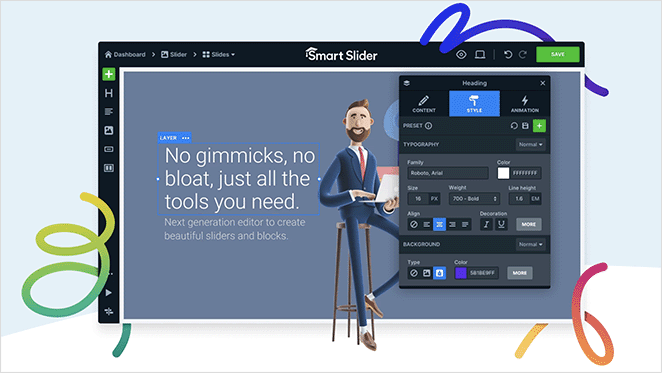 Smart Slider 3 is another useful WordPress plugin that lets you animate your site with engaging sliders. However, its unique layers feature enables you to create more interesting slider layouts with drag-and-drop.
In the slider settings, you can choose from different animation styles and effects, including background animations, carousels, and the Ken Burns effect.
Along with sliders, you can use this plugin to add animations to blocks and landing pages. It's also SEO-friendly and supports both images and video to breathe life into your page animations.
That said, the free version of this plugin limits you to only 6 layers. For more, you'll need to pay premium pricing.

Animate It! Is a free WordPress animation plugin that lets you easily add animation effects to your site's content, such as text, images, and buttons. Plus, with CSS3, you can add your own custom CSS animations.
The plugin has a user-friendly interface that lets you customize animations. You can choose from over 50 different animation types, including fades, zooms, and rotations, and customize the animation speed, delay, and direction.
With Animate It's flexibility, you can apply animations to specific site elements like individual images or buttons or entire blocks (Gutenberg blocks) and sections. You can also choose when and how the animations are triggered, such as on page load or when users scroll to a certain point.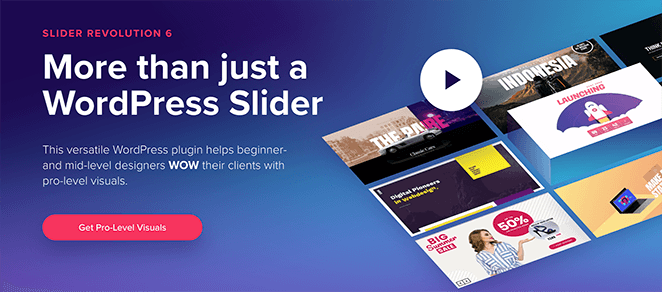 Slider Revolution is another slider effects plugin that lets you create responsive sliders, carousels, and full-page animations for your WordPress website. Instead of only allowing layer in/out animations, its visual editor makes adding multiple animations to each layer easy.
It also offers several animation and transition effects, allowing you to create captivating sliders. You can control the timing, animation duration, and easing of these effects to achieve dazzling results for your website.
Slider Revolution is compatible with most WordPress themes and page builders like Elementor and SeedProd, ensuring seamless integration with your existing website setup. It's also mobile responsive, so your creations look perfect on smartphones and mobile devices.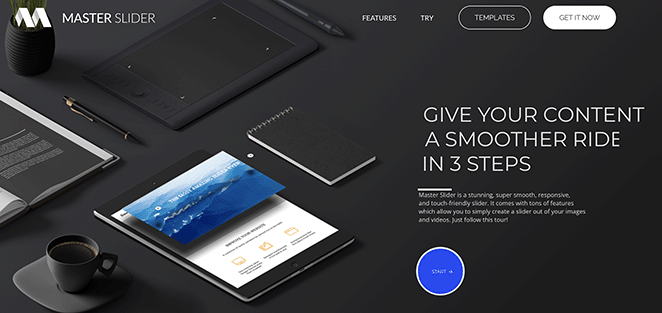 Master Slider is a responsive WordPress animation plugin that lets you create stunning, visually appealing sliders and carousels for your website with drag-and-drop. It comes with dozens of premade slider templates and several interactive slider transition effects with settings to control the slideshow timing.
Master Slider is touch-enabled, ensuring a seamless user experience on touchscreen devices. It also offers smooth and hardware-accelerated transitions for better performance.
The plugin supports multiple layers in each slide, allowing you to create complex designs and animations. You can add elements like text, images, and buttons to each layer and animate them independently with parallax and 3D effects.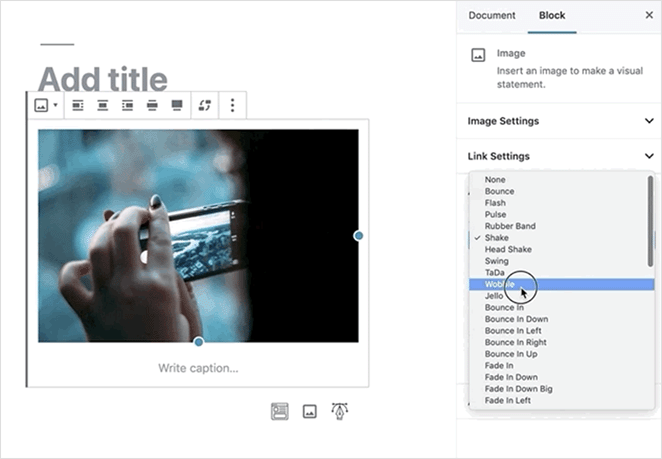 Blocks Animation is a free WordPress animation plugin that adds CSS-based animations to the WordPress block editor. It offers a variety of pre-built animations, such as fadeIn, slideIn, bounce, and more, that you can use to make your content more engaging and visually appealing.
The plugin works seamlessly with the block editor, allowing you to add animations without coding. You can choose animation effects and customize their settings in the block sidebar.
While this is a simple WordPress animation plugin, it has several customization options, including animation duration, delay, and repeat. This makes it a great solution for users who prefer the block editor and want simple animations for their site.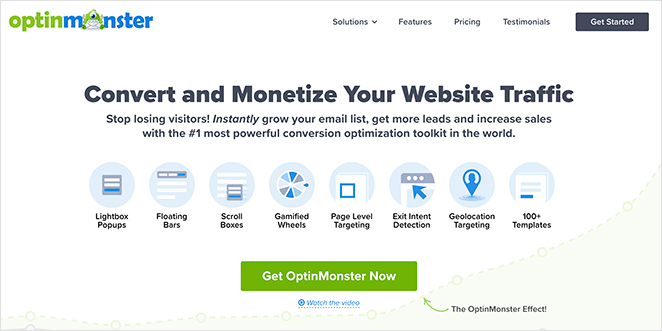 Last is OptinMonster, the best lead generation and optimization toolkit. While it isn't a typical animation plugin for WordPress, it is a robust marketing tool that lets you animate your WordPress site with popups, coupon wheels, page scroll boxes, slide-in widgets, and more.
OptinMonster has a user-friendly dashboard to help you create and manage your animated marketing campaigns. With tons of premade templates and an easy drag-and-drop campaign editor, you can create animated campaigns perfect for generating leads.
This powerful tool also comes with smart targeting, allowing you to choose who sees your campaigns and when. With this functionality, you can target campaigns by scroll-depth, exit intent, geographic location, mobile device, and more.
For more details, you can see our OptinMonster review.
Which WordPress Animation Plugin is Best?
The best animation plugin for WordPress depends on your website's specific needs.
However, if you want an all-in-one solution for creating custom websites, landing pages, and adding various animations, SeedProd is the top choice. It offers a powerful drag-and-drop builder, a wide range of animation effects, and seamless integration with WooCommerce.
You can also pair SeedProd with OptinMonster to add unique popup campaigns to your WordPress site without code.
Frequently Asked Questions
Are these animation plugins compatible with all WordPress themes?
Most of the animation plugins mentioned in this guide are compatible with a wide range of WordPress themes. However, it's always a good idea to check the documentation or plugin description for any known compatibility issues with specific themes.
Can I use multiple animation plugins on the same website?
While using multiple animation plugins on your website is technically possible, doing so may lead to conflicts, increased loading times, or other performance issues. It's best to choose the plugin that best fits your needs and use it exclusively to avoid potential problems.
Can these animation plugins slow down my website?
While adding animations to your website can sometimes impact performance, the plugins in this article are designed to be lightweight and optimized for speed. However, it's still crucial to optimize your images and videos, use caching, and follow other best practices for fast-loading websites to minimize any potential performance issues.
Are there any free versions of these animation plugins available?
Yes, some plugins in this guide offer free versions, such as Animate It!, SeedProd, and Blocks Animation. Other plugins, like Smart Slider 3, provide a limited free version with more features available in their premium versions.
Make sure to check the plugin's website or WordPress plugin repository for details about free and premium versions.
There you have it.
We hope this guide has helped you find the best animation plugins for WordPress. You might also like this guide on the best business phone systems to improve your business communication.
Thanks for reading. Please follow us on YouTube, Twitter, and Facebook for more helpful content to grow your business.