Are you looking for the best business telephone systems? Adding a phone service to your WordPress website is an excellent way to manage calls from your customers. Yet choosing the best small business phone service to suit your company's needs is challenging.
In this article, we've hand-picked the best business telephone systems to use with WordPress, so you can offer fantastic customer support and help your business grow.
What Is a Business Telephone System?
A business telephone system is a multiline telephony system that connects your main business number to multiple phones on a single network.
Usually, you'd add your landline or mobile phone number to your WordPress site and use that solution to receive calls from your customers. The problem with this is it doesn't look professional, and it's harder to manage calls as a team with a single phone number.
Yet, with a proper phone system for your business, you can take advantage of the following functionality:
Track wait times, hold times, call duration, and overall usage.
Call forwarding, international calling, inbound call routing, call recording, caller ID, etc.
Share a single business number with multiple users simultaneously (the auto-attendant feature lets you route calls to the first available team member).
Use any phone system, from desk phones and cordless phones to mobile cell phones and your computer, for incoming calls.
Cheaper pricing since private branch exchange (PBX) equipment is often stored in the cloud instead of facing up-front costs for on-premises and new phone equipment.
What's more, most small business phone service providers use voice-over-internet protocol (VoIP solutions). This means you can take your number anywhere you want, as long as you have a high-speed internet connection.
Using a professional telephone system is a game-changer for online stores and small business websites. And some even include contact center capabilities built-in and offer valuable add-ons to help grow your company.
With the ability to connect to your customers anywhere and with call management tools at your fingertips, you can offer excellent customer service and increase sales for your business.
Now that you know why using the best telephone system for your business is a great way to serve your customers, let's look at the best business phone companies to use with your WordPress website.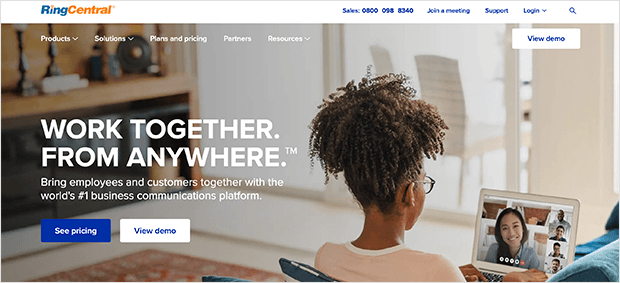 Ring Central is the best business telephone system for companies of any size. They offer one of the most feature-packed small business phone systems on the market.
The Ring Central platform's phone features include everything you need for your business, including:
Unlimited calls
Caller ID
Call forwarding
Real-time call waiting and transfer (queues)
SMS text messages
Team messaging (instant messaging)
Video calling
Sharing 1 line on multiple devices
And more
It also includes video meetings with screen sharing, up to 1000 toll-free minutes, and integration with Google's Gsuite, Dropbox, and Microsoft.
Managing your calls is easy with cloud-based administration, and their enterprise-grade security ensures 99.99% uptime.
Ring Central's Essential pricing plans begin at $19.99 monthly per user (billed annually) with the ability to add up to 20 users. Other plans are different price points and come with additional features.
Ring Central is an ideal phone system for both physical businesses and those moving toward remote working. It can work with your existing telephone system (if compatible), or you can use the virtual phone system included in the Ring Central mobile app, which works with all smartphones.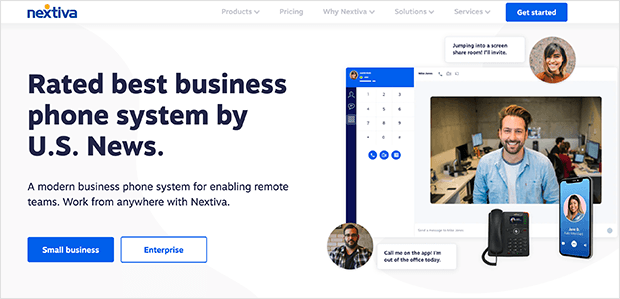 Nextiva is another popular business phone system service provider with a wide variety of advanced features, quick and efficient setup, and reasonable pricing. It also includes a web-based admin area, making it easy for small business owners to effectively manage their unified communications platform preferences.
Nextiva's VoIP phone system comes with:
Advanced call routing
Unlimited calling (domestic)
Voicemail to email and text
Visual voicemail
Online faxing
Texting
Extension dialing
Video conferencing
Documented APIs
And more
You'll also receive a free local or toll-free number, number porting, and call management features such as caller ID, call forwarding, custom greetings, and an advanced interactive voice response system (IVR).
The Nextiva platform gives you access to more powerful features like Live Chat, CRM integration, online surveys, and call analytics that work well as part of a unified phone system.
The call quality is top-notch, with a 99.99% uptime for their VoIP phone service, so it's rare you'll face an outage. Plus, their customer service team is super-friendly and always available to help to ensure the best customer experience.
The price of Nextiva's business phone service starts at $19.95 per user per month. And the pricing is cheaper based on the number of users. If you're looking to save a little money, you can also create a prepaid account.
Nextiva is a great solution for small and large businesses. With the ability to add a business line for cell phones (both iOS and Android), you can take business calls from your office, even if you're working remotely, without sharing your cell phone number.
You can also integrate with platforms like Google Workspace, Zendesk, Slack, and more. However, if your business needs an office phone system that's compatible with your existing handsets, Nextiva offers that too.
In fact, many call centers and enterprise businesses use Nextiva to transition from private branch exchange (PBX system) to powerful cloud phone systems with SIP trunking. The company also sells and rents hardware such as IP phones, analog adapters, and more.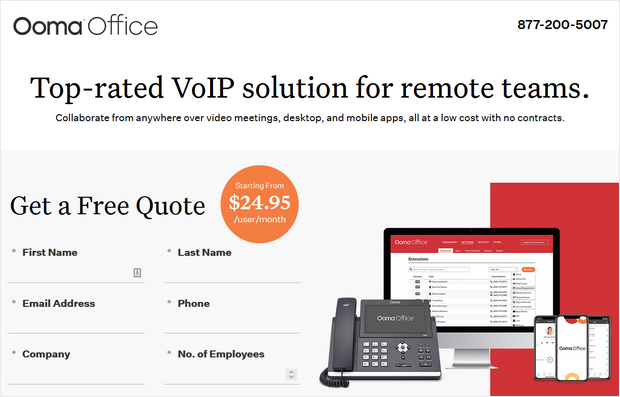 Ooma is a popular VoIP business phone service that offers affordable pricing, no contracts, and unlimited calling in the U.S. and Canada. Setup is super easy and can be done in less than 15 minutes, no technical knowledge is required. Plus, it offers over 35 features, so it has everything a small business needs in a phone system.
Ooma's phone system comes with features like:
Virtual receptionist
Call transfer and forwarding
Hold and transfer music
Voicemail with audio email attachments
SMS messaging
Call blocking
And much more
With any Ooma plan, you can get a free business phone number, including local or toll-free numbers. Or, you can keep your existing number if you want.
Ooma also has a robust mobile app that lets you easily manage your calls on the go. When your phone rings, you'll be informed when it's an Ooma Office call, so you can differentiate between business and personal calls. And you can quickly transfer calls to another extension, your business voicemail, or a co-worker's voicemail.
There are also features like video conferences so you can easily collaborate with remote team members. And the call recording feature lets you play back phone calls so you don't miss anything important.
Their pricing starts at $19.95 per month. You can upgrade to the Pro plan for $24.95 per month to get additional features like video conferencing, a desktop app, use your computer as a softphone, voicemail transcription, and more.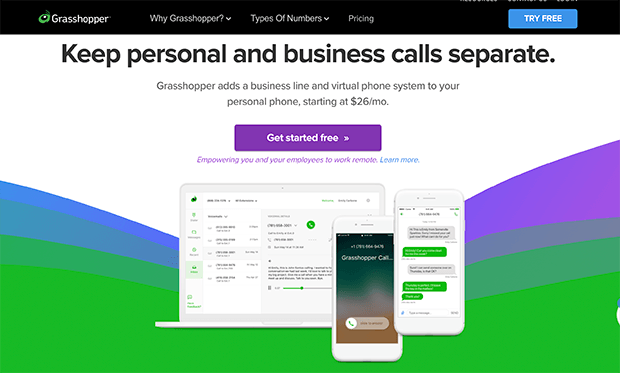 GrassHopper is a business phone service that offers VoIP, which is ideal for small businesses and solopreneurs. With a virtual phone number, you can forward calls to any number or mobile device. Yet, for outgoing calls, you'll still need a standard phone line.
The intuitive web and mobile apps are easy to use for managing your account and phone service. It's also possible to use multiple extensions for your business phone number, as well as local, vanity, and toll-free numbers for the UK and Canada.
You can expect all the standard features like:
Call routing
Call waiting
Call forwarding
Call hold music
Automatic call transcripts to email
And more
GrassHopper is an ideal solution for remote teams, as you can add extensions to use anywhere with their mobile or desktop apps.
Plans for GrassHopper start at $29.99 per month for 1 number and up to 3 extensions.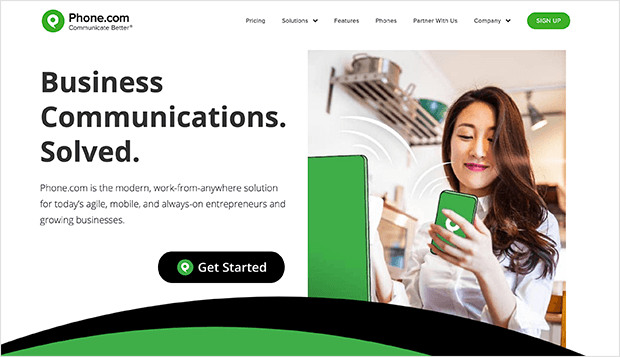 Phone.com is another excellent VoIP provider for small businesses. It has a user-friendly web and app-based admin panel and standard features that include:
Caller ID
Phone call forwarding
Call Transfer
Conference calls
And more
Phone.com's call minutes include Canada and several European countries, making it much cheaper to call those countries. It's also possible to integrate your phone system with third-party CRM software such as Zoho and Salesforce.
There are 2 pricing options for Phone.com, which are either pay-per-minute or unlimited. Pay-per-minute plans start at $12.99 per month, with unlimited plans starting at $22.99 per month.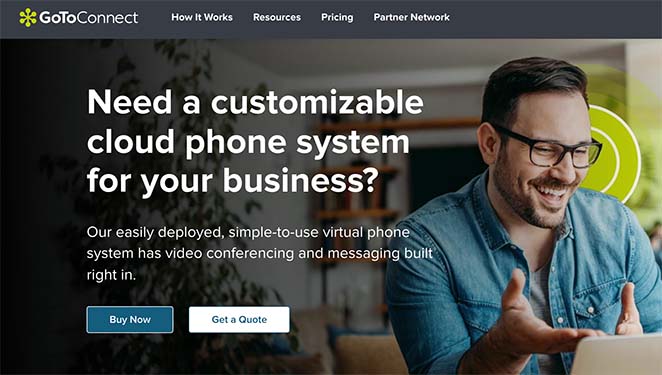 GoToConnect, or as it was formally known as Jive, is another reputable small business phone service. It's a cloud-based phone system provider that comes at an affordable price for most businesses.
This business VoIP service has all the standard features you'd expect, including unlimited calls, number sharing, unlimited extensions, call forwarding, mobile apps, live chat, SMS, and more.
Moreover, it has a ton of CRM and marketing integrations with services, including:
Salesforce
Microsoft Outlook
Zoho
Zendesk
Hubspot
Google Workspace
Slack
GoToConnect is also more than a business phone service. It's a unified business communication platform with video conferencing for easy team collaboration.
In addition to the above, GoToConnect has over 100+ cloud VoIP features. That allows you to use unlimited call queues, advanced ring groups, cloud branch exchange, and several other notable features.
GoToConnect is part of the GoTo software family. As such, it works easily with other meeting and webinar software, such as GoToMeeting, GoToWebinar, and GoToTraining.
The pricing for GoToConnect starts at $24 per month for the basic business phone service. Their premium plan offers more advanced features for larger call centers.
What Is the Best Business Telephone System for You?
After carefully comparing the top business phone solutions, we decided that Ring Central is the best business phone service, with Nextiva coming in at a close second.
While both systems have similar pricing, we feel Ring Central offers better overall value as a small business VoIP service. It has a low starting price, a smooth user interface, and tons of powerful business communication features. They also don't require such a long commitment for their annual plans.
Bottom line: you can't go wrong with either of these solutions.
Best Business Telephone System FAQ
Below are some of the most frequently asked questions about business phone platforms and service providers.
What factors should I consider when choosing the best business telephone system?
When selecting a business phone system, you should consider factors such as the size of your business, the number of employees who will be using the system, the features you need, and your budget. It's also important to consider the reliability of the system and the quality of customer support provided by the vendor.
What other business phone and communication systems are there?
Some other best small business phone systems include Vonage, Aircall, 8×8, Microsoft Teams, and Dialpad.
What types of features should I look for in a business phone system?
Some important features to look for in a business phone system include call forwarding, voicemail, auto-attendant, call routing, conference calling, and mobile integration. Depending on your needs, you may also want to consider features such as video conferencing, CRM integration, and call analytics.
Can I use my existing phone lines with a business phone system?
In many cases, it is possible to use existing phone lines with a business phone system. However, this will depend on the type of system you choose and the compatibility of your existing phone lines. It's always best to consult with the vendor to ensure that your existing phone lines will work with the new system.
How difficult is it to set up a business phone system?
The ease of setup will depend on the type of system you choose and your level of technical expertise. Some systems may require more setup and configuration than others. However, many vendors offer support and assistance to help you get your new system up and running smoothly.
Can I keep my existing phone number when switching to a business phone system?
In most cases, you can keep your existing phone number when switching to a business phone system. This is typically referred to as number porting, and it allows you to maintain your existing phone number while transitioning to a new system.
Are there any additional costs associated with a business telephone system?
In addition to the monthly subscription fee, there may be additional costs associated with a business phone system. These could include setup fees, hardware costs (such as phones or headsets), and fees for additional features or add-ons.
We hope this article helped you discover the best telephone systems for your business.
While you're here, you might also be interested in learning how to make a click to call link in WordPress.
If you found this article useful, follow us on Facebook and Twitter for more helpful tips and tutorials.