Do you want to create a WordPress exit intent popup? Whether you're running a contest, promoting a new eCommerce product or coupon, or want to grow your email list, using an exit intent popup can help you boost conversions.
In this article, we'll explain what an exit intent popup is and show you how to create exit popup forms on your WordPress website to grow your subscribers and business revenue.
But first, let's look at what an exit intent popup is and the best time to use one.
What Is an Exit Intent Popup and When to Use One?
An exit intent popup or "poptin" is a lightbox popup overlay that appears when visitors leave your website.
Popups often use exit-intent technology to track visitors' mouse movements. When users move their mouse cursor away from your website, the exit intent trigger shows a custom popup message.
The message in an exit intent popup aims to distract users from leaving your site and convince them to convert into email subscribers or customers. Usually, it includes an incentive for staying on-site and opting in, like a discount code, special offer, or access to free content exclusive to subscribers.
Here is an exit intent popup example that does just that: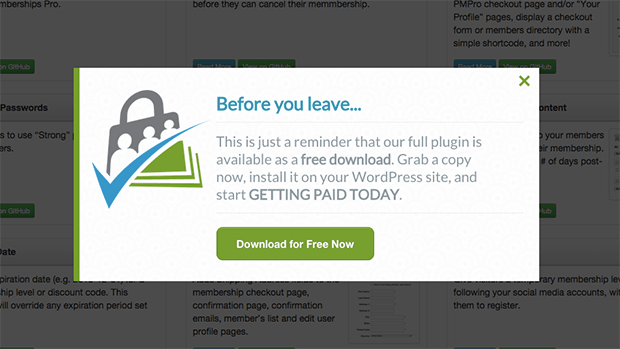 WordPress exit popups can also improve bounce rate, increase users' time on your site, and reduce cart abandonment.
For example, you can use an exit popup to suggest relevant articles, keeping readers engaged with your content and reducing your bounce rate.
Alternatively, you can create an exit popup based on reminding people they haven't finished checking out. In this scenario, you can give them the option of saving their shopping cart, so they can come back later to continue shopping.
As you can see, popups are an excellent way to increase conversions. The average conversion rate for all popups is 3.09% in one study.
Yet, you can achieve better results with careful planning and smart targeting tactics.
For example, Medstar Media's conversion rates increased by 500% using exit-intent lightbox popups on specific pages.
Now that you know why exit popups are a valuable lead-generation tool for your business, let's look at how to create an exit popup in WordPress.
How to Create an Exit Intent Popup in WordPress
We'll use OptinMonster to create an exit intent popup for your WordPress site in this tutorial. While other exit-intent popup plugins are available, like Optimonk and Thrive Leads, OptinMonster is the best choice for all business sizes.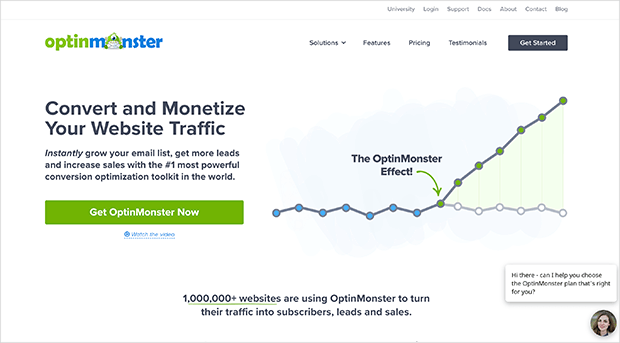 OptinMonster is the best exit intent popup plugin, lead-generation software, and marketing tool. It makes it super-easy to create any marketing campaign to grow your email list, get more leads, and increase sales.
It has a wide range of campaign types with animations, from exit-intent popups, responsive popups with lightbox, and slide-in campaigns to floating hello bars, full-screen welcome mats, sidebar widgets, contact forms, etc. The types of popups you can create for your webpage are limitless.
Each campaign has various SEO-friendly and customizable templates that you can edit using the drag-and-drop popup builder. For instance, you can add countdown timers, custom messaging, social sharing, and more.
You can personalize your marketing messages to specific audiences (including social media) with advanced targeting options and the segmentation engine.
With a/b testing, you can test your popups and optimize your lead generation strategy in real-time with campaign-specific analytics. For instance, to see which WooCommerce popup converts the best.
In addition, OptinMonster integrates easily with various email marketing services and autoresponders, such as Mailchimp, AWeber, Constant Contact, HubSpot, and more. And with the WordPress popup plugin, you can use OptinMonster with the WordPress CRM and page builders like Elementor and SeedProd.
You can learn more about this powerful tool in our detailed OptinMonster review.
With that in mind, let's dive in with the first step.
Step 1. Sign Up for OptinMonster
To begin, click here to get started with OptinMonster. OptinMonster's pricing doesn't offer a free version or free plan. You'll need at least a Pro plan to experience the full range of advanced features.
Then log in to your OptinMonster account area, which will look similar to the example below.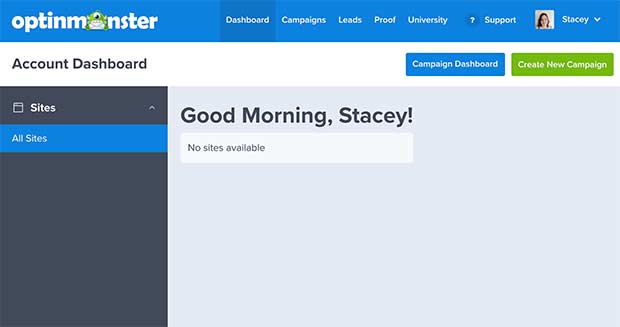 Step 2. Create a New Campaign
The next step is to click the green Create New Campaign button.

Doing so takes you to a screen to select a new campaign type. Since you want to create an exit popup, choose the Popup campaign type.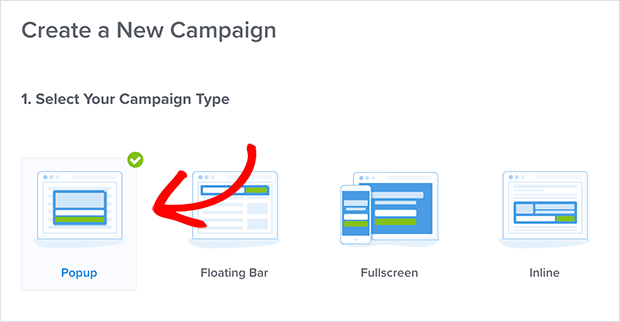 Then go ahead and select a popup template to start with.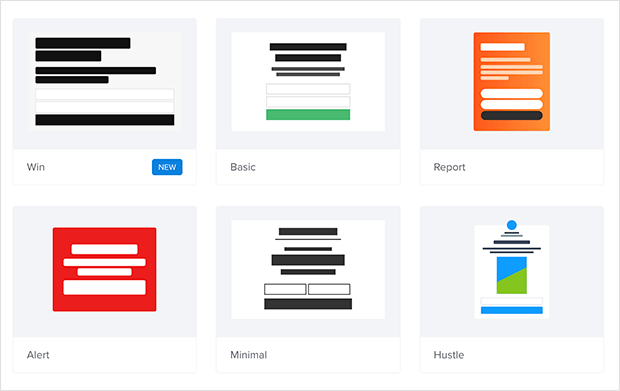 OptinMonster's campaign templates have several filtering options. You can filter the templates by Goal, Device, Category, and even newest.
In our example, we've filtered the templates to show those most suited to targeting abandoning visitors, which is one of the main goals of an exit popup opt-in form.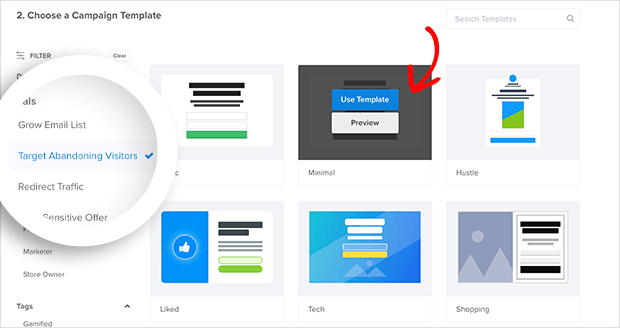 To preview a template, hover your mouse over one you like and click Preview.
If you're happy with how it looks, click Use Template. This opens a pop-up window to give your campaign a name and add a website for displaying it.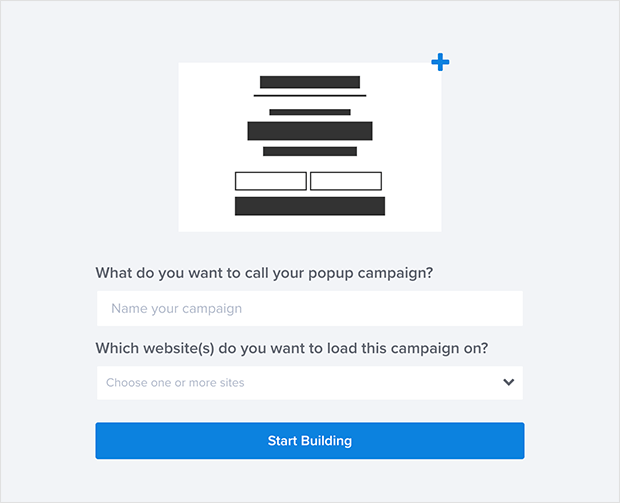 Click Start Building to create your campaign and go to the OptinMonster campaign and opt-in forms builder. You'll see your chosen template in the popup maker and access a nearly unlimited suite of tools to customize your exit popup.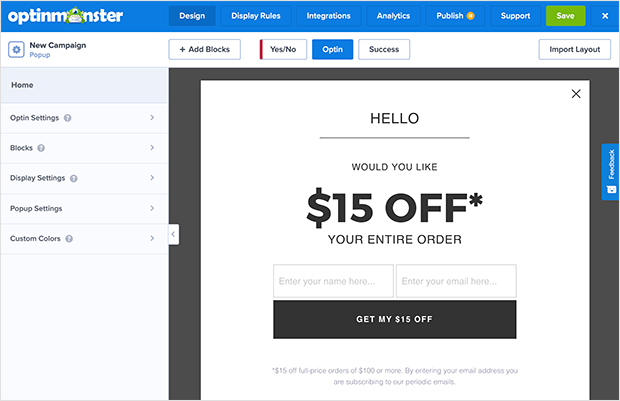 Step 3. Customize Your Exit Intent Popup
Customizing your popup is easy.
With the drag-and-drop editor, you can change your font style, color, alignment, HTML elements, and more by selecting any text and choosing your customization options.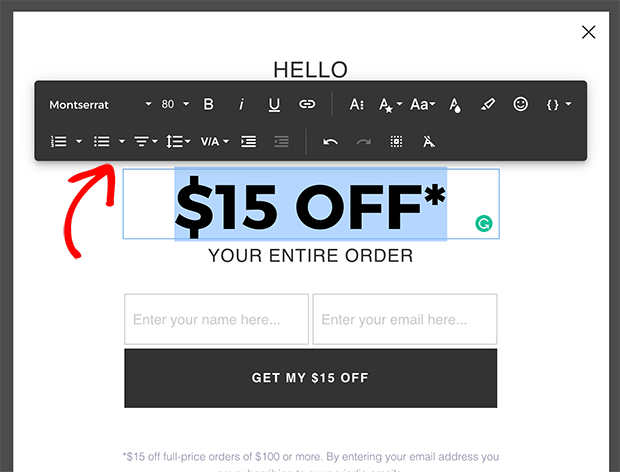 Changing your call to action button is just as simple. Click the button on your template and select your changes in the left-hand panel.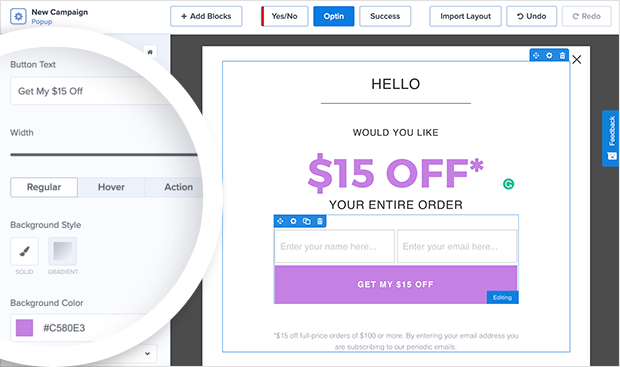 You can even add a background image or gradient color to match your website's style and branding. Click anywhere on your popup background and edit it using the tools provided in the left-hand panel.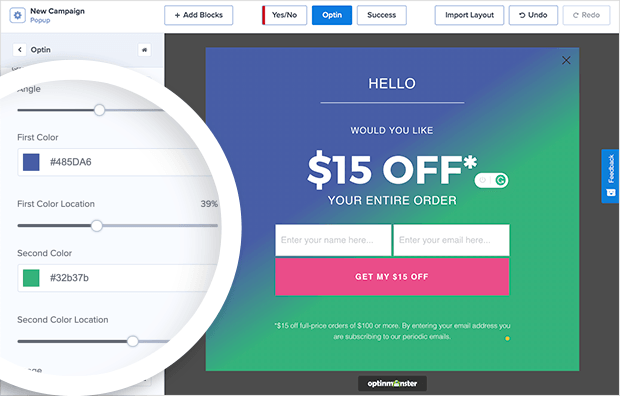 Once your exit popup looks the way you want, you're ready to set the display rules.
Step 4. Choose Your Exit Intent Popup Display Rules
The Display Rules in OptinMonster use Javascript modals to control when your popup displays on your website and who gets to see it.
Click the Display Rules button at the top of your screen to see the available settings. Your campaign is set to show to all website visitors after 5 seconds of landing on your page by default.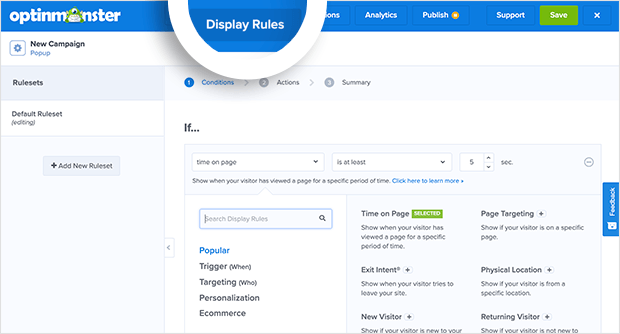 To create an exit popup, change the "if" condition to exit detected.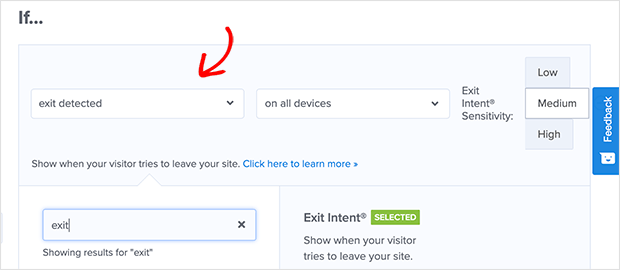 You can do that by clicking in the dropdown box, searching for "exit" in the search box, and clicking the Exit-Intent option. Your popup will only show if someone indicates they're about to leave your website.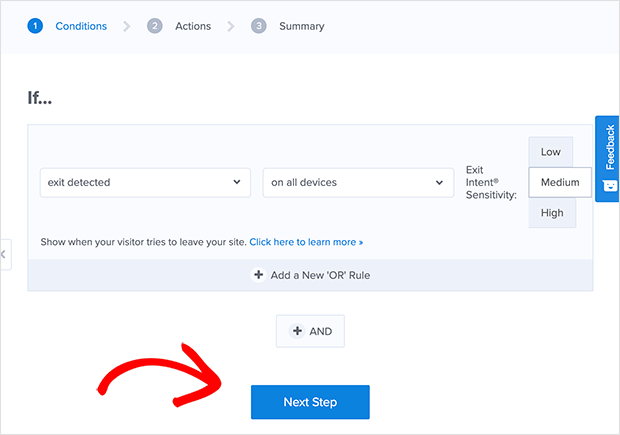 Now click the Next Step button to choose an action for your popup.
This is where you can select the campaign view you want people to see. In our case, we want people to see our exit popup when the ruleset passes.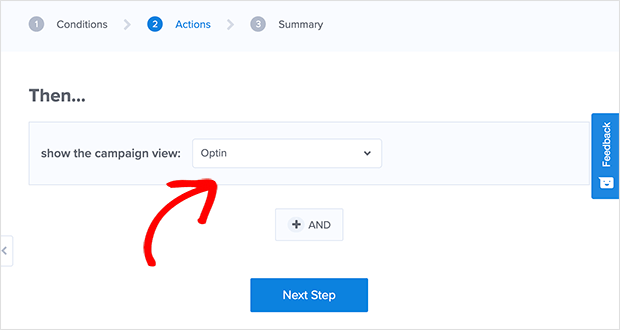 So make sure the Optin setting is selected from the dropdown menu, and click Next Step.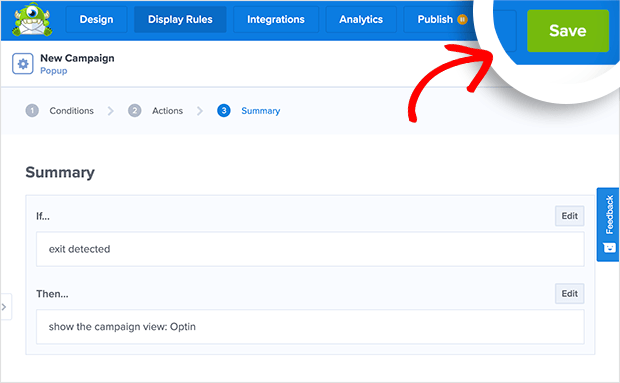 Now you'll see a summary of your display rules. At this point, click the green Save button to preserve your settings before moving on.
Step 5. Integrate with Your Email Provider
Now it's time to integrate your exit popup with your email marketing service provider to manage your mailing list. So click the Integrations button at the top of the screen.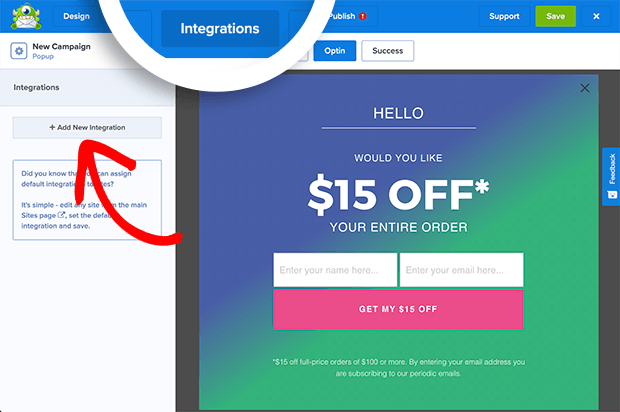 Next, you'll see a preview of your popup and an Integrations panel on the left-hand side. Click the Add Integration button and choose your preferred email provider from the dropdown menu.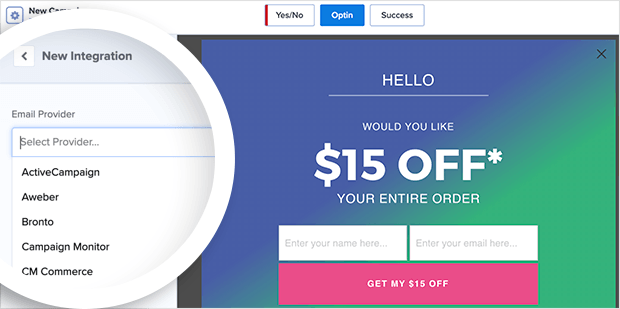 We're integrating with Constant Contact since it offers a lightweight and user-friendly platform suitable for all business sizes.
You'll need to follow the on-screen instructions to connect your email service with OptinMonster.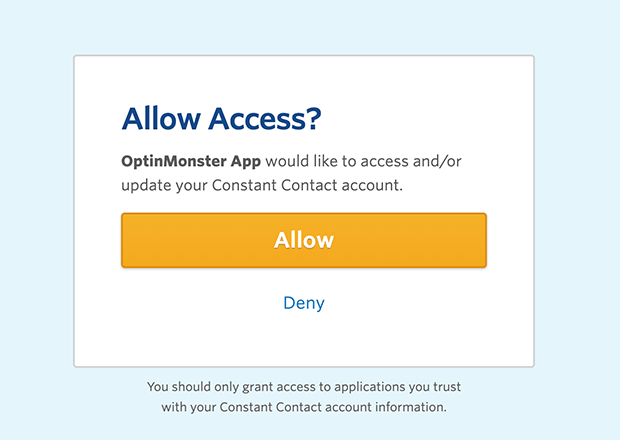 You can then choose an email list to save new subscribers when they optin via your exit popup.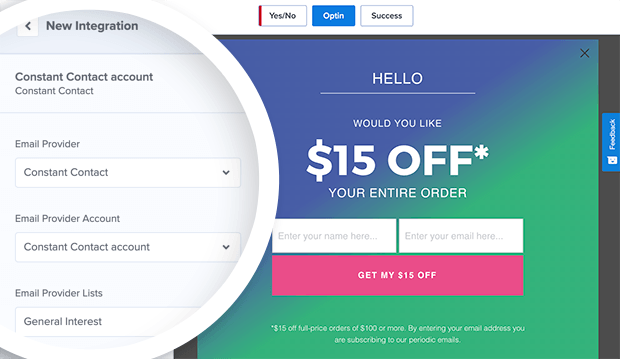 Remember to click Save before proceeding to the next step.
Step 6. Choose How to Publish Your Exit Intent Popup
To publish your exit popup, click the Publish button at the top of your screen. You could do that now if you didn't add a website to your account during the setup process.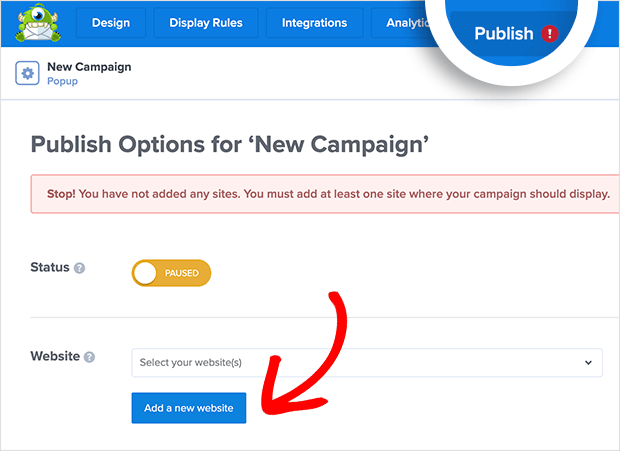 Just click the Add a new website button, enter your site name URL, and click Save Website.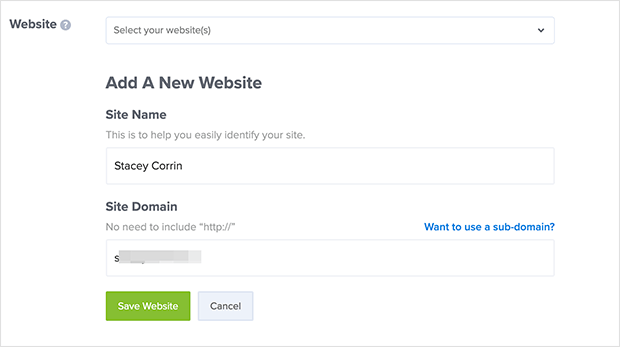 In the Preview section, you'll see a notice similar to the one below.

You can also use OptinMonster shortcodes to add popups to your website.
All that means is you haven't connected your site to OptinMonster yet. But don't worry. Next, we'll show you how to do that using the OptinMonster WordPress plugin.
Step 7. Install the OptinMonster Plugin
From the same page, scroll down until you see the Platform settings. To publish your exit popup easily in WordPress, click the WordPress option.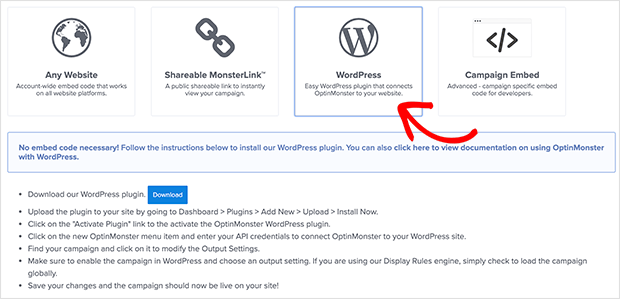 Doing so reveals instructions for downloading and installing the OptinMonster WordPress plugin. This lets you connect your account without embedding the code manually in WordPress.
So click the Download button to download the plugin to your computer and follow these instructions to install and activate a WordPress plugin on your website.
If you prefer to add the WordPress embed code manually, you can see instructions in the documentation for embedding OptinMonster on your site.
Step 8. Verify and Connect Your OptinMonster Account
Upon activating the OptinMonster WordPress plugin, you'll see a welcome screen prompting you to connect your account to WordPress.

Click the Connect Your Account Button, which opens a popup overlay from OptinMonster. Now click the Connect to WordPress button to link your account.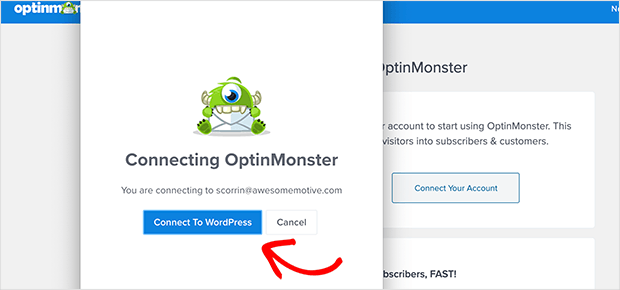 After that, you should see a list of your OptinMonster campaigns in WordPress.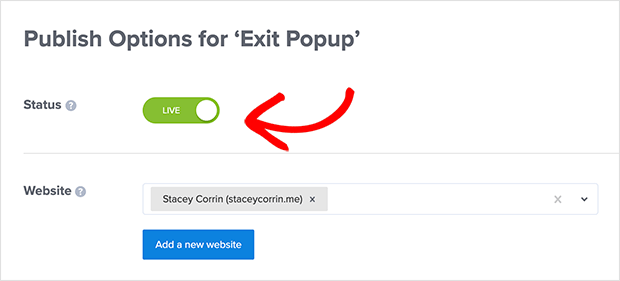 If you don't see any campaigns, ensure the campaign status is set to Live in your OptinMonster account dashboard.

Then head back to your campaign list in WordPress and click the Refresh Campaigns button.

When you navigate your live website, your popup will trigger if you or your visitors attempt to leave.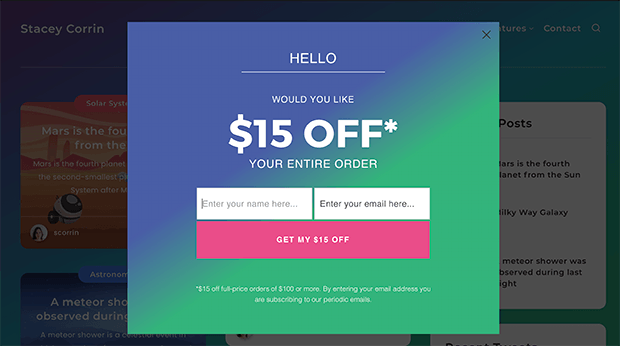 Congratulations!
Exit Intent Popup Examples
If you need some more inspiration, we've put together a list of some fantastic exit intent popup examples below.
Community Building Exit Intent Popup Example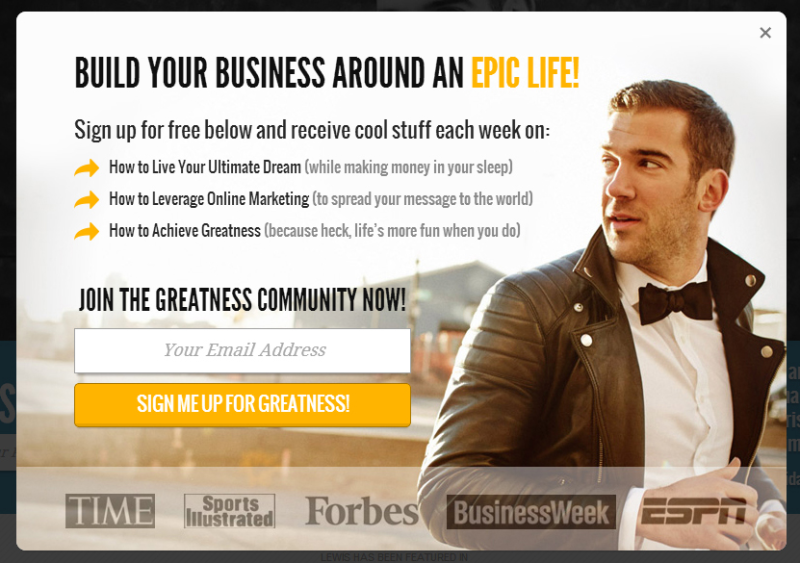 In this example, the website owner encourages visitors to join their email list before leaving the site. The bold headline, use of power works, and skimmable bullet points make it easy to learn the value of signing up.
Plus, the use of brand logos makes the offer look more trustworthy and credible.
Free Shipping Exit Intent Popup Example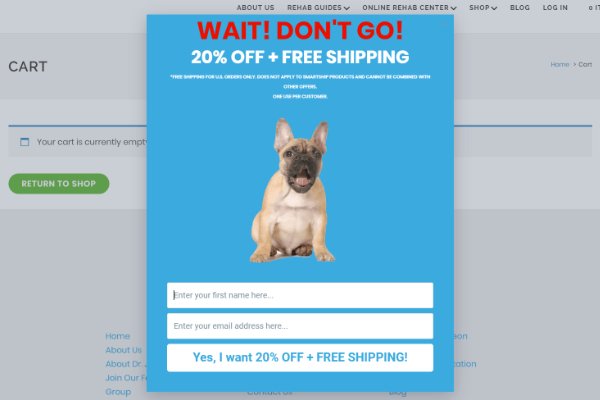 Free shipping is a fantastic way to stop visitors before leaving your website. It could be the difference between abandoning your site and purchasing a product.
In this example, the brand also gets to grow its email list by asking users to subscribe for a discount and free shipping.
Free Demo Exit Intent Popup Example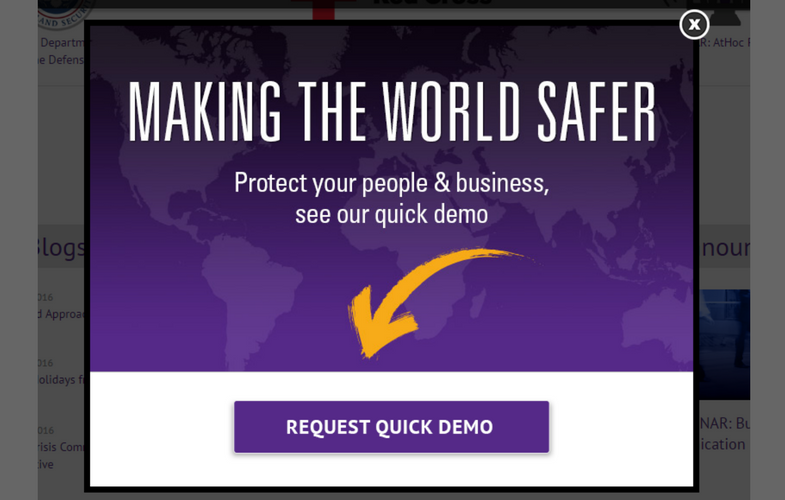 This exit intent popup example is quite simple. However, its simplicity is the key to its success. Emotional words like protect and safer make you pause. From there, it's a quick click to request a demo before moving on.
Giveaway Exit Intent Popup Example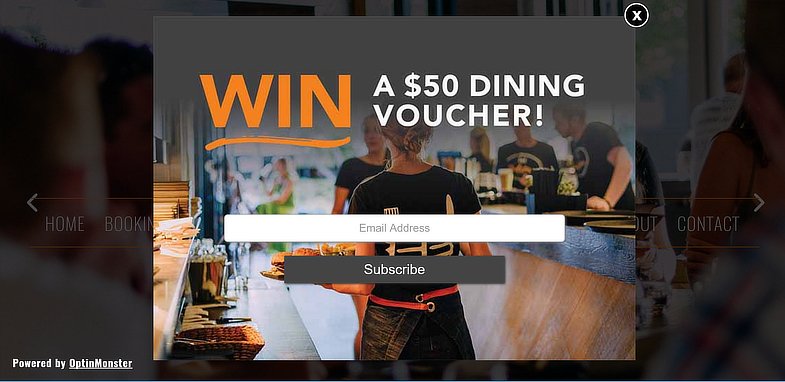 Incentives are a powerful way to convince users to give you their contact information, and the chance to win a prize can be just enough to seal the deal.
By adding their email address, users who see this popup example will have the chance to win a $50 dining voucher. We'd call that a super strong incentive that requires very little effort.
Exit Intent Popup Frequently Asked Questions (FAQs)
How do you exit a popup?
You can typically exit a popup by clicking the "X" icon in the popup's top-right corner. In some instances, you can also click outside of the popup, and it will close automatically.
When should a popup appear on a website?
It's a good idea to wait between 15 and 60 seconds before displaying popups on a website to give visitors time to understand what they're reading. If your popup appears too soon, you can frustrate visitors.
Do pop-ups affect SEO?
Popups won't directly affect your website's SEO. However, if they're annoying to visitors or impact user experience, they could have an indirect effect.
How can I measure the effectiveness of my exit intent popup?
To measure your exit popup, you can track conversion rates, bounce rates, and other relevant metrics using tools like Google Analytics or built-in analytics features in OptinMonster. Analyzing these metrics will help you understand how well your popup is performing and if any adjustments are needed.
Can I use exit popups for purposes other than promoting offers or capturing email addresses?
Absolutely! Exit popups can serve various purposes, such as displaying important announcements, asking for feedback, directing users to related content, or even promoting your social media channels. The key is to ensure that the popup adds value to the user experience and aligns with your website's goals.
Now you know how to create an exit popup on your WordPress site.
We hope this article has given you all the instructions to create a high-converting exit intent popup to recover abandoning visitors and drive more leads and sales for your business.
If you enjoyed the drag-and-drop functionality of OptinMonster, you might like these best WordPress page builders with visual editing. You can also learn how to create a landing page here.
And do follow us on Twitter and Facebook for similar WordPress tutorials.