Looking for the best WordPress image slider plugins?
There are many slider plugins available for WordPress. While some can enhance your website, others can slow it down with too many scripts and bloat.
In this article, we'll share the best WordPress image slider plugins that are both fast and easy to use.
But first…
What Is a WordPress Image Slider Plugin?
An image slider plugin is an add-on for WordPress that allows you to add multiple images to your site and show them in a sliding gallery. Typically, a slider shows a single large image at a time, with transition effects to move from one image to the next.
You can typically set your image slider to switch images manually or automatically after a few seconds. That way, users have time to view each image and click on one they like for more information.
Many website owners use slider plugins to showcase images on a post or page with limited space. That way, you can still highlight your best photos without adding too much weight to your page load times.
You can use image sliders for many purposes, including to:
Show several images of the same product
Draw attention to a product range
Showcase your portfolio
Highlight discounts and special offers
Display user-generated content
Show reviews and testimonials
And more
But with so many solutions to choose from, how do you pick one that suits your business needs?
How to Choose the Right WordPress Slider Plugin
While adding sliders to your WordPress website can make it more eye-catching, they can also compromise your site's speed and performance. As such, you should look at each image slider plugin carefully before making a decision.
To help you get started, here are 3 key things to consider when choosing a WordPress slider plugin:
Mobile Responsive: Your slider plugin should be fully responsive, so it displays correctly on small screens. If it isn't mobile-friendly, you could lose potential customers who visit your website from mobile devices.
Easy to Use: Look for a slider plugin that's easy to set up and use. If you choose an image slider that's too complicated, you can waste time by simply learning how to use it. Plus, over-complex plugins tend to have many features you'll never use.
Fast: Many plugins slow down your website and increase your web page's loading times. This can impact how well your site ranks in search engines, so choose a plugin with high performance and optimized code to keep your site as fast as possible.
To recap, when picking a slider plugin for your WordPress site, look for one that's mobile-friendly, easy to use, and fast.
What Are the Best WordPress Image Slider Plugins?
Now you know what a slider plugin is and what to consider when picking one for your WordPress site. With that in mind, let's look at the best image slider plugins for WordPress.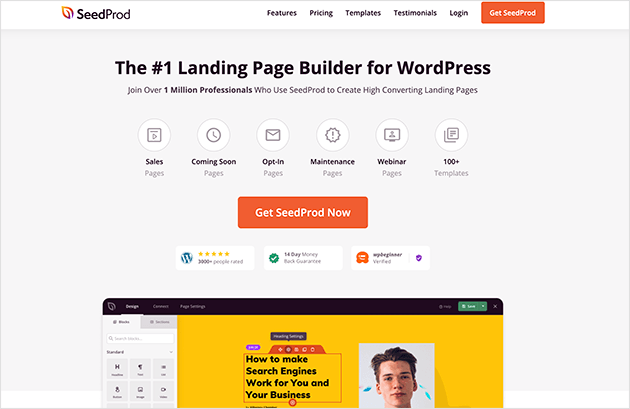 SeedProd is a powerful WordPress plugin that's more than just a simple slider plugin. It's the best WordPress landing page builder on the market that also happens to include image slider functionality.
With SeedProd's drag-and-drop builder, you can create professional landing pages easily without hiring a developer. You can choose a landing page template to customize quickly or start from scratch with SeedProd's flexible content blocks.
The content blocks make building your page even easier. Just choose a block, drag it to your live preview, and see the changes in real-time.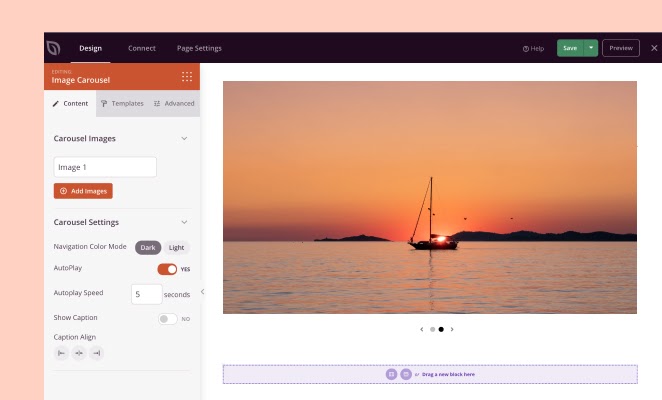 With the Image Carousel block adding photo sliders to your landing page is a breeze. The block supports unlimited slider images and advanced settings, including:
Light and dark mode
Autoplay options
Autoplay speed
Show image caption
Align image caption
Slider templates
Caption styles and fonts
Slider shadows, borders, and spacing
SeedProd also offers the power of several plugins in one. You can use its built-in page modes to create a coming soon page, maintenance page, 404 page, and even a custom login page.
And with a live mobile preview and mobile editing, you can ensure everything looks great on all screen sizes.
Best of all, SeedProd is designed with speed in mind. It doesn't have any unnecessary features you'll never use; instead, it focuses on the best performance for your website.
The result is a high-converting landing page that's both fast and user-friendly.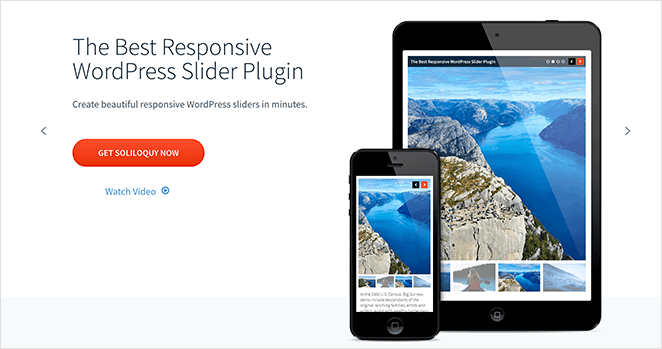 Soliloquy is another of the best responsive slider plugins for WordPress. It's a beginner-friendly solution that allows you to drag and drop images to create a new slider.
This plugin uses WordPress coding best practices to offer an optimized experience. It blends seamlessly with your WordPress admin and uses the native WordPress media uploader to create sliders.
You can add your slider to any WordPress post or page easily. Just add the Soliloquy WordPress block, pick any slider you've made, and it appears automatically.
And if you're still using the classic WordPress editor, you can add sliders via a button in the editor or with a shortcode.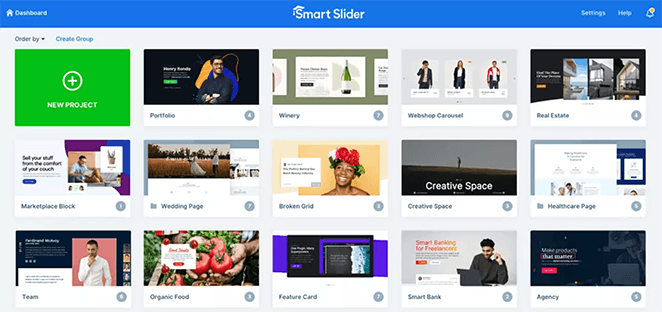 Smart Slider 3 is a powerful image slider plugin for WordPress.
The free version allows you to create responsive sliders that are optimized for search engines. You can also use the free version to highlight recent or featured posts with the dynamic posts slider.
The pro version of Smart Slider 3 lets you edit your slider as you would with a page builder plugin. It includes a drag-and-drop slider builder and 6 slider layers allowing you to create highly customized sliders easily.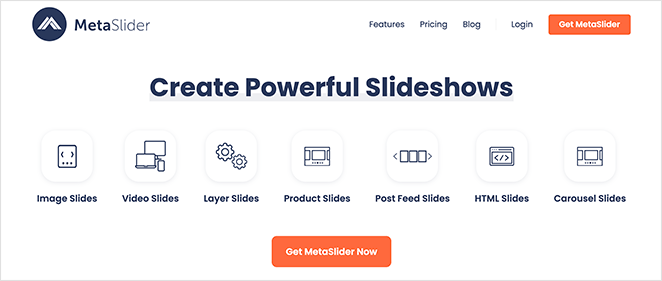 MetaSlider is another easy-to-use WordPress slider plugin. Creating your first slider is simple, and the plugin handles the technical slider settings for you.
With this slider plugin, you can select:
Different slider scripts
Slider themes and styles
Slider SEO titles
And much more
If you're just a beginner, you can ignore those settings and add your slider anywhere on your site easily. You can do this with a shortcode, WordPress block, a slider widget, or template tag.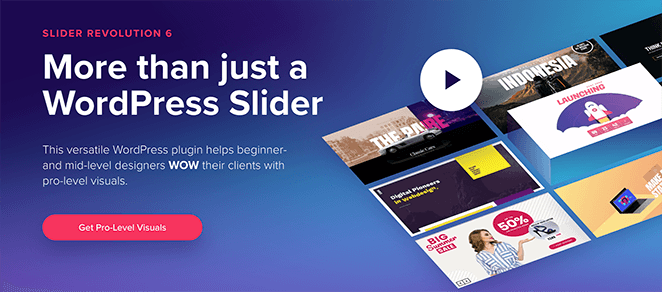 Slider Revolution is a best-selling slider plugin for WordPress. It has a visual editor that allows you to create custom sliders for your site easily.
This plugin is fully responsive, so any slider you create adapts perfectly to any screen size. It also offers true multimedia support so that you can create any slider, including:
Video sliders
Post and custom post sliders
And more
Slider Revolution isn't as user-friendly as the other WordPress plugins on this list. For instance, it looks different from the WordPress interface, making it harder for users to find. It also lacks handy buttons to make adding sliders to your site easy.
That said, you can still make beautiful, responsive sliders with this top-selling plugin.

Slide Anything is a free slider plugin that allows you to add anything to a slider in WordPress. Some of the different types of media you can add includes:
Images and videos
Text
HTML
And more
While you can pretty much add anything to your slider with this plugin, it isn't as easy to use or intuitive as other plugins on this list. You have to add slider content using an HTML editor, which is confusing for beginners and hard to keep your sliders looking the way you want.

Master Slider is another free slider plugin with an interface that looks different from the WordPress UI. The plugin is easy to use, but many of the features are hard to find.
With Master Slider, you can select a template, and import demo slides to use as a starting point. Then you can delete the demo slides and replace them with your own content.
This plugin has several slider templates you can insert into your WordPress post, pages, or sidebar with a WordPress block, shortcode, or template tag.
Other features include:
Mobile responsive
SEO friendly
Drag and drop slider creation
Touch slider navigation
And more
Master Slider works best with WordPress themes that load jQuery on each page load automatically. If your theme doesn't support this, you'll need to change the plugin settings and force it to load assets on page load.
WordPress Image Slider Plugins Pricing
When choosing a slider plugin for WordPress, how much it costs is another important factor to consider. Here is the pricing for each of the plugins above for a single site license.
While Soliloquy may look the cheapest, their single site license doesn't offer access to all the add-ons. You'll need the developer license to access everything, which costs $99.
Which WordPress Image Slider Plugin is the Best?
After comparing the plugins above, we can confidently say that the best WordPress image slider plugin is SeedProd.
SeedProd gives you the power of several WordPress plugins in a single package.
Choosing SeedProd removes the need to add even more weight to your site with multiple plugins for the same functionality. And because SeedProd is fast and bloat-free, it won't impact your website's performance.
Ready to level up your WordPress website?
We hope this article helped you find the best WordPress image slider plugin for your website. You may also want to check out the 11 types of landing pages guaranteed to increase your site's conversions.
While you're here, please follow us on Facebook and Twitter for more helpful tips and tutorials.