Are you wondering how to run a successful contest? Creating a contest is an excellent way to drive traffic to your website and generate leads from your target audience.
Even though creating a giveaway might seem complicated, the truth is it's not when you have the right contest software to make the process easy.
In this article, we'll show you how to create an online contest the easy way with RafflePress so you can grow your business with the power of viral giveaways.
Let's get started!
1. Understand Your Target Audience
The first step in creating an online contest is to research and understand your ideal audience. If you don't know who you want to enter your contest, it'll be difficult to market it when your giveaway goes live.
Here are some tips to help you define your target audience:
Look at your current customers. Who are they? Why do they buy from you? Which customers bring the most business?
Check your competitors. Who does your competition target? Who are their customers? Are they overlooking a valuable niche?
Analyze your products or services. List the benefits. What are the specific use-cases? Whose needs does your product fulfill?
Understand buyer characteristics. What's their personality? What hobbies and interests do they have? What are their values? What's their lifestyle like?
Consider the demographics. What's their age range and gender? Where do they live? What's their income and education level? Are they married? Do they have children?
You can learn how to collect demographics with Google Analytics here.
Once you take the above into account, you'll have a better idea of the type of people to market your contest to. And that makes setting your giveaway goals much easier, something we'll cover next.
2. Set Clear Goals for Your Contest
Now you know who your contest is for, you can set clear goals. Your goals will drive the success of your giveaway by clarifying the outcome you want to achieve. Make sure your contest goals align with your business and marketing objectives to get the best results.
The majority of contest goals are similar to the following examples:
Drive more traffic to your business website
Create a buzz around your brand or new product
Grow your email list
Build customer relationships
Boost product or service sales
Increase engagement on social media networks
Collect user-generated content (UGC) from photo and video contests
Gather insight into your most popular products
Setting goals gives you a better focus on how to run your contest and how you'll promote it further down the line.
3. Choose Your Contest Type
There are several types of contests you can run for your business, and the one you use depends on your contest goals. Some giveaway types require more effort than others, with outcomes that could differ from your primary marketing goals.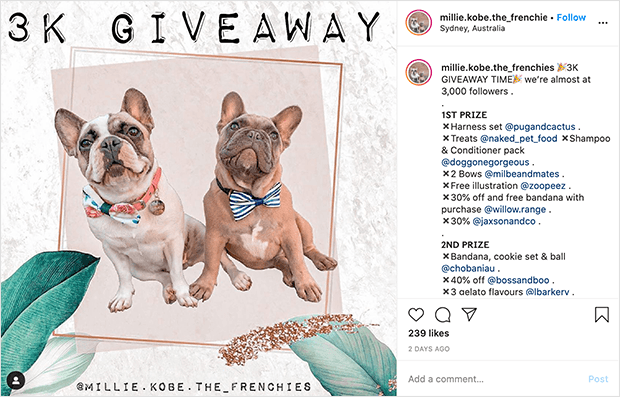 Here are a few of the more popular types of contests:
Social Media Giveaways – These contests are ideal for growing your followers on Instagram, Facebook, Twitter, and others. They're usually easy for people to enter to ensure maximum participation.
Vote Contests – Voting contests are also pretty easy to enter and are great for giving your audience the chance to be heard by your business.
Video Contests – These contests are perfect for collecting UGC. Even though they're harder for people to enter, they're a lot of fun and get you tons of great content to use in future marketing messages. They're also perfect for growing your audience with YouTube giveaways.
Photo Contests – Similar to video contests, photo contests are another way to gather UGC from your audience and are ideal for running Instagram giveaways to increase your followers.
Once you know which type of contest you'll run, you should turn your attention to the rules.
Check out these Facebook giveaway ideas for more inspiration.
4. Determine Your Contest Rules
The next step in creating an online contest is to set the rules. Your contest rules remove any confusion around entering your giveaway and keep things fair and legal. They also depend on the type of giveaway you're running.
For instance, if you're running a photo contest, one of the rules would be for a chance to win, participants have to upload a photo. Whereas with a simpler contest such as one to grow your email list, the rule would be to subscribe to your email list to enter.
You should also include the following details in your contest rules:
Who can enter your giveaway? Define the minimum age and location.
The start and end date, so people know how long they have to enter.
How people can join your giveaway, and if they can enter more than once.
If you'll randomly draw a winner, vote to choose a winner or ask a panel to judge.
It's also important to ensure the methods for entering your contest align with your business goals. For instance, if your goal is to increase brand awareness, you should make sharing your contest an entry requirement.
Once you've set the rules for your giveaway, it's time to pick a prize your audience loves.
5. Choose a Contest Prize Your Audience Wants
If you don't have a grand contest prize, people won't make an effort to enter. So you must choose a desirable prize that creates a buzz and makes people excited to enter your giveaway.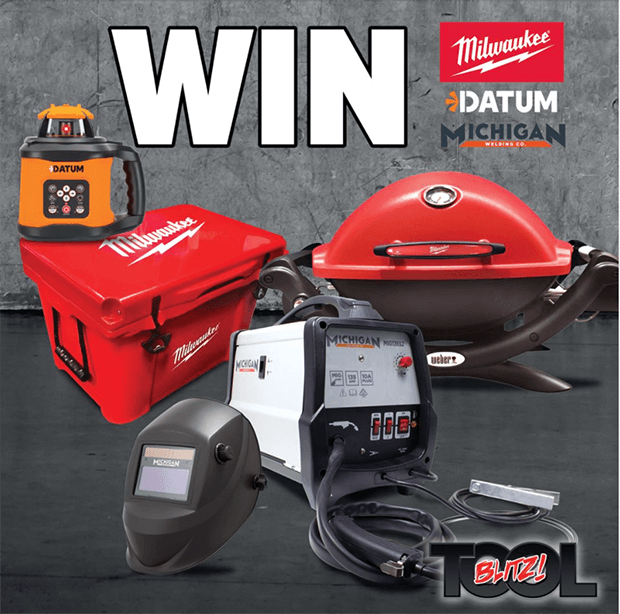 The most popular prizes ideas include:
Large cash prizes
Gift cards and vouchers
Free products or services
Prize bundles of a specific theme
For more inspiration, check out this complete list of contest prize ideas.
6. Create an Online Contest with RafflePress
Now that you've defined the audience, rules, and prize for your contest, it's time to build one. We'll be using RafflePress to show you how to create an online contest. RafflePress is the best WordPress giveaway plugin on the market.
Besides making it super easy to run an online contest, RafflePress gives you all the tools you need to reach your giveaway goals. So whether you want to grow your email list, drive traffic to your website, or build your social media followers, RafflePress can help you achieve it.
Here's a step-by-step guide to creating an online contest with RafflePress.
Step 1: Create a New Giveaway Contest
Get started with RafflePress here and download the plugin. Then if you need help, here's a step-by-step guide to installing WordPress plugins.
Once you've installed and activated RafflePress, from your WordPress dashboard, hover over the RafflePress icon and click Add New to create a new online contest.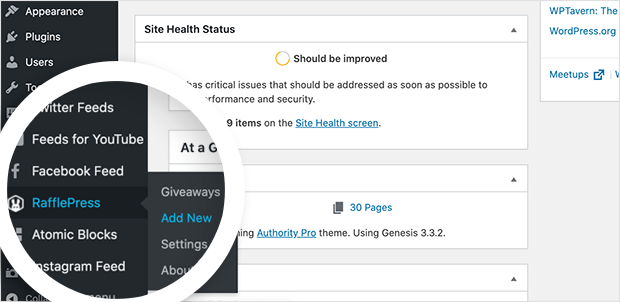 Step 2: Choose a Giveaway Template
After clicking Add New, you'll see a screen where you can name your contest and choose a giveaway template.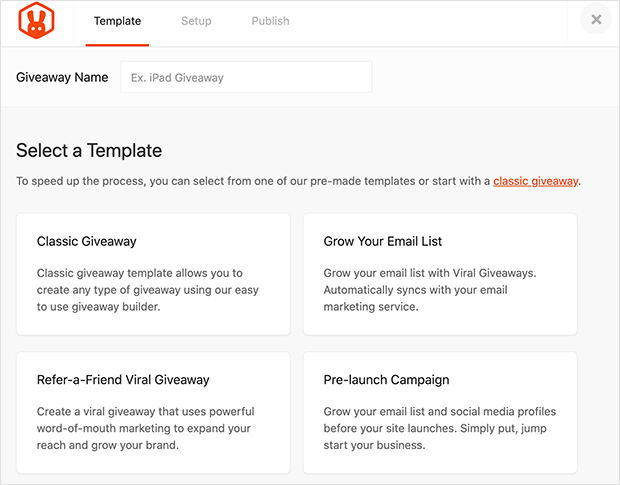 You can choose any name for your giveaway. For example, if your contest is to win a Macbook, you can name your contest as "Macbook giveaway."
Now, choose your template. RafflePress comes with several pre-made giveaway templates designed to meet specific goals, including:
Grow your email list
Grow your Facebook page
Grow your YouTube channel
Refer-a-Friend
Pre-launch Campaign
For this tutorial, we'll use the Classic giveaway template. With this template, you can create any type of contest using the easy RafflePress giveaway builder.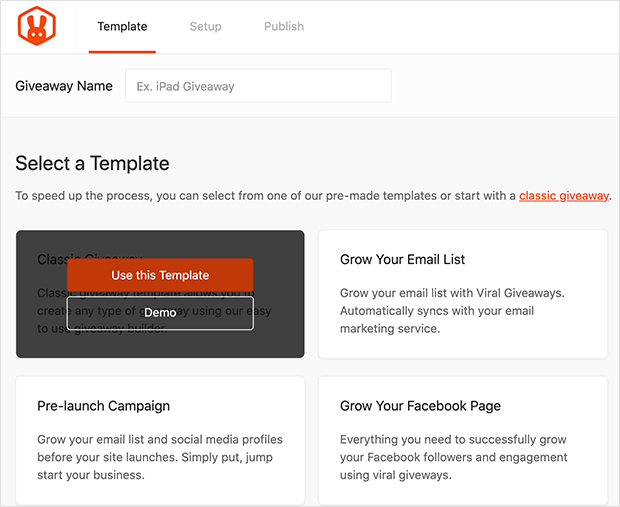 To choose the Classic Giveaway template, hover your cursor over it and click Use this Template.
Step 3: Add Your Contest Prize Details
Once you've clicked the giveaway template, you'll see the RafflePress giveaway builder. Here you can add your contest prize details.
First, click the pencil icon below the Giveaway Prize Details section, and enter the name and a description of your prize.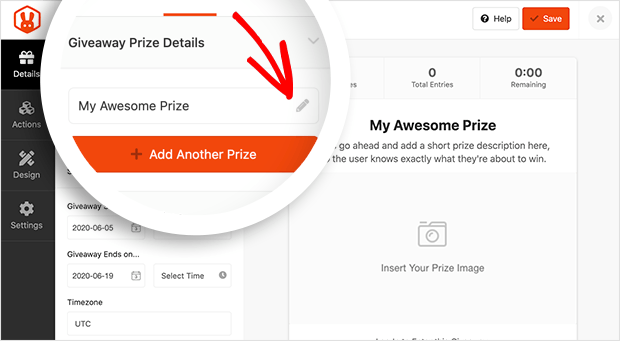 Then you can upload a prize image by clicking Insert Your Prize Image and uploading a picture from your computer or WordPress media library.
When you're happy with your prize details, click the Done Editing button.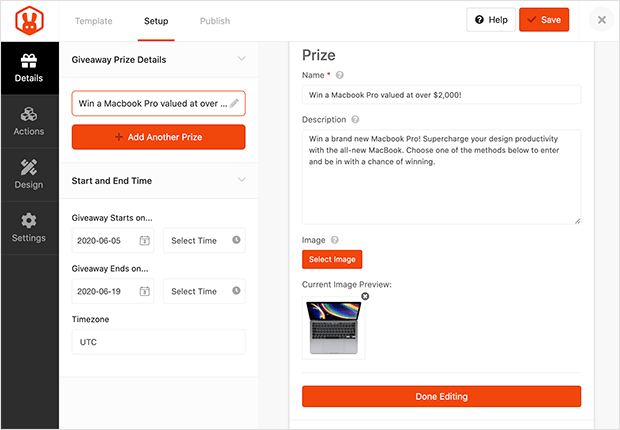 If your online contest has multiple prizes, click the + Add Another Prize button to fill in the details of your other prizes.
Under the Start and End Time section, you can set the duration of your contest and your preferred timezone.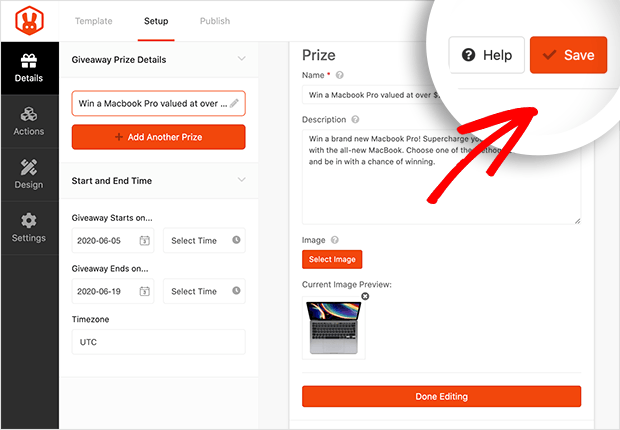 Click the Save button to save your changes often throughout the contest-building process.
Step 4: Pick Your Giveaway Entry Methods
RafflePress is the ideal giveaway builder to create an online contest because you give participants more than one way to enter. Plus, those entry methods will help you reach the goals you set initially.
For example, you could make it mandatory for people to sign up for your email list, rewarding them with 1 entry. Then you can offer a 2nd entry for visiting your Facebook page, a 3rd entry for sharing the contest with a friend, and so on.
Providing more ways to enter offers more chances for people to win, encouraging users to take those actions.
To pick your entry methods, click the Actions tab. Here the entries are grouped based on the goals you want to achieve, which are:
Get More Subscribers
Get More Social Engagement
Get More Traffic
Clicking any action will add it to your giveaway.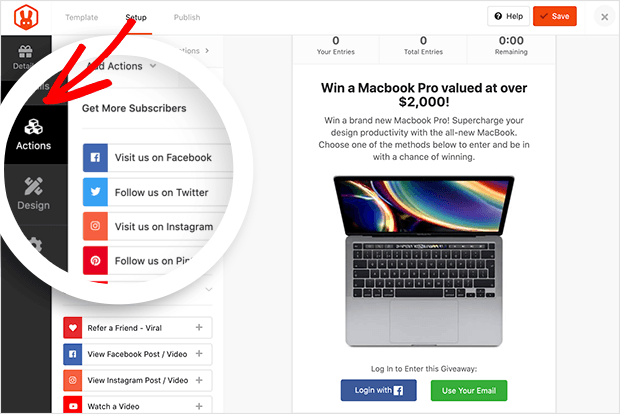 After that, you can set the entry options for each action. That includes giving the action a title, choosing a value (how many entries the action is worth), if the action is mandatory, and so on.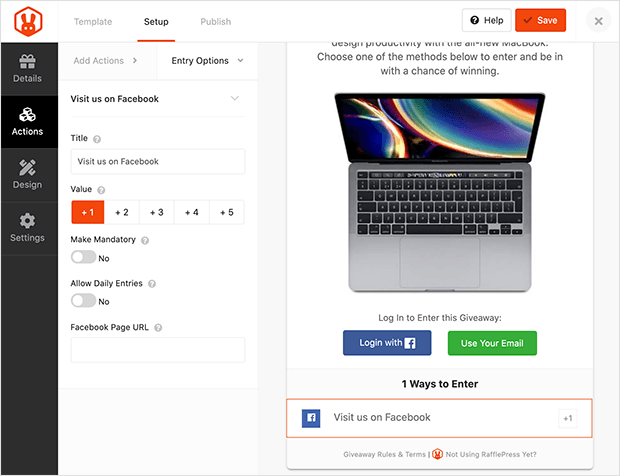 If you're adding a lot of methods to enter your contest, make sure the most important actions reward users with the most entries to make it more desirable to enter.
Repeat this process for all the actions you wish to add to your giveaway. For example, you can also include the action to Join an Email Newsletter to increase your subscribers. It contains an opt-in confirmation checkbox and integrates with popular email marketing services.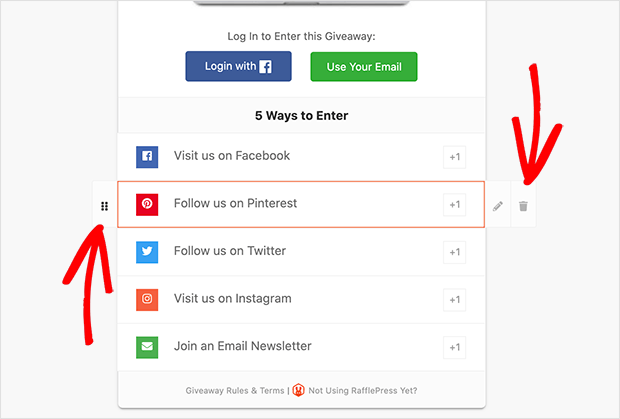 If you like, you can rearrange your actions by dragging and dropping them from the left-hand side of the preview area. Similarly, you can click the trash can icon on the right-hand side to delete an action.
Step 5: Design Your Online Contest
Now, let's look at how to change the look of your contest in the Design tab. Here you can choose from 2 different layouts:
Display your prize image, then the header and description
Display the header and text, then the prize image
You can also change the fonts for your contest and the colors of your call-to-action buttons.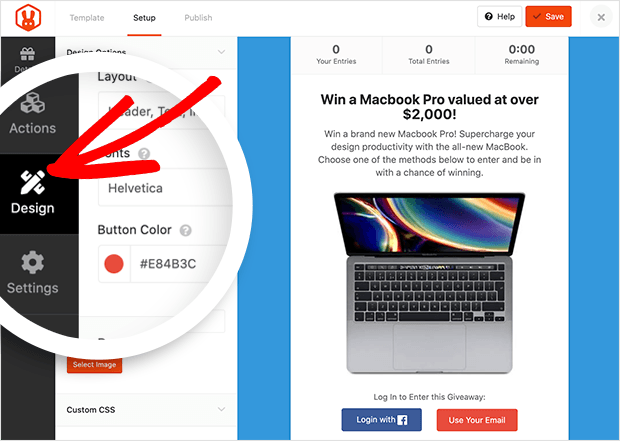 If you're creating a giveaway landing page for your online contest, you can set the background color or a custom background image in this section too.
Then when your contest looks the way you want, click the Save button.
Step 6: Confirm Your Contest Settings
When you click the Settings tab, you'll see 6 different sections, which are:
General
Giveaway Rules
Email Verification
Success Tracking
Success Redirect
Social Logins
The most important section to configure on this page is the Giveaway Rules.
It's super-easy to configure your contest rules in RafflePress. The Rules Generator Template can give you a quick head start on creating your rules.
Clicking the + Generate Rules button brings up a window where you can fill in important details such as your sponsor name, email address, eligible contest location, the minimum age to enter, and more.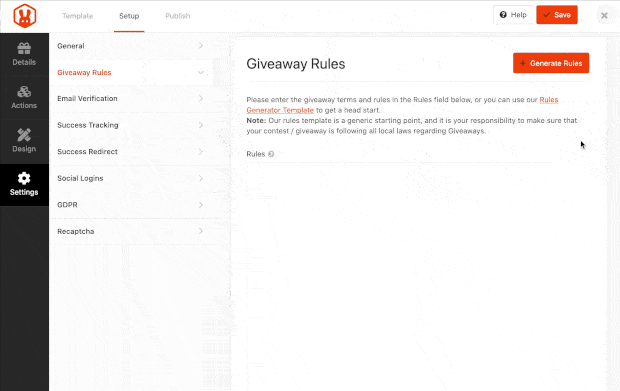 For more details about the RafflePress Settings, check out the documentation.
Remember to click Save when you've configured your settings.
Step 7: Publish Your Online Contest
Now that you know how to create an online contest, it's time to publish it on your website. Launching your giveaway is super easy with RafflePress. Just click the Publish tab.
There are 3 ways to publish your contest with RafflePress which are:
WordPress Content Block – Embed your contest in a post or page using the WordPress block editor and the RafflePress content block.
WordPress Shortcode – Embed your giveaway in the classic WordPress editor, sidebar widgets, or in your WordPress theme.
Giveaway Landing Page – Launch a distraction-free giveaway landing page on your website for your contest.
Creating a dedicated landing page for your giveaway is an excellent solution for getting more contest entries. Because there are fewer distractions on the page, participants will be more likely to enter.
To create a giveaway landing page, choose the Giveaway Landing Page option.
Then click the View Page button to see what the landing page for your contest looks like.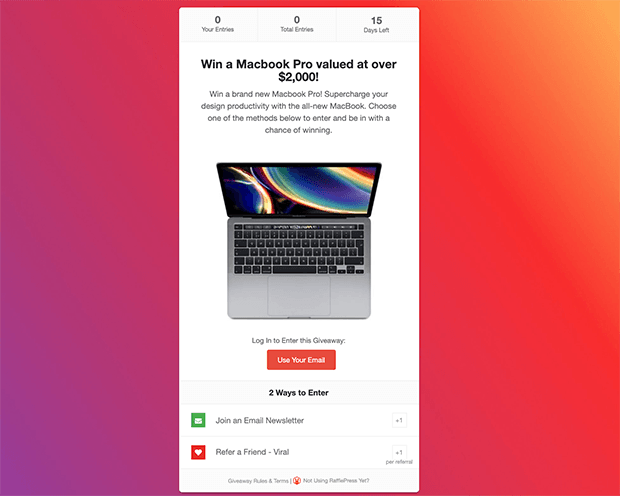 You've now got an awesome landing page for your contest!
7. Promote Your Online Contest
People won't enter your online contest if you don't actively promote it. So start promoting your giveaway right away to spread the word and secure those entries. Promoting your giveaway increases your contest's chances of going viral so you can grow your audience and generate more targeted leads.
There are several ways to promote your contest online. The easiest way is to share your giveaway on social networks like Facebook, Instagram, Twitter, and Pinterest and to ask people to tag a friend in the comments.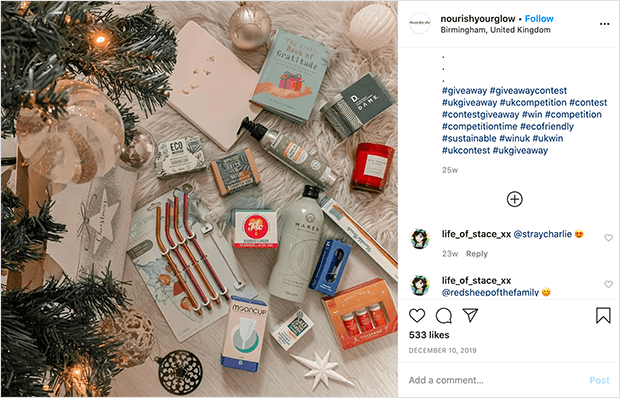 You can also promote your contest using the following methods:
Send an email newsletter to your list of subscribers
Add a banner on your homepage to link to your giveaway page
Submit your contest to giveaway directories
Create a popup using a tool like OptinMonster
Begin promoting your online contest a few weeks before you publish, so you get heaps of entries right from the start.
For even more contest promotion ideas to make your giveaway go viral, check out this article.
8. Pick a Winner for Your Giveaway
When your contest is over, it's time to choose a winner. But how do you pick a winner in a way that's fair to everyone?
RafflePress makes choosing a contest winner easy. When your giveaway ends, head to RafflePress » Giveaways and click the Needs Winners link.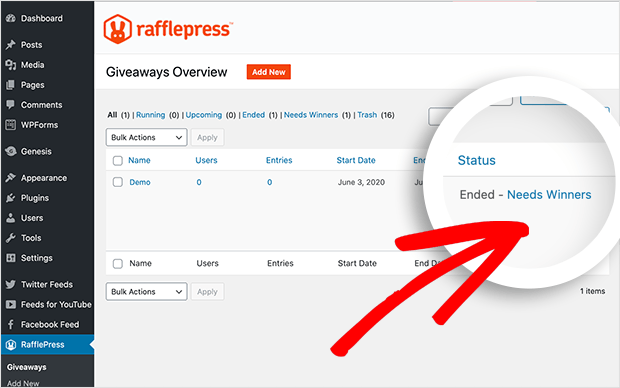 From there, you can view everyone who entered and the number of entries each person has. Click the Pick Winner button to randomly pick a winner, select your options, and click Choose Winners Now.
The winner is instantly highlighted, making it easy to click and email them with the good news.
9. Follow Up After Your Online Contest
Once you've chosen a winner for your online contest, you should follow up with them and everyone who entered your giveaway. Following up helps you develop relationships with your new audience, as well as letting you mention your contest one last time.
You can follow up your online contest by:
Announcing the winner on all your social media channels and thanking everyone for taking part.
Sending an email announcement thanking everyone for joining in and inviting them to participate in future contests. You can even send a discount code as special thanks for entering.
If you have UGC from your contest, share it with your audience on your website and social channels.
Following up after the end of your contest shows you care about your new audience and will make them feel valued.
10. Track Your Contest Results
Now your contest is over; there's still work to do. Your next task should be to analyze your contest results so you know how to run a more successful contest.
The easiest way to collect the data you need is to use MonsterInsights, the best Google Analytics plugin for WordPress.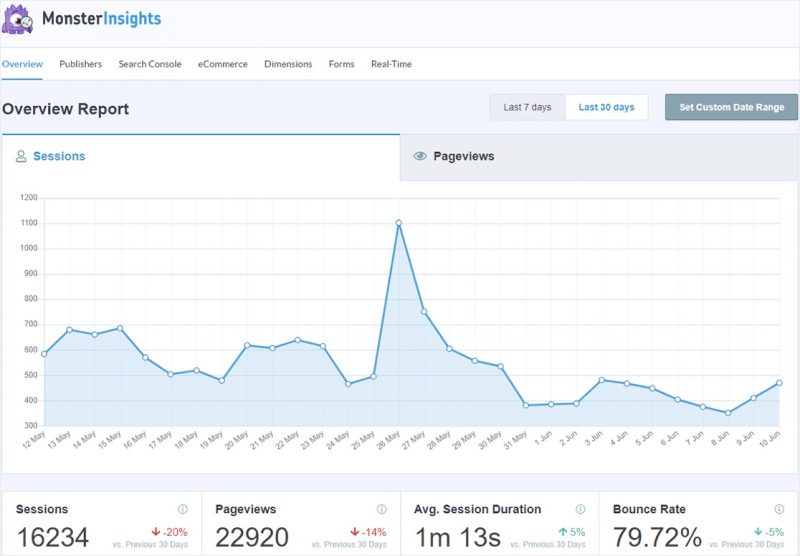 MonsterInsights makes it easy to track traffic to your contest landing page, other website activity, eCommerce traffic, and much more. And with the MonsterInsights dashboard reports, you can analyze your results right from within your WordPress dashboard.
11. Learn From Your Results and Repeat
With data gathered from your online contest, you can use the results to make your next giveaway much more successful.
For example, you can use the information from past contests to make the following adjustments:
Carry out more research to refine your target audience
Instead of running a Facebook contest, try an Instagram contest
Improve the images you use to promote your contest and your calls to action
Track your metrics better and make adjustments to your contest on the go
Increase or decrease the frequency of your contests
And there you have it!
Now you know how to create an online contest by following our easy steps. Creating an online contest will delight and entertain your audience, all while increasing brand awareness and driving your business growth.
So what are you waiting for?
Get started with RafflePress today!
And don't forget to follow us on Facebook and Twitter for more helpful tips and tutorials.