Are you looking for smart ideas to grow your business? Running a Facebook giveaway is an excellent way to raise brand awareness, increase your page likes, and drive tons of traffic to your website. This can result in plenty of new leads and sales for your business.
Coming up with giveaway ideas that stand out from your competitors can feel overwhelming. But there's no need to worry. We've put together our best Facebook giveaway ideas, guaranteed to capture your audience's attention.
How to Do a Giveaway on Facebook
When you browse popular Facebook contests, you'll see the majority of brands run like and share giveaways. In return for entries, participants have to like, share, and tag a friend in the comments.
While this might seem like the best approach because it's easy, it's worth exploring alternative options before you decide.
That's because Facebook's rules state you can't require users to like, share, or tag a friend in exchange for contest entries. Instead, it should be optional.
The best way to ensure you comply with the rules and guidelines is to use a contest tool like RafflePress. RafflePress is the best giveaway plugin on the market. It makes it easy to run any type of giveaway right from your WordPress website.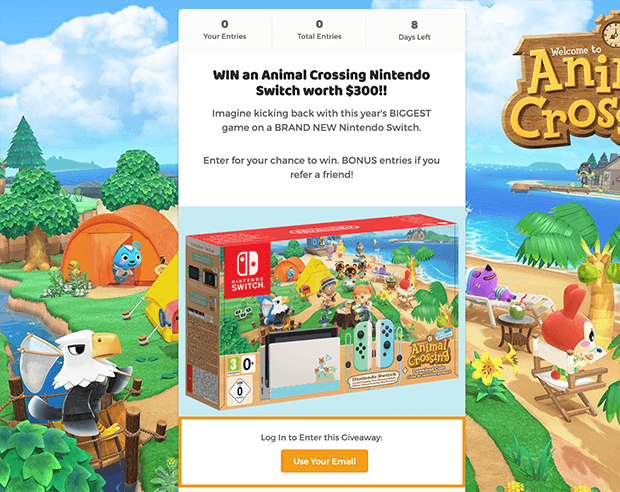 Plus, it comes with everything you need to make your promotion on Facebook a success, such as:
Pre-built giveaway templates to grow your Facebook page
1-click entry options that comply with Facebook's rules
Refer-a-friend entries to make your contest go viral
Distraction-free giveaway landing pages to maximize entries
Email marketing integration to grow your email list
Random winner generator to pick a winner in the fairest way
You can learn how to run a giveaway on Facebook using RafflePress in this detailed guide.
Now that you know how to run a Facebook giveaway, let's look at the best ideas to attract as many entries as possible.
Facebook Giveaway Ideas to Boost Business Growth
The best giveaway ideas use highly desirable prizes and smart promotional tactics to drive the most entries.
Below you'll find loads of Facebook giveaway ideas using these elements to boost business growth.
1. Click to Win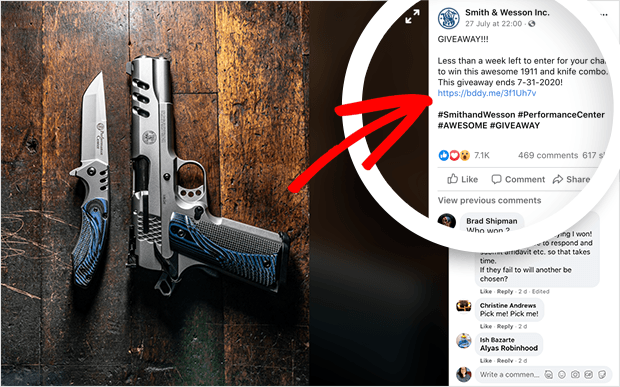 One of the easiest giveaway ideas for Facebook is a simple click-to-win contest. To enter, it's as simple as clicking a link in your Facebook post.
It's easy to create a click-to-win contest in RafflePress. Inside the giveaway widget, choose the Visit a Page or Automatic Entry actions.
The Visit a Page action lets you enter a URL that users must visit to enter your contest. This is a great way to drive traffic to product pages, special offers, etc.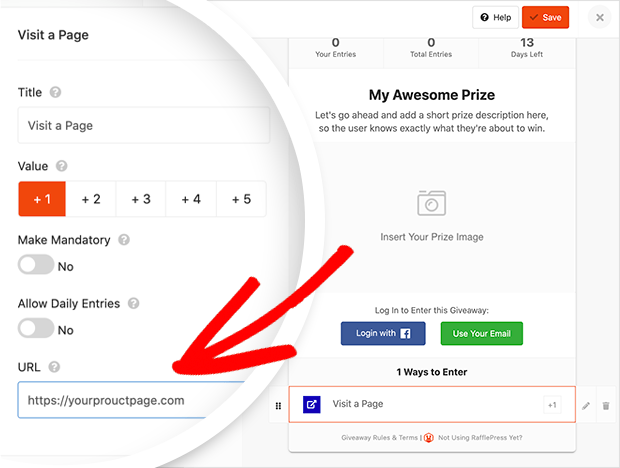 Alternatively, the Automatic Entry option lets users enter without performing any other actions.
Once users visit your giveaway widget and sign up, the entry is confirmed. You can use this action to entice people to enter and complement it with actions for more entries.
You can learn about RafflePress giveaway actions in the documentation here.
2. Leave a Comment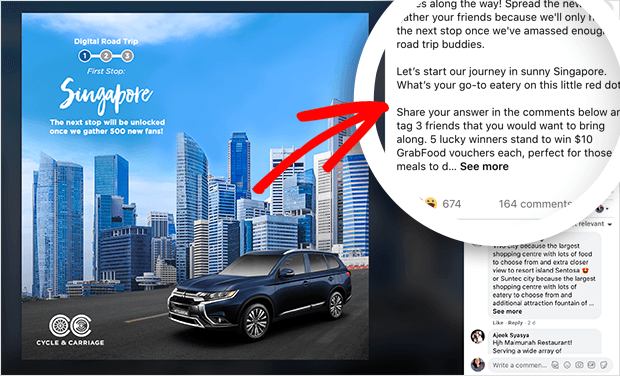 If you want your audience to interact more with your Facebook page or blog, you can make leaving a comment a requirement for entering your contest.
Comments are a great way to display valuable social proof. They demonstrate your brand has an active community, which improves your trustworthiness. Even better, encouraging blog comments send plenty of traffic to your website.
You can create this type of giveaway with RafflePress by using the Invent Your Own action.
Simply enter instructions for users to leave a comment on a specific post or page. Then confirm the entry by asking them to enter the URL of their comment.
3. Answer a Question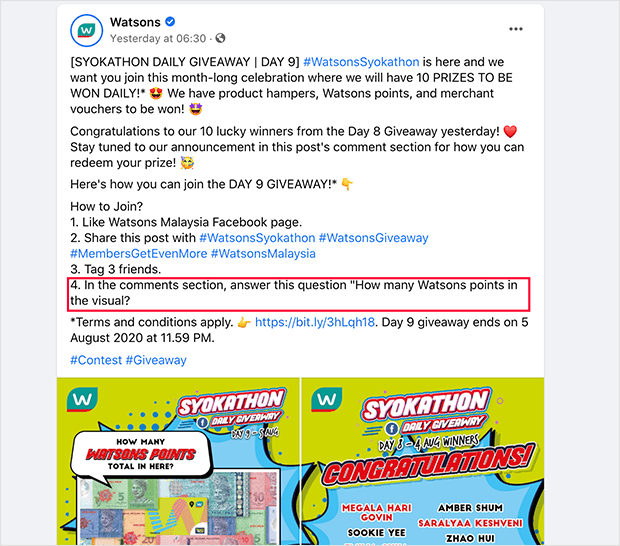 Why not test your community's product knowledge by asking them to answer a question? In return for the answer, they can earn entries for your giveaway.
Questions and trivia contests are a popular way to identify your top fans, discover ways to improve your products and drive engagement on your Facebook page.
To run this type of giveaway with RafflePress, use the Answer a Question entry action. Then, all users need to do is enter their answers for entries. If you want to make selecting a winner easier, you can optionally verify the correct answer.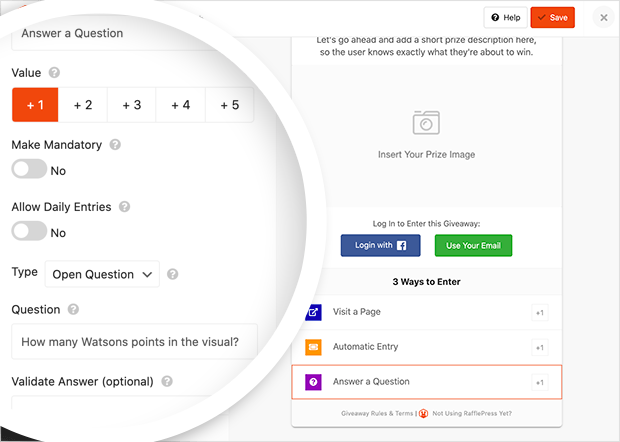 With the action set up on your widget, simply paste the link to your giveaway landing page within your Facebook post for people to click and enter.
4. Join a Newsletter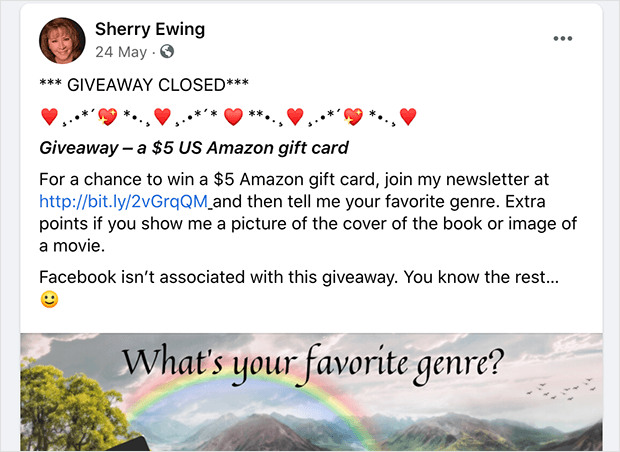 Running a Facebook giveaway is also an easy way to grow your email list. Once users sign up for your list, you can send your marketing messages directly into their inboxes.
This means your promotions won't be lost in the Facebook news feed, making it more likely people will read them and take action.
You can use RafflePress's Join a Newsletter action to make it easy for users to join your list for contest entries. Just choose the action in the giveaway builder and link it to your preferred email marketing service.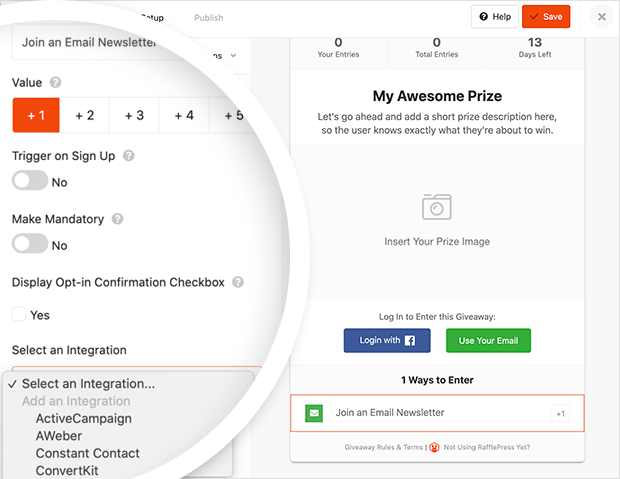 It's also possible to enable the Trigger on Signup option, so users are added to your list as soon as they log in to enter.
5. Share a Product Photo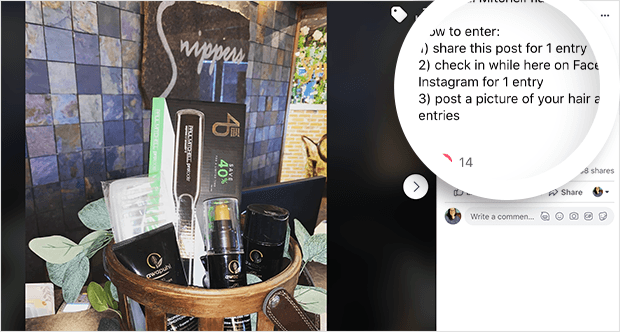 To generate a buzz around your products, why not run a photo contest on Facebook? This idea uses user-generated content (UGC), which is content created by your fans to promote your products.
UGC is super-valuable because it comes from real users – something people trust a whole lot more than brand-generated content. You can also use that content to promote your brand in the future.
It's easy to run a Facebook photo contest using RafflePress with the ready-made Submit an Image action.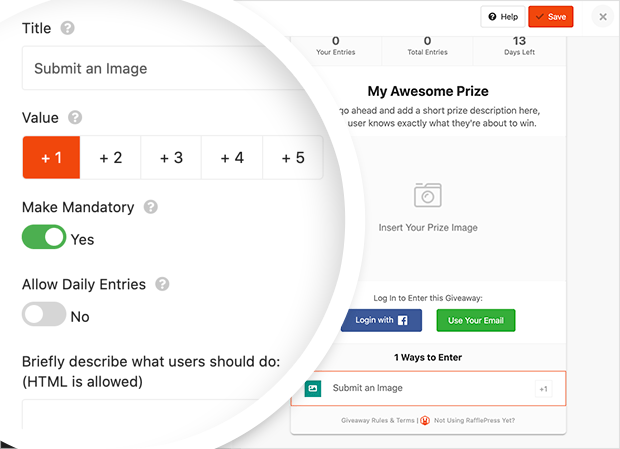 Users can then upload a photo directly to your website, and you can view all submissions in a single place. This saves you from having to scroll through hundreds of Facebook comments to find them.
6. Pick Your Own Prize
If you'd like to give your audience more choice over their contest prize, why not let them choose one as an entry requirement? Then if they're the lucky winner, they get their chosen prize for free!
This Facebook giveaway idea is perfect for using up out-of-season product stock or promoting new products to your target audience.
It's also pretty easy to create this type of contest with RafflePress.
Simply upload a photo with different numbered product choices. Then use the Polls and Surveys action to allow users to choose their preferred product, giving them entry into the prize draw.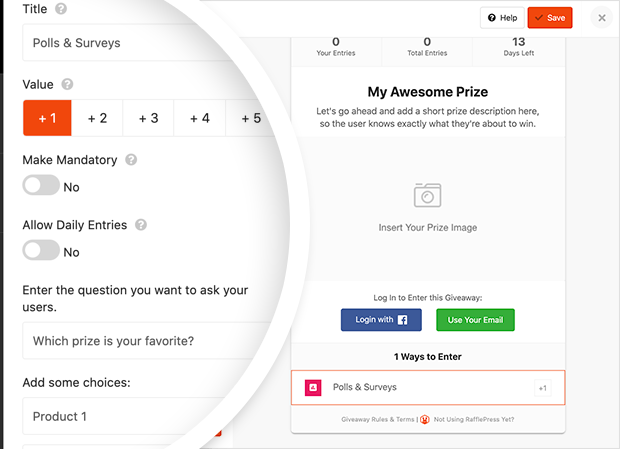 7. Share Product Hacks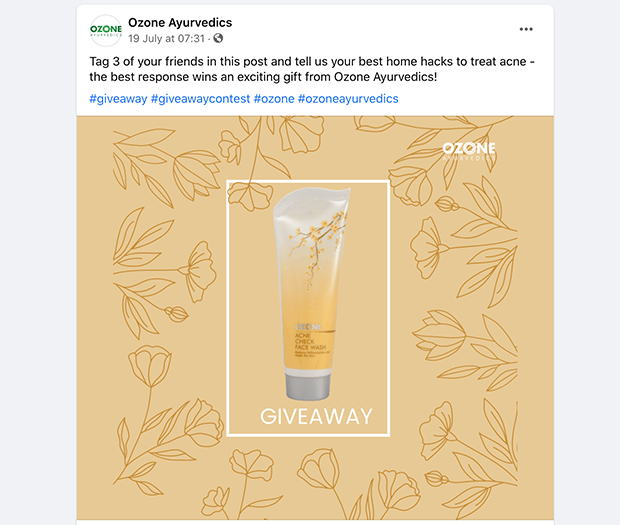 Want to share exciting ways to use your products and services? Why not run a giveaway on Facebook where users have to submit their best product hack for entries?
This is a fun way to get your community involved with your brand. And since the hacks are from real customers, they demonstrate valuable use cases for your goods. What's more, you can collect the hacks and repurpose them into how-to guides and tutorials.
You can use the Invent Your Own action in RafflePress for this Facebook giveaway idea.
Simply change the label to something like "Share Your Hack" and instruct people to leave a link to their comments with their tips.
8. Visit a Facebook Group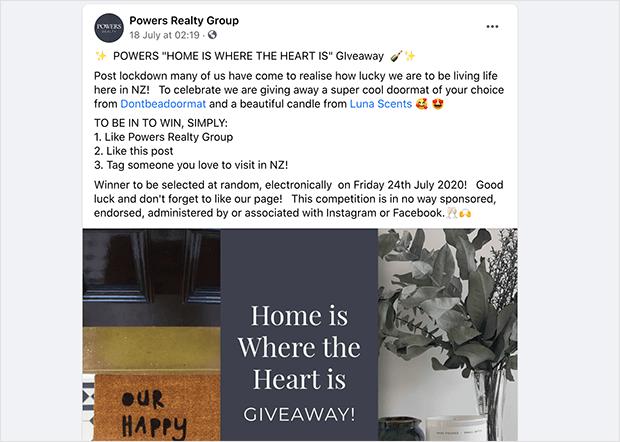 Facebook groups are an excellent way to boost your Facebook business page and build a community around your brand. But maintaining and growing a group isn't easy.
Chances are loads of people aren't aware your group exists, so why not run a giveaway to draw attention to it?
Use the Visit a Facebook Page action in RafflePress and change the label to "Visit a Facebook Group," and enter your group's URL.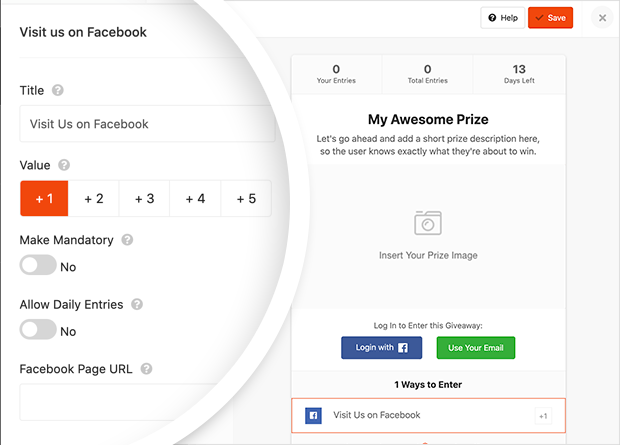 To enter your contest, users simply have to visit the group, which draws their attention to its existence.
9. Photo Caption Contest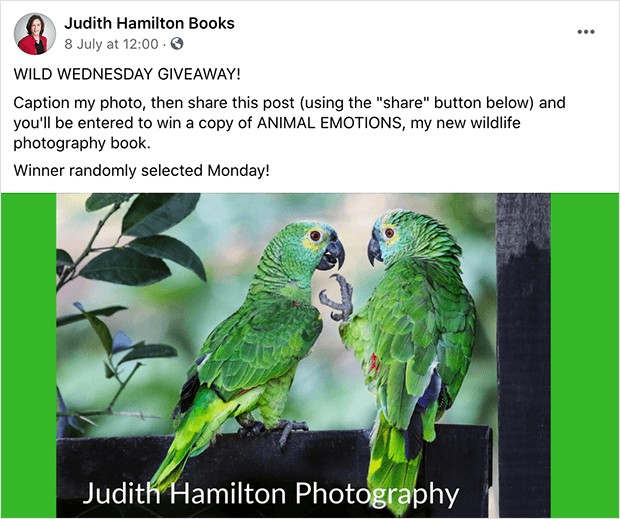 Photo caption contests are really easy for people to enter, making them one of the most popular Facebook giveaway ideas.
To take part, all users need to do is create a caption to go with an image you choose. If you're feeling generous, you can offer multiple prizes for the best caption and several runners-up.
You can run this type of Facebook contest in RafflePress with the Invent your Own or Answer a Question actions.
With the Invent Your Own action, you can ask users to leave their captions in your comments and submit the comments' URL for entries.
With the Answer a Question action, you can ask, "What is your Caption." allowing users to enter their caption as the answer. The photo can be included in the prize details area of your widget to keep everything in one place.
10. Guessing Game
If you want contest participants to make the effort to enter your giveaway, you can create a fun guessing game.
Try posting a photo of your product and adding a blur filter to disguise it. To enter, users have to guess what it is with the correct answers.
Then, in RafflePress, you can use the Invent Your Own action for users to link to their best guess. Alternatively, you can use the Polls and Surveys action to provide a range of possible answers.
11. Name the Product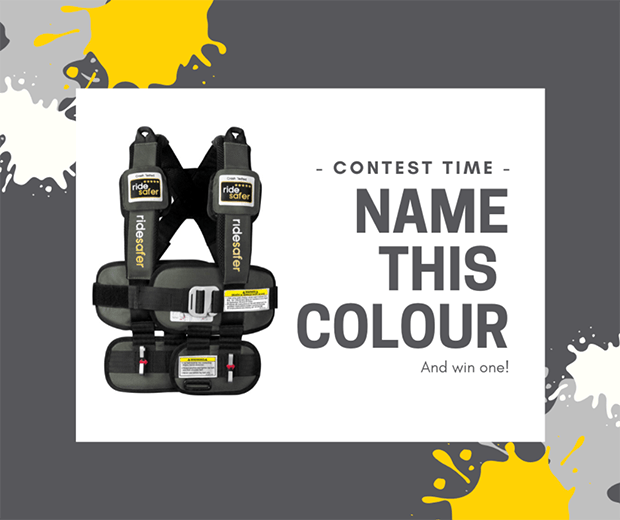 Here's another Facebook giveaway idea that gets people's brains working.
If you have a new product launching soon, you can ask users to come up with a unique product name. In return for their ideas, they can earn entries into a prize draw.
Similar to the previous idea, you can use the Invent your Own action in RafflePress so people can provide their ideas without restrictions.
Alternatively, use the Surveys and Polls action to maintain more control over the ideas.
12. Vote for a Product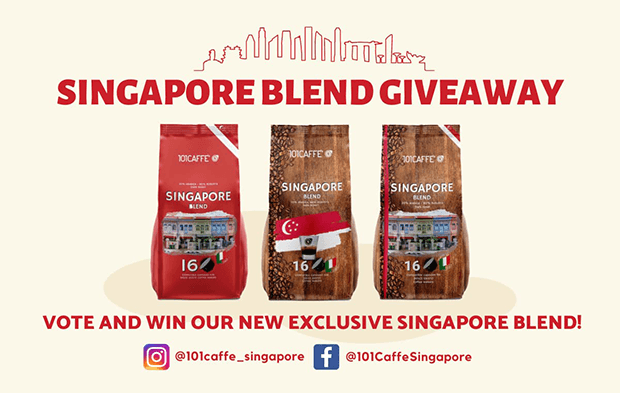 This giveaway idea is a great way to promote a new product line or discover which of your products is the most popular.
It's as easy as posting a photo of several product choices. Then you can use the Polls and Surveys action in RafflePress to get your audience to vote for their favorite.
As a reward for taking part, the winner's prize can be the product with the most votes.
13. Refer a Friend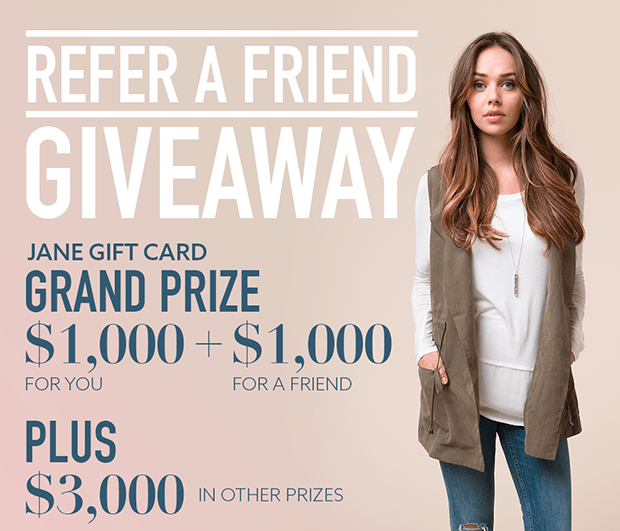 If you want to expose your brand to a massive audience, the best way is to run a referral contest.
To enter, users have to share the giveaway with their friends. They share it with their friends, and so on. The faster people share the contest, the quicker people will see it, giving you ample opportunity to go viral.
The easiest way to create a referral contest with RafflePress is to use the Refer-a-Friend action. This requires participants to share the giveaway on various social media networks and by email.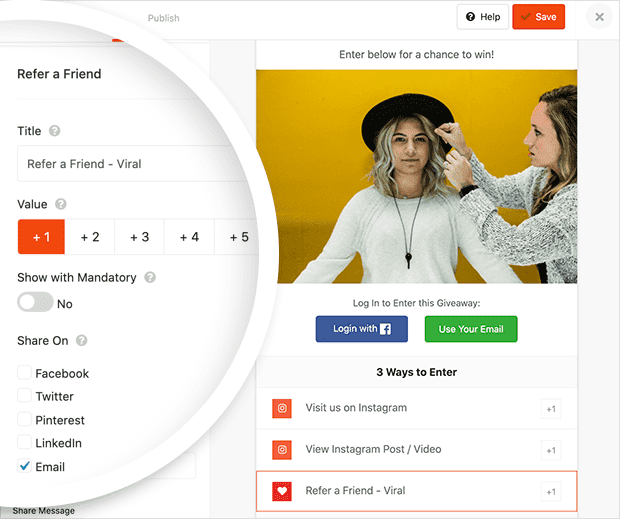 14. Post a Selfie
Selfie contests are excellent ways for brands to leverage UGC. Everyone knows how to take a selfie, and they put a human face to your products, which resonates more than simple brand images.
For this Facebook giveaway idea, you can use the Submit a Photo action in RafflePress to collect entries of users posing with your products. Then you can either choose a winner based on the best photo or pick one randomly.
15. Submit a Video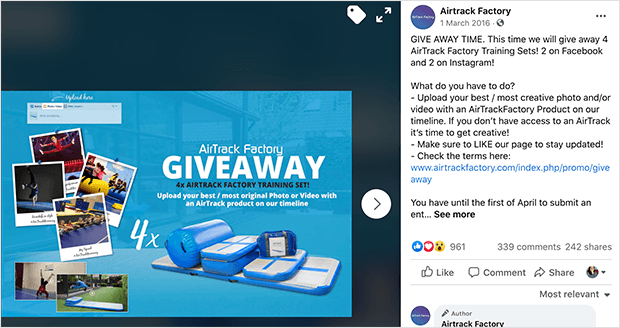 If you'd like participants to put in a little more work for their entry, you can ask them to film and submit a video for a chance to win.
Make sure the video is linked to your brand to raise awareness. For instance, you can ask for product unboxing videos, quick product hacks, DIY tutorials, etc.
Once you've decided on a theme for the giveaway, you can ask users to publish their videos on YouTube and share the link via the Invent Your Own action in RafflePress.
This keeps your submissions in one place and makes it easier to draw a winner.
16. Design a Product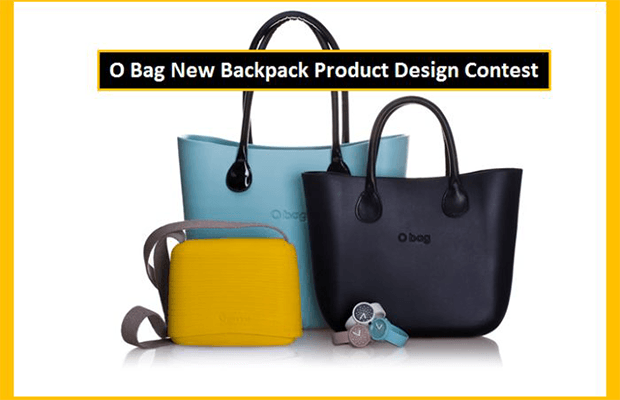 While we're on the topic of using your community's creativity, why not go a step further and ask them to design a product?
This is a fantastic way to discover what interests your audience and the features they value most in a product.
Participants can upload their designs using the Submit an Image option in RafflePress. The grand prize could be seeing their creation brought to life.
17. Complete a Survey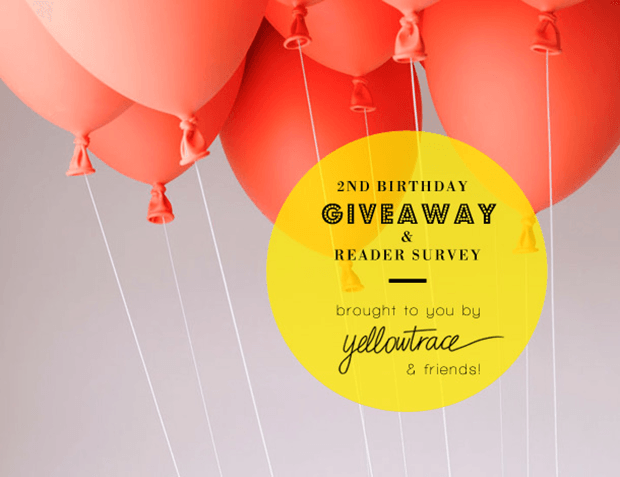 To learn more about your audience, you can run a giveaway on Facebook with completing a survey as the contest requirement. Then in your survey, you can ask them about their product preferences, interests, and much more.
If your survey is short and simple, you can use the Surveys and Polls action in RafflePress. Yet if it's more complex, you can use the Visit a Page action to direct users to a survey created with a survey tool like WPForms.
You can also use giveaways as an incentive to improve survey responses by offering a prize for filling it in.
18. Fill in the Blank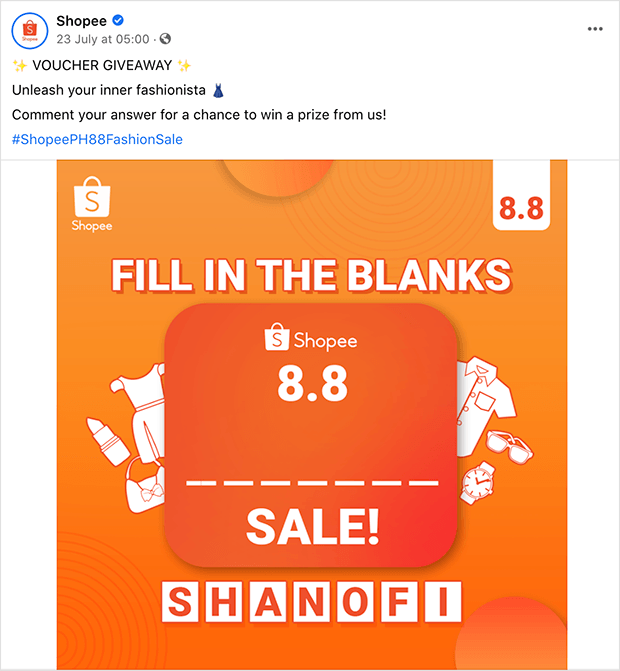 While some people have the time to come up with creative giveaway submissions, others don't. So if your audience is short of time, consider running a quick and simple campaign, such as a fill-in-the-blank giveaway.
It's easy to set up this type of contest in RafflePress. Just use the Answer a Question action and write a sentence leaving one of the words blank.
Here's an example:

"If I bought [product], I'd use it to ___."
Then users can enter their response in the field provided for a chance to win.
19. Share a Recipe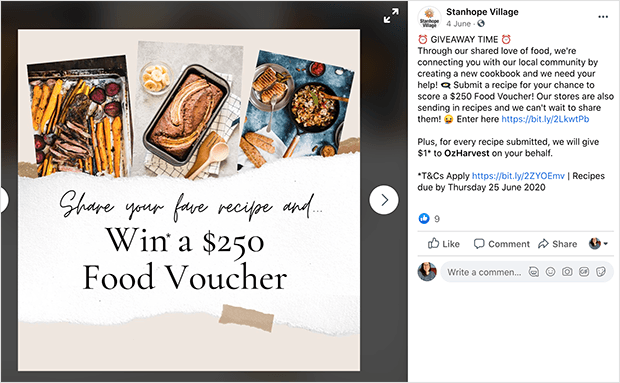 This Facebook giveaway idea is one almost all brands can use, especially if it's coming up to the holidays. The idea is as simple as asking your audience to share a recipe in return for entries into your prize draw.
If your brand isn't related to food in any way, you can still use this idea during Thanksgiving, Christmas, Easter, etc. Simply pair the giveaway with your seasonal products or a gift card as the prize.
To accept submissions, use the Invent Your Own option in RafflePress for users to link to their recipe.
20. Tell a Story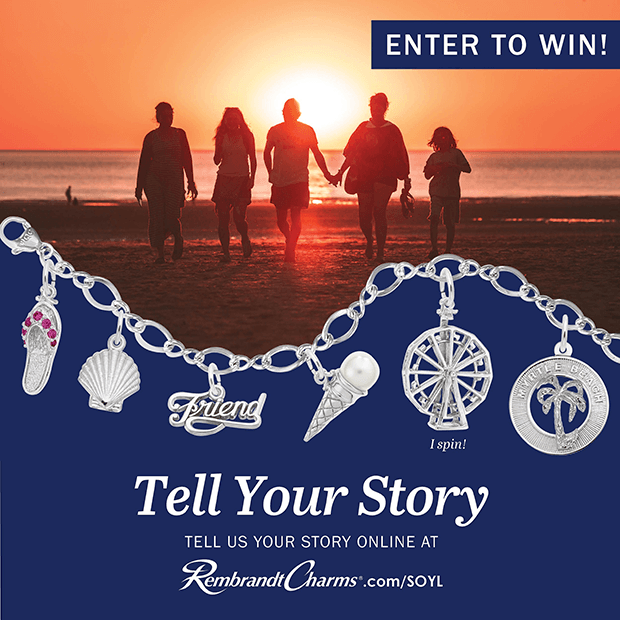 Stories are an excellent way to develop close relationships with your audience. So asking users to share a story for entry into your Facebook giveaway is sure to generate tons of interest.
The theme can be people's experiences with your products, or how their younger selves would have benefited from your service, and so on.
You can ask users to leave their stories in your comments and link to them to verify their entry using the Invent Your Own action in RafflePress.
21. Scavenger Hunt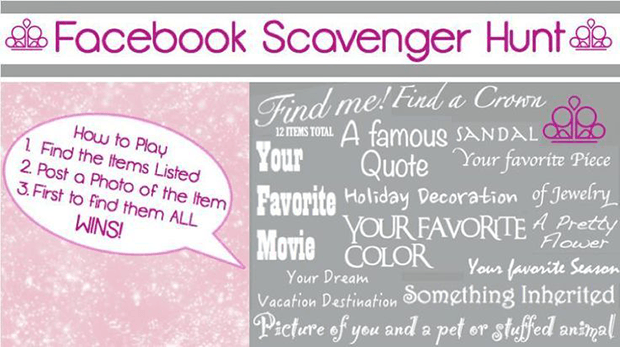 Most people love a good scavenger hunt, so why not hide clues around your Facebook page, product pages, and website? Then you can ask users to follow the clues to reach your giveaway landing page.
When they reach your contest page, you can use the Automatic Entry action to enter successful participants into your prize draw automatically.
You can use your initial Facebook post to start the hunt, with each clue leading to the next, and so on. Just make sure the prize you offer is worth the effort of taking part.
For inspiration, check out these proven contest prize ideas.
22. Invent a Tagline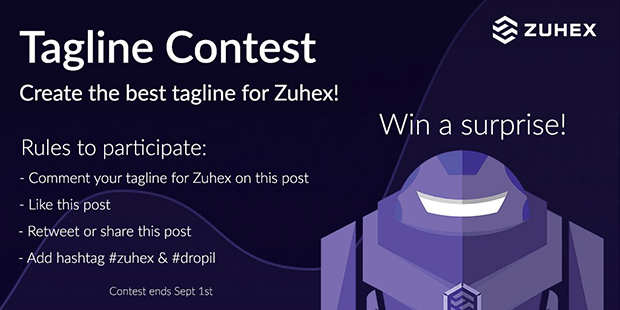 An excellent product tagline can help people remember your brand above your competitors. But finding the perfect hook is harder than it looks.
Running a giveaway on Facebook lets you harness the creativity of your audience to create the perfect tagline.
Simply use the Answer a Question action in RafflePress to ask users what their tagline would be and draw a winner based on the best submission.
You can reward the winner with a high-value prize bundle for their effort. Plus, they'll get to see their tagline used for your brand or products.
23. Visit In-Store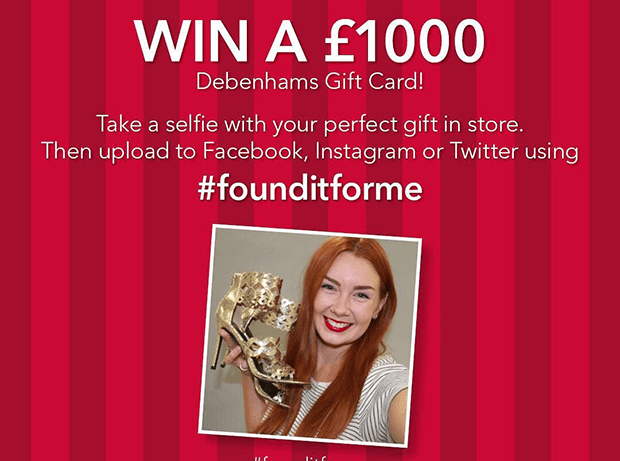 If your business has a physical location, you might think it's a waste of time trying to run a giveaway on Facebook. But you'd be mistaken. Even physical stores can benefit from a large social presence to raise product awareness and attract new customers.
Why not run a photo contest asking people to snap a photo when they visit your store? They can upload it via the Submit a Photo action in RafflePress in return for an awesome prize.
This Facebook giveaway idea generates lots of UGC for your business, which you can use to promote your brand on other marketing channels.
Related: How to Embed Facebook Events on WordPress
There you have it!
We hope this article helped you discover some fantastic Facebook giveaway ideas.
With these ideas and the powerful actions included with RafflePress, you'll have everything you need to run a Facebook giveaway to grow your business faster than ever.
If you'd like help to create an online contest, check out this step-by-step guide.
And don't forget to follow us on YouTube, Twitter, and Facebook for more great tips to grow your business.