Are you wondering if it's worth investing in MonsterInsights? It's the best WordPress plugin for Google Analytics.
The plugin makes it super easy to set up and use Google Analytics. It removes the guesswork and provides actual data to business owners to make informed decisions and grow their businesses.
In this article, we'll walk you through a detailed MonsterInsights review. We'll also go through different features and show why it's an important plugin to have on your website.
What Is MonsterInsights?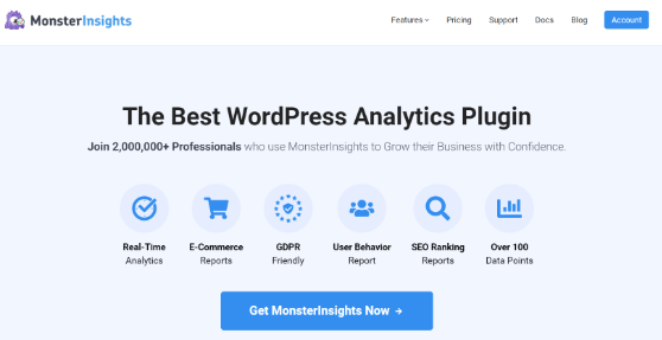 MonsterInsights is the best Google Analytics plugin for WordPress. It helps you set up Google Analytics in just a few clicks, and that too without editing code. Plus, the plugin comes with different advanced tracking features that it automatically sets up upon installation.
With MonsterInsights, you no longer have to rely on guesswork to find out what content your visitors are interested in or figure out which strategies are working and driving results.
It helps uncover insights about your visitors, brings essential data to one place with easy-to-understand reports, and provides data to make business decisions.
Because MonsterInsights is so user-friendly and offers tons of features, it's no surprise that over 2 million professionals use the plugin. That's not all. Even corporations like Microsoft, FedEx, WPBeginner, Bloomberg, and PlayStation trust MonsterInsights.
But what makes MonsterInsights the best analytics plugin for WordPress?
Why Use MonsterInsights on Your WordPress Site?
Let's look at some of the features offered by the plugin and how you can use them to gain insights into your visitor's behavior.
1. Add Google Analytics Tracking without Editing Code
Usually, when it comes to adding Google Analytics tracking to a WordPress website, you'd have to enter a tracking code. This requires a bit of technical knowledge, as you'll have to mess with your site's code.
But that's not the case if you use MonsterInsights.
It's the best WordPress plugin for setting up Google Analytics on your website. Using its setup wizard, anyone can add analytics tracking without the need to edit code or hire a professional.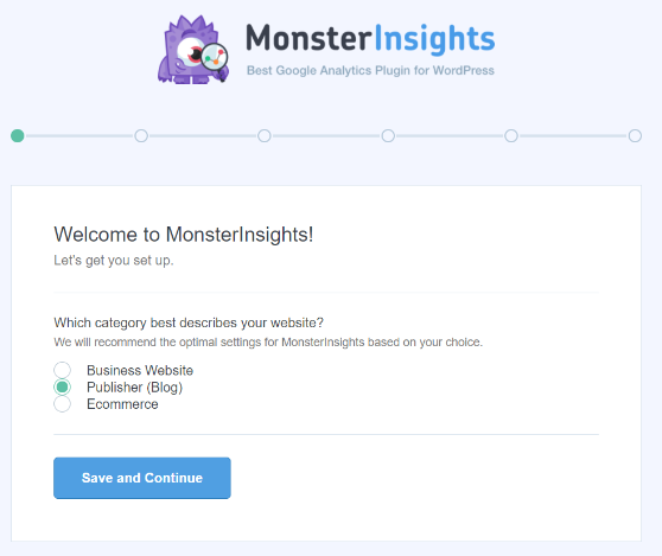 2. Keep Track of Marketing Activities with Site Notes
With Monsterinsights' built-in annotations feature, Site Notes, adding GA4 annotations to your analytics data is a breeze. It offers enhanced Google Analytics annotations in GA4 and lets you easily see how activity impacts your site.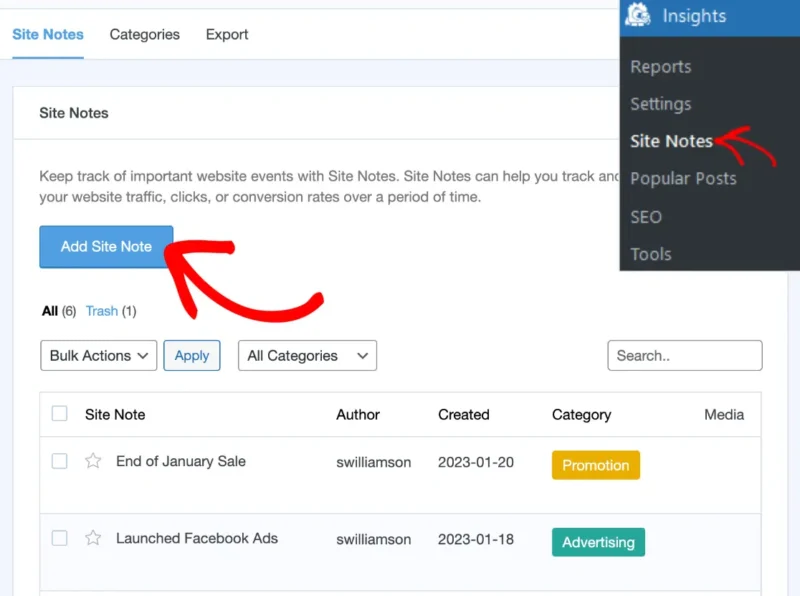 With Site Notes' unlimited GA4 annotations, you can keep your whole team on the same page with zero user limits.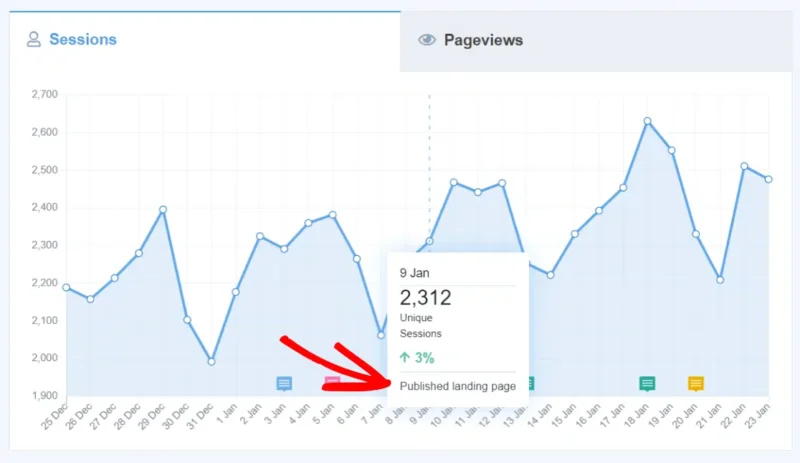 3. User-Friendly Dashboard Reports
While MonsterInsights makes it super easy to connect your site with Google Analytics, it also helps you view data inside your WordPress admin.
Using its dashboard reports, you get to see Google Analytics reports without having to leave your website. Each report is carefully designed, so users can easily understand the data and find actionable insights to grow their business.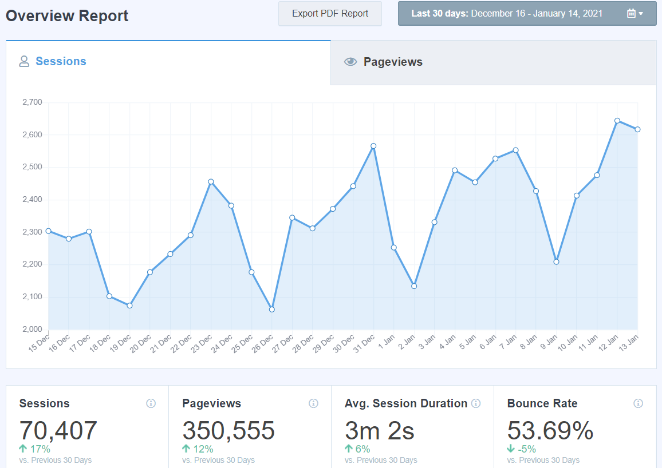 4. View Real-Time Stats Inside WordPress
Now, are you wondering how many people are currently active on your website?
Among different MonsterInsights reports, using the real-time report shows the number of active visitors on a website at the very moment. And you can see the report inside the WordPress admin area.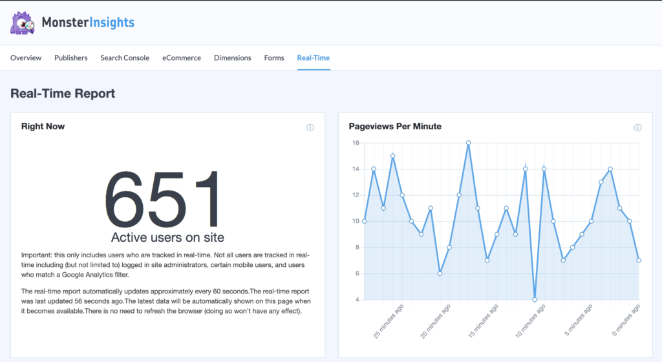 Real-time data is highly valuable. For instance, it helps track a campaign's performance, find the best time to publish blog posts when there are many people active and see where your visitors are from during the day.
5. Identify Your Top Performing Content
Another benefit of using MonsterInsights is that it helps you focus on content that matters. It eliminates guesswork and helps identify landing pages that get a lot of traffic.
By finding out which type of content people like, you could optimize them for higher conversions. Or come up with similar topics and increase web traffic.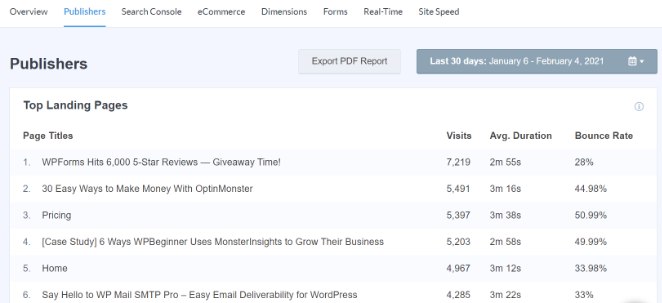 After figuring out your high-traffic pages, you can promote them anywhere on the website using the Popular Post option in MonsterInsights. It helps visitors quickly discover new content, increase user engagement, lower bounce rates, and keep people on your site.
There are multiple themes to choose from in the Popular Posts feature. Plus, different customization options allow you to change the styling and design. You can display posts within a post, in the end, or in the sidebar.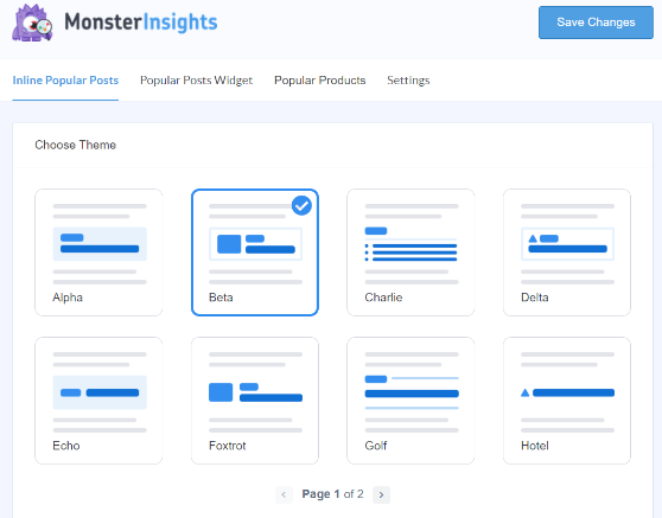 6. Focus on the Right Keywords to Boost Traffic
Ever thought about what search terms people might be using in search engines to find your content?
MonsterInsights helps see the top keywords in Google search that get many clicks and drive traffic to your site through its Search Console report. So, you can find similar keywords to optimize and grow your organic traffic.
Besides, the report also helps identify low-hanging fruits. These are search terms that are very close to reaching the top 10 search results. And with a little push, you could boost their rankings and start getting more visitors.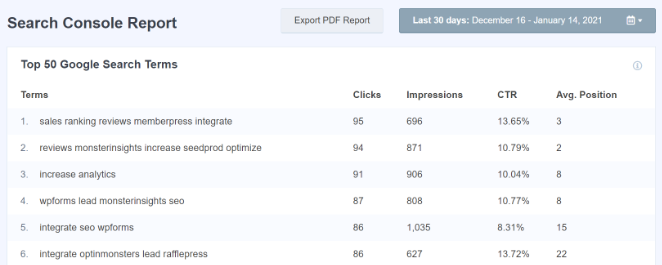 Remember that you'll need to connect Google Search Console with Google Analytics to view the report in MonsterInsights.
7. Understand How Far People Scroll a Page
MonsterInsights also helps you better understand your visitor's behavior. With a click of a button, enable scroll tracking and see how far people scroll a webpage.
There's no need to set up scroll-tracking events using Google Tag Manager manually. MonsterInsights automates the process and triggers events as visitors scroll a page by 25%, 50%, 75%, or 100%.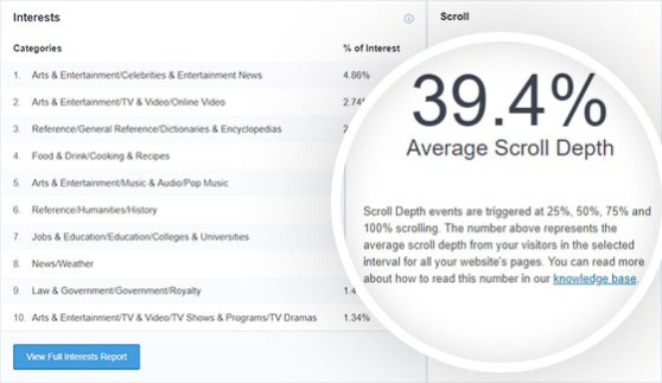 You can then use this data to place your call to action (CTA) buttons in the right place and boost conversions. Or see where your visitors lose interest and optimize the post for maximum engagement.
8. Determine Your Audience's Interests
Besides scroll tracking, you can also find out the interests of your audience through MonsterInsights.
It helps discover new content ideas, as you can come up with articles, videos, podcasts, and other types of content based on what people like.
And if you have an eCommerce store, then the Interests report provides insights about which products to sell to your customers.

9. Find Out Where Your Visitors Come From
If you want your business to succeed, it's important to know where your visitors come from. It helps you understand your audience better, group your visitors into different categories or segments, and create target messages.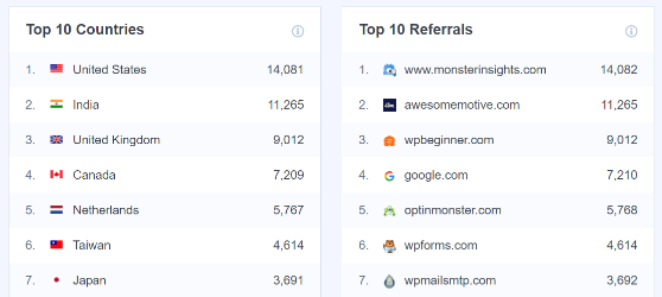 In MonsterInsights, you can see the Top Countries report and find out which geographic region drives a lot of traffic. Using this information, you can create region-specific content, translate your site into different languages, and create campaigns to target people from a particular country.
That's not all. With the help of the plugin, you get to identify top referral sources as well. These are visitors that arrive from another website after clicking on a hyperlink. You can use this data to find more referral sources, create partnerships, do guest posts, and get backlinks.
And MonsterInsights is the perfect solution to help figure out your traffic source.
10. Set Up Ecommerce Tracking with a Single Click
Do you have an eCommerce store and want to know how it's performing? Traditionally, you'd have to add an eCommerce tracking code to your website. This can be complicated and tricky for anyone who doesn't know how to code.
Luckily, MonsterInsights helps you set up eCommerce tracking in just a few clicks. No coding needed!
With the MonsterInsights eCommerce addon, it's easier than ever to track your store's revenue, transactions, average order value, and conversion rate. The plugin also shows your top products, quantity sold, percentage of sales, and total revenue.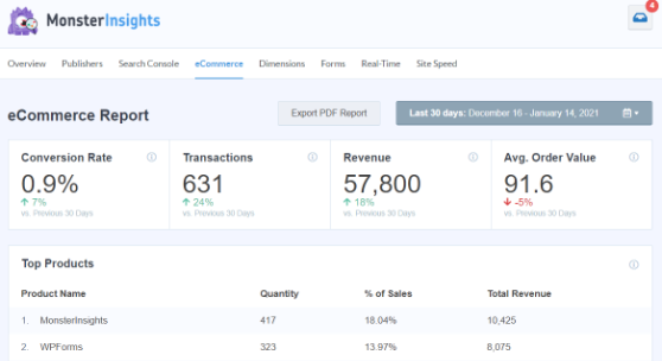 Besides that, it also helps track the top conversion sources, total add to carts, total removed from cart, time to purchase, and sessions to purchase. Using the eCommerce report's data, you can grow your revenue and take your online store to the next level.
11. Automate Form Conversion Tracking
Now, if you have different forms on your WordPress site and want to know how they're converting, MonsterInsights can help.
Manually setting up form tracking in Google Analytics can be time-consuming and tricky. Not to mention, you'll have to set up tracking for each form individually.
But with the MonsterInsights Forms addon, there's no need for additional configuration. It automatically tracks all types of WordPress forms and shows a report inside your admin area. In the report, find out how many impressions and conversions each form gets.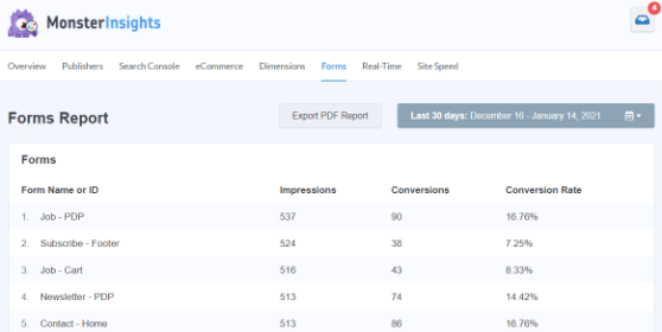 12. Get More Data through Custom Dimensions
Another reason to use MonsterInsights is to set up additional tracking to get more insights through custom dimensions. These are metrics that Google Analytics doesn't track by default.
But the MonsterInsights Dimensions addon helps to set up custom dimensions without any code or the need to hire an expert.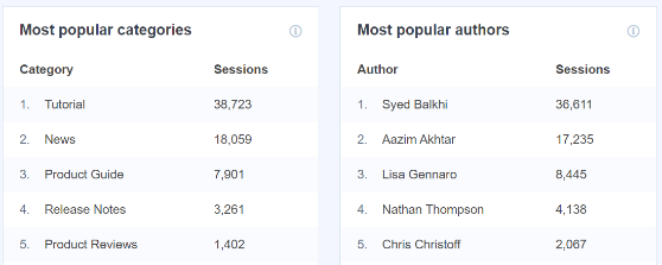 In just a few clicks, you can find:
Popular authors on your site
Post type people prefer the most
Best time to publish blog posts
Track logged-in user's activities
Find the most popular focus keyphrase and SEO score
Track WordPress categories and tags that drive traffic
13. See Which Files People Download the Most
If you're offering content that people can download from your website, like ebooks, videos, and PDFs, it's important to track the number of downloads in Google Analytics.
MonsterInsights automatically tracks file downloads for you. No manual setup required.
It helps to see which type of content people prefer to download a lot. So, you offer similar content to your visitors, increase engagement, and grow your email list.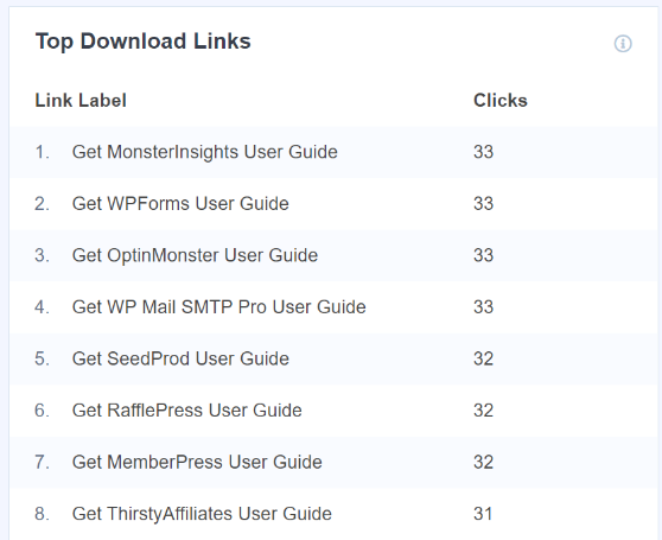 14. Affiliate Link Tracking
Another feature MonsterInsights offers is affiliate link tracking. It allows you to track the performance of each affiliate link on your site and see how many people click on it.
And the best part, it tracks affiliate links right out of the box. Just specify the link's label and path, and MonsterInsights will measure their performance in Google Analytics.
You can view the report under the Publishers tab and see each affiliate link's number of clicks.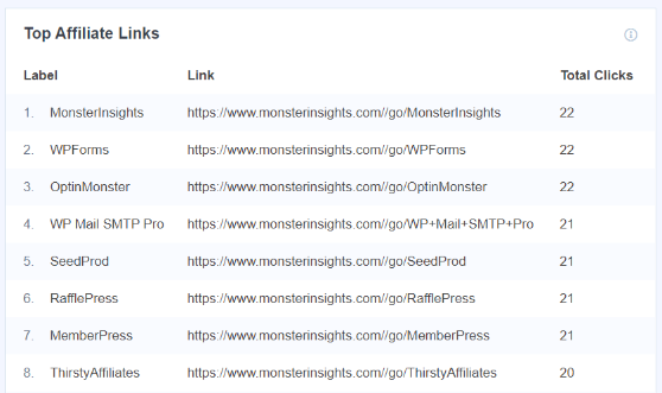 15. Ensure GDPR Compliance
Did you know that MonsterInsights can help you automate different processes and comply with GDPR? 
GDPR, or General Data Protection Regulation, is a law in the EU that requires users' consent before you can collect and record their data in Google Analytics. And failure to comply with GDPR can result in a fine of 20 million euros or 4% of annual revenue, whichever is higher.
But with MonsterInsights by your side, just use its EU Compliance addon and ensure GDPR compliance. The add-on allows you to automatically disable UserID tracking, author tracking, anonymize IP addresses, and other processes.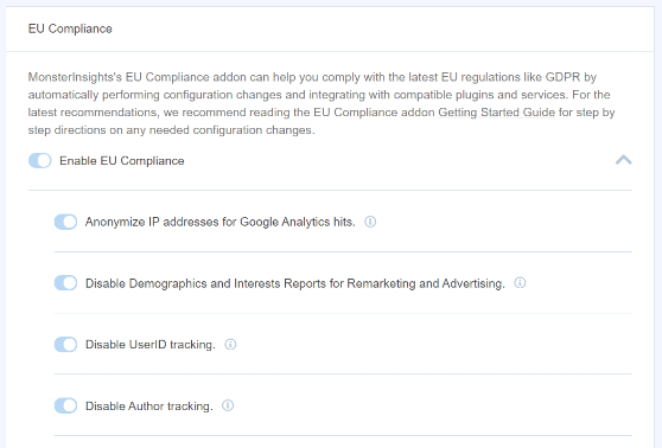 16. Premium Integrations
Lastly, what makes MonsterInsights one of the Analytics plugins is that it easily integrates with other popular WordPress plugins. For instance, you can track your WooCommerce store's performance, Easy Digital Downloads store, MemberPress, and LifterLMS sites. Or track form conversions from WPForms and Formidable Forms.

MonsterInsights also works seamlessly with different Google services to expand your understanding of visitors. It easily integrates with Google Optimize, so you can conduct experiments and run A/B tests. Or automatically track Google AdSense banner clicks.
How Much Does MonsterInsights Cost?
Now that you know some of the useful features of MonsterInsights and how it can help grow your business, you might be wondering how much it costs.
MonsterInsights has different pricing plans, and they're suitable for all types of businesses, including publishers, small business owners, eCommerce sites, and marketing agencies. And each plan comes with a 14-day money-back guarantee.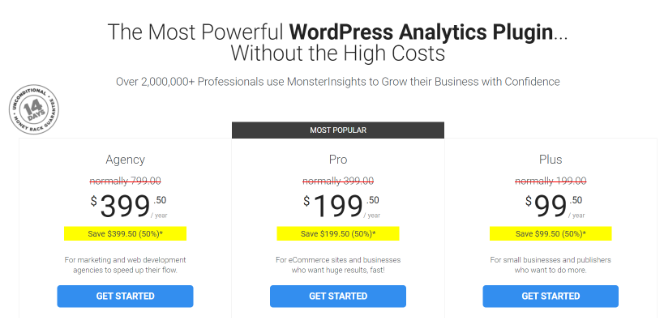 Is MonsterInsights the Best WordPress Google Analytics Plugin?
MonsterInsights is genuinely the best Google Analytics plugin for WordPress. It's easy to use and offers a ton of features that will help uncover insights about your audience.
Plus, its reports are clean, simple, and user-friendly, so you can find data to make business decisions and no longer work on your best guess. So, what are you waiting for?
Get started with MonsterInsights today!
We hope you liked our MonsterInsights review. You can also go through our post on how to password protect pages in WordPress.
If this article helped, then please follow us on Twitter and Facebook for more useful content to help grow your business.