Do you want to create an affiliate marketing landing page?
Affiliate landing pages are an excellent way to promote your affiliate products and entice users to sign up for your affiliate program. But with so many affiliate marketing campaigns out there, how can you make yours stand out?
In this article, we'll show you how to create a high converting affiliate marketing landing page in WordPress.
What Is an Affiliate Marketing Landing Page?
An affiliate landing page is a standalone web page on your site that can have 2 different purposes:
Get your target audience to purchase affiliate products or services
Convince your audience to sign up for your affiliate program
Despite their different purposes, both types of landing pages have similar goals – increasing conversions and generating leads. And that is exactly what a landing page does.
Unlike other pages on your website, like your homepage, a landing page is designed to reach a single goal. So creating landing pages for your affiliate marketing campaign is the best way to boost your conversion rates.
What to Include in Your Affiliate Landing Page
So far, you know that creating a landing page is the best way to skyrocket your affiliate lead generation efforts. But what should you include on your page to get the best results?
Your affiliate marketing landing page should include the following elements:
Headline – Use attention-grabbing headlines with action words to get an emotional response from readers and urge them to keep reading.
Benefits – List the benefits of your affiliate program to keep users motivated. If your page goal is to promote an affiliate product, list the benefits to show your value.
Compelling Copy – Write your landing page copy without extra fluff and keep it straight to the point. Every word should remind people of your business's value and move them toward your goal.
Media – Visual elements like videos and graphics are more stimulating and engaging than text. Use them strategically to demonstrate your offer's benefits.
CTA Button – Include multiple call-to-action buttons with the same goal. Using more than 1 CTA button helps you reach people at different points in their decision-making process.
Now that you know what to include on your affiliate page, let's look at how to make one in WordPress.
How to Create an Affiliate Marketing Landing Page
Today, we'll use SeedProd to design, build and launch an affiliate marketing page.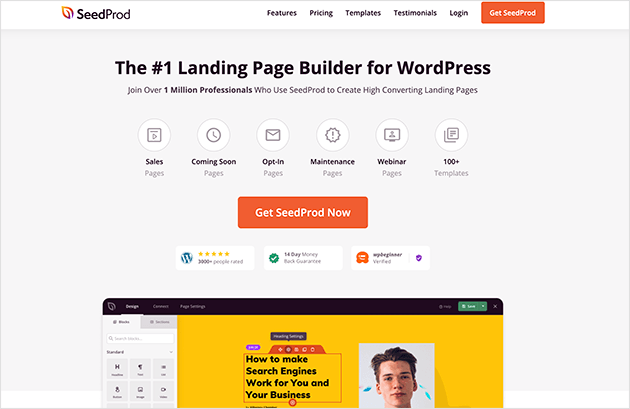 SeedProd is the best WordPress landing page builder with drag-and-drop functionality. It lets you create any page in WordPress without hiring a developer.
With hundreds of mobile responsive landing page templates, it's super easy to get started. From there, you can customize your design in the drag-and-drop editor without writing code.
Even better, SeedProd is lightweight and lightning fast with zero bloat. That means you can spin up pages quickly without impacting your page loading speed.
With that in mind, follow the steps below to create an affiliate marketing landing page with SeedProd.
Video Tutorial
Step 1. Install and Activate SeedProd
The first step is to download the SeedProd landing page plugin.
After downloading SeedProd, install and activate the plugin on your WordPress website. If you need help with that, follow these steps to install a WordPress plugin.
Once the plugin is active on your WordPress site, you'll see a welcome page asking for your license key. You can find your license key in the Downloads section of your SeedProd account.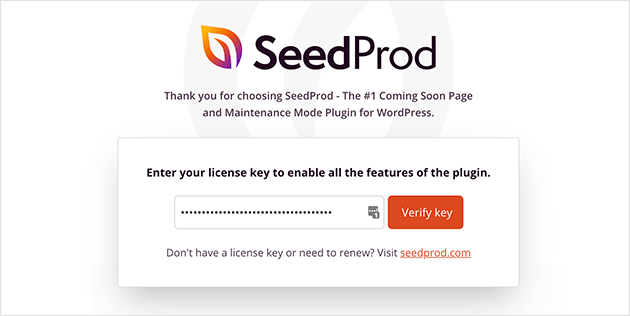 From there, enter your license key and click the Verify Key button.
Now scroll down the page and click the Create Your First Page button to get started.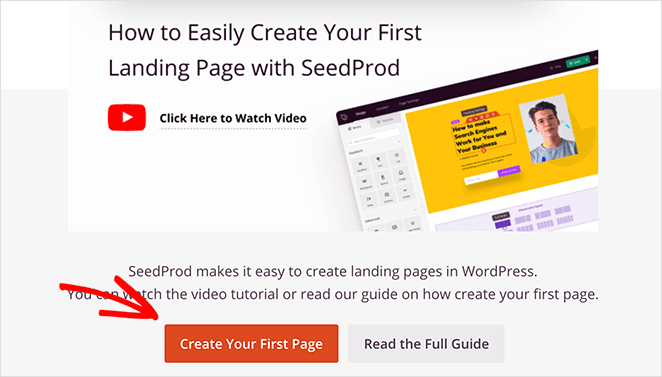 Step 2. Create a New Landing Page
On the following page, you'll find SeedProd's landing page dashboard. At the top are 4 individual page modes you can activate with a single click, including:
Coming Soon Page
Login Page
404 Page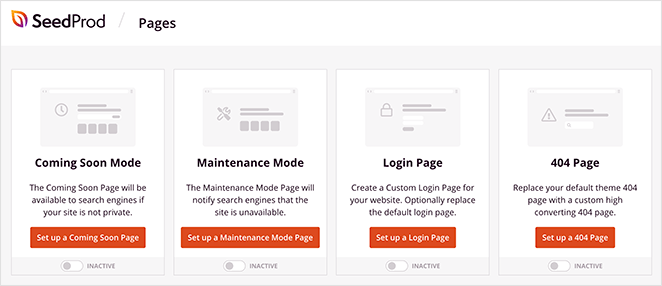 The different page modes offer the functionality of multiple WordPress plugins in a single, lightweight package. For example, you can create a coming soon page in WordPress to hide your site while it's under development, build a custom 404 page, and more.
Under the page modes area is where SeedProd lists any standalone page you create. So click the Add New Landing Page button to make your first page.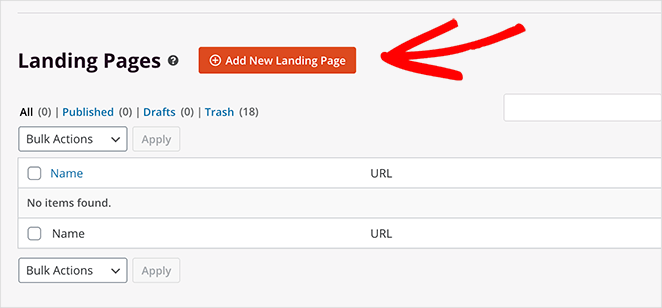 From there, you'll see a library of mobile-friendly landing page templates. Click any tab along the top to filter the templates by goal or purpose.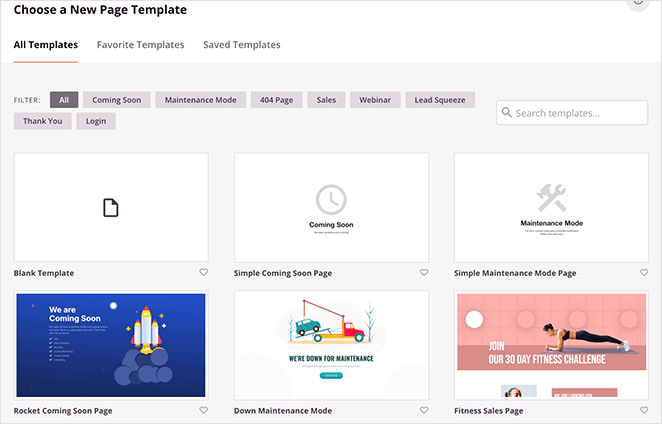 When you find a template you like, hover over it and click the checkmark icon.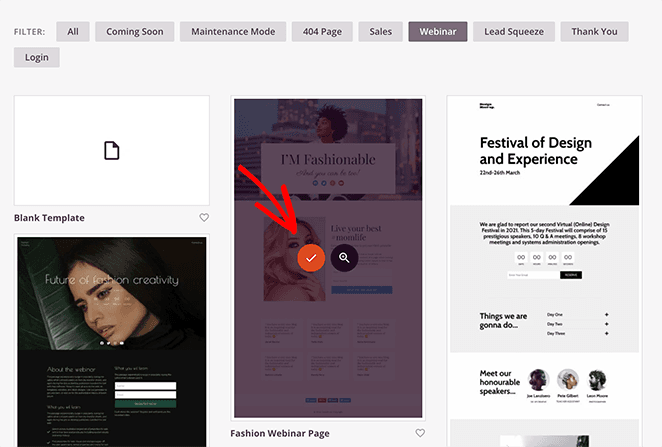 Now a popup appears asking for your landing page name and URL. After entering your information, click the Save and Start Editing the Page button.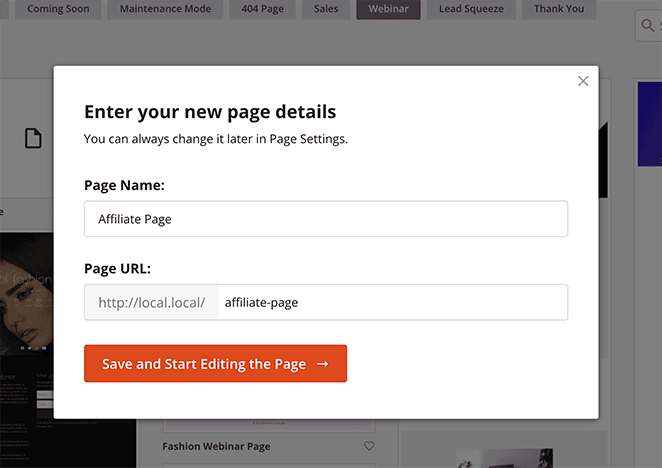 Step 3. Customize Your Landing Page for Affiliates
On the next screen is SeedProd's visual drag-and-drop page builder. And it's here where you can customize your template and add content to promote your affiliate marketing campaign or affiliate products.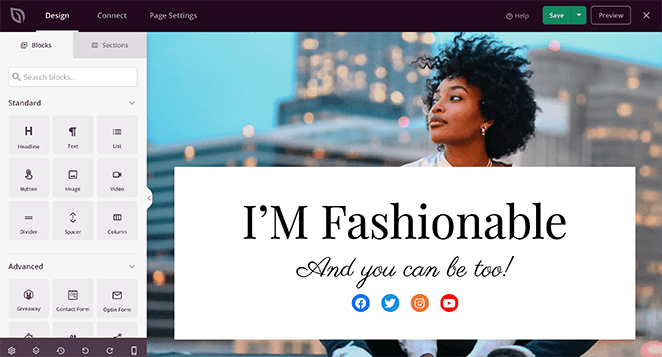 The builder is straightforward to use. For instance, blocks and sections on the left allow you to customize your page. And on the right, you can preview your design.
To start customizing your template, click any element on the right to see the customization options on the left. For example, clicking the hero section allows you to change the hero area background image and style.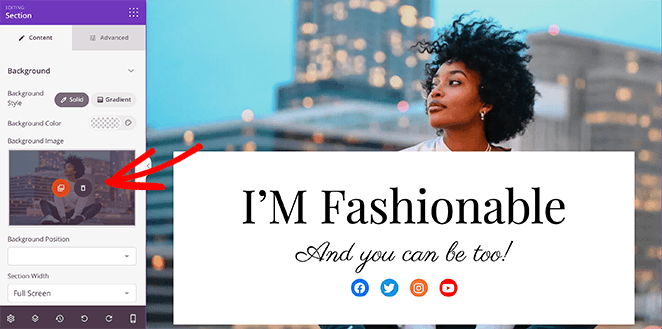 From there, you can click the trashcan to delete the existing image and upload a new photo from your WordPress media library, computer, or from SeedProd's stock photo gallery.
You'll also find that many landing page blocks have different styles you can implement with a single click. For instance, if you click the social media icons block and select the Templates tab, you can choose from 12 different presets.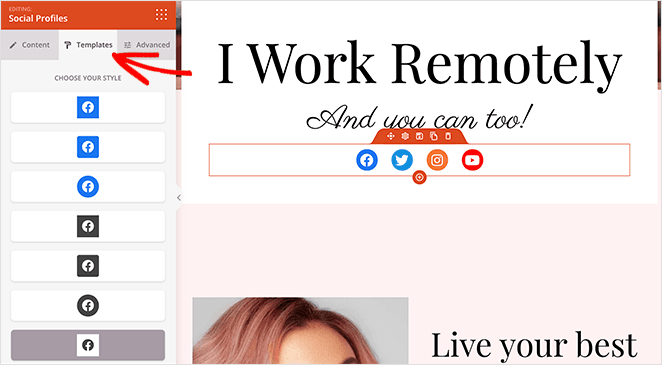 To add content to your page, simply drag and drop any content block into place, like the countdown timer below.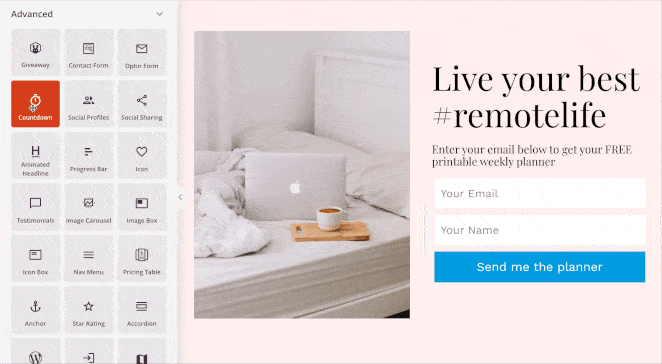 Adding a countdown timer to your landing page is one of the best ways to increase urgency and encourage readers to sign up for your affiliate program or product. That's because the ticking clock induces the fear of missing out, pushing visitors to act now.
It's also an excellent idea to include testimonials or case studies as social proof. That way, your audience has evidence that your affiliate program or product is worth investing in.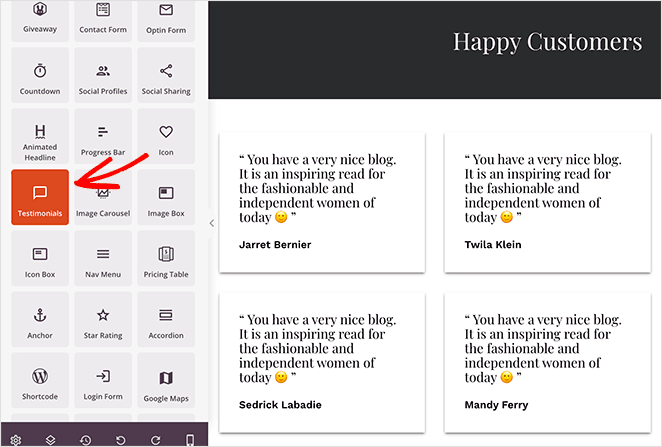 In addition to blocks and sections, SeedProd lets you customize the background, colors, fonts, and CSS of your page globally. With a few clicks, you can edit many settings in one go without changing things block-by-block.
To access the Global Settings panel, click the cog icon in the bottom-left corner of the screen.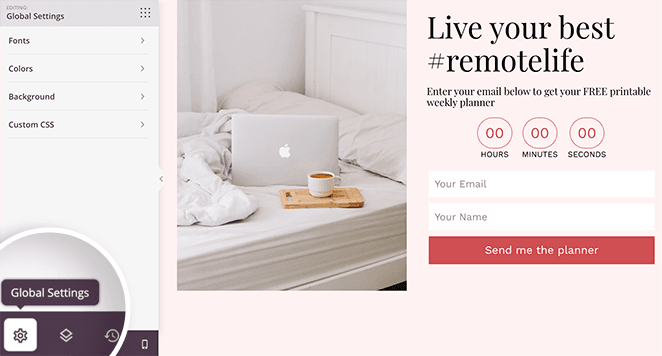 From there, you can expand the different headings to change your background image or color, typography, and more.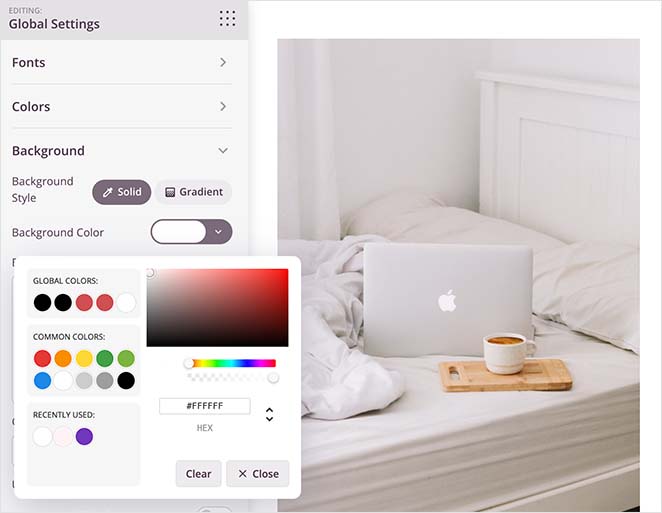 Keep customizing your page until you're happy with the design. But remember to click the Save button now and then to store your changes.
Step 4. Configure Your Affiliate Page Settings
Moving on, let's look at some settings to get your page ready to publish. First, we'll talk about email providers.
If your affiliate page goal is to collect email addresses, you'll need to connect with your email service provider. The good news is SeedProd offers integrations with all the top email marketing services.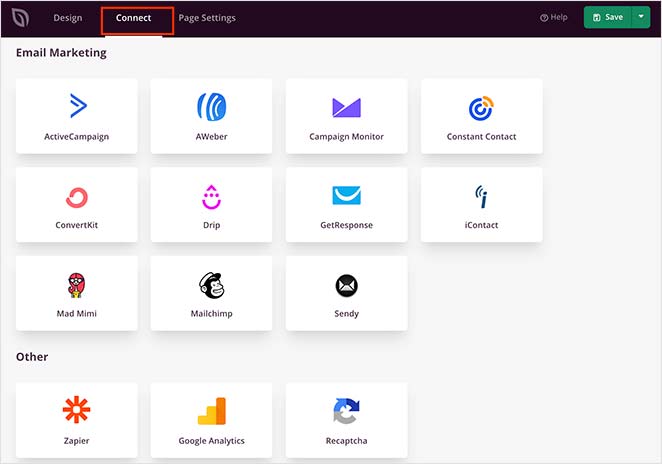 So click the Connect tab at the top of your screen to see the services you can connect with. Then after finding your service, follow the on-screen instructions to connect your account.
Similarly, in the Page Settings tab, you can configure your general landing page settings, enter your landing page SEO information, track your performance with a Google Analytics plugin, and even give your page a custom domain.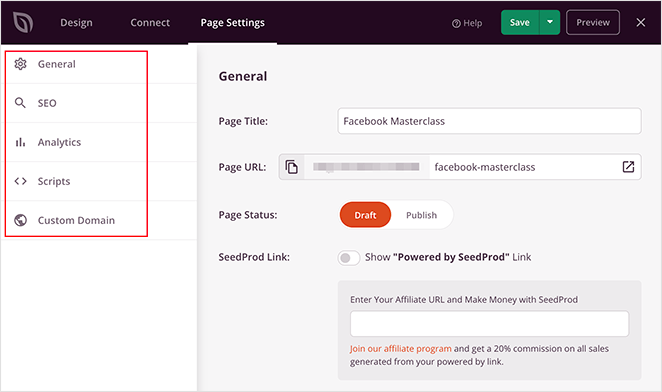 The custom domain setting (available on Elite plans) is an excellent way to host multiple microsites on your primary website without installing WordPress on each domain name.
You can check out how to point a landing page to a different domain here.
Step 5. Publish Your Affiliate Marketing Landing Page
With your affiliate page design in place, you're now ready to publish it for your target audience to see. To do that, click the dropdown arrow on the Save button and click Publish.

From there, you can preview your page to see how it looks. And to get the best results from your page, you can follow this guide to A/B split test your landing page.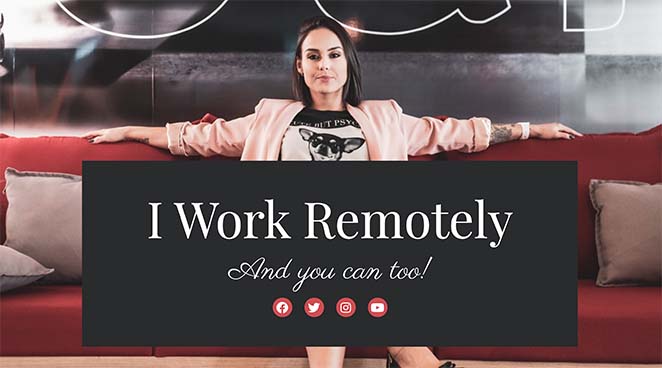 There you have it!
We hope this tutorial helped you learn how to create an affiliate marketing landing page that converts. And if you plan to offer coupons, check out this guide on how to create a coupon code landing page in WordPress.
Thanks for reading. Please follow us on YouTube, Twitter, and Facebook for more helpful content to grow your business.