Are you looking for an in-depth All in One SEO review?
Your search stops here if you want to improve your SEO and need an easy, powerful WordPress SEO plugin. This review will share everything you need to decide if AIOSEO is the best solution for your WordPress site.
What Is the All in One SEO Plugin?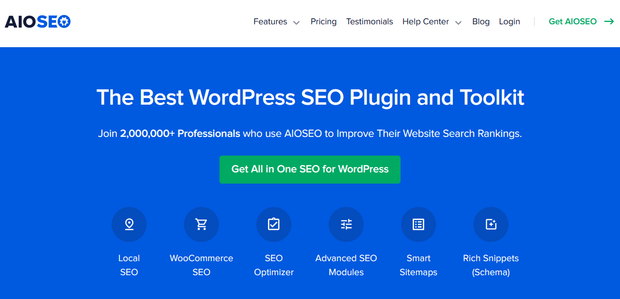 All in One SEO (AIOSEO) is one of the most popular WordPress search engine optimization (SEO) plugins. It has over 3 million users, is easy to set up, and offers powerful SEO features to make your website search engine friendly.
You can also integrate AIl in One SEO with many social media networks and WordPress plugins like MemberPress, WooCommerce, SeedProd, and more.
Why Use All in One SEO?
Search engine optimization involves continually optimizing your website for search results. Because search engines like Google are updated regularly, ranking a website isn't an easy task.
Small business owners can't afford to spend time worrying about algorithms. They need a solution that allows them to automate some of the more important SEO tasks, leaving them with more time to focus on growing their businesses.
All in One SEO removes the complexity of SEO. It follows the best SEO practices, helping you optimize your website for search engines, regardless of SEO algorithm updates.
AIOSEO can implement the following SEO features in a few clicks:
On-page SEO analysis
Schema markup
Local SEO
XML sitemaps
Robots.txt
Video SEO
Is All in One SEO Free?
There is a free version of All in One SEO that you can download from the WordPress plugin repository. If your website is a simple hobby site, the free version includes everything you need to help it rank in search engines.
However, it's worth upgrading to the Pro version of All in One SEO if you need advanced SEO features, such as news sitemaps and local SEO. It offers 4 paid pricing tiers with valuable features alongside basic SEO settings.
Here is a quick overview of the Basic and Pro licenses to compare how they work:
| Feature | AIOSEO Basic | AIOSEO Pro |
| --- | --- | --- |
| Pricing | $99 p/y | $399 p/y |
| Sites | 1 | 10 |
| Keywords | Unlimited | Unlimited |
| Sitemaps | ✅ | ✅ |
| WooCommerce SEO | ✅ | ✅ |
| Social Media Settings | ✅ | ✅ |
| TruSEO Analysis | ✅ | ✅ |
| Custom Breadcrumbs | ✅ | ✅ |
| Smart Schema Markup | ✅ | ✅ |
| Image SEO | | ✅ |
| Redirection | | ✅ |
| Internal Link Assistant | | ✅ |
| Local SEO | | ✅ |
| 404 Error Tracking | | ✅ |
Before diving into our AIOSEO review, here's how to install the plugin and set it up.
How to Get Started with All in One SEO
To get started, download the All in One SEO plugin and install it on your WordPress website. We'll use the Pro version for this All in One SEO review.
After activating the plugin, you'll automatically see the Setup Wizard.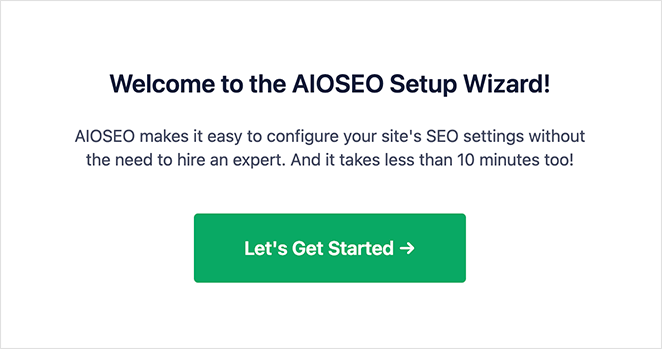 The Setup Wizard will walk you through configuring the general settings for your website in 6 easy steps. It's a good idea to complete each step to get the best results.
Migrating from Another SEO Plugin
You can easily import your settings if you're migrating from another SEO plugin.
Please keep in mind that every SEO plugin handles data differently, so it may not copy over everything from the old plugin. However, All in One SEO will help you check your entire setup to ensure everything works the way you want.
All in One SEO will remind you to deactivate your old SEO plugin after completing the Setup Wizard. This is crucial because 2 active SEO plugins can cause conflicts on your website.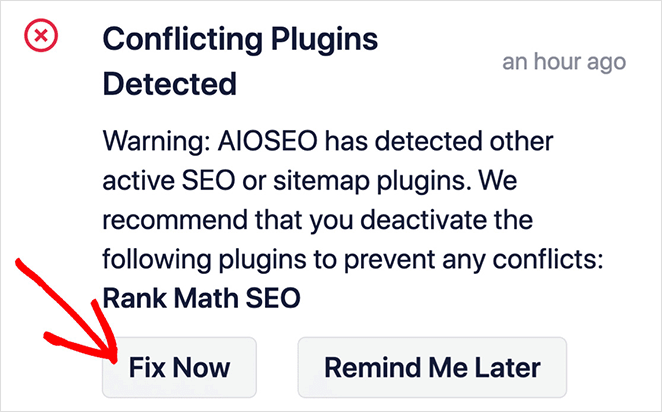 Click the Fix Now button to deactivate your old SEO plugin. It won't delete the data from your old plugin but will prevent technical issues.
Now that you know how to set up All in One SEO, let's dive into our AIOSEO review and look at why it should be your first choice for boosting your SEO rankings.
All in One SEO Features
All in One SEO (formerly known as All in One SEO Pack) is an easy and powerful plugin for bloggers, website owners, and anyone using WordPress. It's beginner-friendly, and you don't need to know SEO to use it.
This plugin has many features we'd like to cover in this review. However, we'll focus on the most valuable ones for all website types.
1. On-Page SEO Optimization
One of AIOSEO's best features is TruSEO, a hassle-free approach to on-page optimization.
TruSEO takes away the guesswork of optimizing posts, pages, and products by providing a handy SEO checklist.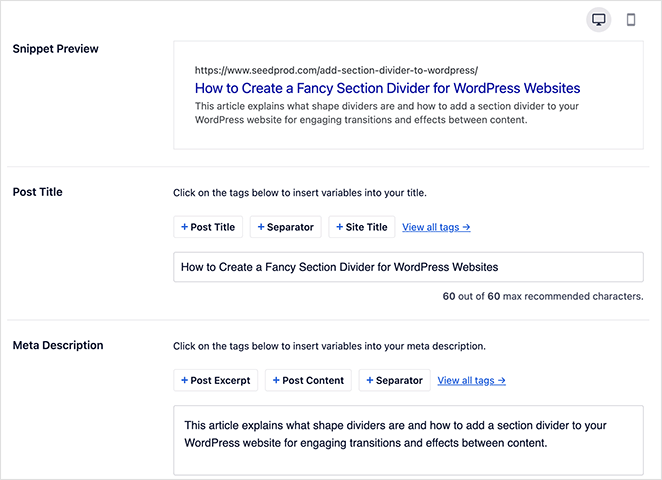 Open any blog post or page, and you'll see a checklist of suggestions for improving its SEO, including:
Post title tag
Meta description
Focus keyword
Social media metadata
Canonical URL
TruSEO also offers smart tags for dynamically adding details to post titles and meta descriptions.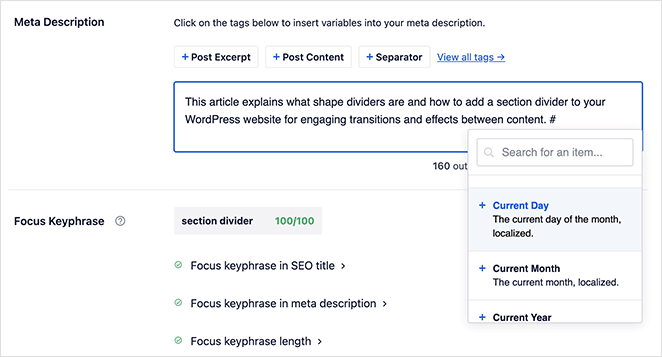 After filling in the SEO details for your content, you can view the Page Analysis section to see if you've missed anything essential. This handy checklist ensures that you include keywords in the right places, have internal and external links and that your content is long enough and easy to read.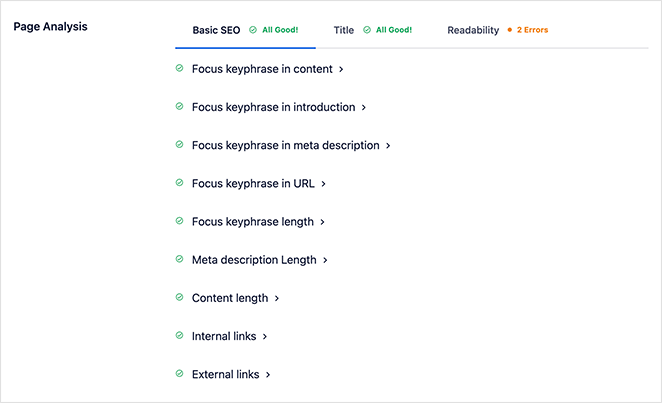 It's good practice to aim for as many green checkmarks as possible to ensure the best SEO results.
2. Search Appearance Settings
The Search Appearance area is another crucial section for optimizing your website's SEO.
This page allows you to add global settings for titles, meta descriptions, and data that appear in the business Knowledge Graph area of search results. This makes it easier for search engines to find your information and display it to potential customers.
You can include the following information for your business:
Person or Organization
Business name
Phone number
Contact type
Logo
Clicking the Content Types tab allows you to add meta templates and placeholders for posts, pages, and other content.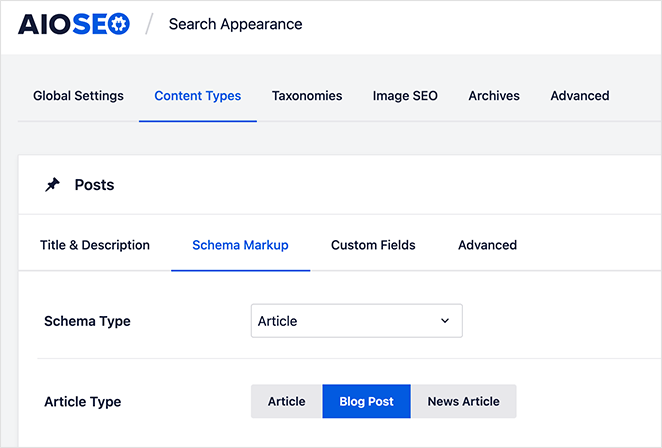 You can also use dynamic tags to show specific information automatically. For example, the Current Year tag lets you show the year in content titles, meaning you won't need to change it manually each year.
The plugin also lets you set the default Schema markup for all content types.
In addition to this, you can optimize the following search appearance settings:
Image SEO: Assign keywords to images automatically and redirect attachments.
Author SEO: Control how author pages look in search results.
3. Site SEO Audit Checklist
All in One SEO's Site Audit checks your website for issues that may harm your website's SEO. After scanning your site, it will give you an overall score.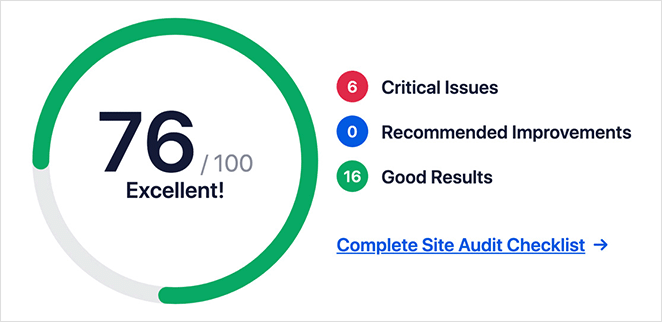 Aiming for a score of around 60-80 points will give you the best chance of ranking your site.
Under the score is a list of what the plugin checked. Pay attention to the Critical Issues because they could already be hurting your SEO.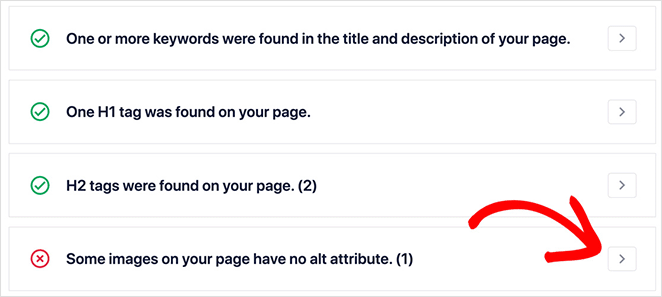 You can read more about specific issues by clicking the arrow to the right.
Additionally, you can use Site Audit to check a competitor's website and compare their score with yours.
4. Multiple Sitemaps
Sitemaps tell search engines the location of your content, so it's easy to find and index. All in One SEO lets you build 4 sitemaps, including:
General
Video
Google News
RSS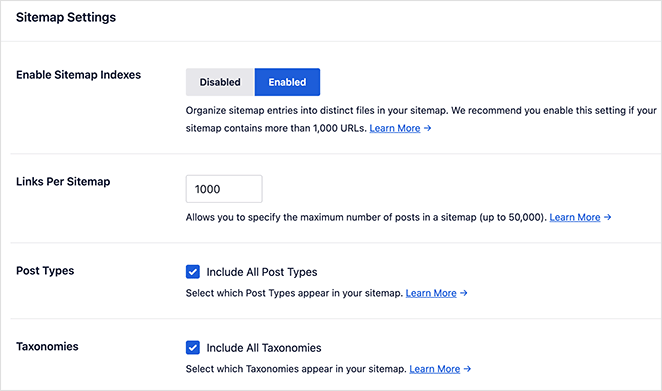 It's best to enable the General sitemap to control which post types Google can discover. You can include URLs in your sitemaps, which allows you to control the importance of each URL, set the update frequency, and the last modified date.
Under the Advanced Settings tab, you can customize sitemaps with the following settings:
Exclude posts/pages from sitemaps
Exclude terms
Priority score
Include/exclude images from sitemaps
5. Redirection
Redirects help you send traffic from old URLs that no longer exist to relevant published content. For example, if you remove a post and republish it with a different URL, you can redirect the old URL to the new one without losing organic traffic.
Inside All in One SEO, you can redirect URLs easily. Choose a source URL (the old one) and enter your new target URL.

You can then choose a redirect type that helps search engines understand the purpose of the redirect.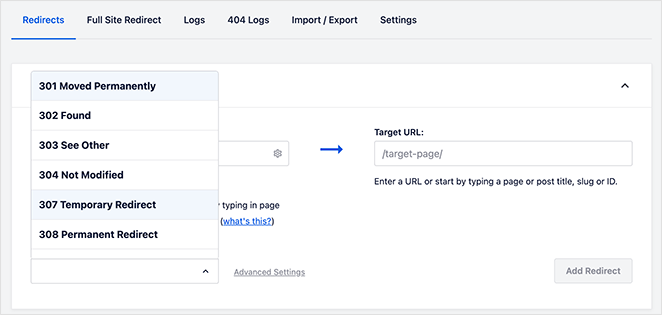 The plugin also creates automatic redirects to prevent broken links. For example, if you delete a post, it'll ask you to create a redirect from the deleted post to a new one.
6. Local SEO Tools
All in One SEO's primary addon is Local SEO. It helps businesses that operate in specific geographical areas appear in local search results.
There is support for multiple locations, and the plugin adds the data to a Knowledge Graph format, making it easy for Google to find and show the information to potential customers: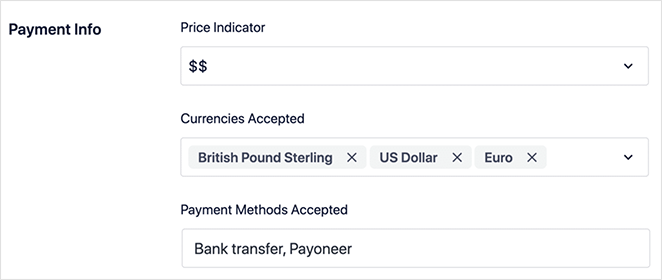 The information you can add includes:
Business address
Contact information
Tax/ VAT ID
Accepted payment methods
Price indicator
You can also use the Maps feature to allow Google to pinpoint your location on Google Maps.
7. Link Assistant
Adding regular links to old and new content is a crucial ranking factor for search engines. However, manually adding internal and external links can be time-consuming.
All in One SEO can help with its easy Link Assistant tool.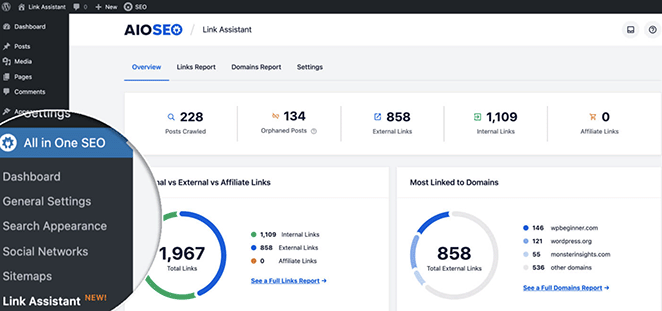 It shows you how many internal and external links your posts have at-a-glance. It also suggests relevant posts you can link to while editing your WordPress content.
8. Social Media Optimization
All in One SEO also includes robust social media settings in the Social Networks tab.
You can add social profile links for 11 different platforms and control how your posts look in Facebook, Twitter, and Pinterest news feeds.
For example, in the Facebook tab, you can enable Open Graph Markup, choose default post types and taxonomies, and display the post author.
The Twitter tabs allow you to enable Twitter Cards, set card types, and enable additional data. You can also choose the default image source for both networks.
Is All in One SEO the Best WordPress SEO Plugin?
Given how comprehensive these features are, there's no surprise why over 3 million website owners use All in One SEO. Where many SEO plugins only include basic optimization features, All in One SEO does much more.
All in One SEO makes every part of WordPress SEO easy, including:
Local SEO
eCommerce SEO
Schema types
Social media
Post metadata
Robots.txt
Sitemaps
On-page optimization
And more
We found the interface clean, easy to navigate, and the settings easy to use. It takes a few minutes to configure the options correctly, and your website will be fully optimized whenever you create new content.
Moreover, the TruSEO feature helps you optimize content as you write it by providing actionable suggestions for ranking higher in search results.
Ready to try All in One SEO?
Click here to download All in One SEO risk-free with a full 14-day money-back guarantee.
Next: Get Leads with WPForms and OptinMonster
We hope this All in One SEO review helps you decide if it's the best WordPress SEO plugin for your business.
Are you looking for more WordPress tools to generate leads and sales?
Check out our WPForms review to learn how it makes building forms in WordPress effortless. You can also look at our OptinMonster review for details on the best lead generation software.
Thanks for reading. Please follow us on YouTube, Twitter, and Facebook for more helpful content to grow your business.