Are you looking for the best WordPress calendar plugins?
WordPress calendar plugins extend your website's functionality, allowing you to show upcoming events. In many cases, they let you create a complete booking system, making it easy to create and manage events from your WordPress website.
This article will share some of the best WordPress calendar plugins for your WordPress site.
How to Choose a Calendar Plugin for WordPress
There are many different calendar plugins for WordPress that cater to various needs.
Some calendar plugins have minimal, easy-to-use features and allow you to only display events on your calendar. Other WordPress plugins include advanced features, such as:
Appointment and booking forms
Ticketing
Recurring events scheduling
Calendar widgets
Google Calendar integration
You'll need to choose a calendar and events plugin that best fits your business needs.
For example, if you want to sell event tickets, a simple booking calendar may not be the best option. Instead, an events calendar plugin with event management and ticket sales features would be a better fit.
6 Best WordPress Calendar Plugins
Below you'll find some of the best calendar plugins for WordPress. Look at the features to see which solution works best for you.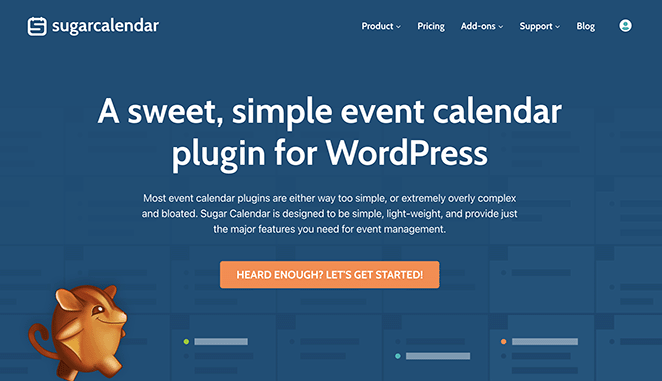 Sugar Calendar is one of the best WordPress calendar plugins with easy and powerful features. It lets you create calendar events, display start and end times for meetings, set time zones for events, and more.
You can sync this user-friendly plugin with Google calendar and set events to occur on a specific day or multiple days.
Sugar Calendar also offers several powerful addons. The Event Ticketing addon lets you sell tickets, collect payments via Stripe, and manage attendee records.
This plugin is also helpful if you have a membership website or forum. It allows you to set up event submission forms that members can use from the front end of your website.
Sugar Calendar is a lightweight plugin that integrates seamlessly with other WordPress plugins and marketing platforms, including WPForms, Gravity Forms, Google Calendar, WooCommerce, etc.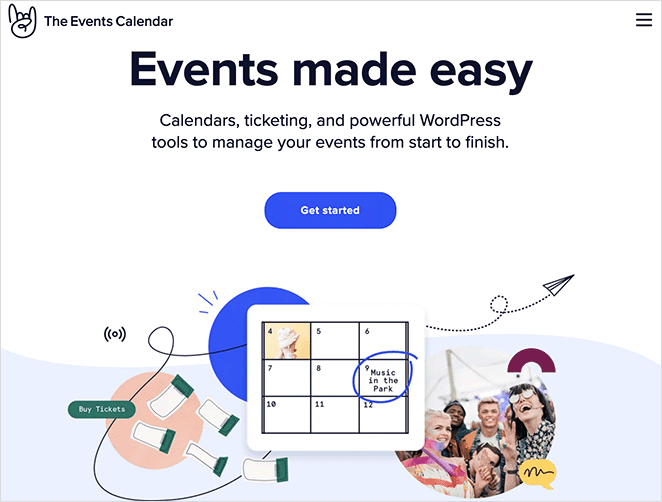 The Events Calendar is a robust events management system for WordPress websites. It offers an easy-to-use user interface that seamlessly merges with your WordPress admin area.
This plugin lets you add and display events easily. You can also manage venues, organizers, and display venue locations on Google Maps.
Additionally, the plugin's settings page gives you complete control over managing events and calendar views for your site. You can also import events with the Event Aggregator add-on, filling your calendar with events from Meetup, Eventbrite, iCal, Google Calendar, and more.

All in One Events Calendar is a free events management plugin for WordPress. It lets you create, manage, and share virtual, in-person, and hybrid events.
The user interface is easy for beginners to use. You can easily add events, sort them with tags and categories, and choose from several built-in calendar themes.
The calendars are 100% mobile-responsive, offer customization options, and let you show event venues with Google Maps alongside the event details. Moreover, you can add events from other calendars that support the iCal format, like Google calendar.
Even though this plugin doesn't offer ticket sales integrations, you can add URLs to other ticketing services on your calendar.

My Calendar is another free WordPress calendar plugin. It offers richly customizable ways to display events on your WordPress site.
This plugin supports event calendars for WordPress Multisite, multiple calendars, event groups, locations, and categories. It also includes widgets and a shortcode generator for adding calendars to blog posts, sidebars, and other pages.
My Calendar has extensive settings to control almost every aspect of your calendar. There are calendar grid and list views for events, monthly, weekly, or daily views, and you can limit views by categories, location, author, or host.
You can also choose from several calendar skins and use the style editor to upload custom CSS.

Booking Calendar is a complete events booking system for WordPress. It lets you add calendars to the front-end of your WordPress site, where users can fill in a booking request form. You can then accept or decline the request from your WordPress dashboard.
This WordPress calendar plugin offers CAPTCHA support to reduce spam and lets you control who can add bookings in your WordPress admin area. Your website visitors can check property availability, such as apartments and hotel rooms, and make a booking for full days or specific time slots.
The only pitfall is you can't add new input fields for booking forms in the plugin's free version. However, the pro version includes that functionality and many more features.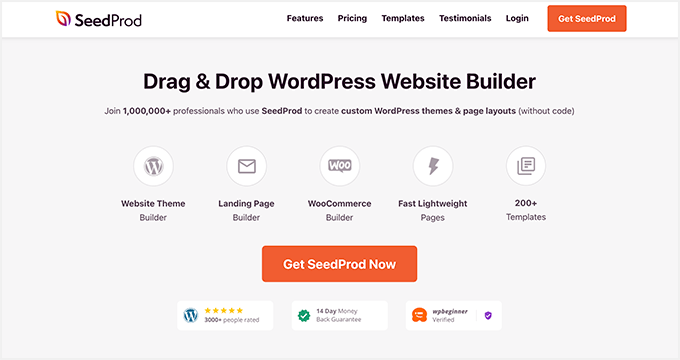 Next is a powerful WordPress plugin you can use to add Facebook events to your WordPress site.
SeedProd is the best website builder for WordPress. It offers a visual drag-and-drop page builder, allowing you to create custom WordPress themes and high-converting event landing pages for your site without code.
You can get started with a mobile-friendly template, then customize your theme or page with customizable content blocks and sections. One of those blocks is the Facebook Page block.
This content block lets you display your Facebook Timeline, Events, or Messages on any page of your WordPress site. For example, you can show a list of Facebook events, allowing visitors to view the event and register without leaving your website.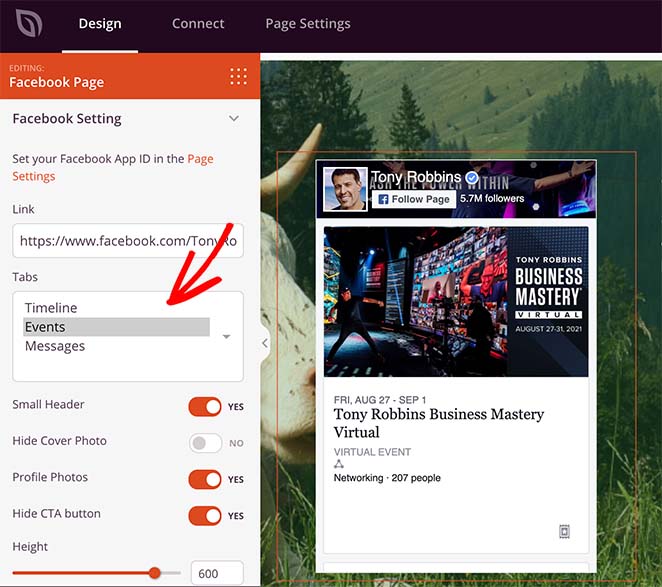 You can customize the block by adding headers, cover photos, and call-to-action buttons with a few clicks. In the Advanced tab, you can also edit the colors, alignment, spacing, and more.
Why not use this block alongside SeedProd's Google Maps block? That way, you can show event locations simultaneously. Additionally, you can use the Contact Form block, which works seamlessly with WPForms, to take bookings and registrations.
Which Is the Best WordPress Calendar Plugin?
You may be wondering which calendar plugin is the best solution for you. In our opinion, Sugar Calendar is the best WordPress calendar plugin. It has everything you need to show events, take bookings, and sell tickets directly from your WordPress site.
You can also use Sugar Calendar and SeedProd to create a custom event management website without hiring a developer.
Best WordPress Calendar Plugins FAQs
What are the benefits of using a calendar plugin on WordPress?
Calendar plugins provide several benefits, including:
Easy event management: You can create, edit, and manage events effortlessly.
Improved user experience: Visitors can view events in a visually appealing and organized manner.
Booking and registration: Some plugins offer booking and registration options for events and appointments.
Customization: You can customize the appearance and functionality of the calendar to match your website's design and needs.
Integration: Many plugins integrate with other tools like Google Calendar or payment gateways.
Are WordPress calendar plugins easy to install and use?
Yes, most WordPress calendar plugins are designed to be user-friendly and straightforward to install. You can usually find them in the WordPress plugin directory, and once installed, you can configure them through an intuitive user interface.
Can I integrate a WordPress calendar plugin with other tools or services?
Yes, many calendar plugins allow integration with popular services like Google Calendar, iCal, or third-party booking systems. Make sure to check the plugin's documentation or features list for information on available integrations.
Do calendar plugins support multiple languages?
Many calendar plugins offer multilingual support and can be translated into different languages. Some plugins come with built-in translation options, while others may require additional translation plugins.
Are there free WordPress calendar plugins available?
Yes, there are several free WordPress calendar plugins available in the official WordPress plugin directory. These plugins often provide basic calendar functionalities and can be a good starting point. However, more advanced features may be available in premium (paid) versions or add-ons.
We hope this article helped you find the best WordPress calendar plugins for your site.
You might also like these relevant posts to help your business grow:
Thanks for reading. Please follow us on YouTube, Twitter, and Facebook for more helpful content to grow your business.