Are you looking for the best WordPress theme builder?
WordPress theme builders allow you to create a responsive WordPress theme without writing code. This is an excellent solution if you can't find a premade theme that fits your business needs or you need more flexibility.
In this article, we'll compare the best WordPress theme builders that let you customize your WordPress website easily.
But first, are theme builders the same as page builders?
WordPress Theme Builders vs WordPress Page Builders
It's easy to confuse theme builders with WordPress page builder plugins because they have similar features. Moreover, many WordPress plugins have the functionality for building page layouts AND WordPress themes.
While many of the tools on this list can do both, it's important to understand how each builder differs.
The differences between WordPress theme builders vs page builders are as follows:
WordPress page builders let you create one-off designs for single pieces of content. Typically this is only for single pages or blog posts.
WordPress theme builders let you create entire templates that automatically apply to all of your content. For example, you can use your custom design on every blog post on your WordPress site. Because the template applies to every piece of content, you won't need to recreate the layout for each new post, which you'd need to do with a page builder.
Put simply; page builders are best for customizing one-off pieces of content, while theme builders can customize your entire website.
Other than these differences, theme builders and page builders have similar features. Most include a drag-and-drop editor, pre-made templates, and design elements to make your layouts unique.
Theme Builder Terminology for Beginners
Before diving into the comparison, we'll explain some of the terminology you'll find in this post. Doing so will make your search easier and familiarize you with terms that you'll see a lot.
First, let's talk about Templates.
Many theme builders let you create templates that you can put together to create your WordPress theme. For many sites, the templates you'll work with include:
Header – This template sits at the top of your website and includes content elements like your logo and navigation menu.
Footer – Your footer is at the bottom of your website. It typically has your copyright information, links, and social media buttons.
Single Page – A single page template is for individual pages on your website, such as an 'about' or 'contact' page.
Single Post – This template refers to a single blog post. Essentially, it's how the content of your blog post will look every time you publish a new post.
Archive – Your archive page template will contain many pieces of content, such as multiple blog posts from a specific category.
Now let's talk about Template Tags. Template tags display dynamic WordPress content in your WordPress layout.
For example, using a template tag called 'Post Content' will automatically display the content from a specific post. You can also use a 'Featured Image' tag to pull the main image from a post and show it on your template.
Some theme builders also allow you to dynamically add custom content with plugins like Advanced Custom Fields. That way, you can build a truly custom WordPress site without knowing code.
What to Look for in a WordPress Theme Builder
There are several essential features you should look for when searching for the best WordPress theme builder. Keep an eye out for the following features:
Easy to use – Look for a theme builder with a visual editor and an interface that's easy to navigate for beginners.
Pre-designed templates – Most tools on this list include templates you can import and customize to save time.
Template conditions – You'll need the option to control where and when your templates display. For instance, you may want to use one footer for your homepage and another for blog posts.
Dynamic content – If you plan to use custom post types, advanced custom fields, etc., you'll need a way to import dynamic WordPress content automatically.
Best WordPress Theme Builders
Now that you know what to look for let's dive in and look at the best WordPress theme builders.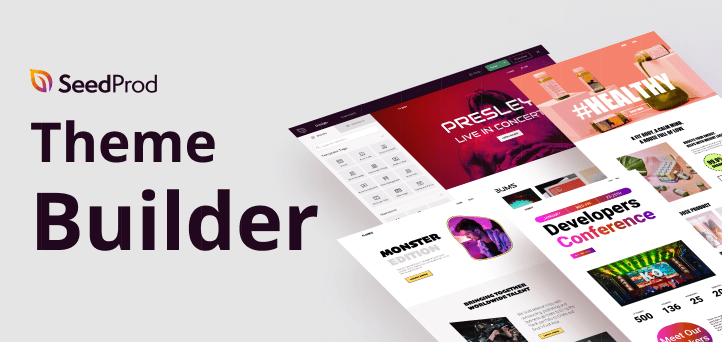 SeedProd is a powerful WordPress theme builder and page builder plugin. With the Pro version of SeedProd, you can take its drag-and-drop page builder and use it to create a custom WordPress theme without writing any code.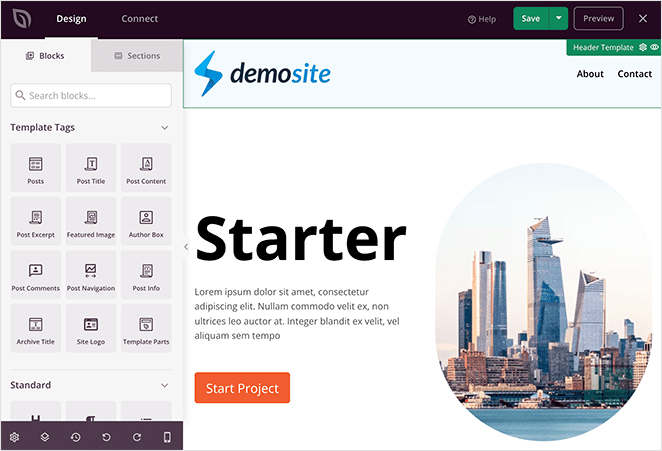 You can easily design different templates for your theme, including header, footer, single post, single page, archive, sidebar, and more.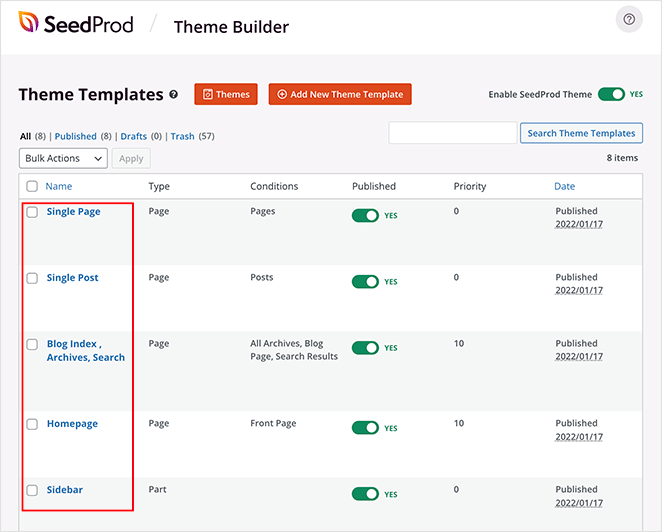 From there, you can apply these templates conditionally anywhere on your WordPress site. For example, you could have one sidebar for pages and another for your blog posts.
Unlike other WordPress theme builders that are slow and bloated, SeedProd has website speed in mind. It ensures that your pages are super fast to rank higher in SEO.
The best thing about SeedProd's theme builder is that it's theme agnostic. That means it doesn't rely on your existing WordPress theme for style or functionality, giving you complete freedom and control over your website design.
Key SeedProd Features:
Drag-and-drop visual editor
Premade and customizable themes
Create unlimited theme templates
Conditional template display
Template tags for dynamic content
150+ landing page templates
Built-in coming soon and maintenance mode
Custom 404 and WordPress login pages
WooCommerce support for checkouts and shopping carts
Direct integration with popular email marketing services
Domain mapping for landing pages
Global style settings
100% responsive
SeedProd Pricing:
The core free version of the SeedProd plugin is available on WordPress.org and includes many Template tags for no cost. However, you'll need SeedProd Pro to unlock the theme builder functionality.
SeedProd Pro pricing starts at $199 per year with the current discount.
Not convinced, learn how OptinMonster reduced cost-per-acquisition with SeedProd in this case study.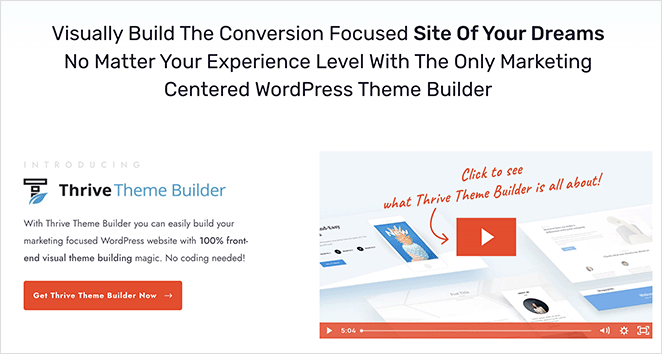 Thrive Theme Builder is a drag-and-drop page builder designed to make it easy for users to create custom, high-converting pages, and websites without the need for coding skills. The platform features a wide range of pre-designed templates, custom elements, and advanced styling options, allowing users to build custom pages, headers, footers, and even entire custom WordPress themes.
Additionally, Thrive Theme Builder integrates with other Thrive products, such as Thrive Leads and Thrive, Architect, to provide users with a complete website building and optimization solution.
Key Thrive Theme Builder Features:
Drag and drop page builder
Pre-designed templates
Custom design elements
Advanced styling options
Custom WordPress theme builder
Responsive design
Integrates with other Thrive products
Thrive Theme Builder Pricing:
The pricing for Thrive Theme Builder ranges from $99 per year to $299 per year.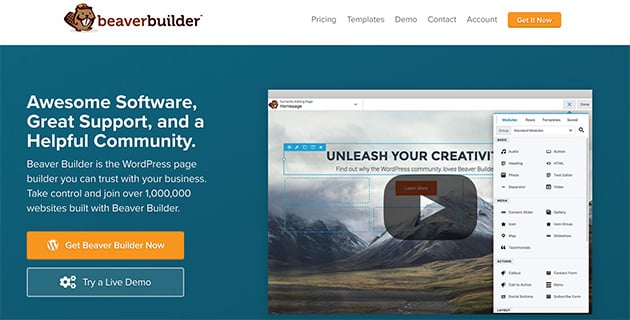 Beaver Builder is another popular drag-and-drop page builder plugin for WordPress. With its Beaver Themer extension, you can use the same visual editor to create custom designs and apply them to your WordPress theme.
Even though it isn't as flashy as other theme builders, Beaver Builder focuses on the features you need without adding any extras, giving you a builder that works effectively.
As a result, ​​you get an easy-to-use interface, relatively clean code, and everything you need to design a simple WordPress theme.
Key Beaver Builder Features:
Visual drag-and-drop builder
Bootstrap framework
Conditional template display
Dynamic content settings
Beaver Builder Pricing:
To use Beaver Builder as a theme builder, you'll need the premium version that includes the theme builder extension, with prices starting from $199 per year.

Divi is one of the most popular WordPress themes around. It's a combination of a theme and a page builder, or you can use the page builder by itself.
The Divi builder is super-easy to use and comes with many full-site template kits, which helps you get up and running quickly. You can also use Divi's drag-and-drop interface to create templates for your header, footer, and "body."
Like SeedProd and Beaver Builder, Divi has a visual editor that allows you to see any changes you make in real-time.
Key Divi Features:
Visual drag-and-drop interface
Many styles and design options
Conditional template display
Dynamic content support
WooCommerce integration
Divi Pricing:
The pricing for Divi is $89 per year. You can also purchase lifetime access for a 1-time fee of $249.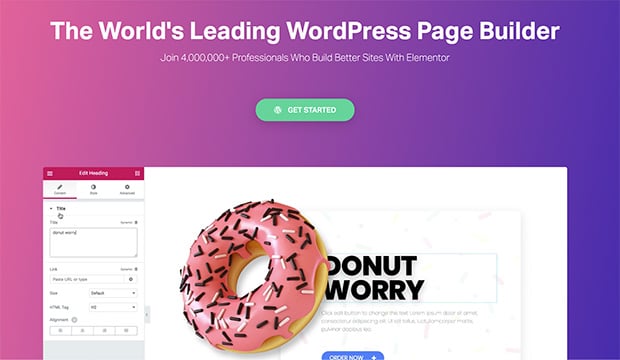 Elementor is another top WordPress theme builder that deserves a place on this list. You can use its drag-and-drop page builder to create custom WordPress layouts and apply them to your WordPress theme.
Like many other plugins on this list, you can create different template parts, including headers, footers, pages, and archives. Moreover, you can customize each template with its visual interface and widgets.
Key Elementor Features:
Drag-and-drop visual editor
Dynamic content support
Pre-designed templates
Conditional template display
WooCommerce support
Popup builder
Elementor Pro Pricing:
The core Elementor page builder plugin is available at WordPress.org for free. But you'll need Elementor Pro to access the theme building features.
Elementor Pro pricing starts from $49 per year.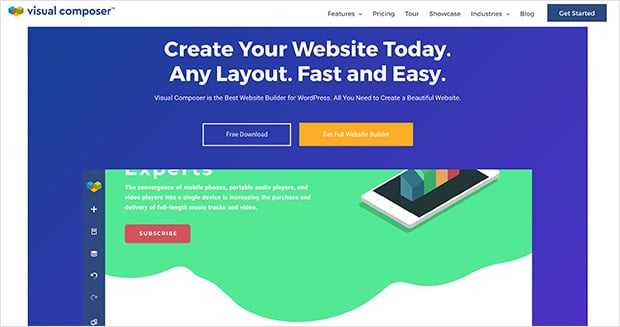 Visual Composer is a user-friendly WordPress website editor that helps you create custom website layouts fast, without writing code. With its theme builder feature, you can overwrite any WordPress theme completely with custom layouts.
You can build any type of page, post, and archive layout with its visual layout builder. Moreover, it works with your existing theme, or you can start from scratch with a new design.
Except for SeedProd, Visual Composer is the only plugin on this list that allows you to edit all aspects of your website, such as your logo, menus, headers, footers, sidebars, etc.
Key Visual Composer Features:
Drag-and-drop visual editor
Create multiple theme parts
Dynamic content support
Conditional and global layouts
Support for the WordPress block editor
Visual Composer Pricing:
To access the theme-building features, you'll need the premium version of Visual Composer, which starts at $49 per year.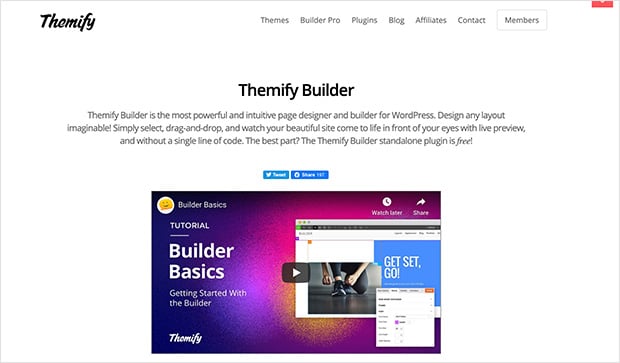 Themify Builder Pro is a WordPress theme shop that offers the Themify builder with its themes. It's a WordPress theme builder that lets you create an entire site by dragging and dropping elements.
You can customize every template on your website with Builder Pro, including your header, footer, post, page, 404, archive, WooCommerce, and more. From there, you can choose where and when your templates display on your site.
This theme builder also lets you pull post meta and custom fields from your WordPress database and display them anywhere you want on your templates.
Key Themify Builder Pro Features:
Drag-and-drop visual editor
Create all theme templates easily
Custom WooCommerce templates
Display conditions for templates
Dynamic content support
Global style options
Themify Builder Pro Pricing:
Themify's core plugin is free to use. However, to access the Builder Pro Addon, the bundle's pricing is $39.
Which WordPress Theme Builder is Best?
After comparing the theme builders in this list, we can conclude that SeedProd is the best WordPress theme builder. It's the most beginner-friendly plugin on this list, with all the features you need to create a custom WordPress theme from scratch.
Not only is SeedProd insanely easy to use, but it's also packed with valuable features that make your site unique and help generate leads. It's also 100% mobile-friendly, has zero bloat, and won't slow down your website.
Not convinced? We made this entire site using SeedProd!
That's it!
We hope this post helped you find the best WordPress theme builder for your website. While you're here, you might like to learn how to create a membership landing page in WordPress.
Thanks for reading. Please follow us on YouTube, Twitter, and Facebook for more helpful content to grow your business.