Do you want to boost your sales faster without maxing out your budget?
If you're thinking of running pay-per-click (PPC) campaigns, then you need SeedProd. It lets you spin up landing pages quickly without code, helping you skyrocket your conversion rates and reduce the cost of each sale.
That's exactly what OptinMonster did. Discover how they reduced their cost per acquisition (CPA) and increased conversions for their PPC campaign in this case study.
What's Cost Per Acquisition (CPA), and Why is it Important?
CPA means how much it costs to quire new customers. For example, if you're running an advertising campaign, it's the cost of each person that clicks your ad and buys your product or service.
Cost per acquisition is crucial because it determines your return on investment (ROI). Even if hundreds of people click your ad, it isn't successful if those clicks don't convert into sales.
To put it in simple terms, CPA helps you learn how much new customers are costing you. That way, you can decide if you need to change your advertising strategy.
It also helps you manage your advertising costs because you only pay when users complete your chosen action.
If you want to reduce costs, keep reading to learn how OptinMonster used SeedProd to reduce its CPA.
Meet OptinMonster
Ever heard of optin forms? They help you target website visitors at the right place and time to encourage them to sign up.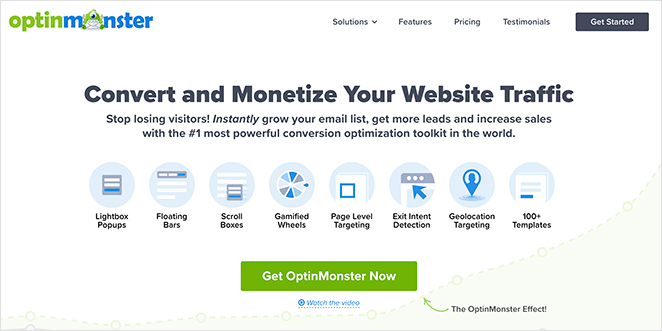 OptinMonster is a powerful lead generation software that allows you to create attention-grabbing optin forms that are proven to boost conversions. Their goal is simple: to help you turn website visitors into email subscribers and customers.
Yet even a powerhouse in lead generation needs help spreading the word and boosting its customer base.
Previously, OptinMonster used a typical product landing page made in-house to convert visitors. The problem with this was the conversions were low and the cost per acquisition high.
To combat that, they decided to run a PPC advertising campaign. But there was still the issue of building a landing page to go with it that was fast, lightweight, and optimized for conversions.
That's when they turned to SeedProd, and the results were incredible. OptinMonster shared their results and experience with us.
How OptinMonster Uses SeedProd
OptinMonster's goal with SeedProd was to promote its powerful popup builder with targeted PPC campaigns to boost its customers.
To achieve that, they created a PPC landing page with SeedProd's drag-and-drop page builder.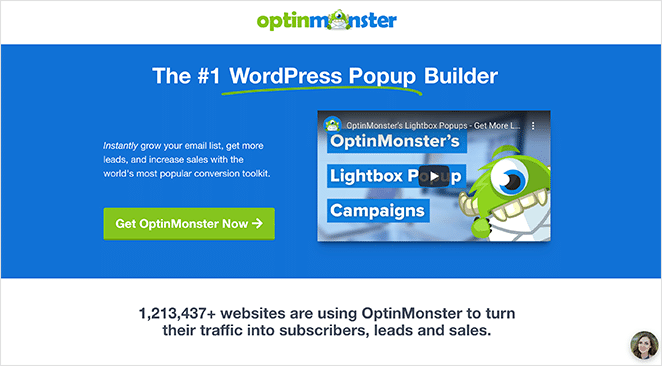 It took OptinMonster less than 30 minutes to build this landing page with SeedProd. As you can see, they used several built-in features to make the page more engaging and trustworthy.
Animated Headlines

The animation in the headline quickly draws attention to the page's primary focus. It was super easy to create with SeedProd's Animated Headline block.
All they needed was to choose a part of the text to animate, select an animation style and adjust the colors.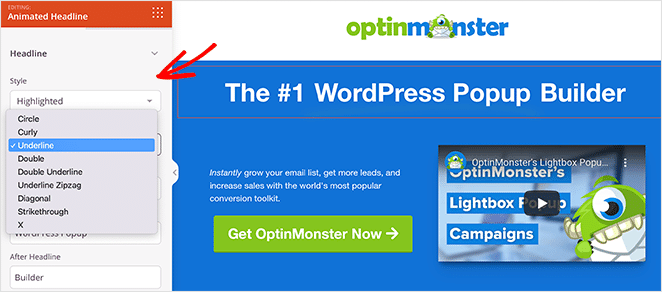 Video
Another excellent choice was including a video. Video is more engaging than text alone and helps visitors understand how your product or service works.
Using relevant video content on landing pages can increase conversions by 86%. That makes it the go-to solution for hooking visitors and moving them towards your goal.
Luckily, SeedProd's Video block lets you drop a link to a video and automatically embed it on your page. It works for most video platforms, including YouTube, Vimeo, and many more.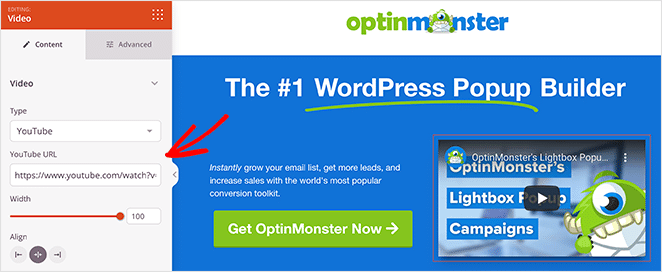 Social Proof
You'll notice that OptinMonster also used social proof on its landing page.
Repurposing testimonials and reviews on landing pages can increase trust and conversions. Consumers prefer them too: around 60% think user-generated content like reviews is the most authentic content type.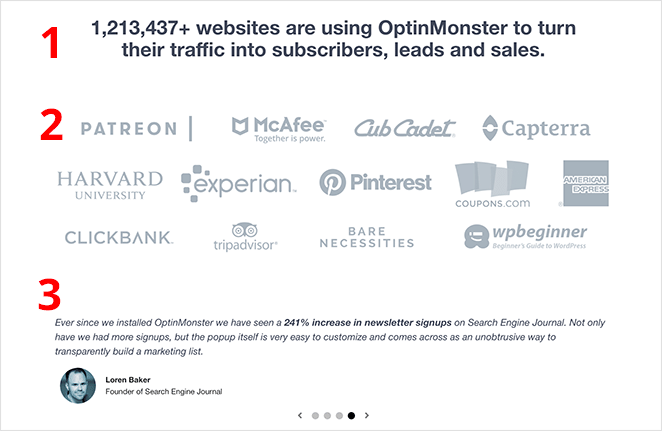 OptinMonster used social proof in 3 different ways:
Statistics in the subheading reassure visitors that millions of websites use the product.
Logos from popular brands show even big names trust OptinMonster, giving them authority.
Testimonials show potential customers that business owners like them are happy with their experience, further improving trust.
We love how OptinMonster used SeedProd's Testimonials block to create a sliding carousel. It's an easy way to add multiple testimonials on a page without taking up too much space.
All it takes is adding your testimonial content and clicking a few carousel settings. The result is actionable social proof that works beautifully on any screen size or device.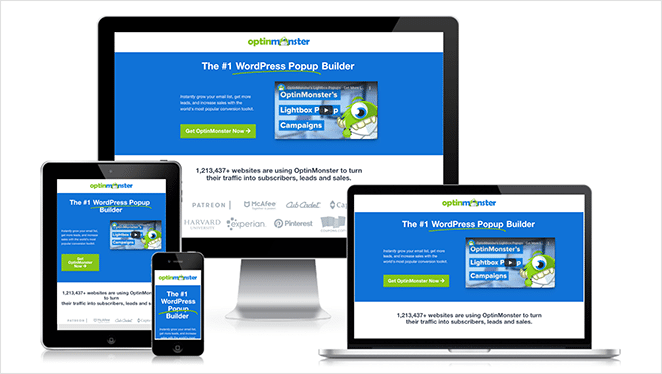 Results
Using SeedProd's easy page builder, OptinMonster made a PPC landing page that suits their brand voice and style and convinces users to convert.
Here are the results:
Reduced cost per acquisition (CPA) by 47.20%.
Increased conversions by 340%.
Improved click-through rate by 13.30%.
Summary
By creating a PPC landing page with SeedProd in just a few clicks, OptinMonster slashed the cost of each new customer by almost half and significantly increased their click-through rate and conversions.
Want to see similar results for yourself? Sign up for your 100% risk-free SeedProd account below:
Thanks for reading. Please follow us on YouTube, Twitter, and Facebook for more helpful content to grow your business.