How to Make a One Page Website in WordPress (Step-by-Step)
Do you want to create a one-page website in WordPress?
As the name suggests, one-page websites only use a single webpage with a simple, modern design. This allows users to see all the information they need on a single page without clicking away.
In this article, we'll show you how to create a WordPress one-page website in 7 easy steps.
Why Create a One-Page Website?
If you look at most websites, they tend to have one thing in common – they all include page navigation menus, sending you to other pages on their site, such as:
Homepage
About page
Contact page
This is a great solution for larger businesses or companies with a lot of information. Yet smaller brands may not need all that space to explain their products or services.
Furthermore, a one-page web design condenses the information from a standard multi-page website onto a single page. This typically involves adding distinct sections that appear as you scroll through the page.
There are several benefits to creating this type of website, including;
Users can navigate your site more easily
Your call-to-action is seen quicker
It's easier to optimize single web pages for mobile
One-page websites are easier to maintain
And more importantly, since all of your traffic is going to one page, your single-page site should see much higher conversion rates.
Naturally, large and complex businesses will struggle to fit all of their information on a one-page WordPress design. But if you're running a small business site, a portfolio, or a simple storefront, this type of website is an excellent choice.
What to Include in Your One-Page WordPress Site
Since your WordPress site has only a single page, you need to think about what you want to include. Your job is to provide everything your audience needs to learn about your business without cluttering the design or overwhelming visitors.
Simply put, everything you include on your single-page website should be there for a reason.
Here's a general idea of what you should include on your one-page WordPress site:
Branding elements like your logo and tagline to make your site recognizable.
An about section explaining who you are and what you do.
A list of the products or services you offer.
Reviews or testimonials to show social proof and build trust.
A prominent call-to-action, compelling users to learn more, sign up, or purchase.
Links to your social media profiles.
Contact information so users can get in touch.
The order that you display these details on your page is just as important.
The best practice is to add your CTA higher up on your page because it's the most important element. Your contact details and social links should go near the bottom of your site.
So think about what you want your audience to see first and arrange your page accordingly.
How to Create a One Page Website in WordPress
Now that you know the benefits of creating a one-page website in WordPress let's look at the steps for making one.
1. Set Up Your WordPress Website
Before building your one-page website, you first need to purchase a domain name and web hosting. A domain name is your website's address on the internet while hosting is the home that stores your website's files.
Many hosting companies include a free domain name as part of their hosting plans. For example, Bluehost's WordPress hosting offers a free domain name for a year on every plan.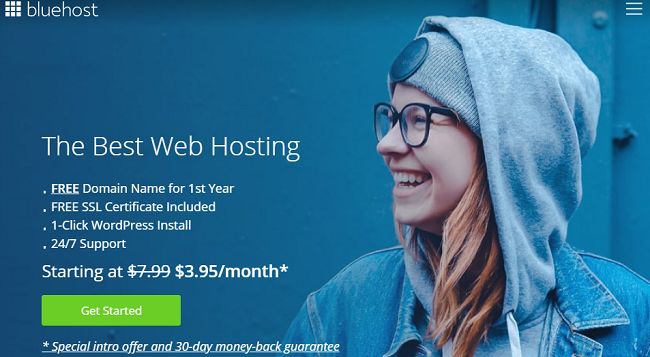 In addition, their small business plan includes:
Unlimited websites
Unlimited storage
Free CDN
Free SSL certificate
And that's all for around $5 per month.
When you consider that Bluehost is also an official WordPress recommended hosting partner, they're an excellent first choice for your business website. That said, you can shop around by checking out these best WordPress hosting providers.
Alongside your domain and hosting, you'll also need to choose a WordPress theme to get started.
Most companies look for modern single-page themes to create their site. But for this tutorial, we'll be using a page builder, so you won't need a special one-page WordPress theme.
Instead, we recommend using a fast and optimized theme to house your website. For instance, you could use one of WordPress's official default themes or choose from some of these popular WordPress themes.
Just remember the design or theme options aren't important. You're looking for clean code and fast speeds to keep your website optimized.
If you need any help with setting up your site, check out this ultimate guide on how to make a website.
With your setup in place, let's move on to teaching you how to create a one-page website in WordPress.
2. Install SeedProd Landing Page Builder
As mentioned above, we'll be using a page builder to create your one-page WordPress site. And the landing page plugin we'll use is SeedProd.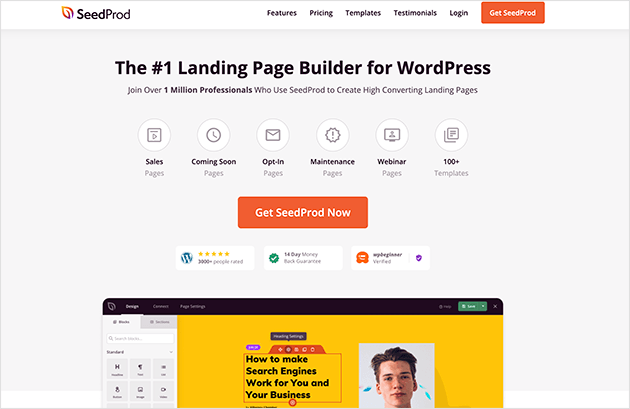 SeedProd is the best WordPress page builder on the market. It includes a powerful drag-and-drop builder, allowing you to create, customize, and launch any landing page without hiring a developer.
Then install and activate the plugin on your WordPress website. You can follow this guide for installing a WordPress plugin if you need help.
Note: there's a free version of SeedProd available, but we'll use the Pro version as it has the advanced customization option we need.
After activating SeedProd, head to SeedProd » Settings from your WordPress dashboard and enter your license key. You can find this information on your account page on the SeedProd website.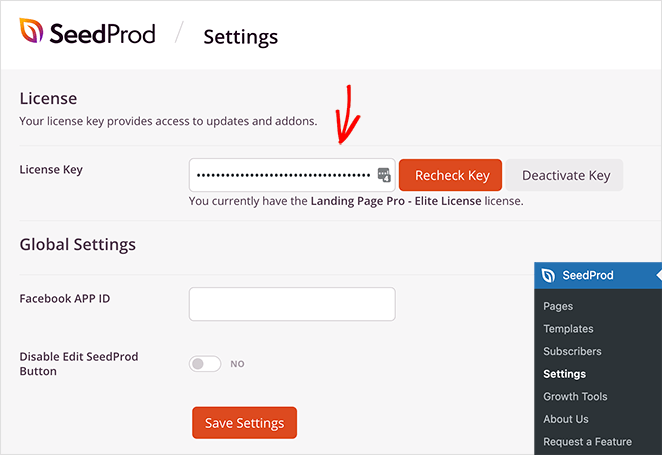 Then, navigate to SeedProd » Pages to see the landing page dashboard.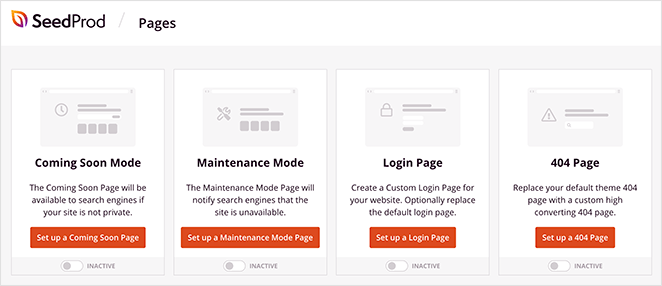 A the top of this page, you'll see 4 different page modes that allow you to instantly activate a:
The best thing about SeedProd's page modes is they extend your site's functionality without the need to install multiple WordPress plugins.
That said, the section we need is just underneath. So go ahead and click the Add New Landing Page button to get started.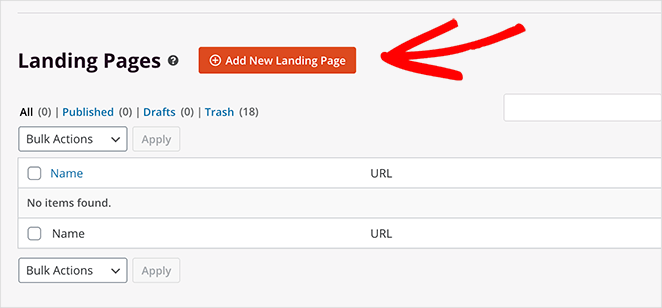 3. Choose a Landing Page Template
On the next screen, you'll see SeedProd's library of responsive landing page templates. You can filter the templates by clicking any of the tabs along on the top.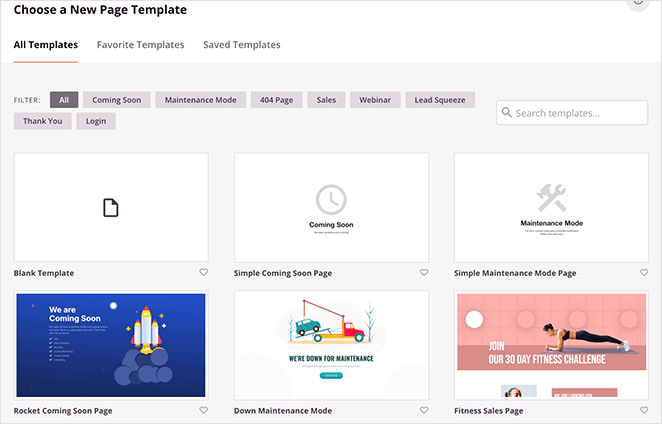 And the good news is that you can use any design you like and customize it to suit your needs in the visual editor.
For this tutorial, we'll use the Blank Template to show you how easy it is to create your one-page site with SeedProd.
To import the template, hover your mouse over the thumbnail and click the orange checkmark icon.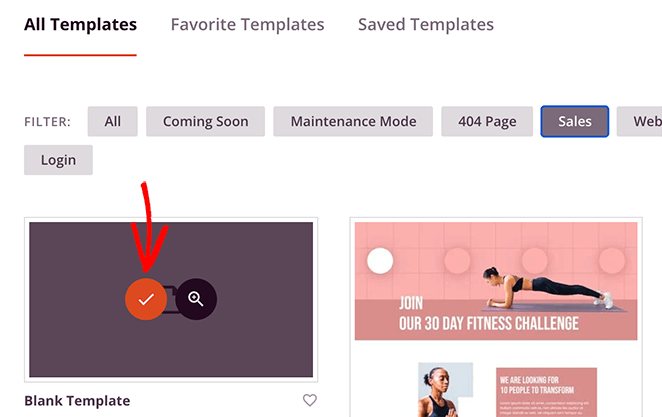 Inside the following popup, enter your website name and click the Save and Start Editing the Page Button.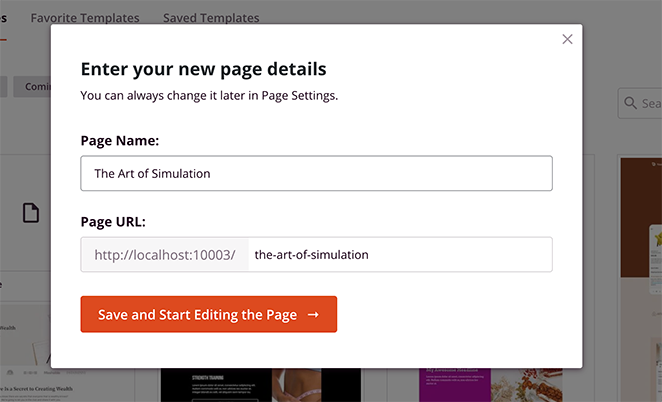 Your template will now open in SeedProd's front-end visual editor.
4. Design Your One-Page Website
After launching your template, you'll see a screen similar to the one below.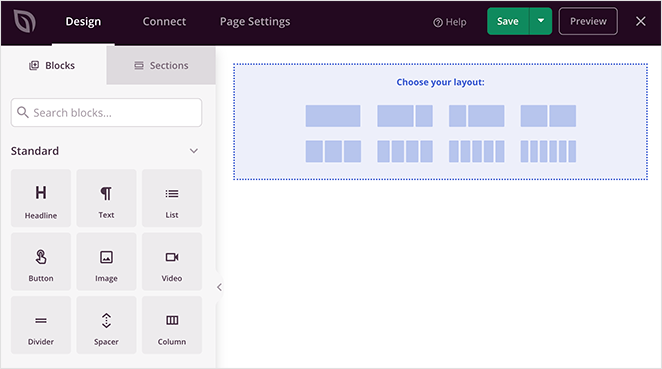 On the left are Blocks and Sections you can use to build your one-page website, while on the right is a preview of how everything looks.
Let's start by adding a hero area to your page, which will include a compelling headline and call-to-action button.
Create a Hero Section
To add a hero area, click the Sections tab in the left-hand panel and select the Hero heading.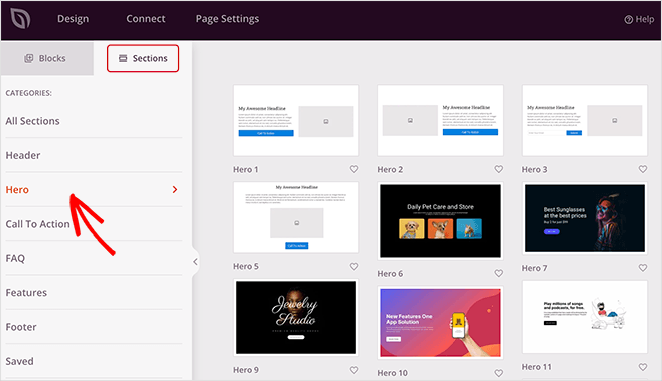 Here you'll see a variety of pre-made designs you can add to your site with a single click. Click the magnifying glass to preview a design, or click the plus icon to add it to your page.

From there, you can customize your hero section with the settings in the left-hand panel.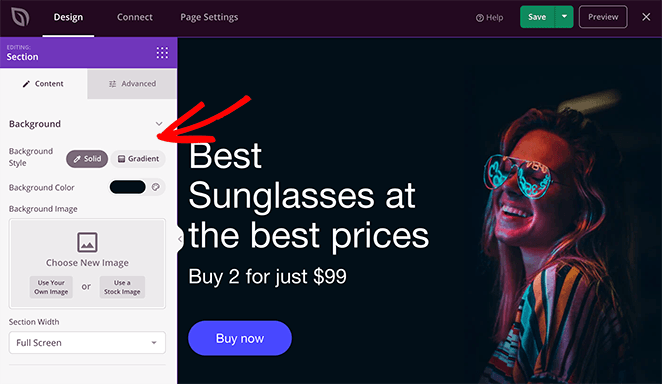 For example, to remove the image block, just hover over the image and click the trashcan icon to delete it.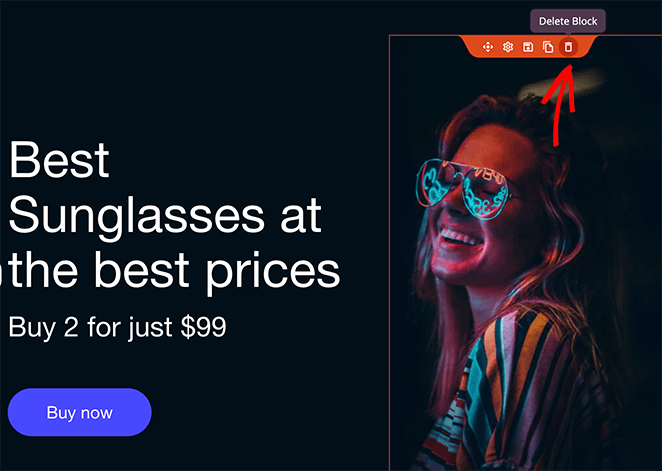 And to add a custom background image, click the section until it has a purple border, and select the Use Your Own Image option in the left panel. This allows you to upload a photo from your computer or WordPress media library.
Alternatively, you can choose from thousands of free stock images.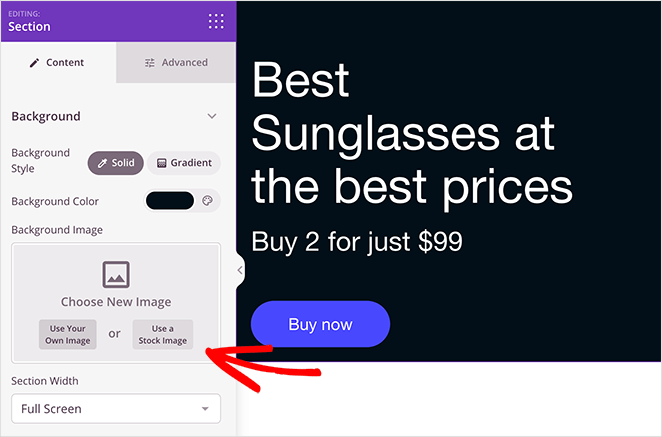 Customizing the text is just as easy. Simply click anywhere in the heading block, delete the current headline, and type your own.
The same is true for your call-to-action button. Clicking the block shows settings to edit the button text, color, alignment, and more.
Now let's move on to adding some information about your products or services.
Add Your Products or Services
Click the Add Columns icon to add a new area to your page. We'll use this to add some information about our business and examples of our products.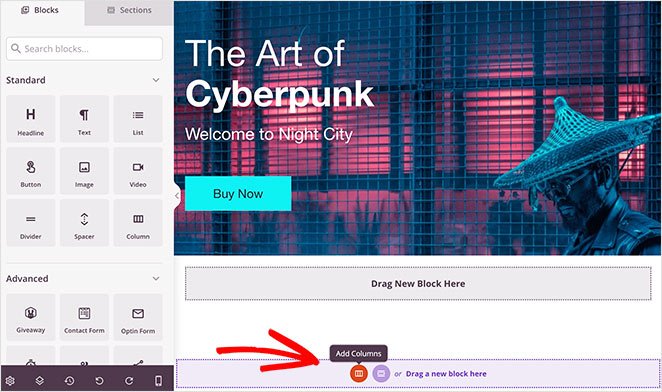 To begin, drag the Headline block into your new column and add your preferred text.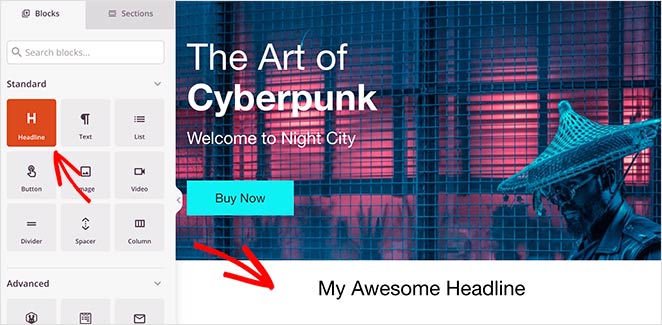 You can then drag and drop the Text block to add some details about your business.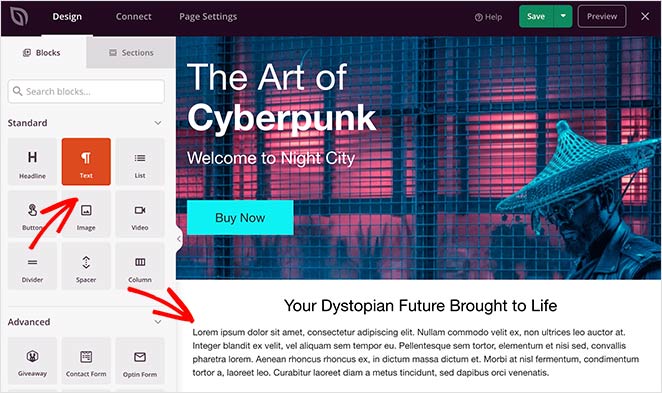 Now let's add some images of products or services. You can either add individual image blocks or use the built-in WooCommerce Best Selling Products blocks. For this guide, we'll go for the first option.
First, add a new column the same way you did before and choose a 3 column layout.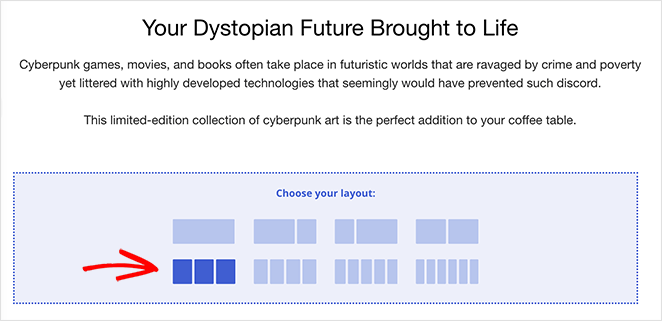 Then drag an image block into each column. Clicking the image block allows you to upload a photo in the left-hand panel.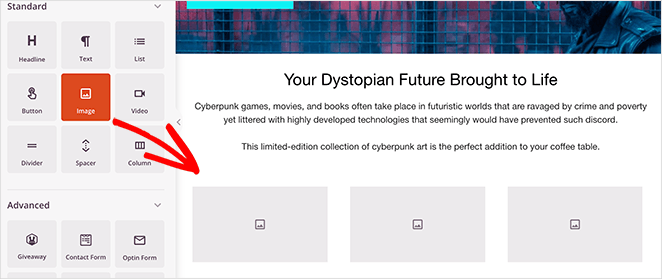 You can also arrange the alignment of each column with the easy alignment buttons in each column's settings.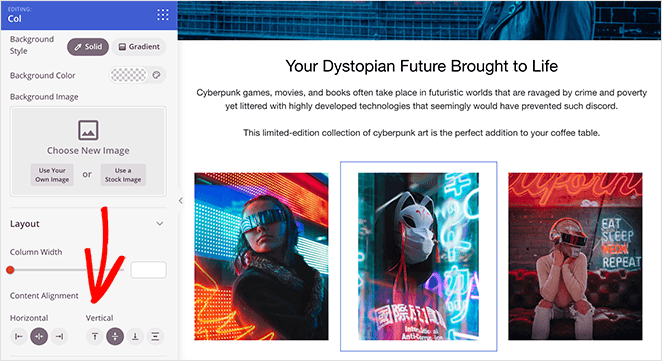 To add another row of images, simply duplicate your existing row by hovering over it and clicking the Duplicate Row icon.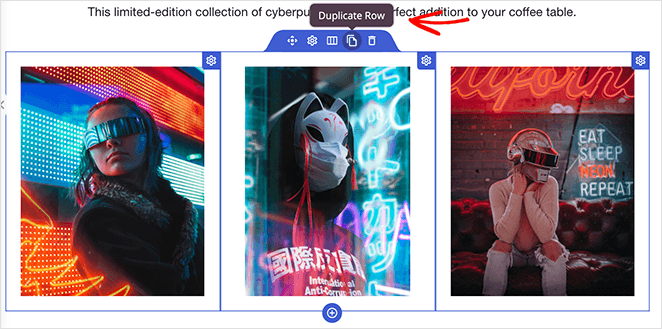 Display Your Testimonials
Testimonials are an excellent way to show potential customers that you're a great business to work with. After all, most people trust reviews from their peers more than taking a brand's word for it.
With that in mind, it's good practice to add testimonials to your one-page website. To do it with SeedProd, head to the Sections tab, click the Features heading, and pick a testimonial design.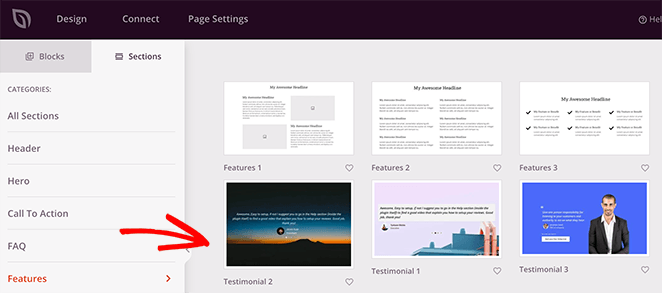 From there, you can customize it as you would with any other SeedProd block. For example, clicking the testimonial block allows you to add multiple testimonials in a sliding carousel.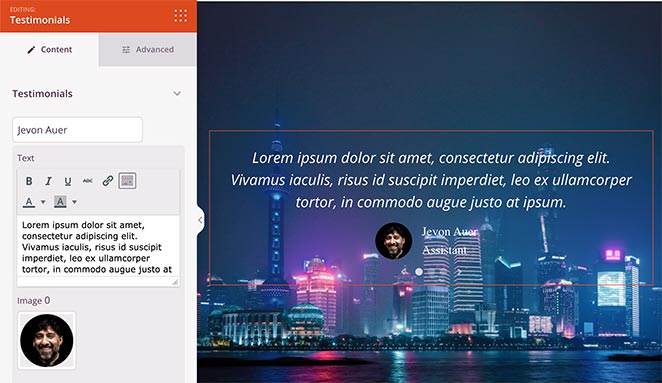 Create a Compelling CTA
No website is complete without a call-to-action to encourage users to learn more or buy your products. But did you know that adding more than one CTA can significantly improve your conversion rates?
The reason for this is people make purchase decisions at different stages through your page. So adding a CTA button near the top and further down your page catches people at the stage the're most prepared to buy.
To add a CTA to your one-page website, choose the Call To Action heading in the Sections tab, and pick any design.

You can then customize it by linking the button to your checkout page and changing the background color.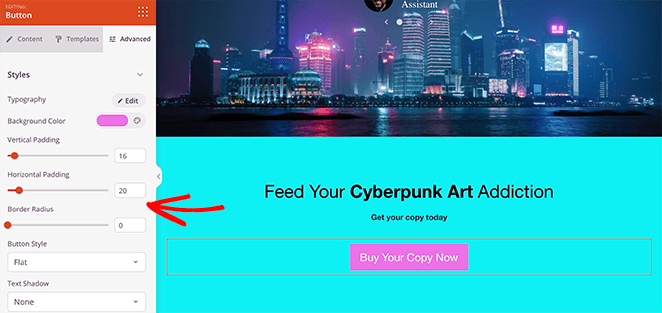 Add a Footer Area
Last but not least is adding space for your contact information and social links. SeedProd has a ready-made section for footer areas, which is the ideal place to add these details.
From the Sections tab, navigate to the Footer heading and pick the design you like best.

You can add your website logo and use the Text block to add your contact information.

Don't forget to remove any navigation menu items. Since this is a one-page website, you won't need them.
You can also use the Social Media Icons block to add links to your social media profiles. That way, users can follow you on those platforms.
When you're happy with how your single-page website design looks, click the Save button in the top-right corner of your screen.
5. Configure Your Settings
The next step in creating your one-page website is to configure your page settings.
First, let's connect to your email marketing service. This is a good idea if you plan on collecting email addresses from your site to build your email list.
Click the Connect tab at the top of your page builder, and choose from many popular email marketing services available.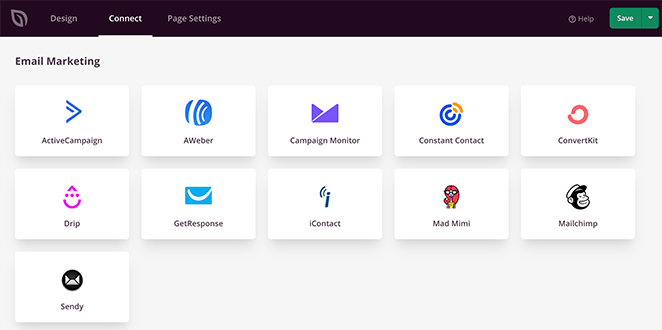 To connect your email list, just choose your preferred email service, click Connect and follow the instructions. For specific instructions on integrating each email marketing service, see our email integration documentation.
After connecting your email list, click the Page Settings tab at the top of your screen.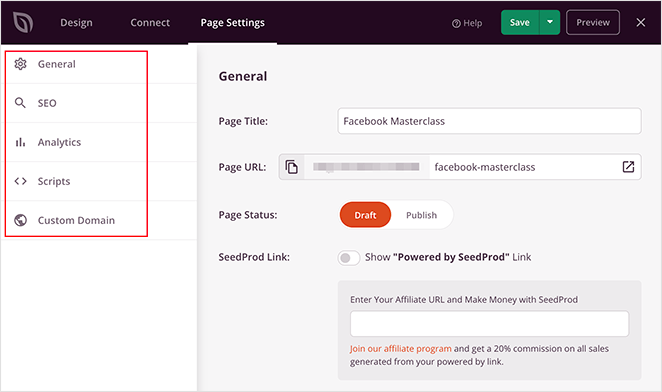 On this page, you can edit your General settings by giving your page a new name, URL or set it to draft or publish.
In the Analytics section, you can view your page performance settings in your favorite Google Analytics plugin. You can do the same in the SEO section and set your page's SEO metadata using WordPress SEO plugins.
The Scripts area lets you add custom scripts and code snippets, such as cookies and tracking pixels.
And lastly, the Custom Domain section lets you connect your single-page website page to any domain name you like.
This is great if you manage multiple websites but don't want the hassle of installing WordPress on each domain. Instead, you can simply point your landing page to a different domain easily.
6. Publish Your One-Page Website
Before publishing your one-page website, it's good practice to see if it shows up correctly on mobile devices. If it doesn't, you could lose leads and miss out on potential customers.
Luckily, you can preview your site on mobile with SeedProd. Just click the Design tab and select the mobile icon at the bottom of your screen.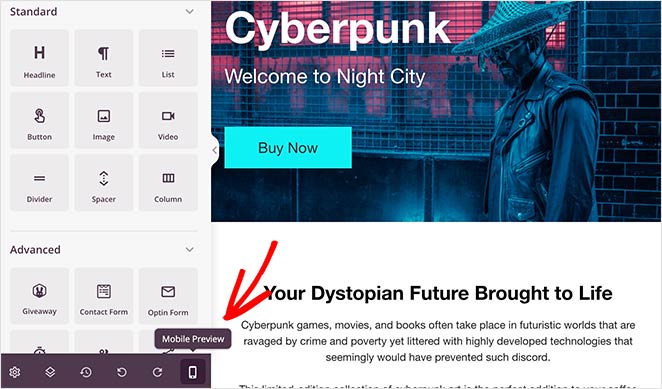 This shows a mobile preview of your page. If anything doesn't look right, click anywhere to adjust your design.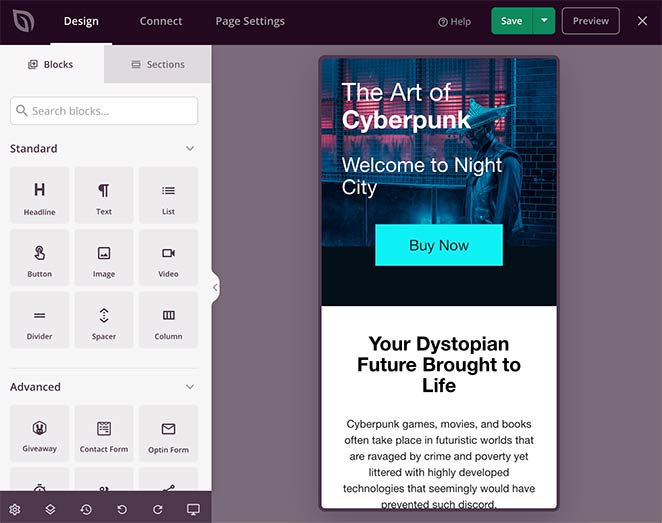 Now let's go ahead and publish your design. To do this, click the dropdown arrow next to the save button and click Publish.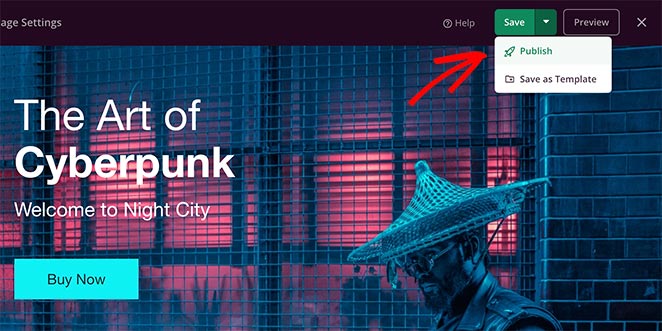 You can then click the See Live Page button to see how it looks.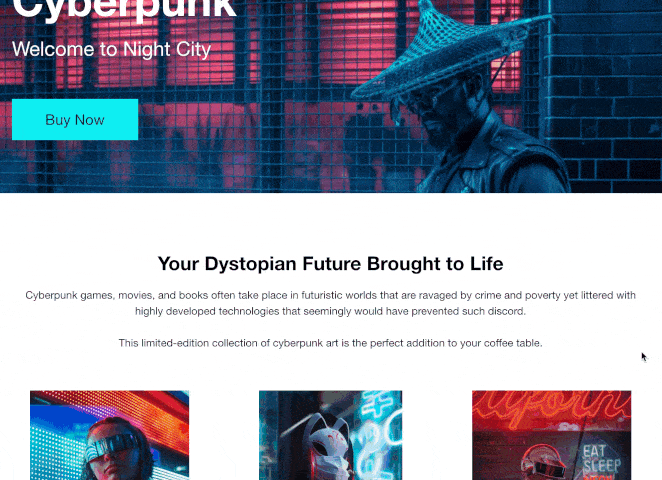 Great work; you've now made a one-page website in WordPress using SeedProd's easy page builder.
7. Assign The Page as Your Homepage
The final step in this one-page website tutorial is to make sure anyone visiting your domain name sees your one-page website design. For this to work, you need to assign your new design as your homepage in WordPress.
From your WordPress dashboard, navigate to Settings » Reading. Then, next to the heading labeled "your homepage displays," click the "A static page" option and select the page you just made from the dropdown menu.

Remember to click the Save Changes button.
Now when anyone types your domain into their address bar, they'll see your new one-page WordPress website.
That's it!
You now know how to create a one-page website in WordPress. If you're not ready to make your site visible to the public yet, check out this guide on creating a coming soon page in WordPress.
And if you liked this article, please follow us on YouTube, Twitter, and Facebook for more helpful content to grow your business.