Do you have an online store or plan to own one this year?
In 2022, sales from online purchases are expected to reach 21%. That number could reach 24.5% by 2025.
As consumers shop online more often, the competition increases. If you want to beat them, your website needs to look great, perform quickly, and generate sales.
That's why we're excited to announce new WooCommerce features we've been working on to help you optimize your online store.
With this update, you can create an entire WooCommerce store with our Theme Builder and visual drag-and-drop editor.
It's true!
Now you have everything you need to create an online store from scratch with the dynamic duo: WooCommerce and SeedProd. We've also added many new WooCommerce blocks you can drag to any page and customize.
These updates extend our previous WooCommerce blocks, including the Product Grid, Checkout, and Shopping Carts, empowering you to create fast and professional online stores that convert – no coding needed.
Here's an overview of how this update works:
Easily Create WooCommerce Pages in SeedProd
When building an online store, you need an easy and eye-catching way to show products to shoppers. Typically, that would involve coding a page from scratch or finding a developer specializing in WooCommerce.
With this update, you won't need to.
Instead, you can create Shop, Single Product, and Product Archive pages in our Theme Builder with just a few clicks.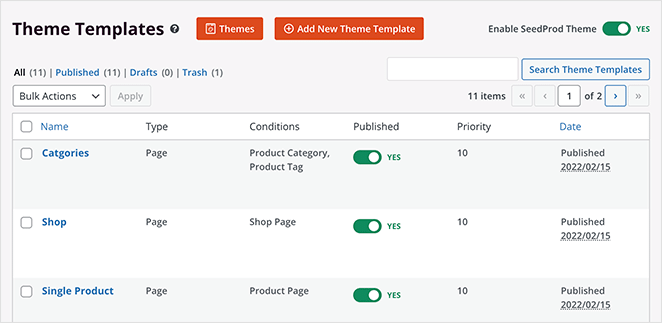 Have you finally decided to sell your crafts? With this update, you can quickly spin up an online store and turn that hobby into a profitable business.
Want to expand your product line? Our Product Archive pages make your goods easier for shoppers to find.
Build Stunning Storefronts Without Code
Want a storefront you can customize in the blink of an eye? Using our Archive Product Template and Shop Page condition, you can create a shop page in a few seconds.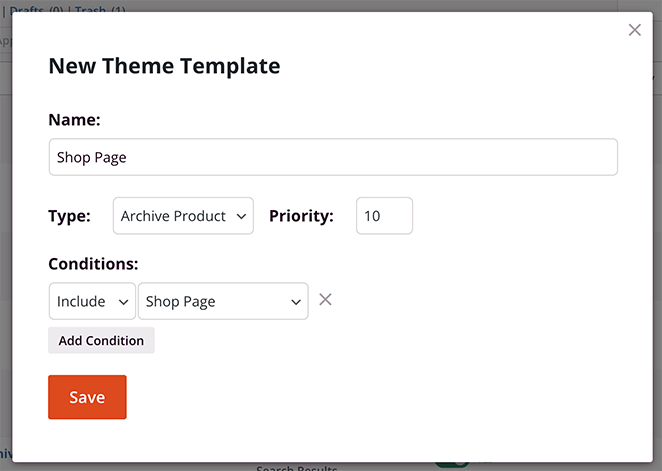 You can then edit your page in our page builder and see the changes in real-time.
Store pages like this work seamlessly with our existing WooCommerce Product Grid blocks. They let you create flexible layouts based on the status of products, such as:
Recent Products
Sale Products
Best Selling Products
Top Rated Products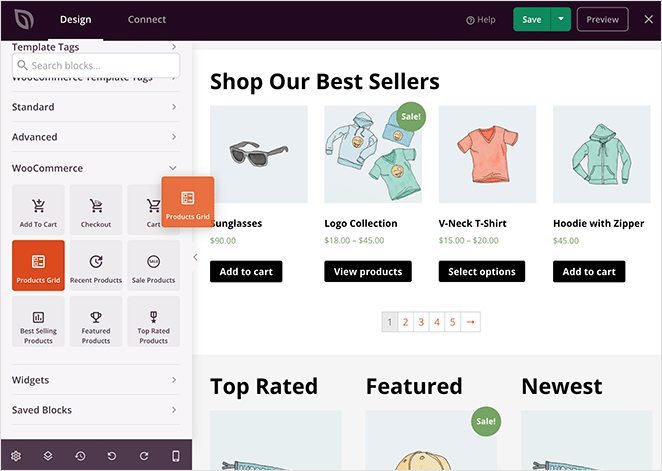 For example, you can use the Best-Selling Products block to create a section to highlight your highest-selling products. This is a great way to educate new potential customers as soon as they land on the page.
You can also add Recent Products for returning customers and even showcase your latest sales and promotions.
Update Product Details Instantly
Want single product pages to look just as good as your shop page? You can do it with a few clicks with our Single Product template.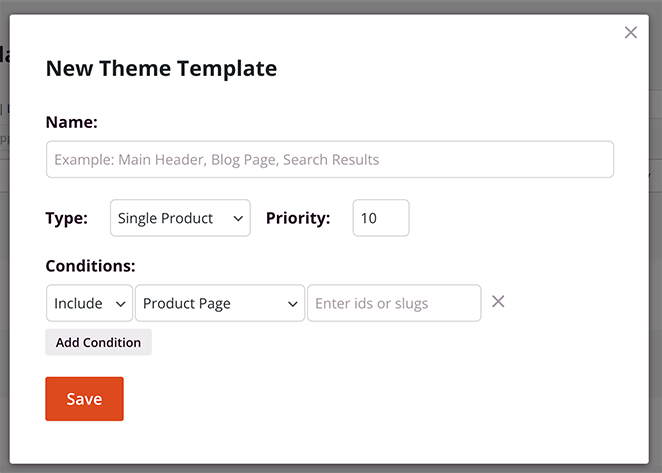 From there, you can use our new WooCommerce Template Tags to embed product information inside the visual editor.
WooCommerce Template Tags pull product information from your database and show it based on the product that shoppers view. For example, if a customer clicks on a blue hoodie, they'll only see product details about that item on the page.
Doesn't WooCommerce do that anyway?
Sure! But SeedProd makes it easier to customize the layout and styling of that information.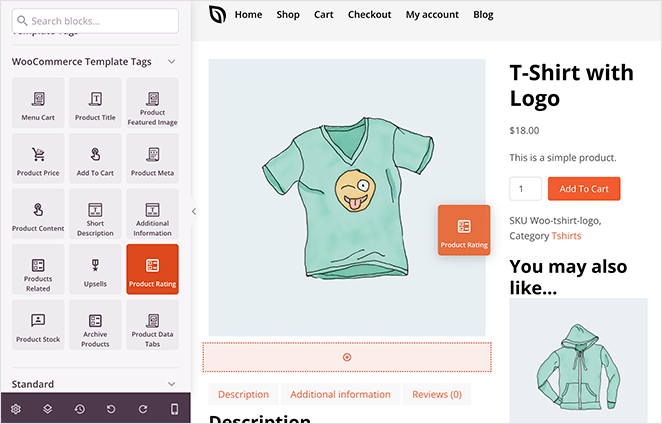 For example, you can easily add a Product Featured Image anywhere on the page, even if you're not tech-savvy.
In just a few clicks, you can also add short or long product descriptions, show product meta, and customize the Add to Cart button.
You can drag over the Product Rating block and show valuable social proof to convince shoppers to buy.
There's also the Related Products block you can use to keep potential customers shopping on your site and spending more money on your business.
Craft Flexible Product Archives
What happens when you click a product category on a generic WooCommerce site? You get a boring list of products, and making them stand out requires custom code and a lot of work.
Yet with SeedProd, the only work involved is pointing and clicking – no fuss, no code, and stunning results.
Our Archive Product template lets you create stunning category pages with drag-and-drop functionality.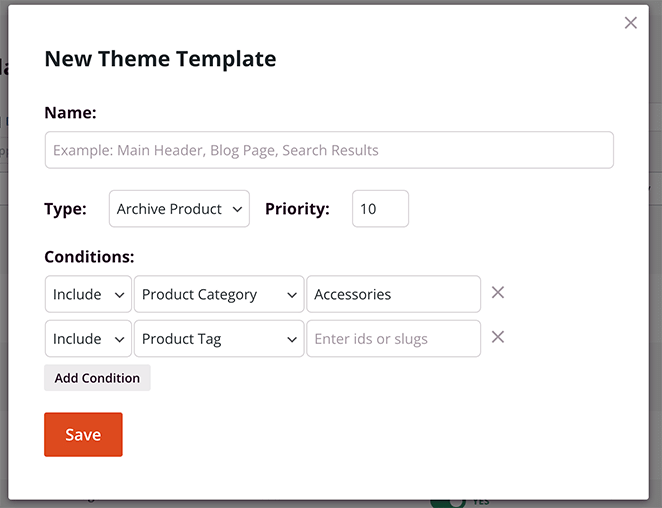 Simply choose the Archive Product template and change the conditions to include Product Categories and Tags.
SeedProd will add the required WooCommerce shortcode to your page automatically.
You can also replace the default WooCommerce shortcode with the Archive Products block and display products by:
Attribute
Tags
Category
SKU
Group
Visibility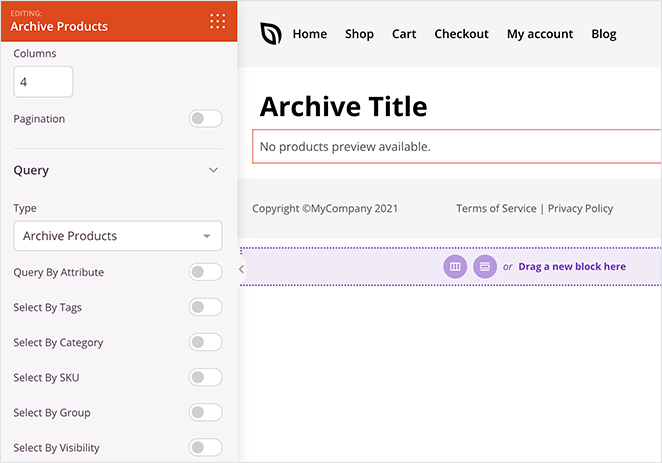 Why should you care?
Online shoppers have a short attention span, and 18% say they'll abandon your site if it's too complex or time-consuming. Avoid this by making shopping as easy and painless as possible.
With this feature, you can create custom category pages that make it easier for shoppers to find what they need.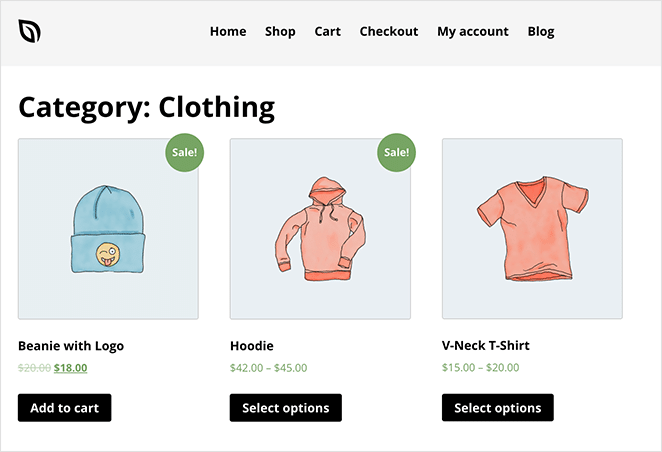 For instance, if you're running Valentine's Day promotions, you can create a product page that only shows red clothing.
Or, during the summer season, you can build a page focusing on summer accessories.
Want to display all of your categories in your navigation menu? Make custom pages for each category, use the Archive Products block, and list them in your menu with a few clicks.
Customize Shopping Cart & Checkout Pages
You've been able to create standalone shopping carts and checkout pages with SeedProd for some time.
Now, we've improved that functionality to allow you to edit WooCommerce checkout and cart pages directly with our page builder.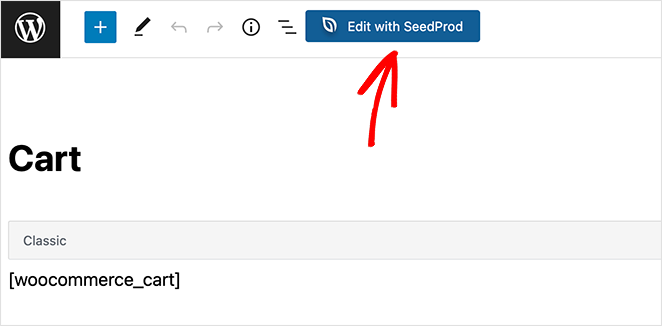 Hit the Edit with SeedProd button from either page, and you can swap out the WooCommerce shortcode with our Checkout or Shopping Cart block to create custom layouts with a couple of clicks.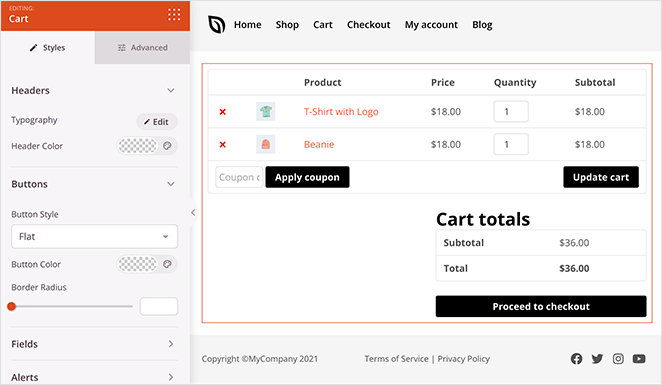 With shopping cart abandonment as high as 80%, this is the perfect space to use SeedProd's other WooCommerce blocks to convince users to buy.
For one, you can use the Upsell block to suggest closely related products shoppers may like.
You can also add testimonials to your checkout pages by simply dragging and dropping. Since 88% of consumers say reviews influence their online purchasing decisions, testimonials are an excellent way to boost trust and credibility.
Want to ease customer concerns quickly? Use the Accordion block to include FAQs about shipping and delivery.
These aren't the only WooCommerce pages you can edit with SeedProd. You can do the same on the account page, where users can view their orders and update their details.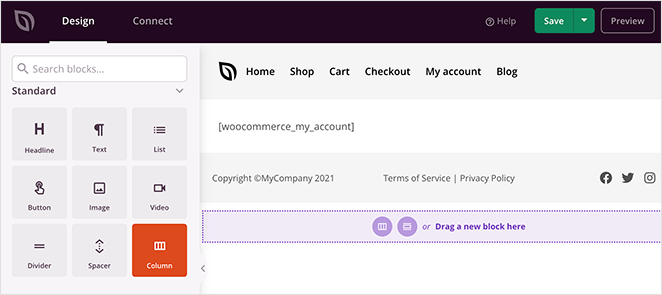 Looking for an easy way to get existing customers to buy more? Add the Related Products block to this page and help them find products they didn't know they needed to buy.
You can even showcase a coupon code and use the countdown timer block to urge shoppers to claim the deal.
Want shoppers to truly understand your products? Use the video block to explain features in a way that's engaging and easy to consume.
Display Cart Totals in Menus
Another new WooCommerce block you can use is the Menu Cart. It lets you add a shopping cart icon to your navigation menu in just a few seconds.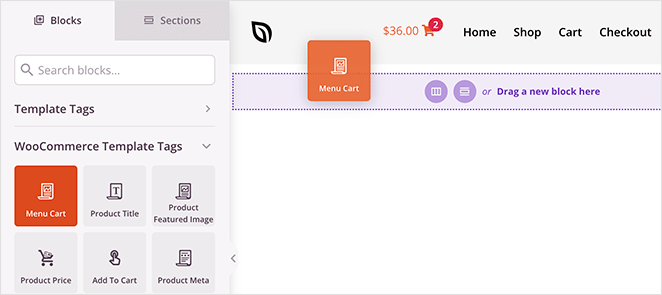 As shoppers add items to their cart, the total price updates automatically so they can keep an eye on their costs while they shop. From there, users can simply click the icon to view their cart and check out.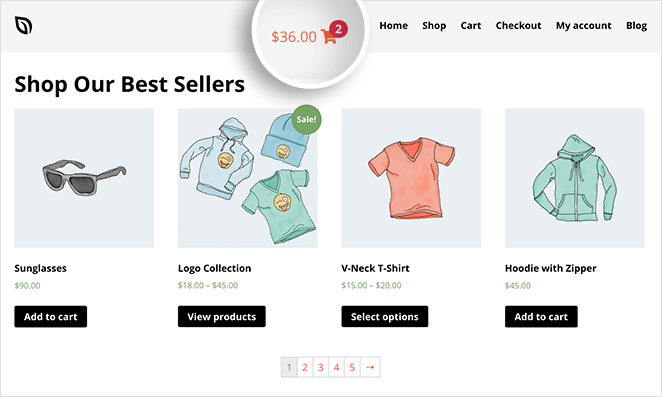 Like all of SeedProd's new WooCommerce features, you can customize the Menu Cart with just a few clicks. It's a super-easy way to streamline your checkout process, improve customer experience, and tackle shopping cart abandonment.
No Need to Start from Scratch
Not sure where to start with this update? Don't worry, our new WooCommerce starter theme has everything you need to hit the ground running.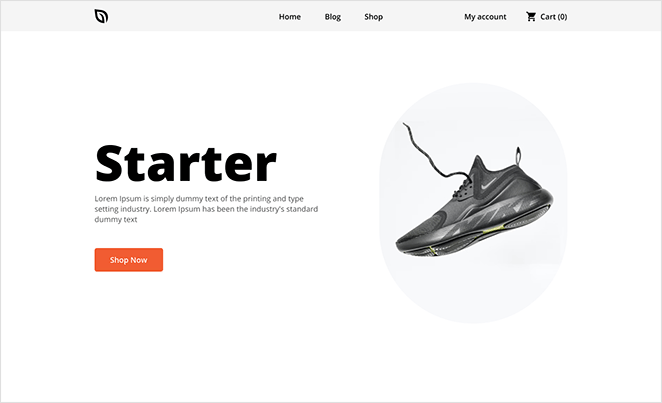 Instead of starting from scratch, you can import this theme, and you'll have all the pages you need automatically, including:
Beautiful WooCommerce Homepage featuring new products, testimonials, and FAQs
Shop page that displays all products in an easy-to-navigate grid
Single Product page with essential details about your goods and services
Archive page to easily organize and sort products into categories
Minimalist Cart page you can customize to boost sales and improve conversions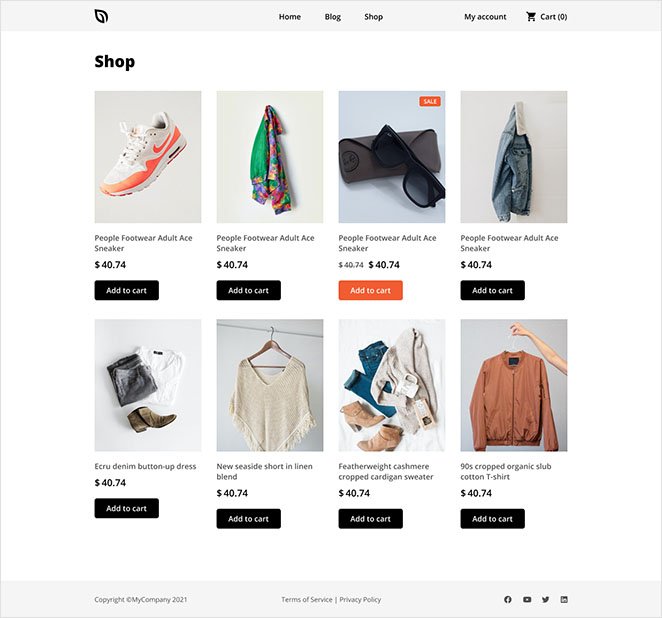 That gives you a massive advantage over your competitors.
Instead of spending hours crafting your store with code or waiting for development work, you can quickly build any type of WooCommerce store and customize every inch without code.
Then there's how much more affordable it is.
The cost of hiring someone to design and develop an eCommerce site can range anywhere from $5,000 to $50,000. In comparison, creating an online store with SeedProd starts at as little as $199.50.
Even better, this update is bloat-free and fully optimized. Unlike many other tools and plugins, you'll experience lightning-fast page speeds that will help improve user experience and boost your search engine rankings.
Try the New Update Today
This release is available to Elite SeedProd customers right away, and we hope you enjoy them.
As you can see, it's a massive release, and there's a lot to take in. If you need help getting to grips with it all, reach out to us, and we'll walk you through it personally.
We'll share more exciting things with you soon, so keep an eye out for the next announcement.
If you're still using SeedProd lite, upgrade today for all the benefits of creating custom WooCommerce stores without hiring a developer.
As always, thank you for your continued support in making SeedProd the best WordPress website builder plugin.