Want to learn how to set up a thank you page in WordPress?
Creating a thank you page can help you build better relationships with your visitors and turn leads into loyal, returning customers.
It can be tough to make a professional-looking thank you page for your eCommerce site, but we have some tools that can help. In this article, we'll show you how to create a thank you page on your WordPress website without any coding or design skills.
Table of Contents
What Is a Thank You Page in WordPress?
A thank you page is a special page on a website that is shown to a user after they complete an action, such as filling out a form or making a purchase.
The purpose of the thank you page is to thank the user for their action and to provide them with additional information or resources. For example, on an eCommerce website, a thank you page might thank the customer for their purchase and provide them with an order confirmation and other order details like how to track their order or access customer support.
Thank you pages are important because they can help build trust and credibility with users and can also be used to encourage users to take additional actions, such as signing up for a newsletter, redeeming a coupon code, or following the company on social media.
Thank you pages can be helpful for your business in other ways too. They use a psychological idea called "commitment and consistency," which is a way to persuade people to do things.
When someone agrees to do something small, like signing up for an email list, they are more likely to agree to do something bigger later, like making a cross-sell purchase. So, a thank you page can be a good way to move people closer to buying something from your business.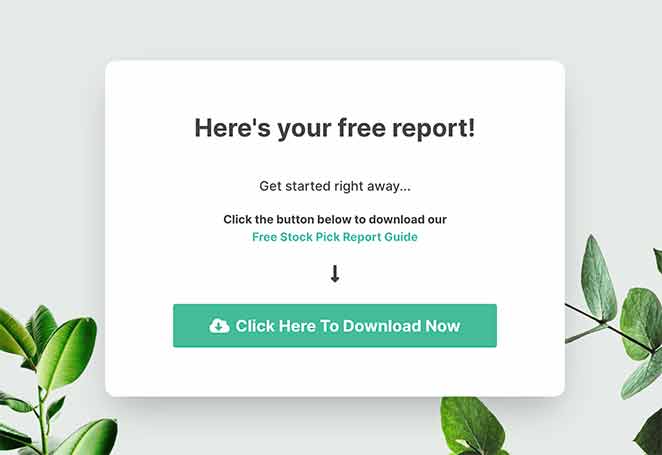 Here's another example: if you have a subscription box service, you might ask people to sign up for your email list in exchange for a free download. Then, on the thank you page, you could offer a free box if they talk about your business on social media.
Since they already agreed to join your email list, they are more likely to take the extra step and talk about your business.
What's the Difference Between a Landing Page and Thank You Page?
A landing page and a thank you page serve different purposes in a marketing funnel.
A landing page is a web page that a user visits after clicking an advertisement, social media post, or results in search engines. The primary goal of a landing page is to convert the visitor into a lead or a customer by providing them with a specific call-to-action (CTA).
On the other hand, a thank you page is the page a user sees after completing a desired action, such as submitting a form or completing the checkout. The primary purpose of a thank you page is to acknowledge the user's action and to thank them for completing it. It is also an opportunity to provide the user with additional information, resources, or offers related to the action they just took.
Here are several more reasons why it's a good idea to set up a thank you page on your WordPress website:
Thank users for their actions: A thank you page is a simple and effective way to show your appreciation to users for taking an action on your website, such as filling out a form or making a purchase.
Provide additional information: A thank you page is a great place to provide users with additional information or resources that might be helpful to them. For example, you could include links to customer support, related products, sharing buttons, or information about how to track an order on an eCommerce site.
Encourage further action: As mentioned earlier, thank you pages can be used to encourage users to take additional actions, such as following your business on social media or signing up for a newsletter or push notifications.
Improve the user experience: A well-designed thank you page can improve the overall user experience on your website by making users feel valued and appreciated.
Now that you know what a thank you page is and the potential creating one has for growing your business, let's explore how to make one in WordPress.
Planning Your Thank You Page
Setting Goals
Before creating your Thank You page, it's essential to have a clear set of goals. These goals aren't just arbitrary checkpoints; they're the compass that guides your page design process, content, and functionality.
There are many objectives that you can aim for:
Are you looking to raise your social media follower count? A well-placed link to your social platforms on your Thank You page can help with that.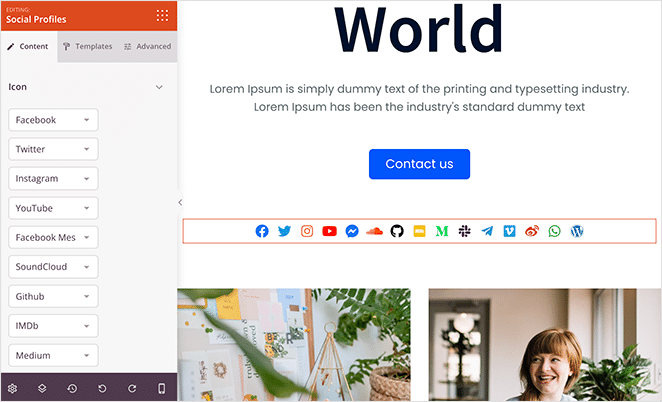 Do you want to gather more responses to your customer satisfaction survey? A gentle nudge in the form of a message on your Thank You page can lead customers to your survey form.
Or maybe you're looking to increase repeat sales? Offering a special discount code for their next purchase on your Thank You page can make customers feel valued and encourage them to shop again.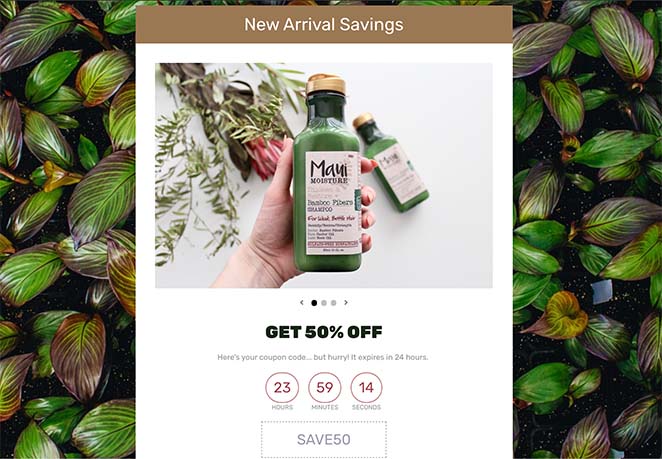 By identifying what you hope to achieve with your Thank You page, you can design and strategize its elements to meet those specific goals.
Designing the Layout
Once your goals are crystal clear, the next phase is designing the layout of your Thank You page. This is where aesthetics meet function, and achieving a balance between the two is key.
Generally, a simple, clean design works best for Thank You pages.
Why? Because simplicity aids comprehension. Your users have just completed an action — whether it's making a purchase, signing up for a newsletter, or downloading a resource — and they're likely looking for confirmation of this action, not a cluttered page full of information.
The hallmark of a good Thank You page design is clarity and precision. Your message — the 'thank you' — should be the hero of your page. Make it bold, make it big, and ensure it's the first thing your users see when they land on your page.
Additionally, any Calls to Action (CTAs) should be prominently displayed. These CTAs are your bridge to the user, guiding them to the next action you'd like them to take.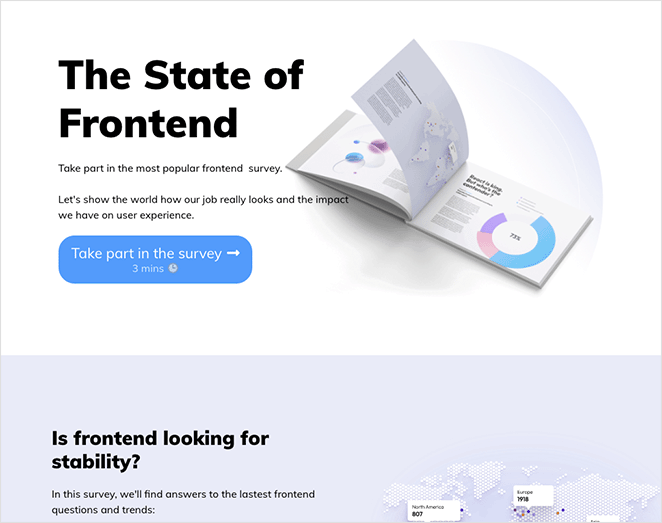 Whether it's 'Follow Us on Instagram', 'Take Our Survey', or 'Use This Discount Code on Your Next Purchase', make sure your CTA is noticeable, clear, and compelling.
How to Create a Thank You Page in WordPress
You might think that the best way to create a thank you page is to add a new page to your WordPress website. While this is certainly possible, it can be challenging to get a simple WordPress page to look good and have all the features you want without hiring a developer.
An easier solution is to use a landing page builder plugin like SeedProd.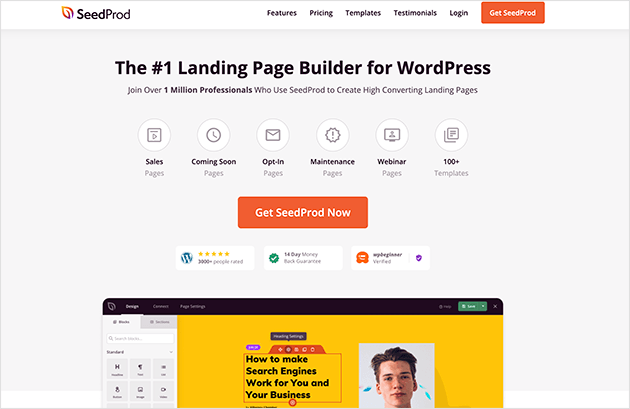 SeedProd is a powerful WordPress plugin devoted to creating professional-looking themes and landing pages in WordPress that get results. With its drag-and-drop page builder, you can easily make stunning landing pages without any design experience and complete WordPress themes without CSS code or writing PHP.
This allows you to build beautiful themes and pages visually, in real-time, including:
WordPress squeeze pages
Sales landing pages
Webinar registration pages
It also comes with built-in coming soon, 404, and maintenance modes that you can turn on and off with a single click. This means you can easily hide your website while it's under construction and display a maintenance notice when you're making small changes and updates.
The SeedProd builder has various easy-to-use landing page blocks that allow you to add lead-generation elements to your page. This includes opt-in forms, contact forms, giveaways, countdown timers, social media buttons, and more.
Additionally, it offers WooCommerce support, with Add to Cart buttons, product grids, and other helpful features that don't require adding more WooCommerce plugins to your site.
You also won't need to start from scratch. With over 100+ landing page templates to choose from and a ton of starter WordPress themes, getting started with a great-looking design is super easy. Plus, you can integrate with all the major email marketing services, Google Analytics, Zapier, and more.
Best of all, SeedProd is a lightning-fast WordPress plugin. Unlike other page builders that are bloated and slow, SeedProd is bloat-free and optimized for speed. This means it won't slow down your website, giving you a better chance at ranking in search engine results and seeing higher click-through rates.
So if you want to make a thank you page on your WordPress site that gets results, here's how to do it with SeedProd.
Video Tutorial
Step 1: Install and Activate SeedProd
First, click here to get started with SeedProd and download the plugin. Then, you can follow these simple instructions for installing a WordPress plugin to your WordPress dashboard.
After installing and activating SeedProd on your WordPress website, you'll see a page asking for your license key. Your license key is delivered to your registered email address after purchasing the plugin.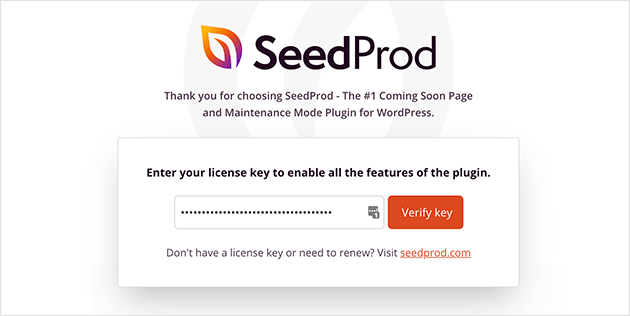 Copy the key and paste it into the field provided in WordPress and click the Verify Key button.
After verifying your SeeProd license key, scroll down the page and click on the Create Your First Page button.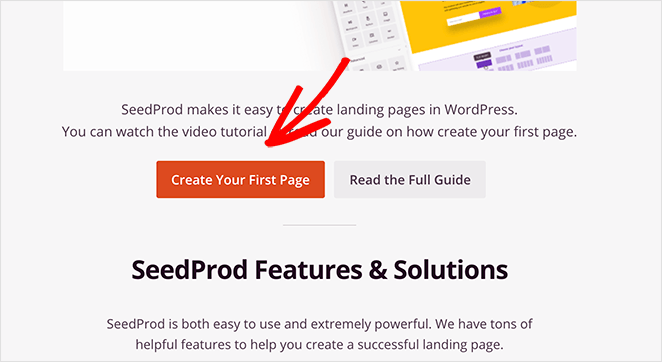 Clicking the button will take you to the SeedProd dashboard, where you can begin making your thank you page.
Step 2: Set Up a Thank You Page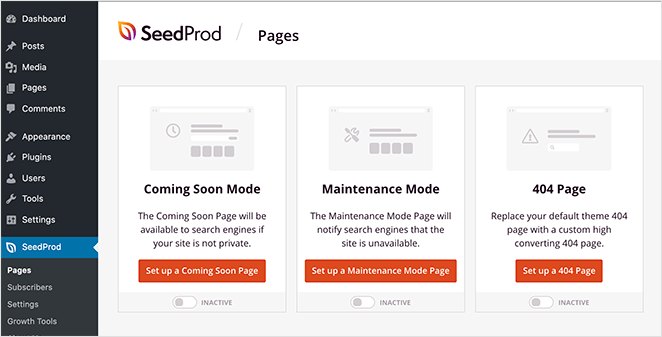 The SeedProd dashboard will show you several options to choose from. First, you'll see 3 different modes, including:
Coming Soon Mode: to create and enable a coming soon page.
Maintenance Mode: for showing a maintenance mode page.
404 Page: to create and show a custom 404 error page.
Below that section, you'll see the landing page area. This is where SeedProd shows any landing page you create in a simple list.
To make your first page, click the Add New Landing Page button.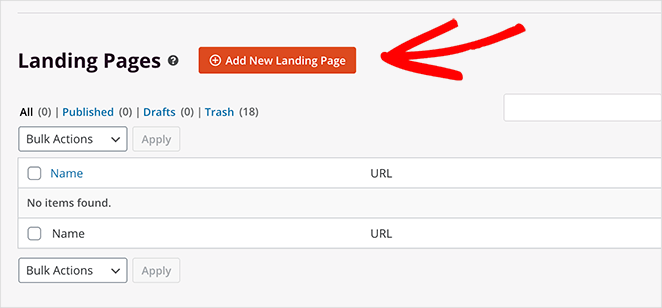 After clicking the button, you'll see several landing page templates you can use as your page's foundation design. You can filter the templates by clicking the different headings at the top of the page.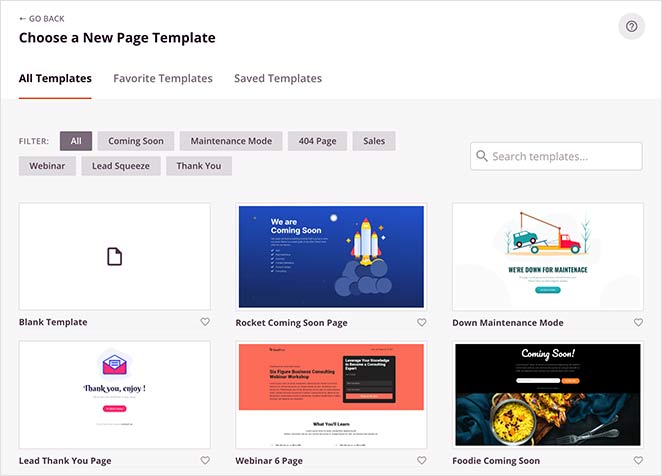 To view the thank you page templates, click the Thank You filter.
Then you can browse the templates until you find one you like. To launch the template, hover your mouse over the template thumbnail and click the tick icon.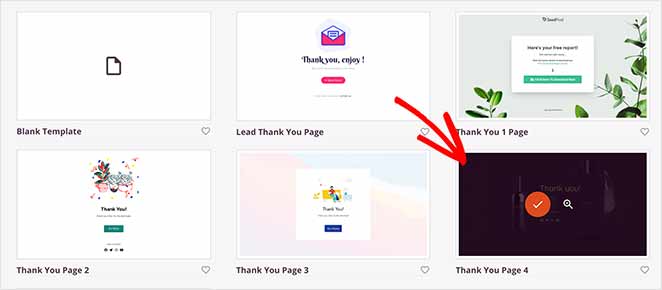 For this tutorial, we'll choose the Thank You Page 4 template.
After clicking the template, you'll be asked to give your page a name and URL.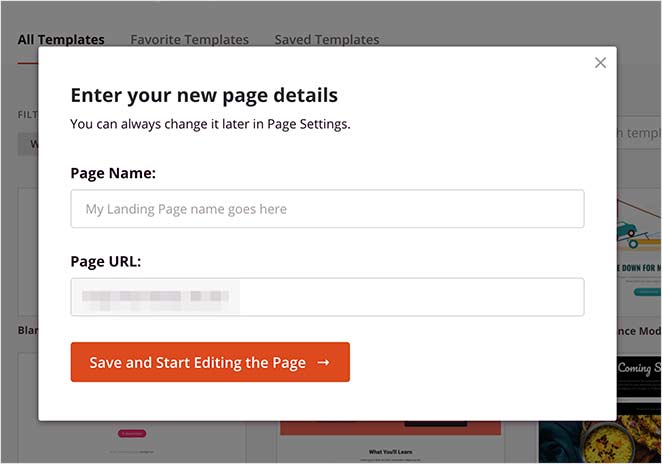 Then click the Save and Start Editing the Page button to launch your page in SeedProd's visual drag-and-drop editor.
Step 3: Add Content to Your Thank You Page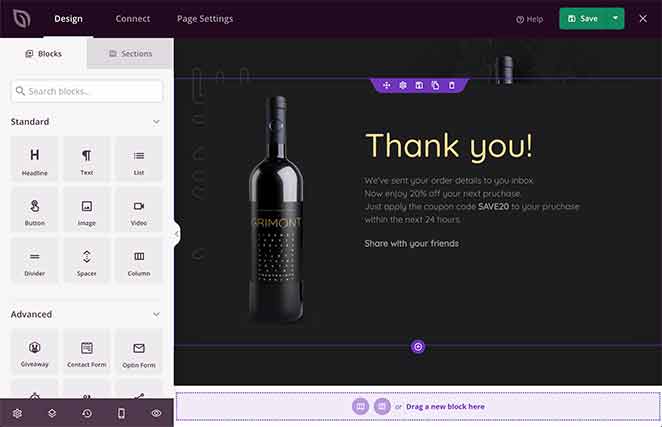 With SeedProd's visual editor, you can now start adding content and widgets to your thank you page without the hassle of shortcodes.
On the left side of your screen, you'll see all the available landing page blocks you can use to edit your page's existing content and add new page elements.
The landing page blocks are separated into 2 different sections, which are Standard blocks and Advanced blocks.
The Standard blocks include everything you need to change your page's design and layout, such as columns, images, videos, buttons, headlines, and so on.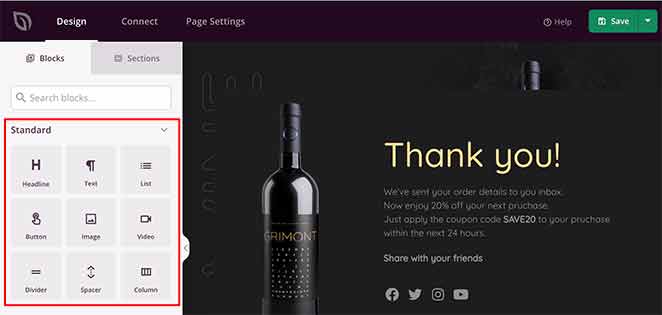 Whereas the Advanced blocks are more focused on lead generation and include the following page elements:
Giveaways: Add a RafflePress giveaway to your thank you page to raise awareness of your brand.
Contact Form: Give users an easy way to get in touch with questions with a WPForms contact form.
Optin Form: Encourage users to join your email newsletter (if you haven't already).
Countdown Timer: Add urgency with a countdown timer, so users get your offer before they miss out.
Social Profiles: Ask users to follow you on social media.
Social Sharing: Get users to refer their friends by sharing your site on their social channels.
Progress Bar: Show people how close they are to redeeming their special offer.
Star Rating: Demonstrate how other customers enjoy using your products or services.
And much more.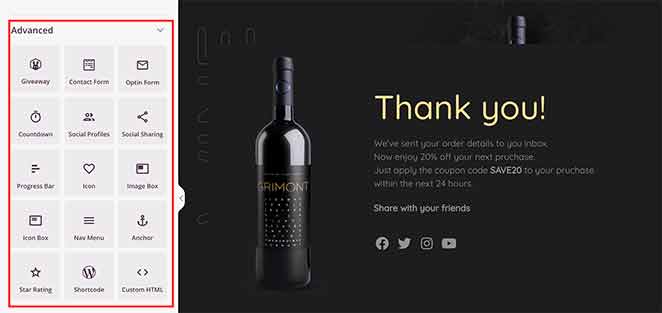 You can drag any block from the left-hand panel and drop them anywhere on your thank you page.
For instance, you can use the Social Sharing block to encourage users to share your brand on social media after buying a product.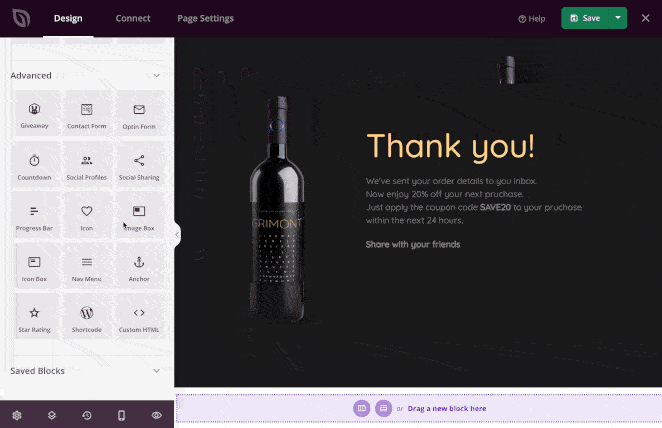 Just click the Social Sharing block in the left-hand panel, drag it over to your page preview on the right, and drop it where you want to display it.
When you click the block in your page editor, you can add extra social sharing options and change the button size and alignment. In the Advanced tab, you can also change the button spacing and shadows.
Many of the content blocks in SeedProd, also include pre-made block templates. This allows you to change the blocks' design with a single click.
For example, let's add a new image to the page. You can do that by clicking the image block in the original template.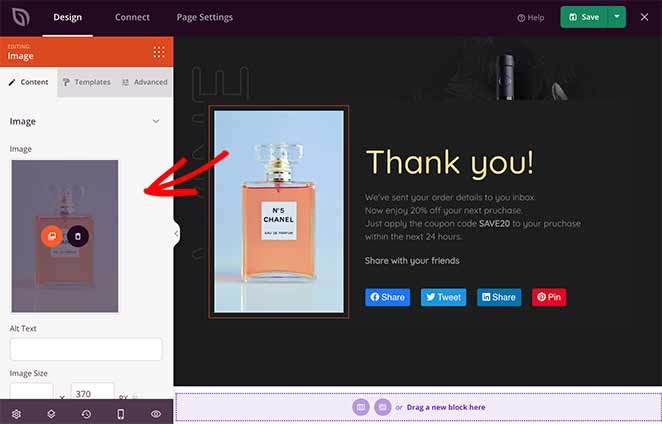 Then click the gallery button on the thumbnail in the left-hand panel. This lets you upload an image from your computer or WordPress media library.
To view block templates, click the Templates tab in the left-hand panel. This shows you various styles you can apply to the block with a click of your mouse.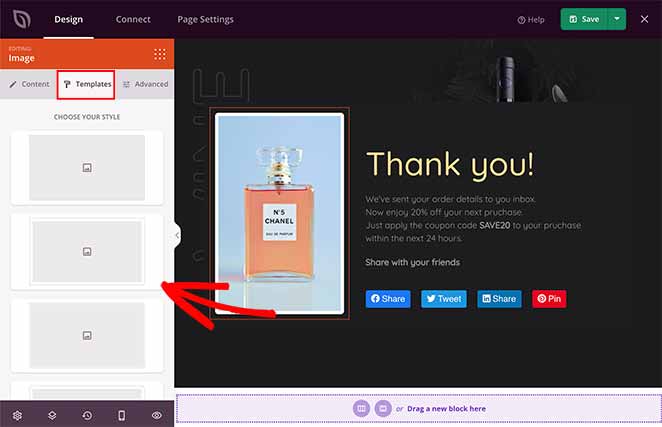 SeedProd also includes various sections you can add to your thank you page in the same way. These are whole page sections that you won't need to build from scratch, including Headers, Hero sections, Calls to Action, Features, Footers, and more.
You can find them by clicking the Sections tab, hovering your mouse over one you like, and clicking the plus sign to add it to your page.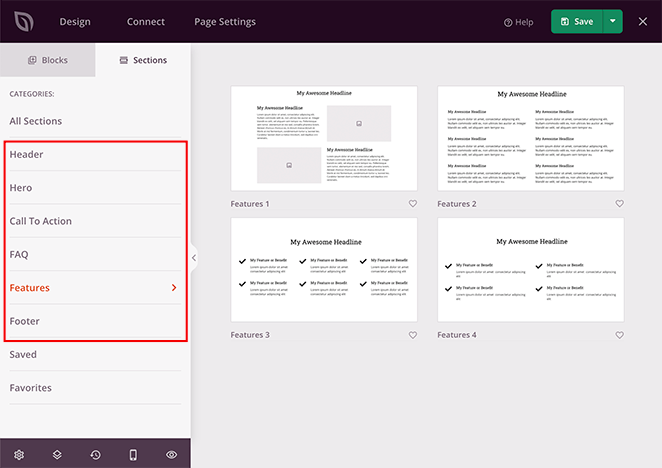 In the example below, we used a Footer section to add a logo and social profile buttons. This is a great way to encourage users to interact and engage with your brand on social media.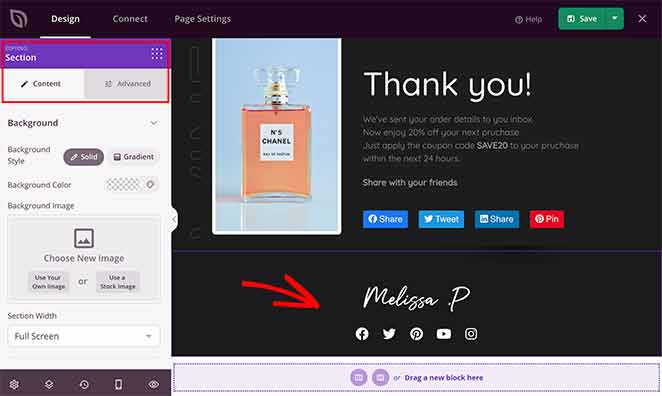 Remember to click the green Save button in the top-right corner of your screen to preserve your settings.
Once you're happy with your thank you page content, you can move on to customizing your page to match your branding.
Step 4: Customize Your Thank You Page
Customizing your thank you page is just as easy as the previous step. Just click the gear icon in the bottom-left corner of the page editor.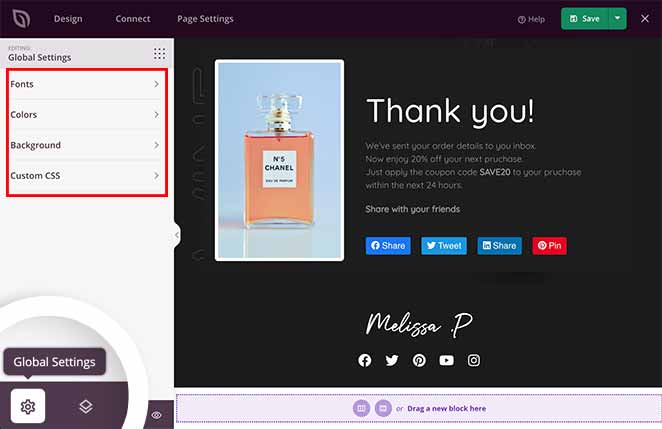 This will show the Global Settings page, where you can choose global color settings, change your page background, fonts, and more.
To change your thank you page background, click to expand the Background tab. In this area, you can change your background color, add a new background image, or even use a video or slideshow for the background.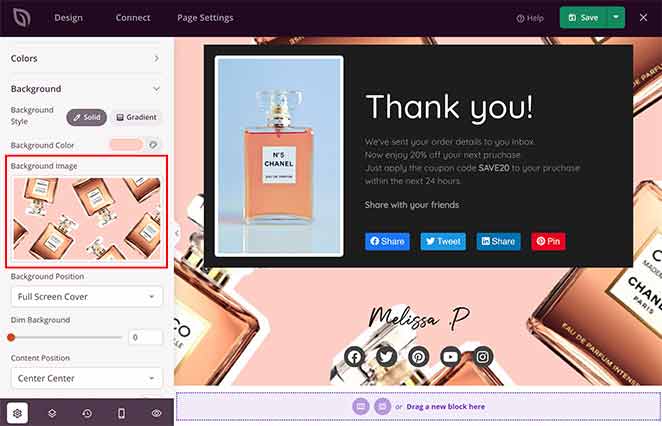 Under the Background Image section, hover your mouse over the existing image and click the gallery icon to upload a new background image from your computer or WordPress media library.
Clicking the Colors section allows you to choose global colors for your thank you page. You can select individual colors for your Headings, Buttons, Text, Links, and more.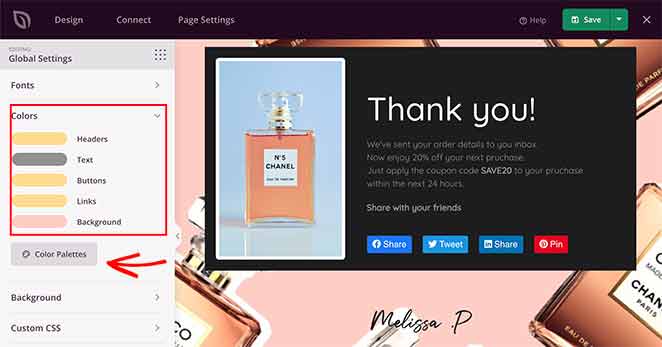 Or you can click the Color Palettes button to show over 20+ pre-made color palettes you can choose for your page.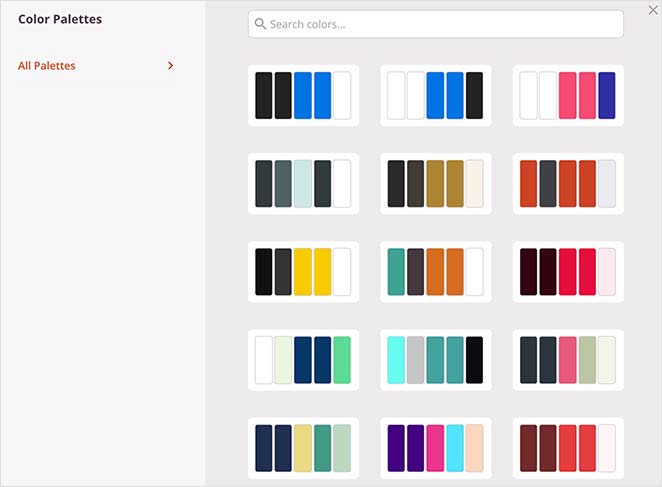 You can take a similar approach for your thank you page typography settings. Just click the Fonts section and choose from hundreds of Google web fonts.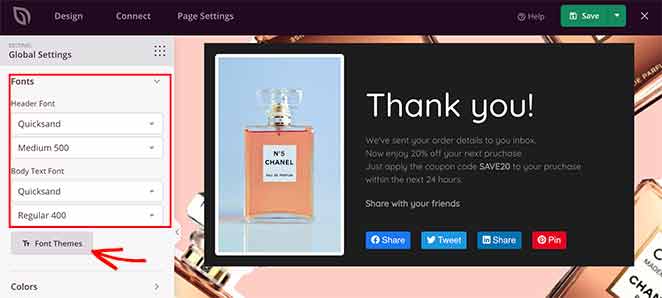 Alternatively, click the Font Themes button to see a variety of pre-made font combinations.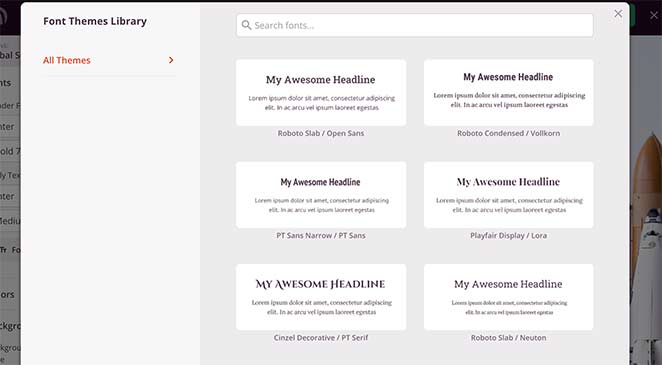 When you're happy with how your thank you page looks, click Save and move on to the next step.
Step 5: Connect Your Email List
SeedProd makes it super-easy to integrate your thank you page with various popular email marketing service providers. That way, you can automatically add users to your email list. It also lets you connect to Google Analytics to track your page performance and Zapier so you can link your page to thousands of third-party applications.
To integrate your favorite email marketing service, click the Connect tab at the top of the page. This reveals an overview of all the different services you can connect to in SeedProd.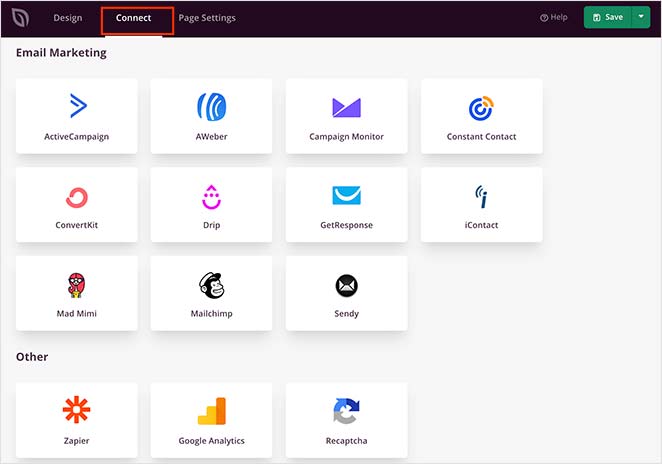 Next, find your preferred service in the list and click the Connect New Account button. Then follow the on-screen prompts to authorize your connection.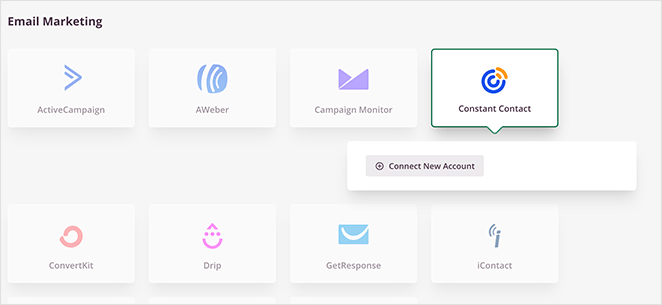 To see the full instructions for integrating specific email providers, see the SeedProd integration documentation.
Step 6: Configure Your Thank You Page Settings
The next step is to configure your thank you page settings. Click the Page Settings tab at the top of your screen. Here you will see several sections, which include General, SEO, Analytics, and Scripts.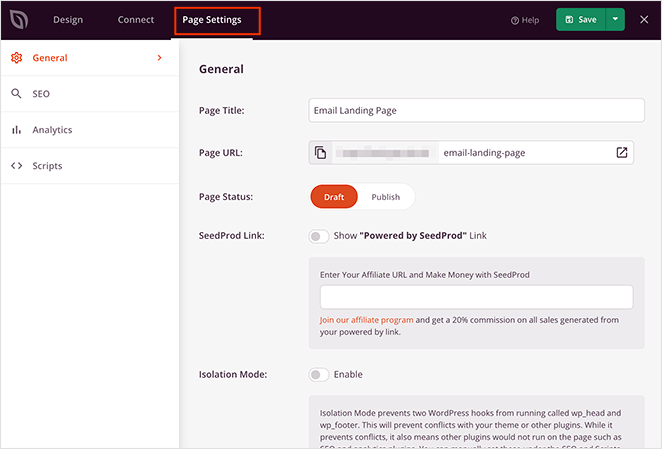 In the General settings, you can change your thank you page name, URL, and status. You can also enable Isolation Mode to prevent any WordPress theme or plugin conflicts.
The Analytics and SEO sections offer a shortcut to configuring your thank you page with tools like All in One SEO and MonsterInsights to monitor and improve your page performance.
In the Scripts section, you can enter custom scripts to your header, body, and footer sections, such as your Facebook tracking pixel, etc.
When you've finished with your thank you page settings, click the Save button.
Step 7: Publish Your Thank You Page in WordPress
Now that you've made your thank you page and customized it to suit your brand, it's time to make it live on your WordPress website. However, before we do that, let's make sure your thank you page is mobile-responsive.
To preview your page on different devices with SeedProd, click the Mobile Preview icon in the bottom-left area of your screen.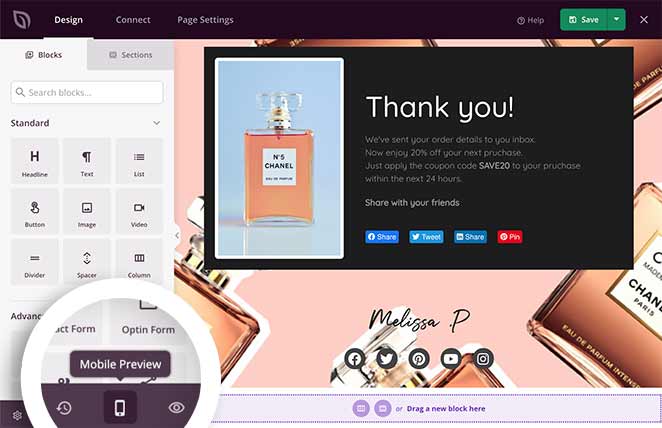 If anything doesn't look quite right, you can edit the mobile preview in real-time, just like the desktop version of your page.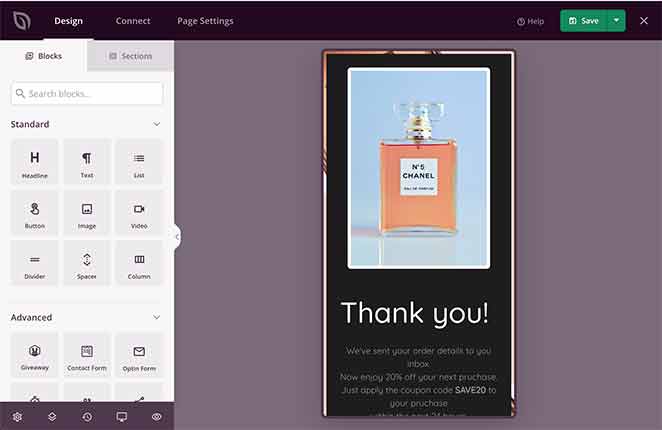 To switch back to the desktop view, click the preview icon once more.
When you're happy with how everything looks, click the downwards arrow next to the Save button and click Publish.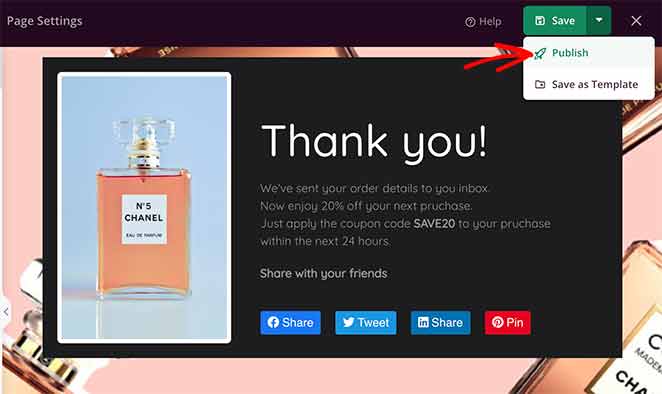 You'll then see a success message from SeedProd, notifying you that your page is live.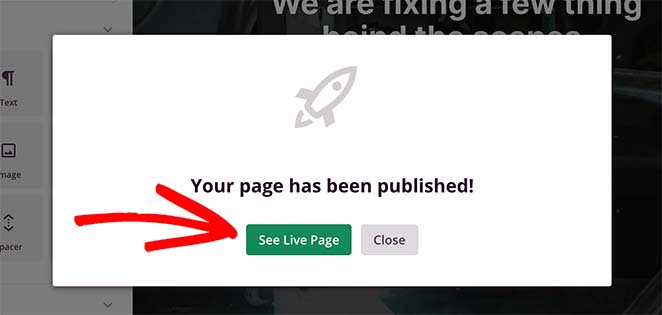 Click the See Live Page button to view your new WordPress thank you page.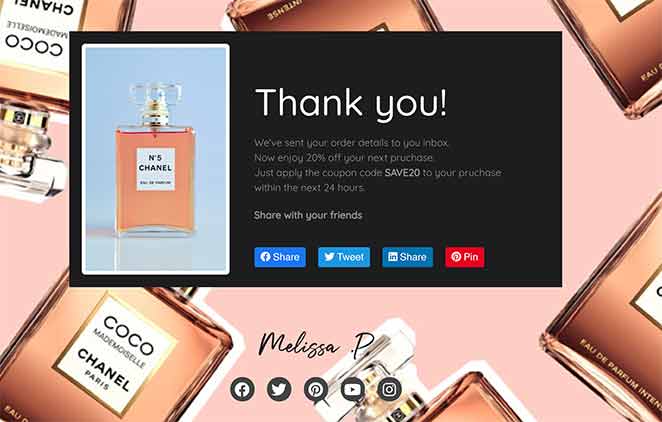 More Ways to Set Up a WordPress Thank You Page
1. Set Up a Thank You Page After Form Submission
If you'd like people to automatically head to your thank you page after form submissions, we have the ideal solution. By using WPForms as your contact form plugin, you can redirect users to your thank you page after they click submit.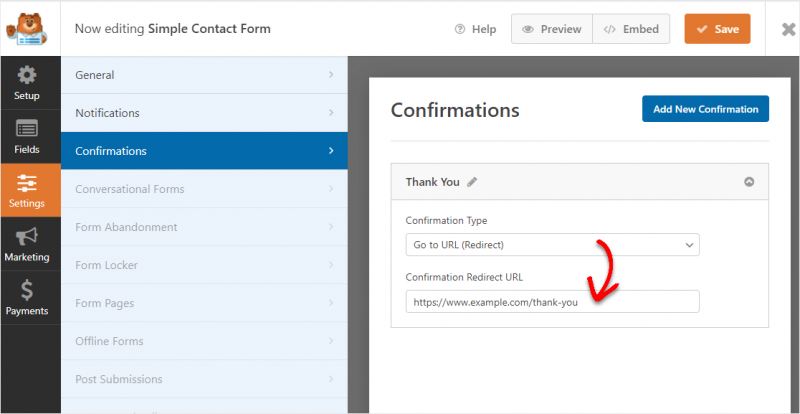 It's a fantastic feature that's super easy to set up with a couple of clicks. Just follow this step-by-step guide: how to redirect users after a form submission.
2. Show a Thank You Page After Purchase in WooCommerce
If you are running an online store using WooCommerce, you have the option to display a WooCommerce thank you page once a customer has made a purchase.
By default, WooCommerce provides its own thank you page. However, this default page may not be optimized for conversions. To maximize your sales, you can replace this default thank you page with your own custom page.
With a custom thank you page, you can do a lot more than just thank your customers for their purchases. For instance, you can use this page to showcase upsell products, offer exclusive discounts, highlight the latest promotional campaigns, and much more.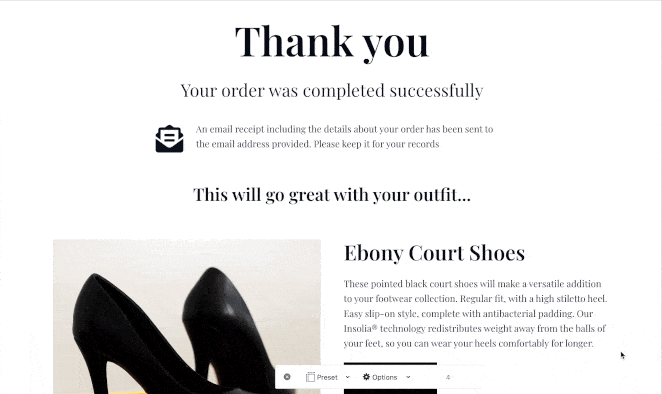 To help you get started, here's a comprehensive guide that walks you through creating a custom thank you page in WooCommerce step-by-step.
3. Create a Thank You Page for Your Membership Site
It's just as easy to show a thank you page on your membership site after a user buys a subscription or enrolls in your online course. With MemberPress, the best WordPress membership plugin, you can create a membership site to sell exclusive content like subscriptions, online courses, digital downloads, and more.
To learn how, follow our guide on how to create a membership site in WordPress.
After setting up your various memberships, navigate to MemberPress » Settings from your WordPress dashboard and select the 'Pages' tab.
Then click the 'MemberPress Thank You Page' dropdown menu and select your custom thank you page.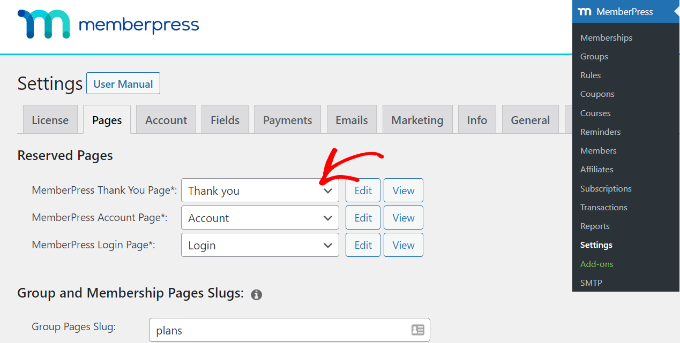 Once you save your changes, customers will see your thank you page whenever they register or subscribe.
4. Display Custom Thank You After Leaving a Comment
Another scenario where you can show a custom thank you page is after users leave a comment on your website. This is the perfect chance to share popular content they may also like to read.
To do this, install and activate the Yoast Comment Hacks plugin and go to Settings » Comment Hacks from your WordPress dashboard.
From there, find the 'Redirect first-time commenters' heading and click the 'Redirect to' dropdown menu. In this menu, you can choose your custom thank you page.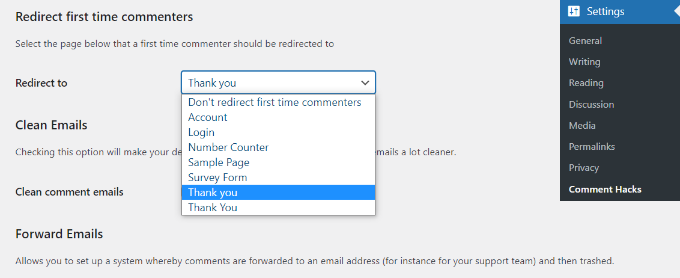 After saving the settings, your thank you page will appear whenever a visitor leaves a comment for the first time.
Testing Your Thank You Page
After you've finished setting up your Thank You page, don't be too quick to go live. Before making your page accessible to users, it's crucial to perform rigorous testing to ensure it's working as expected and providing the best possible user experience.
Here are some areas to test:
Responsiveness: Test your layout on different devices by shrinking and expanding your browser window to simulate different screen sizes.
Links: Check each link on your Thank You page to ensure it leads to the correct destination. This includes CTAs, navigation buttons, links in images, text, and even your logo.
Page speed: Factors affecting page load speed can include large image files, too many plugins, or inefficient coding. Tools like Google's PageSpeed Insights can help test your page load speed and give you insights on how to improve it.
Messaging: Consistent brand messaging builds trust and familiarity with your users. So, ensure that the language, tone, and message on your Thank You page align with your overall brand messaging.
It's a good idea to periodically review and test your Thank You page, especially when you make any updates or changes to your website. Regular testing ensures your page continues to perform optimally and offers the best experience to your users.
WordPress Thank You Page FAQs
How do I track conversions on my thank you page in WordPress?
To track conversions on your WordPress thank you page, you can use a web analytics tool like Google Analytics. Set up a goal in Google Analytics that tracks visits to your thank you page, and then you can monitor conversions and track performance over time.
Are there any best practices for creating a WordPress thank you page?
Yes, some best practices for creating a thank you page include expressing gratitude, providing the next steps or further information, and adding a call to action. You should also ensure that the page is visually appealing and matches your brand style.
How can I make sure my thank you page is SEO-friendly?
To ensure your thank you page is SEO-friendly, you can include relevant keywords and phrases in the page title, meta description, and content. You should also ensure the page is easy to navigate and has a clear hierarchy of information. Additionally, including links to other relevant pages on your site can help improve the page's SEO.
And that's it!
We hope this article helped you learn how to set up a thank you page in WordPress.
Building high-converting landing pages is easy with SeedProd. With its powerful drag-and-drop builder, gorgeous landing page templates, and bloat-free code, you have all the tools you need to grow your business fast.
You might also like these landing page best practices for tips on getting started.
Thanks for reading. Please follow us on YouTube, Twitter, and Facebook for more helpful content to grow your business.