Are you looking for a good Elementor vs. Divi vs. SeedProd comparison?
You can turn simple website pages into high-converting WordPress landing pages with the right page builder. And as a result, you can grow your email list and increase your business revenue.
But which page builder is the best?
This article will compare 3 popular landing page builders and see which comes out on top.
What Is a WordPress Page Builder?
A WordPress page builder is a WordPress plugin for making professional landing pages without hiring a developer. You can use them to create almost any type of landing page, including:
Thank you pages
Webinar registration pages
Sign up pages and more
The most popular WordPress page builders have drag-and-drop functionality. This allows you to build your page visually with blocks and modules instead of shortcodes and custom HTML.
Some page builders let you construct pages from your WordPress site's admin, your website backend. However, the best solutions allow you to do so visually. That means you can see your real-time changes as you make them.
The most popular WordPress landing page builders come with various page elements for building out your pages, such as:
Social media profile buttons
Countdown timers
Email optin forms to grow your subscribers
Testimonial widgets
Start ratings
And much more.
You can also usually choose from several pre-made landing page templates and themes to give you a head start in the design process. Almost all page builder plugins integrate with popular email marketing services to grow and manage your email list.
What to Look for In a WordPress Page Builder
When choosing the best drag-and-drop WordPress page builder, here are a few things you should look out for:
Ease of Use: A page builder should be easy and user-friendly. Drag and drop functionality is a must-have feature to look for as it allows you to move page elements around with your mouse.
Pre-made templates: Templates provide the basic design and structure of pages, so you won't need to start from scratch. Look for a page builder with different templates designed for specific types of landing pages.
Responsive design: Your landing pages should be mobile-friendly and adapt to different mobile devices. Look for a page builder plugin with responsive options and the ability to preview and edit pages in various screen sizes.
Customization: You'll want a page builder with plenty of options to customize your pages to suit your business needs. You should be able to change colors, fonts, backgrounds, and more so that the page represents your brand.
Speed: Your website's speed is essential for your click-through rates and how you rank in search engines like Google. Choose a page builder that's bloat-free and optimized for speed.
Affordability: You won't want to spend much money building your landing pages, but choosing an option with all the features you need is crucial. Look for a page builder that offers essential features at a reasonable price.
Now that you know what a page builder is and which features to watch out for, let's compare 3 of the most popular page builders.
Features: Elementor vs Divi vs SeedProd
First, let's look at the different features available in the 3 top page builders for WordPress; Elementor, Divi, and SeedProd.
SeedProd Features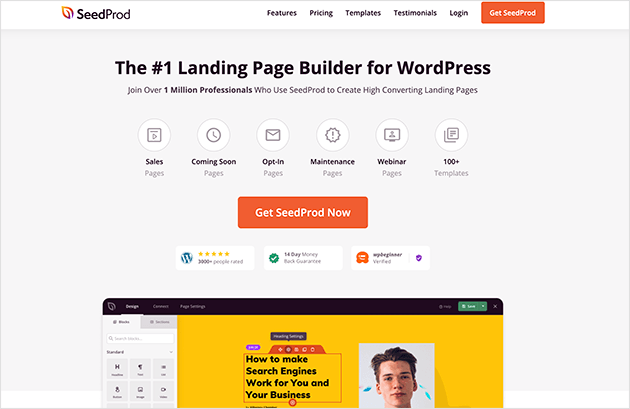 SeedProd is a powerful WordPress theme builder and landing page plugin. It focuses on providing all the essential features you need to create beautiful WordPress themes and pages without writing code or hiring a developer.
SeedProd has a free version that lets you build specific landing pages, such as:
Sales pages
Squeeze pages
And more
The free version also offers various landing page templates to help you get started quickly. And you can use the visual drag-and-drop builder to customize your page in real-time, complete with inline editing.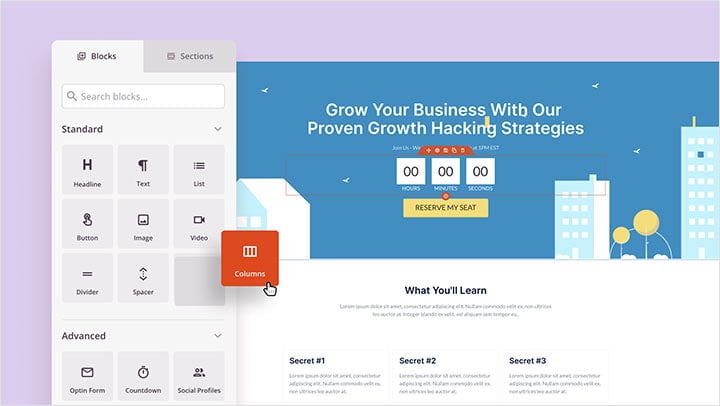 SeedProd's standard page blocks are included in the free version, including headline, text, image, button, video, divider, spacer, and column blocks.
You can also access the advanced giveaway and contact form blocks for free so that users can get in touch, and you can run a viral giveaway right on your landing page.
You can put your website in maintenance mode or enable a coming soon page with SeedProd at zero cost.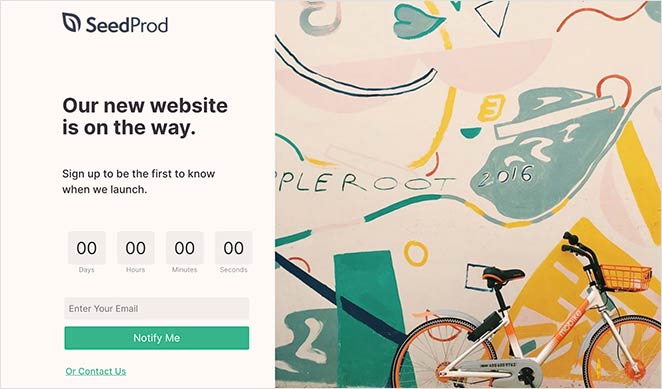 The paid version of SeedProd has everything from the free version and the following features:
Drag-and-drop WordPress theme builder
Responsive WordPress theme templates
Pre-made page layout sections including Hero, FAQ, CTA, Header, Footer, and Features sections
Premium email integrations, including Drip, Constant Contact, GetResponse, Mailchimp, etc
Spam protection with Recaptcha
Powerful Access Controls to limit who can see your page while under construction
Landing page-specific content blocks, including optin forms, login forms, countdown timers, star ratings, social profiles, social sharing, progress bars, etc
Domain mapping so you can point landing pages to different domain names other than your main website
Built-in search engine optimization (SEO) and Google Analytics settings for your favorite WordPress plugins
Compatibility with all WordPress themes and WooCommerce Integration
Instead of having all the features you can imagine, SeedProd focuses on ensuring you have everything you need to create themes and high-converting landing pages easily in WordPress.
Related: Best Free One Page Website Builders
Elementor Features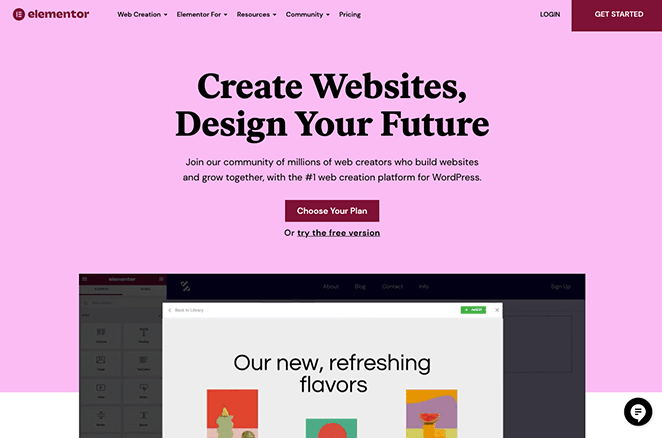 Elementor is a popular WordPress website builder with all you need for great-looking websites. It's designed as an all-in-one web design solution to control every aspect of your website all in one place.
The free version of Elementor is a good choice if all you want is to make simple page edits. Whereas Elementor Pro grants access to the following features:
Full website design kits
300+ premade Elementor templates
50+ widgets and page modules
Drag and drop page editor
Design customization
Visual editor
Inline editing
Form Builder
WooCommerce eCommerce builder
Popup Builder
Responsive frontend editing
Popular marketing integrations
Many 3rd party add-ons
As you can see, Elementor is designed to be a complete website solution all in one powerful package.
Related: Elementor vs. WPBakery vs. SeedProd: Which Is Best?
Divi Features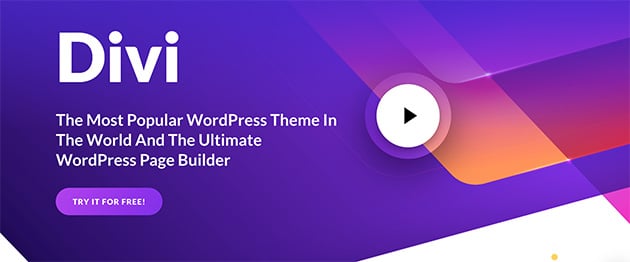 Compared to Elementor, Divi is both a WordPress theme and a page builder created by the Elegant Themes team. While the page builder comes bundled with the Divi theme, you can still use it as a standalone builder.
Divi doesn't currently offer a free version of the plugin, but you can try a demo on the website to see how it works.
With Divi, you can access these premium features:
Drag and drop page builder
Visual page editor
Divi WordPress theme
Modules and page elements
Design customization tools
Divi landing page templates
100+ website layout packs
Inline editing
Responsive Editing
Email marketing integration
Contact form building
Built-in split testing
WooCommerce integrations
Theme building
Like Elementor, Divi is a complete website solution for business owners who wish to control every aspect of their website design.
Check out our Divi review for more details.
Ease of Use: Elementor vs Divi vs SeedProd
Now that we've explored each page builder plugin's features, it's time to look at how easy they are to use.
We're using the Pro versions of all 3 plugins and the Twenty Twenty WordPress theme for this comparison.
SeedProd Ease of Use
Creating a high-converting landing page with SeedProd is easy with its visual user interface. First, download SeedProd's WordPress page builder plugin, then follow this step-by-step guide to install a WordPress plugin.
Upon installing and activating the plugin, click the SeedProd icon in your WordPress admin area to view the SeedProd landing page dashboard.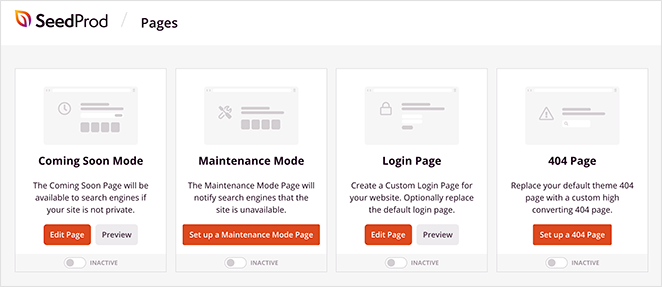 You can create and activate a coming soon page, maintenance mode page, 404 pages, and login page on this page and turn each mode on and off with a single click.
Beneath that section, you can click the Add New Landing Page Button to build your first page.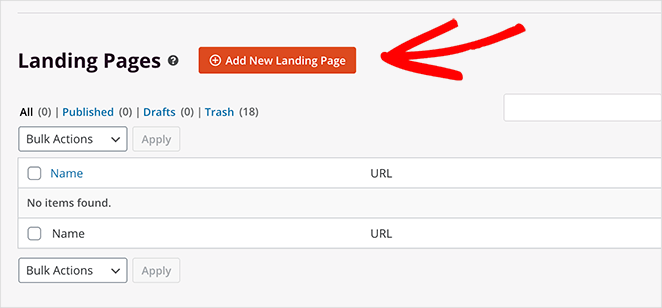 Immediately after clicking the button, you'll see the SeedProd landing page template library. The different templates are categorized by page type, like sales, webinar, lead squeeze, thank you, login, etc.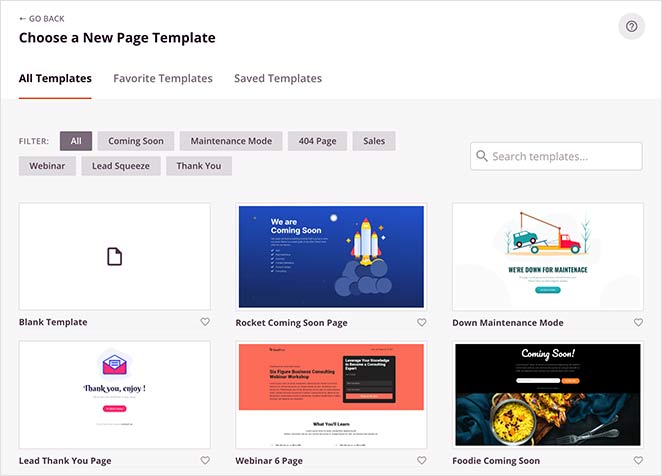 Once you've found a template you like, hover your mouse over the thumbnail and click the tick icon. You can then give your page a name and URL and launch it in the drag-and-drop page builder.
SeedProd's visual page builder is the most straightforward in this comparison. The design panel is on the left-hand side of the screen, with a live page preview on the right.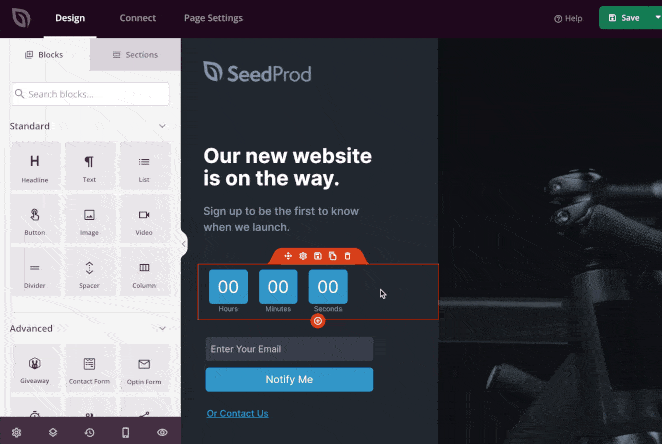 Instead of having a massive variety of options, SeedProd's landing page blocks are divided between Standard and Advanced blocks.
The Standard section is devoted to the most widely used page elements, such as image blocks, text, videos, buttons, etc.
In contrast, the Advanced section is where you'll find the landing page-focused blocks. These blocks are specifically designed to help your lead generation efforts, which we'll explain in more detail later.
Clicking any content blocks on your page shows the different customization and design options. These are organized by Content, Template, and Advanced.
The Content tab allows you to control the information included in each page element, while the Template tab has several pre-made styles you can use with a single click.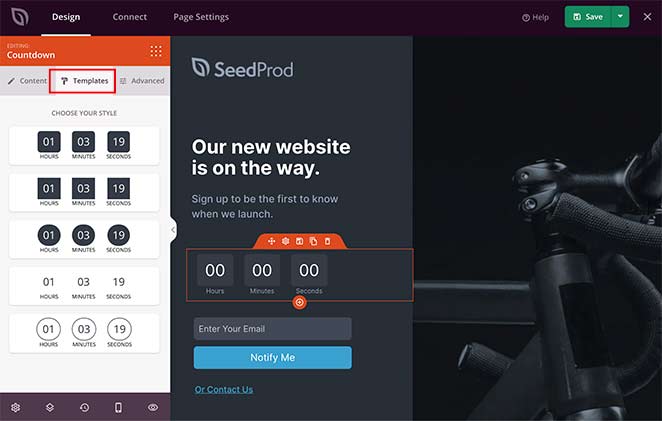 In the Advanced tab, you can change the appearance of borders, individual colors, spacing, and more.
For all the steps on creating a high-converting landing page with SeedProd, check out this guide.
Integrating your SeedProd landing page to an email marketing service is as simple as clicking the Connect tab and choosing an option from the list.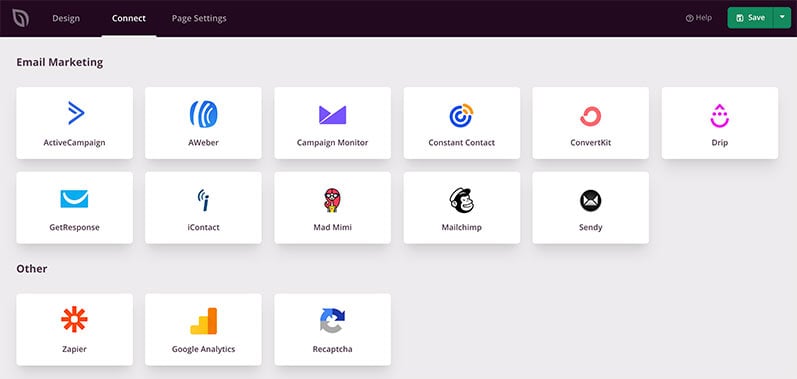 Once the provider is linked to SeedProd, anyone who uses your page's sign-up form is automatically added to your list.
If you're more interested in SeedProd's theme builder, here's a guide on how to create a custom WordPress theme with SeedProd.
Elementor Ease of Use
Creating a new page in WordPress with Elementor is relatively straightforward. The different page elements are arranged on the left-hand side of your screen, while a page preview is visible on the right. Moving elements around on the page is as simple as pointing, clicking, and dragging.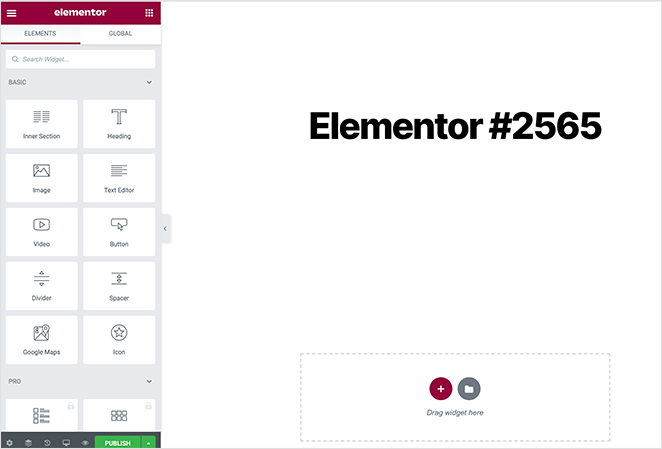 Clicking the folder icon in the page editor reveals the template library where you can choose a pre-made design and add it to your page.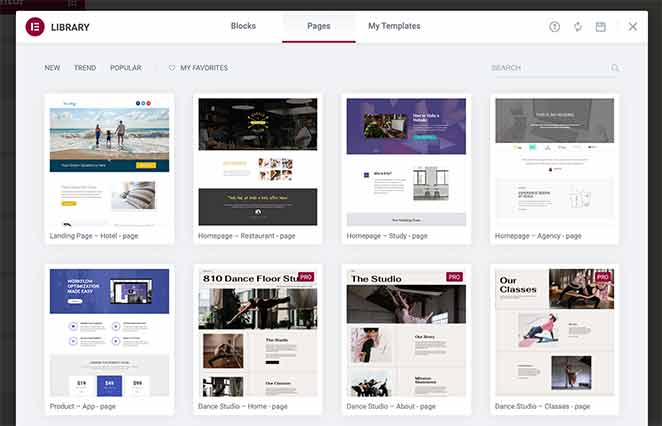 After picking a template from Elementor thems, it might not look right at first. To solve that, you'll need to change your page attributes in the standard WordPress editor to use the Elementor Full-Width template. After that, it should show in the editor, just like the template preview.
There's a massive list of different page modules included in Elementor, divided into categories. This can be overwhelming at first glance; however, you can expand or hide different categories to make the module panel less cluttered.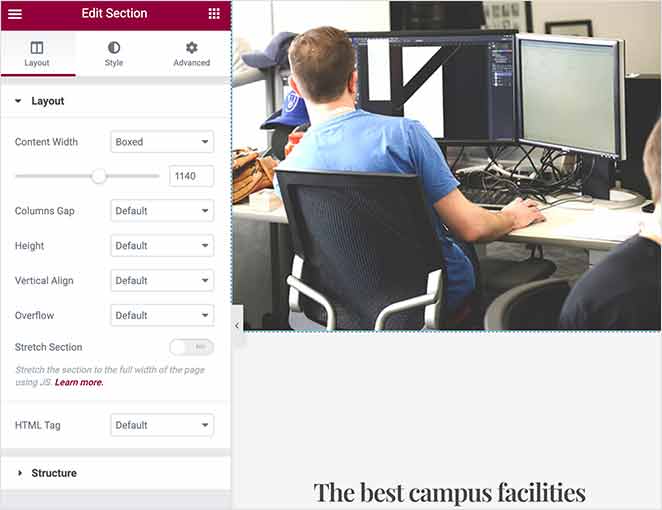 Clicking any element on your page opens several options in the left-hand panel. This is where you can choose different style options, content, motion effects, and more.
It isn't immediately clear how you can connect Elementor to your email marketing service of choice. After adding a form to your page, you can choose an integration from a drop-down menu.
Elementor offers easy-to-use settings and has more than enough design options to create beautifully customized websites. Check out our Elementor Review for a detailed idea of how it works.
Divi Ease of Use
When creating a new page with Divi, you're instantly asked if you'd like to start from scratch or choose a pre-made layout. The layouts come in packs with several themed templates made for different types of pages.
This is an excellent choice for creating a complete website design, including a homepage, an about page, and other web pages.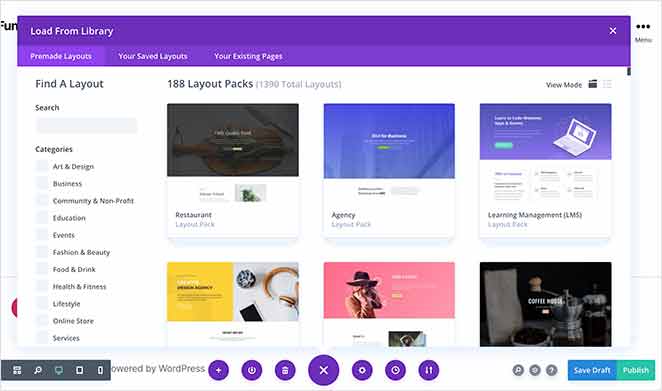 The visual page builder doesn't have a left-hand sidebar like Elementor. Instead, a small popup appears where you can search for and add new page elements.
Once the element is added to your page, another small window appears where you can make your customizations.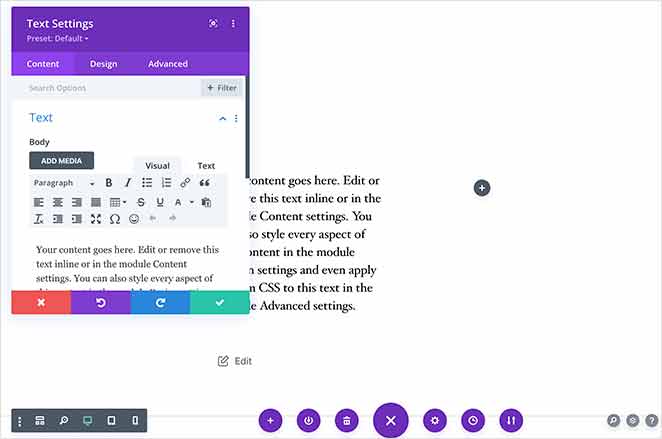 The window can be resized and moved anywhere on the page. Inside that window are different tabs devoted to changing the content, design, and advanced settings, such as custom CSS styling and animations.
Integrating your email list with Divi is a little easier than Elementor. After adding an optin form to your page, you can choose a provider under the Email Account heading.
We found Divi's approach to customizing landing pages confusing for beginners. The customization panel was often in the way of the page design, making it difficult to navigate.
Customization Options: Elementor vs Divi vs SeedProd
All 3 of these page builders include modules and templates for customizing your site's functionality and design. Here is a breakdown of the different modules and customizations that each plugin offers.
SeedProd Customization Options
SeedProd offers over 25+ different website kit templates and 150+ landing page templates. You can also choose from over 20 color schemes or make your own from scratch.
Each website kit offers templates for multiple pages and sections, such as the homepage, a single blog post, a header, and a footer.
Yet where SeedProd differs from Divi and Elementor is it doesn't rely on your WordPress theme for its styling or functionality. It works independently from your theme, giving you complete control and flexibility over its appearance and design.
SeedProd offers modules, which they called WordPress Blocks, similar to Elementor with a few unique exceptions. Like Elementor, its standard blocks are included in the free version of SeedProd and allow you to create:
Headline
Text
List
Button
Image
Video
Divider
Spacer Columns

SeedProd's advanced WordPress blocks include but are not limited to:
Giveaway Block: Connect your landing page to a RafflePress giveaway and use viral online contests to promote your page.
Contact Form: Integrate with WPForms, the best contact form plugin, and show powerful WordPress forms on your landing page.
Login Form: Allow users to log in to WordPress from your landing page.
Optin Form Block: Show a customizable optin form and connect it to your favorite email marketing service to grow your list.
Countdown Timer: Create a sense of urgency and show users how long is left until your offer runs out.
Star Rating: Increase trust with your target audience by showing how other users rate your products or services.
WooCommerce Block: Create a custom WooCommerce checkout page, shopping cart, product grids, and add-to-cart buttons.
Google Maps: Show your location with a customizable Google Maps block.
Facebook Blocks: Embed your Facebook page, posts, videos, events, and comments, and add a Facebook like button.
Pricing Table: Show click-worthy pricing tables with 2 call-to-action buttons to encourage people to buy.
Payment Button: Accept Stripe payments in WordPress without a full eCommerce store.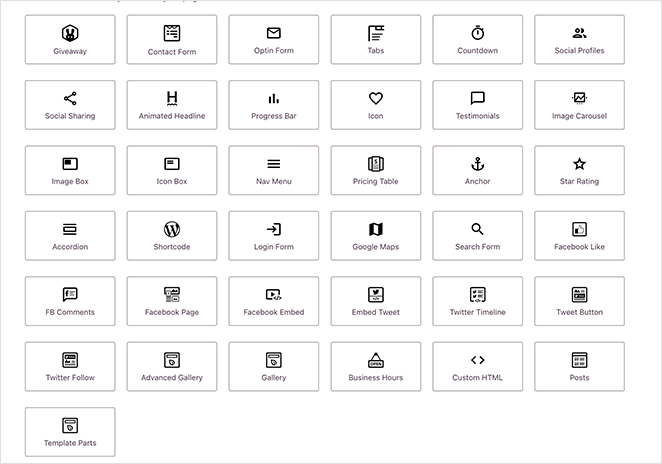 Additionally, there are WooCommerce blocks that help you build an eCommerce store without code. For example, you can create stunning product grids, add a shopping cart to your menu, and customize your product details.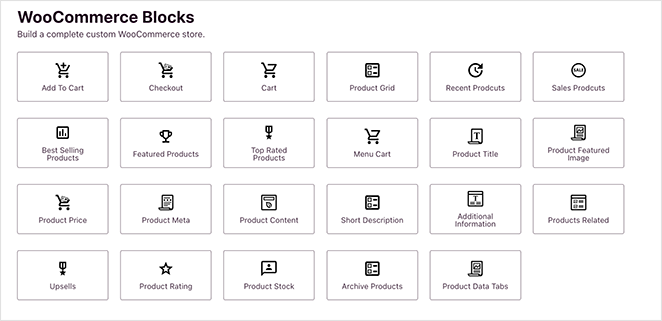 Similarly, you can find Template Tags that allow you to customize dynamic content on your WordPress site, such as your post content, featured image, site logo, post comments, and author box.
Lastly, are a series of native WordPress widget blocks that allow you to add widgets inside your WordPress pages.

Elementor Customization Options
Elementor comes with over 300 pre-made templates. You can choose a template, add your content, edit the styling, and completely change how it looks. In fact, you can control all aspects of your site's appearance with Elementor.
The plugin offers templates for many different business categories. For example, you can choose a template for an eCommerce store, travel blog, tourism site, fashion blog, education, non-for-profit company, and more.
You can also use several of Elementor's content modules for free with its Basic package. However, upgrading to Elementor Pro will unlock many more modules, including calls-to-action, nav menus, testimonials, and much more.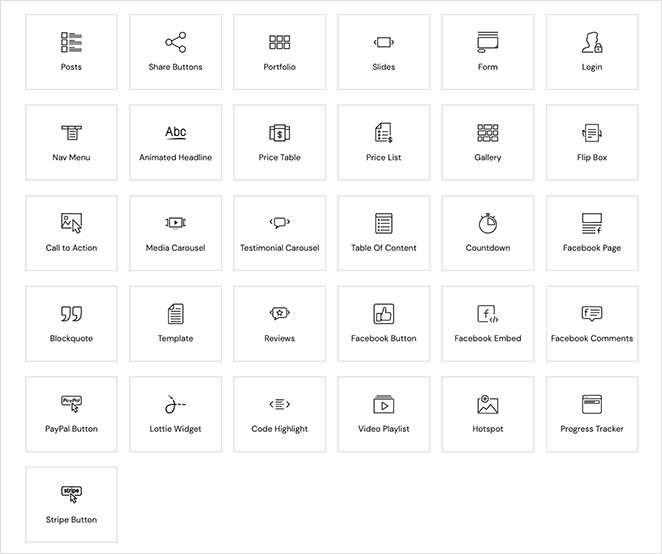 Additionally, Elementor offers Theme Elements like post titles, post excerpts, author boxes, and WooCommerce widgets for building your online store.
Moreover, Elementor offers advanced customization features. For example, you can use custom CSS to change the behavior and appearance of your site, add custom code, use your own fonts and icons, and more.
Divi Customization Options
Divi comes with over 100 website themes and over 800 landing page layouts.
You can choose a full website pack to design a complete WordPress website, which includes templates for different pages like a blog, about us, contact page, homepage, and more.
Unlike Elementor, Divi offers all of its modules in one package. There are native content elements like buttons, contact forms, and galleries.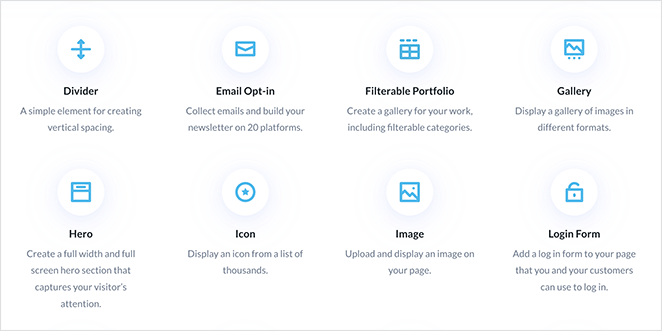 And like Elementor, Divi has native eCommerce elements for WooCommerce stores, including product descriptions, add-to-cart buttons, product meta, and more.
You can control how each element looks, change the fonts, text color, and borders and add filters and effects to enhance the appearance of any element. Alternatively, you can use custom CSS to edit any element.
Differences: Elementor vs Divi vs SeedProd
After looking at each plugin's main features and functionality, let's examine some key differences.
SeedProd Differences
SeedProd's standout feature is the different pages modes you can activate with a single click, including:
Coming Soon page
Maintenance page
404 page
WordPress login page
While both Elementor and Divi have coming soon and maintenance mode templates, SeedProd is the only one that has clearly defined modes you can activate as and when you need them.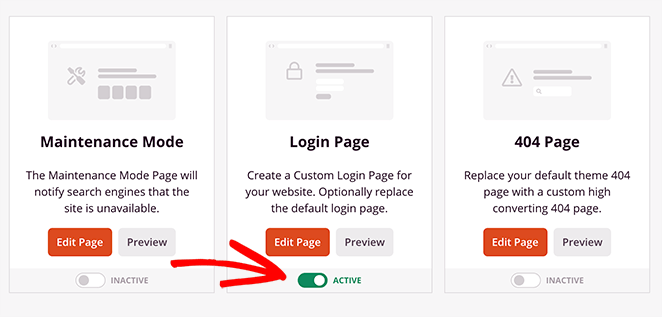 SeedProd also includes a drag-and-drop theme builder. But unlike Elementor and Divi, it works independently from typical WordPress themes.
As a result, you can create custom WordPress themes right inside your WordPress dashboard without touching any theme files.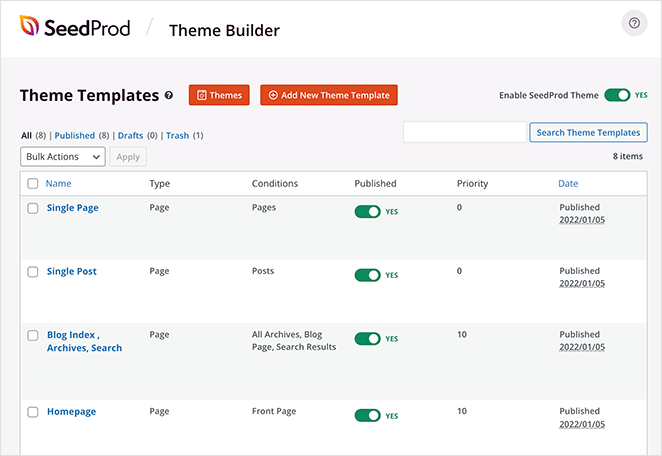 You can choose a premade starter theme or build each theme part individually, then customize them in the visual editor.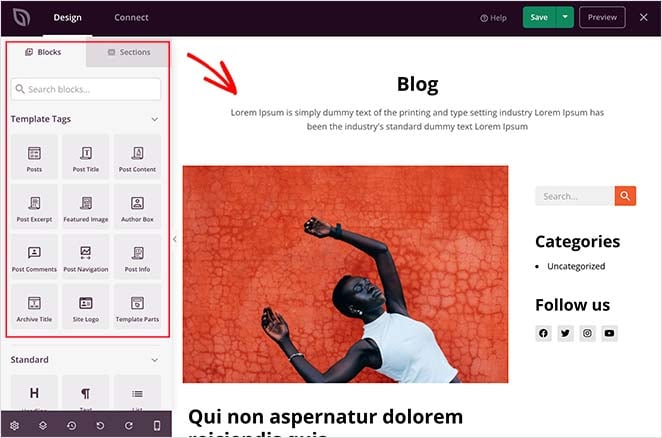 Everything is easy to navigate and straightforward, making it the perfect choice for beginners with zero technical or design experience.
Elementor Differences
One of the key things that stands out about Elementor is its built-in popup builder. You can use the same Elementor interface to create great-looking popups and display them anywhere on your website.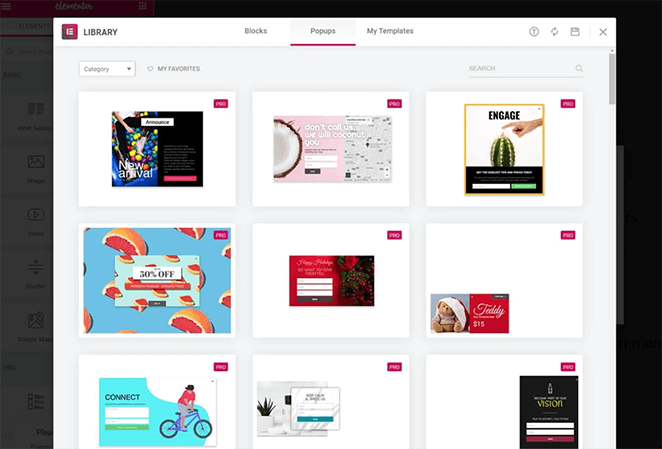 That said, Divi integrates with third-party plugins to add this functionality. And SeedProd works seamlessly with OptinMonster, the best lead generation, and popup builder.
The Elementor page builder also offers a free WordPress theme. The Elementor theme is called "Hello," It allows you to build websites without compatibility issues. SeedProd is theme agnostic, which means you can use it with any WordPress theme.
Divi Builder Differences
What sets Divi apart is that it comes as both a WordPress theme and a WordPress plugin. This ensures that your builder and theme are in perfect sync.
Divi also comes with built-in A/B split testing. While this isn't a feature everyone will use, it helps optimize your designs for conversions.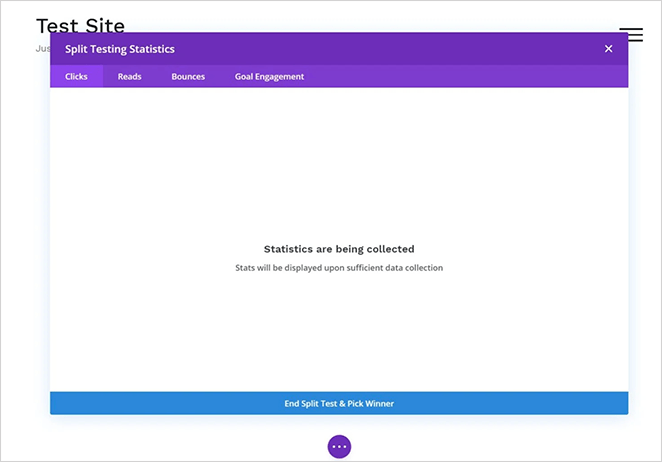 You can quickly conduct an a/b test by right-clicking on any Divi module to see how different variants perform.
Page Speed: Elementor vs Divi vs SeedProd
The speed of your landing page plays a crucial role in its performance, both in terms of how many leads and sales you get and how well it ranks in search engines. Even a slight delay in loading times can impact your search results and click-through rates.
We decided to test each page builder plugin to see how they fared with that in mind.
We created a simple landing page with a headline, image, and button for this test.
Here are the results:
| Plugin | Load Time | Requests | Page Size |
| --- | --- | --- | --- |
| Elementor | 1.14 s | 32 | 535.4 kb |
| Divi | 891 ms | 18 | 407.2 kb |
| SeedProd | 770 ms | 17 | 359.1 kb |
As you can see, the plugin with the most significant load time was Elementor, while SeedProd has the quickest load time, least requests, and the smallest page size overall.
However, when we ran the same test in Isolation Mode in SeedProd, which only loads what is needed to render the page, the page size shrank to 96.6 kb, with only 7 requests and a load time of 702 ms.
Moreover, RafflePress, the best WordPress giveaway plugin, has a website made entirely with SeedProd's theme builder. When we ran it through a speed performance test, it returned with a grade of A for overall page performance, proving SeedProd's fastness.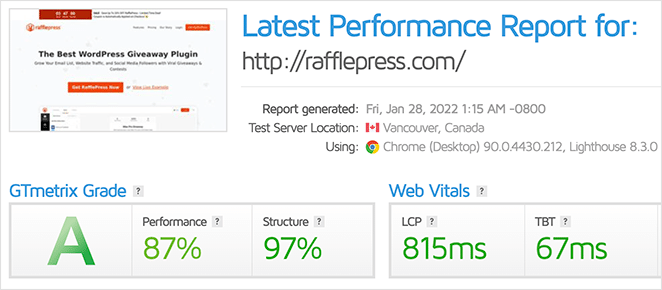 Support: Elementor vs Divi vs SeedProd
Now that we've looked at each page builder, it's time to see what support is available. Accessing quality help and advice can help you get up and running quickly and ensure you get the best results for your business.
SeedProd Support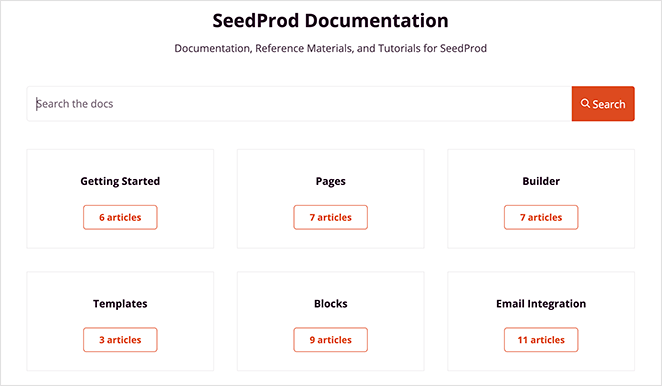 Users of SeedProd's page builder plugin can enjoy round-the-clock support from a team of WordPress experts via the ticketing system. There is also plenty of documentation detailing SeedProd's features, with step-by-step video tutorials to guide you through the design process.
The SeedProd blog is also packed with helpful guides and tutorials. This will help you get the most from the plugin.
Since SeedProd is part of the Awesome Motive family of WordPress products, users can access the WPBeginner Facebook Group, which boasts over 64,000 members for help and support.
Elementor Support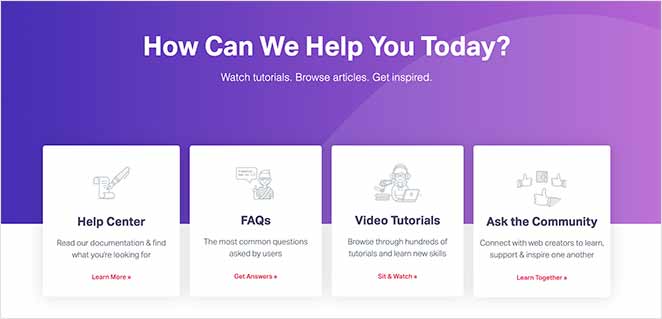 Elementor has various options available for users who need help and support. The help center has documentation on every aspect of their plugin, frequently asked questions, and video tutorials that walk you through using Elementor.
You can submit a support ticket for extra help, whereas Pro users can access premium support 24/7.
Elementor also has a Facebook and GitHub community where you can get your questions answered.
Divi Support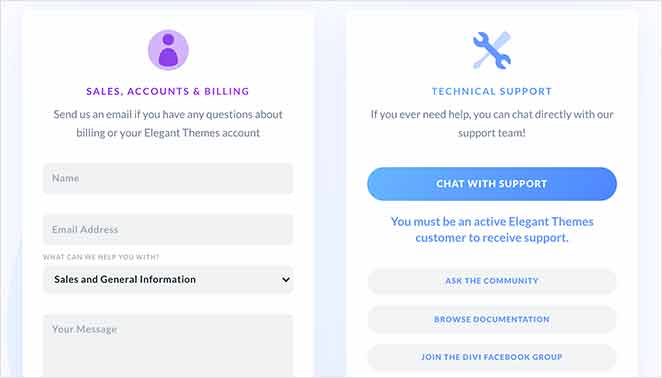 In comparison, the Divi builder has detailed documentation with step-by-step videos and a support forum where you can post your questions about the plugin. Divi also has a live chat option that allows users to chat with a support team member with any queries.
You can access the Divi Theme Users Facebook group if you want to speak to the Divi community.
Pricing: Elementor vs Divi vs SeedProd
With all the essentials covered, let's look at all 3 plugins' price points to see which option offers the best value.
SeedProd Pricing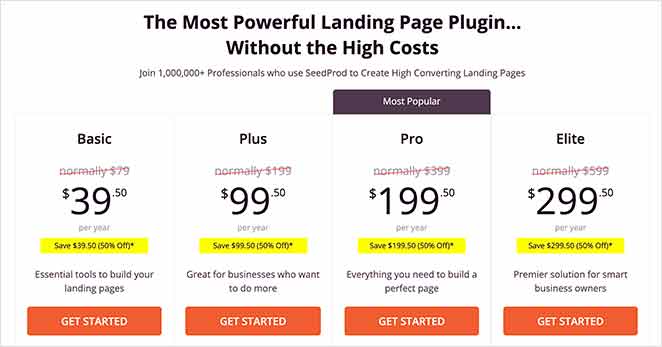 SeedProd offers a free version that includes all the landing page templates you'd need to get started.
Upgrading starts at just $39.50 per year for 1 website. The WordPress theme builder pricing starts from $159.60 per year for 5 sites. It also offers a 100% no-risk money-back guarantee for 14 days after purchase.
Elementor Pricing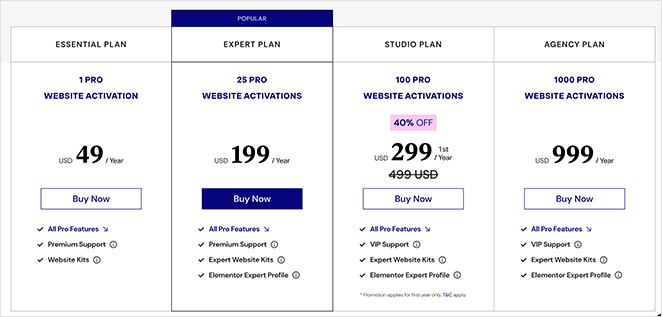 As mentioned earlier, Elementor has a free version you can try before upgrading.
After that, the pricing starts at $49 per year for a single site. The pricing then scales up depending on how many sites you wish to use. At the time of writing, Elementor doesn't offer a lifetime account and doesn't appear to offer an unlimited website pricing tier.
There is, however, a 30-day money-back guarantee.
Divi Pricing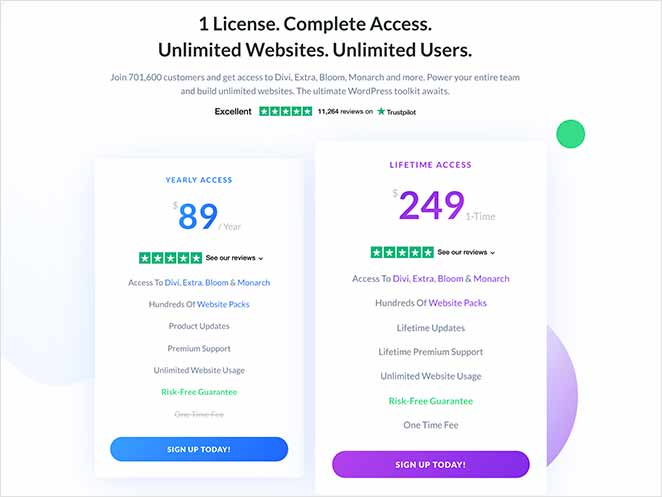 The Divi theme builder is part of a bundle of other Elegant Themes products, with yearly access pricing starting at $89. Alternatively, you can pay a one-time fee of $249 for the lifetime license and use it on unlimited sites. You'll also get Elegant Theme's Bloom email opt-in plugin and Monarch, its social media plugin.
Elementor vs Divi vs SeedProd: Which Is the Best?
Now that we've compared Elementor, Divi, and SeedProd, and looked at their features, which page builder is the best?
Our personal preference for the best WordPress page builder is SeedProd.
SeedProd is dedicated to perfecting the art of creating stunning WordPress themes and high-converting landing pages. Its visual builder is easy to use with its drag-and-drop interface and many customization options. It also doesn't include any unnecessary features that confuse the design process.
SeedProd integrates with the most popular email marketing services, and because the plugin is entirely bloat-free, it won't slow down your website.
So what are you waiting for?
FAQ
What Is Elementor?
Elementor is a drag-and-drop page builder plugin that replaces the front-end WordPress editor with the Elementor visual editor. It offers a limited free version and premium versions with 50+ widgets and several hundred templates.
What Is Divi?
Divi is a WordPress theme and a drag-and-drop page builder plugin from Elegant Themes. While the Divi Theme uses its drag-and-drop page builder, you can also use the standalone Divi page builder with other WordPress themes.
What Is SeedProd?
SeedProd is the fastest drag-and-drop landing page builder for WordPress, trusted by 1 million sites. It lets you create custom landing pages and WordPress themes without writing code. You can connect them with your CRM, collect subscribers, and grow your audience.
SeedProd has a limited free version and premium versions with 80+ WordPress Blocks, 180+ landing page templates, and 40+ pre-made website kits.
Is Elementor better than Divi?
It depends. Elementor has a free version, is easy to use, yet costs more than Divi for the best features. Whereas Divi has a steeper learning curve and doesn't offer a free version.
Does Elementor slow down your site?
Elementor adds extra CSS, JavaScript, and wrappers to your site. Couple this with optional extra Elementor plugins; it can make your site slower. But this largely depends on your website setup and any other themes and plugins you use.
That's it!
We hope you found his guide helpful.
You might also like this comparison of Divi vs. Beaver Builder vs. SeedProd and how to A/B split test landing pages with Google Optimize.
And if you liked this article, please follow us on Twitter and Facebook for more useful content to help grow your business.