Looking for an easy way to create great-looking WordPress pages? There are many plugins available that allow you to build custom pages in WordPress. Yet, the choice is overwhelming if you're new to page builders.
In this article, we compare the 3 top WordPress page builders – Divi vs Beaver Builder vs SeedProd – and see which drag-and-drop page builder is the best.
Before we start, what is a page builder plugin?
What Is a WordPress Page Builder?
A WordPress page builder is a plugin that allows you to create custom pages on your WordPress website. It typically includes a visual editor to make changes to your page in real time without coding.
With content modules, customization options, and WordPress page templates, you won't need a developer to create stunning pages for your website.
Many visual builders also let you build entire WordPress websites like Divi and Beaver Builder. Yet, others focus solely on creating high-converting landing pages, just like SeedProd.
How to Choose a WordPress Page Builder Plugin?
When picking a page builder plugin, you should look for the following powerful features:
Beginner Friendly
Landing page builders should be easy to use, no matter your skill level. Whether you're a beginner or an expert, you'll want a plugin that's a breeze to work with.
Choose a solution with a drag-and-drop interface. This lets you create pages and see changes in real-time before publishing.
Landing Page Templates
Quality page builders have a variety of professionally designed templates. This means you won't need to create a page from scratch.
Instead, you can choose a theme close to your desired design and customize it to suit your business needs.
Easy Customization Options
Getting your page looking the way you want shouldn't be hard. With the right drag-and-drop page builder, you'll have various customization options to tweak every element of your landing page.
Look for a solution with point-and-click customization options and ready-made content sections to save time and create the perfect design.
Email Integration
One of the main goals for any website is to collect leads from your target audience. If you can't integrate your page with your email marketing service, it's harder to build your email list.
Choose a page builder that integrates with the best email marketing providers, 3rd-party plugins, and WordPress widgets.
Mobile-Friendly Design
Mobile responsive websites are increasingly important nowadays. Not only does it make it easier for people to browse from mobile devices, but it can also impact your search engine rankings.
Any page builder you choose should adapt to multiple screen sizes. Bonus points if you can preview your page on mobile before publishing.
Divi vs Beaver Builder vs SeedProd
Now you know which features to look for, let's compare the top WordPress page builders: Divi vs Beaver Builder vs SeedProd. We'll compare the essential features mentioned above to see which WordPress builder is the best.
Page Builder Plugin Interface Comparison
Each page builder in this list has a drag-and-drop visual interface to create pages in real time. Let's look at the interface for each plugin to see which is the easiest to use.
Divi Builder Interface
The Divi builder's interface is minimal, with a full-screen layout. Before adding page elements, you have to click a plus icon to add a new row. After, you can click inside the row to see a list of modules that you can insert with a single click.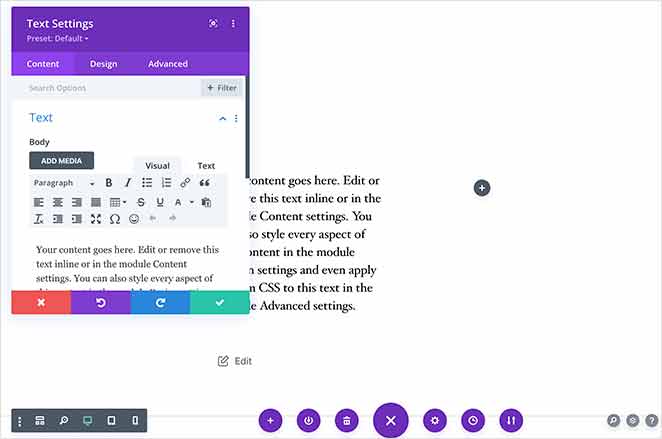 Once you've inserted a new module, a popup appears with options to edit the content, design, and advanced customization settings.
Beaver Builder Interface
Beaver Builder's interface is similar to Divi's. When you create a new page, a popup appears on the right-hand side, where you can drag and drop content modules onto the page.

After inserting a module, a different popup appears to enter custom content and edit the style.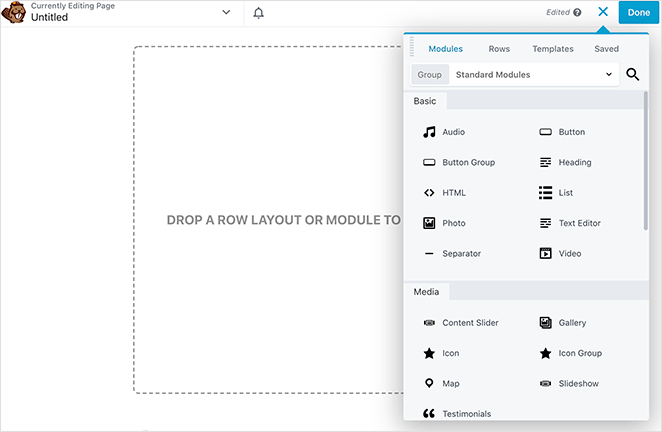 Beaver Builder differs because it adds new rows and columns to your page automatically, saving you from creating them individually.
You can learn more about this plugin in our Beaver Builder review.
SeedProd Interface
The SeedProd page builder interface has a slightly different layout. It has a sidebar on the left to drag and drop different page blocks and a live preview on the right to see your changes in real time.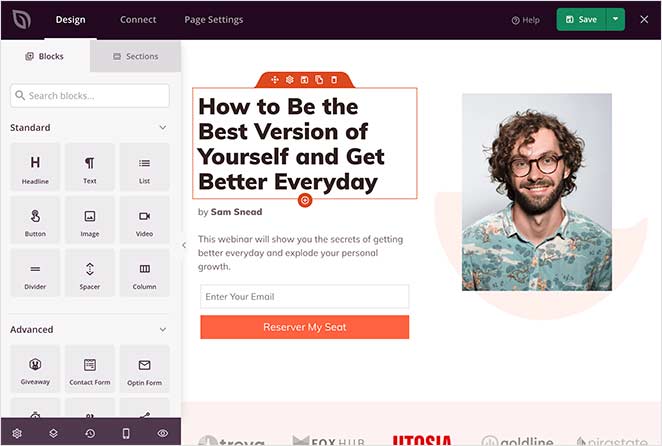 Unlike Divi and Beaver Builder, clicking any block on your page shows the customization options on the left-hand side. This allows a clean preview of how your page looks without popups concealing your page design.
Content Elements and Modules Comparison
The best WordPress page builders make it easy to build pages with customizable content modules. They're the building blocks of your page and allow you to create pages freely without designing and coding each area from scratch.
Many page builder plugins have a long list of modules that include basic design elements like text, headings, images, and buttons. They also include more specialized modules like contact forms, subscription forms, blog post lists, and more.
Below we'll look at the key content elements and modules offered by Divi, Beaver Builder, and SeedProd.
Divi Builder Page Elements
The Divi builder has all the essential content modules you need to create functional WordPress pages. The more advanced modules include:
Blog posts
Filterable portfolios
Galleries
Post sliders
Circle counters
And more.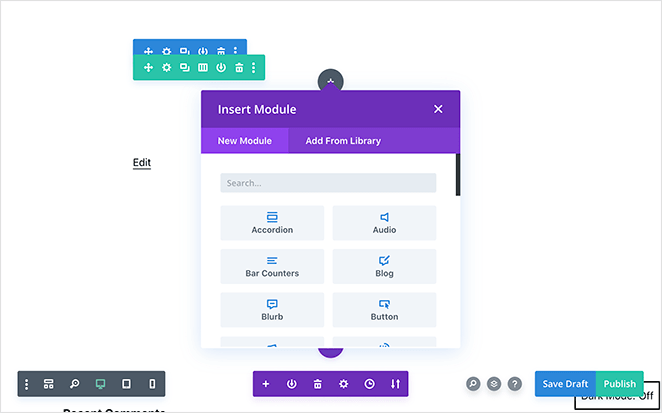 These modules are ideal if you want to create a full WordPress website with Divi's theme builder.
Yet, if you only want to build a landing page, there are many features you simply won't use. It also lacks social sharing buttons, which are crucial for raising brand awareness.
Beaver Builder Modules
In Beaver Builder, you can add text, images, videos, lists, and more with the basic page modules.
The advanced content modules include:
Social share buttons
Contact forms
Testimonials
Recent posts
Subscribe forms
Number counters
Countdown clocks
Post carousels
Galleries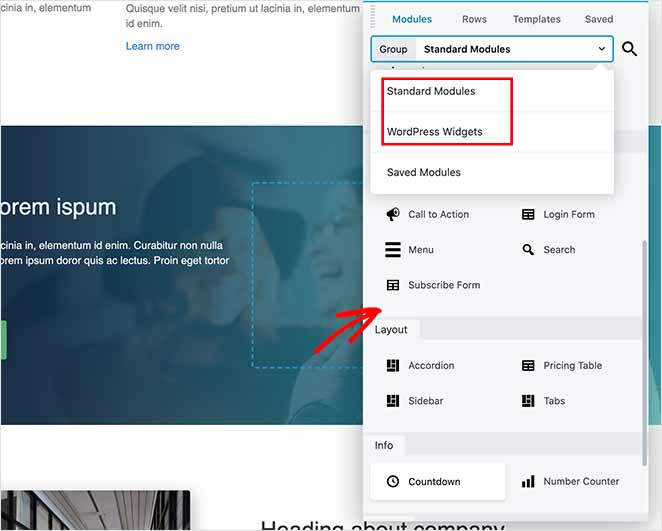 You can also insert various WordPress widgets from other WordPress plugins, like calendars, audio players, and more.
Beaver Builder doesn't share many of the modules you get with Divi. For instance, it doesn't have a portfolio, social follow icons, team members, or native comments modules.
SeedProd Landing Page Blocks
Compared to Divi and Beaver Builder, SeedProd has the ideal balance of standard and specialized content modules, which they call content blocks. SeedProd's blocks center on creating both landing pages and WordPress themes easily without code.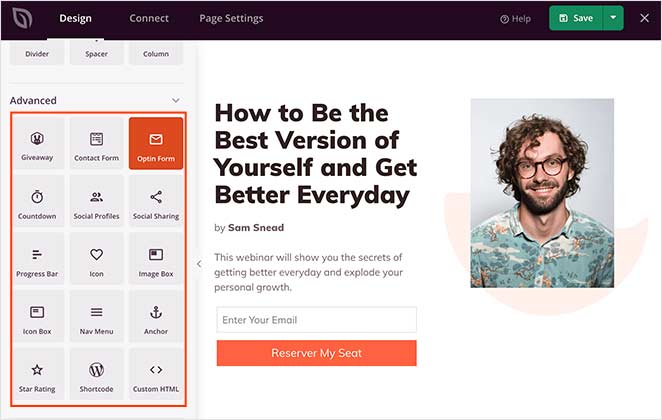 While the standard blocks help create your page's foundation, the advanced blocks focus on lead generation.
For instance, the Giveaway block lets you show a RafflePress giveaway on your landing page in a mobile-responsive widget. With a successful giveaway, you can drive targeted traffic to your page and boost your leads.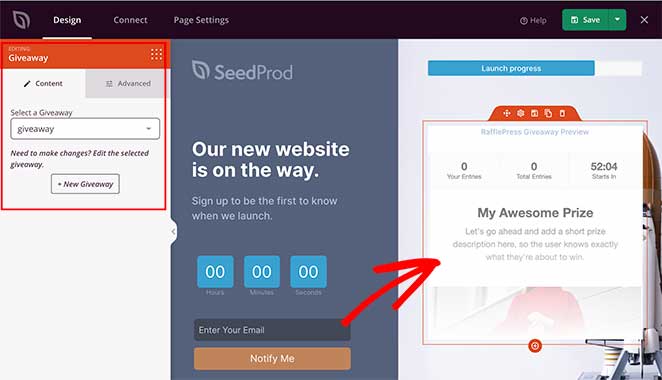 The Optin Form block allows you to show sign-up forms on your landing page and integrate it with your email marketing service to collect leads.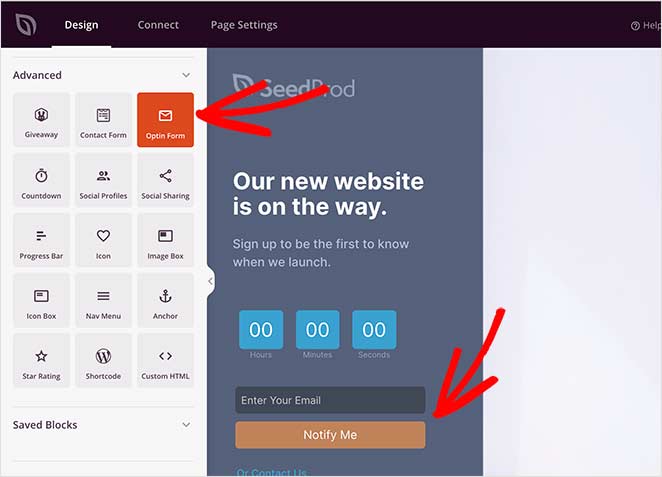 SeedProd's Contact Form block integrates seamlessly with WPForms, the best form builder plugin for WordPress, to provide visitors with an easy way to get in touch.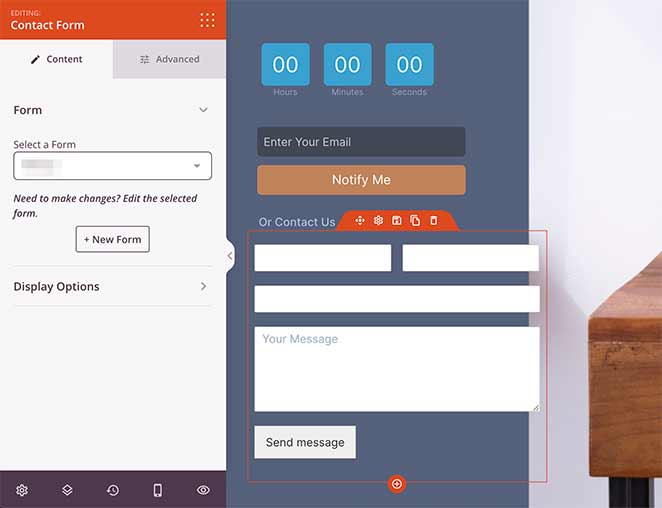 Other Advanced blocks include:
Social Profiles
Login form
Social Media Sharing
Progress Bar
Heart Icon
Image Box
Icon Box
Navigation Menu
Star Rating
WordPress Shortcode
Custom HTML
Because SeedProd is a powerful WordPress theme builder too, it includes blocks that center on displaying dynamic WordPress content, including:

Blog posts
Post titles
Archive titles
Featured image
Comments
Post info
And WordPress widgets you can use throughout your theme design.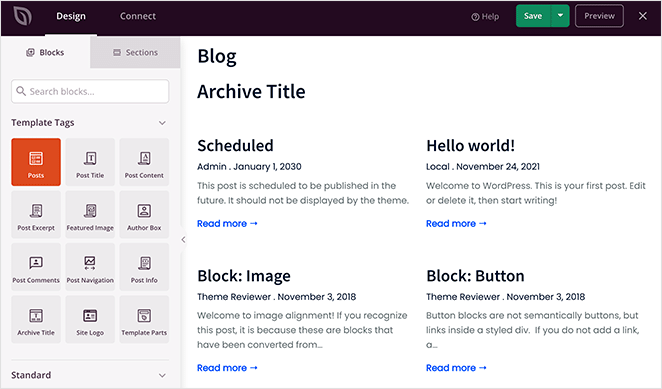 As well as blocks, SeedProd also has Sections. This allows you to add whole premade sections of content to your page with a single click. As a result, you won't need to build page layouts block by block.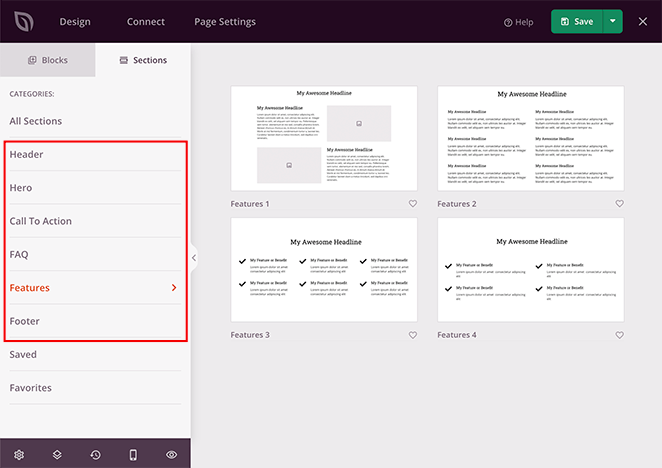 Advanced Styling Options Comparison
While content modules can help build your page, you'll want to customize your design to suit your branding. For this reason, page builders offer advanced styling controls, with some easier to navigate than others.
Here's a comparison of advanced styling in Divi vs Beaver Builder vs Seedprod.
Divi Builder Advanced Styling
The Divi builder's advanced styling options are available in the popup window for each module.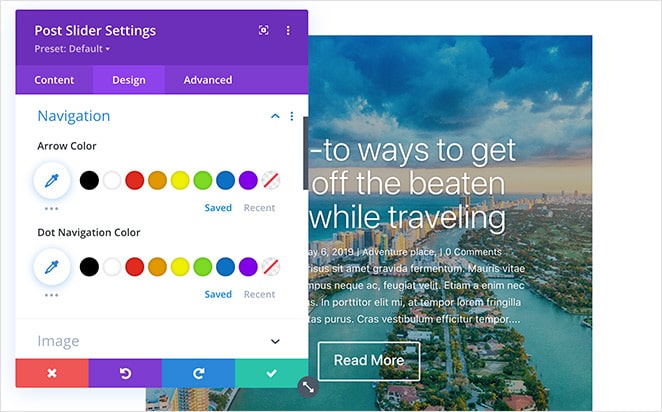 Inside the window are 3 different tabs with several settings you can edit, including:
Content – To control the content of the module, including arrows, images, etc.
Design – For various color and alignment settings.
Advanced – To add custom CSS, attributes, effects, and more.
If, at any point, you're confused by the settings, you can click the help icon to watch a video and read the documentation for each module.
Beaver Builder Advanced Styling
Like Divi, Beaver Builder's settings are available in a popup window when clicking a particular module.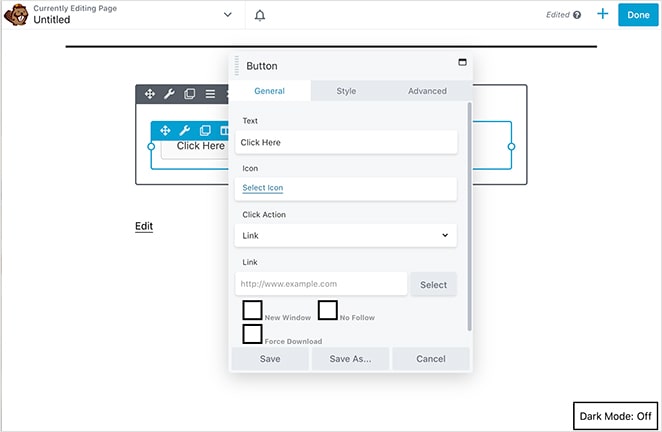 It has 3 different tabs, which include:
General – For basic content and functions.
Style – To choose individual colors, alignment, font sizes, etc.
Advanced – With margin control, mobile responsive settings, animations, user roles, CSS, and more.
It also lets you show modules based on if a user is logged in or out of your website.
SeedProd Advanced Styling
SeedProd's styling options are available on the page builder's left-hand side when you click a block on your page.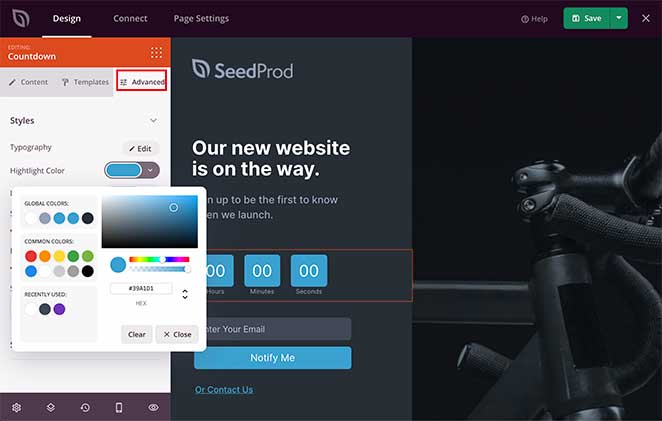 Like the other builders on this list, it also offers 3 different tabs:
Content – Add content and change the font size, alignment, and more.
Templates – Choose a premade design for that specific block and implement it with a single click.
Advanced – Change typography, spacing, shadows, border radius, colors, etc.
Where SeedProd's styling differs from Divi and Beaver Builder is with how easy it is to use. You can change styles with simple sliders and buttons, making them easy to adjust.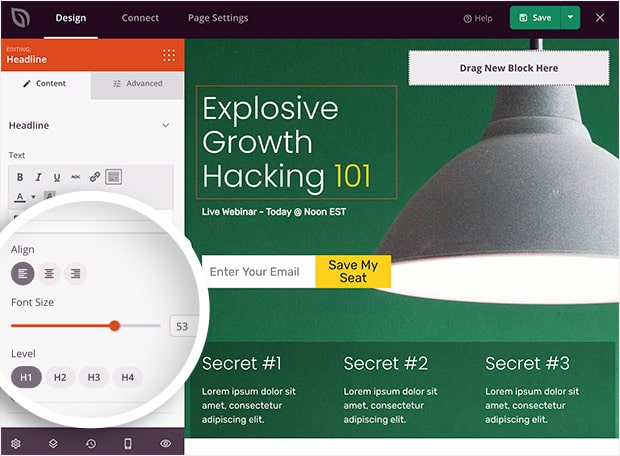 Each tab is also specific to that particular landing page block, so you won't find any irrelevant or confusing settings.
A fantastic feature that makes SeedProd stand out is the block templates. Almost every advanced page block has several premade templates, so you can switch styles with a single click.
Need a different call to action button? Click the Templates tab and pick one from the list.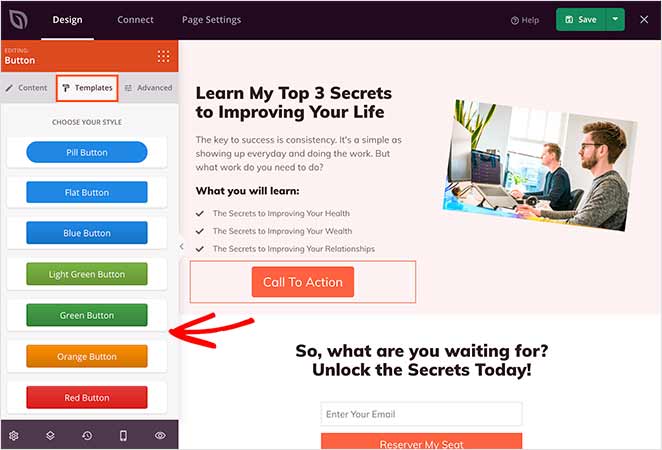 It's also possible to control the color, background, and font settings globally. Just click the Global Settings option to upload custom backgrounds and manage the finer details of your page.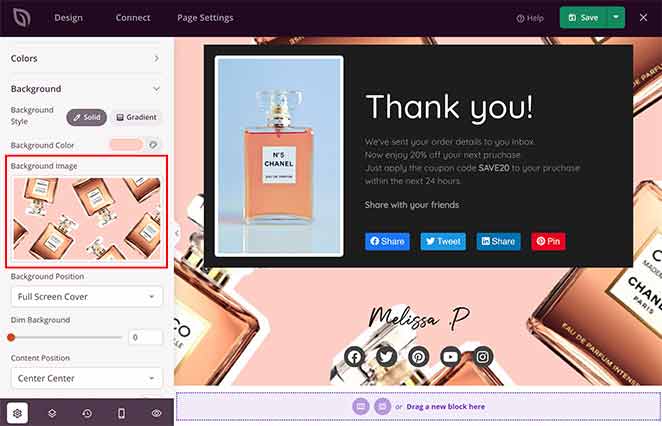 Not sure which colors or fonts work well together?
With SeedProd, you won't need design experience to make a great-looking page. In the Color and Fonts sections, you can choose from over 20+ color palettes and font pairings to get everything looking how you want.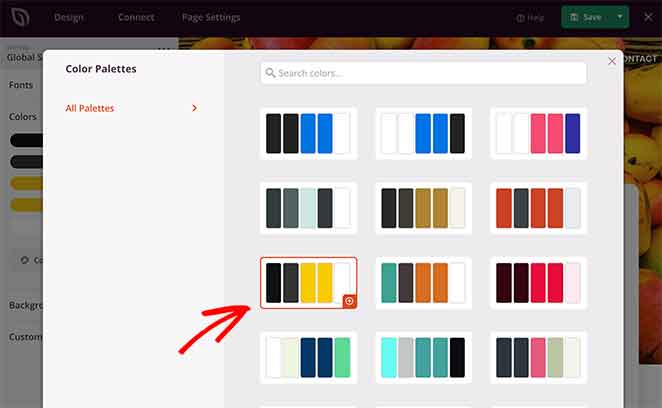 Landing Page Templates Library Comparison
No page builder is complete without a library of landing page templates and themes. A quality landing page template makes it easy to get closer to the design you want.
Divi, Beaver Builder, and SeedProd all offer a selection of templates, which we explore below.
Divi Builder Templates
When you create any page with Divi, you're instantly asked if you want to start from a blank page or choose a premade template.
The templates come as complete website packs, allowing you to create a consistent look across your website's pages. Every page template in the pack has the same color and font themes, yet each design serves a different purpose.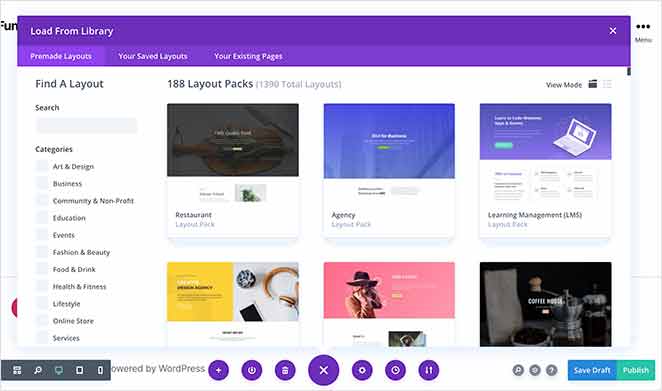 For instance, you can create a shop page, about page, blog page, and more.
Divi has over 193 layout packs with thousands of individual page themes. This is an excellent choice for creating complete website designs.
Beaver Builder Templates
Beaver Builder has 2 different template sections: landing pages and content pages.
The landing pages are a good choice for 1-page websites and have designs for lifestyle blogs, mobile apps, small businesses, and more.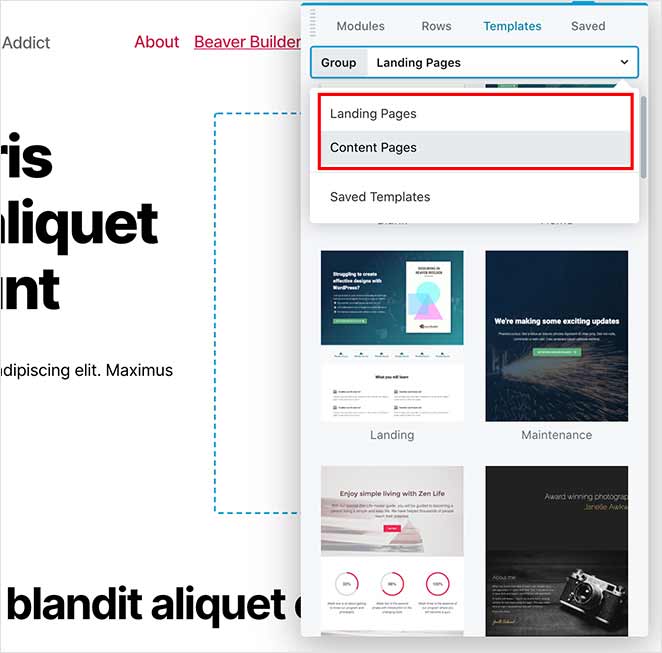 The content page templates are similar to Divi in that they're suitable for portfolio pages, contact pages, and other internal WordPress pages.
Beaver Builder's themes are more limited than Divi's selection, but they're a good starting point for many business websites.
SeedProd Templates
Upon creating a new theme in SeedProd, you can choose from several complete WordPress theme designs to create a custom WordPress theme without writing a single line of code.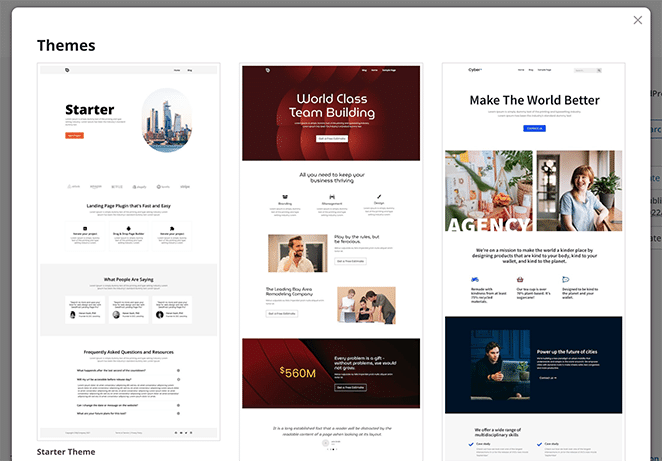 Moreover, you can choose from hundreds of responsive landing page templates.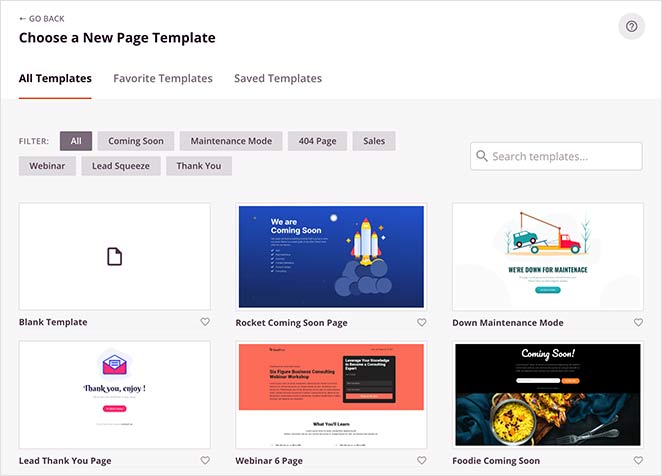 You can filter the templates based on your marketing goal by clicking any of the following headings:
SeedProd is also the only tool on this list with a coming soon mode, maintenance mode, 404 page, and login page mode built right into the plugin. With only 1 click, you can create a coming soon page and control who does and doesn't see your website under construction.
Making small updates to your website? Just put WordPress in maintenance mode and show a countdown timer for when you're finished.
As you can see, SeedProd's customizable landing page templates are the perfect choice for creating highly successful landing pages in WordPress.
Page Builder Speed and Performance Comparison
Some page builders have a reputation for slowing down WordPress. This can be troubling for business owners, as even a 1-second delay in page loading times can frustrate your visitors.
As a result, they'll leave your website and might never return, which can cause you to lose potential revenue.
To put your mind at ease, we put these page builders through some tests to find out which is the fastest. We made a page with each builder using the following elements:
We then put them through a page speed tool with the following results:
Divi Builder Page Speed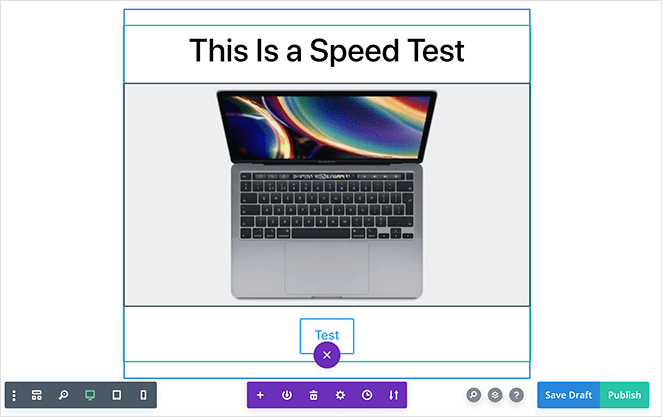 Page Size: 606.4 KB
Load Time: 2.10 s
Requests: 17
Beaver Builder Page Speed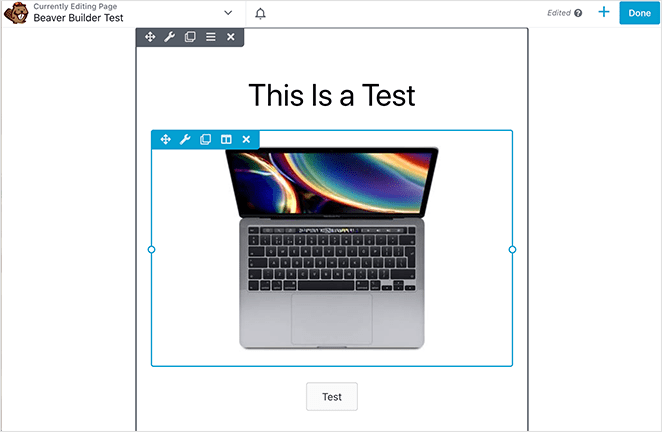 Page Size: 221.9 KB
Load Time: 1.27 s
Requests: 13
SeedProd Page Speed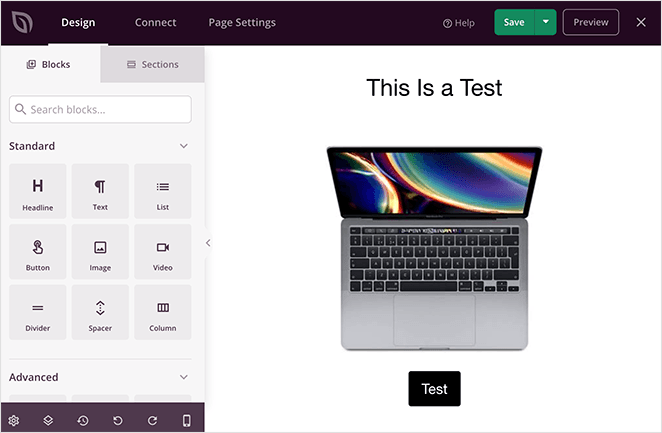 Page Size: 185.3 KB
Load Time: 1.18 s
Requests: 12
As you can see from the results above, SeedProd is the fastest WordPress page builder with the smallest page size, quickest load time, and fewer requests.
Pricing: Divi vs Beaver Builder vs SeedProd
After comparing all 3 WordPress page builders, let's see how much they cost.
Divi Builder Pricing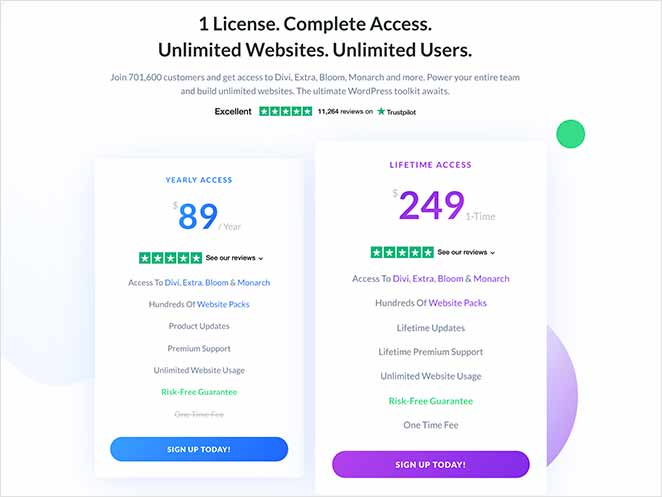 The Divi builder doesn't have a free version currently. It comes as part of the Divi Theme from Elegant Themes with several of their other products. Pricing for the bundle starts at $89 annually.
You can also buy lifetime access for a one-time fee of £249.
Beaver Builder Pricing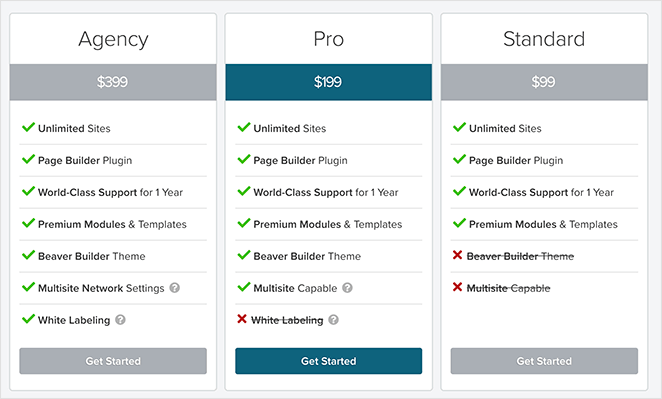 Beaver Builder offers a free version of the plugin to create basic pages in WordPress. To access premium features, the pricing starts from $99 per year.
SeedProd Pricing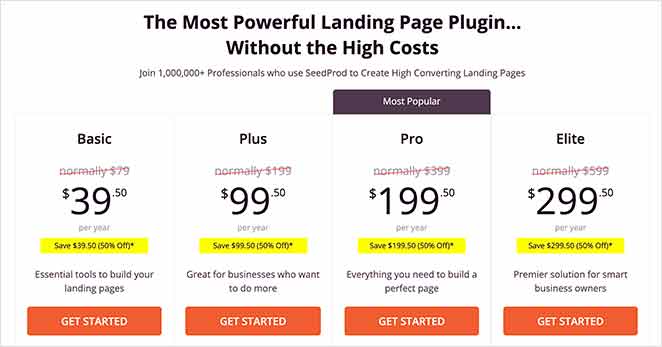 SeedProd has a free version you can find in the official WordPress plugin repository. This allows you to use all of the standard landing page blocks and many responsive page templates.
For the best features, you'll want to get SeedProd Pro, which starts at only $79 per year.
Frequently Asked Questions
Can I use any of these page builders with my existing WordPress theme?
Yes, all three of these page builders are designed to work with any WordPress theme, including the one you are currently using. You can simply install the plugin and start building your pages with ease.
Do these page builders have any SEO features built-in?
Yes, all three of these page builders offer built-in SEO options, such as meta descriptions, title tags, and canonical URLs. However, it's important to note that while these features can help with on-page optimization, they are not a substitute for a comprehensive SEO strategy.
Can I use these page builders to create custom landing pages?
Yes, these page builders are well-suited for creating custom landing pages that are optimized for conversions. You can use the drag-and-drop interface to create a visually appealing page that is tailored to your specific marketing goals.
Are there any limitations to using these page builders?
While these page builders are designed to be user-friendly and flexible, there may be some limitations depending on your specific needs. For example, if you require advanced customizations or integrations with specific third-party tools, you may need to hire a developer or use a more advanced page builder.
Divi vs Beaver Builder vs SeedProd: Which Is the Best Page Builder?
From Comparing Divi, Beaver Builder, and SeedProd, it's clear that, without a doubt, SeedProd is the best WordPress page builder.
SeedProd is by far the easiest solution to use – even beginners can get up and running quickly. Not only is it entirely focused on creating WordPress themes and pages without code, but it also doesn't include the unnecessary bells and whistles you'll never use.
You can create engaging coming soon and maintenance pages, grow your list with email integrations, and easily control your design in the drag-and-drop editor.
Above all, SeedProd is the fastest page builder on this list and won't slow your site down with bloat. It also offers the most value for money, with tons of features available for free.
Ready to try it for yourself?
And if you liked this article, then please follow us on Twitter and Facebook for more useful content to help grow your business.