Do you need a countdown timer plugin for your WordPress website?
Countdown timers are an excellent way to create a sense of urgency and excitement for sales or product launches. They're also a great way to tell visitors your site is under maintenance and when it will be back up and running.
In this post, we'll share the best WordPress countdown plugins to add excitement to your WordPress site.
But first…
What Is a WordPress Countdown Timer Plugin?
A countdown timer plugin is a WordPress plugin that allows you to show a timer on your website. You can set the timer to count down to any date and time you like.
Countdown clocks are a great way to evoke the fear of missing out (FOMO) in your website visitors. FOMO makes people want to click now before it's too late.
There are typically 2 types of countdown timers:
Static Countdown Timers. This timer counts down to a fixed point. It could be the launch of a website, the end of a sale, and so on. The clock's endpoint is the same for everyone and doesn't change depending on the person viewing it.
Evergreen Countdown Timers. Often called a dynamic timer, evergreen countdown timers are specific to each user. They start counting down when a user arrives on your site. For example, they may have 5 hours to claim a special offer.
Having said that, why should you use countdown clocks on your website?
What Are the Benefits of Using Countdown Timers?
Countdown clocks can help your business in several ways. Here are a few benefits of adding a countdown timer to your WordPress site:
Increase Traffic. Countdown clocks can help increase your website traffic. You can add timers to your website's coming soon page to create excitement about the launch. This tells people exactly when to come back to your website, attracting lots of traffic when your site goes live.
Highlight Promotions. You can use a timer to highlight a special offer or promotion. Doing so brings it to the fore of people's attention, encouraging them to learn more.
Motivates Buyers. Countdown timers can push visitors to purchase by using psychological tricks. For instance, users who feel they might not be able to buy something tomorrow will be more likely to purchase it today, creating product scarcity.
Bottom Line: Adding a countdown timer to your website is one of the best ways to increase traffic, motivate visitors to take action, and ultimately increase sales.
Best Countdown Timer Plugins for WordPress
There are several WordPress plugins available that help you add a countdown timer to your site easily. Let's look at the best WordPress countdown timer plugins below.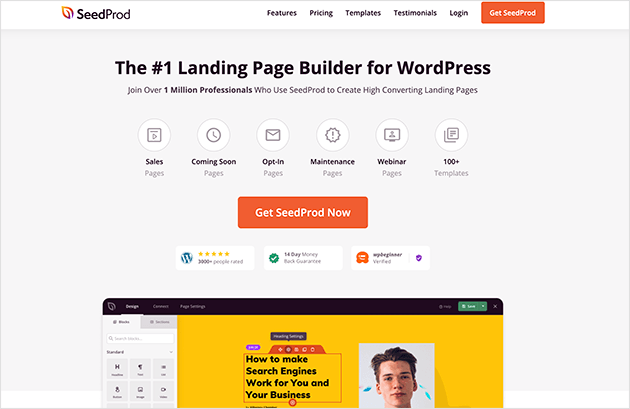 SeedProd is the best drag-and-drop landing page builder for WordPress. It comes with powerful page modes that allow you to add a coming soon page, maintenance mode page, and more to your website.
Its library of landing page templates makes it super easy to create landing pages without writing code. And with its visual editor, you can customize any template with easy-to-use blocks and see the changes instantly in real-time.
Among SeedProd's many landing page blocks is the Countdown Timer block. It lets you add a countdown clock to any landing page quickly.

The timer block has several customization options, including:
Date/time or evergreen countdown options
Set timer hours, minutes, and seconds
Timezone selection
Timer alignment
Show a message or redirect when the timer expires
Custom timer labels
Preset countdown timer templates
Advanced style options
The great thing about SeedProd is the functionality you get from a single plugin. Typically you'd need several plugins to add landing pages, maintenance mode, login pages, contact forms, countdown clocks, and more.
Yet, with SeedProd, you get it all in a single lightweight, lightning-fast, and user-friendly WordPress plugin.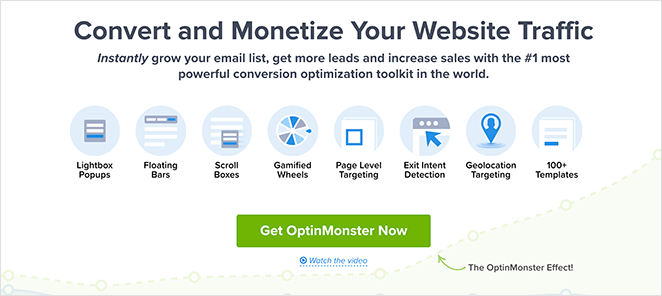 OptinMonster is a powerful lead generation and popup builder for small businesses. It makes it easy to increase conversions by turning abandoning website visitors into subscribers and paying customers.
With OptinMonster, you can make static AND evergreen countdown timers. You can create as many timers as you like and even use different timers on different website pages.
Plus, there are several ways to show your timers on your website, including:
Inside floating bars that stick to your website header
In lightbox popups that show when users are on the verge of exiting your site
As slide-in boxes that trigger when users scroll down the page
In widgets that show inside your content
And more.
You can even personalize the timers based on a user's location, the page they're on, where they're visiting from, and so much more.
Note: You'll need the Pro version or higher to make countdown timers with OptinMonster.
Check out OptinMonster's guide on how to create and customize your countdown timer.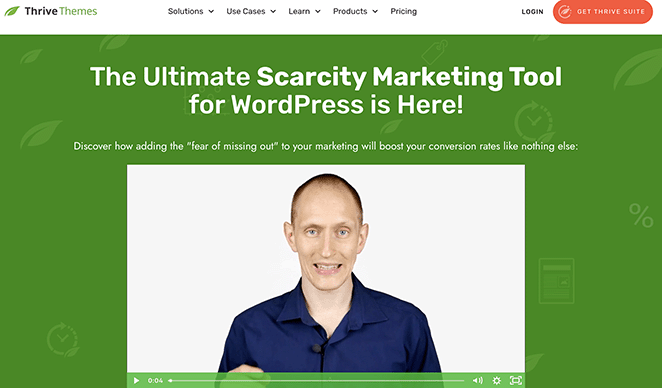 Thrive Ultimatum is a powerful WordPress scarcity plugin. It provides a range of features to help create and manage campaigns, including countdown timers, urgency triggers, and limited-time offers.
With this tool, you can increase conversion rates and drive sales on your website with:
Automatically recurring campaigns
Fixed-date campaigns
Evergreen scarcity campaigns
Pre-designed campaign templates
Advanced campaign triggers
And much more
The plugin is also 100% mobile-friendly and lets you create unlimited scarcity timers to grow your WordPress site.

Countdown Timer Ultimate is another excellent WordPress countdown timer plugin if you need to create simple timers. While this plugin doesn't allow you to make evergreen timers, you can use it to make as many static timers as you like.
The free version of Countdown Timer Ultimate has limited styling and customization options. This is great if you need something straightforward.
Yet, the pro plugin offers more advanced options, including:
Show specific text when the countdown expires
Extra design features
12+ countdown clock designs
WooCommerce integration
And more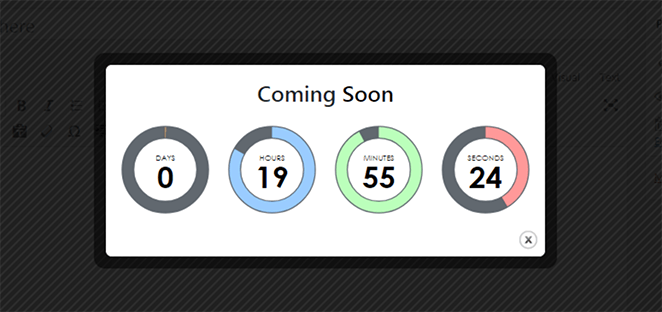 Countdown Builder is a countdown timer plugin with several pre-built styles. It allows you to create circle countdowns, flip clocks, and coming soon page countdowns.
With this plugin, you can add your timer to posts and pages with the WordPress block editor. You can also set it to display automatically on individual posts and pages.
To customize your countdown clock design, you can use the built-in editor instead of writing CSS. This is good news for beginners with minimal design experience.
Initially, this is a free WordPress countdown timer plugin. But with the pro version, you can:
Add email sign up forms
Schedule timers in advance
Show/hide timers on mobile devices
And more

Evergreen Countdown Timer is a free WordPress countdown timer plugin that allows you to create evergreen countdown clocks. That said, you can also use it to make static timers too.
You can choose how it detects visitors, such as by browser cookies or IP address. And you can add the timer to your site with a WordPress shortcode.
When the timer ends, you can redirect visitors to a page of your choice. For instance, you can send them to a new product page if you're counting down the launch of a new product in your online store.
Evergreen Countdown Timer offers a pro version that offers lots of extra options. You can choose more colors and even provide countdowns for available "spots" like seats or tickets.

With HurryTimer, you can add both static and evergreen countdown timers to your WordPress site. It also uses both cookie and IP detection to show the right timer to the right user.
You can use this plugin to set up timers to run down between 2 dates. For instance, between the start and end date of an upcoming sale.
It also works with WooCommerce, although you don't need WooCommerce to use it. Plus, you can show several timers on the same page if needed.
With the pro version of this plugin, you can:
Add recurring countdown timers
Create a sticky announcement bar
Automatically expire a coupon code when the timer ends
Unlock more styling capabilities
And more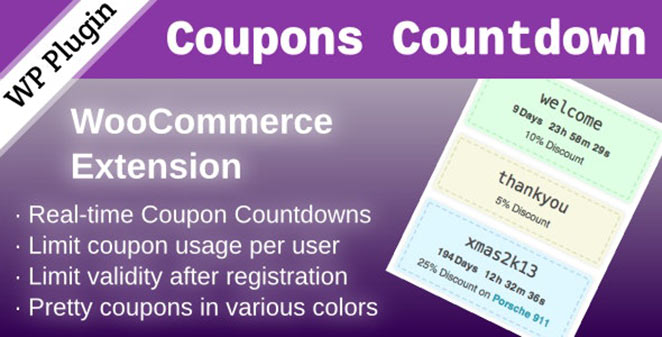 WooCommerce Coupons Countdown is an extension for WooCommerce that allows you to add real-time countdowns to your eCommerce store. With this plugin, you can show your website visitors the coupons they can use and even show the timer when it expires.
This plugin allows you to show coupons in several colors to match your site's branding. And the advanced settings allow you to show that a coupon is valid for up to X days, weeks, months, or years after a user registers.
WooCommerce Coupons Countdown is a high-resolution plugin. This means your timers look good across multiple screen sizes and devices.

Countdown Timer is another free countdown plugin for WordPress. It allows you to add simple timers to your site in minutes.
You can use this plugin to add countdown clocks to your WordPress posts, pages, and widgets and create unlimited timers.
Other features include:
Add custom text in the days, hours, minutes, and seconds field
Select the action for after the timer expires
Type a message after the timer expires
Choose the timer position
Tested on popular WordPress themes

Sales Countdown Timer is a free countdown clock plugin that helps you increase your revenue from sale campaigns. It shows a sales countdown timer on single product pages and shop pages to motivate users to purchase before the timer expires.
This plugin lets you notify users when a sale is ending and how many purchases have been made. You can add the timer shortcode to virtually any page or post and use shortcodes to customize your message.

Easy Timer is a straightforward timer plugin that allows you to add countdown timers into posts, pages, and widgets on your website. It comes with unlimited count down/up timers that refresh every second and show the time or date.
Each timer displays the time remaining until the date you choose and can reveal hidden content when this date is reached.
The count up timers show the time elapsed since the date you choose or the time users spend on your website.
How you use the countdown timers in this list depends entirely on the type of website you run. You can use them to tell users about a new website launch, upcoming sale, or even how long is left until maintenance is over.
The choice is yours!
We hope this article helped you find the best WordPress countdown timer plugin for your website.
If you want to increase the chances of users clicking your offer, check out these Call-to-Action examples for inspiration.
And don't forget to follow us on our social media channels: Twitter, Facebook, and YouTube, for even more helpful content to grow your business.