Do you want to add pricing tables to your WordPress website? A pricing table plugin allows you to add user-friendly price comparison tables to WordPress without writing any code.
In this article, we explore the best WordPress pricing table plugins on the market. That way, you can better serve your website visitors while boosting your business sales.
But first…
Why Are Pricing Tables Important?
The simple answer to "why are pricing tables important?" is that they help your website visitors convert into paying customers. But this begs the question, why are they more effective than an image, bullet list, or simple paragraph?
Here are a few reasons why pricing tables work so well:
Easy Comparison. Pricing tables enable you to offer an easy comparison of your products or service plans.
Clutter-free. Only the most important features are added to your pricing table, removing unnecessary clutter.
CTA. Pricing tables have a clear call-to-action (CTA) that tells users how to move on with their purchase.
Focused Design. Most pricing tables allow you to emphasize certain words or phrases so they stand out, drawing attention to key features.
Space Saving. Vertical pricing tables take up less space, leaving more room for a FAQ section or other features to improve user experience.
And speaking of user experience, your pricing table removes the friction between visitors' purchase decisions and the checkout page. Showing all the information they need with clarity makes it easier for people to decide to buy.
What to Look for in a WordPress Pricing Table Plugin?
Now that you know the benefits of using pricing tables, let's look at the top features you should look for in a WordPress pricing table plugin.
Ease of use. You'll need a pricing table plugin that's easy to use more than anything else. Look for solutions that offer drag-and-drop design options so you won't need to mess around with code.
Integrations. It should be easy to integrate your pricing table with your existing WordPress theme, drag-and-drop page builders, and WordPress plugins like WooCommerce.
Templates. Look for plugins that offer several pricing table templates so you can change your design quickly and easily.
Customization Options. You should also be able to customize any pricing table design to suit your branding easily. The option to use custom CSS and HTML will also come in handy.
Currency. Look for a solution that offers multiple currency options so you can serve customers from all around the world.
Price. If you only need a simple pricing table, your best choice may be to look for a free pricing table plugin. But for more complex needs, explore the premium versions. Just keep in mind all the above points when making your decision.
While there are tons of features available in the top WordPress pricing table plugins, the above list is a good start for the essentials.
Best Premium WordPress Pricing Table Plugins
To kick things off, we'll start with the best premium pricing table plugins on offer for WordPress websites.
Your pricing page is one of the most important pages on your WordPress site. It's where people go when they're almost ready to buy from your business. This means it also needs to be the most heavily optimized for conversions.
That's where SeedProd comes in.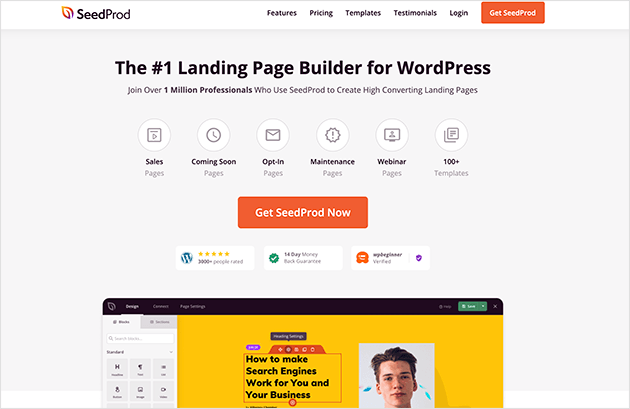 SeedProd is the best WordPress landing page builder on the market. With its drag-and-drop builder, you can create any type of landing page for your website and optimize it for leads and conversions, including your pricing page.
It offers tons of landing page templates you can customize in the visual editor and a whole library of blocks for adding content to your page.
SeedProd's pricing table block is the easiest way to add powerful pricing tables to your WordPress landing page. Just drag it onto any landing page design, customize the content, and see the changes in real-time.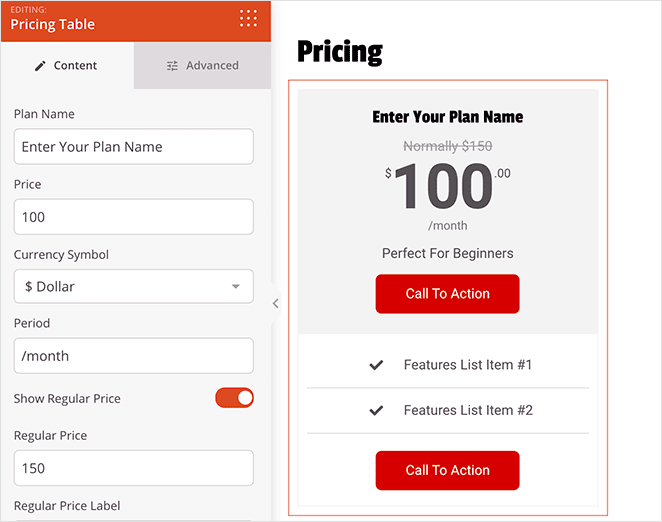 The pricing table options include:
Over 17+ currencies and the option to add custom currencies
Regular and reduced price fields
Custom plan duration
Features list
Multiple CTA buttons
Custom color settings
Custom typography settings
Button colors and icons
With SeedProd, you can add as many pricing table blocks to your page as you like. You could show a single pricing table or several for a side-by-side comparison.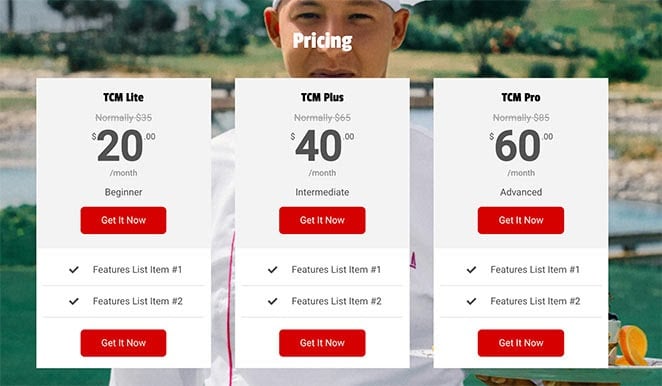 What's more, SeedProd integrates seamlessly with any WordPress theme or plugin. For instance, you can use SeedProd's WooCommerce integration to send users who click your CTA to a custom WooCommerce checkout page, made entirely with SeedProd's visual page builder.
SeedProd also offers a handy Price List block that lets you can create attractive lists to showcase your pricing options.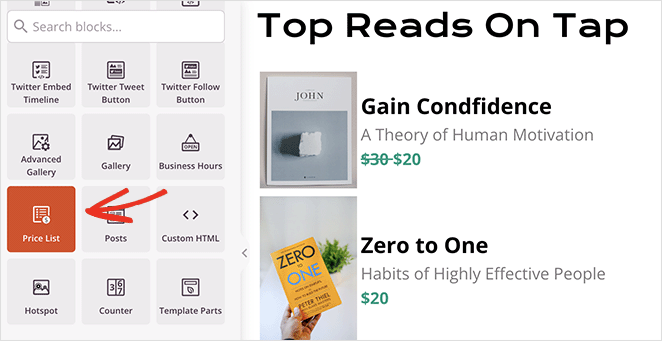 For example, you can create a price list to highlight your freelancer rates or design a restaurant menu with pricing for each dish.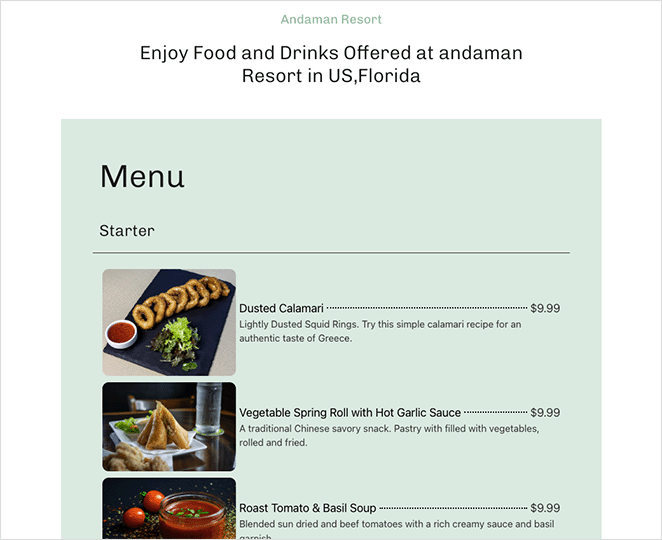 If you're interested in SeedProd's many other features, check out the SeedProd feature page.
Bottom line: SeedProd is an excellent choice for business owners who want an easy way to optimize their WordPress pricing page.
Pricing
The pricing for SeedProd starts at $39.50 per month.
Alternative: Thrive Architect is another powerful page builder with Pricing Table design elements.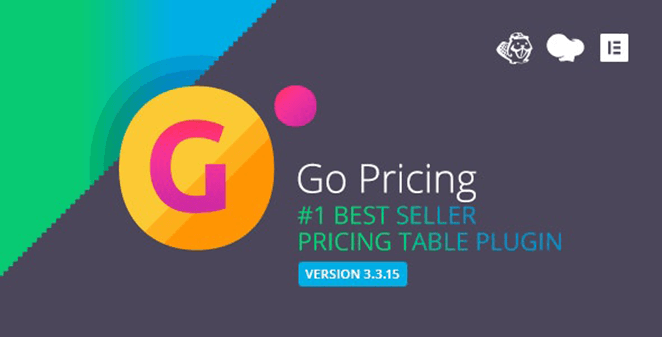 Go Pricing is another popular WordPress pricing table builder. It offers a colorful drag-and-drop user interface that ingrates with popular WordPress page builders like SeedProd and Elementor.
This plugin is super customizable. You can change almost every aspect of your pricing table layout, including the:
Styling
Structure
Fonts
Icons
Animations
Decorations
Buttons
You can also create pricing tables with images, video, and audio to make them stand out.
Go Pricing offers more than 250 responsive pricing table designs to create great-looking tables easily. You can customize each design in the visual interface, and you can export and import all tables later.
Pricing
Go Pricing costs $27 with support for up to 6 months.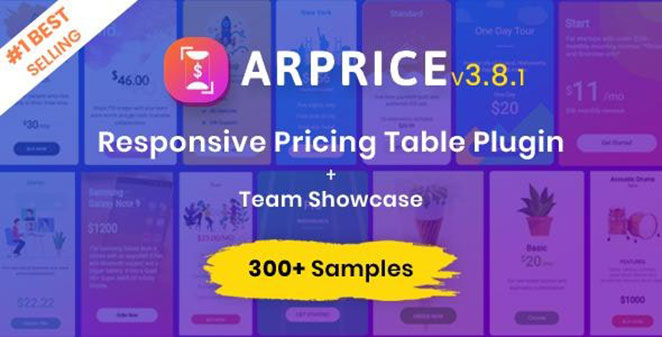 ARPrice is another pricing table plugin packed full of useful features. It offers a backend visual designer that previews how your table will look online and supports several media items like background images and icons.
With this plugin, you can set your pricing plans to yearly, monthly, etc., and include 300+ pricing table samples to get you started. You can customize the table with your own fonts, content, effects, rows and columns, and more.
Pricing
ARPrice costs $27 with support for up to 6 months.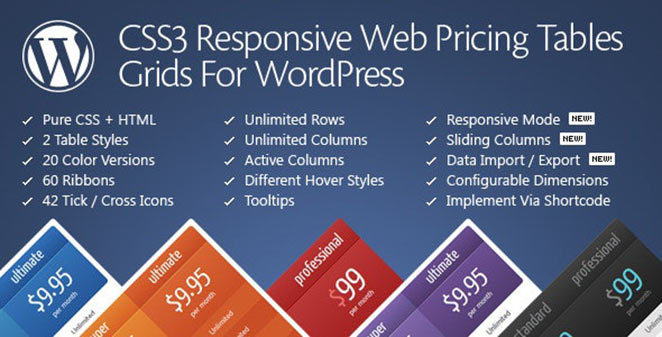 CSS3 Responsive Web Pricing Tables Grids is a premium pricing table plugin with a variety of customization options. It offers 2 table styles and 20 predefined color schemes that come with tons of options, such as:
Admin panel with live configuration
Responsive mode settings
Tables, rows, columns, and table cell settings
Sliding columns
Expandable rows
Active columns
Hover states
Table tooltips
Column ribbons
Tick and cross icons
And more
You can use this plugin to create beautiful pricing tables. For instance, you can use background gradients and change the table color as you hover from one table to the next.
While the grid settings system may look dated, this is an easy-to-use table plugin with lots of cool features.
Pricing
This pricing for this plugin is $20 with support for up to 6 months.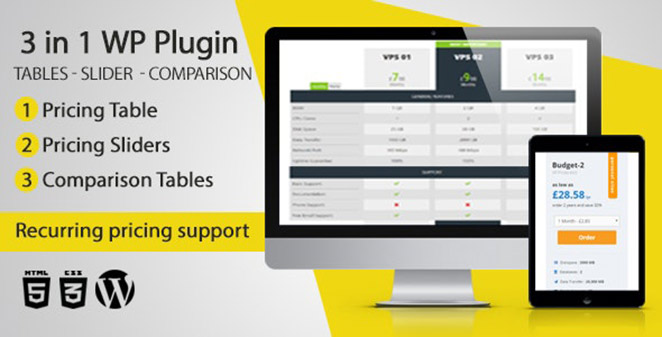 The next popular pricing table plugin is WordPress Pricing Tables, Sliders & Comparison Tables. It's a versatile plugin with support for major WordPress page builder plugins.
With this plugin, you can create regular pricing tables as well as comparison tables and pricing sliders. Plus, you won't have to re-enter table data to generate different outputs for pricing sliders and comparison tables. All you need to do is use a different shortcode and attach the same table ID.
This WordPress pricing table plugin offers 50+ responsive pricing table designs that you can modify to suit your business. You can feature specific pricing columns and even automatically calculate discounts for longer plans.
If you're looking for a more custom design, you can use the built-in template system to design and create your own pricing table template.
Pricing
This 3-in-1 pricing table plugin costs $14 with up to 6 months of support.
Best Free Pricing Table Plugin WordPress
Next, we offer a look at the top free WordPress pricing plugins available for your website. Many of the solutions below offer premium versions, yet we'll focus on the features included in their free versions.

If you're looking for a simple pricing table plugin with none of the bells and whistles, Easy Pricing Tables offers everything you need. It makes it easy to create pricing and comparison tables on your WordPress website.
Easy Pricing Tables is fully compatible with the WordPress block editor. Just create a table and add the pricing block to your WordPress post or page. You can also use the shortcode to add tables anywhere on your site.
Other Easy Pricing Table features include:
Built-in conversion rate optimization best practices
Unlimited pricing table rows
Font, color, and border customization options
Drag-and-drop to reorder columns
Pricing column feature
Custom CSS

The Responsive Pricing Table plugin is another free WordPress plugin for creating easy pricing tables for your website. It adds a pricing table tab to your WordPress admin panel where you can dive in and create tables quickly.
With this plugin, it's pretty much what you see is what you get. You can add features to different plans, choose custom colors, and show your price table anywhere with a simple shortcode.
For each plan, you can add a name, subtitle, description, and price. You can also list features, customize the payment button and change the plan's color scheme.

Pricing Table by Supsystic is a free and simple WordPress plugin that allows you to create fully-functional pricing tables without any programming skills. It includes preset pricing table templates, hover animations, button customizations, and more.
The drag-and-drop builder also includes:
Tooltip support
Column images and videos
Unlimited columns and rows
Table export/import
And you can customize any element with a couple of clicks. Plus, all pricing tables are fully responsive, so they'll adapt to any screen size.

WRC Pricing Tables is a free CSS3 pricing table plugin with a modern and clean design. With this responsive plugin, you can show features and prices in 2 ways:
Display features for each product separately.
Compare product features with a comparison pricing table.
You can use this plugin to create as many feature rows and columns as you like. Then, you can rearrange them with the drag-and-drop sorting option.
With support for ribbons, tooltips, tick/cross icons, buttons, color palettes, and more, it has plenty of features for creating easy pricing tables in WordPress.

WP Table Builder is a drag-and-drop table builder plugin for WordPress. It lets you create responsive tables without the hassle of coding from scratch.
You can use this plugin to create various tables, including pricing tables, list tables, comparisons, and more. It also offers several elements for customizing your tables, such as buttons, star ratings, lists, images, and custom HTML.
The flexible customization options are easy to use and allow change colors, alignment, and positions quickly. You can also import and export data via CSV with a few clicks.
The Pro version of WP Table Builder includes pre-made table templates and advanced customization options.

The last plugin on this list is the WooCommerce Pricing plugin. This free WordPress plugin allows you to create unlimited pricing tables on your WordPress website.
It offers a clean, flat design with a variety of different styles to choose from. Plus, it works seamlessly with your existing WooCommerce store.
The most popular features of this plugin include:
Unlimited price tables
Show images and icons
Recommended column
Use different colors for each table
Background images
Drag and drop sorting.
URL button and text.
Multiple language support.
Which WordPress Pricing Table Plugin is the Best?
After comparing both the free and premium pricing table plugins above, we've concluded that SeedProd is the best pricing table plugin for WordPress.
With SeedProd, you can create stunning pricing tables and design entire pricing pages in WordPress. And with its easy drag-and-drop editor, you won't need to hire a developer or worry about coding your page yourself.
Plus, with WooCommerce and WordPress theme compatibility, it's easier than ever to create pricing pages in WordPress designed to convert.
To ensure everything's looking great, you might also like this post on how to preview your WordPress site before going live.
If you liked this article, then please follow us on YouTube, Twitter, and Facebook for more helpful content to help grow your business.