Feeling a bit lost trying to decide between Elementor, WPBakery, and SeedProd for your WordPress website? Don't worry; we've got your back with this in-depth page builder comparison.
With so many page builder options available, it can be tough to figure out which one will work best for your website and its web pages. But fear not because, in this article, we're going to break down the differences between three of the most popular page builders out there in-depth: Elementor, WPBakery, and SeedProd.
By the end of this, you'll be equipped with all the information you need to make the best choice for your business website.
What Is a Page Builder Plugin?
Page builder plugins are super handy tools that make it easy for you to create custom pages on your website without having to dive into the deep end of coding.
With a page builder, you can take advantage of pre-designed templates and different elements that you can simply drag and drop into place, creating a slick layout and design for your website. And the best part? You don't need to have any coding skills to create a professional-looking website that your visitors will love.
If you're looking to choose a WordPress page builder, Elementor, WPBakery, and SeedProd are 3 that meet that description. So let's take a look at how these WordPress page builder features work to figure out which is best for you.
Elementor vs WPBakery vs SeedProd Basics
Overview of Elementor
Elementor's super popular page builder plugin is a game-changer when it comes to creating stunning WordPress sites in a flash. With thousands of active installs, it's no surprise that people are raving about it.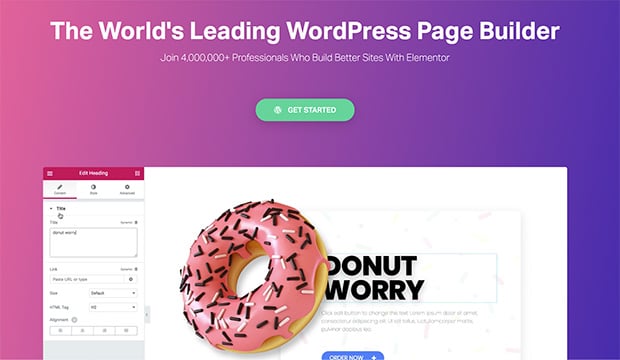 One of the best things about Elementor is that it comes with an easy-to-use drag-and-drop visual editor that lets you see real-time changes as you go. Plus, it replaces the default WordPress backend editor, which means you can create complex web development projects without all the hassle of switching between editing and preview modes.
If you're just dipping your toes into the world of web design, the free version of Elementor offers simple page editing tools and custom CSS options. But if you're ready to take your site to the next level, you can upgrade to Elementor Pro, which offers even more features and Elementor add-ons that make it a fully-fledged website builder.
The Elementor customization options are robust, allowing you to tailor your website, with:
Drag-and-drop editor
Designer template library
Widgets and modules
Responsive editing
Popup builder
WooCommerce builder
Third-party integrations
eCommerce tools
Animations
And more.
Why not check out this detailed Elementor review for more information?
Overview of WPBakery
WPBakery is a WordPress page builder plugin that makes it a breeze to create custom content with its drag-and-drop process.
The visual composer is a real standout feature of WPBakery – it's super intuitive and lets you create awesome websites without needing to know a lick of code. With WPBakery, you can easily customize your site to your liking and ensure it looks exactly the way you want it to.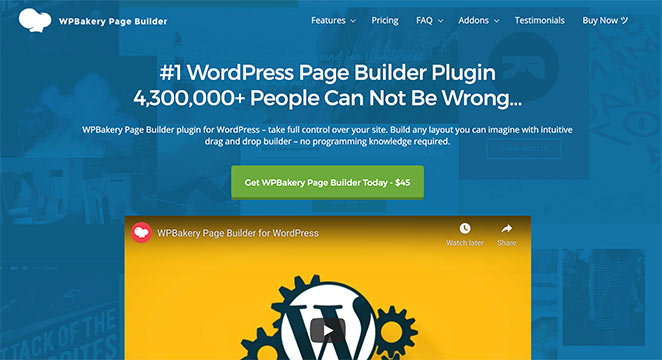 One of the coolest things about WPBakery is that it offers a whole bunch of customization options for its page-building elements. And if you're in a hurry, you can take advantage of the pre-made templates that come with the plugin. It's super easy to whip up a modern, stylish website in no time with WPBakery.
But here's something you should keep in mind: if you decide to switch your page builder down the road, WPBakery leaves behind WordPress shortcodes that were used to make your page. So while it's great for creating awesome pages right now, it's important to think about the long-term implications of using WPBakery.
Other WPBakery customization options include:
Responsive template library and presets
Many content elements
Tons of add-ons
Custom design options
Grid Builder
Custom post type support
WooCommerce shortcodes
Auto shortcode mapper
Unlimited site layouts
For more information, see our WPBakery review.
Overview of SeedProd
SeedProd is the best website builder for WordPress and is an absolute powerhouse, with over 1 million users. If you're looking for a way to create custom WordPress themes, landing pages, and responsive website layouts without needing to know how to code, then SeedProd is definitely worth checking out.
One of the things that sets SeedProd apart from other website builders is you don't need to be a coding wizard to use SeedProd – it's designed to be user-friendly and intuitive, so you can create stunning sites without breaking a sweat.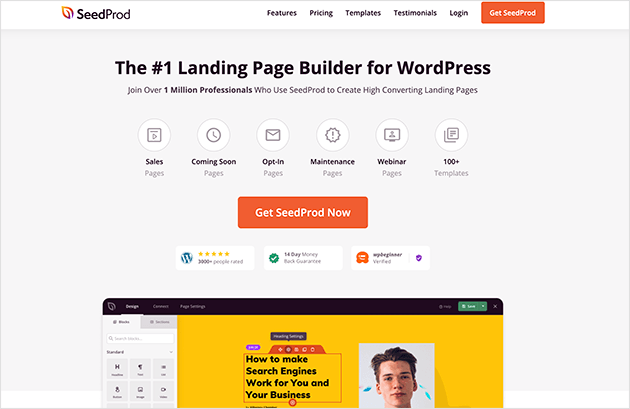 This website builder is all about making it easy to create stunning, high-converting sites. And with over 150 designer templates and pre-made WordPress themes to choose from, you're sure to find something that fits your needs.
One of the coolest things about SeedProd's templates is that they're multifunctional. This means that you can use them for any purpose you like, whether you're building a landing page, a blog, or a full-blown website. And with the visual drag-and-drop page builder, you can customize your template to your heart's content – no coding required!
But here's the real kicker – SeedProd is all about helping you grow your business. That's why you'll only find the features you need to build a high-converting website. No fluff, no distractions – just the tools you need to get results.
It also has several page modes built right into the plugin, so you won't need to install extra WordPress plugins to add unique features like coming soon and maintenance mode, custom WordPress login pages, and 404 pages.
Like Elementor, SeedProd replaces the default WordPress editor with its visual page builder for front-end editing. And because it uses blocks to customize your page, you won't have to worry about messy shortcodes.
Best of all, SeedProd is lightweight and lightning-fast. This means it won't slow down your website, making it an ideal choice for creating landing pages that convert in WordPress.
More SeedProd customization options include:
Powerful drag-and-drop page builder
Full WordPress theme builder
WooCommerce website builder
Landing page-specific blocks
Live desktop and mobile previews
Easy layout navigation
One-click revision history
Save templates, blocks, and sections
Smart landing page and theme sections
150+ landing page templates and theme templates
20+ premade color schemes
Curated Google custom font themes
Built-in coming soon, and maintenance mode
Custom 404 page mode
WordPress login page mode
Powerful access controls
SEO optimization settings
Subscriber management
Premium email marketing integration
Spam protection
Custom scripts
This post shows how SeedProd compares to other page builders like the Divi builder and Beaver Builder.
Ease of Use
Your page builder's interface determines how easy or hard it is to create your designs in WordPress. Each of the plugins on this list has a slightly different interface that deserves exploring in more detail.
Elementor Interface
You can launch Elementor's interface with the Edit with Elementor button in any WordPress post or page.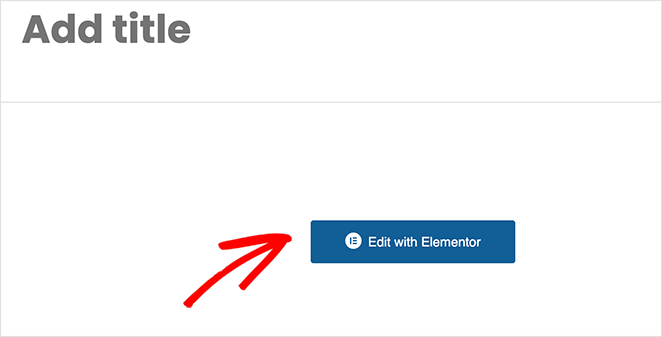 This takes you from backend editing to the visual front-end builder, where your screen is split into 2 columns.
Elementor's different page elements are down the left, while a preview of your page is on the right. To start building your page, you can click the Add New Section or Add Template button or drag an element from the left panel onto your preview.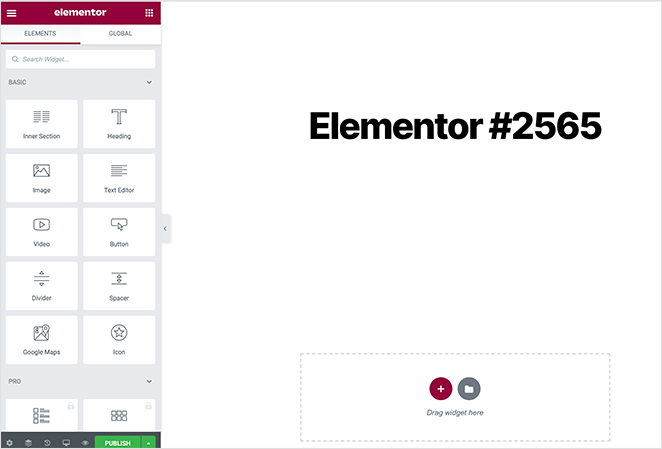 Clicking any element shows the content settings and advanced styling options.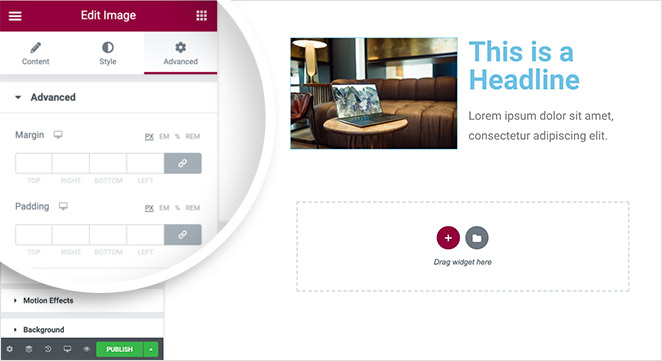 You can add motion effects in the Advanced Styling settings, control the margin, padding, and backgrounds, and control which elements show on mobile devices.
WPBakery Interface
Like Elementor, you can access WPBakery's interface by clicking either the Backend Editor or Frontend Editor button from any WordPress post or page.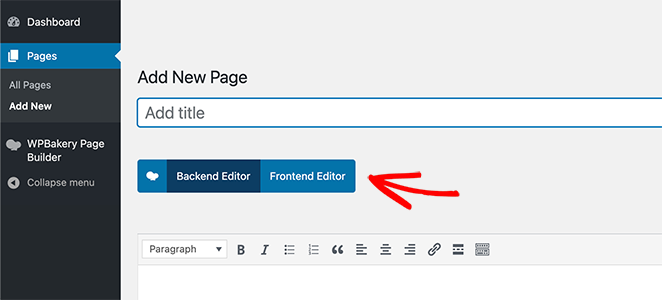 Choosing the Backend Editor lets you build your page with abstract blocks like the example below.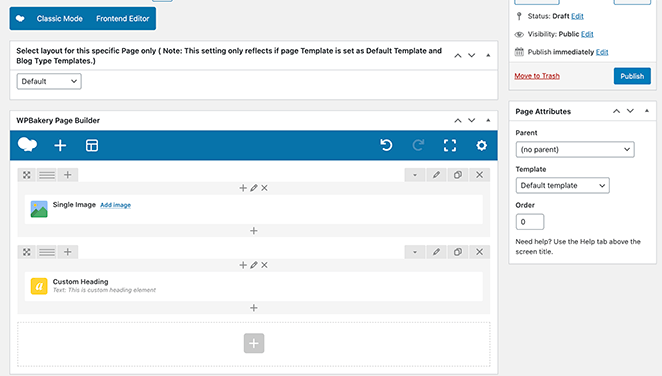 Whereas the Frontend Editor allows you to access the visual page builder. Here you can click to add different page elements, customize each element's styling, and preview how your page looks on mobile devices.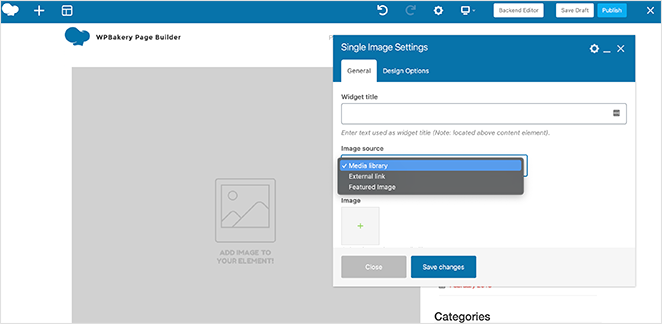 You can also save and publish your design from both versions of WPBakery's interface.
SeedProd Interface
You can create any landing page with SeedProd from SeedProd's dashboard area.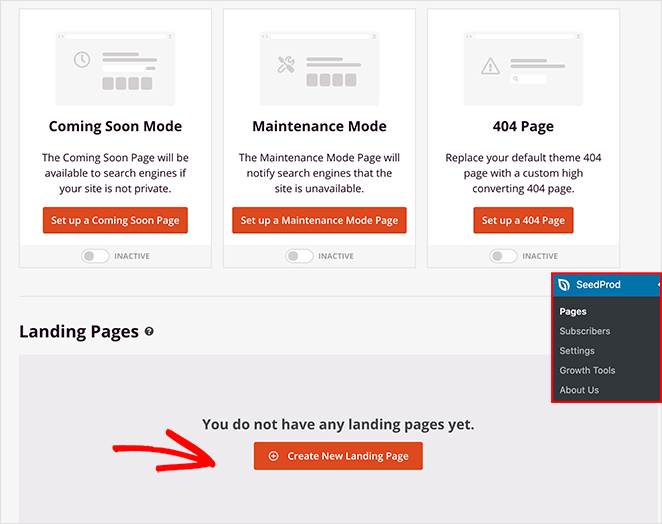 To create a custom WordPress theme, head to the Theme Builder dashboard.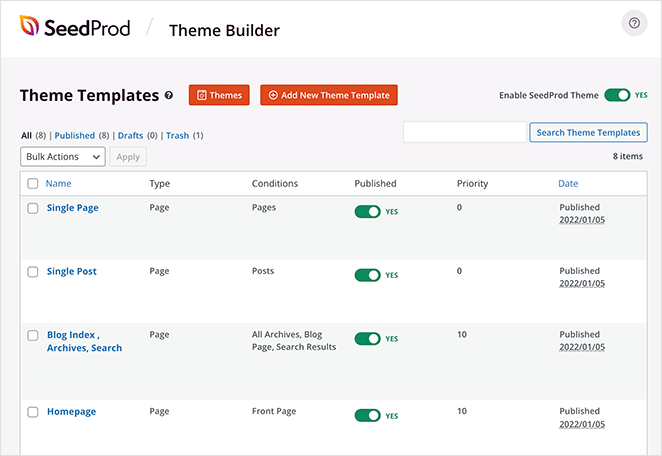 Or you can click the Edit with SeedProd button from any WordPress page.

After launching a page or WordPress theme part, you'll see a 2-column layout similar to Elementor's interface, but SeedProd's is more streamlined and user-friendly.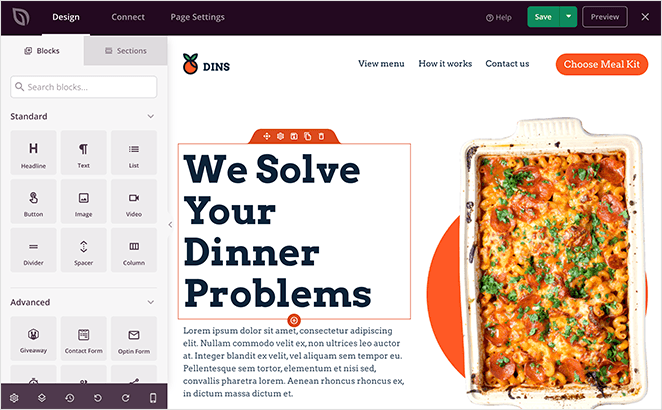 On the left are SeedProd's landing page blocks:
Template Tags
WooCommerce Template Tags
Standard
Advanced
WooCommerce
Widgets
Saved Blocks
SeedProd's blocks are much like Gutenberg WordPress blocks, where you can visually drag, drop, and rearrange elements.
On the right is a live preview of how your landing page looks. Adding blocks is as simple as dragging them from the left panel to your preview on the right.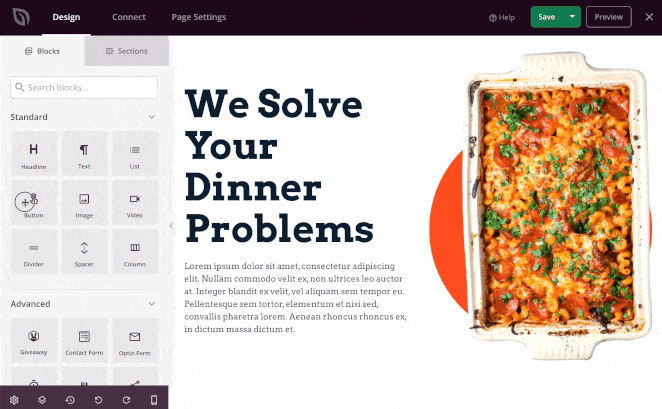 You can then click any block to edit the contents, choose a premade block template, and access advanced customization settings.
SeedProd's block settings are more intuitive and beginner-friendly than Elementor and WPBakery. There are no complicated options, and changing a design is as simple as pointing and clicking the setting you need.
It also offers inline text editing to customize headings, paragraphs, bullets, and more in real-time.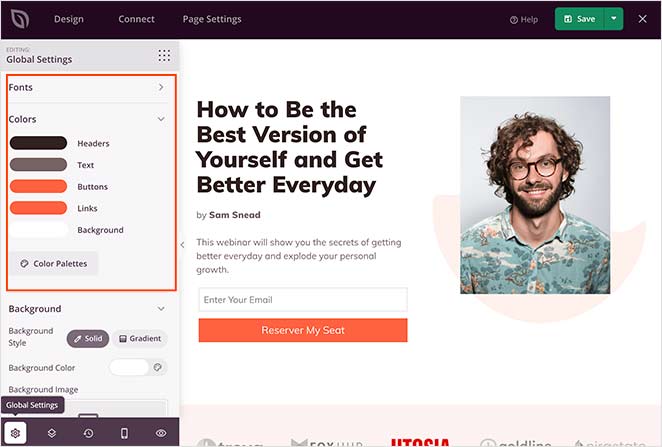 Along the bottom of the interface are options to edit your global settings, navigate to different sections of your page quickly, view your revision history, and undo or redo your changes. You can also click the mobile icon to see how your page looks on mobile devices.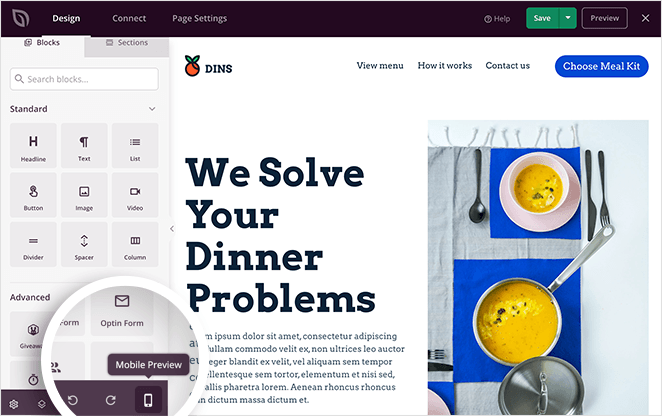 At the top of your screen are tabs to connect your favorite email marketing service. And in the Page Settings section, you can control your general, SEO, and analytics settings.
If you use the Pro version of SeedProd, you'll also have the option to set specific access controls and connect your landing page to a custom domain.
Templates
Now that we've looked at the interface of each best WordPress page builder plugin let's explore the different templates they have to offer.
Elementor Templates
Elementor has various web design templates you can customize in its drag-and-drop editor. They range from premade page sections to complete template kits for creating your own WordPress theme.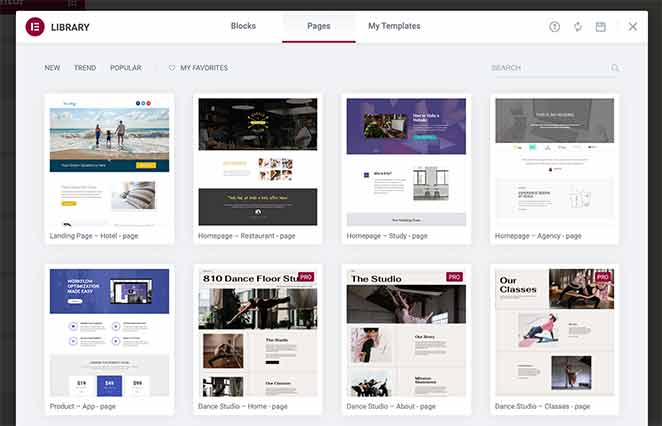 This is an excellent choice for people who need to make an entire website with consistent branding.
When importing a template from Elementor's library, you'll need to ensure your WordPress page's attributes are set to the Elementor Full-Width template.
Otherwise, the template won't display correctly, as you can see below.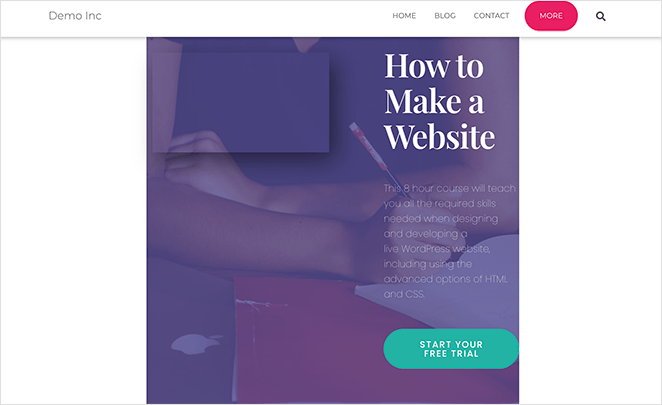 Once you launch your template, you can customize it in the visual editor to meet your website's branding requirements.
WPBakery Templates
When you click the Add Template button in WPBakery's page builder, you can access an extensive library of pre-designed themes.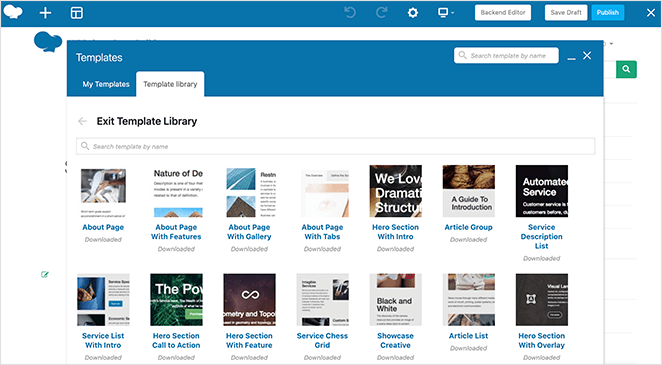 You can filter the templates by searching for a specific theme or scroll through the library to pick the one you like best. There's also the option to add and save your templates for later use.
SeedProd Templates
SeedProd has a constantly growing library of professional landing page templates and WordPress theme templates to meet any goal.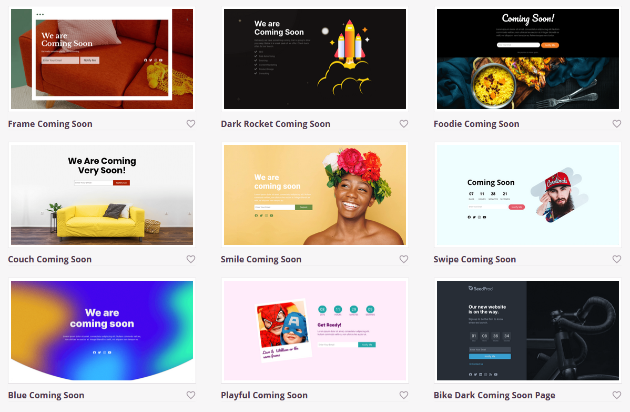 For instance, you filter the templates to create: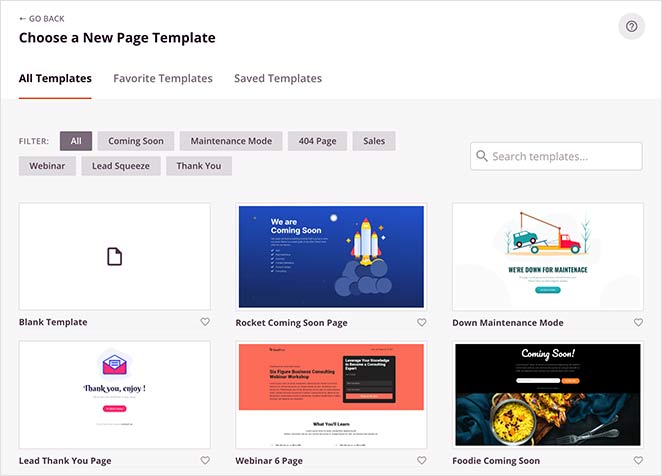 Or you can use the theme builder and its premade templates to create any type of WordPress theme or WooCommerce website.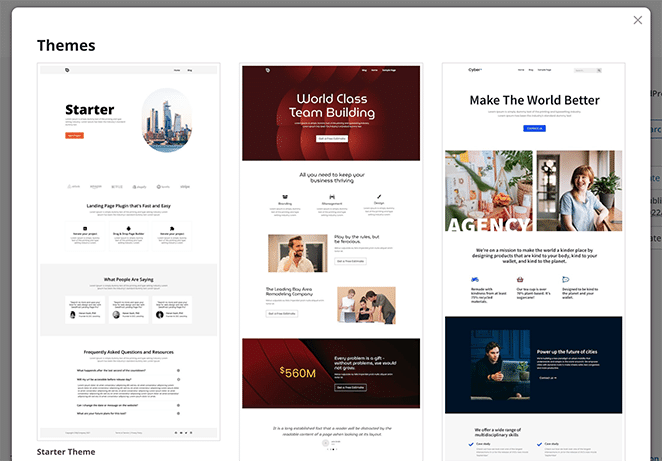 Since each template is easy to customize in the drag-and-drop builder, you can use any layout to design any type of page you like. You can even use SeedProd to create your WordPress home page.
With SeedProd's WooCommerce integration, you can create entire online stores with custom shopping carts, shop pages, product pages, checkout pages, and more. This makes it a lot easier to generate sales for your online store.
The great thing about SeedProd's templates is they work independently from your WordPress theme. This means they display correctly every time, and you won't need to mess around with full-width template attributes to get things looking good.
Related: Best Fee One-Page Website Builders.
Flexibility
The best WordPress page builders allow you to add extra functionality to your pages, making them flexible for different scenarios. Whether collecting email addresses to grow your list or generating excitement for your new website, here's what you can do with each page builder plugin's elements.
Elementor Elements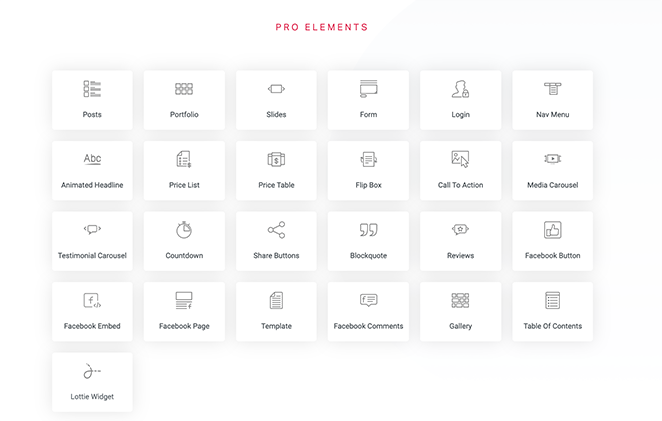 Elementor's page design elements have several sections, including:
Basic – Simple blocks like headings, images, buttons, and spacers.
Pro – Elementor Pro blocks like posts, portfolios, forms, reviews, and Facebook embeds.
General – Widely used blocks such as icons, alerts, social icons, and star ratings.
Site – Blocks for your site like logos, site titles, navigation menus, etc.
Single – Single page blocks, including post titles, post excerpts, featured image, and author box.
WordPress – WordPress specific-blocks like recent posts, archives, tag clouds, and categories, etc.
As you can see, Elementor offers many choices, which is excellent if you're making an entire website. But it's overwhelming if all you need is a simple landing page.
WPBakery Elements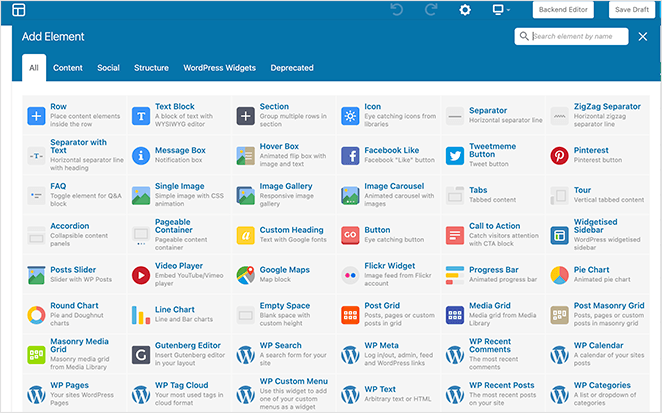 Like Elementor, WPBakery has tons of elements to choose from. You can filter them by clicking tabs along the top of the elements window, which includes:
Content elements – To add images, charts, icons, grids, and more.
Social media elements – Including a Facebook like button, Tweet button, and Pinterest button.
Structure elements – Add a widgetized sidebar to your page.
WordPress widgets – Like recent posts, categories, recent comments, meta, and more.
While so many options may seem great, at first, WPBakery lacks crucial elements like opt-in forms, contact forms, and eCommerce blocks.
SeedProd Elements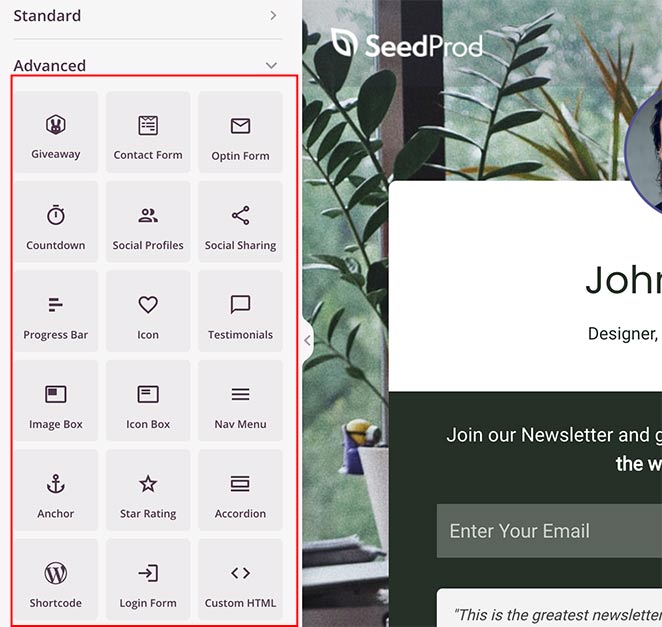 Inside the visual page builder, SeedProd has a wide variety of landing page blocks to add content to your page, like:
WPForms contact forms
Optin forms
WordPress login forms
Social media profile icons
Social media share buttons
Testimonials slider carousels
Star ratings
Countdown timers
Progress bars
Custom HTML
Navigation Menus
Text blocks with inline editing
Accordions for FAQs
Pricing Table
It also has blocks dedicated to WooCommerce stores, such as add-to-cart buttons, product grids, checkouts, and shopping carts. This means you can sell your products and services right from your WordPress landing page.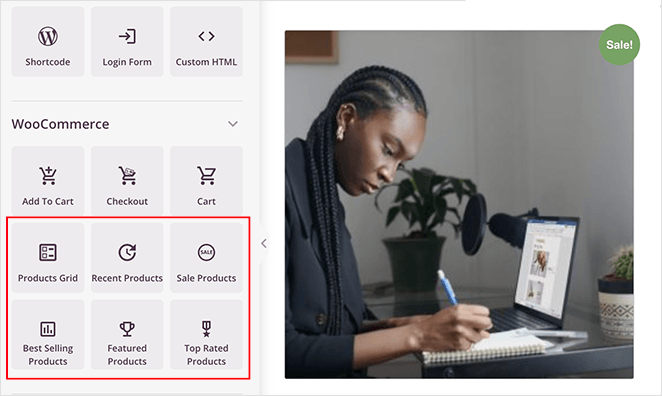 Additionally, you can use built-in template tag blocks to pull dynamic content from WordPress, including:
Archive titles
Blog posts
Author box
Comments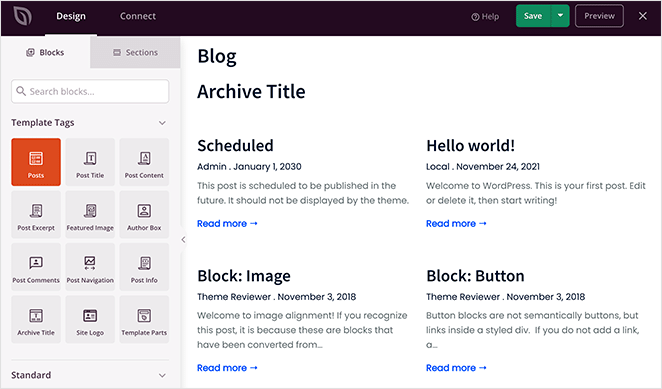 There are also WooCommerce Template Tags to display and customize your product data like:
Product title
Product price
Product featured image
Product meta
Product rating
And more.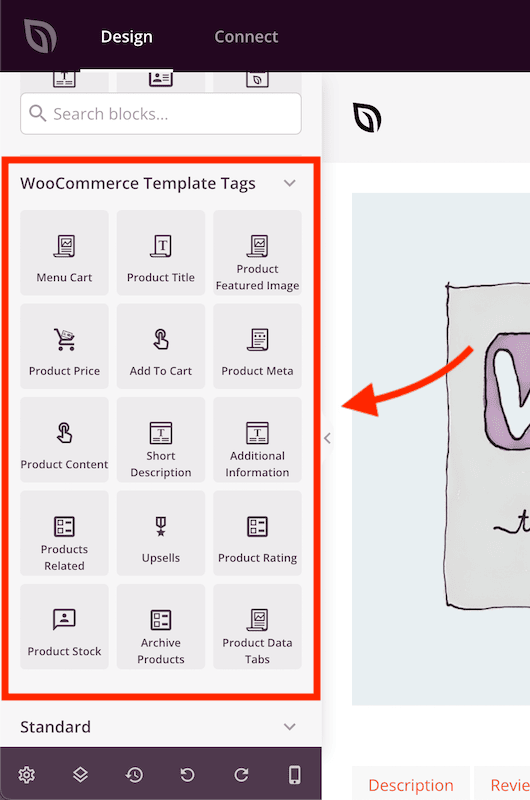 Many of SeedProd's blocks also include premade templates so that you can choose a block style with a single click.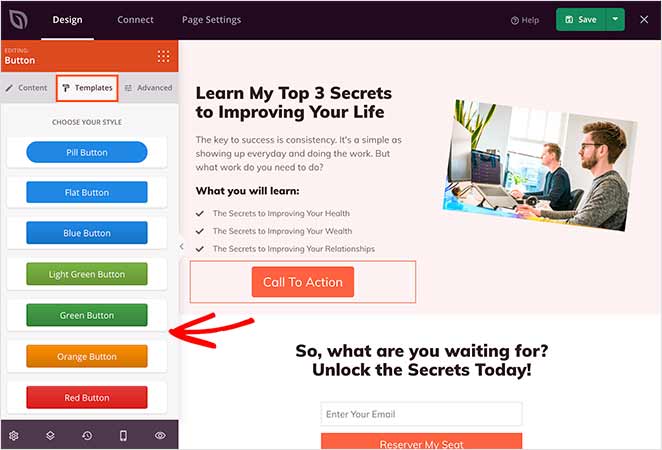 And with sections, you can add whole sections of content to your landing page without building rows and columns manually. For example, you can make a custom header, footers, hero areas, and other page layouts.
Plus, there are no shortcodes that can cause a possible lock-in.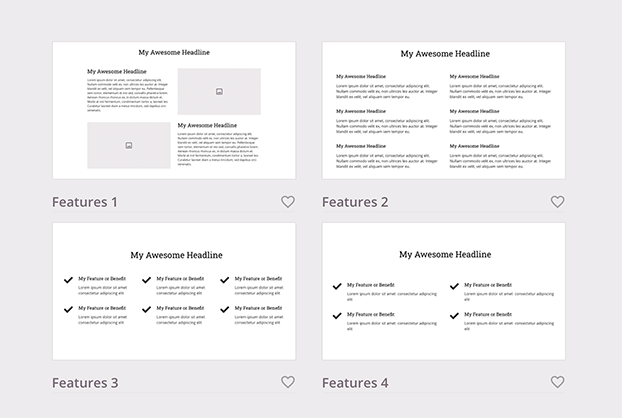 With blocks designed to create successful landing pages, you won't be overwhelmed by choice and can focus more on generating leads and sales.
Pricing
After looking at what each WordPress page builder offers, you probably want to know how much they cost. Here's a breakdown of the pricing structure for each page builder plugin compared.
Elementor Pricing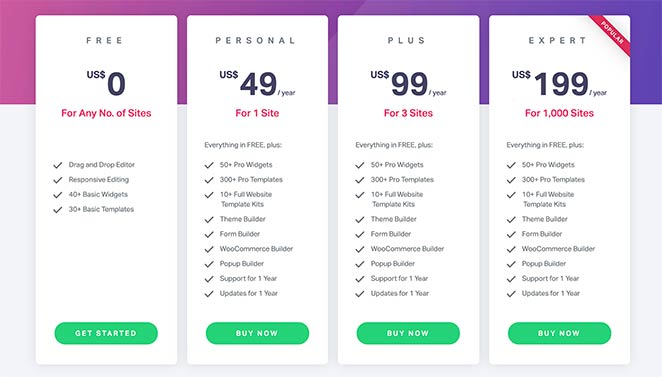 Elementor pricing options include a free version of its page builder that lets you make simple edits to WordPress pages. But with the free version, you miss out on tons of templates, blocks, support, and more that you get in the premium version.
Elementor Pro pricing looks like this:
Essential: $49 per year for 1 website
Advanced: $99 per year for 3 websites
Expert: $199 per year for 25 websites
Studio: $499 per year for 100 website
Agency: $999 per year for 1,000 websites
WPBakery Pricing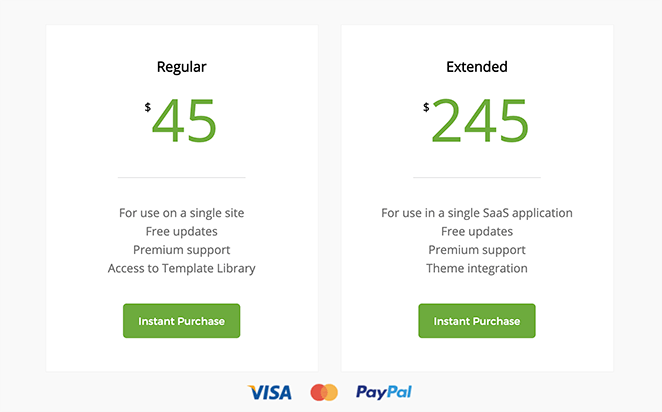 The WPBakery pricing options are more straightforward than Elementor, and it doesn't offer a free version.
Here's how WPBakery's pricing looks:
Regular: $45 single payment for a single site.
Extended: $245 single payment for use in a single SaaS application
Related: 10 Best SaaS Landing Page Examples
SeedProd Pricing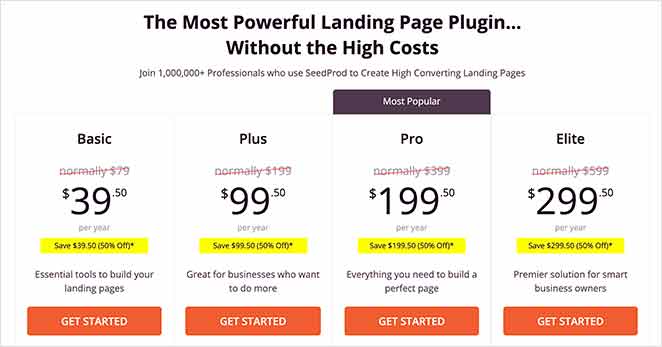 The pricing for SeedProd is super flexible. It also offers a free version with everything you need to create simple landing pages and free landing page templates.
Upgrading to SeedProd Pro unlocks advanced features like Access Controls, the WordPress theme builder, free stock photos, Domain Mapping, Pro blocks, and more.
Here's the pricing for SeedProd Pro:
Basic: From $39.40 per year for 1 website.
Plus: From $99.50 per year for 3 websites.
Pro: From $199.50 per year for 5 websites.
Elite Bundle: From $299.5o per year for unlimited websites.
Pros & Cons: Elementor vs WPBakery vs SeedProd
Now let's take a look at the pros and cons of Elementor vs. WPBakery and SeedProd so you can pick a solution that works best for you.
Elementor Pros & Cons
First up are the pros and cons of using Elementor's drag-and-drop page builder.
| Pros | Cons |
| --- | --- |
| No shortcodes are required | Limited header customization options |
| Includes essential features in the free version | No Whitelabel version |
| Offers 3rd party integrations | Can slow down your site due to complex layouts |
| Large library of pre-made templates | Limited SEO tools |
| Developer-friendly | Limited customization options |
| | Theme Builder is confusing for beginners. |
---
WPBakery Pros & Cons
Now let's look at the WPBakery pros and cons:
| Pros | Cons |
| --- | --- |
| Many elements without 3rd party integration | No free version |
| Frontend and backend editors | Shorcode-based. Removing the plugin can leave junk code on your site. |
| Many customization options | Isn't as fast as other solutions |
| Multilingual support | Lacks page elements |
| Access Controls | No import/export feature |
| | Buggy undo-redo feature |
| | Steep learning curve |
---
SeedProd Pros & Cons
Lastly, the SeedProd pros and cons are as follows:
| Pros | Cons |
| --- | --- |
| Easy to use and beginner-friendly | You need to upgrade for email integrations |
| Developer-friendly documentation & settings | WooCommerce support only available in Elite plan |
| Multiple page elements and pre-made sections | Not as many website kits as Elementor |
| Many website kits and landing page templates | |
| 1-click page modes (coming soon, maintenance, 404, login). | |
| Built-in subscriber dashboard | |
| Essential features in the free version | |
| Extensive customization options | |
| Does not require shortcodes | |
| Light-weight for fast page speeds | |
| Built-in SEO feautres | |
| Works with any WordPress theme and popular WordPress plugins | |
| Multiple inexpensive premium plans | |
---
If you're still in the decision stages, you might be thinking, "can I switch from WPBakery to Elementor?"
The truth is, switching from WPBakery to Elementor and vice versa isn't easy. Both page builders use different tag classes, attributes, and styling to create and build pages. So switching can level lots of redundant shortcodes and broken content that looks messy and unprofessional.
But with all the above in mind, here are some frequently asked questions and answers to help you choose.
Frequently Asked Questions (FAQs)
Which is faster WPBakery or Elementor?
After running a speed test, we found that Elementor is slightly faster than WPBakery. However, SeedProd s the fastest of all three.
Is there anything better than Elementor?
One of the best alternatives to Elementor is SeedProd. It has a similar visual interface, a drag-and-drop page builder, countless pre-made templates, and many other valuable features. SeedProd is also lightweight and includes a dedicated theme builder for creating WordPress themes without code.
Can I use Elementor with WPBakery?
Yes, you can use Elementor and WPBakery on the same website together.
Are these page builder plugins free?
Both Elementor and SeedProd offer free versions of their plugins. However, WPBakery doesn't currently offer a free version.
Can these page builder plugins be used with any WordPress theme?
Elementor and WPBakery are all compatible with most WordPress themes, but some themes may require additional customization or integration to work seamlessly with these plugins. SeedProd is theme agnostic, so it will work with any WordPress theme.
Do Elementor, WPBakery, and SeedProd offer customer support?
All three offer customer support, but the extent and quality of support can vary. Typically, support includes online documentation, email support, and community forums. Always check each website for the most current information on their support offerings.
Elementor, WPBakery, or SeedProd: Which Is Best?
Now that we've compared the 3 best WordPress page builders, you probably want to know which is the best: WPBakery vs Elementor vs SeedProd, especially if you're learning how to choose a WordPress page builder for the first time.
In our opinion, the best page builder is…
We think SeedProd is the best WordPress landing page builder based on its easy user interface and focus on making successful WordPress designs as simple as possible.
It doesn't have too many bells and whistles that are overwhelming but only includes exactly what you need to make your website a success.
Unlike other page builders, SeedProd is fast and bloat-free, so it won't slow down your site, which can hurt your search engine rankings.
Ready to create high-converting landing pages in WordPress?
If you liked this article, please follow us on YouTube, Twitter, and Facebook for more helpful content and tutorials to help grow your business.