Are you looking for a WPBakery review to see if it can help simplify your website design?
WPBakery Page Builder is a popular tool that claims to help you build stunning, responsive WordPress sites without writing a line of code. But is it really worth the hype, and are other better WordPress page builders available?
Let's dive into this WPBakery review to find out.
What Is WPBakery Page Builder?
WPBakery, formerly known as Visual Composer, is a drag-and-drop page builder plugin for WordPress websites. It lets you create custom page layouts, content elements, and more without needing any programming knowledge.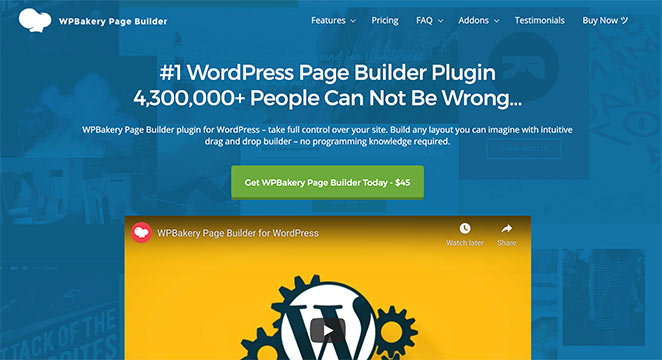 This popular page builder rebranded to WPBakery in 2017, while Visual Composer is now a separate web design project called Visual Composer Website Builder. Essentially, WPBakery is now a page builder, and Visual Composer is a website builder.
It's a widely-adopted plugin and comes bundled with many Themeforest and Codecanyon themes to make customizing them easier.
Once activated on your website, WPBakery transforms the WordPress page editor into a fully-fledged visual design tool. You can add, edit, and arrange various elements on your page using a drag-and-drop interface to customize everything easily without code.
The beauty of WPBakery lies in its simplicity, making it accessible for beginners and time-saving for experts.
WPBakery Features and Functionality
WPBakery comes with many powerful features that make it popular among WordPress users. Let's kick off this WPBakery review by looking at these features in more detail.
The Drag-and-Drop Interface
WPBakery's most notable feature is the drag-and-drop builder. It allows you to select any element, drag it to your preferred spot on the page, and drop it. This means you can construct an entire webpage without touching a single line of code.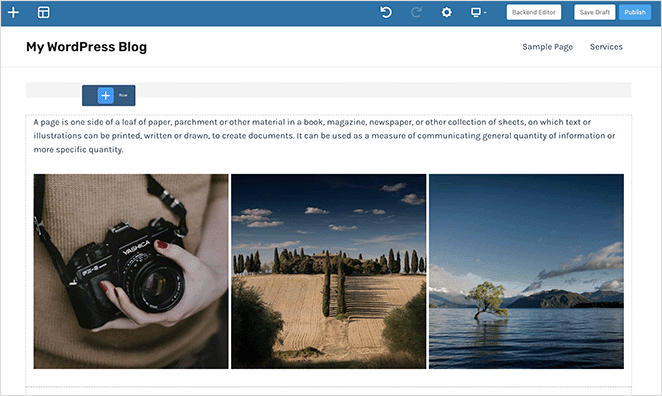 Once placed, you can resize, reposition, and customize elements with just a few clicks.
Furthermore, you'll see a real-time preview, allowing you to see the changes you make instantly. This instant visual feedback allows for better design decisions and helps streamline the design process.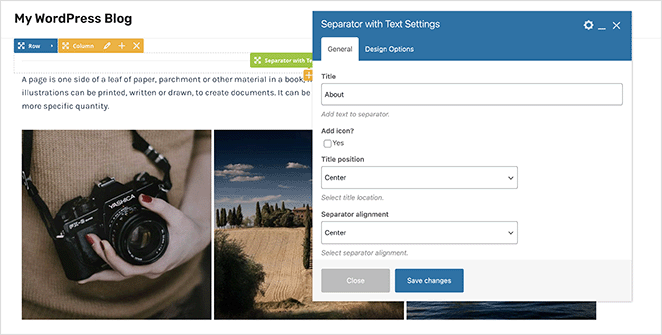 Pre-designed Layouts and Elements
For those who need inspiration or are in a hurry, WPBakery offers a library of pre-designed layouts and elements. From headers, footers, and sidebars, to sliders and galleries, there's a design that fits every need.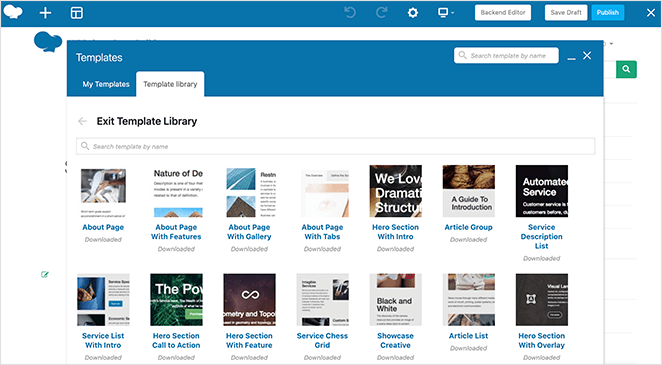 The template library is ideal to use as a starting point for your page design. These pre-made designs cover various industries and purposes, including business, eCommerce, portfolio, blog, and more, using the latest design trends.
Each template is fully customizable using the drag-and-drop builder. You can even add your own custom CSS for more unique styling options.
WPBakery's Element Library
In addition to templates, WPBakery also offers a vast collection of elements to enhance your web page functionality. They include text blocks, buttons, icons, image galleries, progress bars, testimonials, parallax, counters, accordions, widgets, and more.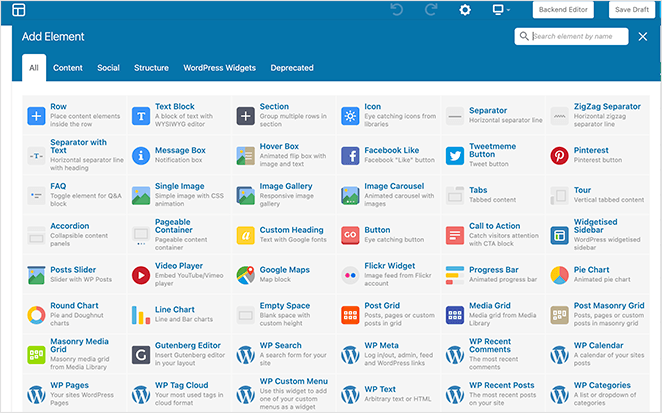 You can mix and match different modules and templates, customize colors and typography, and experiment with combinations to make a unique and personalized design. WPBakery's drag-and-drop interface seamlessly integrates with the templates and elements, allowing you to customize them to suit your needs easily.
Advanced Features and Add-ons
WPBakery also boasts various advanced features and add-ons to elevate its functionality.
Of particular note is the grid design options. Grid layouts are popular for organizing content, especially for portfolios, product showcases, or blog posts.
With Grid layouts, you can customize the number of columns, adjust the spacing between elements, make the grid full-width, and fine-tune the grid appearance.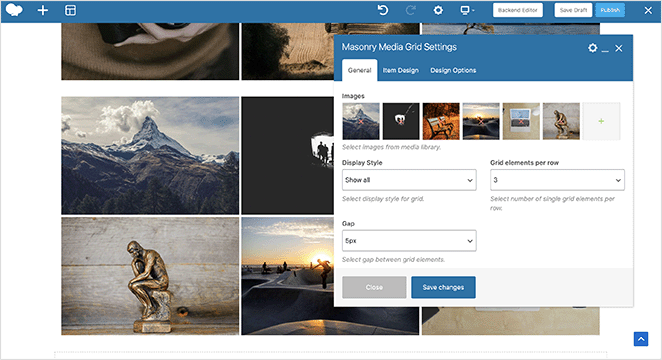 WPBakery also offers seamless compatibility with WooCommerce, the leading eCommerce plugin for WordPress. This allows you to create online stores using its easy drag-and-drop interface.
For example, you can easily design product pages, showcase featured products, create custom layouts for shopping carts and checkout pages, and fully customize your store's overall look and feel.
Additionally, WPBakery supports various third-party extensions, plugins, and add-ons.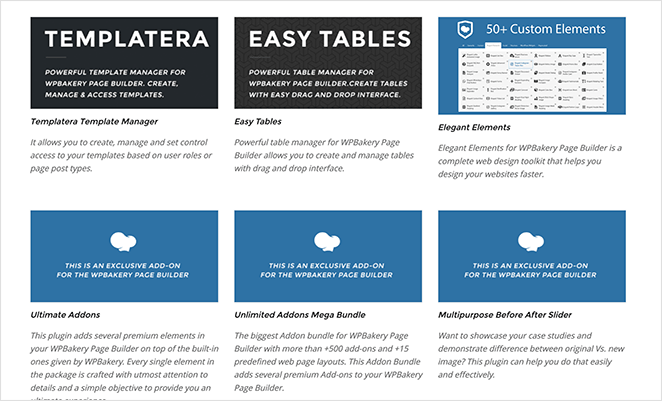 They provide additional design elements, integrations with popular WordPress plugins, and enhanced customization options, including:
Template Manager
Easy Tables
Ultimate Add-ons
Social Media Share
Testimonials
Post Types
Animation Effects
And more
WPBakery and Responsiveness
WPBakery understands the importance of mobile responsiveness and provides features to ensure your site is optimized for mobile devices.
With its responsive design settings, you can configure your site's appearance on different screen sizes and devices, ensuring a consistent and user-friendly experience across desktops, tablets, and smartphones.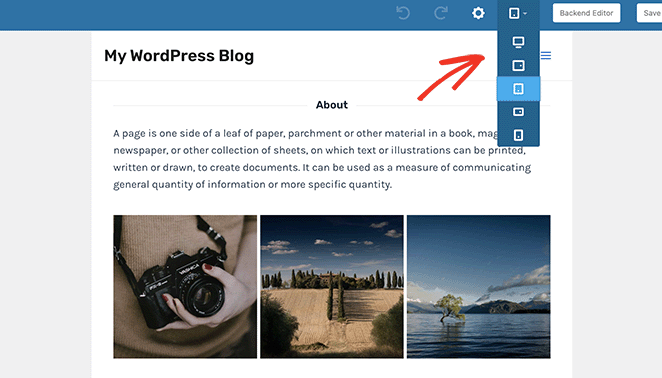 The design options also allow you to control the behavior of elements on different devices. For instance, you can set custom breakpoints where layout or element appearance changes occur by screen size.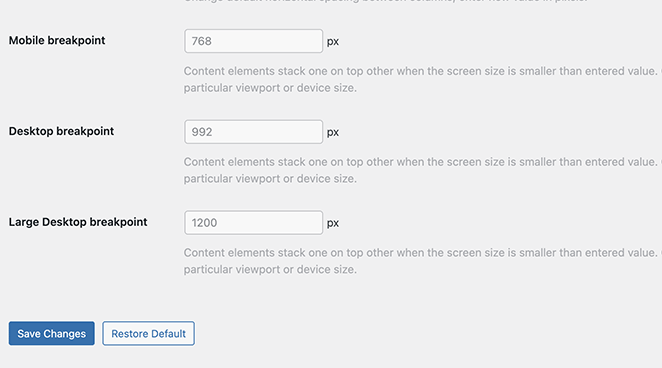 To further enhance mobile responsiveness, WPBakery lets you hide some aspects for specific mobile devices or modify their appearance.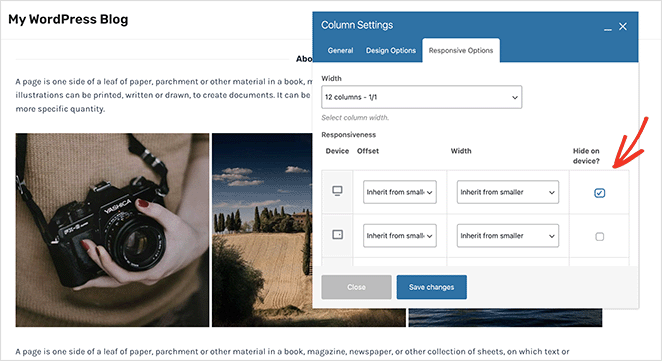 Mobile responsiveness is crucial for search engine optimization (SEO). With these mobile responsive features, you can build websites that meet mobile optimization standards, improving your chances of higher search rankings.
WPBakery Page Builder in Action
Setting up WPBakery is a breeze. After installing and activating the plugin, you can start building your pages immediately. Let's look at how to do this next.
Creating a Page from Scratch
To create a new page with WPBakery, go to Pages » Add New from your WordPress admin dashboard and click the WPBakery Page Builder button.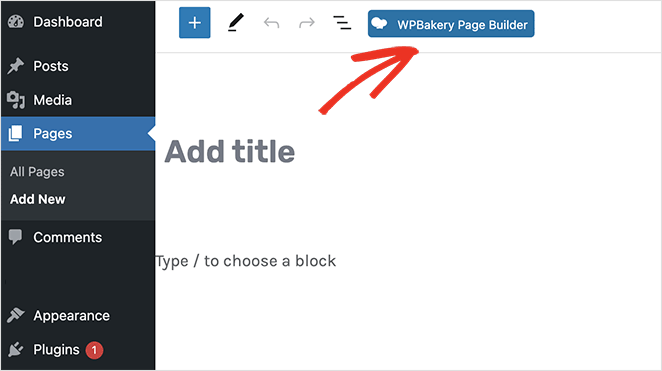 On the next screen, you'll see 2 different options: Backend Editor and Frontend Editor.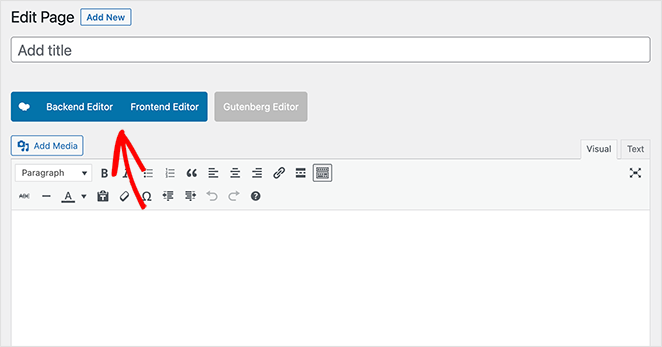 With the backend editor, you can add the same elements to your page as the frontend editor. The only difference is you're working in your website dashboard, which won't show a live preview of your changes.
You can still open the elements library, customize sections, rows, and columns, and drag and drop elements to rearrange their position.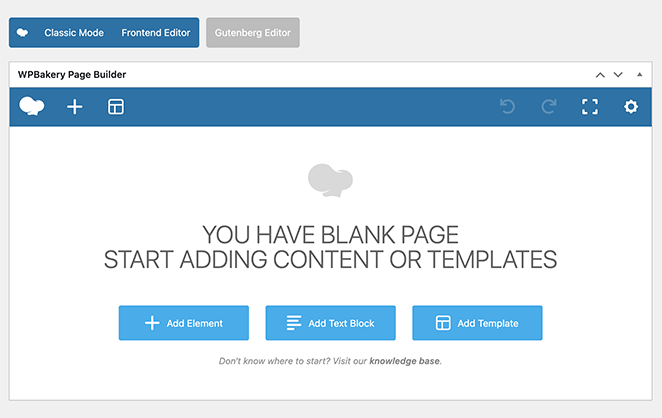 If at any time you want to switch to the frontend, simply click the Frontend Editor button. From there, you can customize your new page in real time.
Customizing Pre-designed Templates
If you prefer to start with a pre-designed template, you can do so easily. Simply create a new page using WPBakery, click the template library icon, and click a template to add it automatically to your design.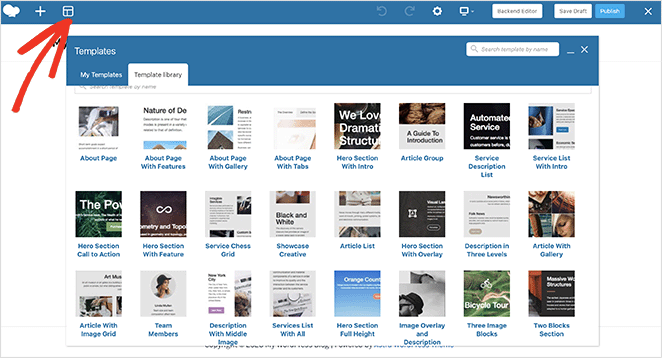 From there, you can edit the template colors, fonts, images, content, and elements, to make the design your own.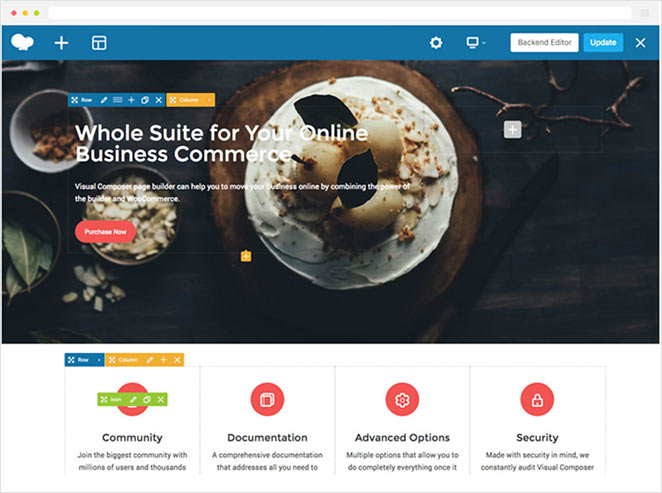 WPBakery Review: Pros and Cons
When it comes down to it, WPBakery is a handy tool if you're unfamiliar with the complexities of web design. However, as with any tool, it may not suit everyone.
With this in mind, here are some pros and cons of WPBakery to help you decide:
Pros
Backend and frontend editor
Compatible with most WordPress themes
Large element and template library
User role access control
Mobile responsive
Cons
Learning curve for beginners
May conflict with other WordPress plugins
After deactivation, it may leave shortcodes on pages
Can impact page loading speed
No free version
WPBakery Review: Pricing
WPBakery has 3 pricing plans available for different budgets and use cases.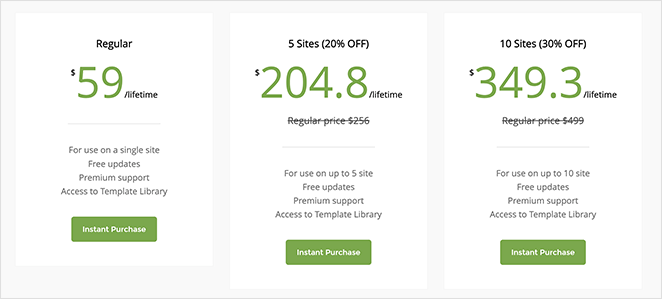 The Regular license is a one-time payment of $59 for a single website with premium support and access to the template library. From there, the pricing scales to $256 for 5 websites and $499 for 10 websites.
The pricing for any WPBakery add-ons can vary and are separate from the primary plugin price.
WPBakery vs Other Page Builders
So how does WPBakery compare to other page builders like SeedProd, Elementor Pro, Divi Builder, and Beaver Builder? The truth is, it could be better.
WPBakery lacks features that its competitors do well.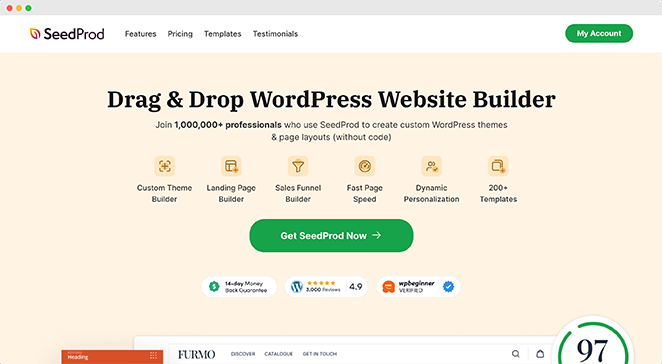 For example, SeedProd has a built-in WordPress theme builder, allowing you to create custom WordPress themes alongside landing pages. It also has many of WPBakery's add-on features built into the core plugin, including before and after sliders, testimonials, WooCommerce products, team members, animations, pricing tables, and more.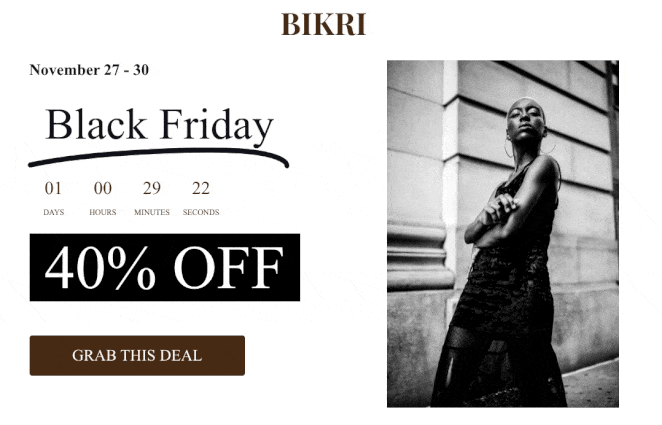 SeedProd works independently from your WordPress theme, ensuring it works seamlessly with any design. Plus, if you decide to use a different page builder, it won't leave messy shortcodes behind to impact your page speed.
WPBakery Review: Final Verdict
In the end, WPBakery is a robust page builder with features that anyone can use. Whether you're a novice looking to create your first website or a seasoned developer seeking to streamline your workflow, WPBakery has something to offer.
However, if you need advanced features like popups, theme builders, and faster page speeds, it may be best to choose an alternative solution.
Frequently Asked Questions (FAQs) About WPBakery
How easy is it to learn WPBakery Page Builder?
WPBakery is designed with user-friendliness in mind. With its intuitive interface and extensive documentation, beginners can get the hang of it relatively quickly.
Can I use WPBakery Page Builder with any WordPress theme?
WPBakery works with most WordPress themes, allowing you to keep your favorite theme and still enjoy the benefits of its page builder.
What kind of customer support does WPBakery offer?
WPBakery offers dedicated customer support via a ticket system. In addition, they have a comprehensive knowledge base and a community forum for additional assistance.
Is WPBakery Page Builder a one-time purchase or subscription-based?
WPBakery Page Builder is a one-time purchase, meaning you pay once and can use it forever.
There you have it!
We hope you found this in-depth WPBakery review helpful.
You might also like our comparison of Leadpages vs Instapage vs SeedProd, 3 other popular page builders, to see how they stack up. Alternatively, you may find our guide on the best WordPress hosting solutions helpful.
Thanks for reading. Please follow us on YouTube, Twitter, and Facebook for more helpful content to grow your business.