Looking for an unbiased LeadPages review?
Building landing pages is much easier with a drag-and-drop editor because it doesn't require the hassle of learning to code. Out of all the tools available, LeadPages positions itself as one of the easiest page builders.
But is it worth the price? In this LeadPages review, we'll explore its features and give you an educated answer.
What Is LeadPages?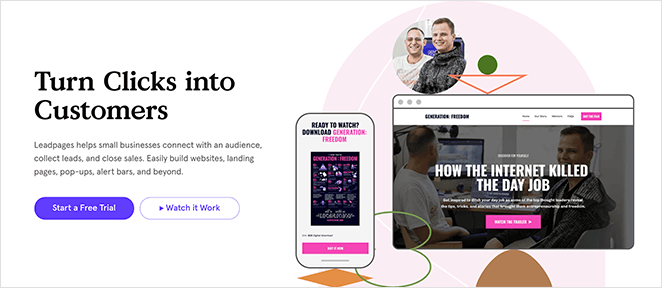 LeadPages is a drag-and-drop page builder that helps small businesses create landing pages for their marketing campaigns. You can also build websites, popups, alert bars, and more with its visual editor.
The benefits of using marketing software like LeadPages are clear. For one, it makes it easier for beginners to create any web page without hiring a developer. Moreover, it includes features to lead potential customers into your sales funnels.
LeadPages Features
LeadPages offers many powerful tools to help grow your business. Some of the most popular features include:
Drag-and-drop interface to design pages without code
Mobile responsive website and landing page templates
Digital file hosting and delivery for content like lead magnets
Drag-and-drop form builder for email marketing
Lead notifications to tell you about new subscribers
Accept online sales and payments for online stores
A/B split testing to optimize your pages
Real-time analytics to monitor your results
Native integrations for popular marketing tools and apps
LeadPages Review: A Hands-On Look
As you can see, LeadPages has many features for you to consider. While they may look impressive, do these features live up to what they promise?
Let's dive in with a hands-on look to find out.
Landing Page Builder
LeadPages helps you get started quickly. Right after signing up, it asks what you'd like to build:
Landing Page
Website
Popup
Alert Bar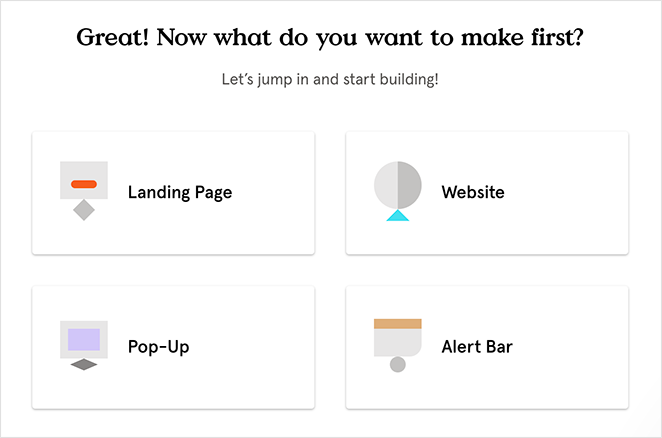 We chose the 'Landing Page' option for this review, which takes you to a library of landing page templates.
With over 150+ templates, there's plenty of variety. You can filter templates by popularity, industry, page type, style, and color to make your choice easier.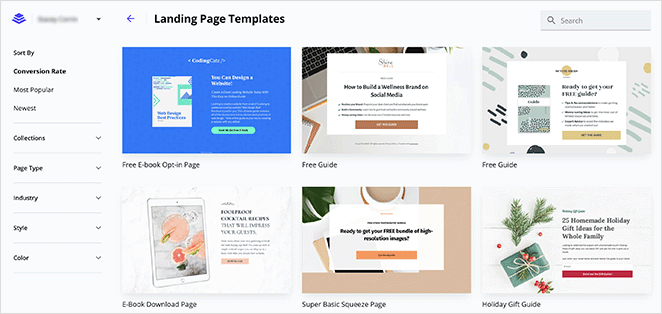 Moreover, you can customize each template in the page builder, so you're not limited to a specific design.
After making your decision, the template will open in LeadPages drag-and-drop editor. From there, you'll see a 2-column layout with settings on the left and a preview on the right.
You can navigate different parts of the page by clicking the Layout option. In the same panel, you can browse sections that you can add to your page with a few clicks.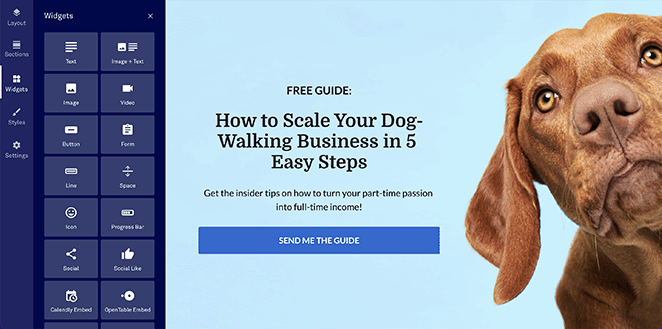 Because of this simple interface, anyone should be able to customize a template. Simply click any page element to see a small settings panel to edit the content.
For example, you can edit any text or headline by clicking and typing. Then in the settings panel, you can tweak the fonts, size, alignment, and more.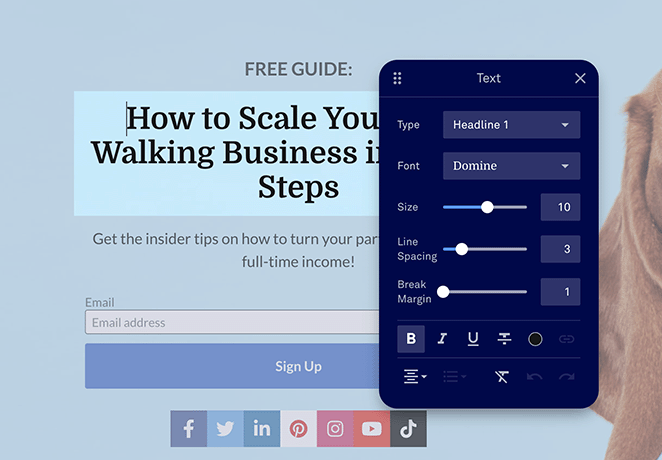 All LeadPages elements work this way, including its selection of page builder widgets. The most notable of those widgets is the Form widget which allows you to add customizable signup forms to your page.
Creating a Form in LeadPages
The Form widget is a significant selling point for LeadPages. You can use it to collect email addresses from website visitors and grow your email list.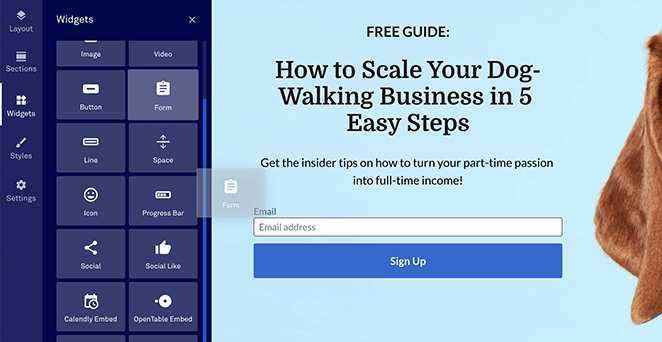 You can integrate your form with popular email marketing providers with a few clicks. If you don't have a provider, you can use the Lead Notifications feature, which emails when anyone completes your form and subscribes.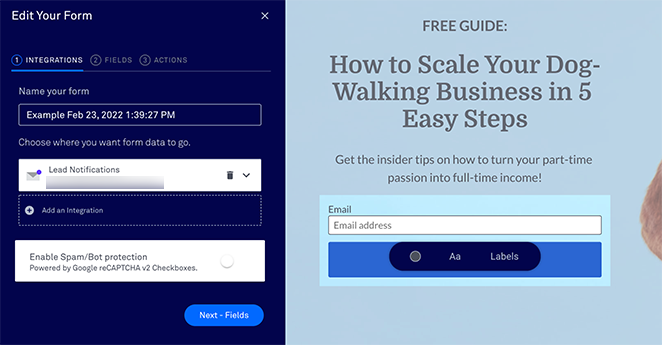 From there, you can customize the form fields and add extra fields, such as comments, phone numbers, addresses, and more. The consent checkbox is a valuable feature enabling you to comply with GDPR.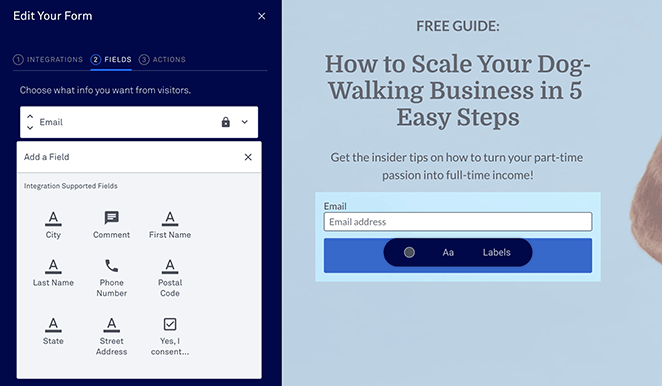 You can choose where visitors go in the actions tab after completing your form. For instance, users can remain on the page, go to a thank you page, a landing page, or a different URL.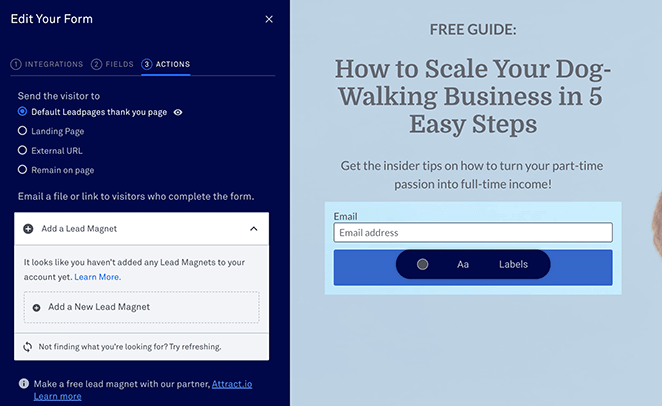 You can also deliver a lead magnet to subscribers on this page. As a result, users can access your downloadable content instantly.
Even though we think this is an essential widget, there are many more you can use, including social media icons, buttons, tables, checkout, and more.
That said, we feel LeadPages lacks more advanced widgets. For example, Google Maps, testimonials, animated headlines, etc.
Mobile Preview
Any website owner needs to ensure their pages are mobile-friendly. Otherwise, visitors who use mobile devices won't get the best browsing experience.
Even though you can preview any page you create with LeadPages for mobile screens, it cannot edit your page in each view. For example, you can't adjust the layout and widgets on the mobile version and leave the desktop version untouched.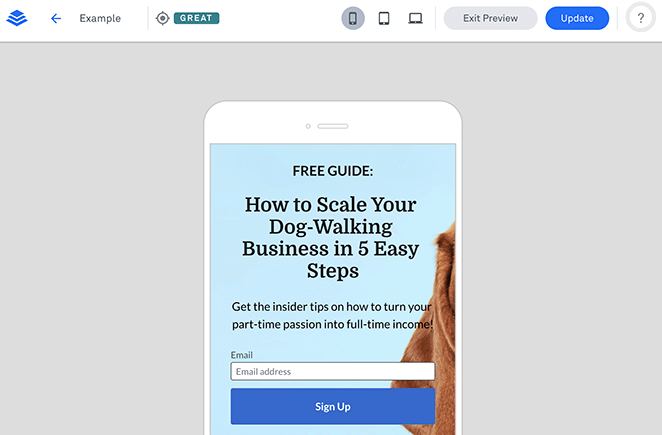 That poses a problem for site owners with a large mobile audience. If you can't edit the mobile version, how can you create an optimal user experience?
Website Builder
Earlier, we mentioned that you could also make websites with LeadPages, and it's true. When you choose the website building option, you'll see various website templates instead of the landing page designs.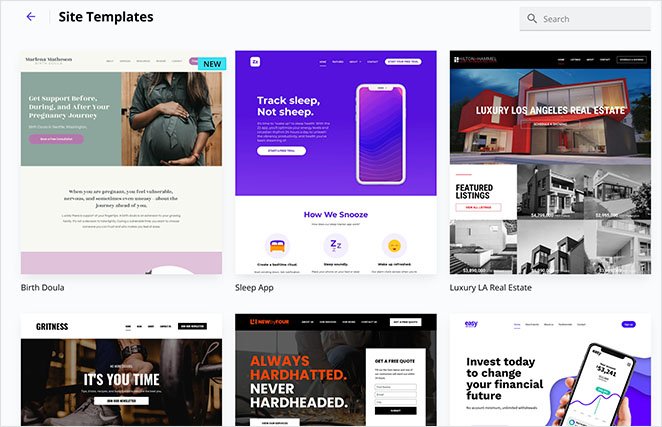 You can customize these templates in the same visual page builder. The result is the ability to create a complete website.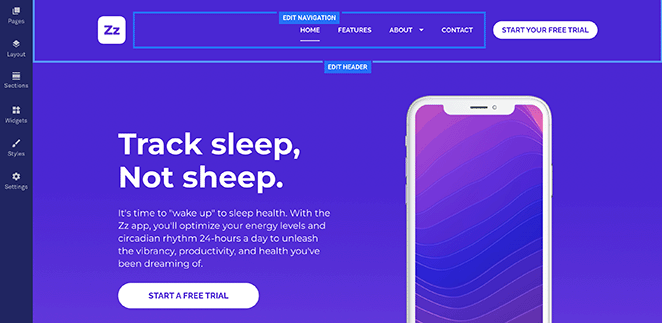 There are several benefits to the website builder. For one, it helps you test different business ideas quickly. If the idea is a success, you can build a more fully-featured site later.
The downside of the website builder is you'll need to purchase a custom domain name. Similarly, you can't set the website up on WordPress and take advantage of its enhanced functionality.
Integration Options
LeadPages integrates with various tools and services. There are native integrations for email marketing and webinar services, including:
ActiveCampaign
Constant Contact
ConvertKit
Emma
GetResponse
GoToWebinar
iContact
Infusionsoft
Mailchimp
Ontraport
WebinarJam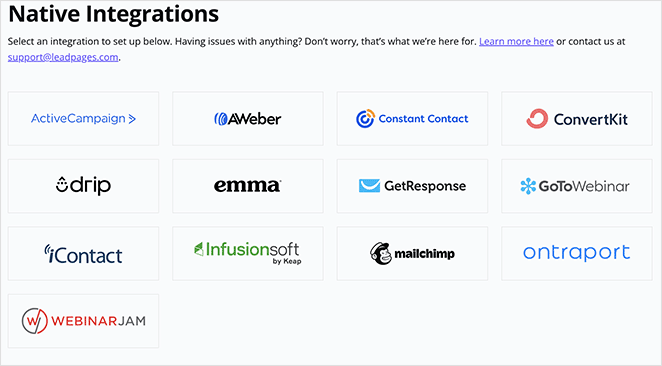 You can also connect to thousands of marketing and automation tools with LeadPages' Zapier connection.
Beyond that, there are options inside the landing page builder to add Google Analytics and other marketing scripts.
Publishing Your Landing Page
There are 3 ways to publish a landing page in LeadPages. The most straightforward method is to publish your page on a custom domain.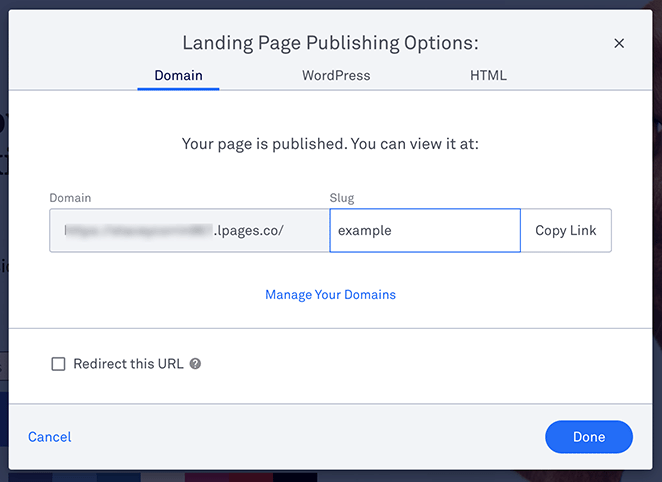 However, if you choose this method, you'll need to connect a domain you already own. Otherwise, LeadPages will use its branded domain to serve your page.
For example, your URL will look something like this: example.lpages.co/page
Note: If you already have a website on your custom domain, connecting it to LeadPages could overwrite it.
The 2nd way is to use the LeadPages WordPress plugin to publish your landing page in WordPress. After installing and activating the plugin in WordPress, you can select which page to post on your website.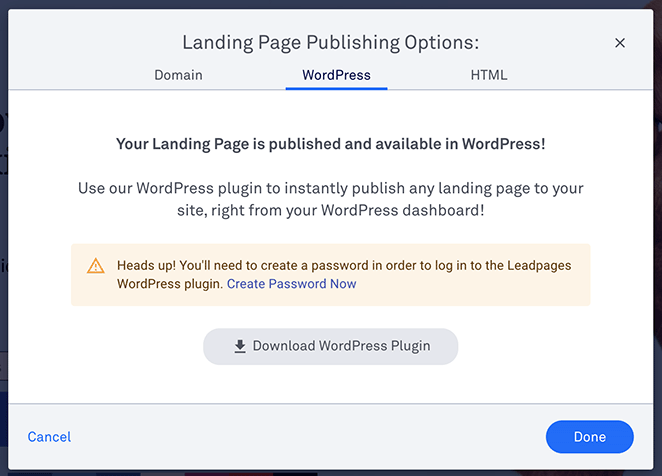 The final way to publish your landing page is to upload the page's HTML file. This is a good choice if you have a website or hosting elsewhere but don't want to use the other methods.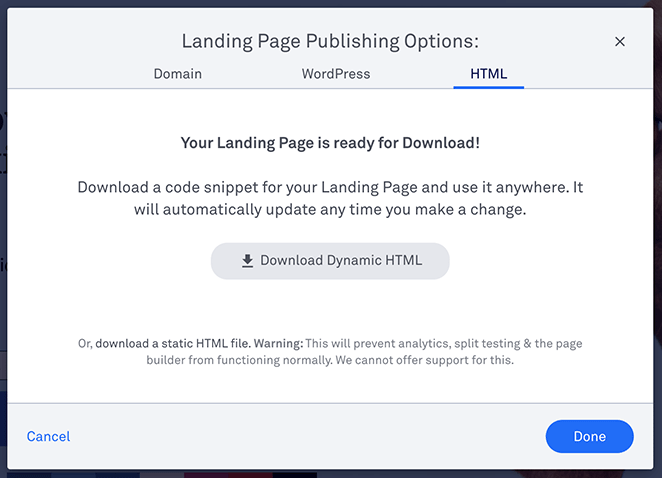 However, if you choose this method, the analytics, split testing, and other LeadPages features won't work.
Testing & Analytics
When your landing page goes live, you can start testing different variations with LeadPages A/B split testing tool. Doing so will show each variation to different portions of your audience.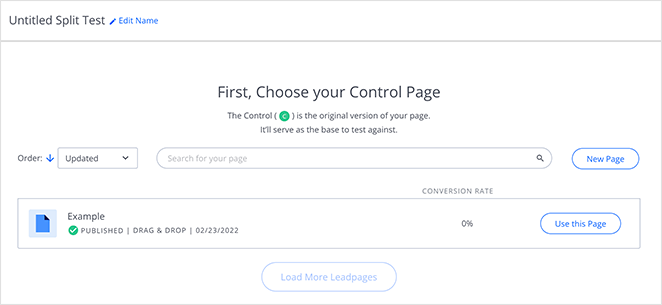 You can also use the built-in performance and analytics reporting to measure the success of your pages. That will help you decide which pages to optimize for better results.
LeadPages Review: Pricing
If you want to get a feel of how LeadPages works, you can sign up for a 14-day free trial. The downside of that is you need to add your payment information, and if the 14 days elapse, your card will be charged.
That said, you can cancel your trial any time before the 14 days are up without incurring any fees.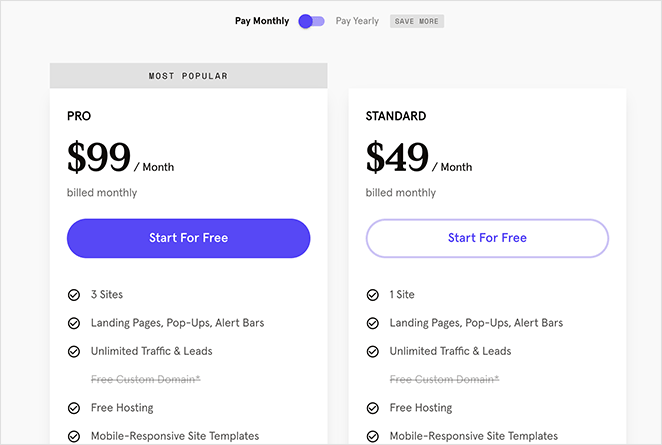 LeadPages offers 2 pricing tiers for its software:
Standard: $49 per month for a single site
Pro: $99 per month for 3 sites
Pros and Cons of LeadPages
After looking at the various LeadPages features, let's see how it stacks up. Here are the main pros and cons of using LeadPages to create landing pages for your website.
LeadPages Pros
Lots of customizable templates for different projects
Landing page editor is relatively easy to use
Checkout feature lets you sell products right from your pages
You can use it with or without a WordPress installation
Cheaper than some alternatives like Instapage
Split testing and analytics features
The free trial lets you test-drive its many features
LeadPages Cons
Page builder lacks widgets to add more functionality to your page
Missing advanced features for selling products
You can't use the website builder to build a WordPress website
Neither plans offer a free custom domain name
Mobile preview doesn't let you edit content for each view
The autosave feature is often hit and miss
A/B testing is limited on the standard plan
Lack of extensive customization options
Drag-and-drop builder is sometimes sluggish
Expensive pricing compared to more fully-featured page builders
In the end, LeadPages is a solid page builder if you don't require advanced functionality. Creating pages and websites is straightforward, and it includes the basic features most small businesses need.
That said, the lack of eCommerce, customization, and mobile editing options, makes LeadPages pale compared to more robust and inexpensive solutions.
Leadpages Review: FAQs
How does Leadpages handle mobile responsiveness?
Leadpages ensures that all its templates are mobile-responsive by default. This means your landing pages will automatically adjust to fit different screen sizes, providing an optimal viewing experience for visitors on various devices.
How does Leadpages handle data privacy and GDPR compliance?
Leadpages is committed to data privacy and GDPR compliance. They provide various tools and resources to help you stay compliant with data protection regulations, including customizable cookie consent banners and options to manage user consent for data processing.
Can I A/B test my landing pages with Leadpages?
Yes, Leadpages allows you to easily perform A/B testing on your landing pages. This feature helps you compare different versions of a page to identify which one performs better, so you can optimize your marketing efforts for better results.
What kind of customer support does Leadpages offer?
Leadpages offers a range of customer support options, including email support, a comprehensive knowledge base, and live chat support for Pro and Advanced plan subscribers. They also provide various resources, such as webinars and video tutorials, to help you make the most of their platform.
You can also see our guide on Leadpages vs Instapage vs SeedProd and Leadpages vs Unbounce vs SeedProd to see how they compare.
Best LeadPages Alternative for WordPress
We have the ideal solution if you need a page builder that works beautifully in WordPress.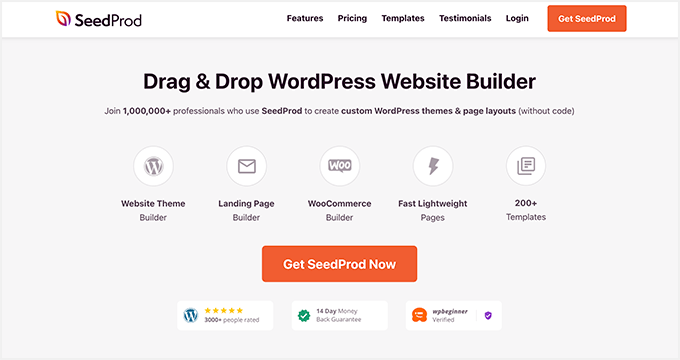 SeedProd is the best LeadPages alternative for WordPress website owners. Like LeadPages, it allows you to create complete websites and high-converting landing pages with its visual drag-and-drop editor.
Yet where SeedProd differs is with its built-in WordPress theme builder and extensive functionality. You can use it to create entire WordPress themes with fully customizable blocks, sections, and layouts without writing a single line of code.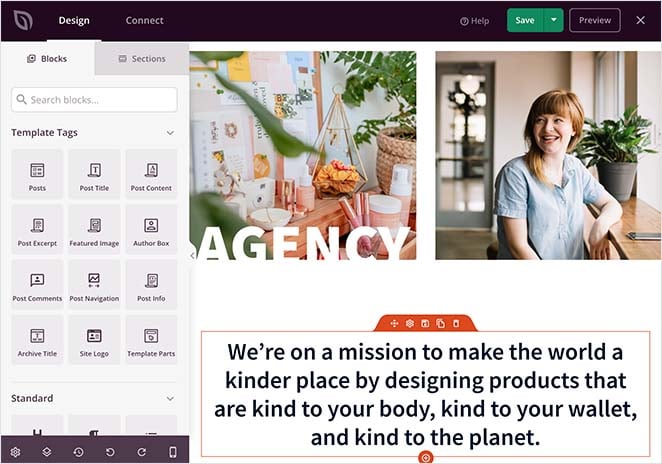 Need a custom sidebar for your website? You can make one in SeedProd with a few clicks.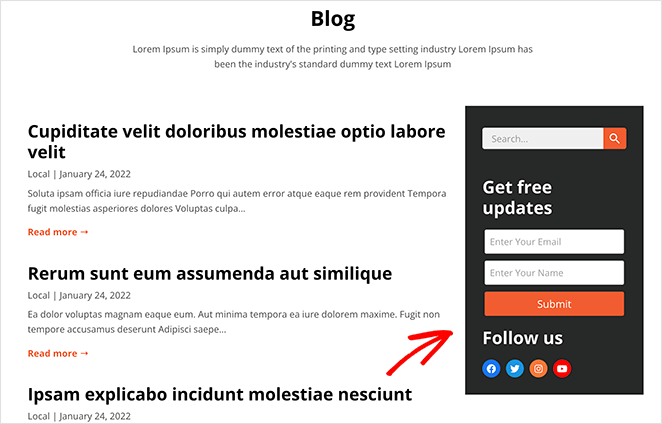 Want different headers for different pages? You guessed it; you can do that in SeedProd too.
Where LeadPages has limited features for online stores, SeedProd offers everything you need to run an online store in WordPress. Its powerful WooCommerce integration lets you:
Create shop, shopping cart, checkout, product, category, and account pages in a few seconds
Add shopping cart menus directly in your WordPress header
Display customizable product grids for any type of product
And much more
You can also use any of SeedProd's powerful content blocks to display flexible WordPress content like blog posts, optin forms, giveaways, Google Maps, testimonials, countdown timers, and more.
Another area where SeedProd surpasses LeadPages is with its live mobile editing. You can preview pages in mobile and desktop views and use the visibility settings to hide or show specific content in each view.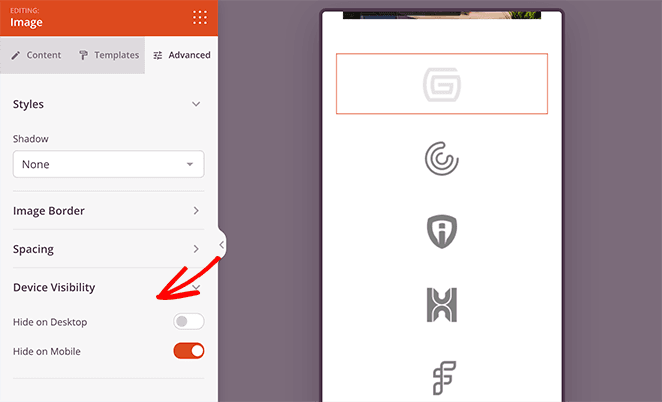 In addition, SeedProd includes 1-click page modes. That means you can put your site in maintenance mode, show a coming soon page, create a custom 404 page, and instantly put up a custom login page.
Not to mention, SeedProd is fast and bloat-free. It uses WordPress best coding practices to keep the plugin optimized for speed. That means it won't slow down your website, impacting your search engine rankings.
SeedProd also offers flexible pricing for a range of budgets. With everything you need to create powerful landing pages in WordPress, you can get started from as little as $39.50 per year.
Ready to save time and money with a fast, responsive landing page?
Thanks for reading. Please follow us on YouTube, Twitter, and Facebook for more helpful content to grow your business.