Are you looking for the best WordPress cookie consent plugins?
Cookie consent plugins help website owners comply with privacy laws like the General Data Protection Regulation (GDPR). They also put visitors' minds at ease by allowing them to opt in or out of you collecting their personal data.
In this guide, we'll rank the best WordPress cookie consent plugins to help you comply with user consent laws and offer the best possible experience.
Does WordPress Need Cookie Consent?
Your WordPress website will need a cookie consent feature if it collects data from users in places where privacy laws exist. These laws require websites to get consent from visitors for storing their data through cookies.
You may be familiar with some of these data privacy laws:
The General Data Protection Regulation (GDPR)
California Consumer Privacy Act (CCPA)
French Data Protection Authority (CNIL)
The Personal Information Protection and Electronic Documents Act (PIPEDA)
ePrivacy Regulation for electronic communications in the European Union
These regulations apply to businesses both operating and serving customers in those regions. So, if you have a WordPress site that uses essential cookies to track user data, cookie compliance is a must-have.
That's where WordPress cookie consent and cookie management plugins are extremely helpful. They help you comply with the law and build trust with visitors by explaining how you'll use their data.
7 Best Cookie Consent Plugins for WordPress
Protecting your website visitors' privacy is essential for ensuring trust and transparency. To help you do this, here are our top WordPress cookie consent plugin and consent management platform (CMP) suggestions ranked for usability, features, and value for money.
Table of Contents
WordPress.org Rating: 4.8 out of 5 stars.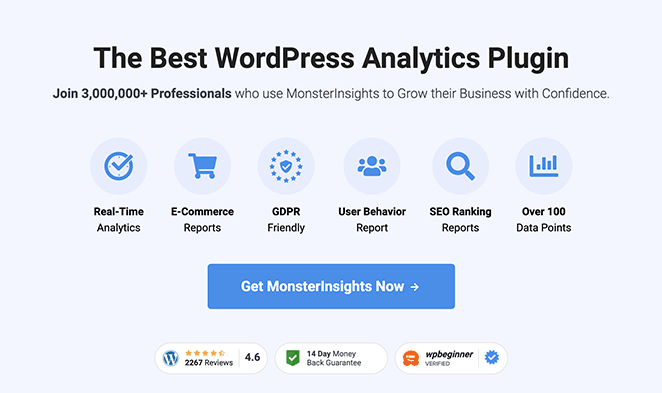 MonsterInsights is our top WordPress cookie plugin due to its EU Compliance addon and easy integration with other GDPR cookie compliance plugins. It's one of the best Google Analytics plugins for WordPress, allowing you to connect your site to Google Analytics and see crucial data inside your WordPress dashboard.
With MonsterInsights, tracking website visits, form conversions, eCommerce metrics, and more is effortless. Plus, enabling the EU Compliance Addon ensures it's compliant with EU cookie laws.
It does this by:
Making IP addresses anonymous
Limiting the collection of demographic information
Adding limits to interest reporting
Turning off UserID tracking
And more.
Additionally, MonsterInsights works seamlessly with other plugins on this list. As a result, you can display cookie acceptance popups on your site, and MonsterInsights will turn off cookie tracking automatically when users opt out.
Pricing: To use the EU Compliance addon, you'll need a MonsterInsights Plus license or higher, costing from $99.50 per year.
For more information, please see our in-depth MonsterInsights review.
WordPress.org Rating: 4.4 out of 5 stars.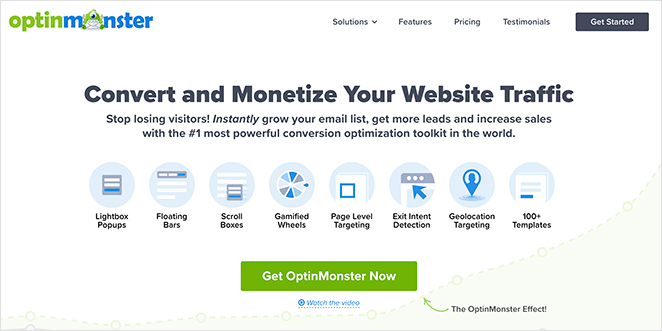 Next on our list is OptinMonster, one of the best lead generation and popup plugins for WordPress. With OptinMonster, you can create user-friendly opt-in popups and cookie consent banners with custom messaging and disclaimers.
Creating a cookie popup is easy with its library of pre-made templates, and customization is a breeze with drag-and-drop building. You can even ensure opt-in forms comply with GDPR by adding a privacy policy field and checkbox.
Additionally, OptinMonster's advanced targeting features allow you to control how and when your cookie consent notice appears according to user behavior and location. That way, you can display compliant opt-ins to users in areas that require them.
Pricing: OptinMonster plans can cost from $9 per month.
If you need more information, please see our OptinMonster review.
WordPress.org Rating: 4.8 out of 5 stars.

CookieYes is a popular WordPress GDPR cookie consent plugin that supports various privacy laws. It automatically scans and categorizes cookies on your site, allowing you to display a consent banner with "Accept" and "Reject" options.
With CookieYes, you can effortlessly control how cookies are managed for the following privacy laws:
General Data Protection Regulation (GDPR)
California Consumer Privacy Act (CCPA)
Personal Data Protection Law (PDPL) of Saudi Arabia
Protection of Personal Information Act (POPIA) of South Africa
Lei Geral de Proteção de Dados Pessoais (LGPD) of Brazil
Global Privacy Control (GPC)
Its standout features include the ability to customize the consent banner's appearance and contents, blending seamlessly with your site's design. In addition, the plugin can auto-block third-party cookies until users consent, ensuring compliance with privacy regulations.
One of its more unique features is the Geo-targeting functionality, which customizes the consent notice according to visitors' location, ensuring regional-specific compliance. It also scans and compiles consent logs to keep you informed.
Pricing: CookieYes is a free WordPress plugin. It also offers premium versions costing from $10 per month per domain.
WordPress.org Rating: 4.4 out of 5 stars.

Cookiebot is another free cookie consent solution that ensures your site's compliance with international cookie laws. It gives visitors clear information about the types of cookies your site uses and their purpose and provides the option to choose which types they'd like to accept.
With Cookiebot, you can create custom consent banners that seamlessly blend with your website's design. This way, you reassure visitors that you respect their privacy without compromising aesthetics.
Beyond customization, Cookiebot offers an impressive Automatic Cookie Scanner feature. It scans your site regularly, updating the cookie inventory and automating the process for you.
Also, Cookiebot provides detailed reports on your site's cookie usage. These reports can help you analyze your site's overall performance and help with any compliance audits.
Pricing: The free version of Cookiebot supports up to 50 sub-pages on one domain. For more, you'll need a premium plan costing from $13 per month.
WordPress.org Rating: 4.9 out of 5 stars.

Complianz is an impressive cookie consent plugin that helps simplify GDPR compliance for your website. It offers a GDPR cookie notice complete with automatic cookie blocking until users give their consent.
Complianz provides a user-friendly interface that makes setting up cookie consent and managing user preferences easy. Among its features is the Geo IP determination function, which lets you tailor your cookie notice according to users' locations.
The plugin automatically scans your site to find the cookies you already use. It also supports multi-language websites and automatically translates cookie banners for a global audience.
What's more, Complianz lets you display a Do Not Sell My Personal Information page, a requirement for businesses subject to California's CCPA regulations. In simple terms, Complianz ensures your site is GDPR-compliant and helps you comply with regional-specific laws like ePR and tCF.
Pricing: Complianz offers a free WordPress cookie consent plugin. However, for more features, paid plans start from $45 per month.
WordPress.org Rating: 4.8 out of 5 stars

Cookie Notice & Compliance is another free plugin that helps you comply with various privacy laws. It provides a customizable cookie banner you can add to your website, telling visitors that you use cookies and allowing them to consent.
With its customization options, you can modify the plugin's appearance, aligning it with your site's theme or branding.
Additionally, this WordPress cookie consent plugin supports link redirects, allowing you to guide users to a privacy policy page for more information about your privacy and cookie policy. It also provides an option to auto-hide the notice after a few seconds or to close the banner manually.
Lastly, Cookie Notice & Compliance includes a "revoke cookie" button, giving visitors even more control over their privacy settings.
Pricing: Cookie Notice & Compliance is completely free with no hidden costs.
WordPress.org Rating: 4.4 out of 5 stars

WP Cookie Consent is another popular cookie plugin for WordPress that lets you notify users about using cookies on your website. It complies with various privacy laws, including the GDPR, CCPA, and others.
This plugin boasts a customizable cookie banner with several layouts and designs. You can also control when and how the banner appears on your site and embed it anywhere with WordPress shortcodes and widgets.
Additionally, WP Cookie Consent supports multilingual websites with global audiences. It also automatically scans and identifies the cookies in use on your site and sorts them into categories.
Pricing: WP Cookie Consent is a freemium WordPress cookie plugin. The pro versions cost from $17 per year.
The following comparison table will help you quickly find one that fits your needs best:
| | | | |
| --- | --- | --- | --- |
| Plugin | Features | Rating | Price |
| MonsterInsights | GDPR and CCPA compliant features, real-time statistics | 4.8 | From $99.5 p/y |
| OptinMonster | GDPR compliant, high level of customization, A/B testing | 4.4 | From $9 p/m |
| CookieYes | GDPR and CCPA compliant, auto cookie scan, multilingual support | 4.8 | Free or from $10 p/m |
| Cookiebot | GDPR-compliant, scans and reports all types of cookies | 4.4 | Free or from $13 p/m |
| Complianz | Freemium, GDPR, and CCPA-compliant, geotargeting | 4.9 | Free or from $45 p/m |
| Cookie Notice & Compliance | Free to use, GDPR and CCPA compliant, customization options | 4.8 | Free |
| WP Cookie Consent | GDPR compliant, fully customizable, developer-friendly | 4.4 | Free or from $17 p/y |
WordPress Cookie Consent FAQs
We're often asked many questions about WordPress cookie consent plugins that we're more than happy to answer. Below are some of the most common questions our readers ask:
How does WordPress set cookies?
WordPress sets cookies when visitors interact with your site, particularly during login, commenting, or when purchasing products in WooCommerce. These cookies are for user convenience, such as remembering details to save time on future visits. However, due to privacy laws, you'll need to tell visitors about them and get their consent.
Where are WordPress cookies stored?
WordPress cookies are stored on your visitor's browser. They hold small amounts of data specific to a client and website, allowing the webserver to deliver a page tailored to a particular user. Alternatively, the page itself can contain some script that is aware of the data in the cookie, allowing it to carry information from one site visit to the next.
How do I know if cookie consent is working?
To check if cookie consent is working, clear your browsing data, then revisit your site. You should see a cookie consent notice appear at the top or bottom of the screen.

Try accepting cookies, then refresh the page to see if the banner goes away. This means your consent tool is functioning correctly. If it doesn't disappear, there might be an issue that requires troubleshooting.

Get Started with WordPress Cookie Consent
We hope this guide has helped you find the best WordPress cookie consent plugins for your site. Whichever solution you choose, you can be confident knowing you're taking an essential step in building trust with your website visitors.
You may also find the following WordPress guides helpful:
Thanks for reading. Please follow us on YouTube, Twitter, and Facebook for more helpful content to grow your business.